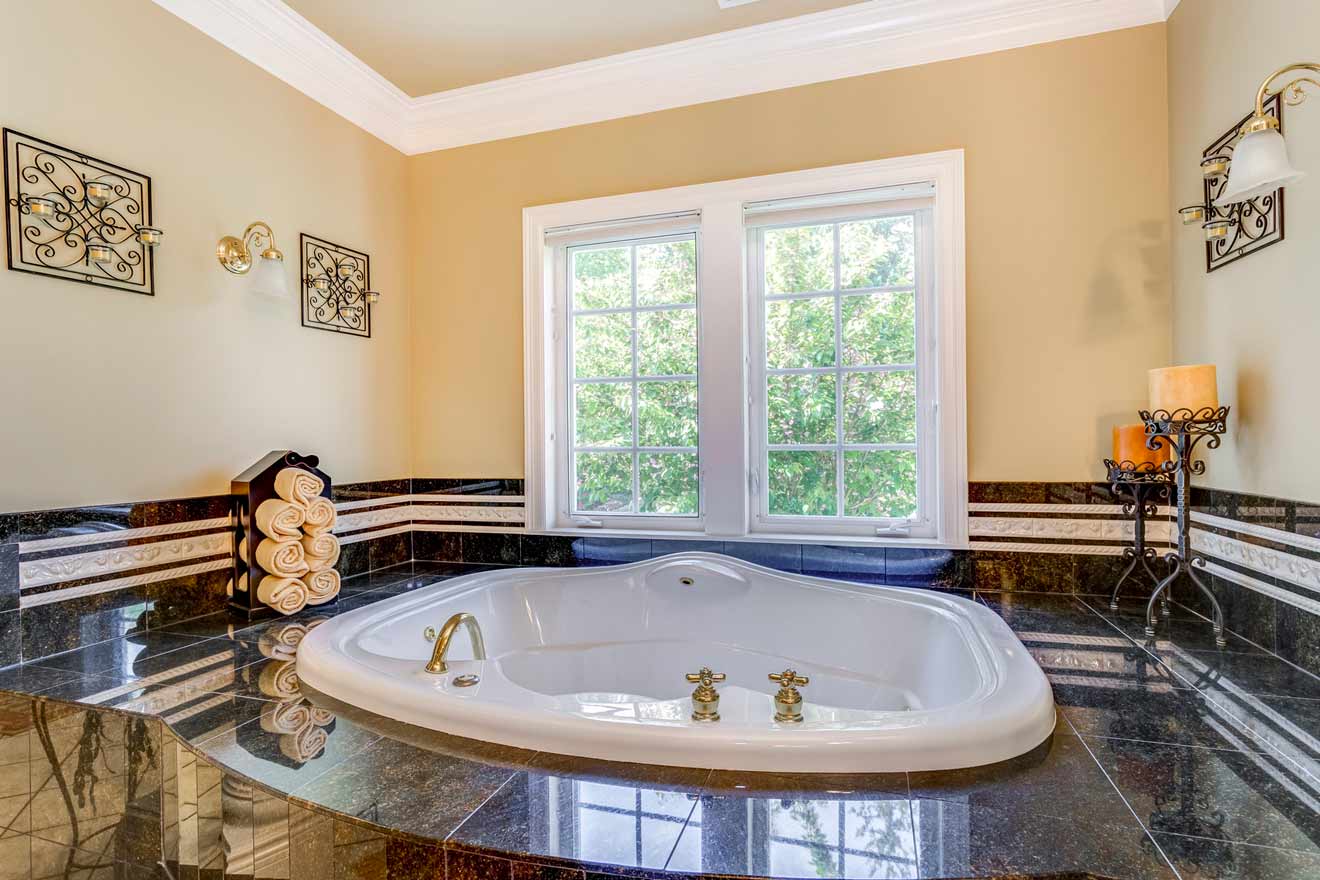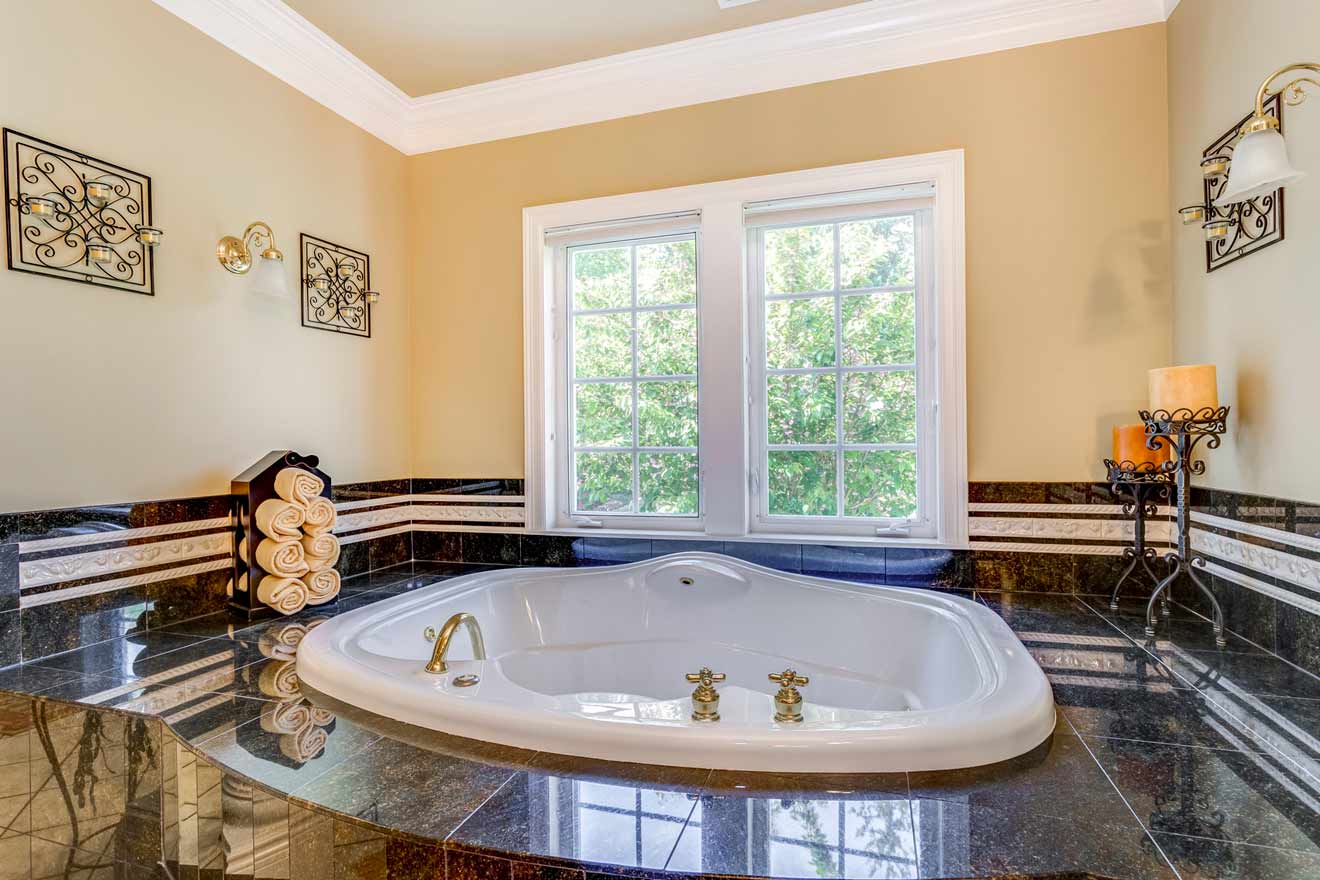 Finally booked that time off to relax? Well, Cincinnati sure is a fabulous place to spend that time and it has some fantastic accommodations with whirlpool rooms.
Today I'll help you find the best Cincinnati hotels with jacuzzi in the room! I've searched on the web and found some great hotels which I listed from most to least expensive. But since there weren't too many I decided to add 2 bonus sections with great vacation rentals with private hot tubs, and hotels with indoor pools.
NOTE: This list has only 7 Cincinnati hotels with jacuzzi in the room just because I didn't want to recommend the ones that also have jacuzzis in the room but are rated much lower than what I usually find good enough for a great stay.
Finally, don't hesitate to book your favorite in advance! With the few great options we have, chances are they will disappear quite fast!
Right, let's get this show on the road!
If you are in a hurry
Here's a quick list of the top hotels in Cincinnati with a whirlpool suite:
1. Weller Haus – the most stylish hotel with hot tub in room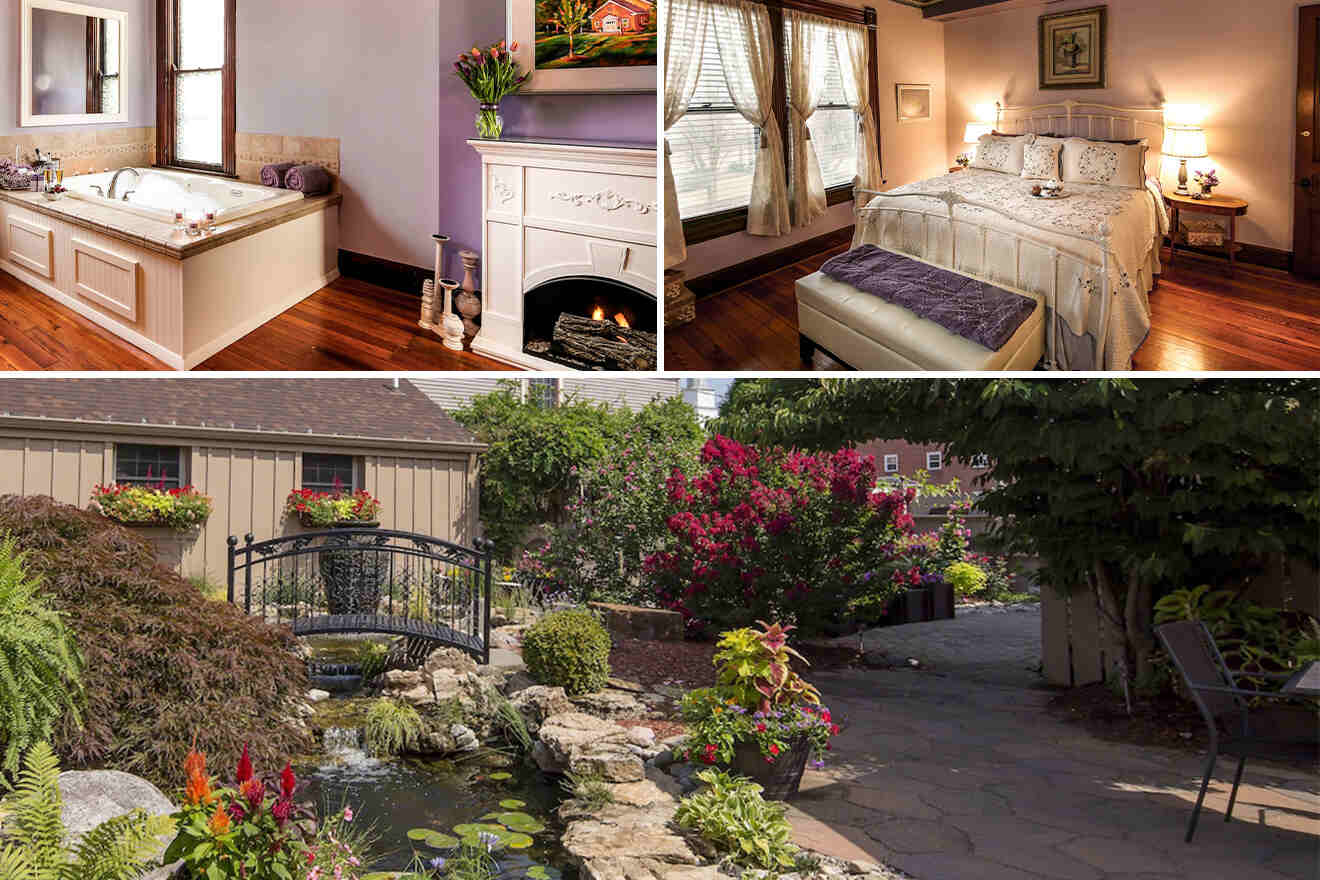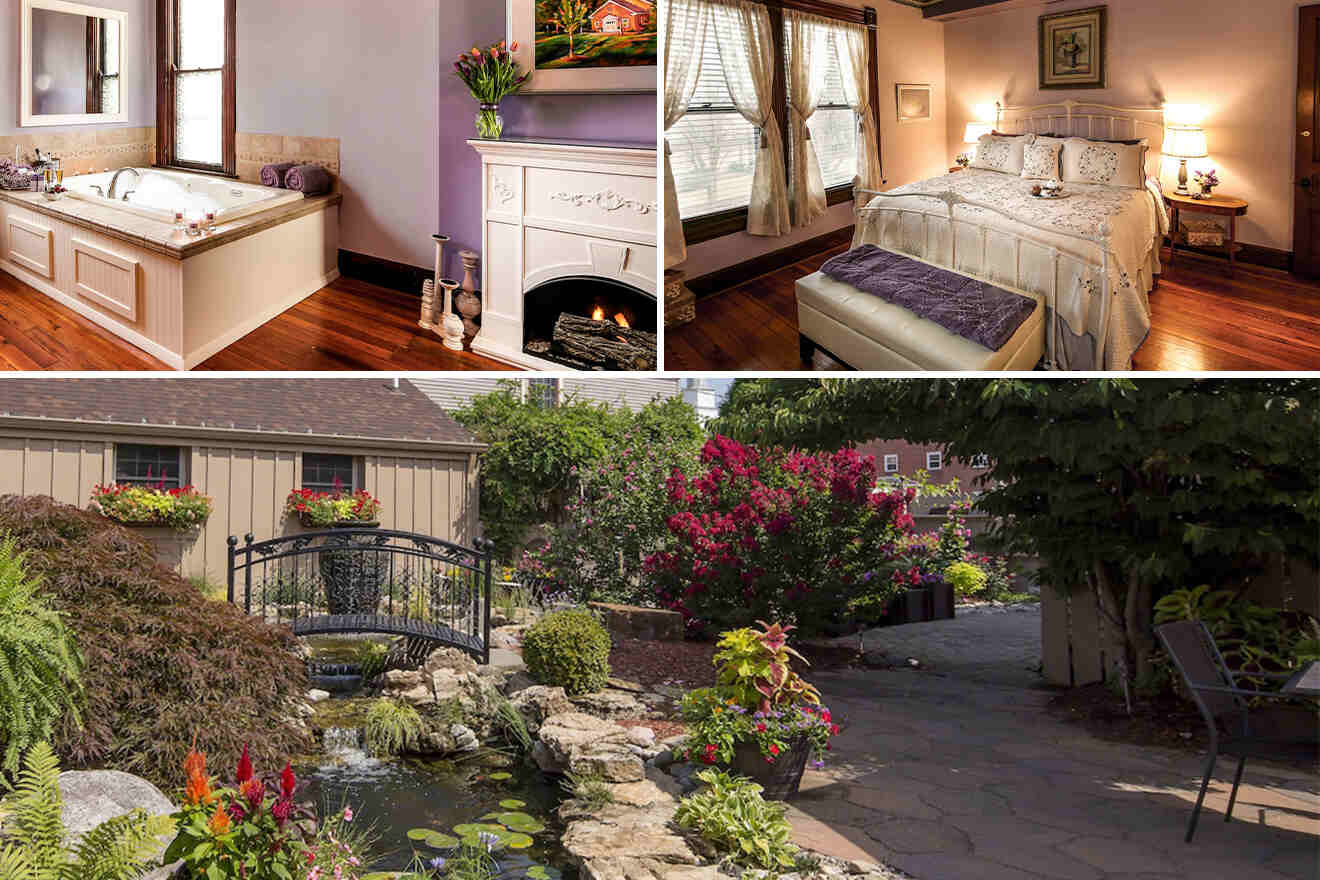 What a cozy place that offers boutique accommodations! I love its style and all the furnishing pieces which create such a pleasant atmosphere! The rooms at Weller Haus Bed, Breakfast, and Event Center feature a super comfortable bed, free Wi-Fi, and, of course, a private bathroom with a spa tub where you can relax after exploring Downtown Cincinnati.
Each morning you can enjoy an à la carte breakfast in their lovely dining room which is super chic. Then you can take your coffee out in the garden that has so many colorful flowers and a lovely ambiance that will keep you there for a long time.
2. Hilton Cincinnati Netherland Plaza – the unique hotel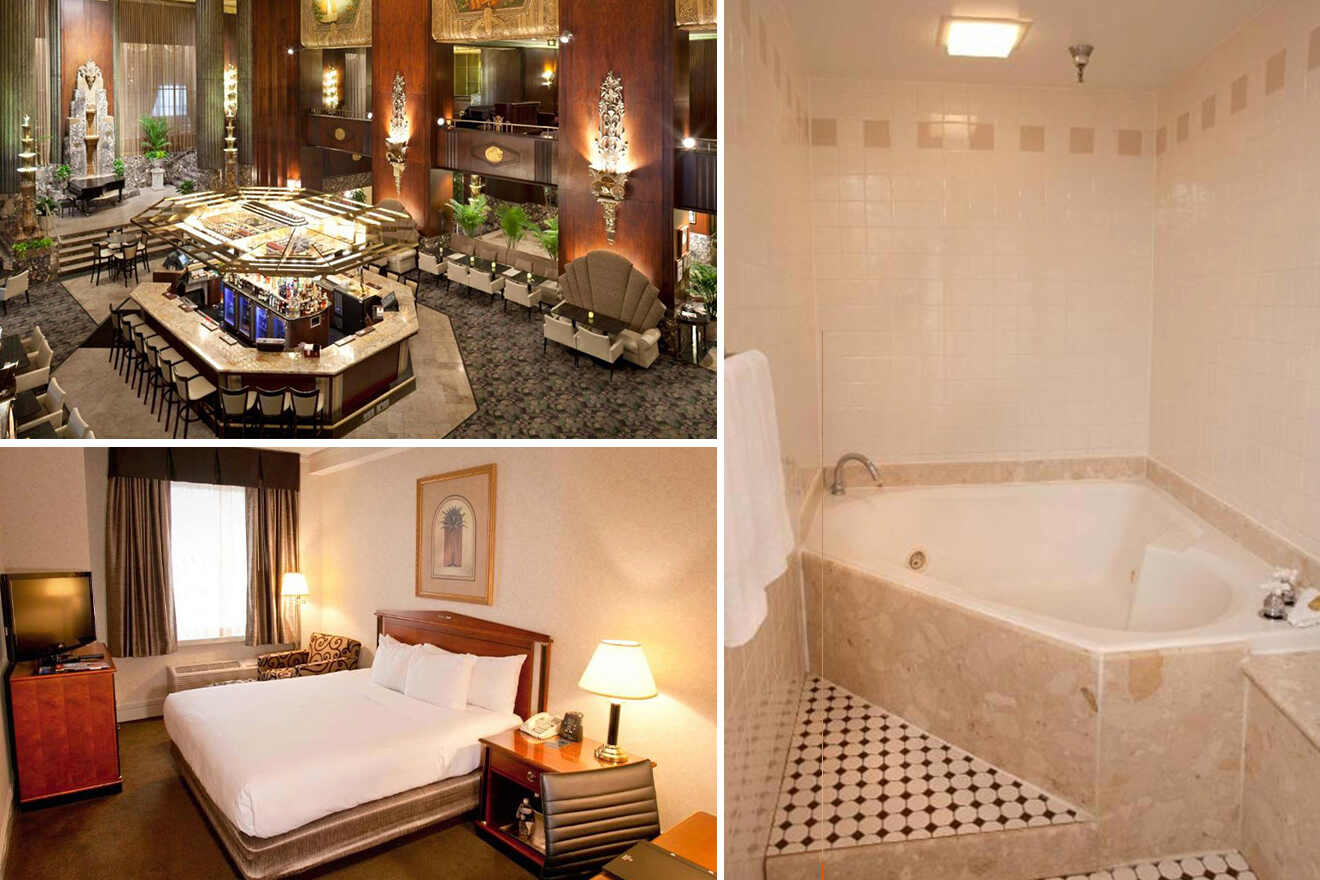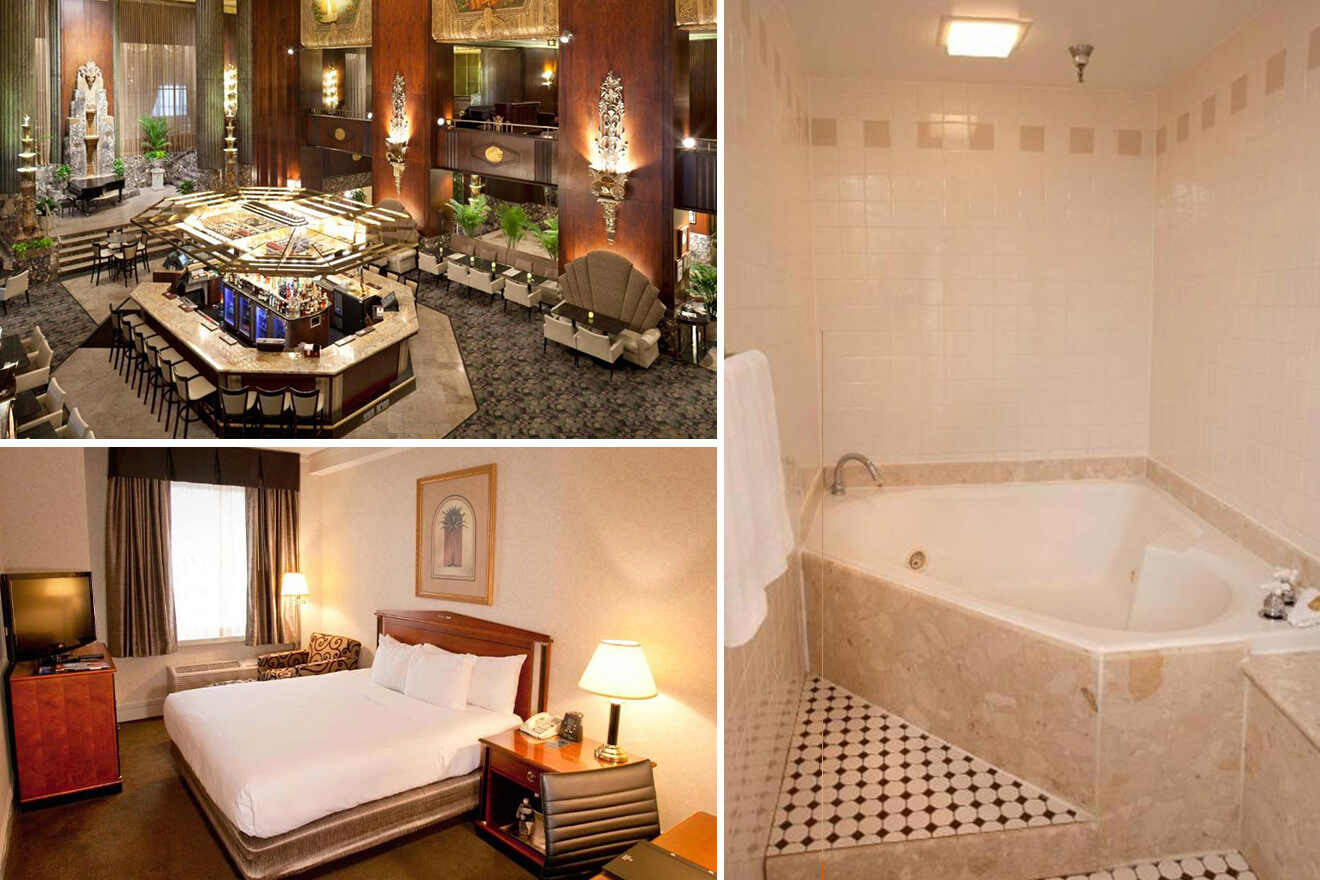 Although this Cincinnatian hotel is rated only 7.4, it's still an acceptable pick if you want to have all the decent accommodations with whirlpool suites. The king room features a private hot tub and a flat-screen TV.
Set in Downtown Cincinnati, near the Paul Brown Stadium, and the Ohio river, the hotel features an on-site fitness center, a clothing store, a business center, and even a beauty salon! Basically everything you need for your stay in town, right?
3. Holiday Inn Hotel & Suites – modern hotel with a pool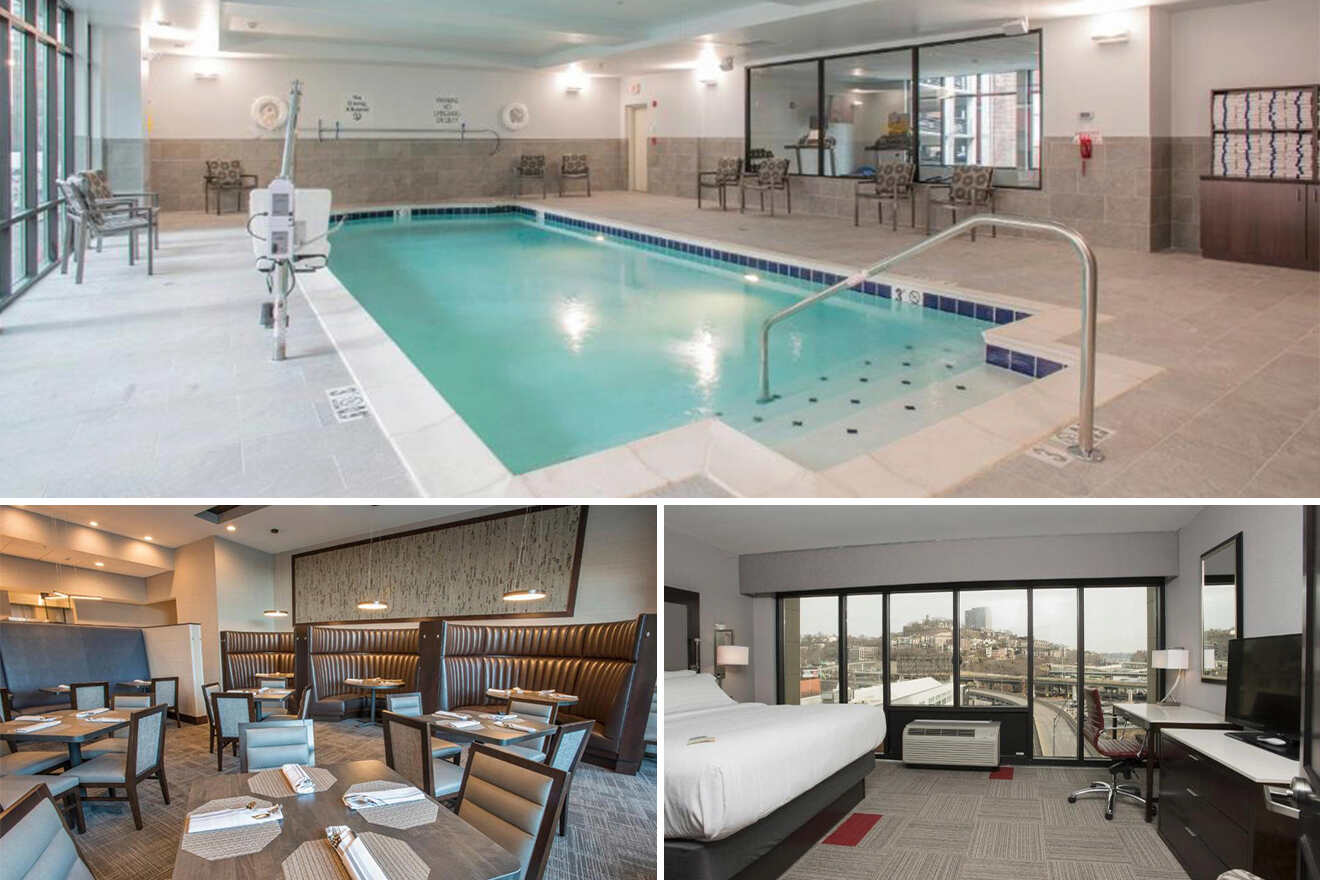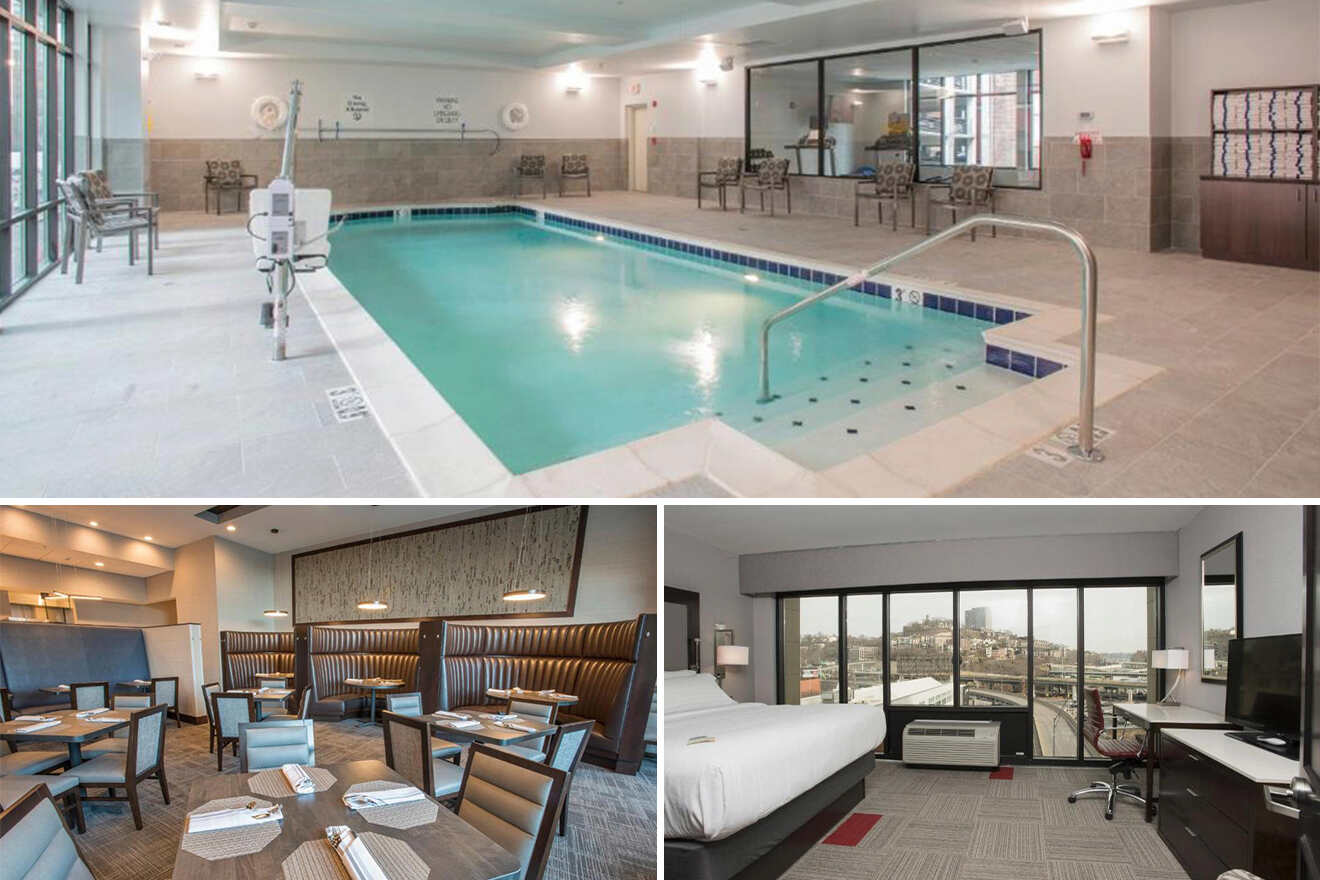 Still looking for the perfect hotel with a private hot tub? Then have a look at this one which is located right in the middle of the action in Downtown Cincinnati, near the Paul Brown Stadium. Their king rooms have a whirlpool tub, and, of course, a flat-screen TV for those nights when you just wanna crash and watch something in bed.
You also should bring your swimsuits because their indoor pool is open for all guests, as is the fitness center. Although you've got lots of restaurants nearby I'd also stop by the restaurant on-site, especially knowing that you get a complimentary breakfast!
4. Hampton Inn Cincinnati Northwest Fairfield – a cozy hotel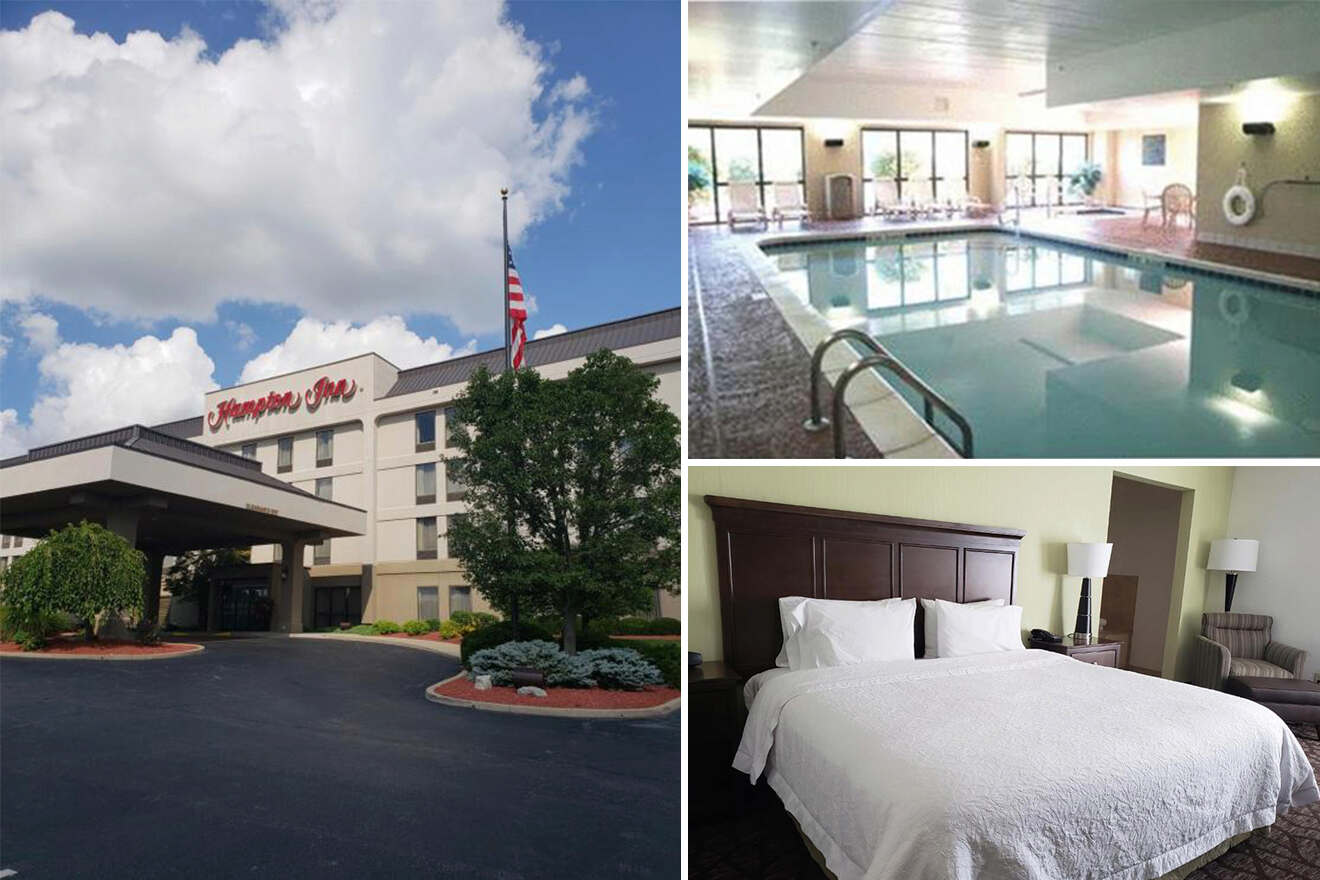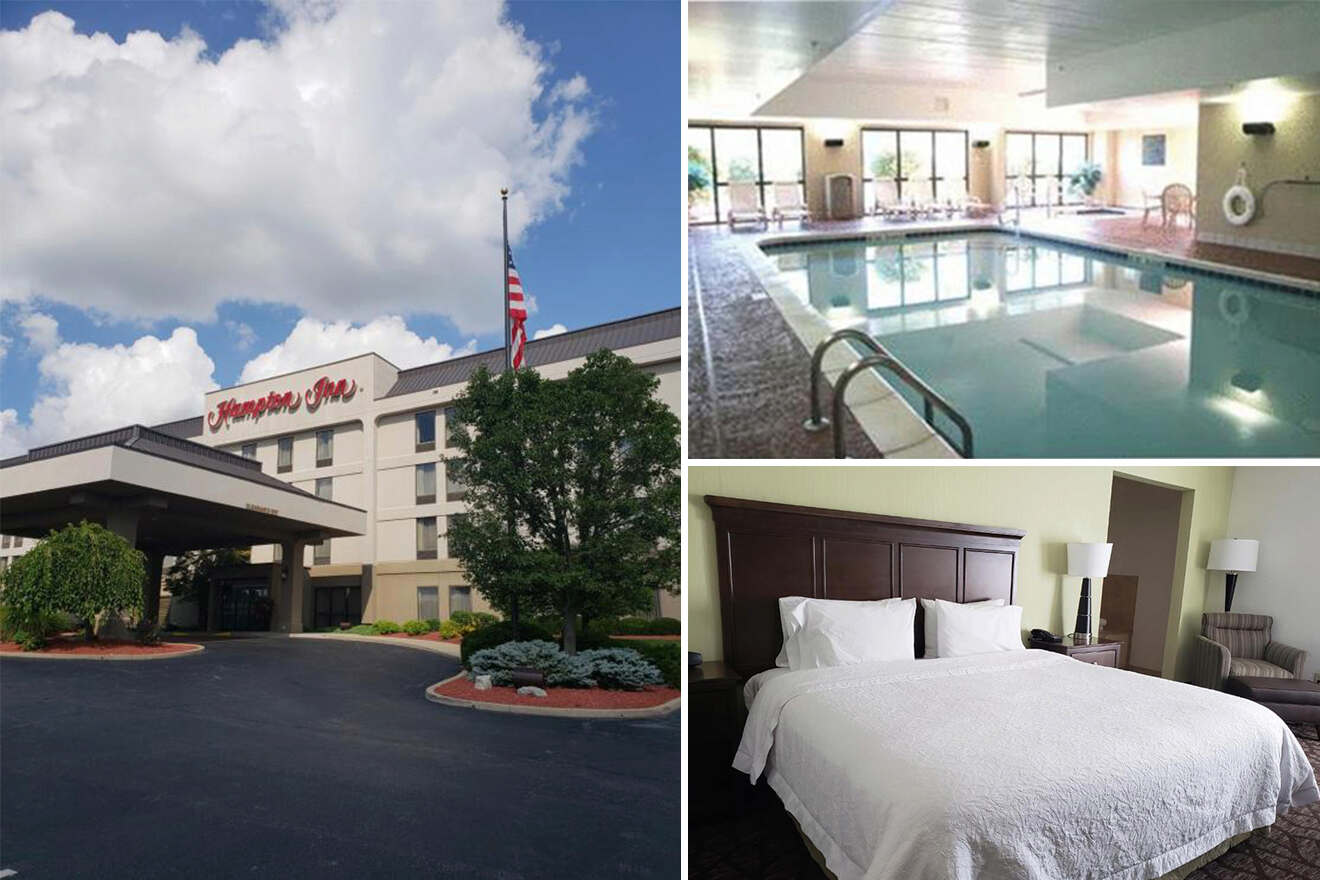 Book the king suite and relax in the hot tub after a day of exploring the city at this amazing hotel that offers comfy beds and free Wi-Fi. Located just 30 minutes drive away from the Duke Energy Convention Center, the accommodation also offers a fitness center and a free breakfast in the morning.
But I think most of you will be happy to know that there's also an indoor swimming pool. So, you better pack some swimsuits if you're up for some nice, long dips in the water! As you'll see the hotel has a lower score than I'd normally recommend, but since there aren't many options I had to be flexible.
5. Drury Inn & Suites Cincinnati – the most romantic hotel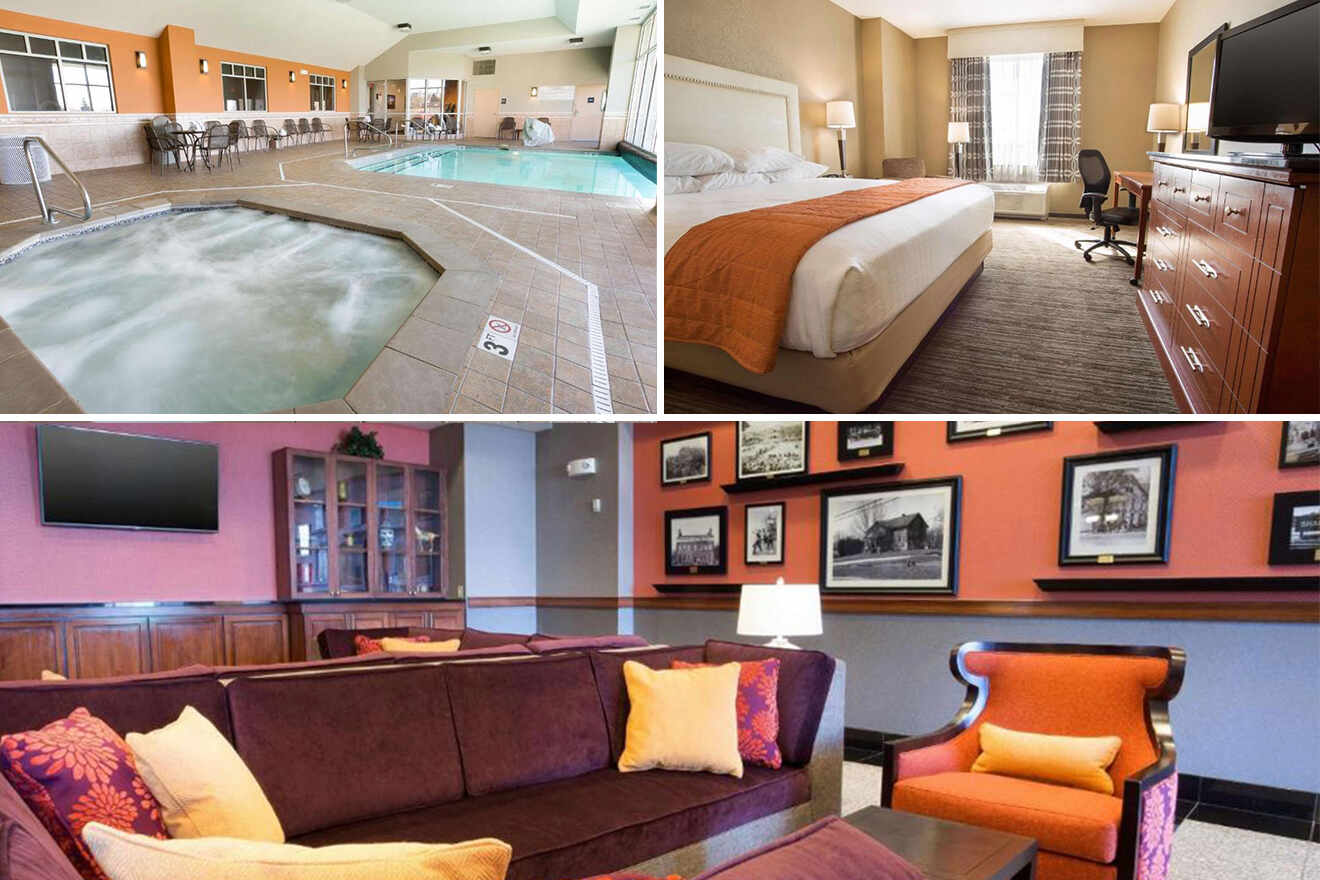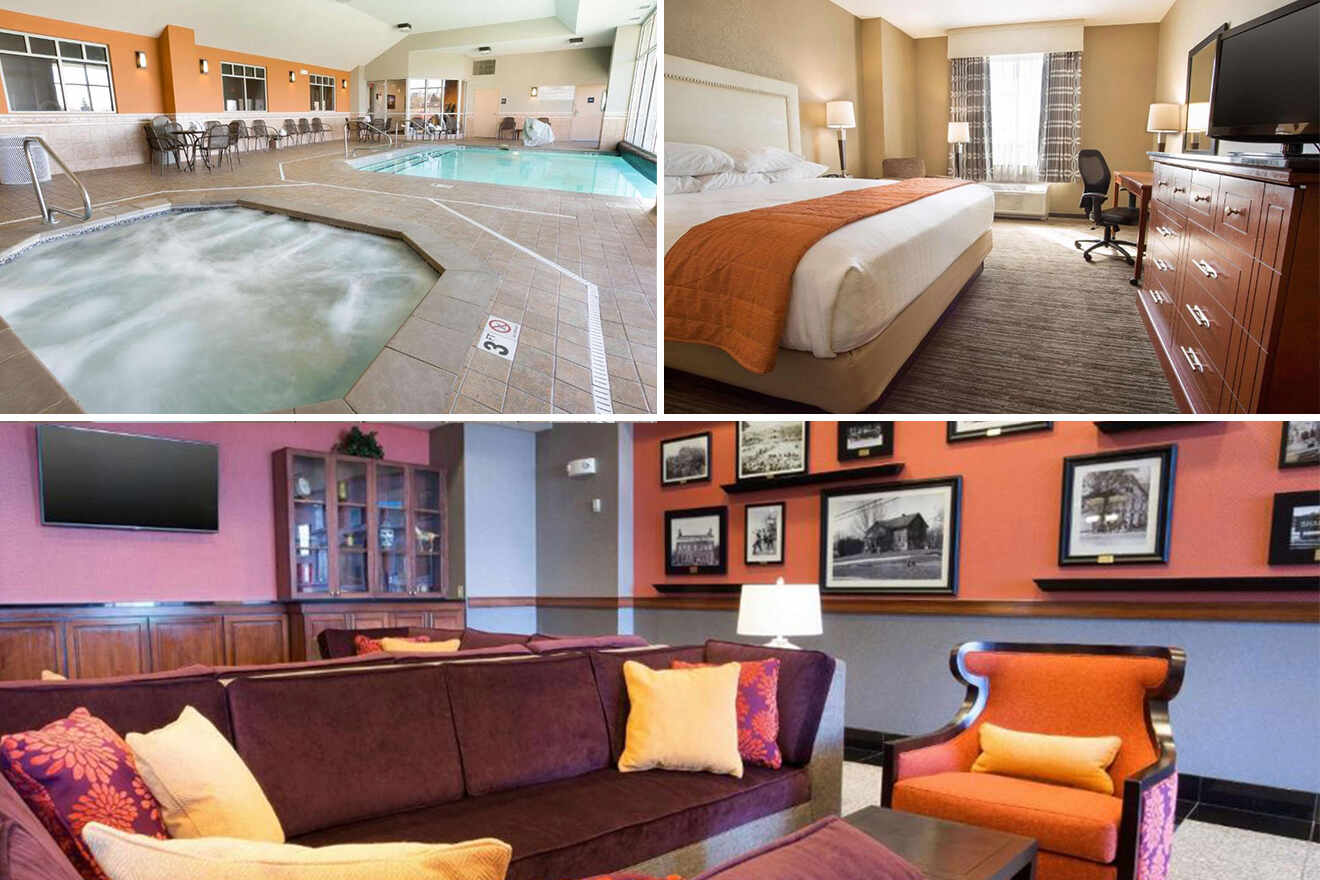 If you're planning a romantic getaway to Cincinnati then this hotel which is set near the Sharonville Convention Center and Sharon Woods Park is definitely for you! It has all the modern amenities you need including an outdoor-indoor pool, a hot tub, free parking, a meeting room, and, of course, privacy.
But the missing pieces that you're probably looking for are the hot tub rooms! Well, the deluxe king room has a spa bath, as does the superior king room, and other facilities like a flat-screen TV and free Wi-Fi. You can start your morning with a free hot breakfast, enjoy some time in your private whirlpool tub and head out to explore the city!
6. LivInn Hotel Cincinnati North – cool hotel with a pool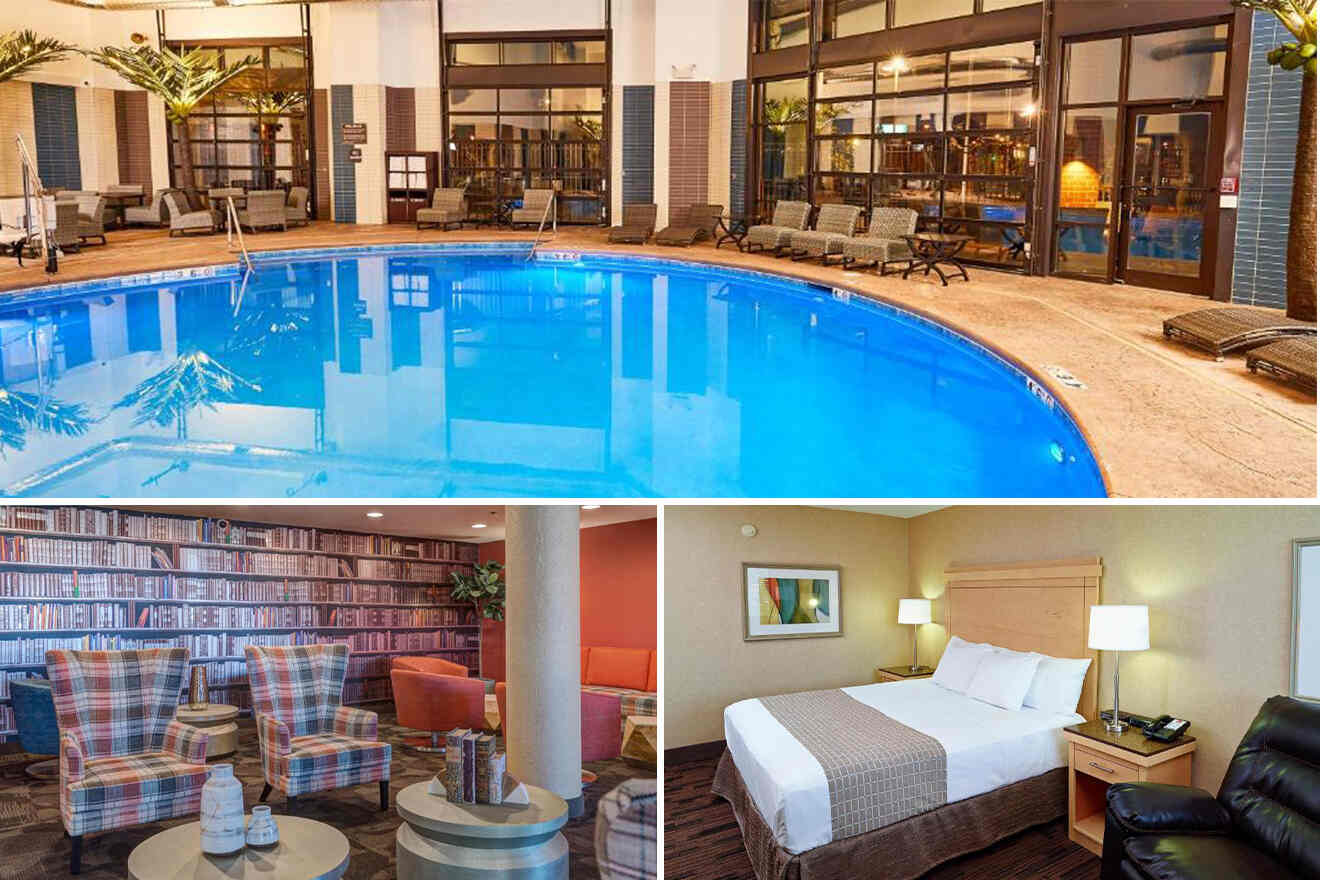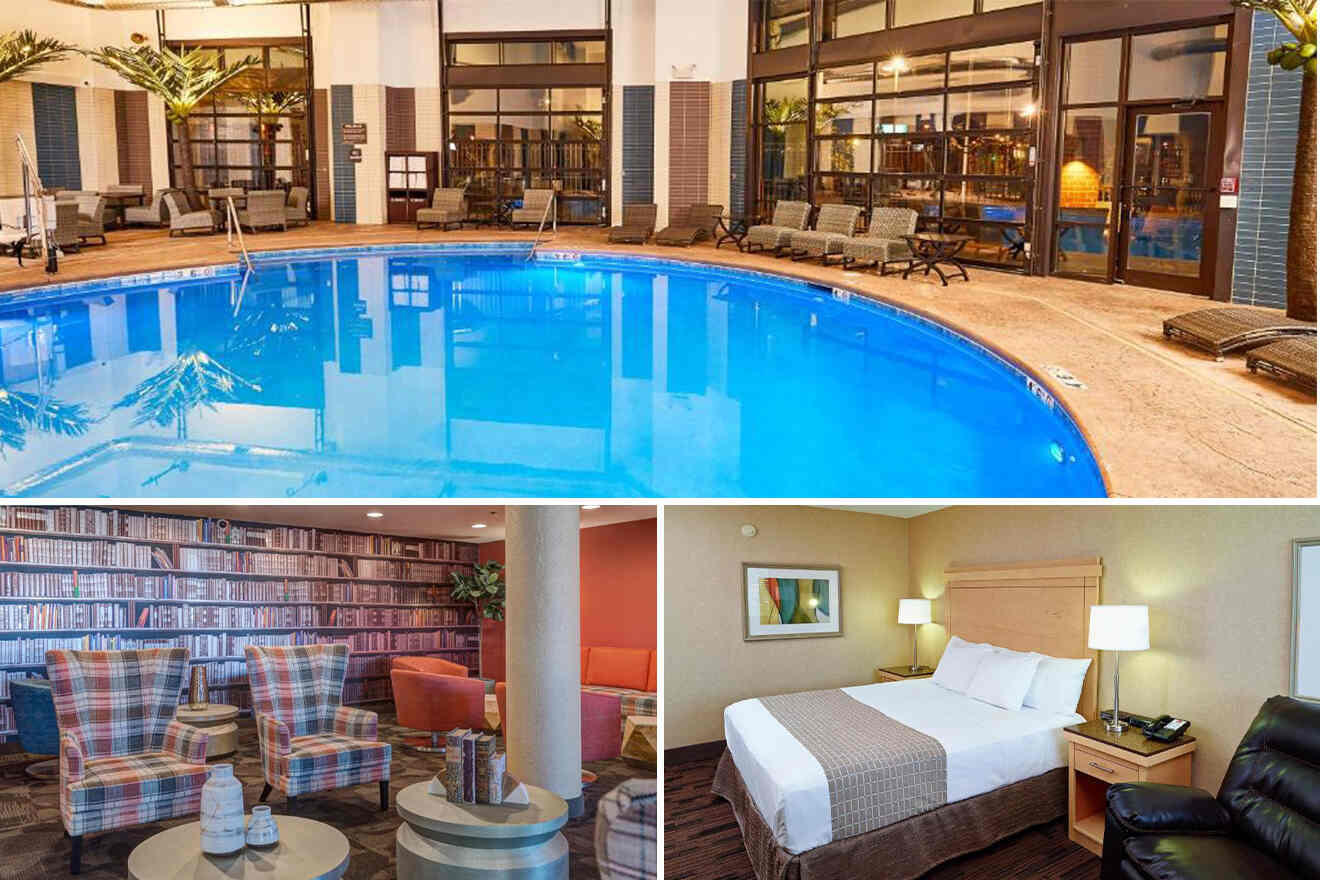 This hotel with whirlpool suites has a lower score but it's still acceptable since there are so few options! Offering convenient highway access, an indoor pool, and spacious rooms, this hotel is perfect for a tranquil trip in Cincinnati.
What will make everything super relaxing is your own private hot tub! Oh yes, the hotel, which is set a short drive away from the Cincinnati Airport, features a fabulous whirlpool suite where you'll get all the privacy you need, a flat-screen TV, and a coffee maker as well, so you can start your mornings in the right way!
7. Red Roof Inn & Suites – nice hotel with an outdoor pool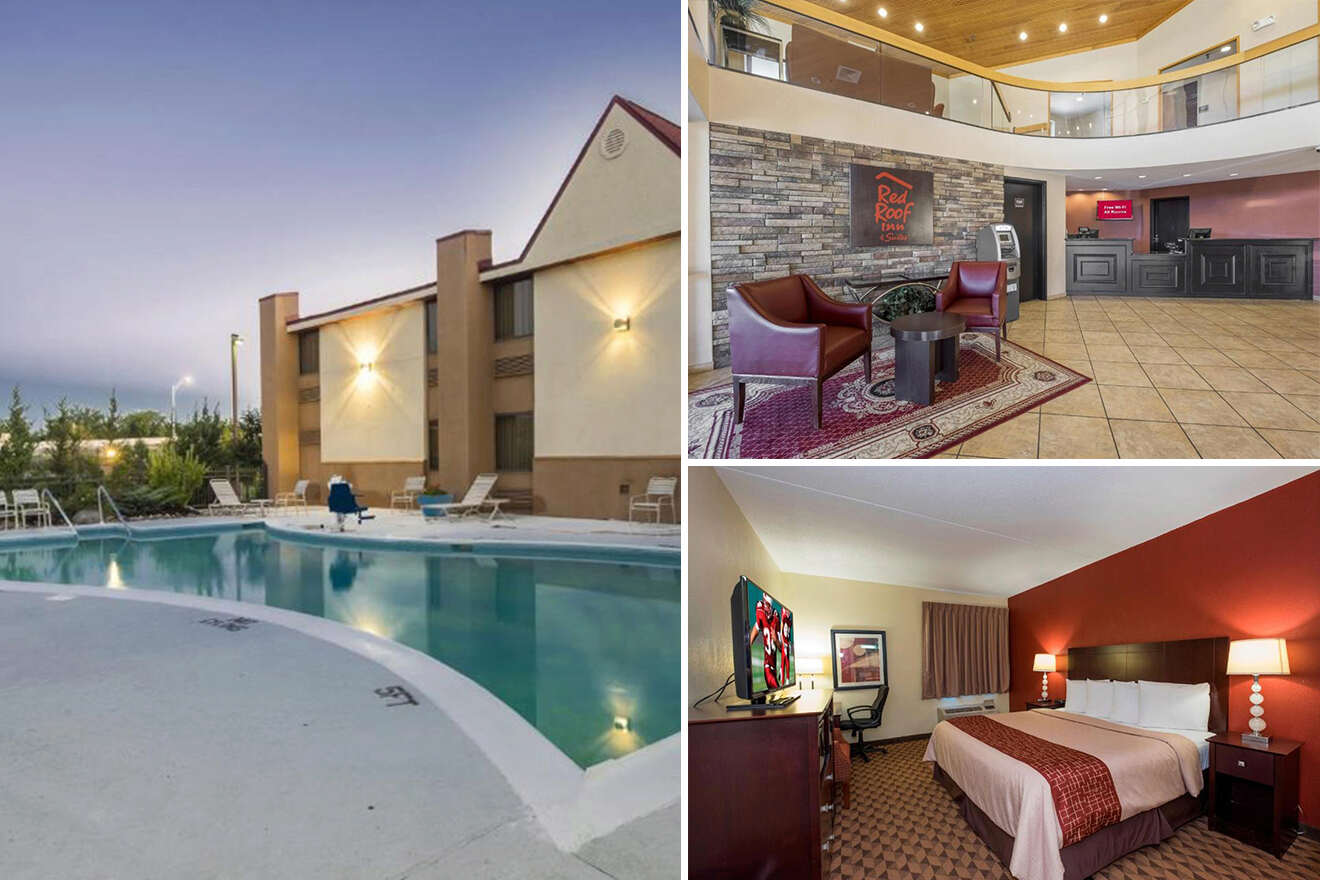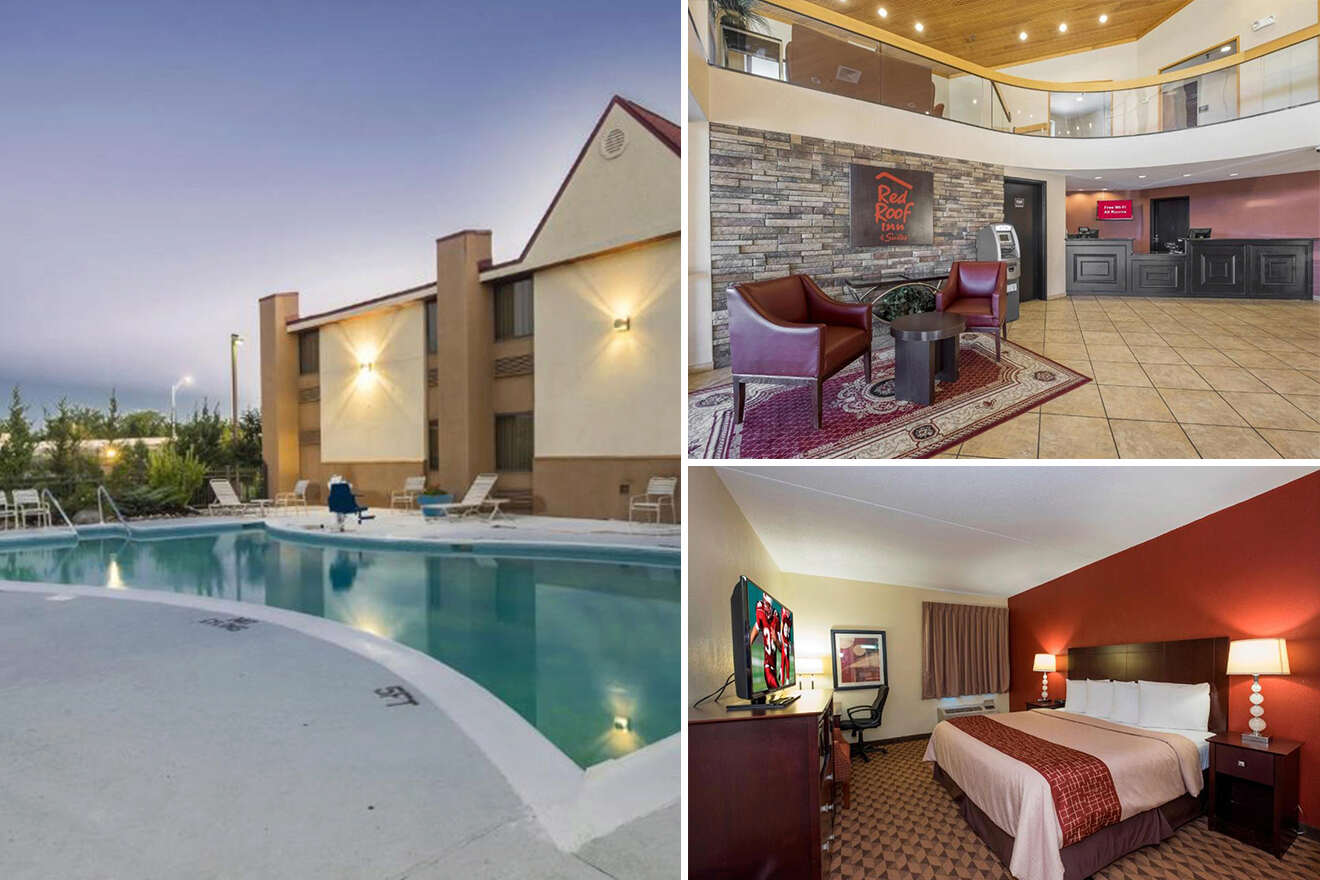 I'm wrapping up with a hotel that also has a lower score, but as I mentioned the list of jacuzzi hotels is tight! This place looks really nice though, and it has a seasonal outdoor pool and a fitness center.
However, if you want to book the whirlpool suite you'll have to call up the hotel and book the specific room with a hot tub. Set just a short drive from the Kings Island Amusement Park, the pet-friendly hotel also comes with free private parking spaces for all guests.
BONUS 1: Best vacation rentals with a hot tub
Since we don't have so many options of hotels with hot tub suites in Cincinnati, I've decided to make another section with 3 amazing vacation rentals that have their own spa tubs!
I've also listed the accommodations from most to least expensive so you can quickly pick your favorite: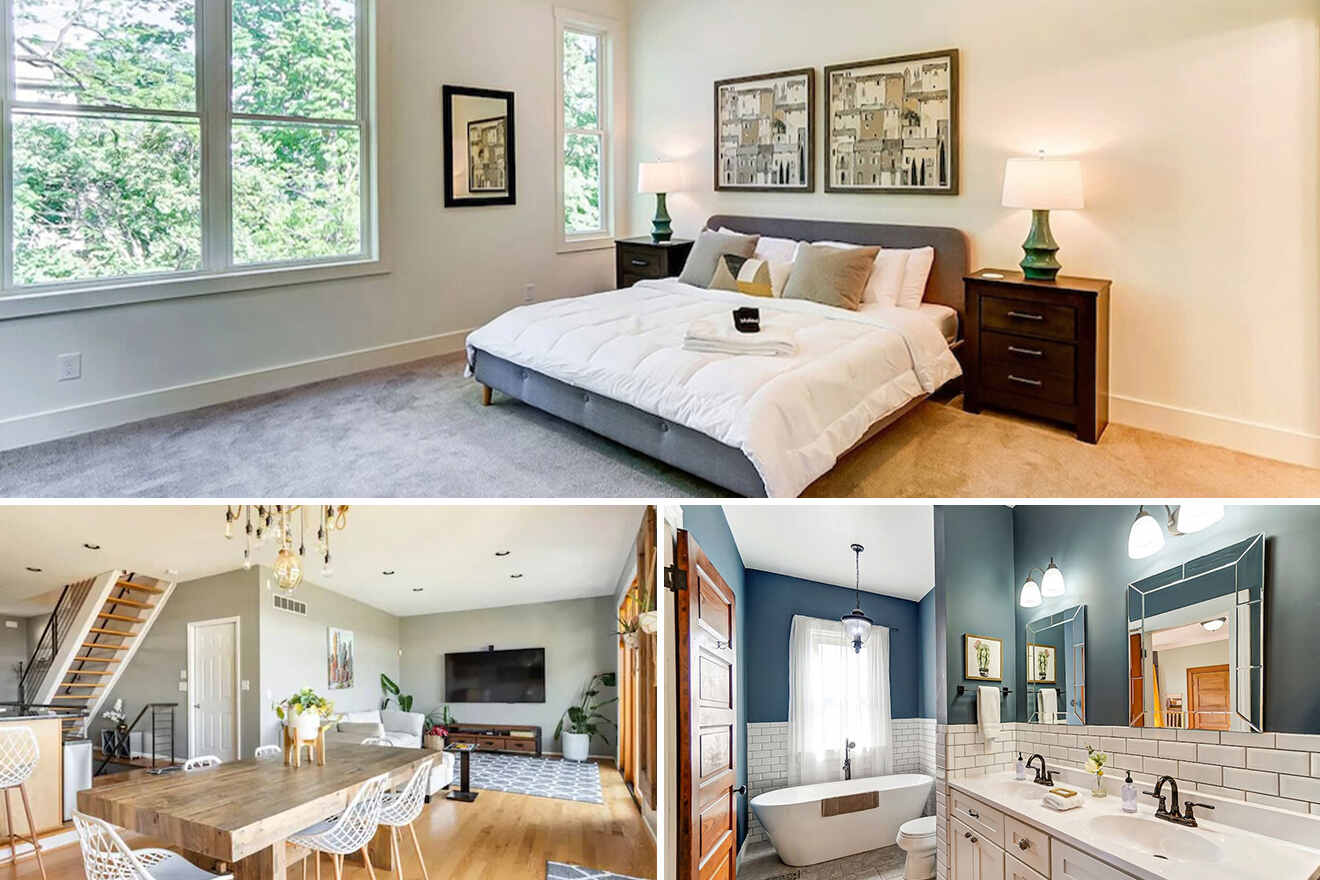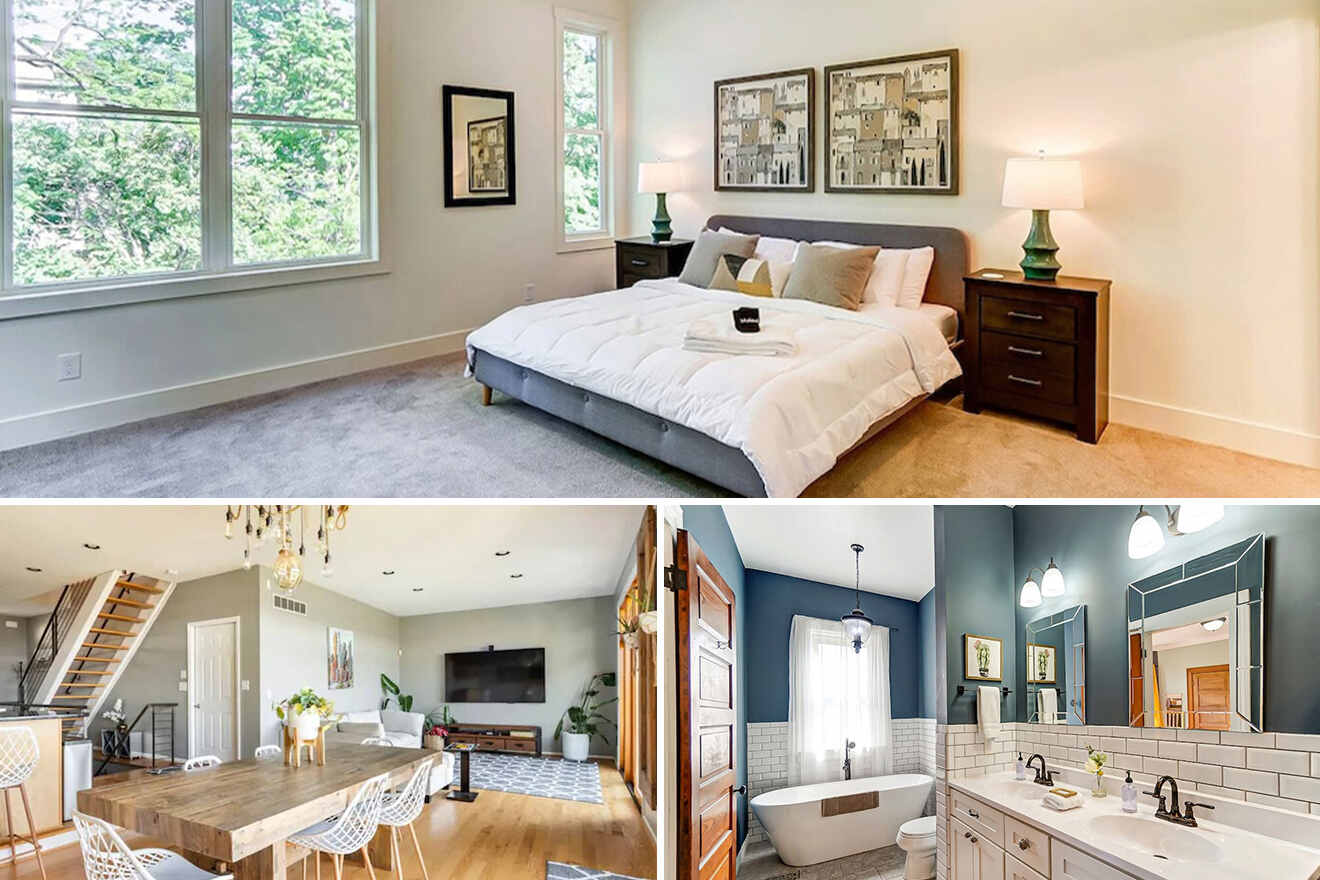 BONUS 2: Top hotels with an indoor pool
Today is your lucky day because I've decided to treat you with another bonus section where I've added 3 amazing hotels with an indoor pool! All the hotels are luxury with prices around US$200.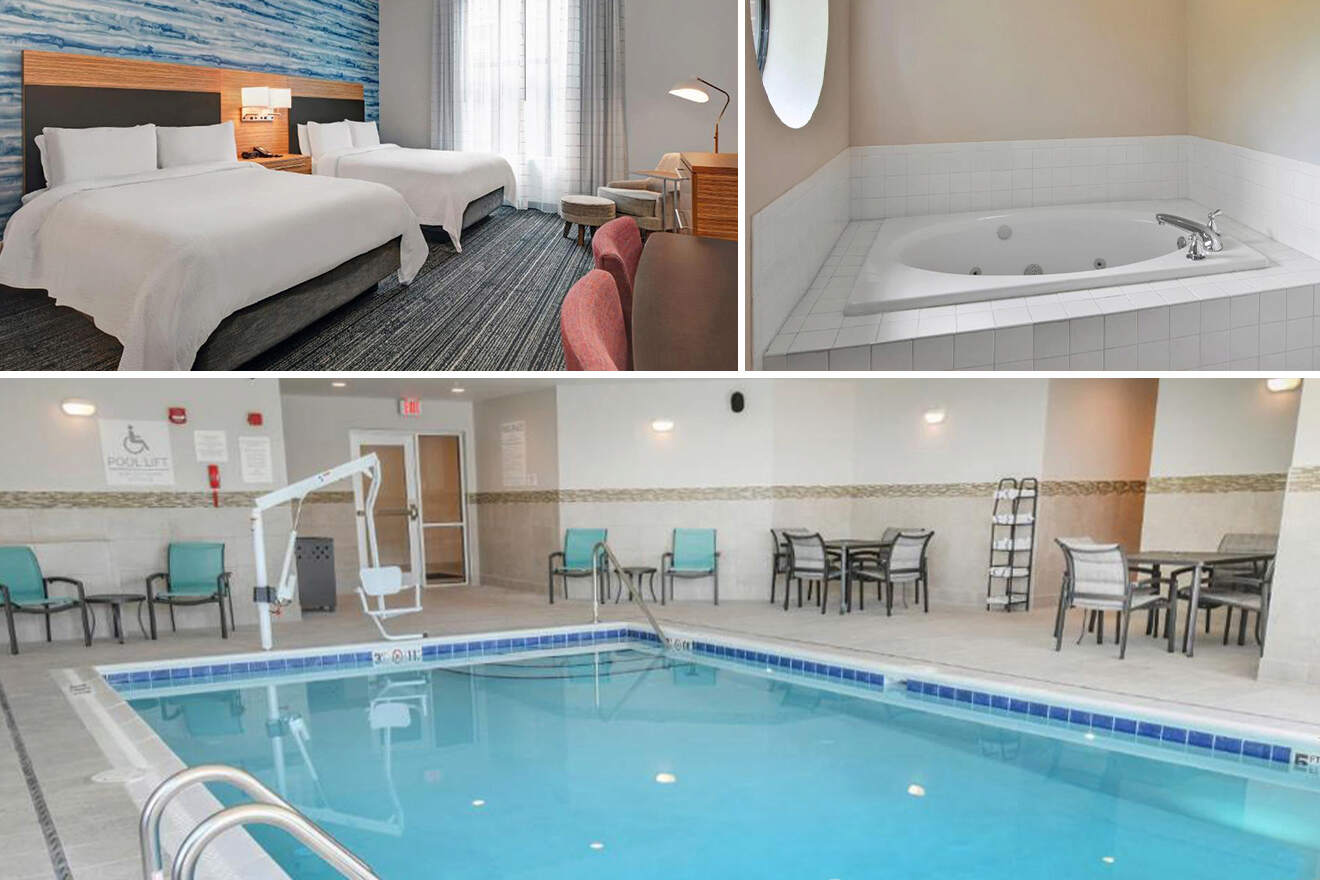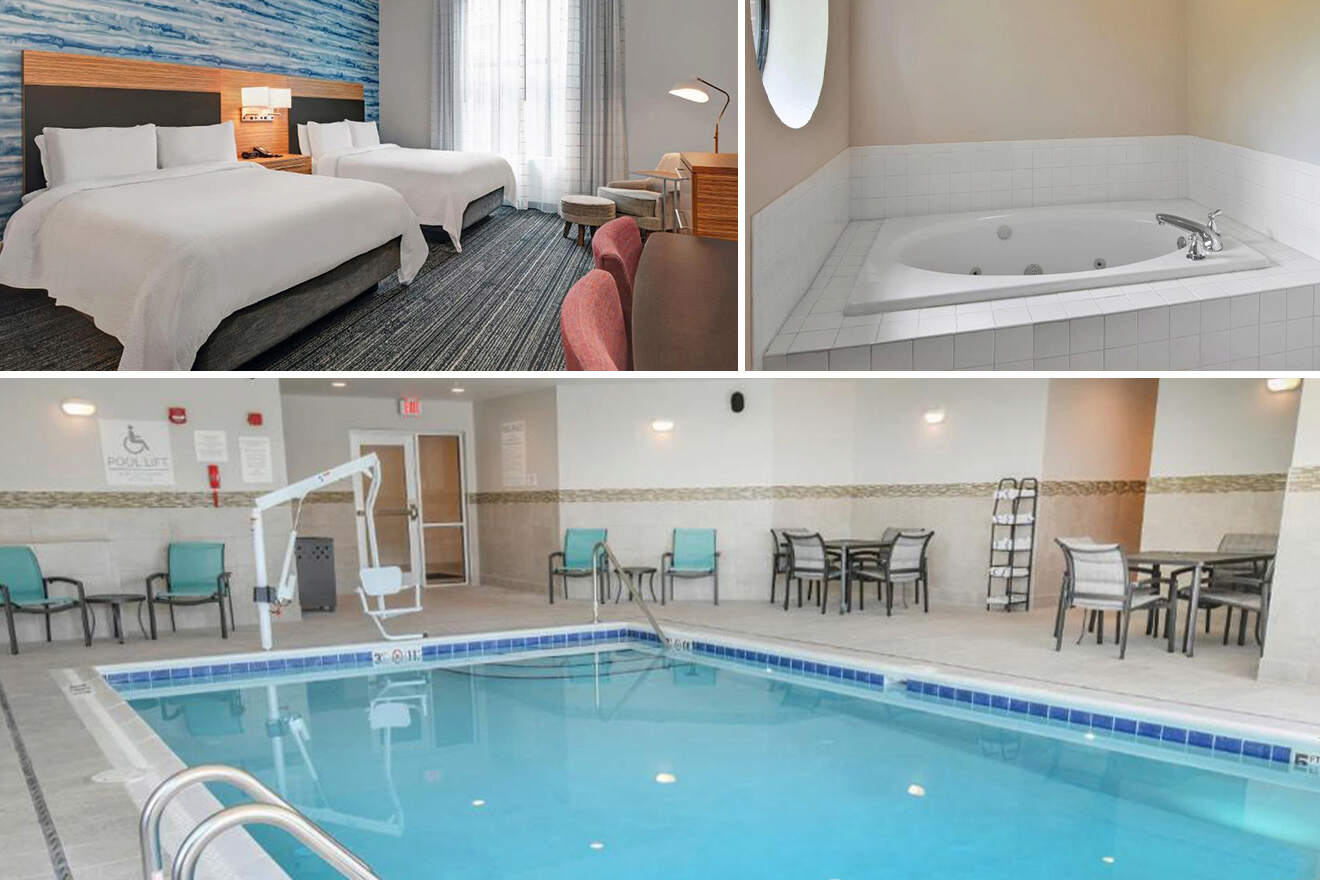 FAQs about Cincinnati hotels with jacuzzi in the room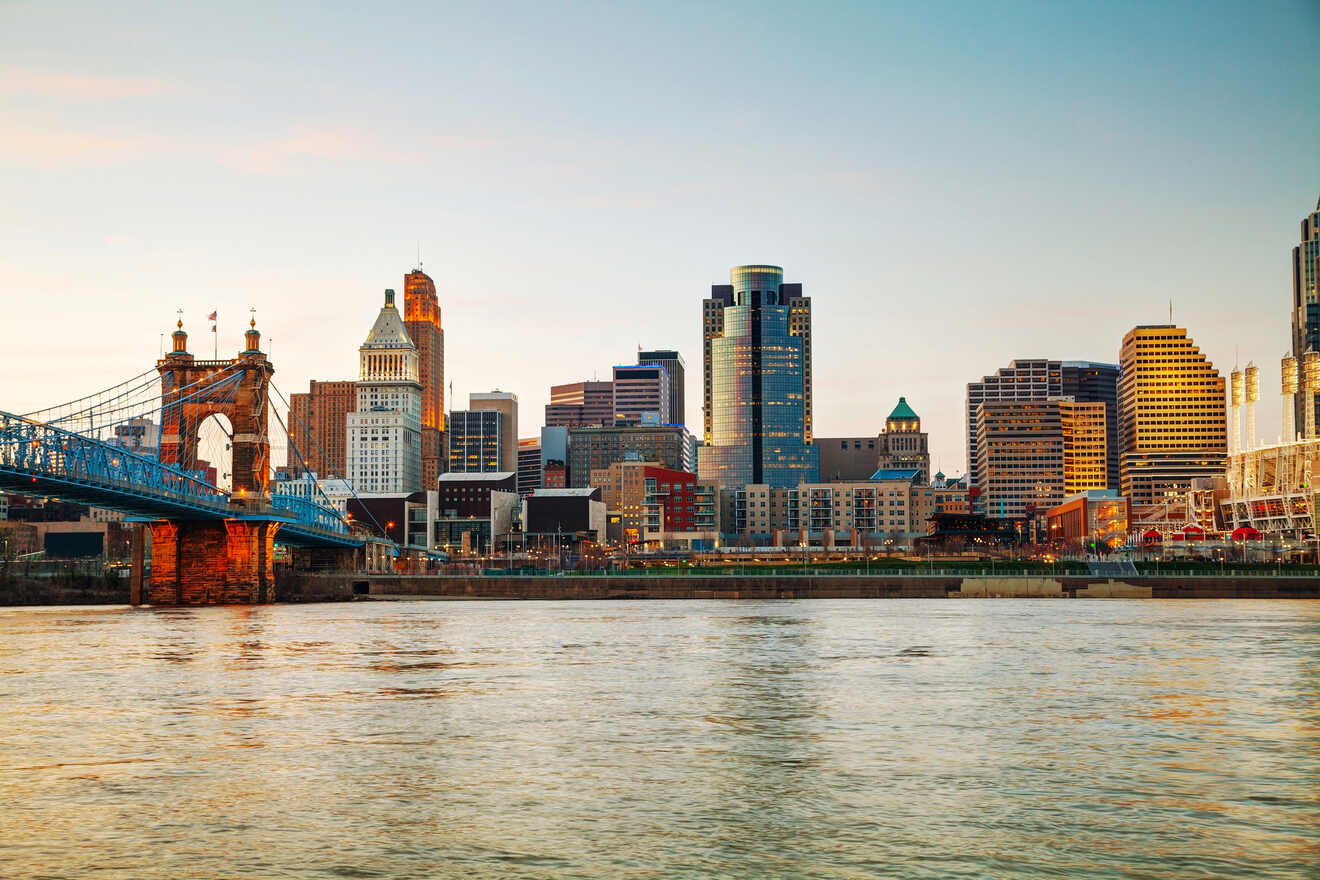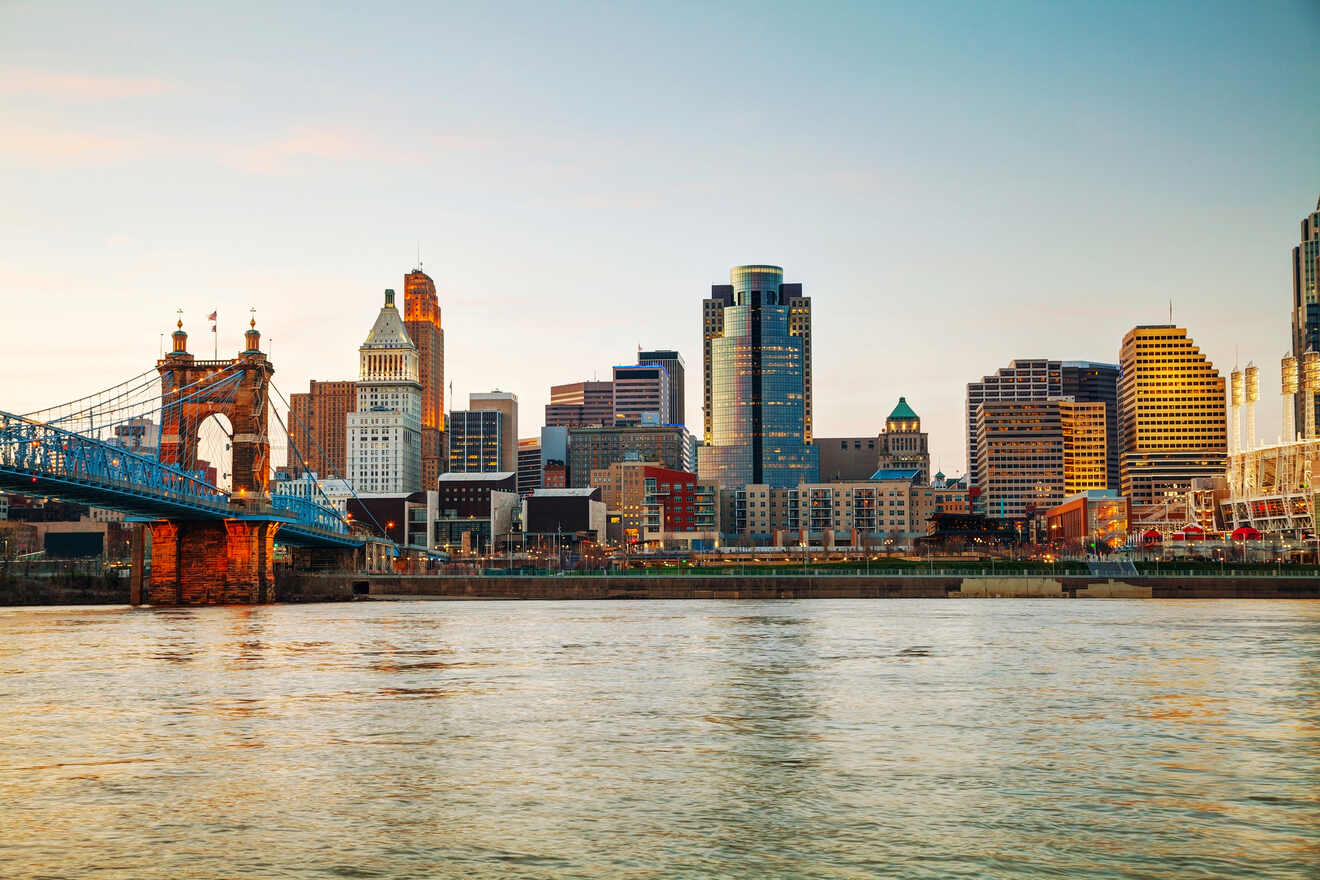 ♨️ Which are the best romantic hotels with hot tub suites in Cincinnati?
🛀 How much do hotels with a whirlpool tub cost in Cincinnati?
A luxury hotel costs around US$350, a mid-range one costs around US$200, and a budget one up to US$100.
🌆 Which is the best area to stay in Cincinnati?
Downtown Cincinnati is the best area in town where you'll find many attractions like the Duke Energy Convention Center and the Great American Ball Park.
🍺 What is Cincinnati, Ohio is most known for?
Cincinnati is super famous for its beer and it has over 50 breweries. At one point it was known as the beer capital of the world.
Conclusion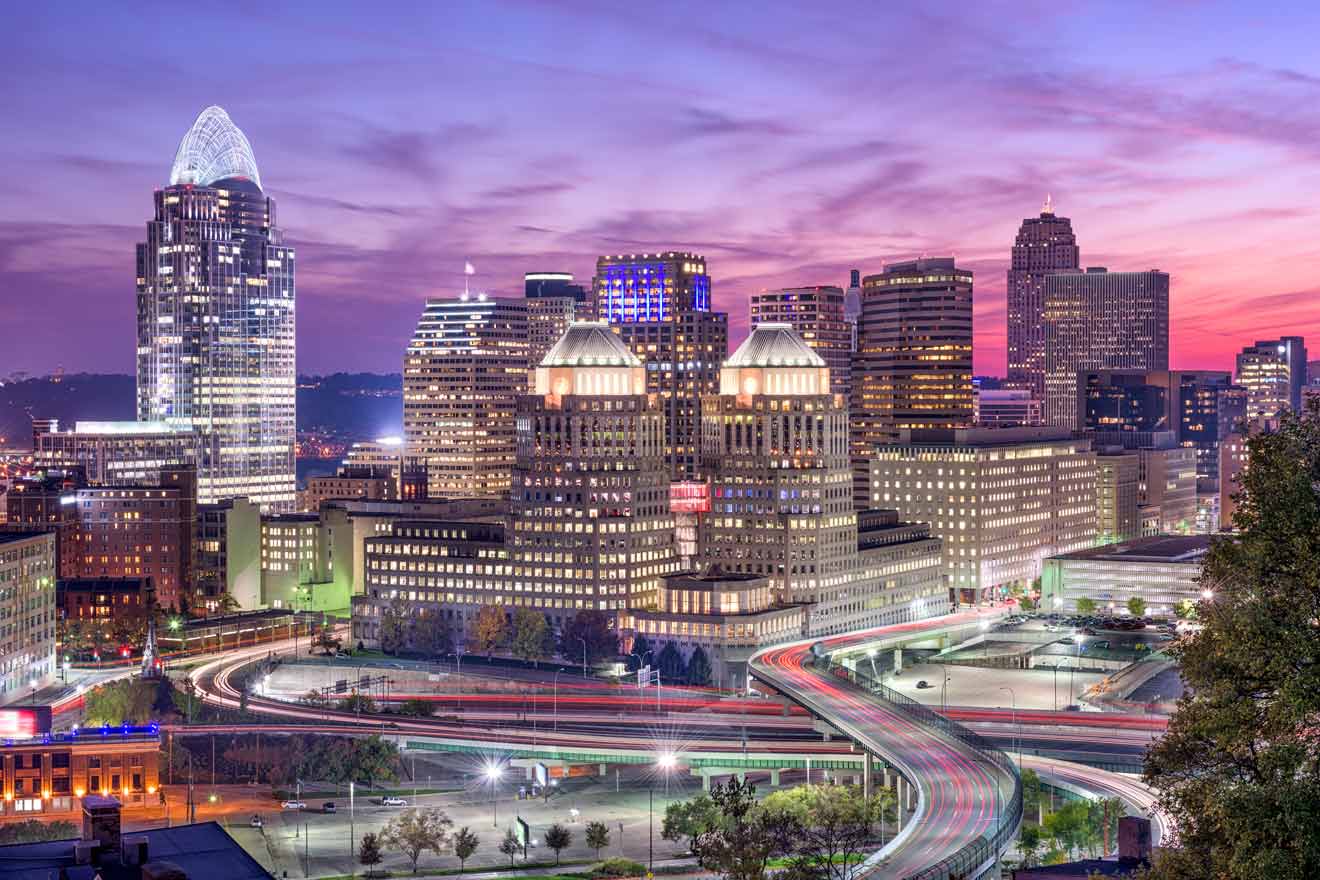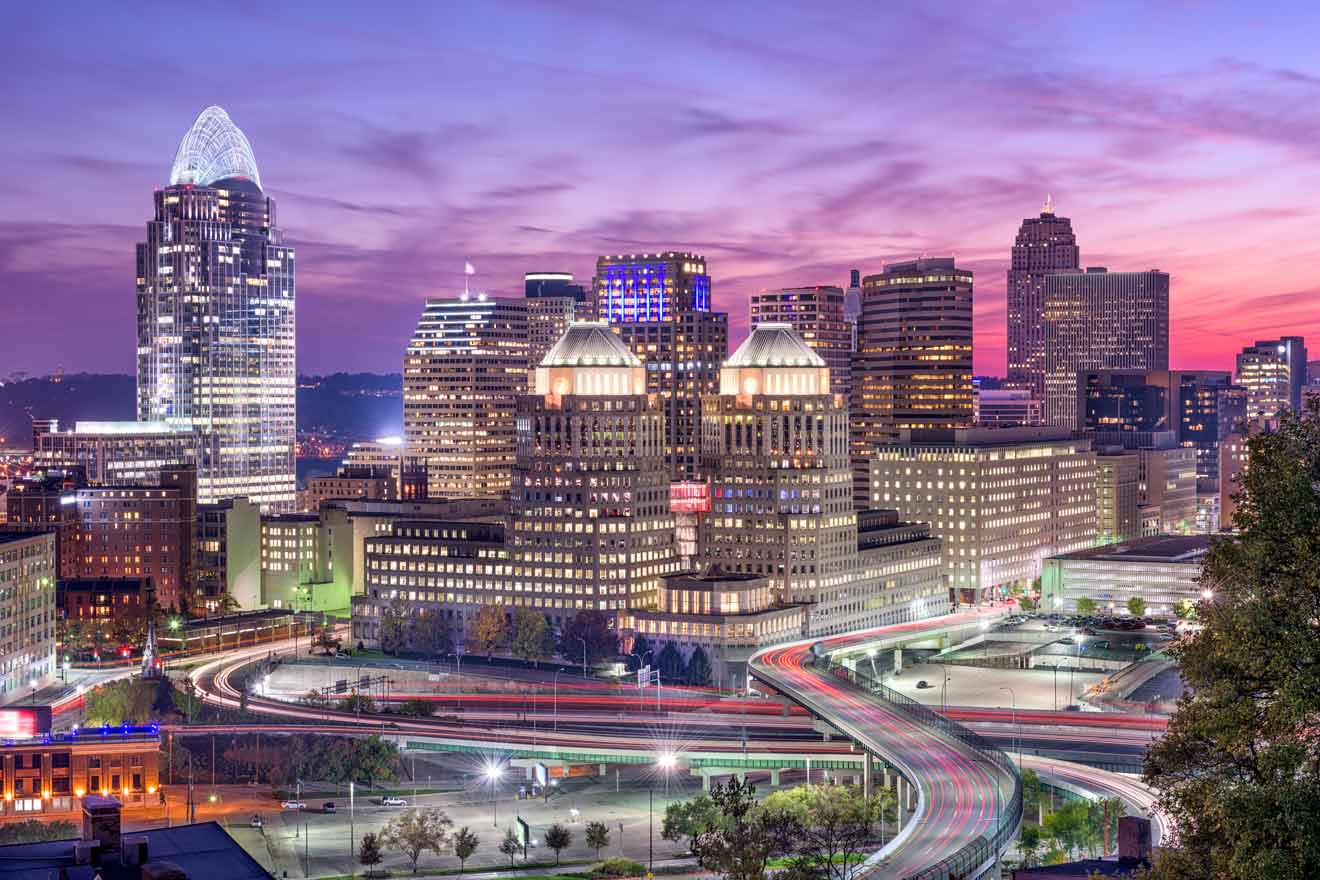 All this talk about whirlpool tubs that all I want to do is light some candles and take a long bath! And luckily you'll get to do that pretty soon in these amazing jacuzzi hotels.
Well, now that we've seen the best Cincinnati hotels with a jacuzzi in the room, some great vacation rentals with hot tubs, and also some great accommodations with an indoor pool, I think you're all ready to start planning your trip!
Before we say our farewells I wanted to leave you with my 2 favorite hotels that have whirlpool spa tubs designed for ultimate comfort:
But don't forget that it's super important to book your hotel room in advance, otherwise you may be left with the not-so-pretty-and-too-expensive options and no one likes that!
Enjoy your trip and remember that I'm just a comment away if you have any questions!
Safe travels,
Victoria
---
Pin it for later!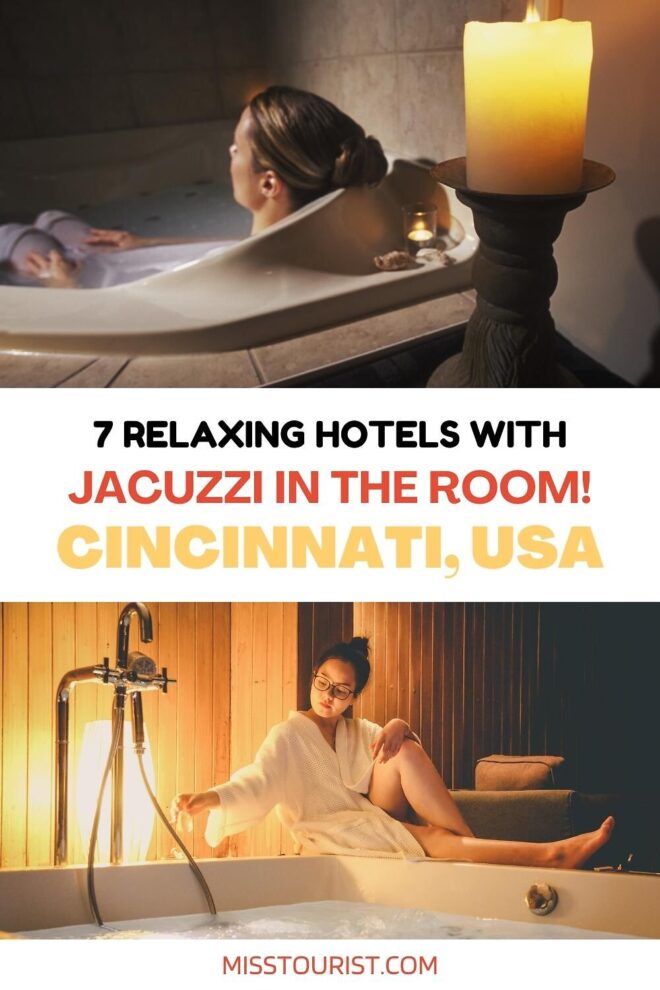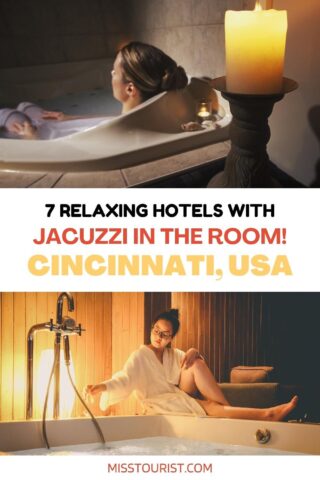 Pin it for later!