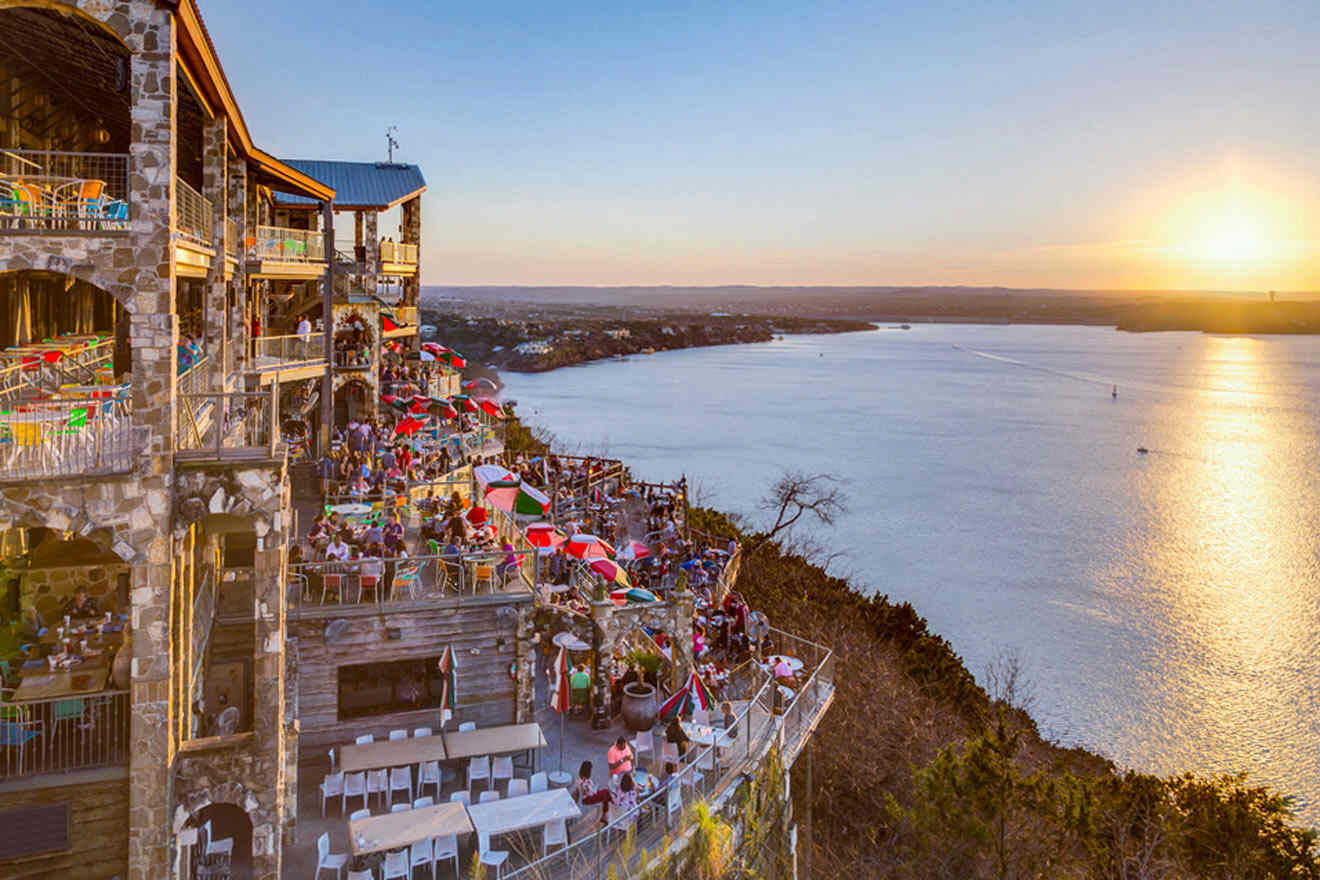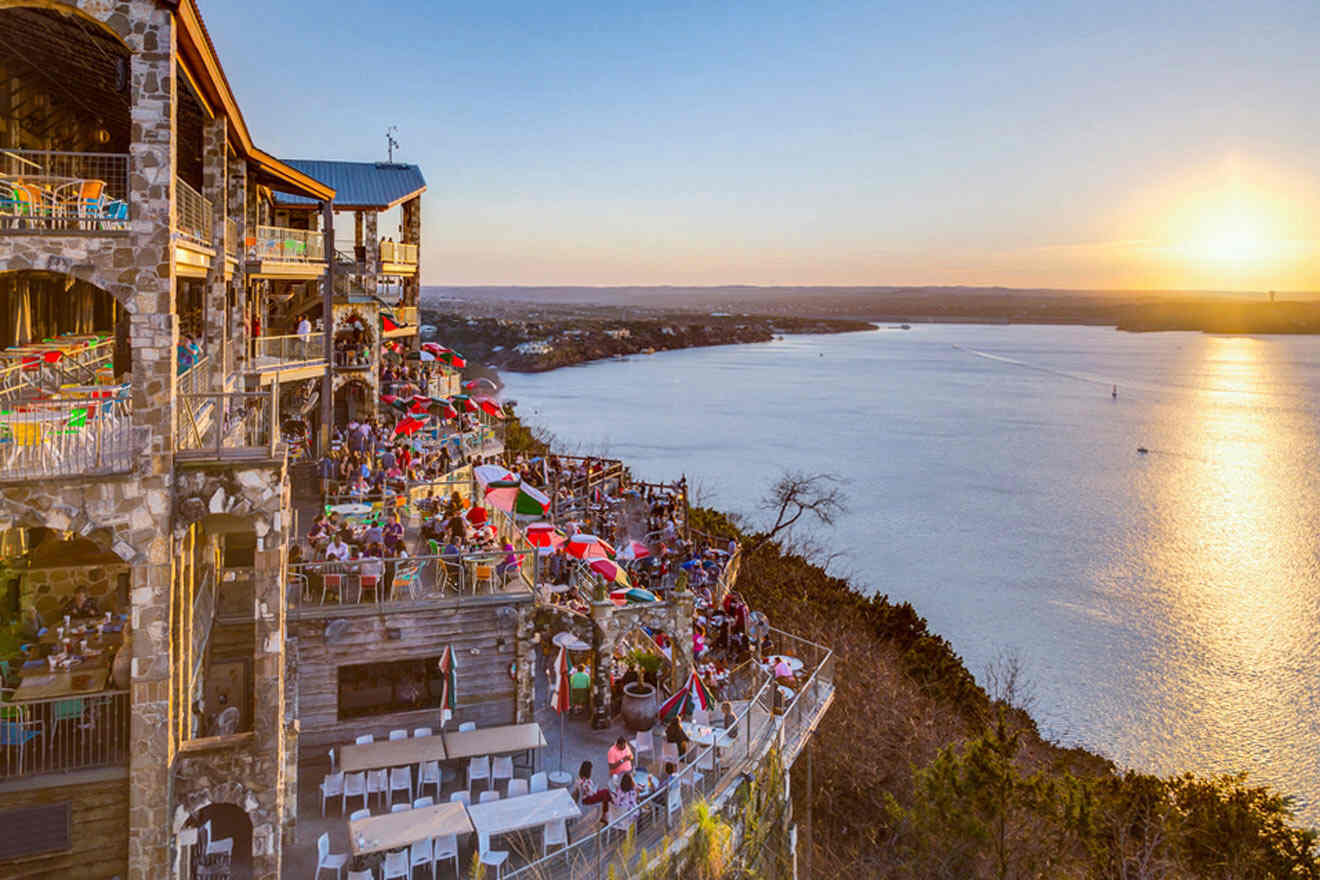 Are you planning to go on vacation to Austin, Texas, with your family? I know looking for family-friendly resorts can be a hard job; we want to find the perfect one with the best amenities and facilities! Lucky for you, I have been researching for many hours the best Austin family resorts, so you can just choose your family-friendly resort from a list full of amazing options!
I have arranged this post to start with the most luxurious ones first, but let me tell you something, I was blown away by the quality of all the cool family resorts in Austin, so for sure, you will find one that ticks all the must-have boxes off your list!
Austin, in central Texas, is such a popular destination family, friends, and couples travel to this vibrant city full of music and art! So, if you want to book the room of your dreams, book as soon as you make a decision and start planning the rest of your trip!
Let's check out the best family resorts in Austin! Shall we?!
If you are in a hurry
I know not everyone has the time to go through the entire post, which is why I've gathered the best 3 options for Austin family resorts, so you can simply click and book!
We covered Austin hotels, a few resorts near Austin city center, and some a little further away, so here is a map with the exact location of the resorts so to help you out when booking your room!
1. Hyatt Regency Lost Pines Resort & Spa – Texas Hill Country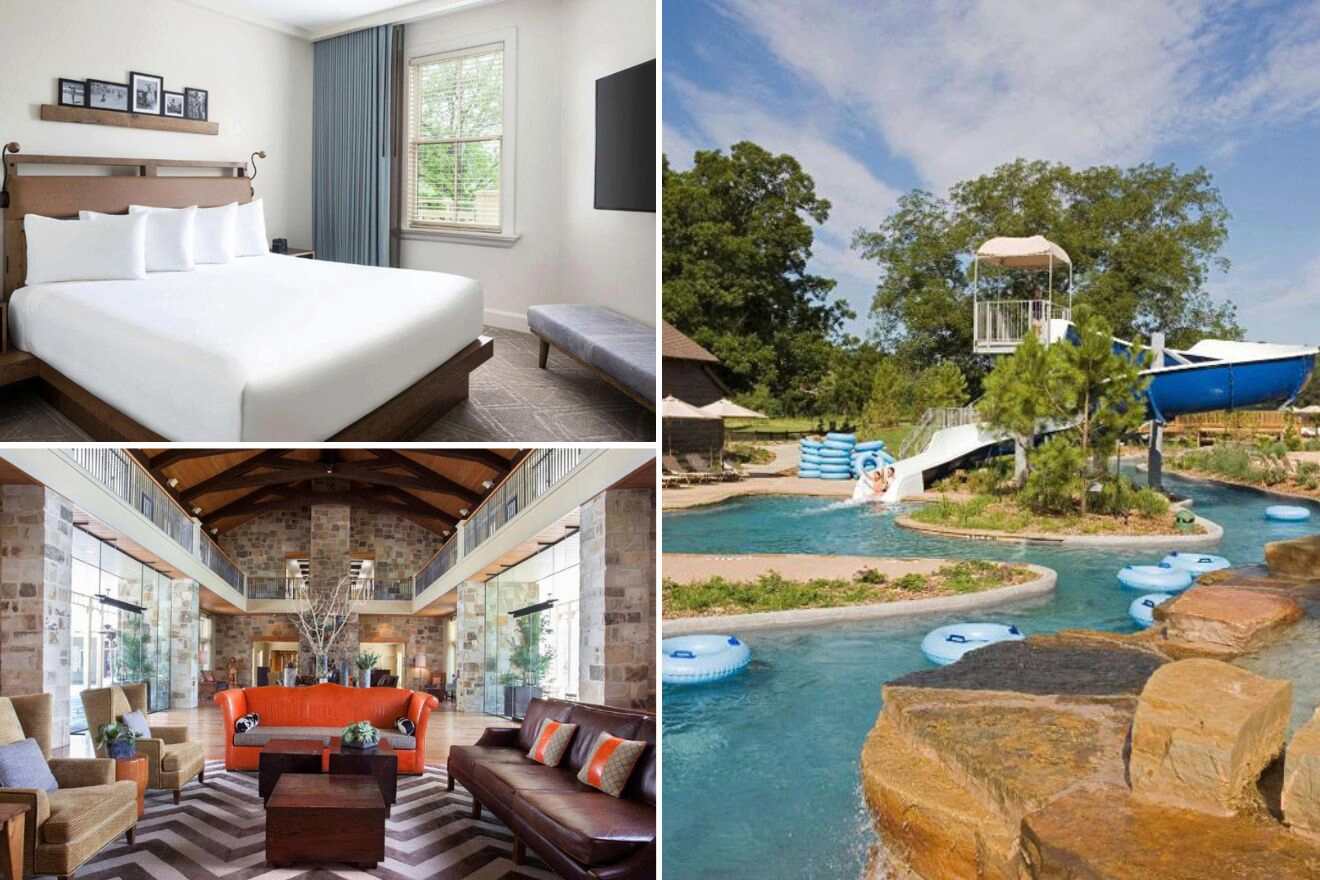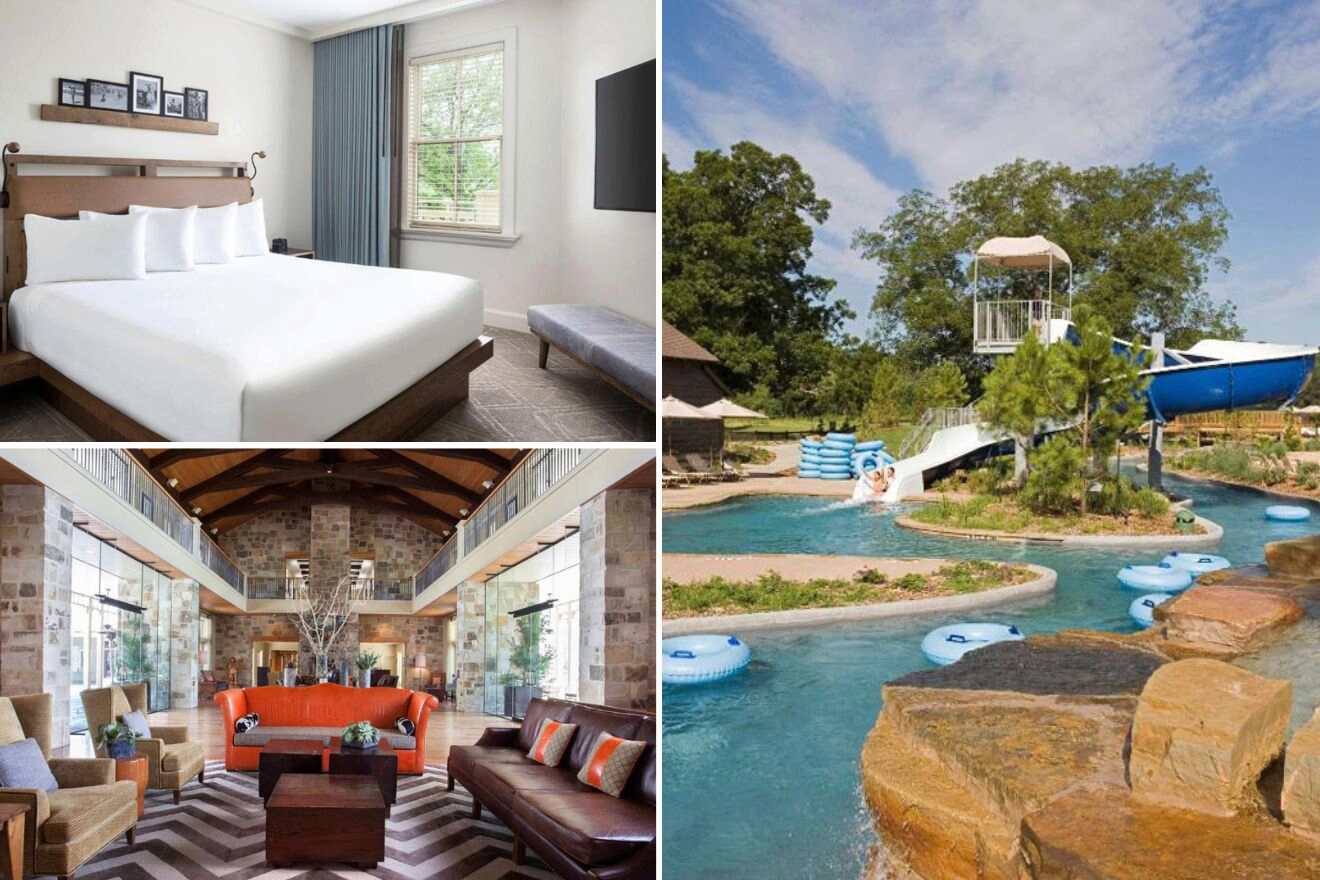 What an elegant and luxurious resort, perfect for families of all sizes! This resort is located in beautiful Cedar Creek and has so many clubs and activities for everyone, including a kids club, a game room with a mini arcade, a golf course, horseback riding (yes, you can go for horse rides), a fitness center and a full-service spa that include a hot tub and sauna! It also has a water park for kids, an outdoor swimming pool, and river recreation programs!
You can book rooms like the patio room, which comes with 2 queen beds and a bathtub and can host 4 guests, or rooms like the Governor's suite, which can host 8 family members and comes with a balcony and a living room area with a big sofa!
2. Kalahari Resorts & Conventions – stay in Round Rock
This resort looks so much fun, and it has a HUGE indoor waterpark! Perfect for families with kids of all ages, this cool resort has many outdoor pools, like a pool playground featuring water slides and bridges, a lazy river, and more pools perfect for your kids to make friends and meet children alike!
There are many onsite dining options available at the resorts, and the rooms are amazing. Some of them even come with hot tubs; rooms like the 3-bedroom presidential suite can host up to 12 guests and comes with a lot of nice amenities like a wrap balcony and a full wet bar.
3. Fairmont Austin – explore downtown Austin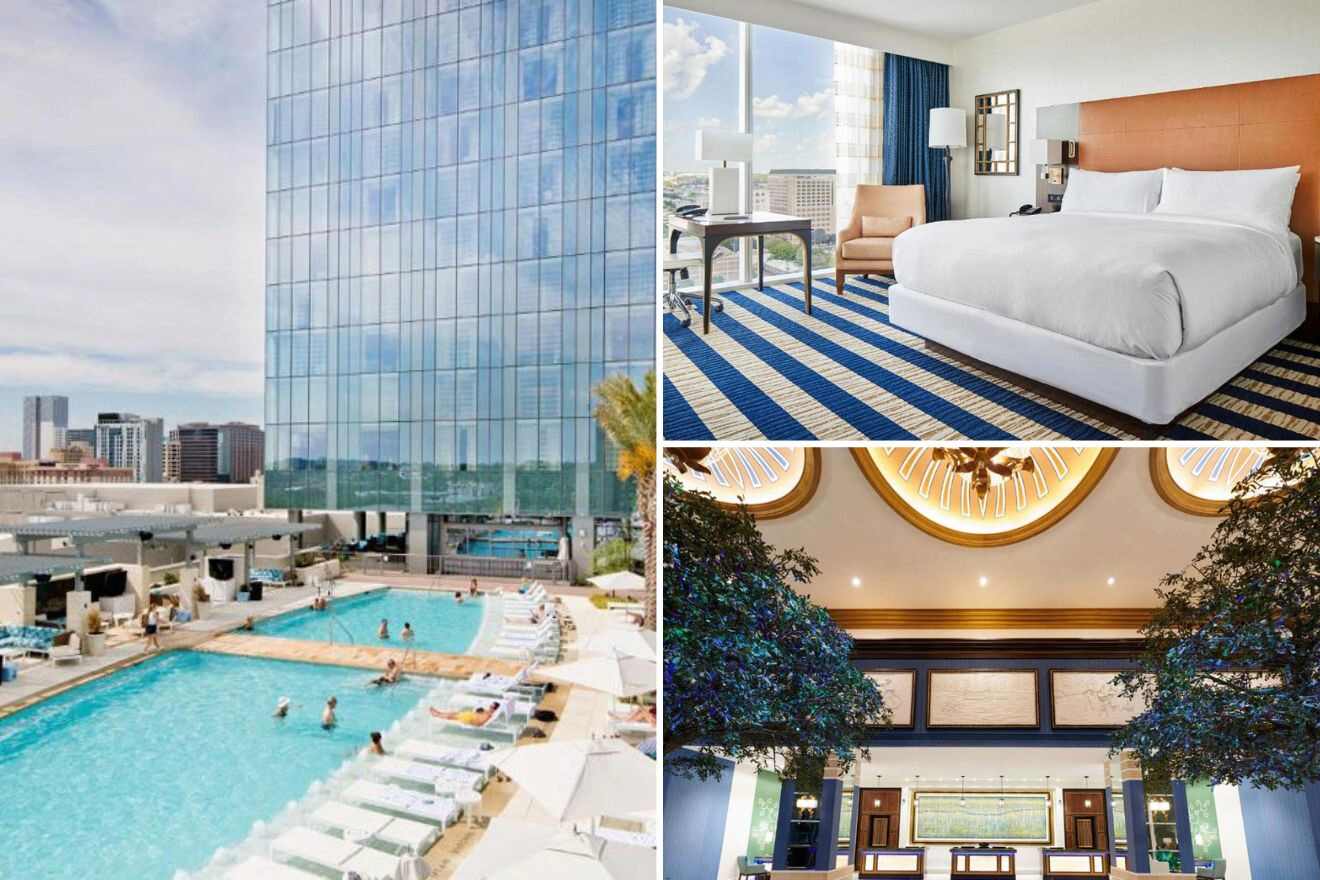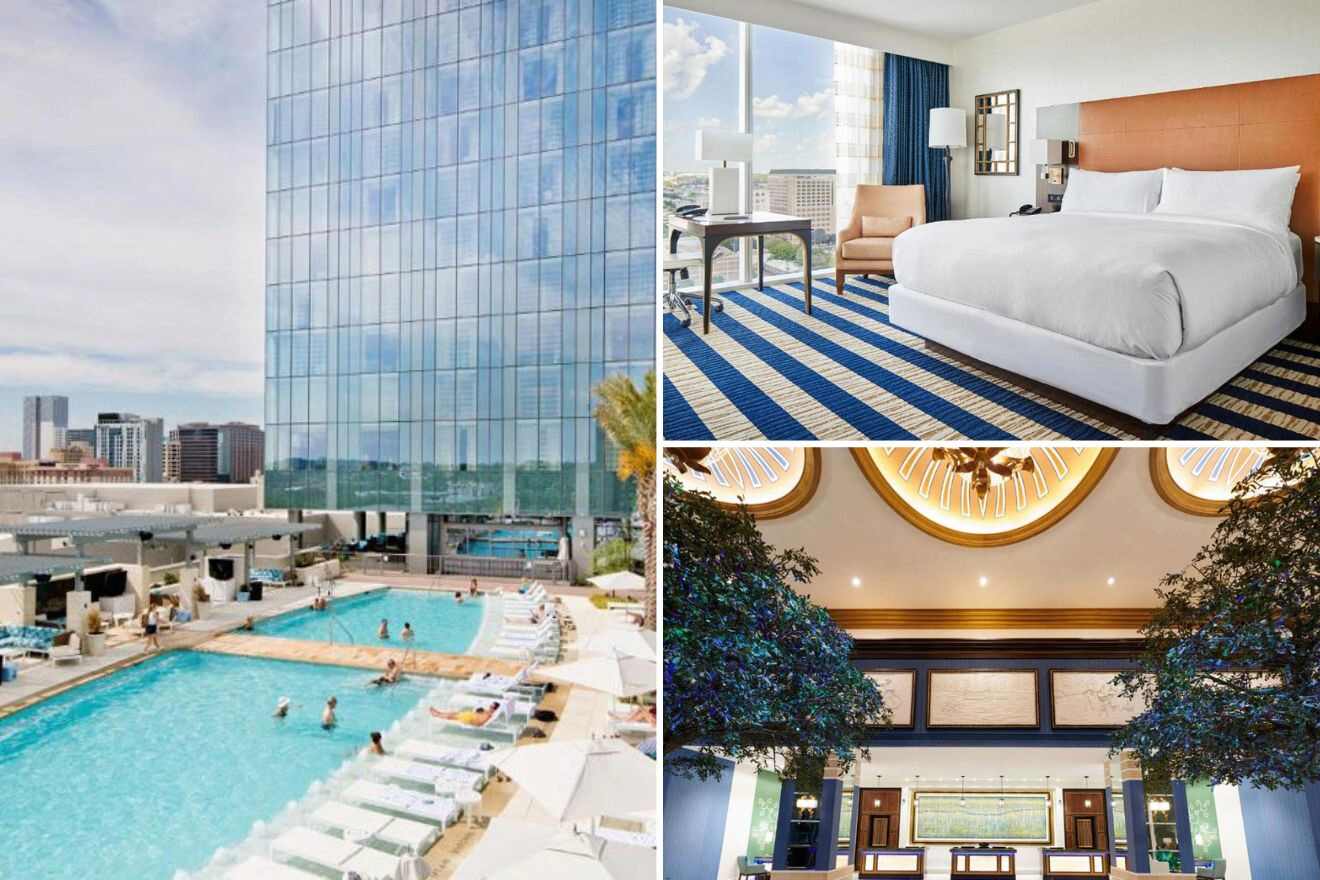 If you and your family are city lovers, then this hotel will make you feel right at home! Staying in the convenient location that downtown Austin will give you easy access to fun activities and attractions since everything is within walking distance. For example, Zilker Park is just 2 miles (4 km) away!
The hotel highlights are definitely its live music events, the outdoor pool, 6 onsite restaurants, and the spa with hot tubs! They offer many family-friendly rooms, some of them come with views of the city and others with views from the mountains. The biggest room can host up to 4 guests.
4. Omni Barton Creek Resort Spa Austin – class and elegance!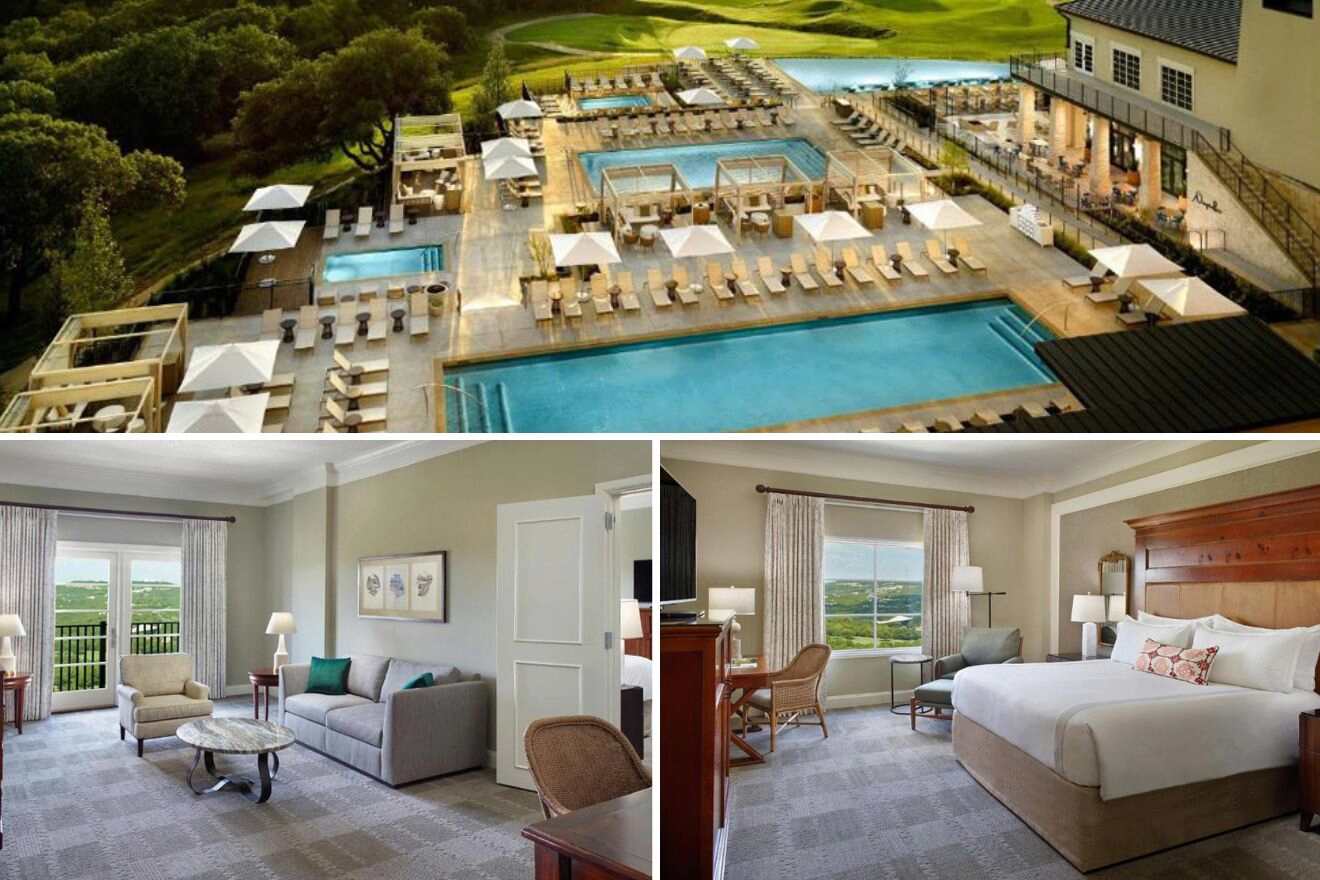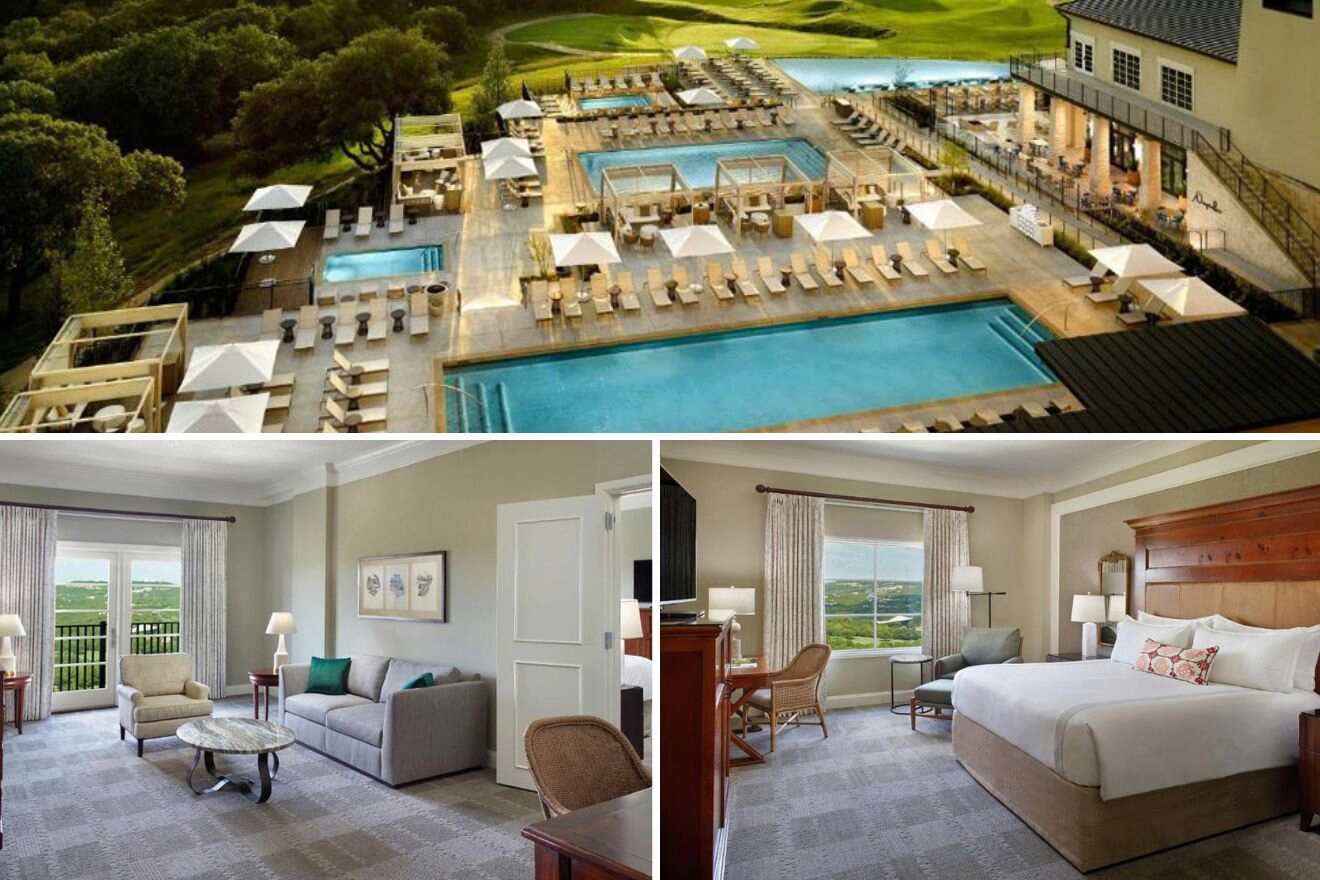 I am obsessed with this kid-friendly resort! It looks super classy, so it's your resort if you want a first-class family vacation. This resort comes with a boutique spa with 2 hot tubs, outdoor pools including an adult pool, many tennis courts, and amazing surroundings perfect for taking nature hikes and going bird watching, maybe you'll see tropical birds such as Austin's famous Monk Parakeets!
There is a kid's club for kids ages 4 to 12, in which they do arts and crafts, play exciting games, and play in the pool! They offer family rooms; their biggest one is the Fazio suite which can host 6 family members!
5. Archer Hotel Austin – chic and trendy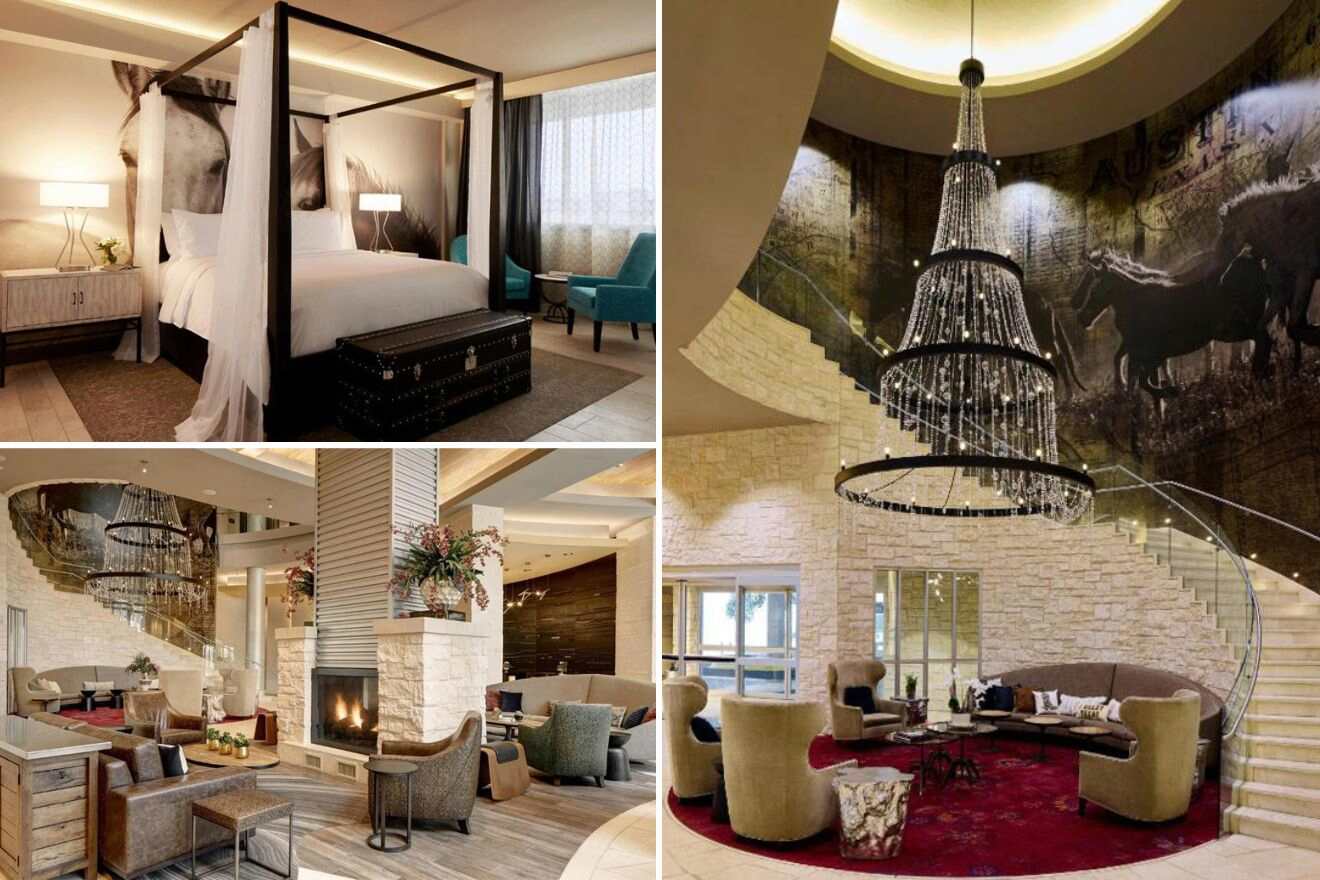 Oh, la la! This hotel, located in north Austin, looks super trendy and elegant; what a great family-friendly hotel! This hotel features an amazing outdoor pool perfect for hot summer days and an on-site restaurant that serves breakfast, lunch, dinner, and signature cocktails! If your kids are picky eaters, the hotel has a kid-friendly menu!
This hotel offers many double rooms perfect for families, all the rooms come with air conditioning, a walk-in shower, a coffee station, and complimentary water bottles! If you need extra beds or cribs for your kids, request them upon booking!
6. Horseshoe Bay Resort – by the riverfront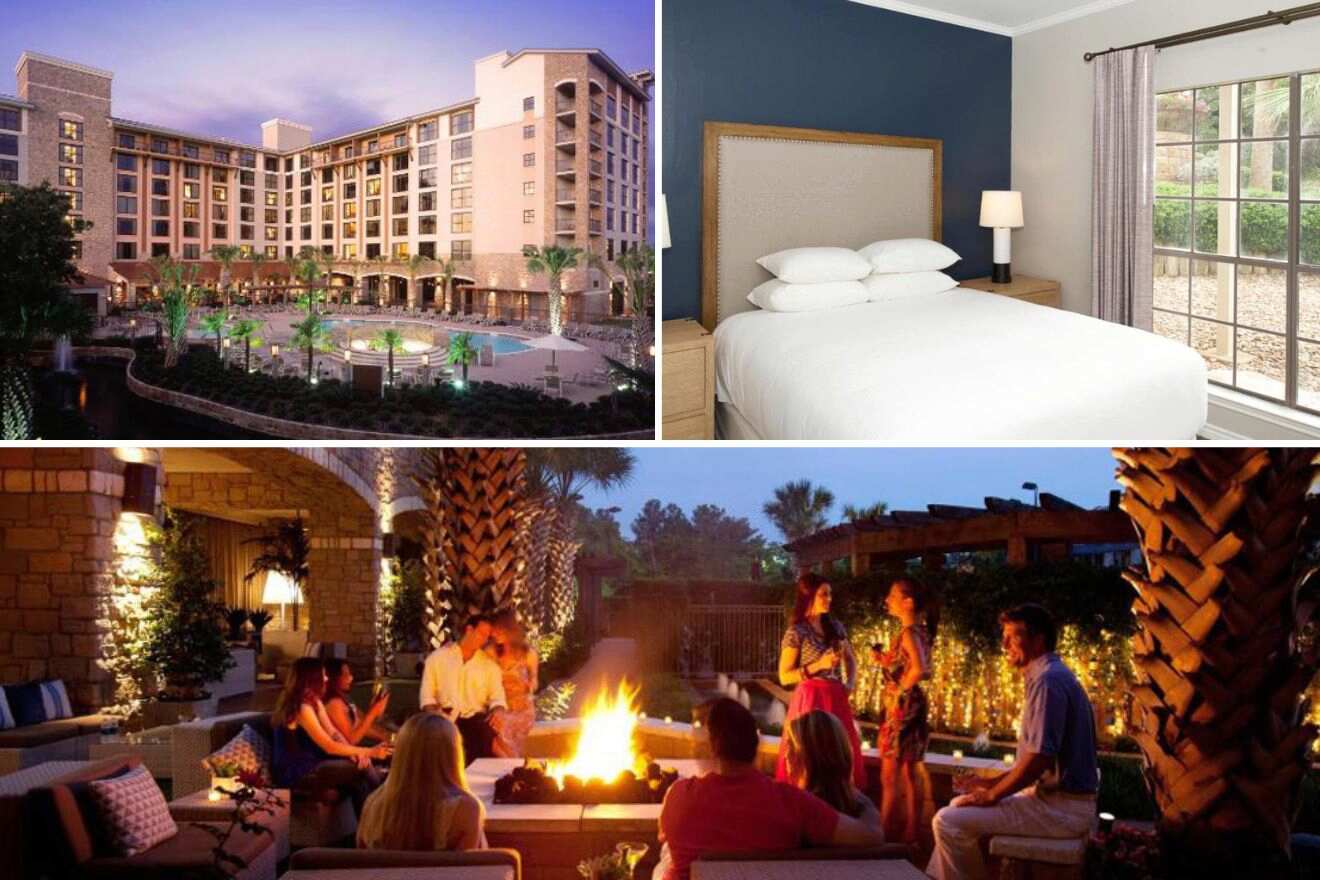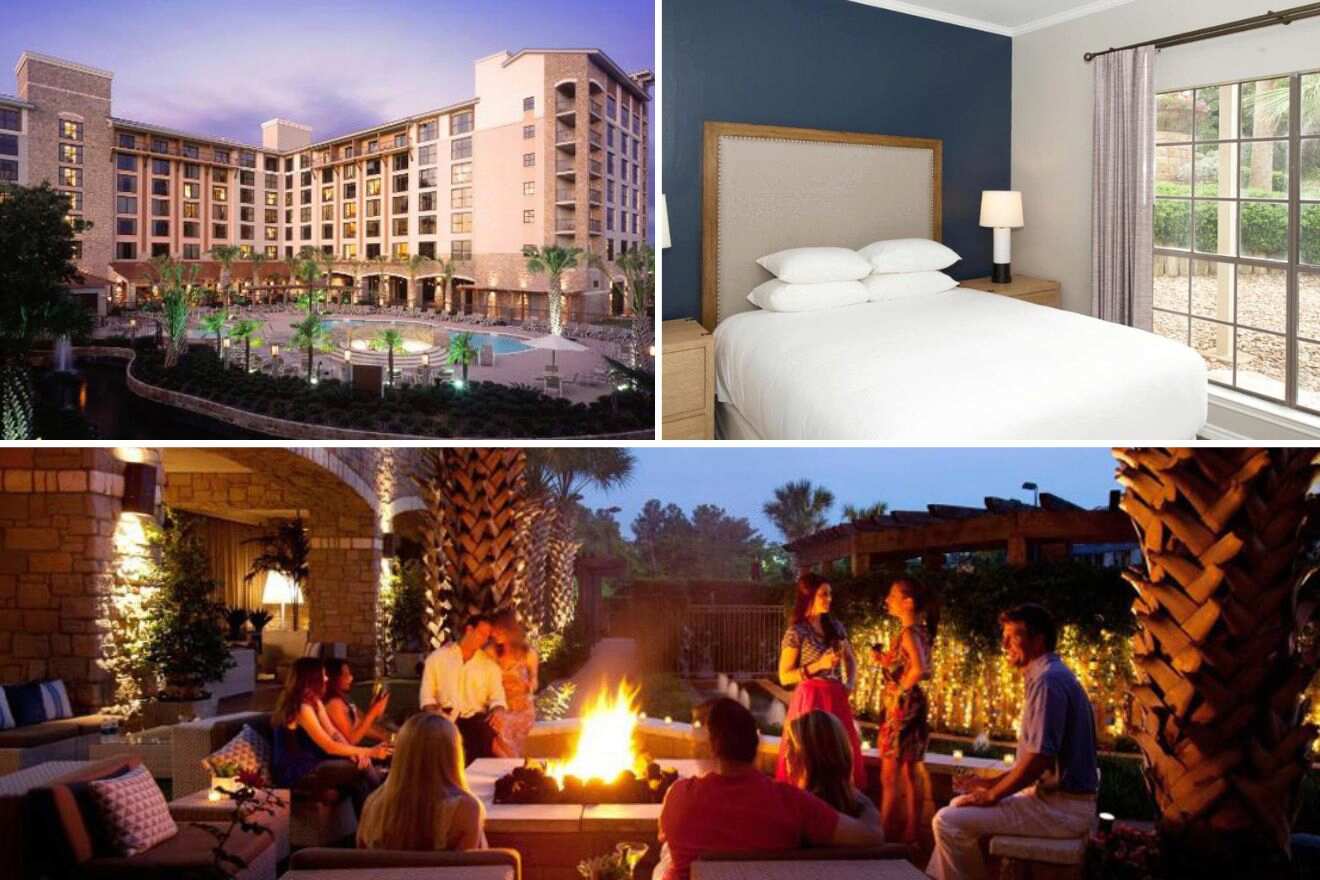 Staying at this hotel will make you feel at home! There is something particular about this place that feels super cozy! Located in Horseshoe Bay and with Lake LBJ nearby, this resort offers a kid's club featuring giant lawn games, 8 onsite restaurants with separate dining areas, 3 golf courses in the facilities, and 3 different outdoor pools with a swim-up bar. One of them is a children's pool!
This pet-friendly resort can host 6 family members in its two-bedroom apartment, it comes with an ensuite bathroom with a bathtub, a private balcony or patio, and a private kitchen with a dining area!
7. The Carpenter Hotel – perfect for young families!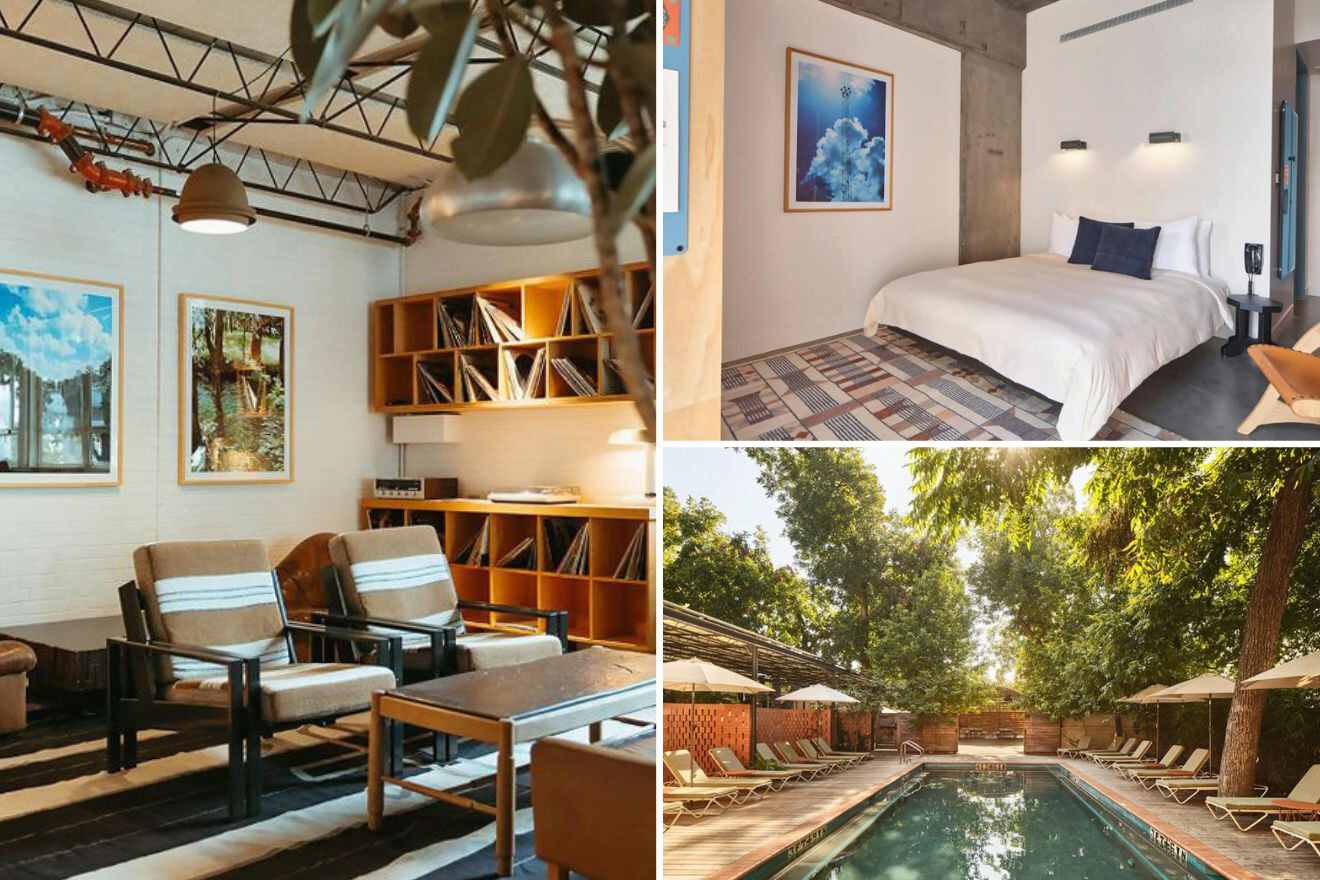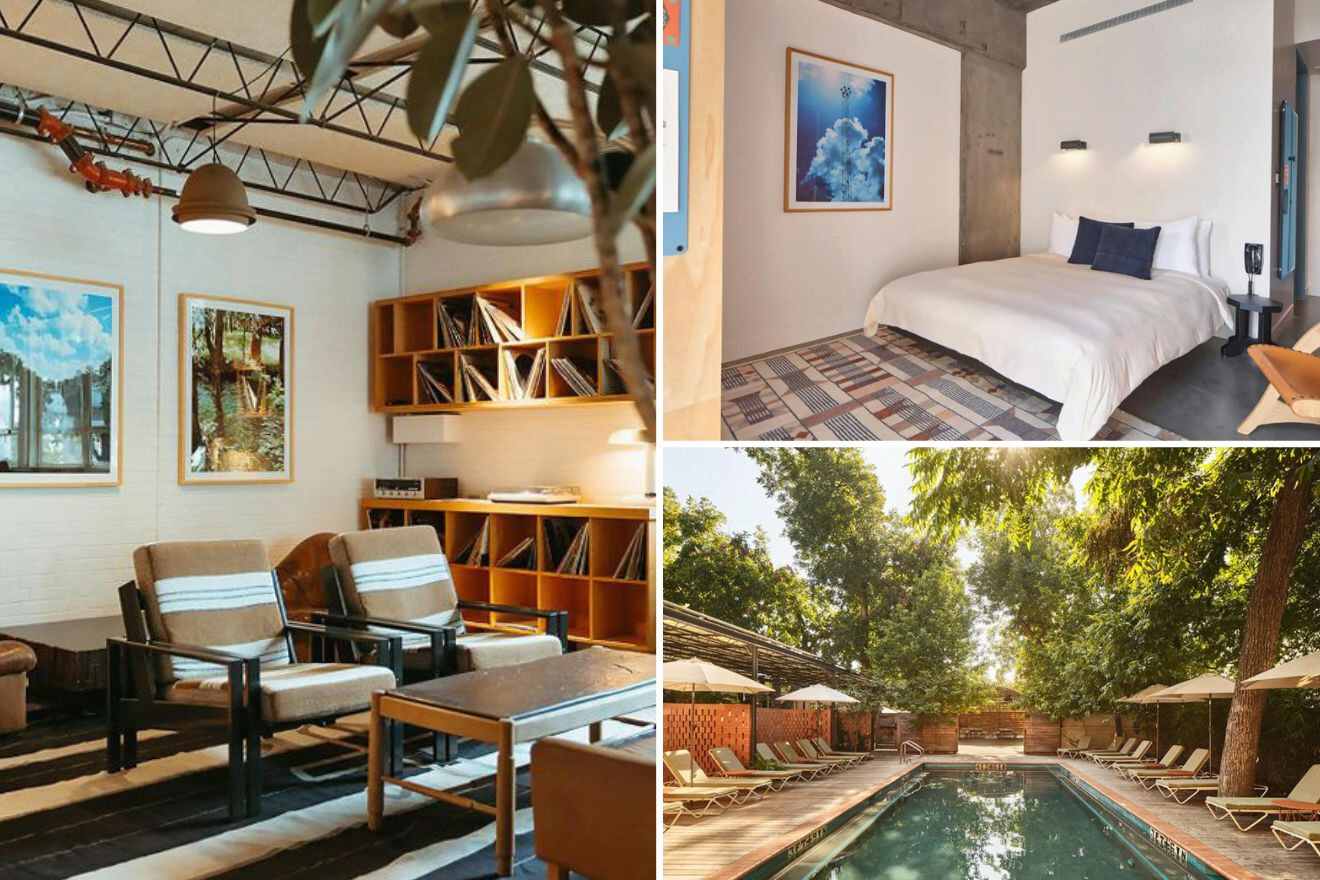 Oh me, oh my! I love this hotel's style located in the city center! It's so modern, super hip, and artsy, I feel like young families would totally love to stay here! It is the perfect blend of industrial and minimalistic with a touch of vintage decor! This hotel comes with an outdoor pool with a lounge area and 2 onsite restaurants with a kid's menu available!
Their biggest room is the standard quadruple room, and it can host up to 4 guests; it comes with 2 double beds, a spacious balcony, a mini bar, a satellite flat-screen TV, and a private bathroom with dual vanities.
8. Lakeway Resort and Spa – discover Lakeway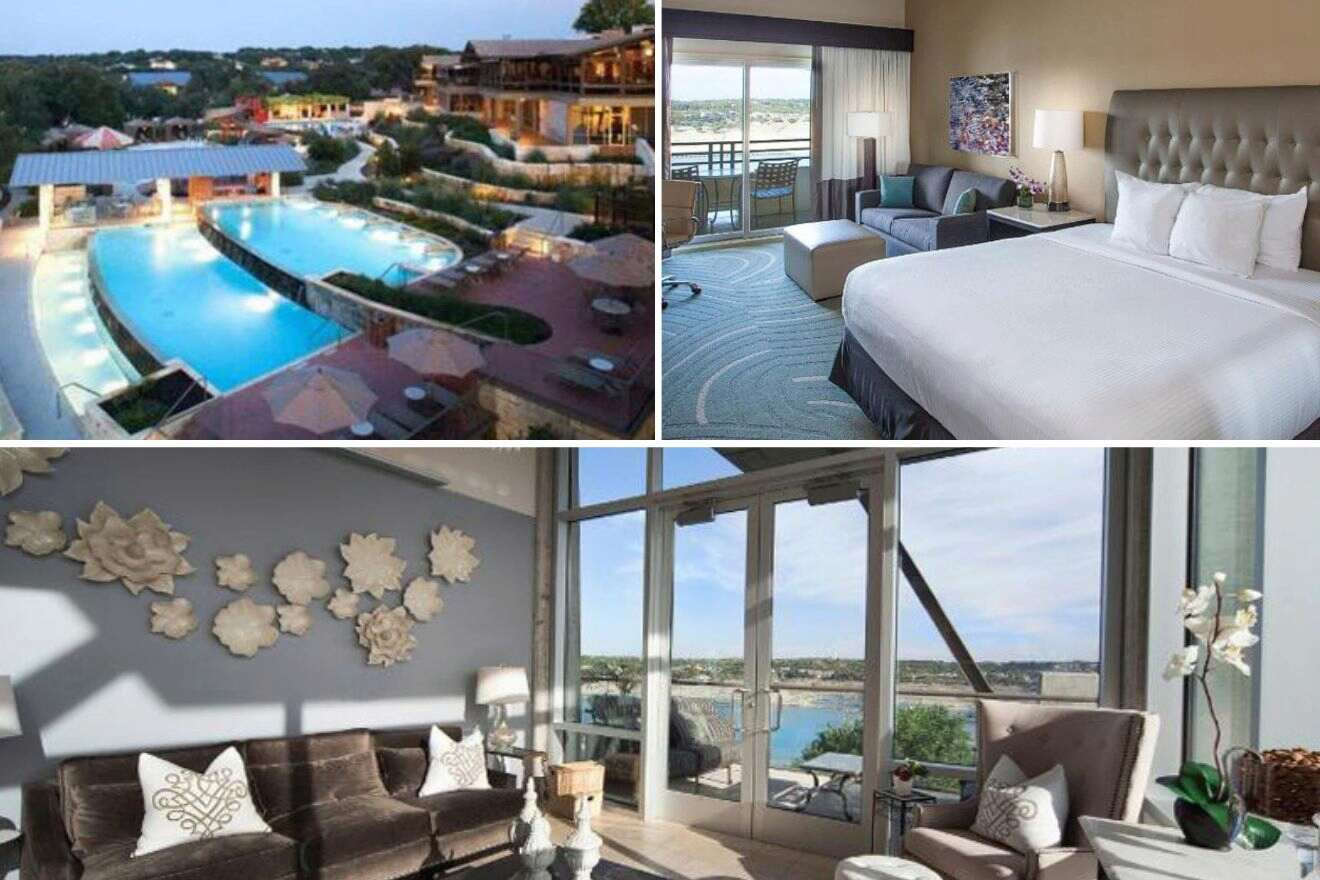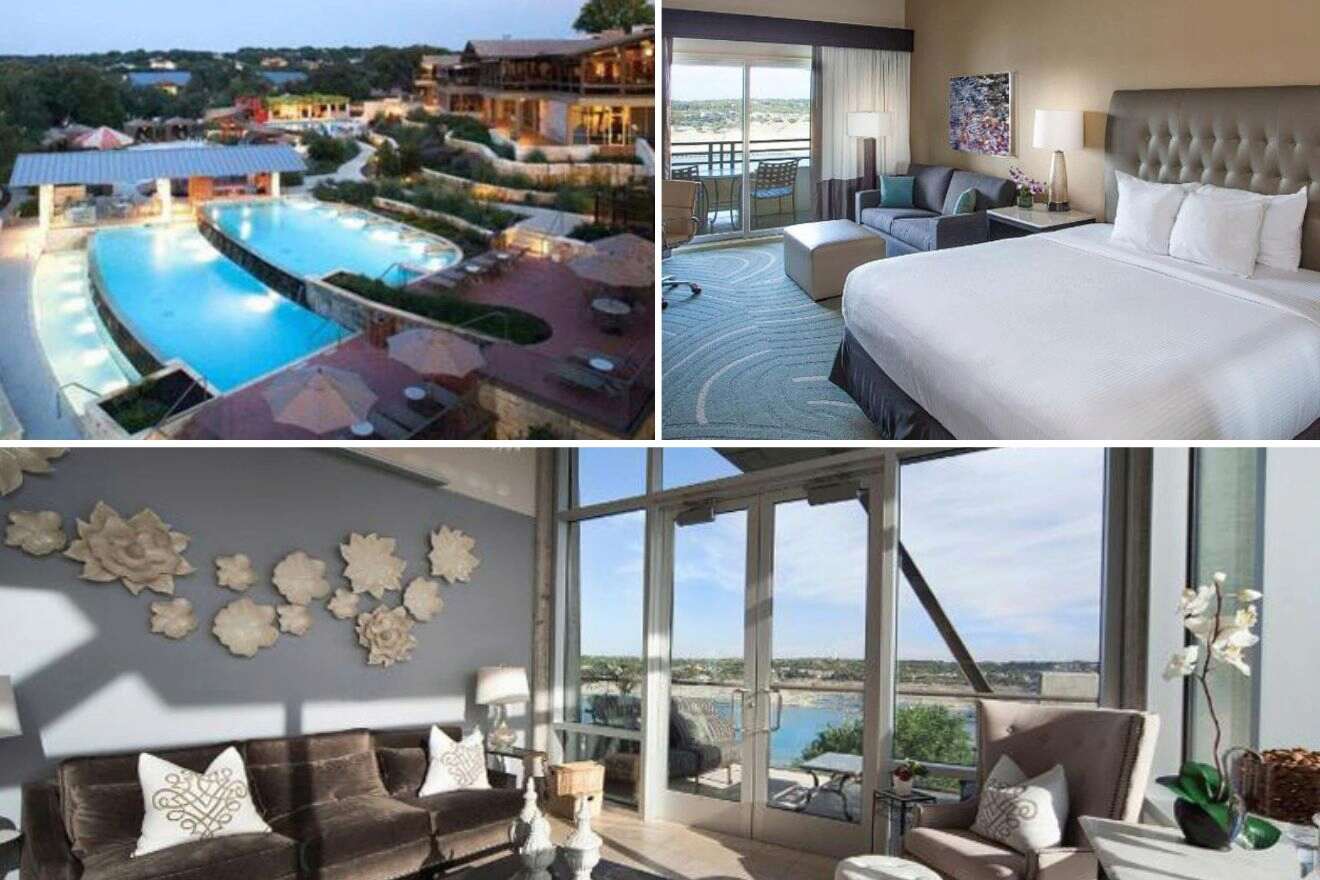 This amazing resort is located in the beautiful area of Lakeway near Lake Travis. The accommodation features amazing views of the river, which you can admire from the outdoor pools located on the terrace! Its proximity to the river makes it perfect to practice water sports with the family! The property comes with a spa with a sauna, a kid's club, and even day camp programs depending on the season!
Their biggest rooms come with 2 queen beds and come with either a balcony or terrace; some of them have a view of the lake and some of the resort. All rooms are spacious and will make you and your family feel relaxed!
9. JW Marriott Austin – for a city stay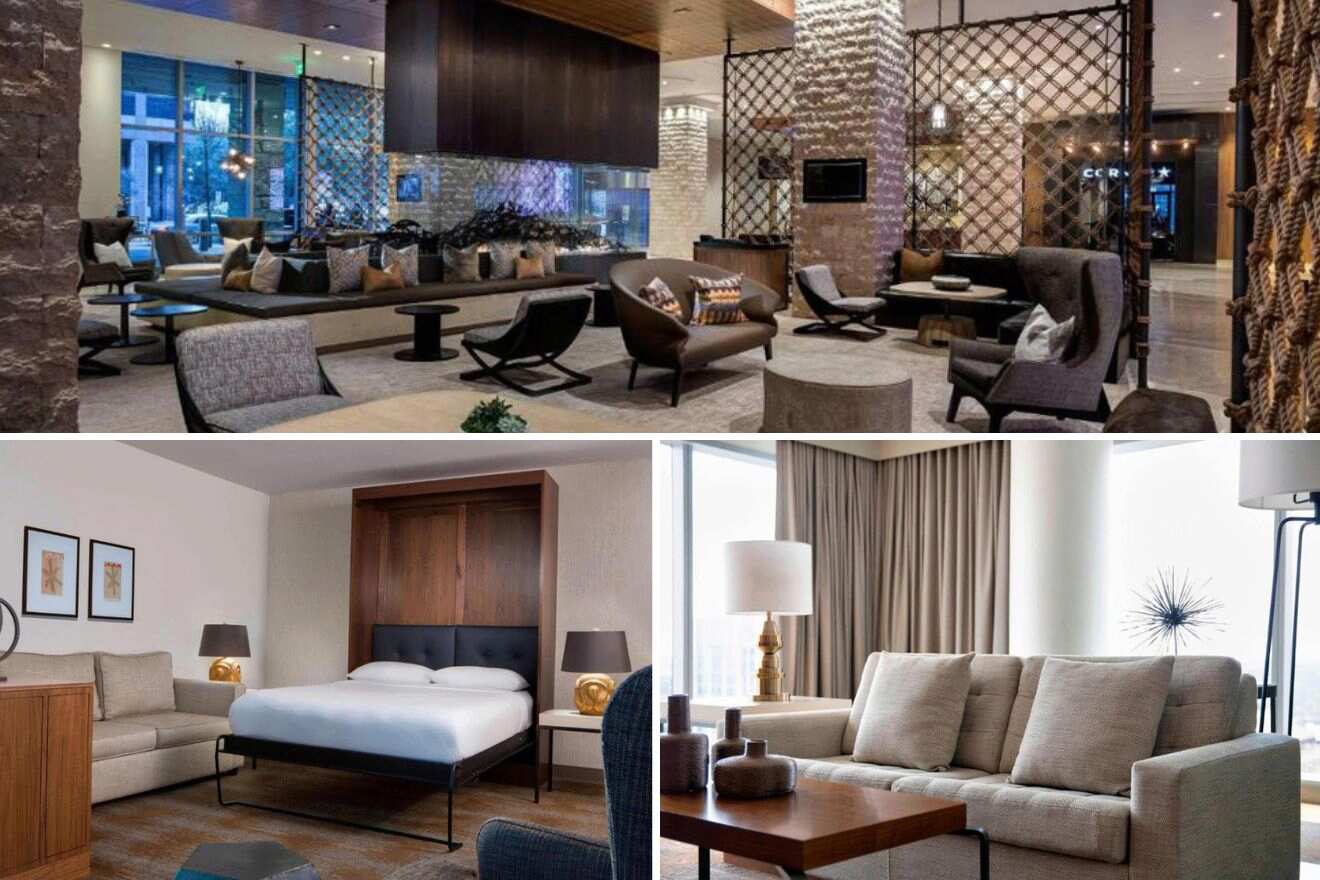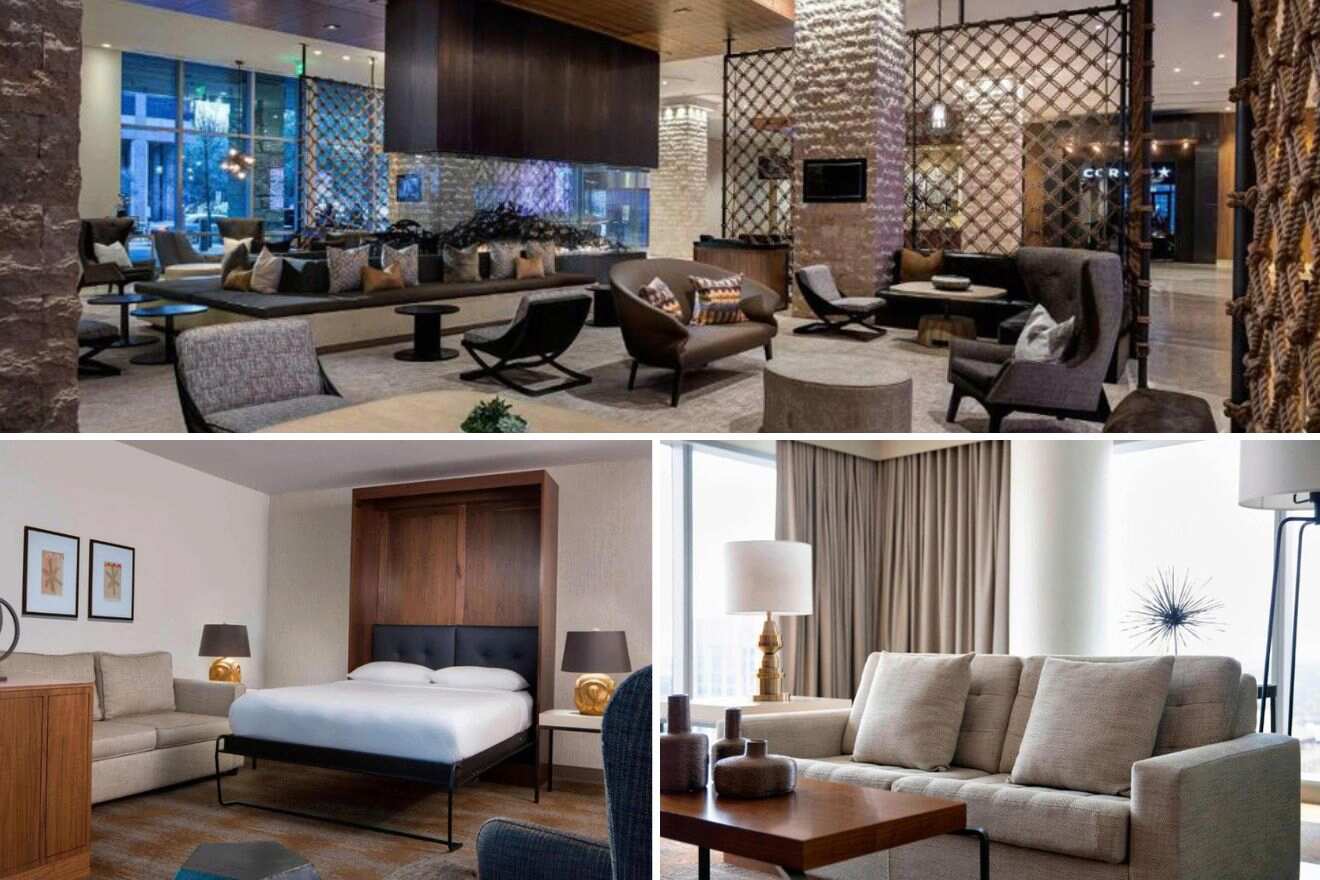 This stay will make you and your family feel like celebrities! It comes with amazing onsite restaurants, so you and the fam can have delicious meals together; kid's meals are available so everyone will be happy! The hotel has an outdoor pool overseeing Austin, and Shoal Beach is only a few minutes away!
All the rooms feature incredible floor-to-ceiling windows with amazing views of the city! Their biggest rooms are the double ones, and families of 4 can stay in those; the bathrooms have a bathtub which is perfect for bubble baths!
10. Residence Inn by Marriott – for a convenient stay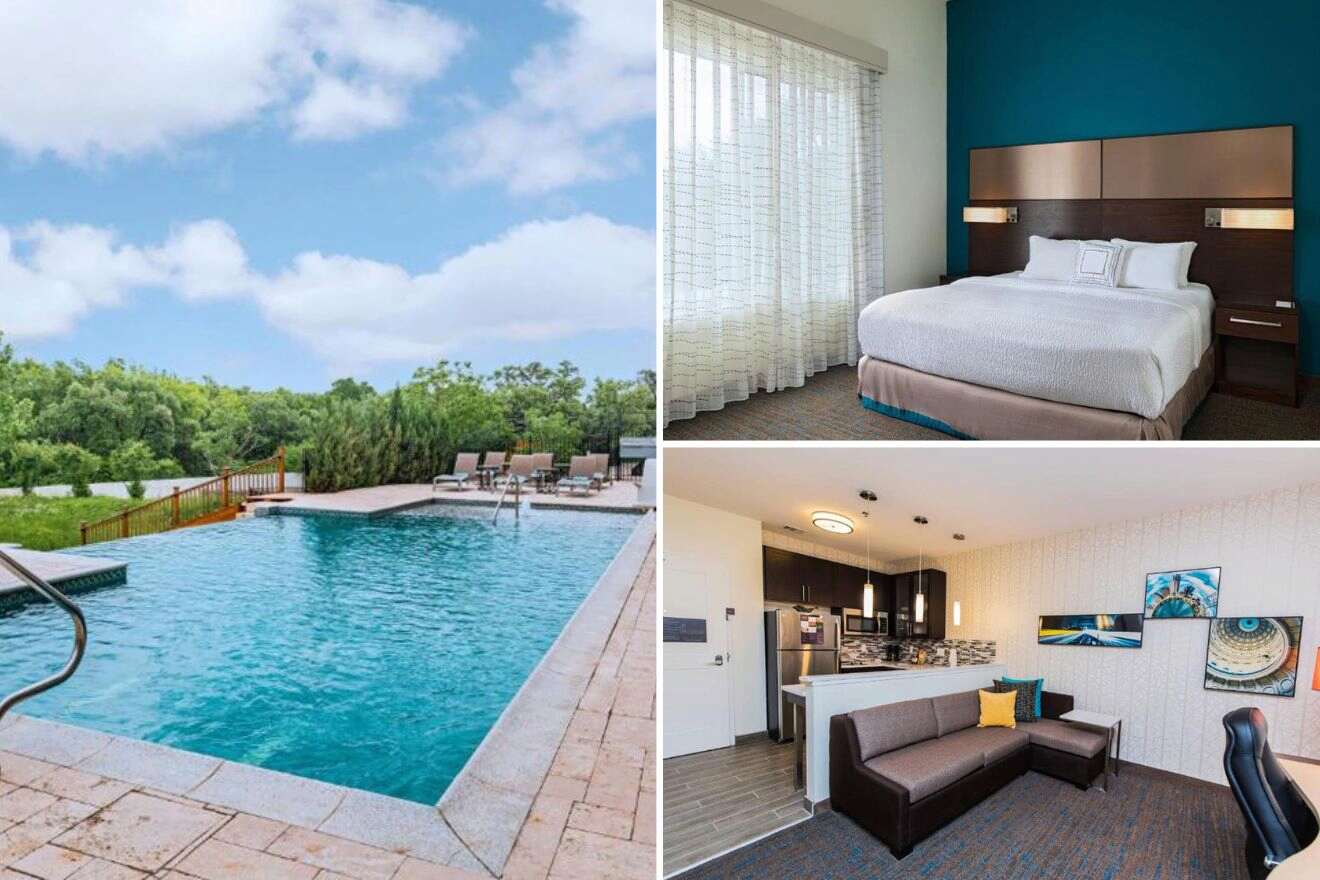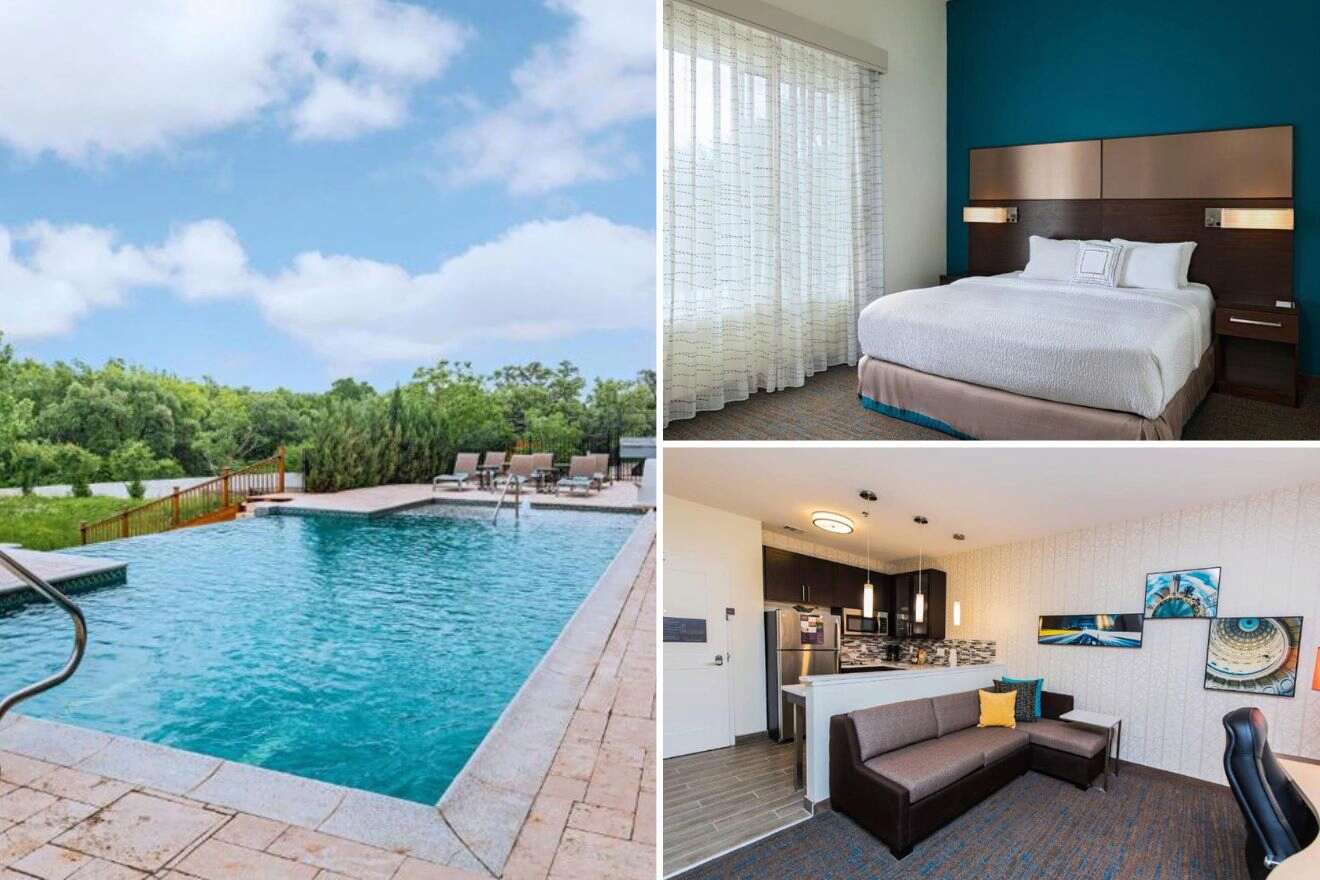 This lovely hotel is located in Southwest Austin. It's a simple and classic hotel, and it covers all the amenities you and your family will need during your stay! To start, this hotel offers an amazing complimentary breakfast and even a kid-friendly buffet! The hotel comes with an outdoor swimming pool and a jacuzzi and offers board games to play in family and bicycle rentals to explore the area! Their one-bedroom suite comes with a bedroom with 2 double beds and a separate living room with a sofa bed. This room can host up to 5 family members!
FAQs about Austin family resorts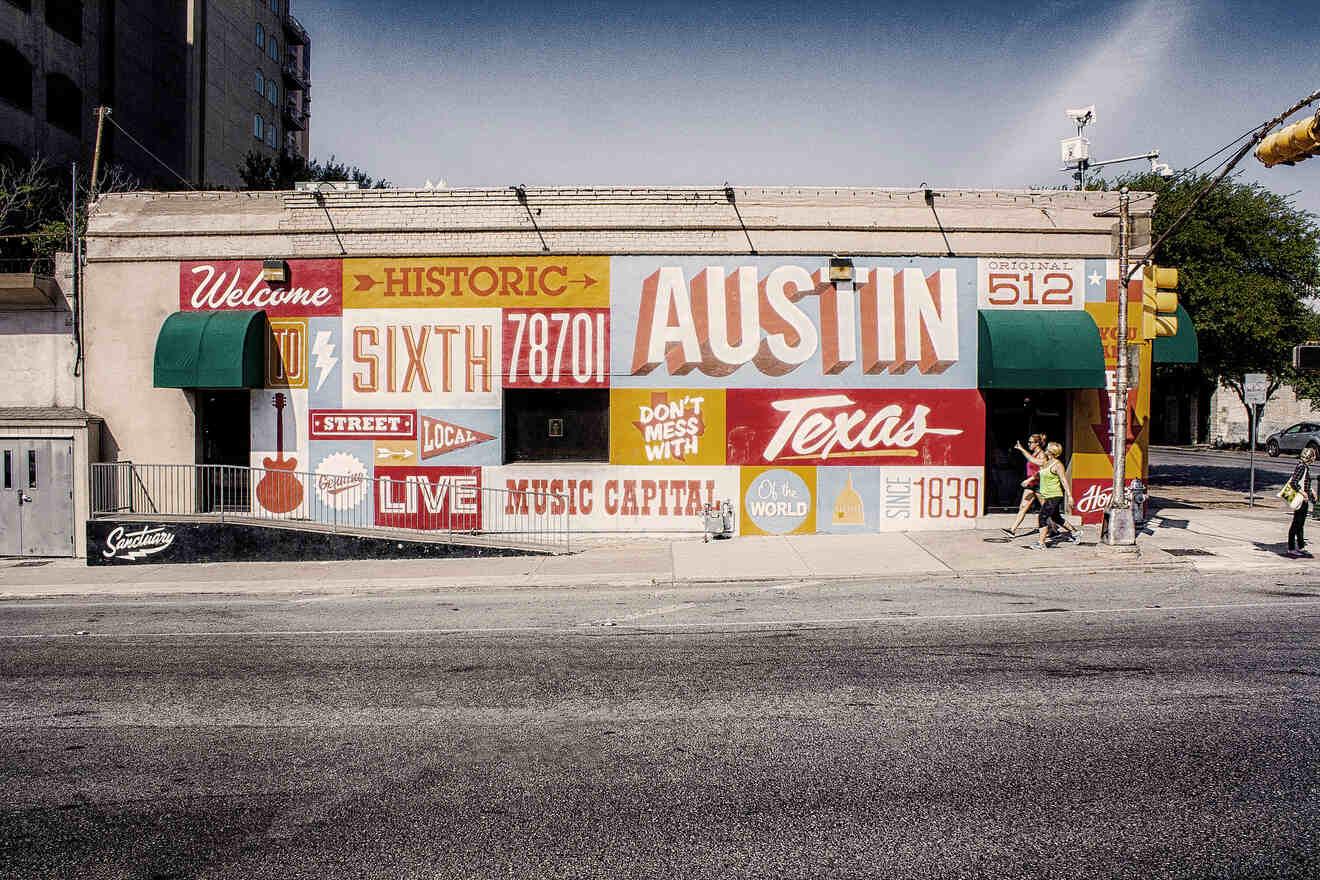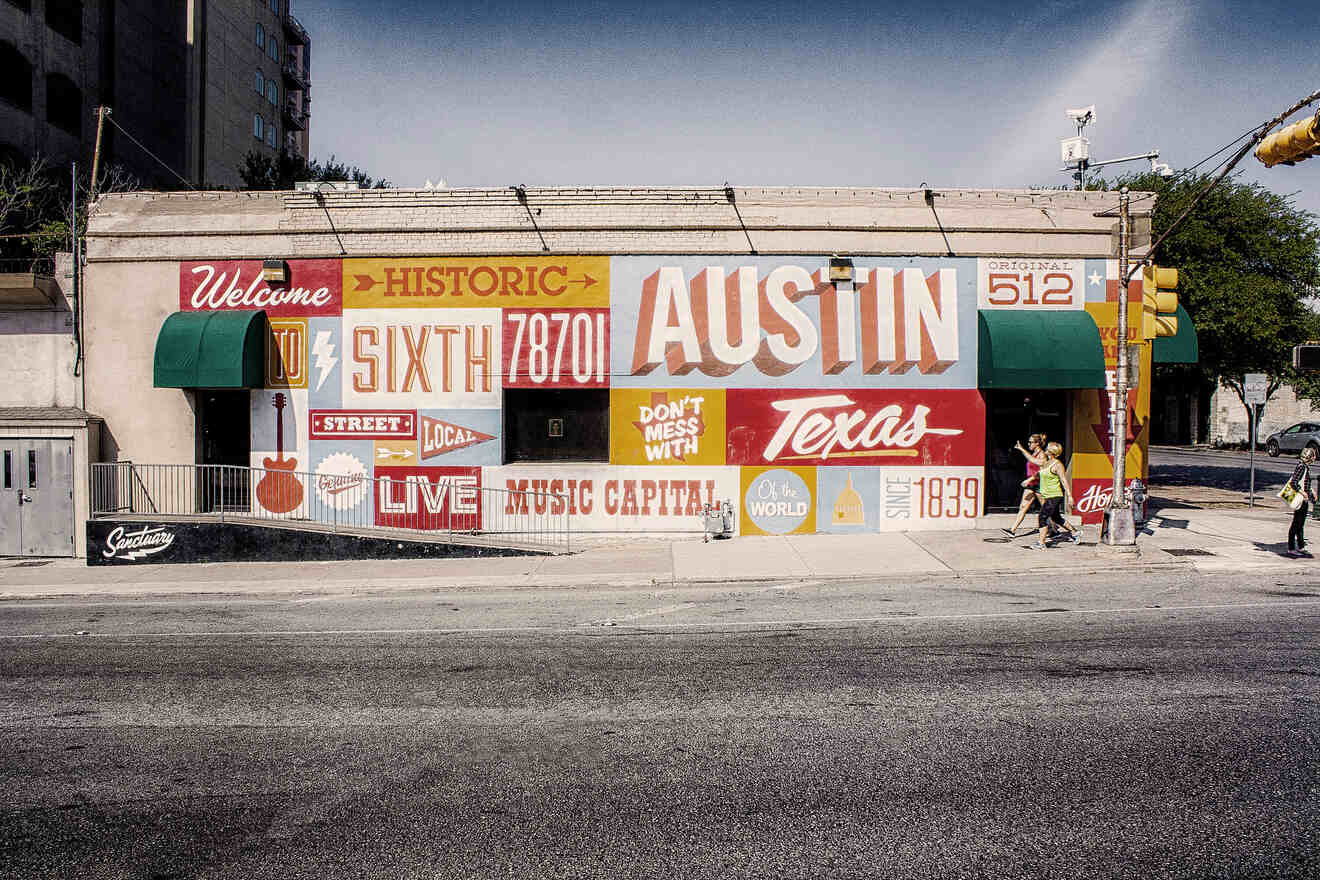 Conclusion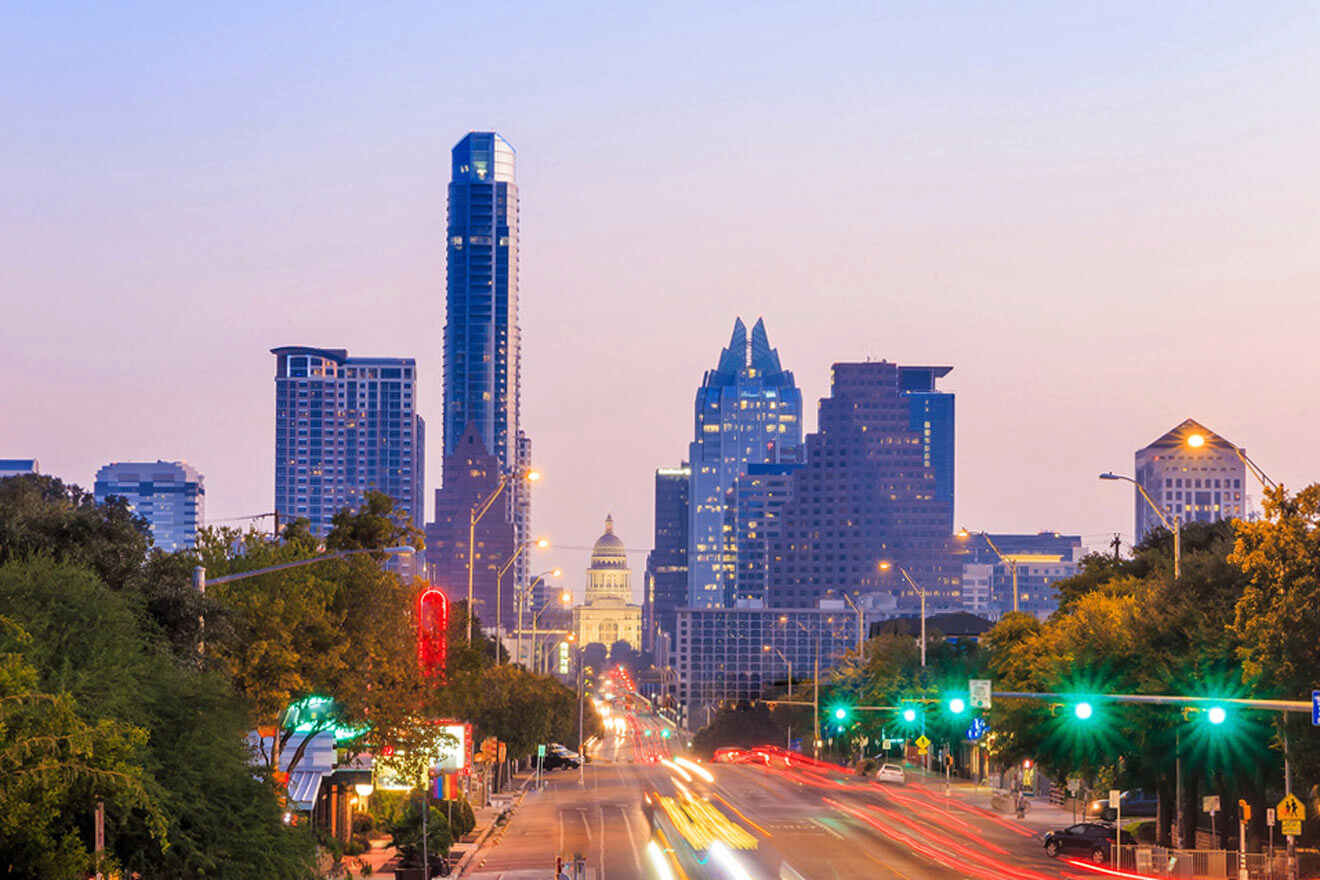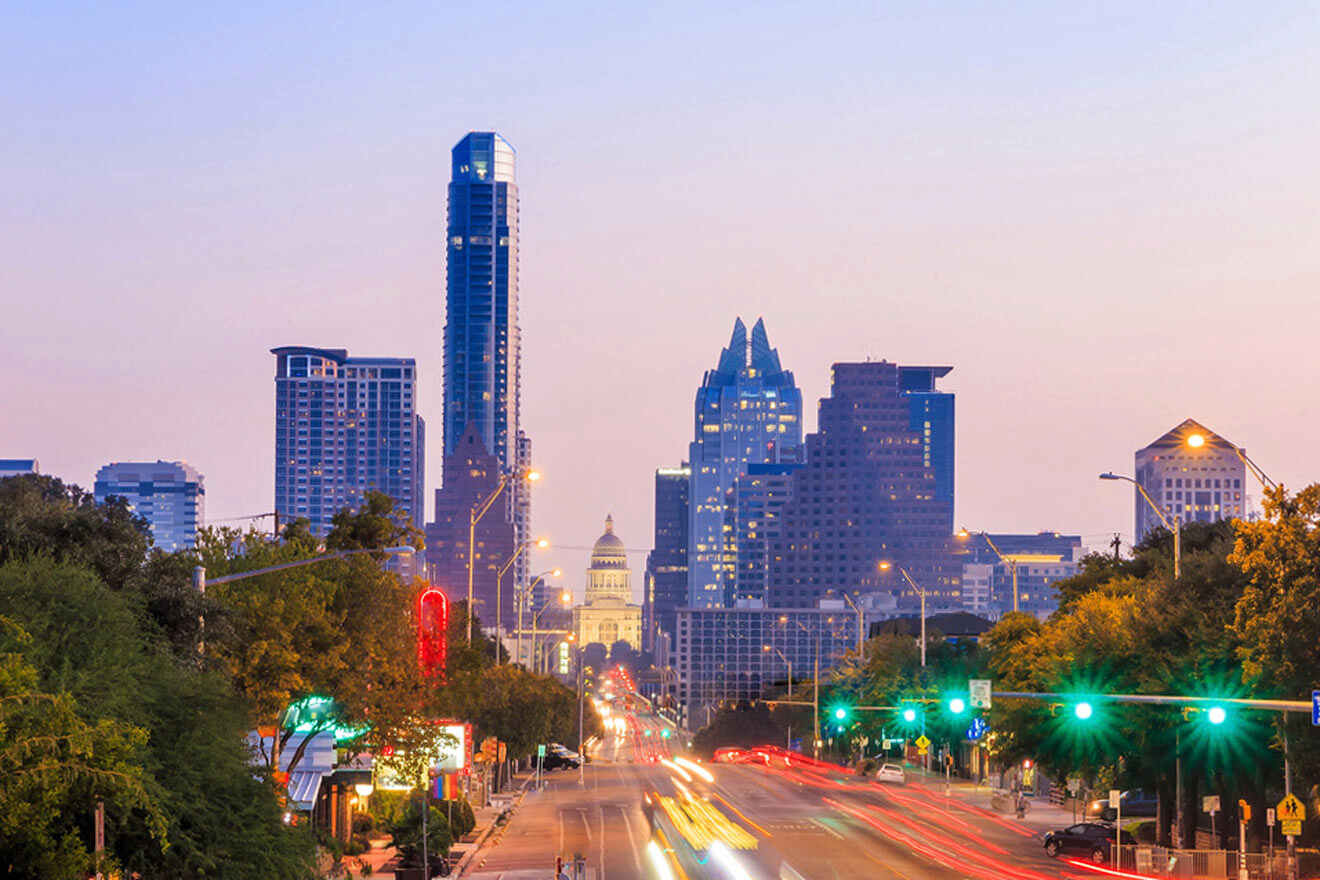 That is all for today, my sweet angels! Those were the best Austin family resorts. I have covered a wide range of options, so I am sure you will find one that fits your preferences on this list! Austin is such a fantastic city, I am so happy for you to be visiting this place, so take advantage of your family trip!
Honestly, I love all the resorts I've mentioned in this article; all of them are unique and have amazing amenities, but if you want me to share with you my absolute top 2 hotels, I will go with:
Hyatt Lost Pines – It is just so luxurious and has so many cool things, like a water park, water sports, and even archery classes! I would love to try those out!
Fairmont Austin – I love a city stay and being able to be near all the attractions of the place; amazing for walking and discovering the city!
Which one of these family and kid-friendly resorts was your favorite? Have you ever stayed in any of these? Let me know in the comments, and right after, go and book the resort room of your dreams before someone else does!
Have an amazing family time!
Daniela
---
Pin it for later!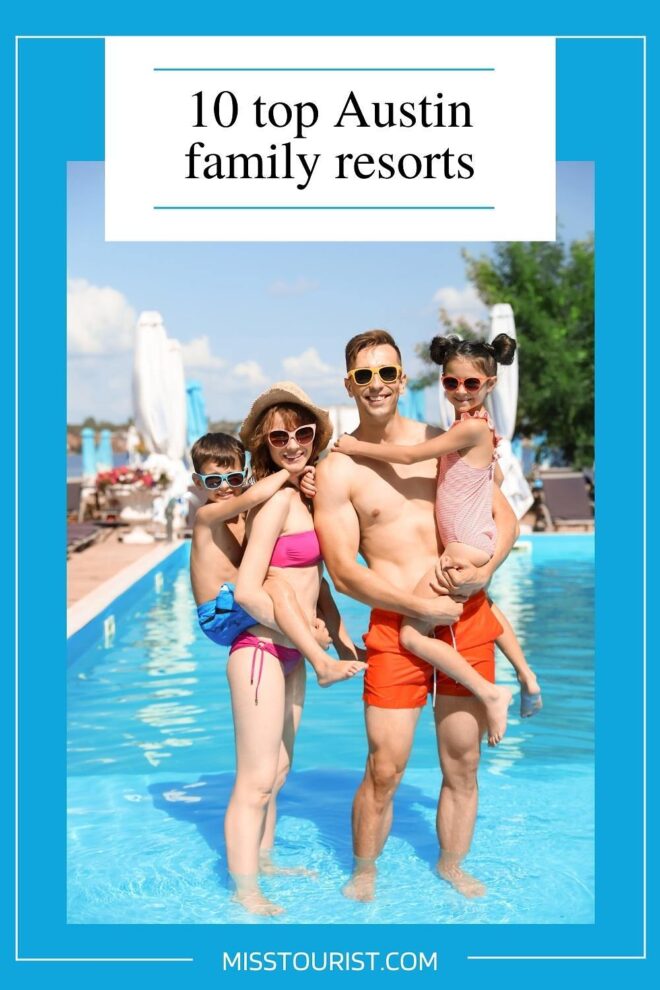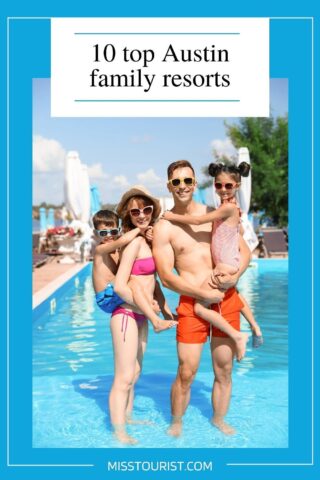 Pin it for later!