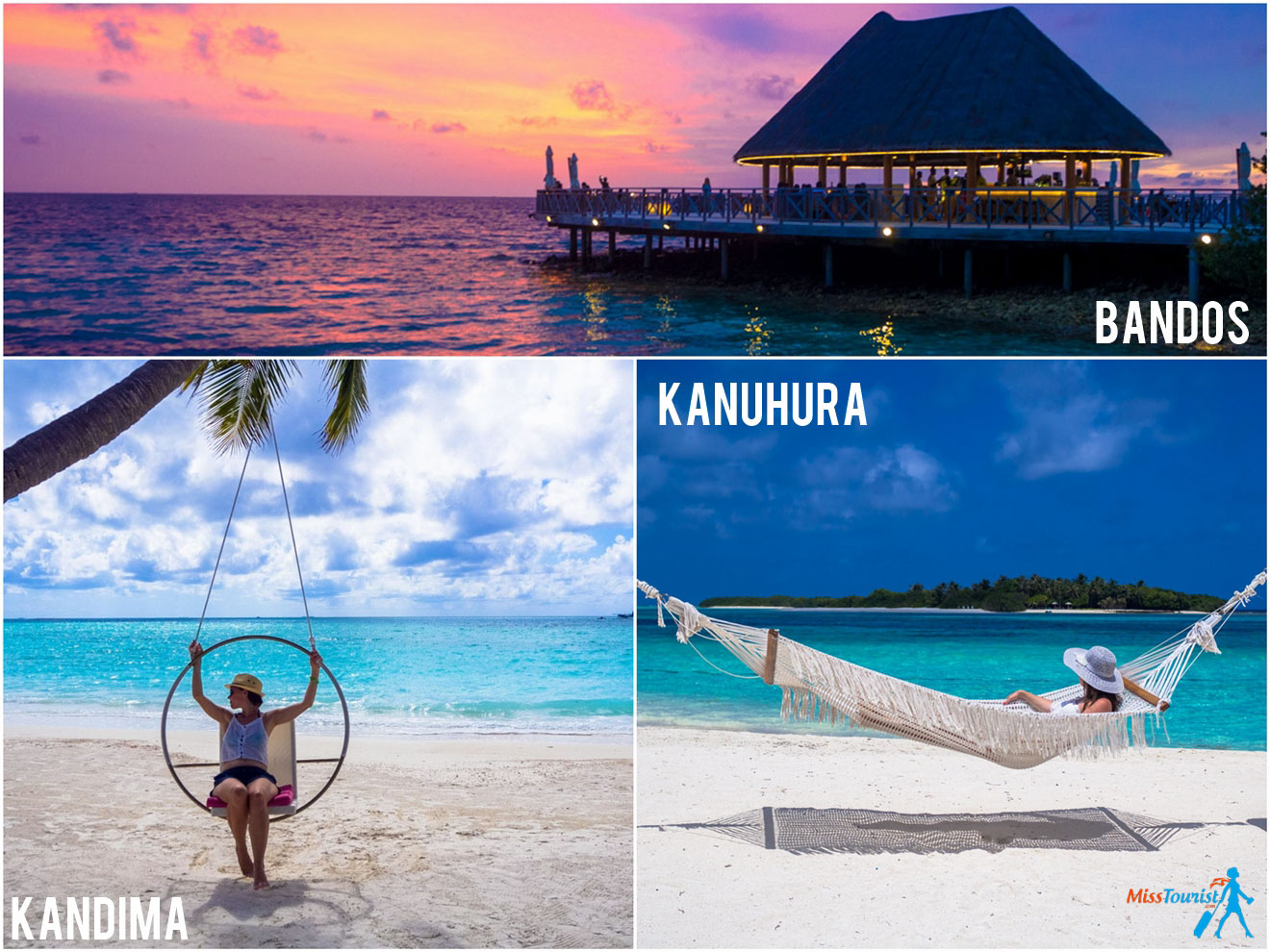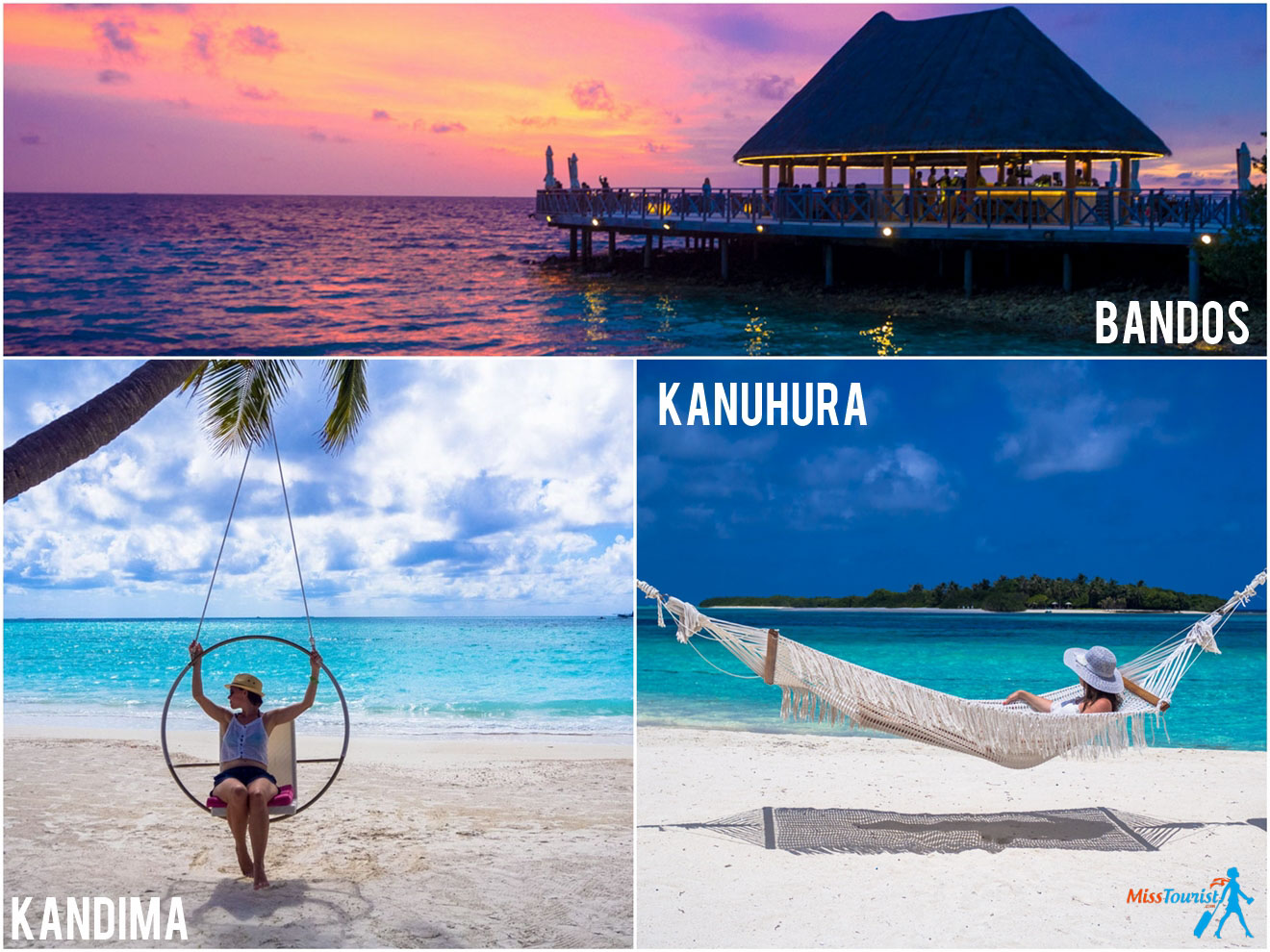 If you've been following me for some time now, you already know that there is nothing that I love more than a beautiful turquoise sea and warm sun (just check my Instagram!). It is no surprise why Maldives has been my dream destination for such a long time!
Maldives is famous for its incredible blue sea, coral reefs (every diver's dream!), white sand beaches and its luxury private island resorts.
During my 2 week stay in the Maldives, I had a chance to stay in three resorts. Each of them was amazing, but I noticed all three were very different from each other. Every one of them had a different vibe, crowd, price range, style, service and many more details.
Despite what all those pristine pictures make you believe, the resorts are not the same and each one has its own unique character.
So, I decided to do a small overview for each of them.
Here they are in no particular order:
Bandos Resort
1. Arriving to the resort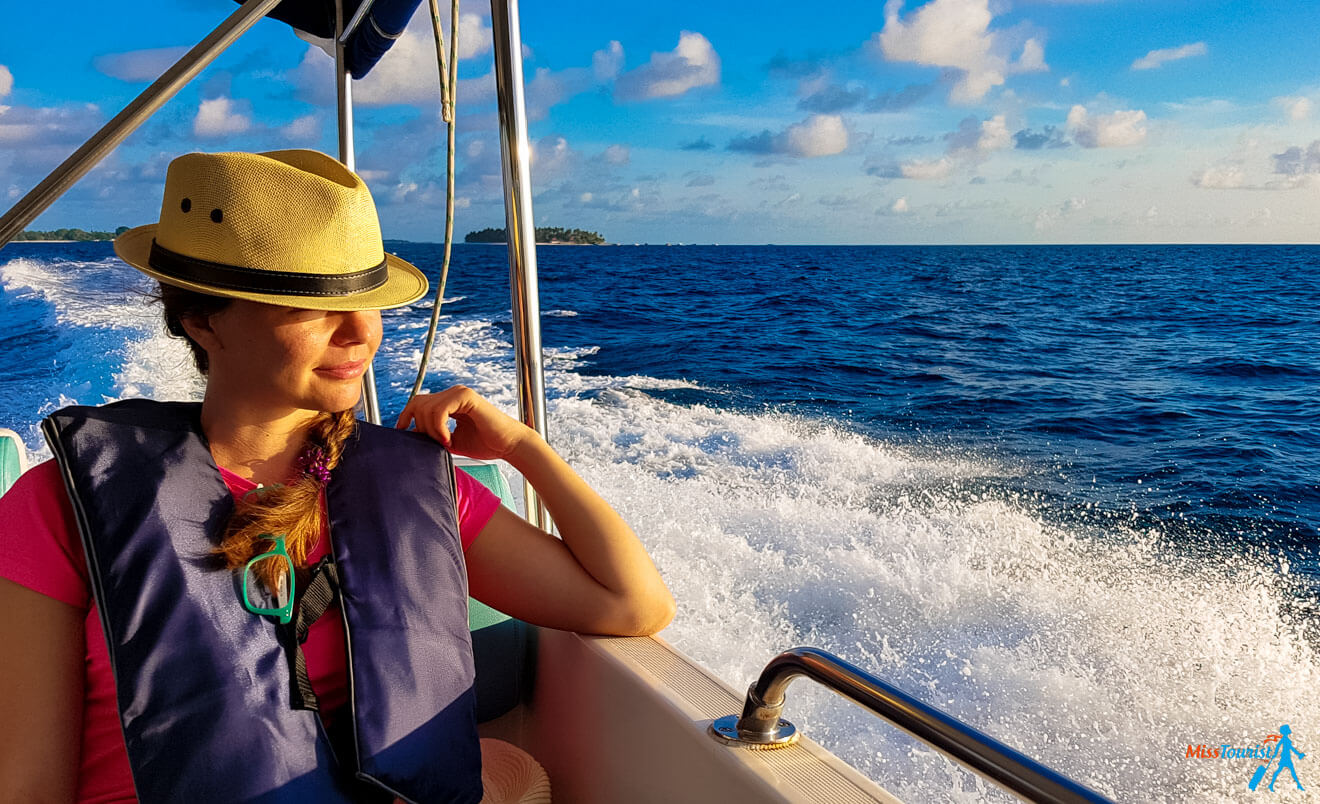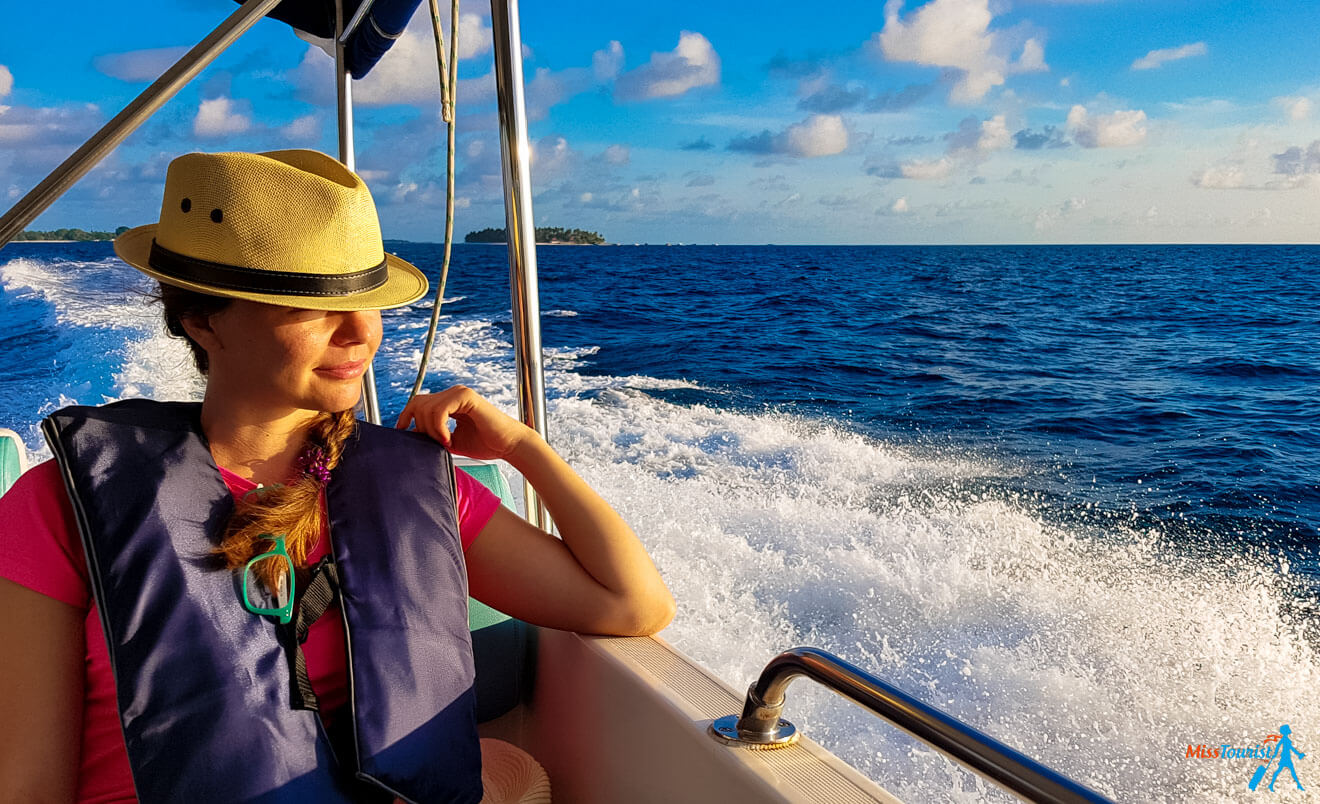 After a 10-15 minutes boat ride from the airport I found myself on the private island of Bandos. We were greeted with a flower necklace and a coconut and then a golf cart took us to our rooms.
Bandos is the perfect combination of comfort and price – you will not need to rob a bank to stay there. But at the same time, it has everything a traditional resort has – it's a private island, it has water bungalows and some amazing restaurants. But it also has this homey feel to it.
What is cool about Bandos is that you do not need to take an expensive sea plane to get there, it only requires a 10 minutes boat ride from Male airport.
2. Key features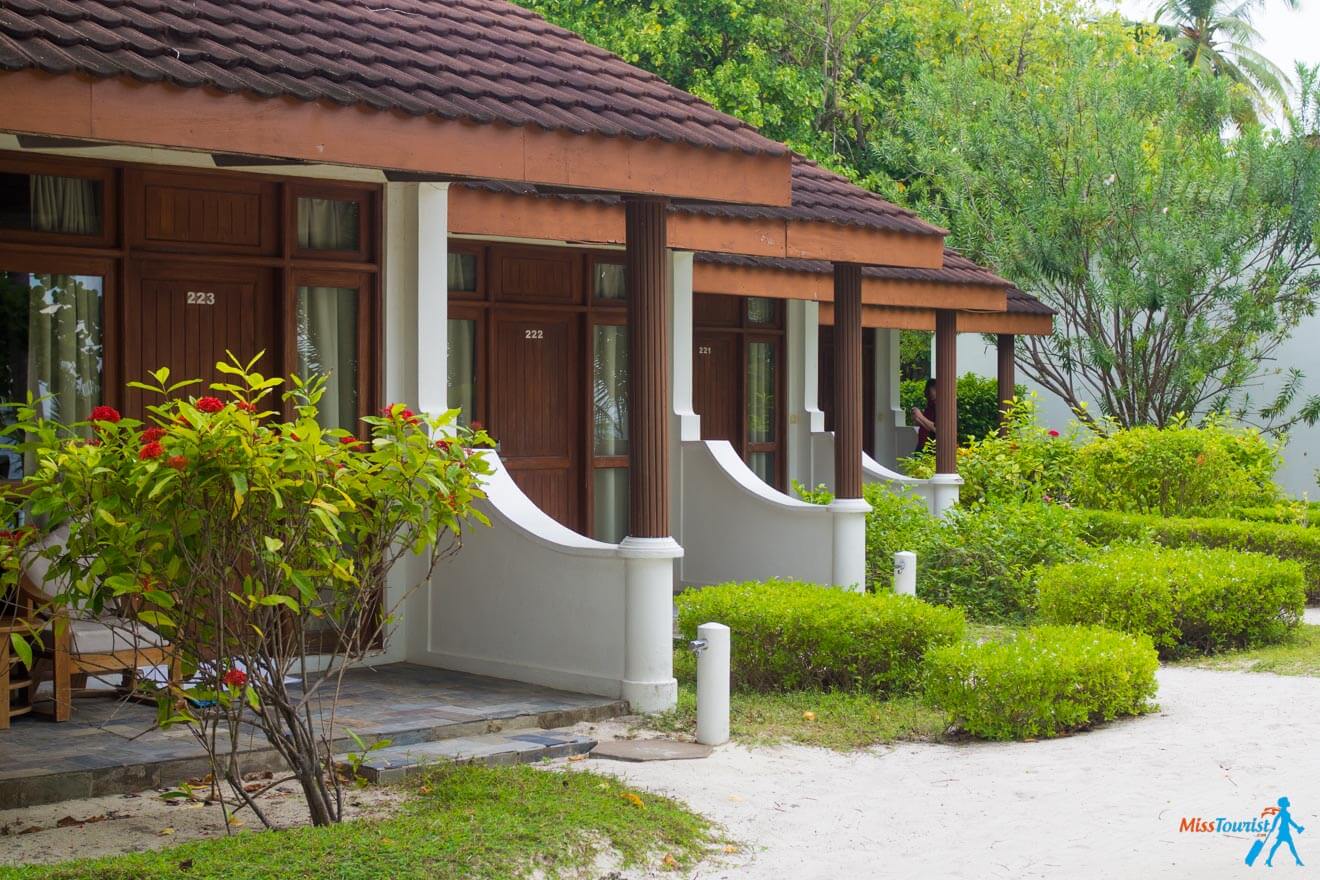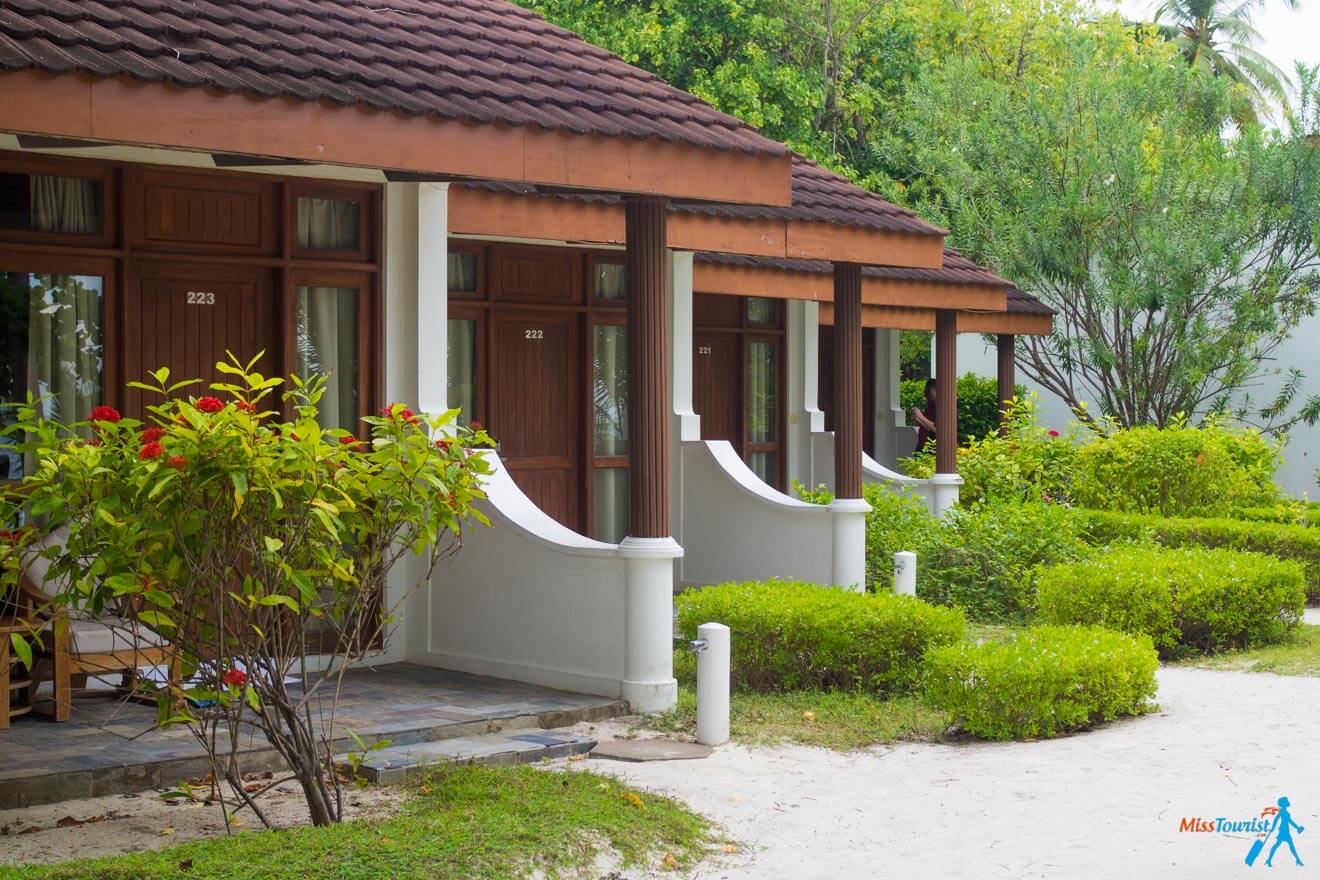 The resort has it all – a tennis court, a gym, 5 restaurants, a couple of bars with live music and plenty of space to roam around between the lush green trees.
It is up to you whether you want to relax and do nothing during your Maldives vacation, but I found myself so busy with activities, that I hardly relaxed on the beach! 😉
Despite that, it is a VERY relaxing and quiet place, people even seem to move slower there.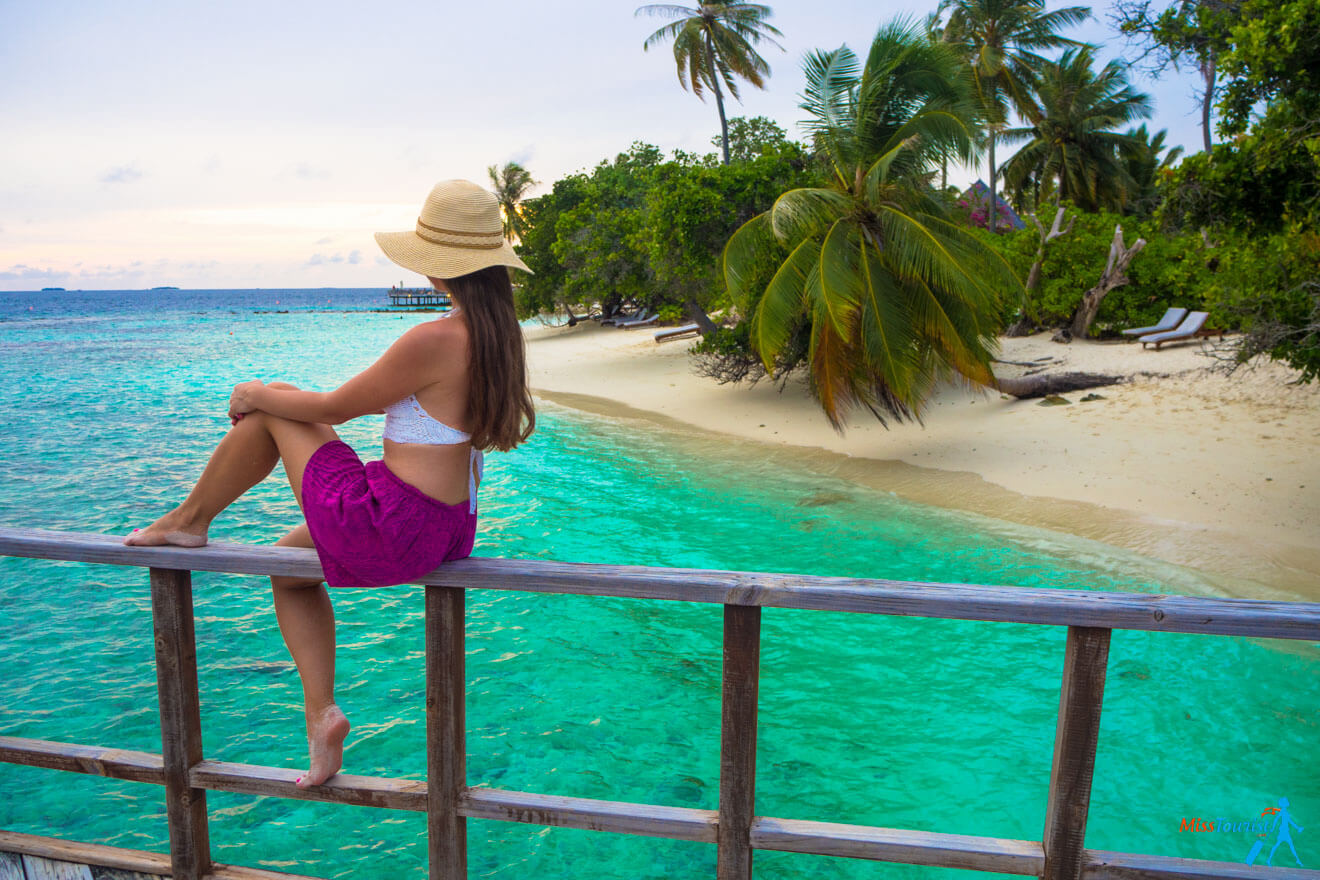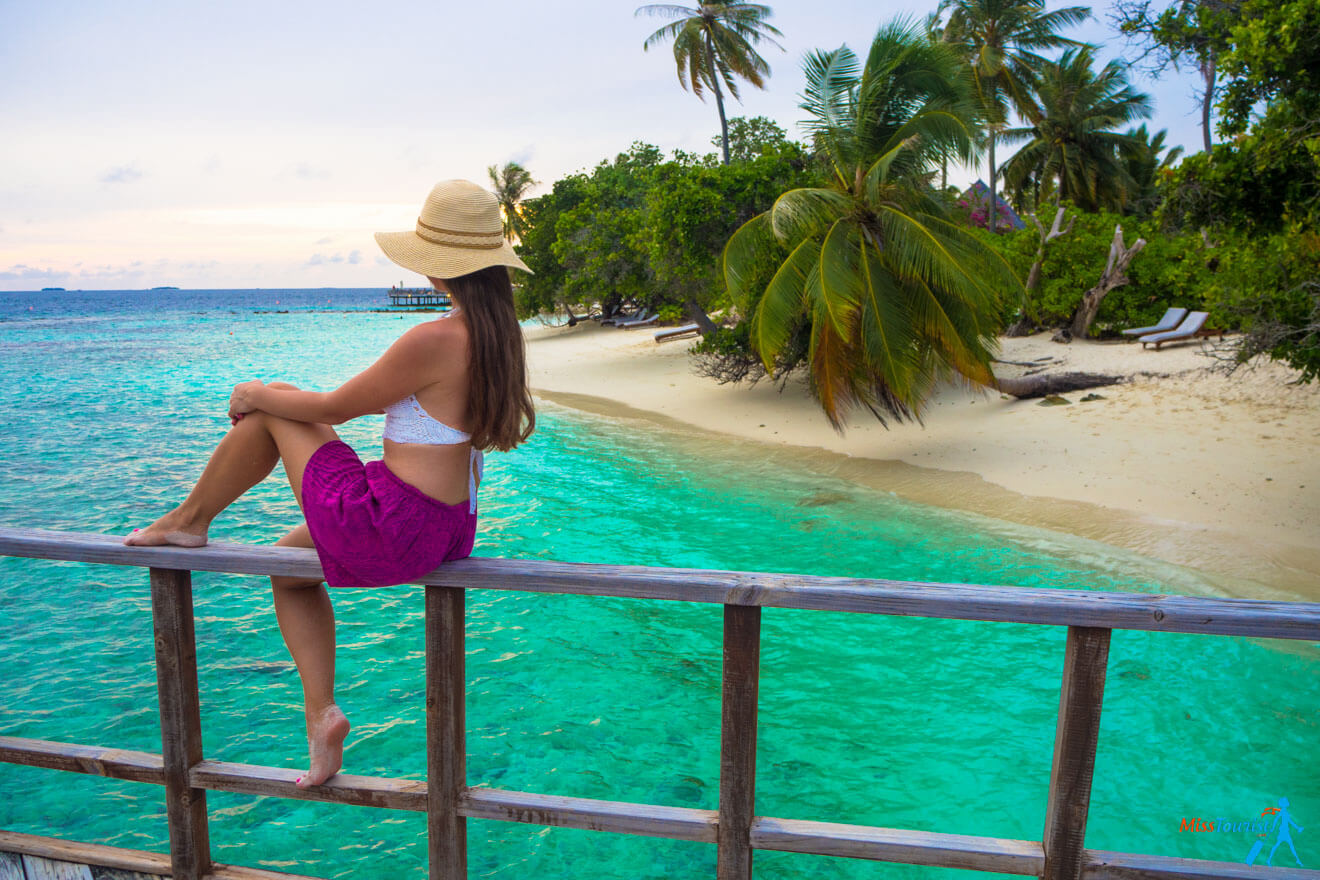 There is live music on most of the nights, or some other entertainment as karaoke or open mic, but everything is happening on one side of the island and it is completely quiet on the other one if you don't want to be bothered.
While I was invited to Bandos resort as part of a conference thanks to the World Travel Writers Conference, I was pleasantly surprised to find out what are the prices for their villas (especially compared to all the other ones).
3. My accommodation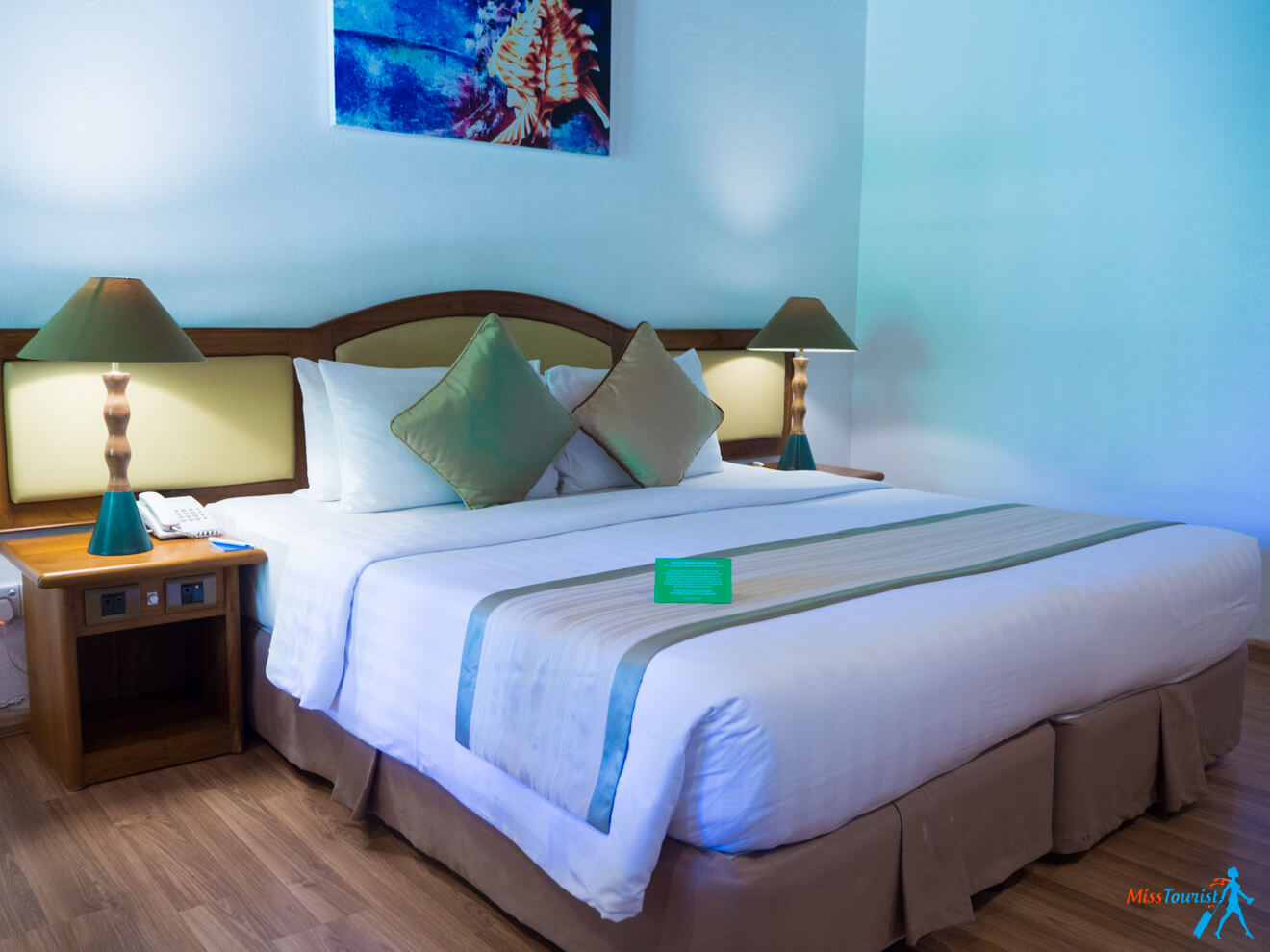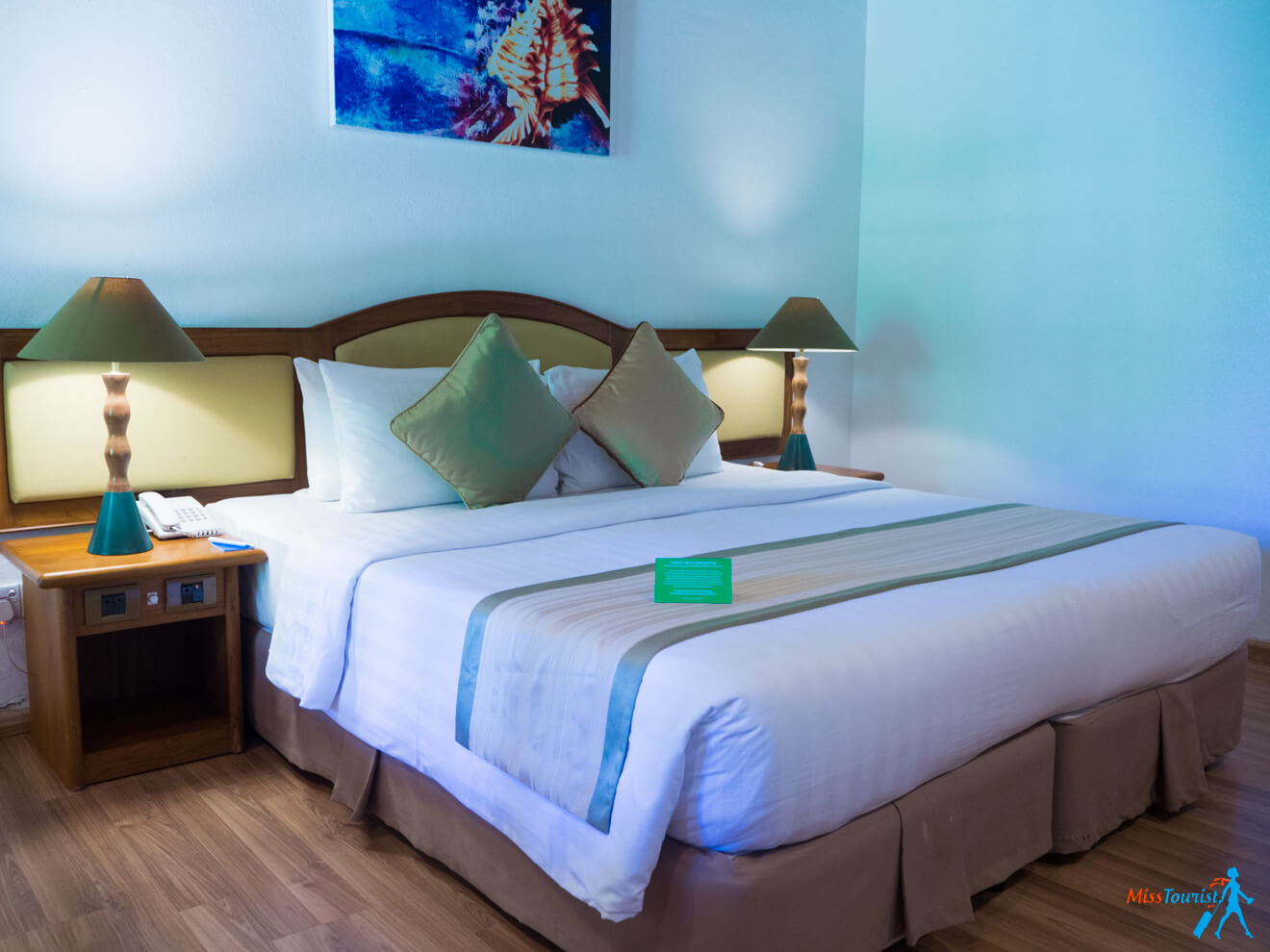 I stayed in a standard room that was very spacious and full of natural light.
The room was also super clean, it had a satellite TV, AC, a hairdryer and everything else you might need to be comfortable!
My favorite thing about Bandos? Reading my book in a hummock, listening to the waves. The beach is just two steps away from the bungalow!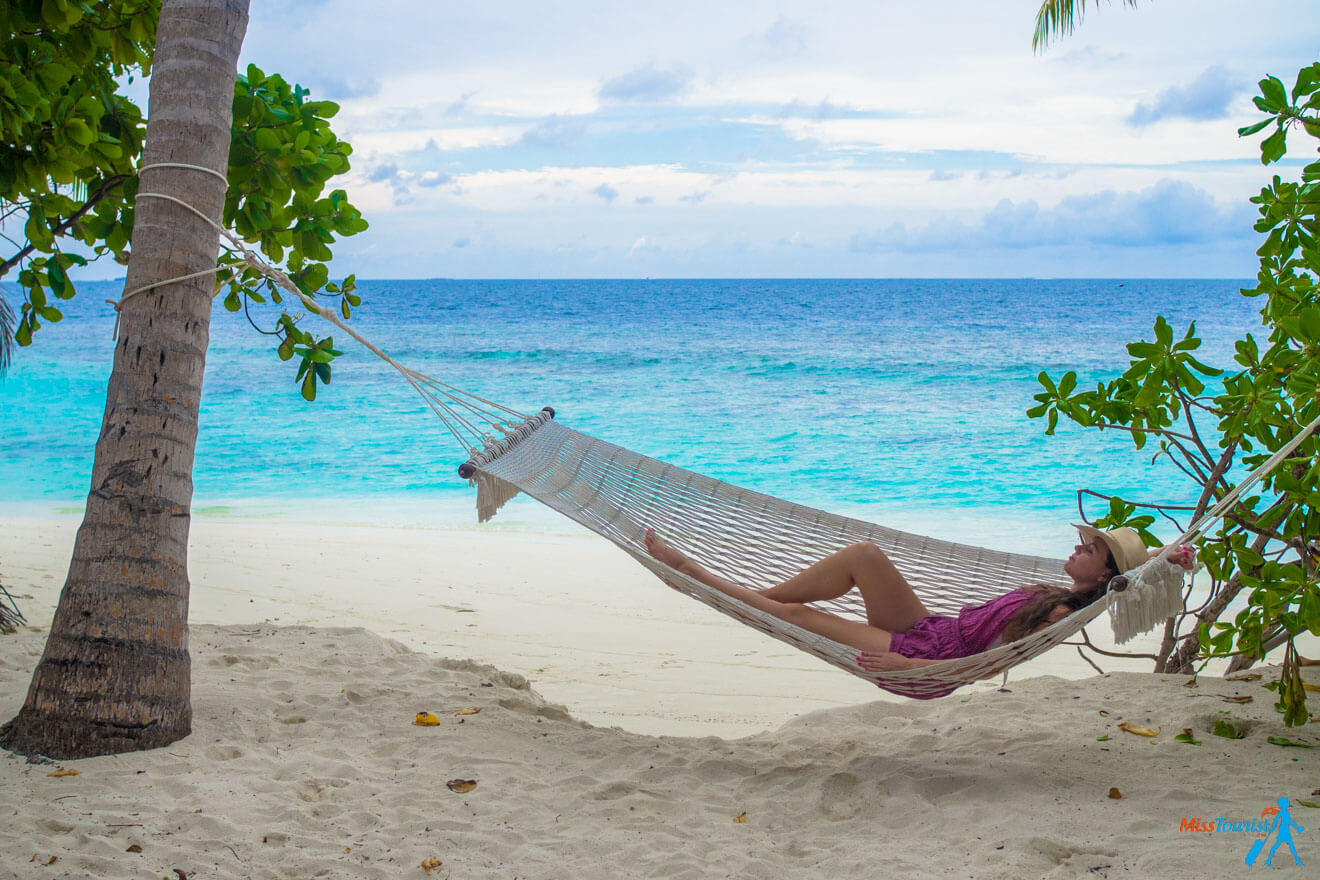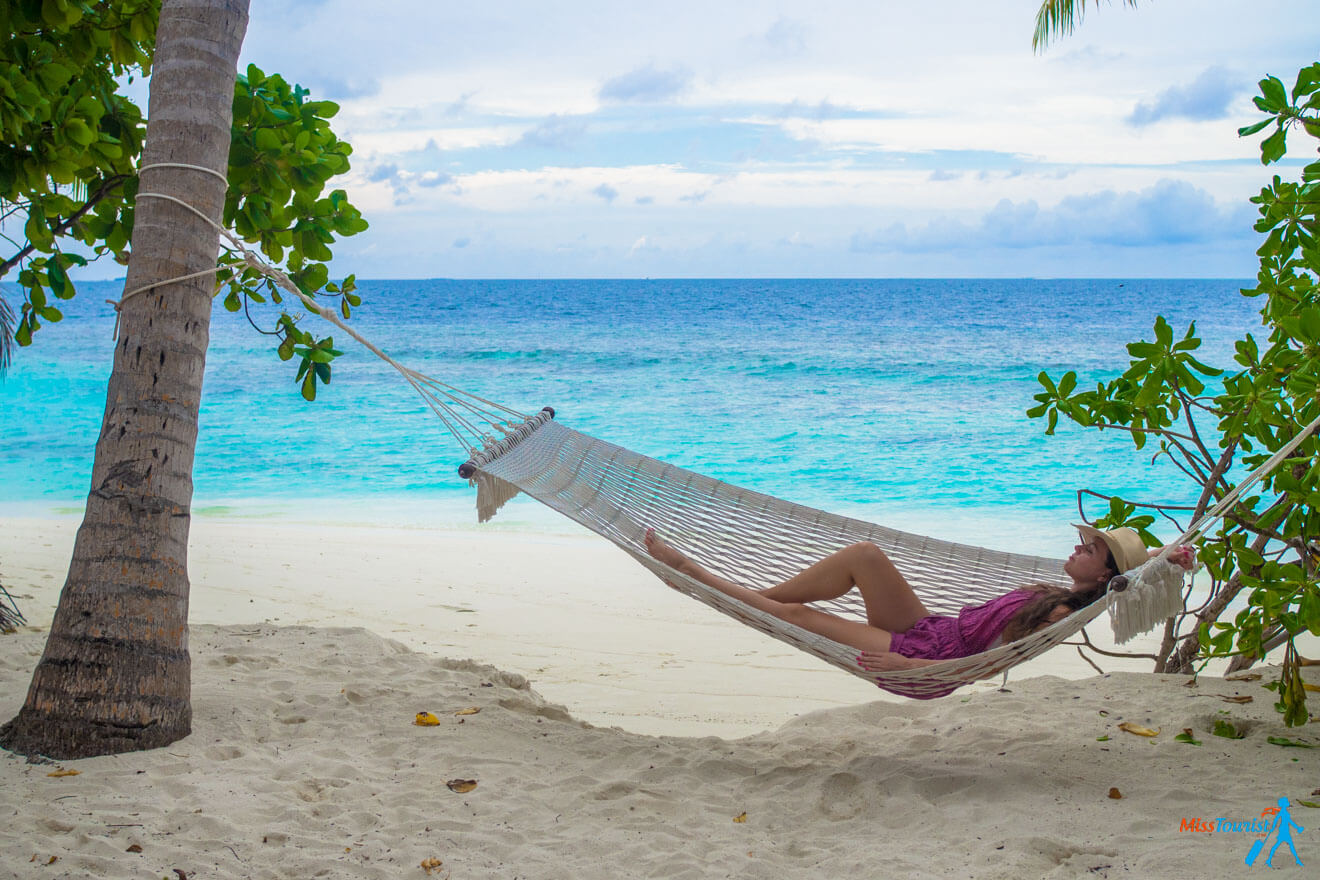 Nestled within the lush green, the accommodation is placed so that all rooms are facing the sea (or in some cases a swimming pool)
They also have Deluxe rooms, which are more spacious, Garden Villas (the ones near the swimming pool), Jacuzzi Villas with an open air bathroom and 2 water villas set on stilts.
4. Facilities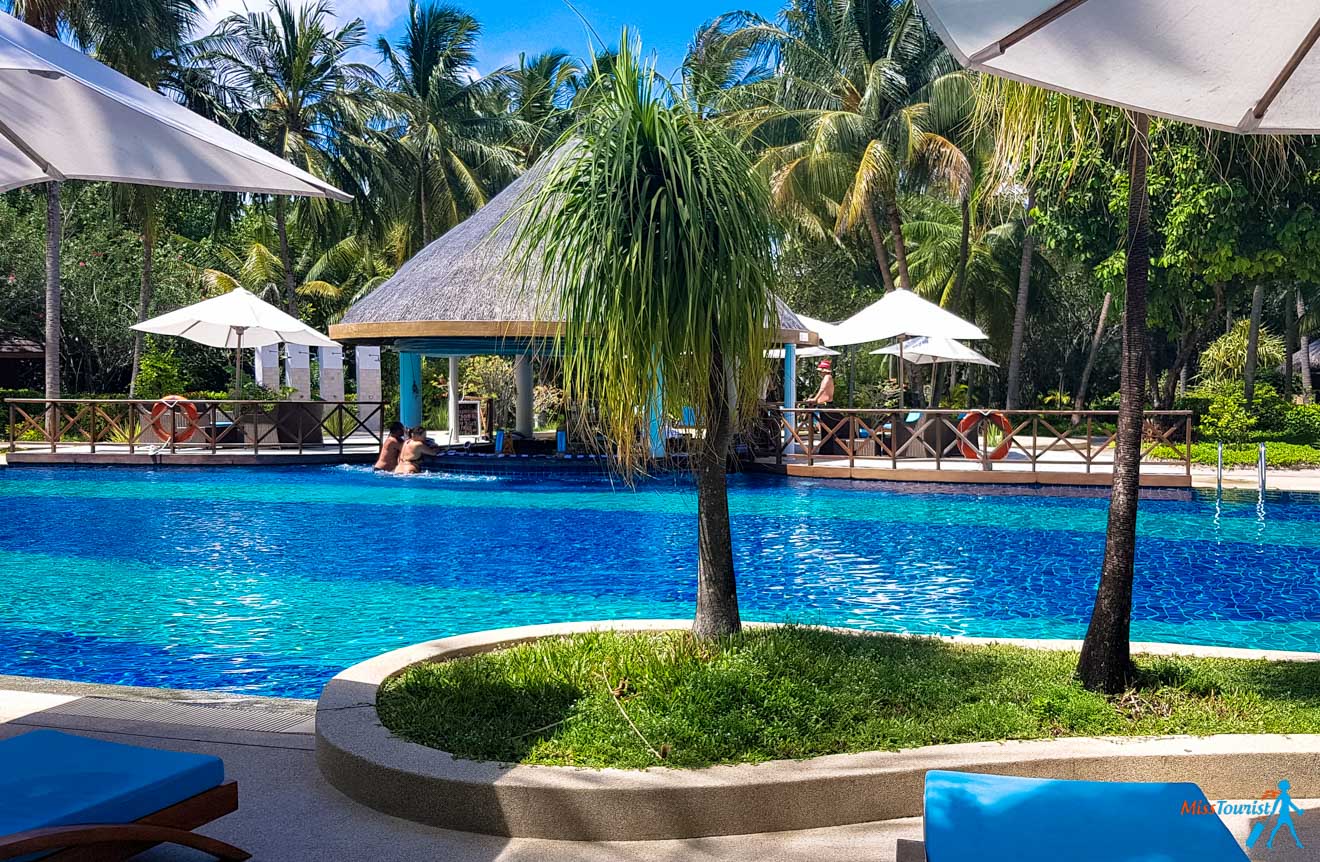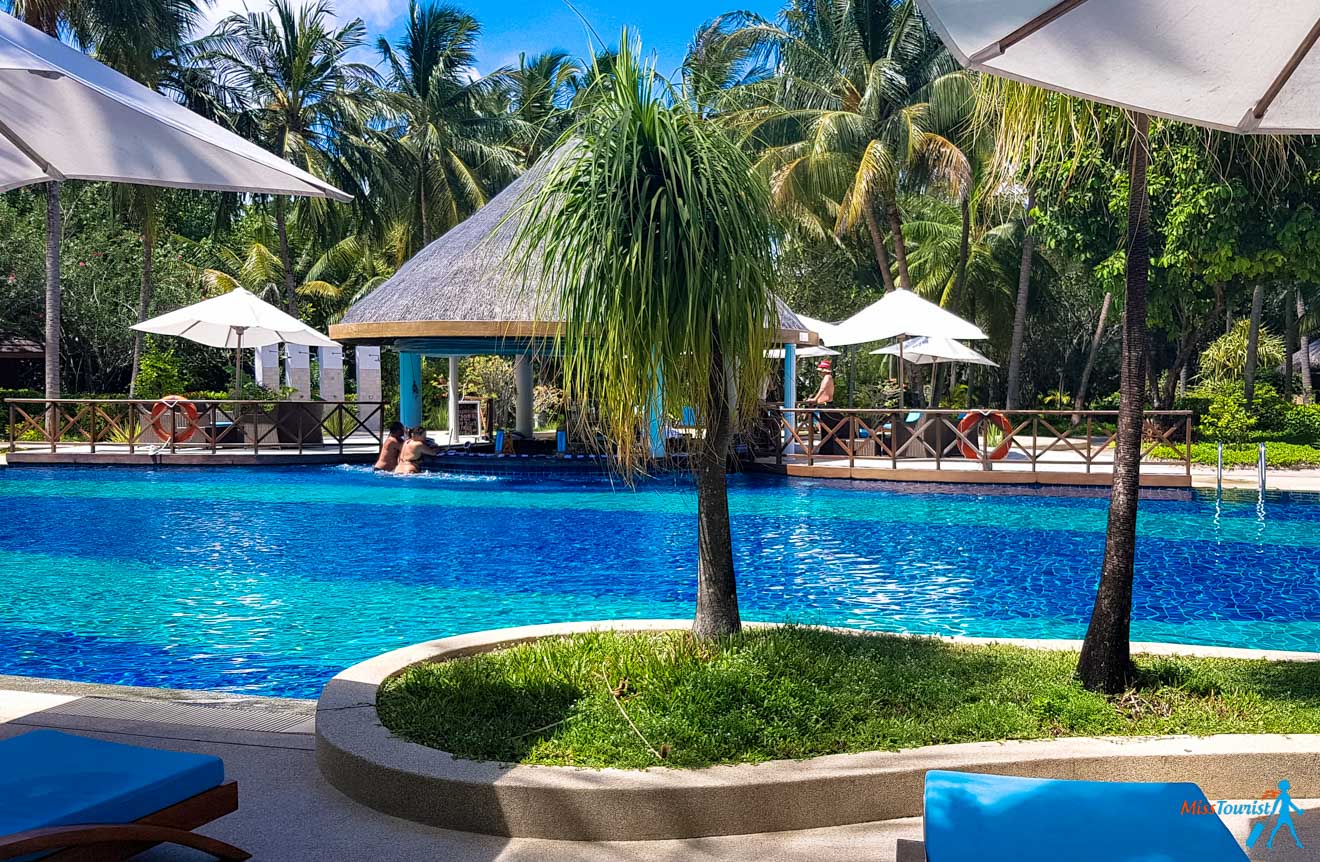 The island is just 5 km long, but they managed to fit so much in this little strip of land! There is a fully equipped gym, tennis court, a football (!!) field, indoor badminton court, swimming pool with a bar, steam bath or sauna, equipped fitness suit, board games and table tennis. There is truly something for everyone in this paradise!
In case you are traveling with kids, babysitting services are available on demand so that you can fully relax on your vacation.
Oh, and there is also a medical center with 2 doctors available at any given time.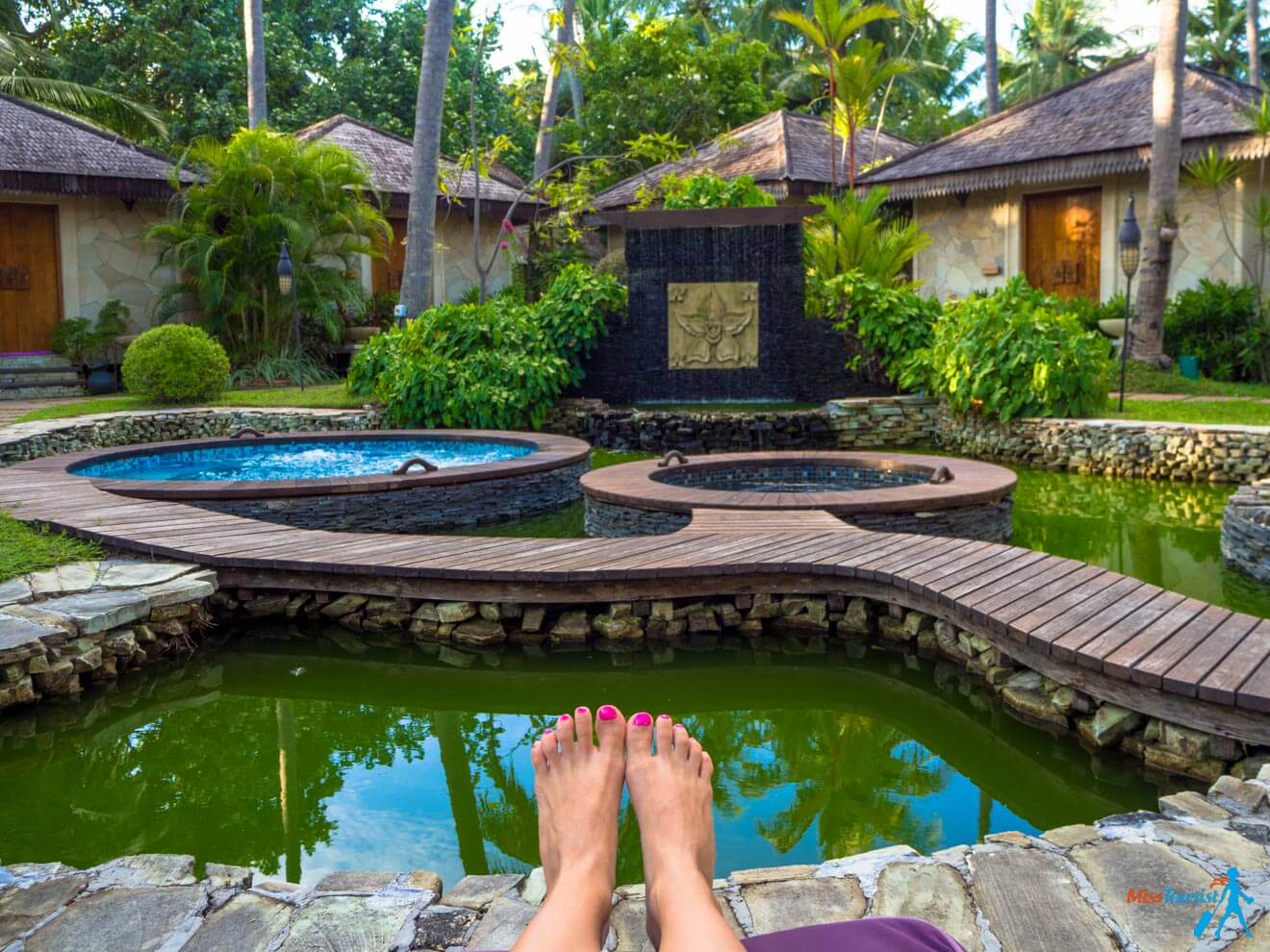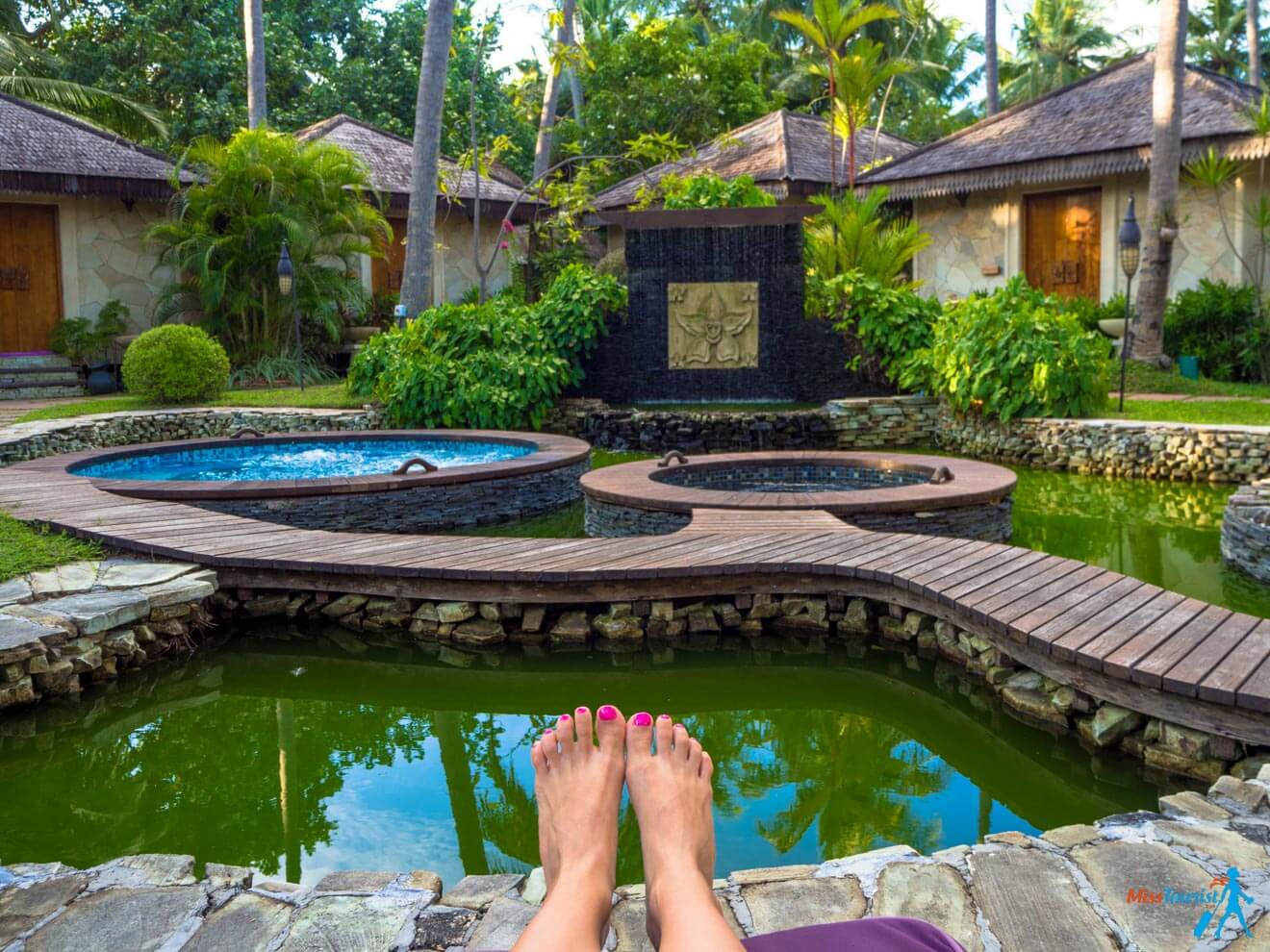 One thing I highly recommend trying out is the awesome serene exotic spa! The place is worth stopping by even if you do not want to get a treatment: complete everything with a garden shaded by palm trees, an outdoor hot tub and plunge pool, outdoor showers and plenty of relaxing sun loungers so you can unwind before or after your treatment.
Being a travel blogger who spends waaay too much time on her computer (read how I became a travel blogger here), releasing some of the back pain and shoulder tension was a must for me. I had a signature massage which is a combination of Thai, Swedish and Maldivian head massage. Try it, it will take all your worries away!
5. Tours in Bandos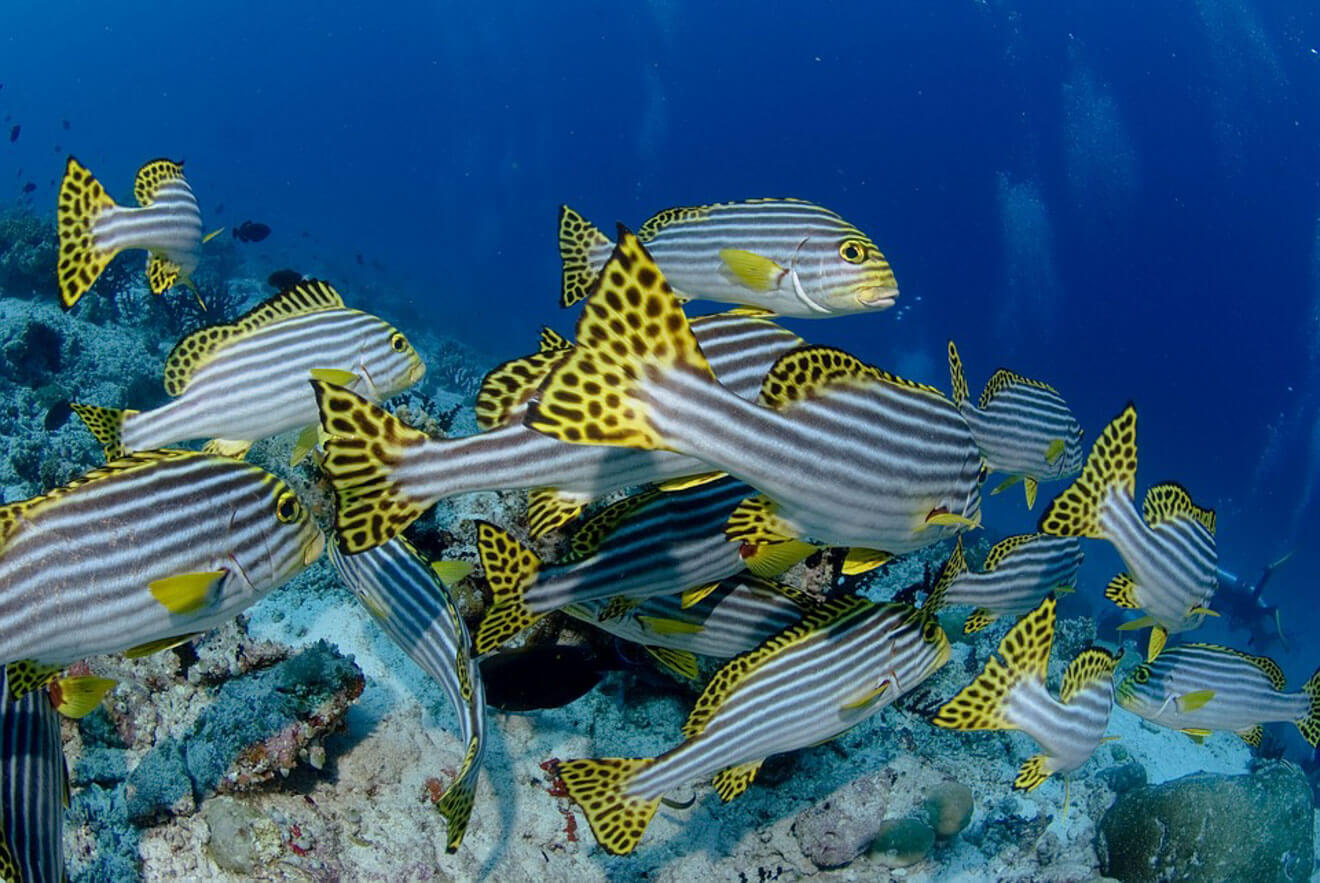 The fact that it is the second oldest resort in the Maldives is a big advantage – they have already organized all the possible tours that are available in the Maldives! Any activity you can think of – Bandos can probably do it!
They are the most famous for their award-winning diving school, so I made a special section for that.
Diving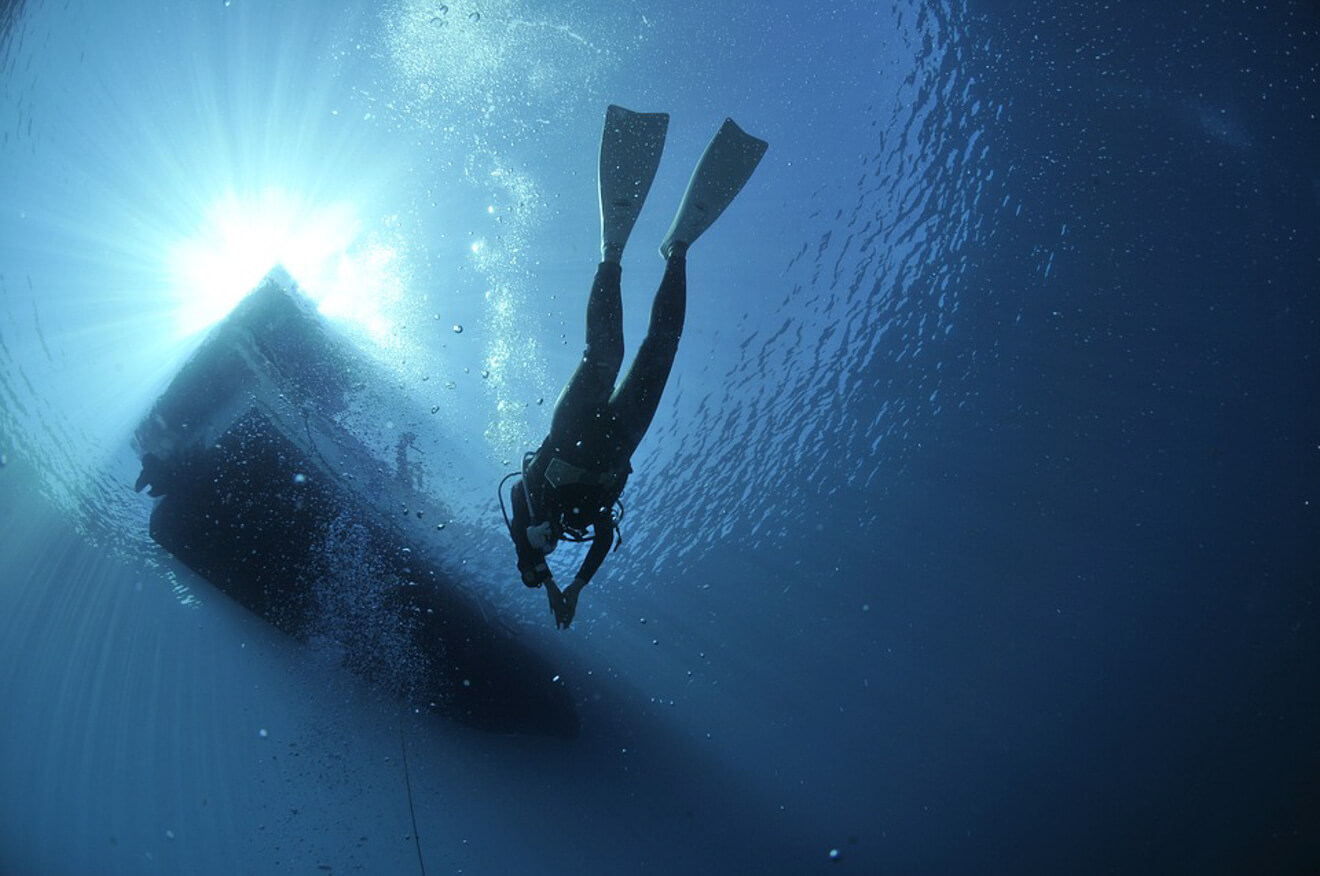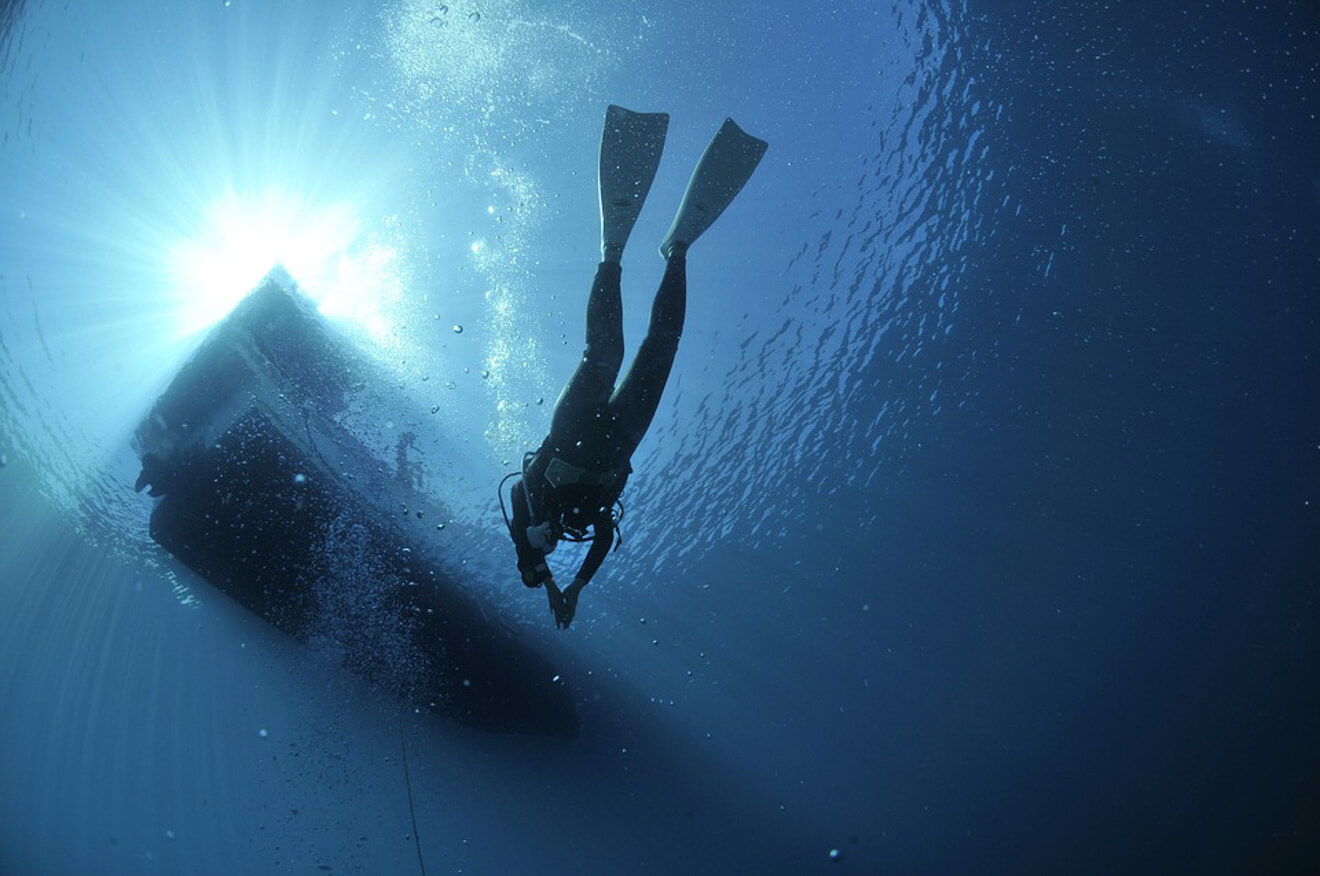 If you have seen my Instagram stories, you know how psyched I was to go diving even though I did not have any diving certificate!
Bandos Diving is the longest running diving establishment in the country, so there are professionals working there. The best diving facilities and the underwater views are for sure in Bandos! I saw turtles, countless colorful fish, sharks and manta rays! At one point I even saw a manta ray swimming about 20 cm above me! That was the highlight of all my dives!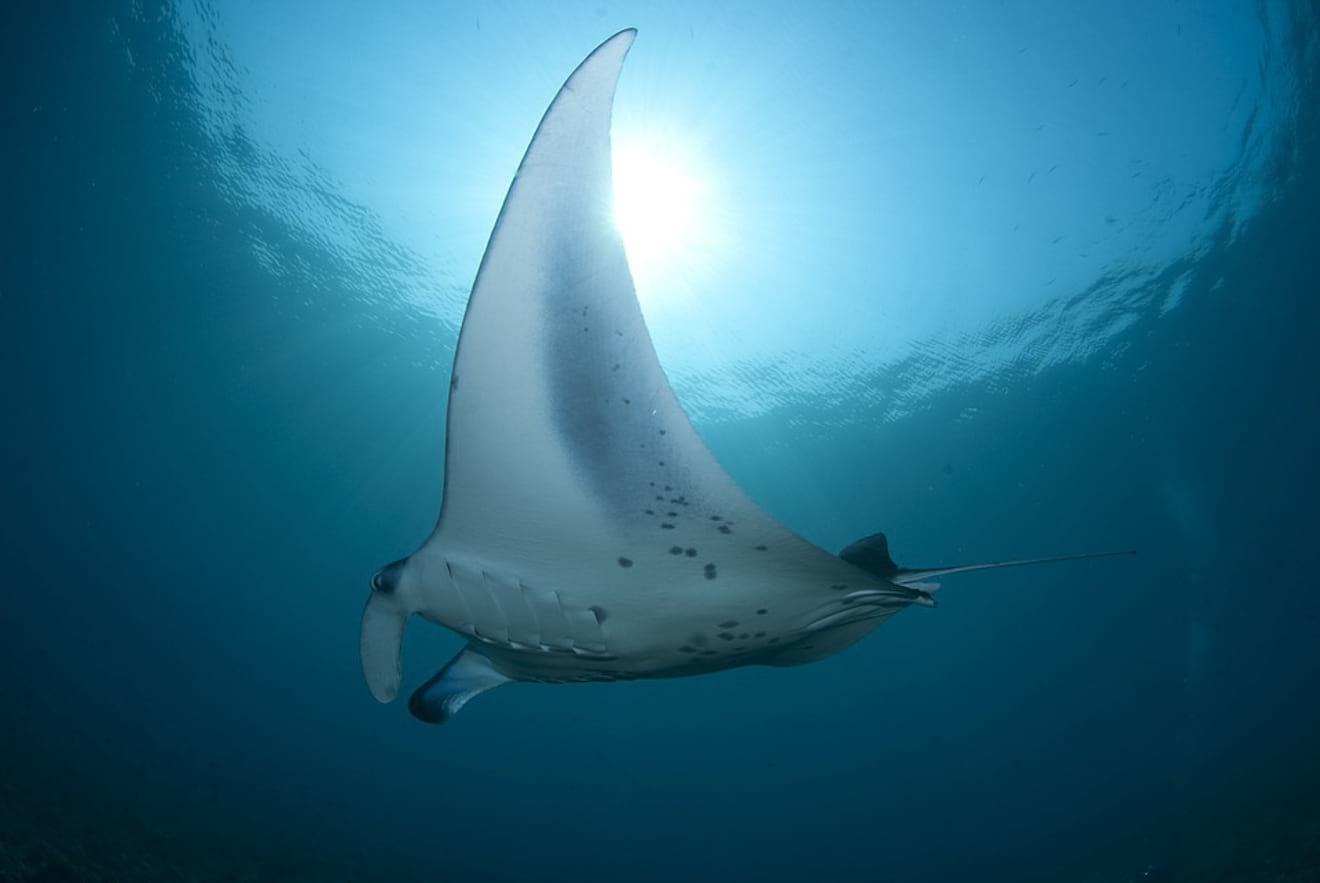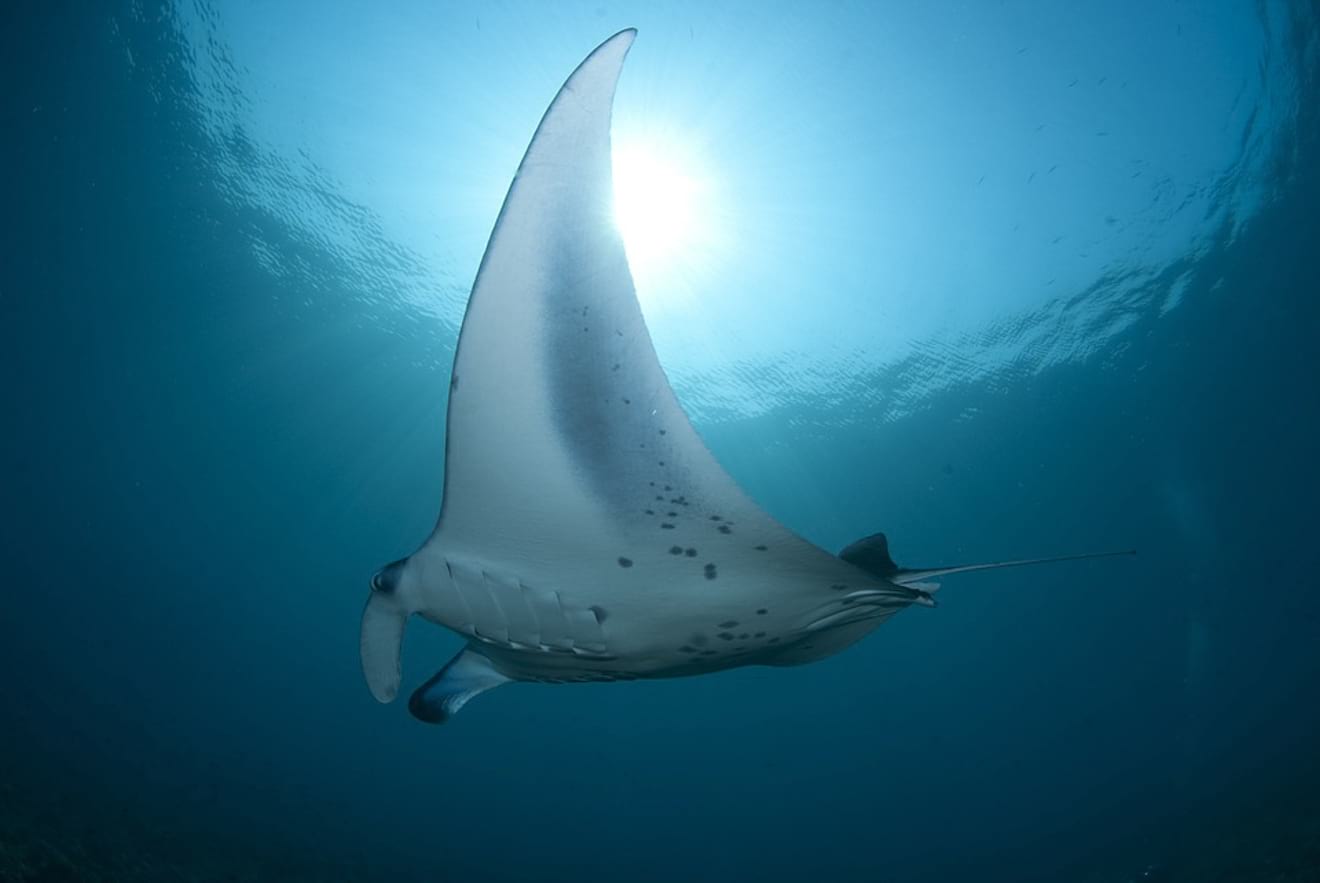 Bandos has a PADI-certified diving school, which is considered to be one of the best in Maldives.
But if you, like me, do not have a diving certificate, no worries, Bandos will get you covered!
You can still dive to up to 12 meters with an instructor who will explain the procedure to you (12 meters is more than enough to see every underwater wonder).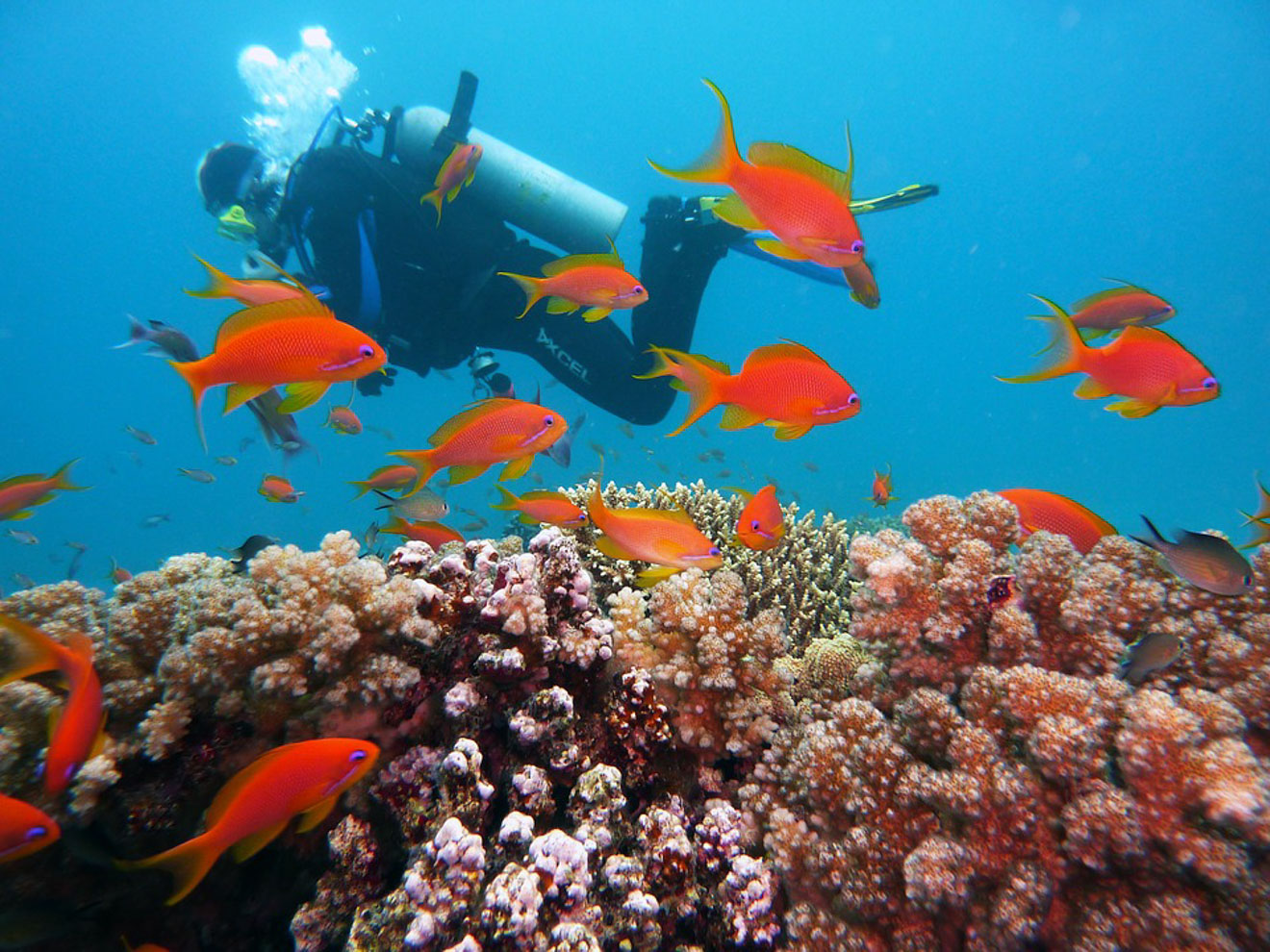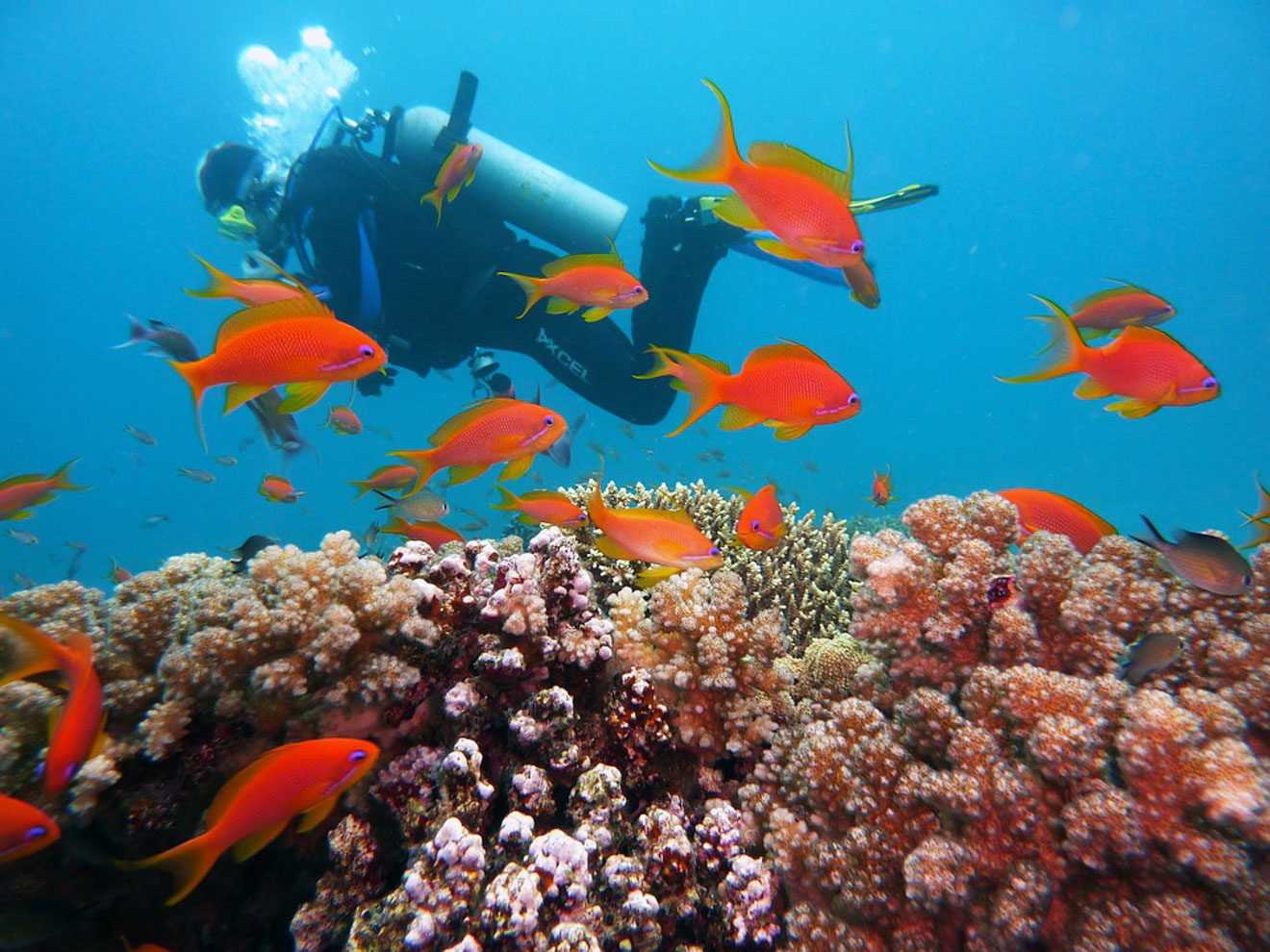 My instructor was great – qualified, serious when it comes to safety and smiley for the rest of the time. I didn't feel scared at all thanks to him! Oh, and he also pointed to different fish if I didn't see them right away, so thanks for that!
Bandos was also the only place that could provide prescription masks.
This can be useful for you if you have bad eyesight and do not wear contact lenses (like me).
Price: dives are $60 US + tax per dive, plus 18 if you go with a boat (that is where manta rays are). You can get a PADI certificate for $500 US.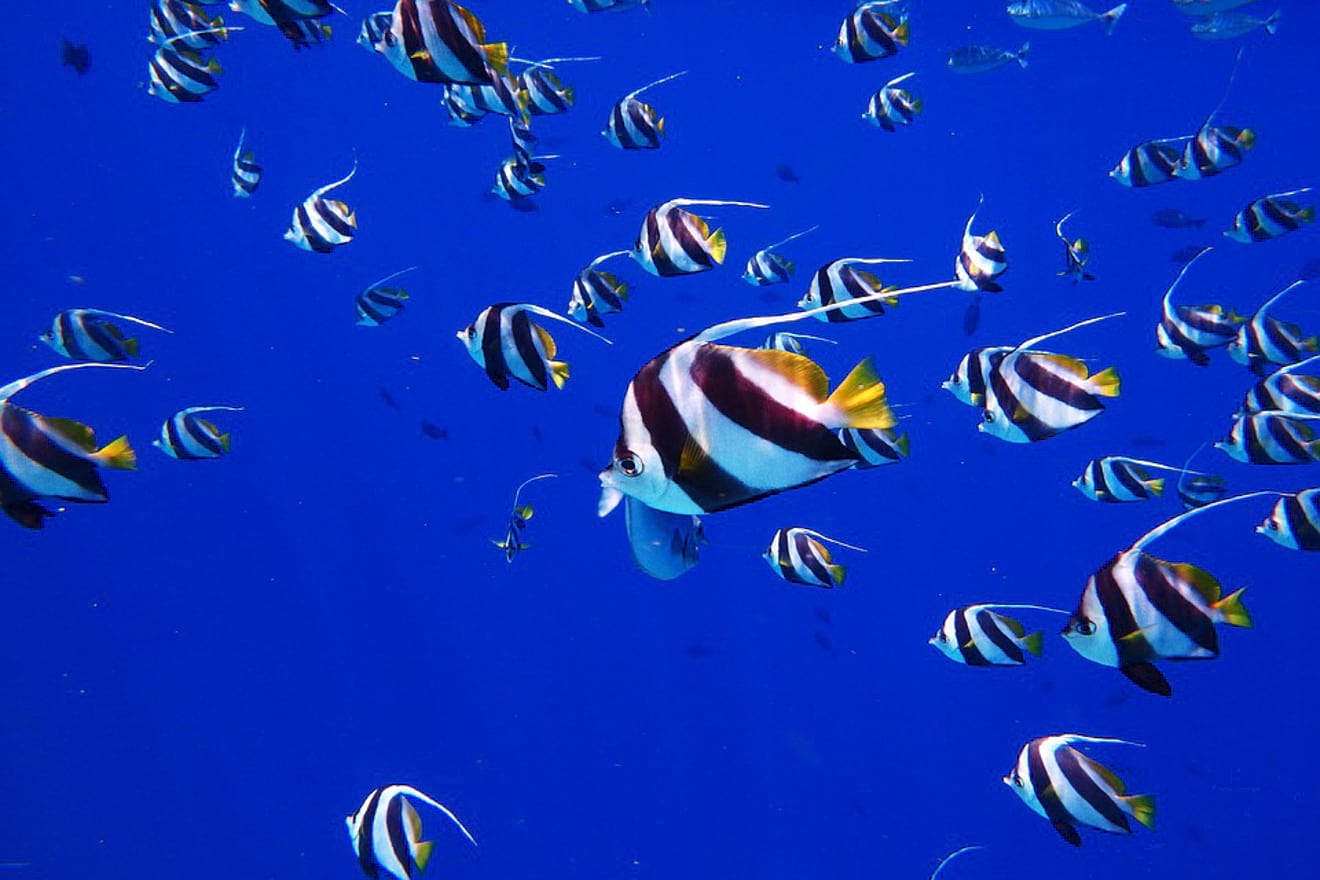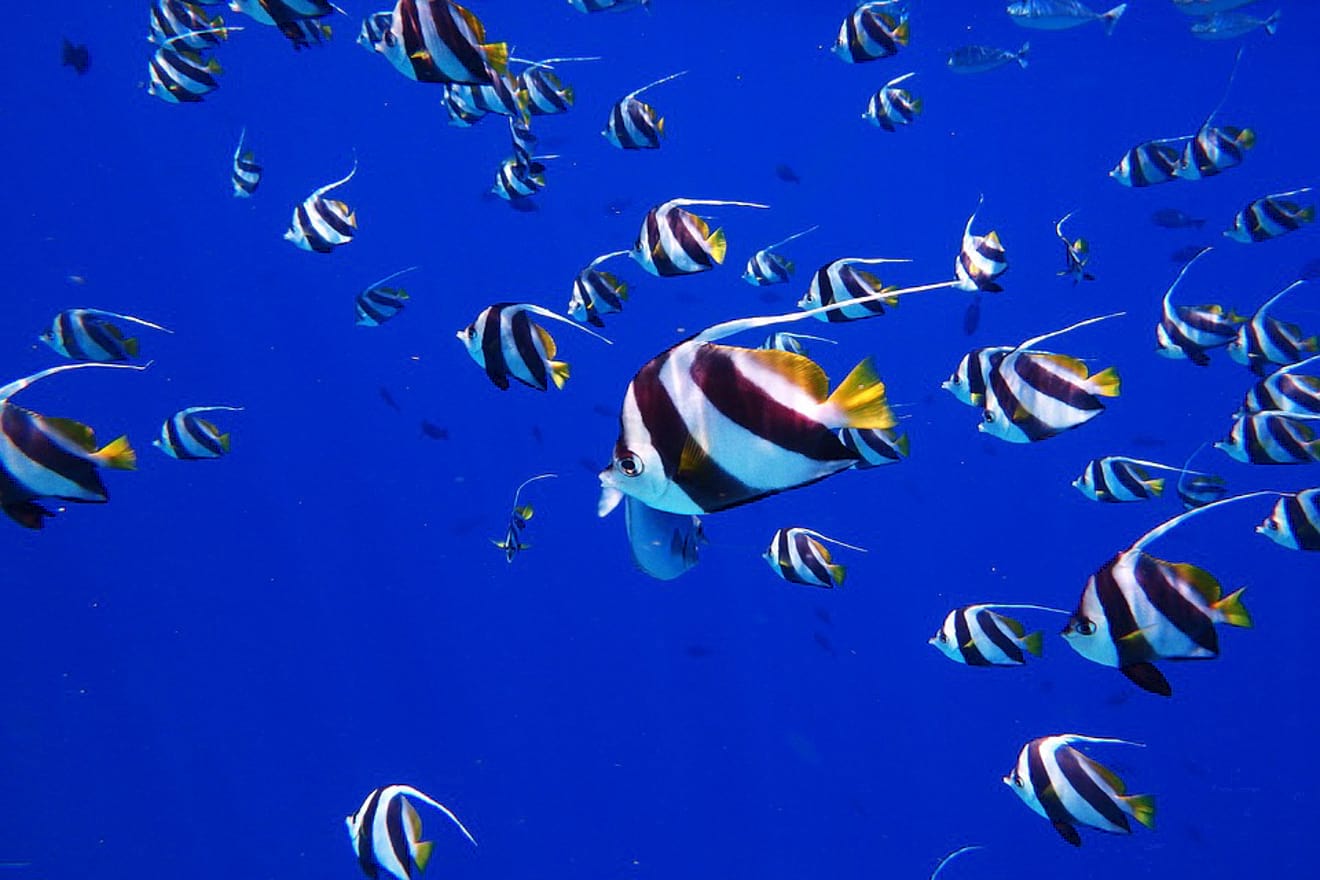 If you don't feel like diving, there are so many fish right in front of the restaurant and small sharks scaring them away, just like in the cartoons! This was so fascinating to watch!
Bandos is also one of the best snorkeling spots in the country, so you do not need to be a diver to see some fascinating underwater life. You can also borrow a snorkel mask from the school and snorkel right from the beach.
Other tours in Bandos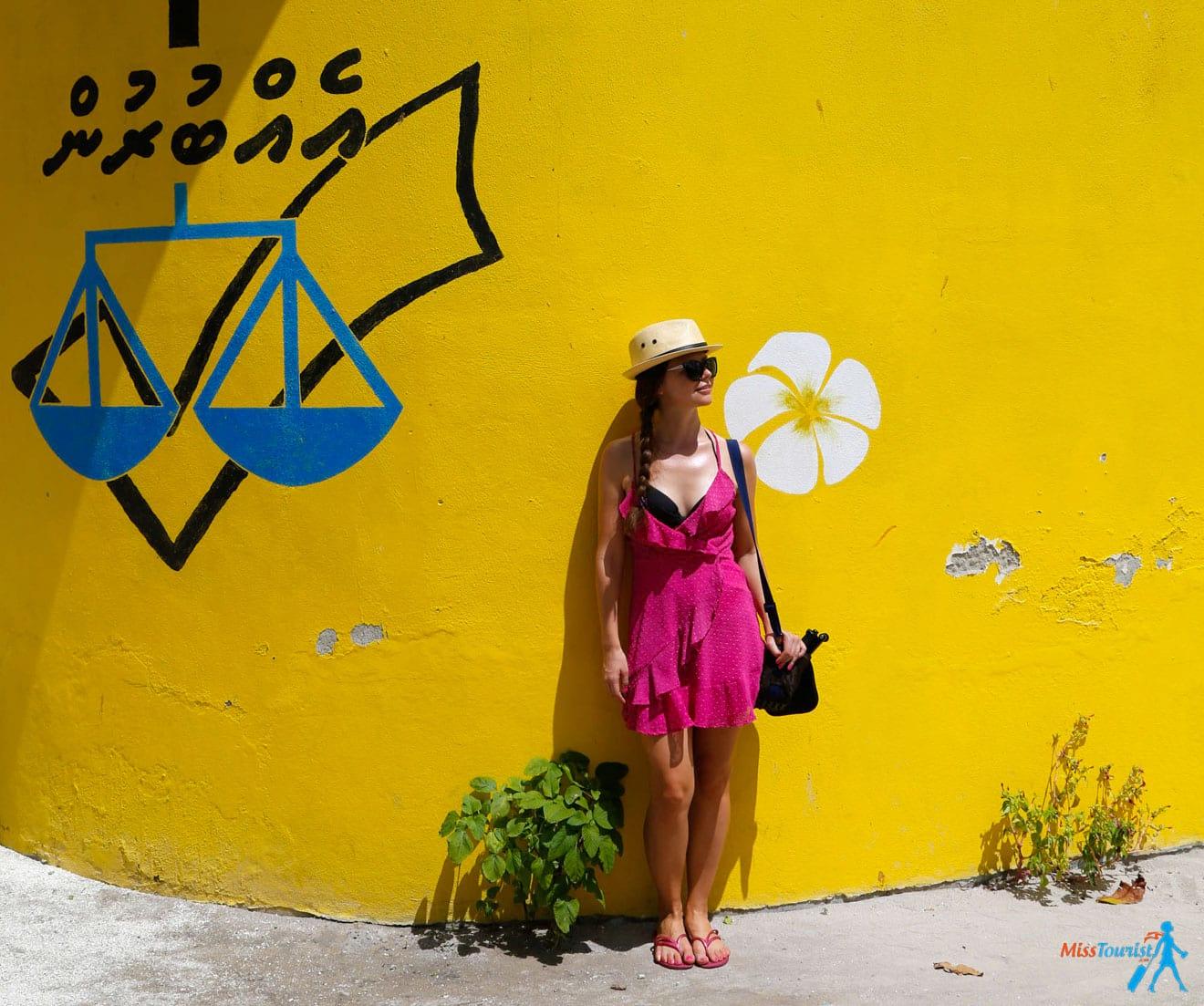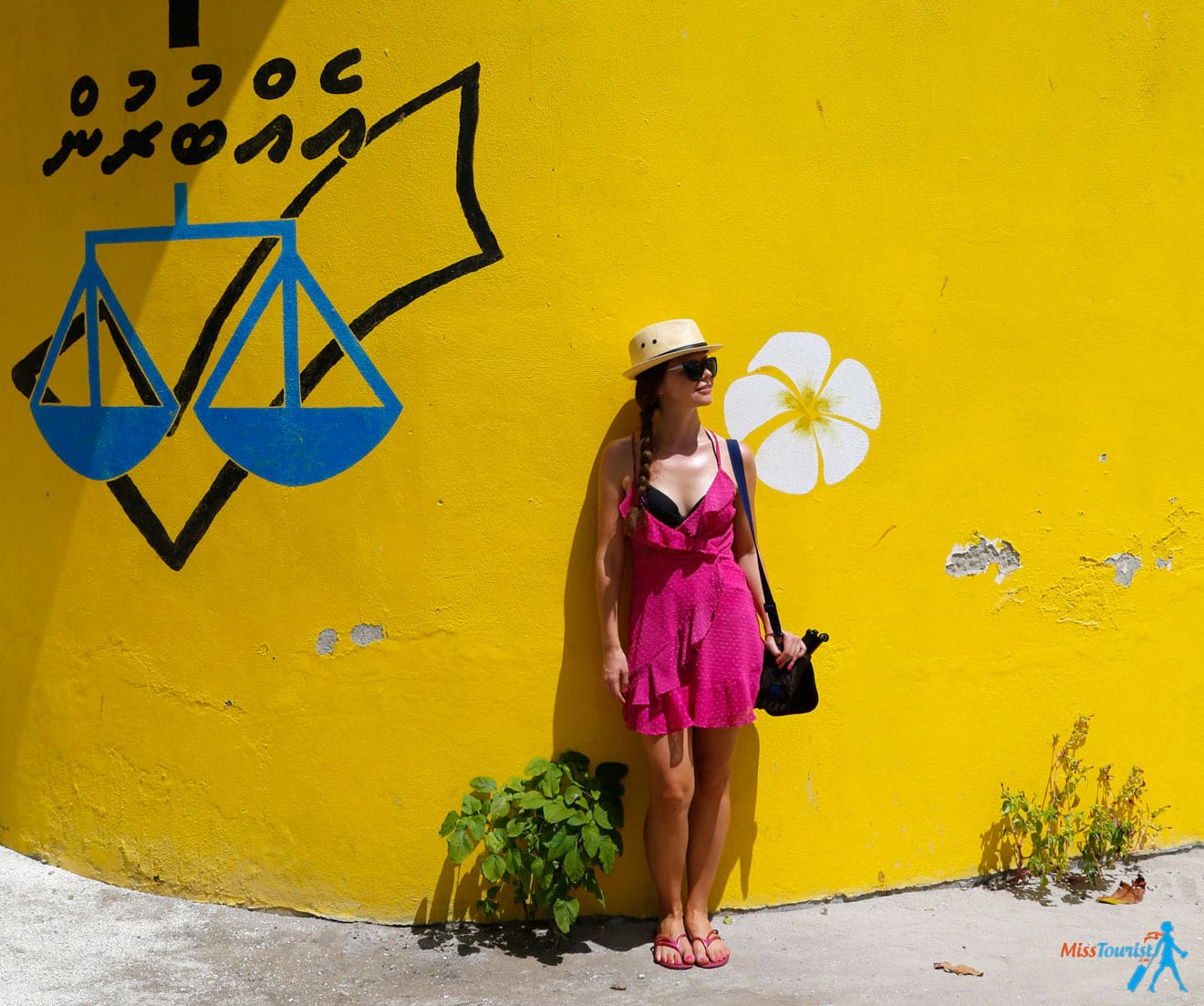 As I previously mentioned, Bandos is the second oldest resort in the Maldives which is more of an advantage in this case – they have all tour you can think of, but also some very competitive prices!
You can see all the tours that Bandos offers here.
These are the tours I have done:
Sunset dolphin cruise was magical! I have never seen so many wild dolphins at once. 8 – 10 dolphins were playing around and following the boat for a while. We also saw a pilot shark (similar to dolphins, but larger) and the crew said we were very lucky as this does not happen often.
Price: $40 US plus tax.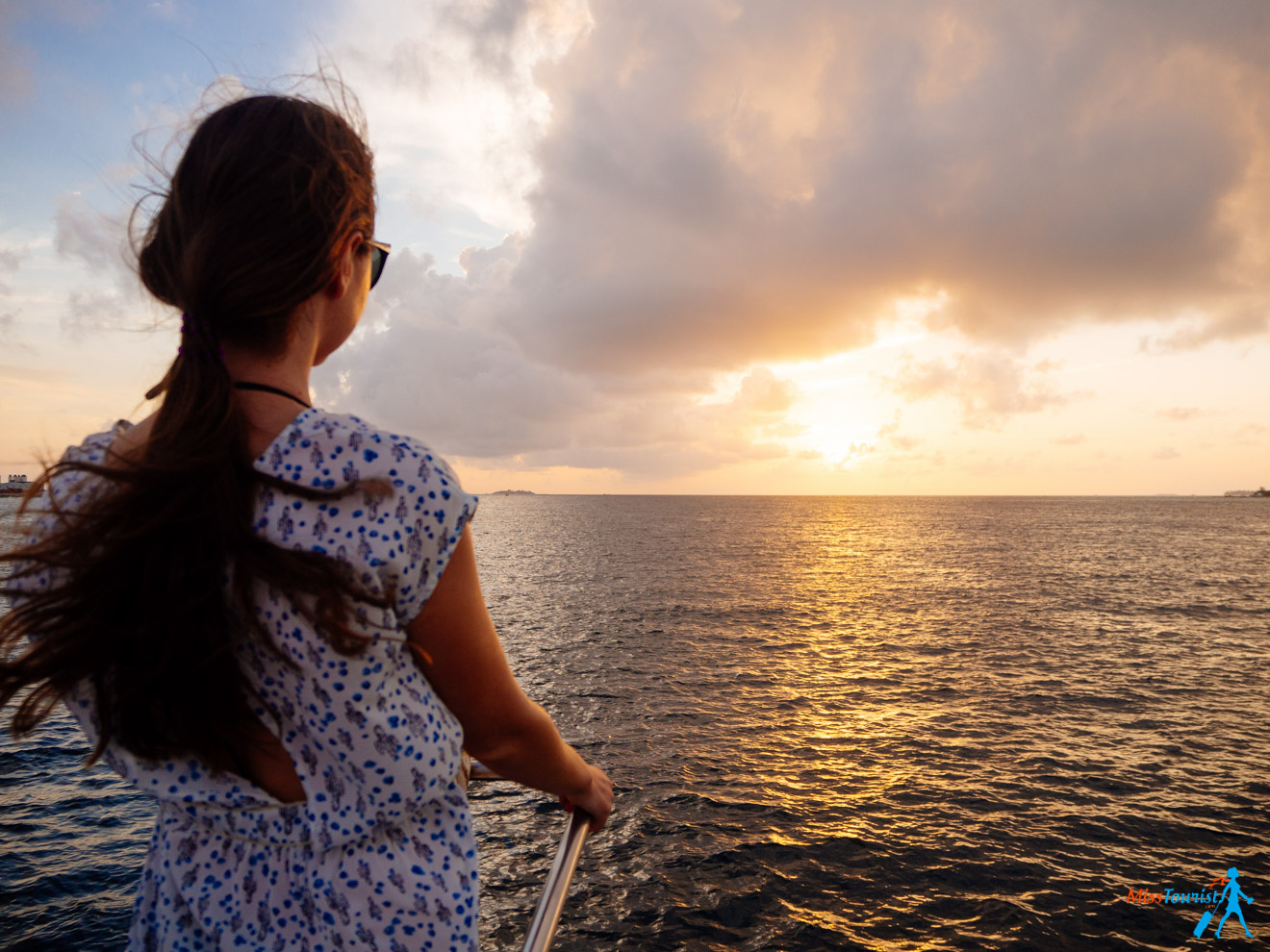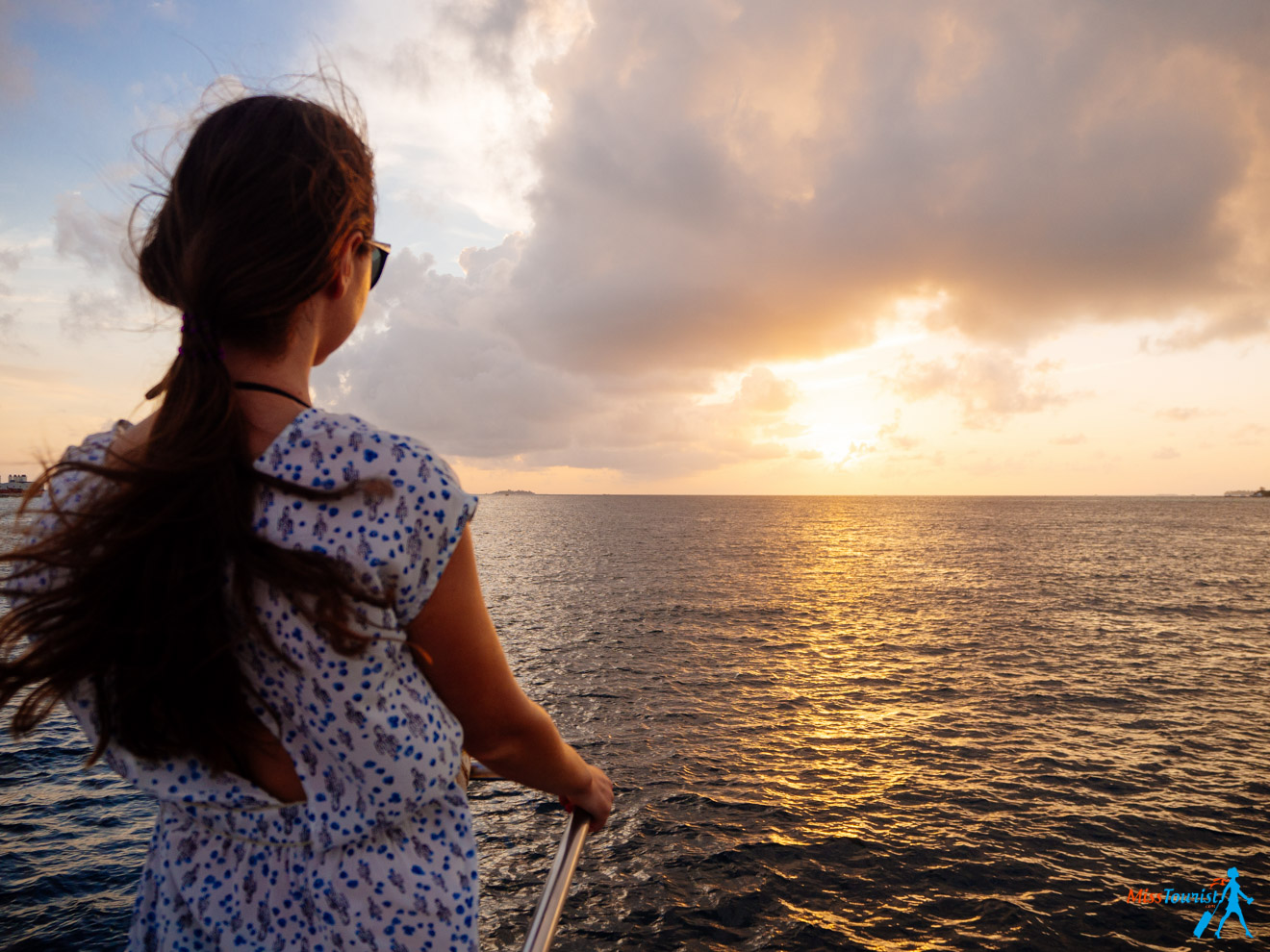 Island hopping – half day tour which helps you familiarize yourself with "the real Maldives", to see how locals live, learn how they built their houses, what they eat, and what kind of work they do. Just for a contrast, you will then visit one of the luxurious resorts where you can marvel at the beauty of everything and take iconic bridge pictures.
Price: $46 US plus tax
Night fishing – You will go fishing on a boat during the sunrise. I did not catch anything, but I enjoyed the feeling of calmness sitting on the boat and staring at the stars, this was a great experience! Oh, and you can eat your catch afterwards!
6. Food at Bandos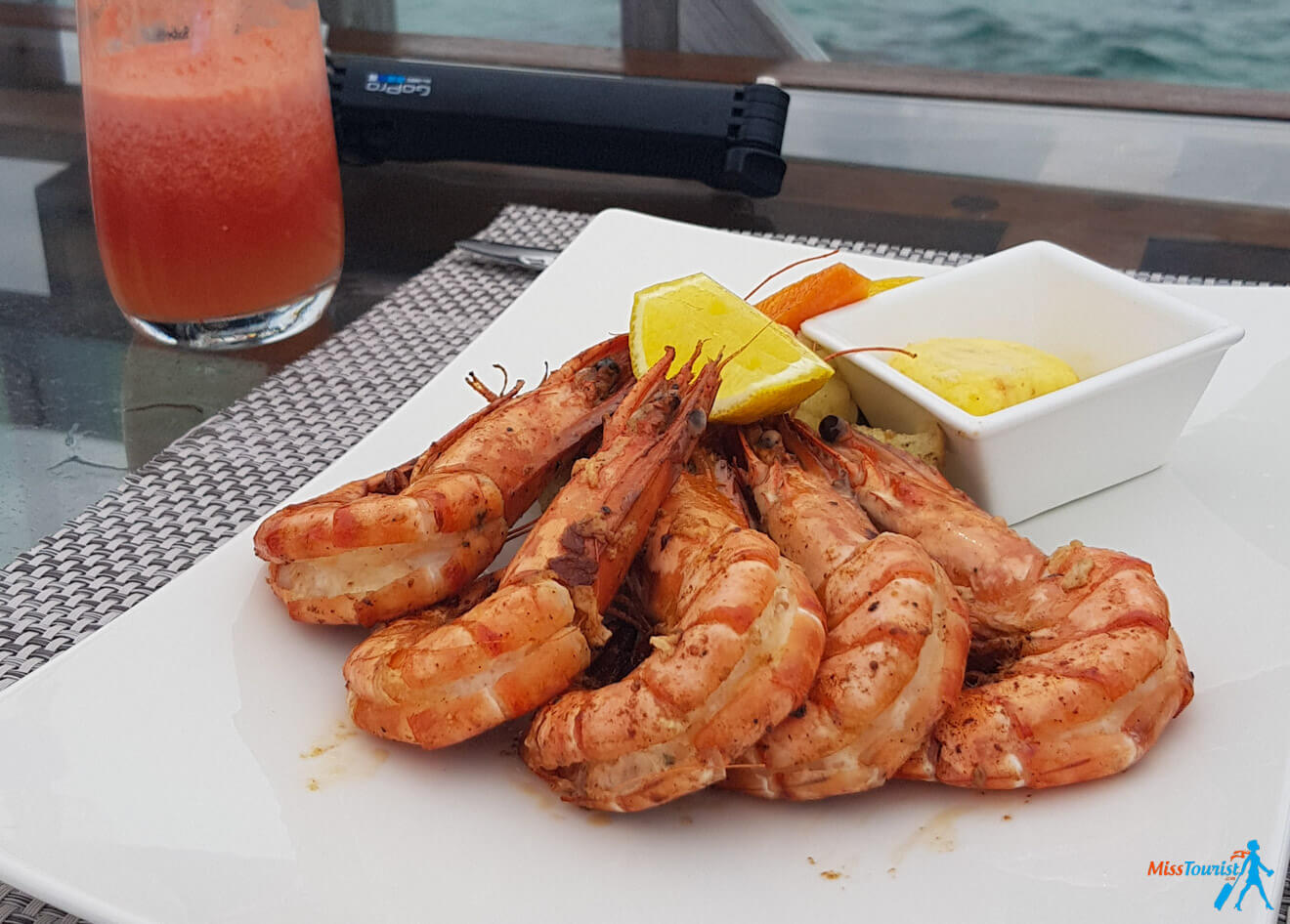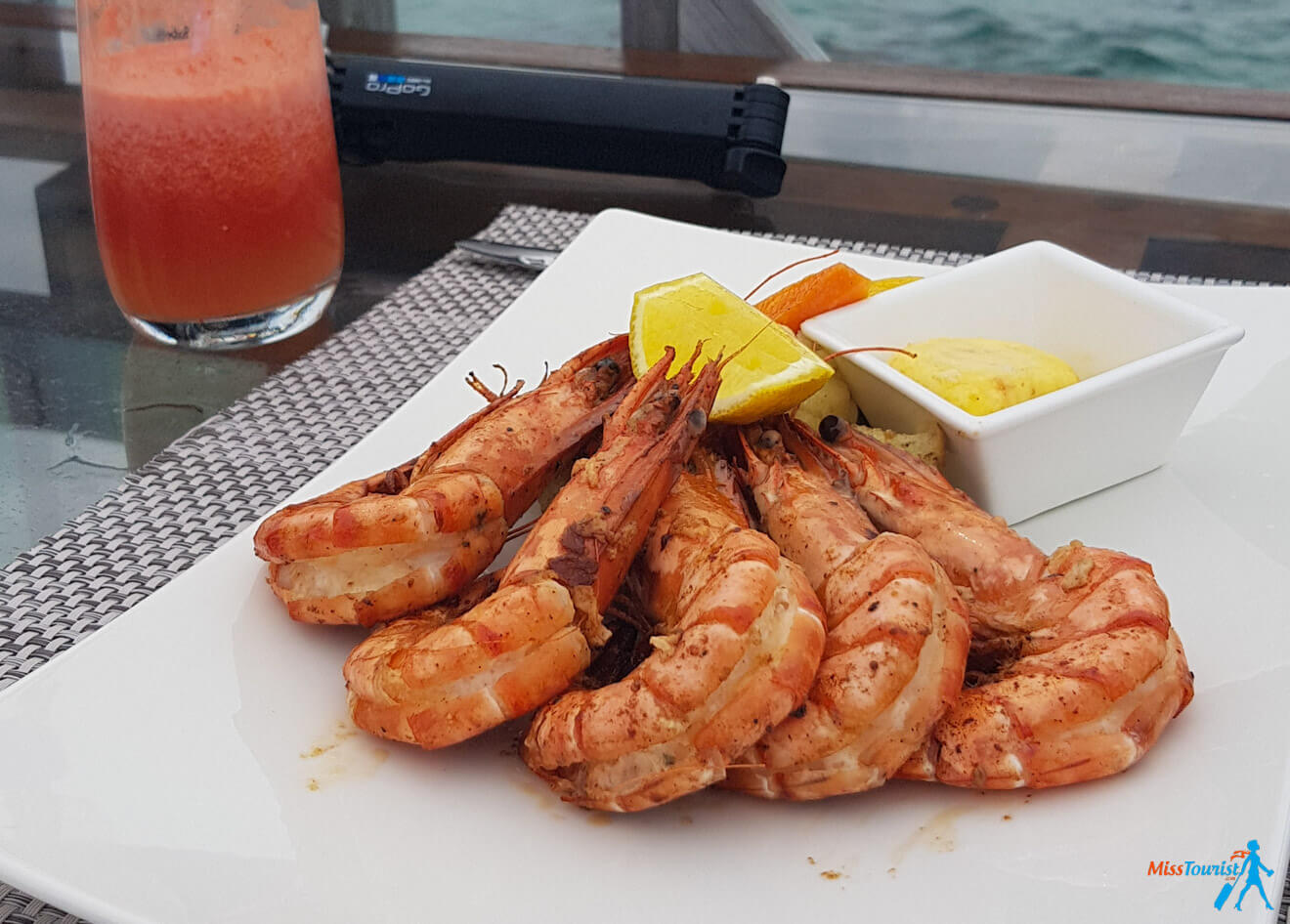 I recommend taking a full board and enjoy your vacation.
The resort has various option for dining on the island – fine dining in various restaurants but also buffet options.
The all-you-can-eat buffet had so many options it did not fit in one room, they had two!
The food was delicious, so I had nothing to complain about (maybe only about the weight I was gaining because of it 😉 ).
If you are bored with the buffet, you can also find a-la-carte restaurants with various cuisines.
Huvan restaurant is the perfect spot to enjoy heavenly-like sunsets, soft music and amazing cuisine.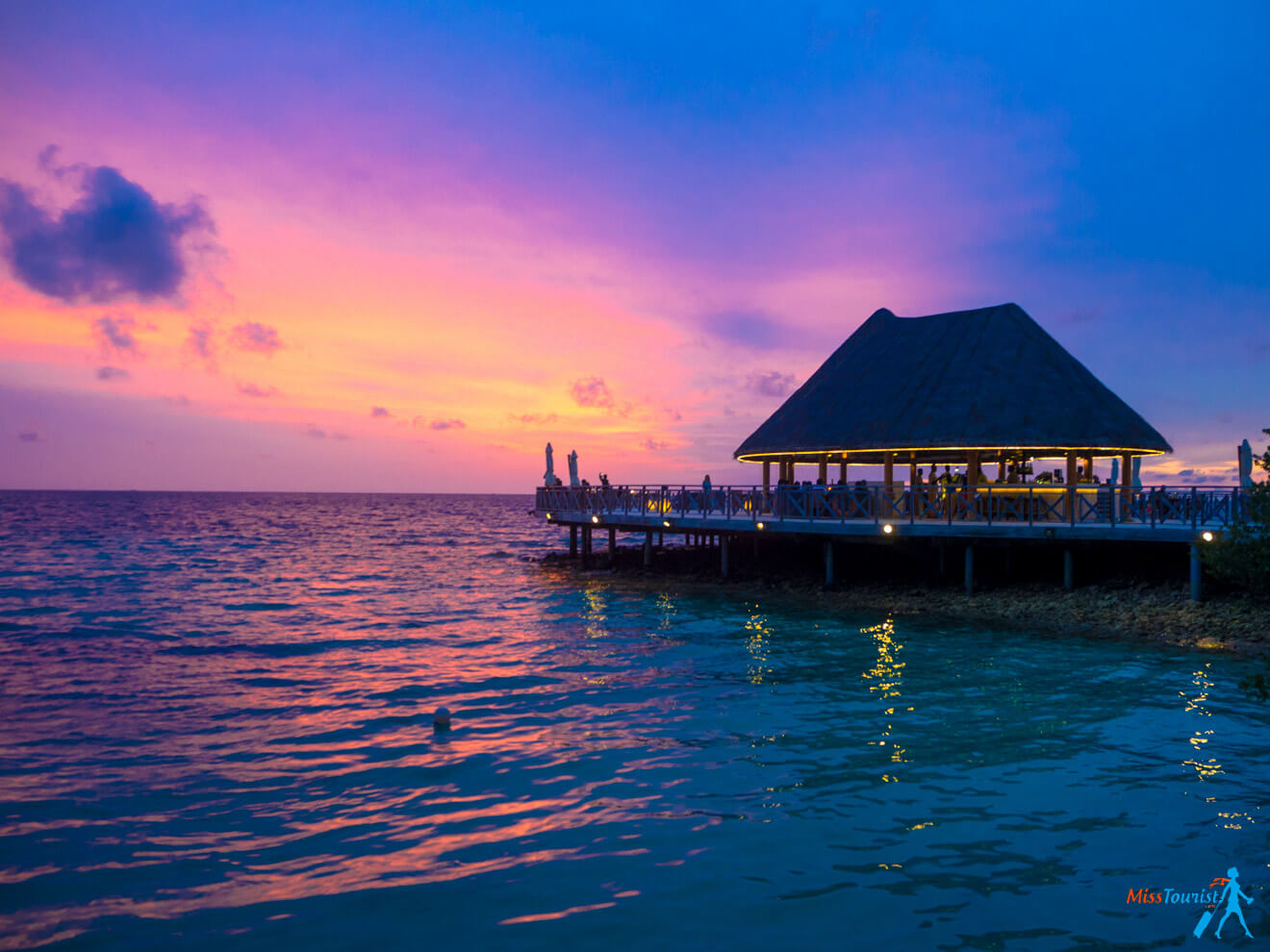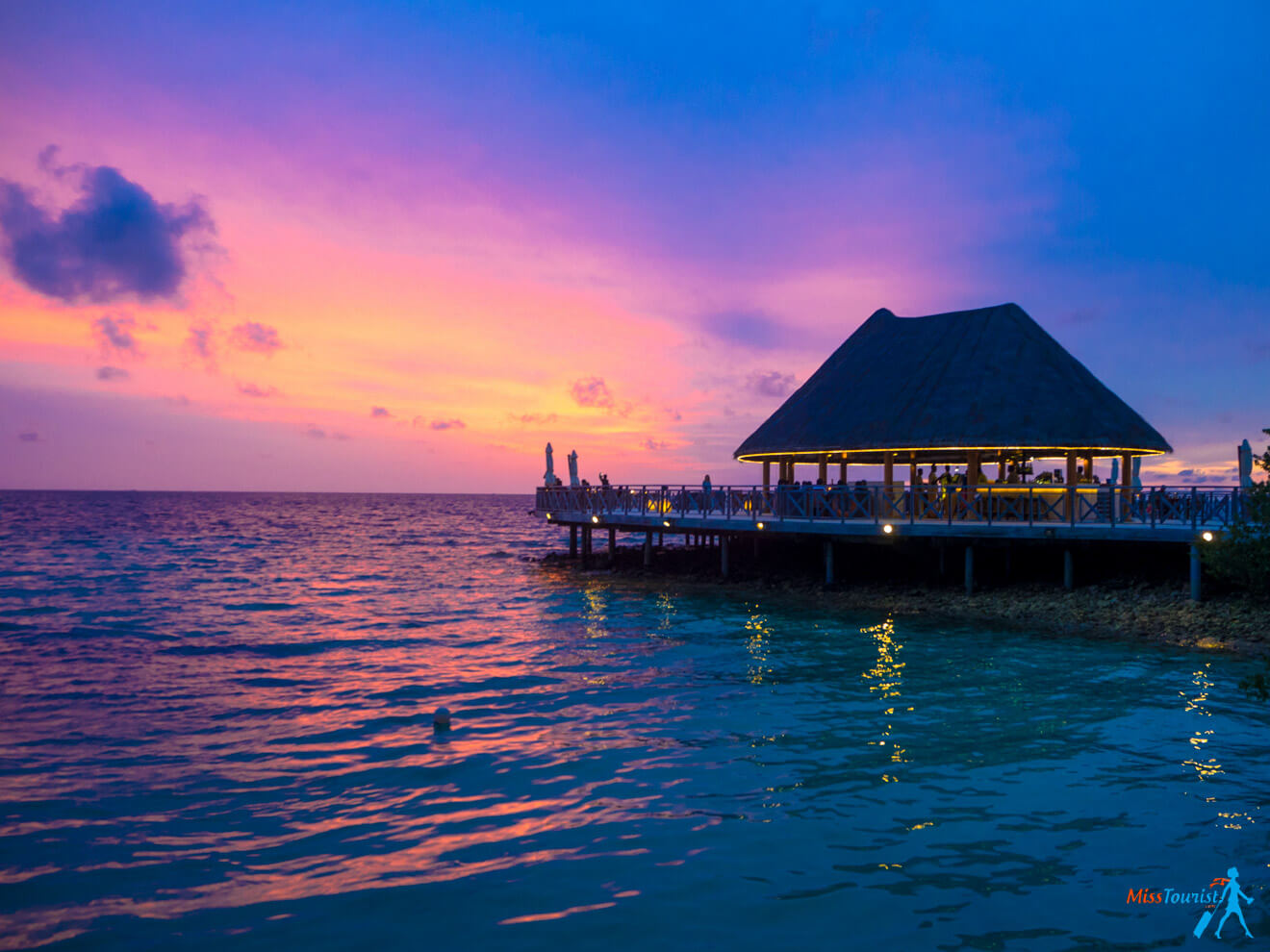 Sea Breeze restaurant is a wonderful place where you can dine and look at the sharks at the same time. Where else in the world would you be able to do this?
7. Why to stay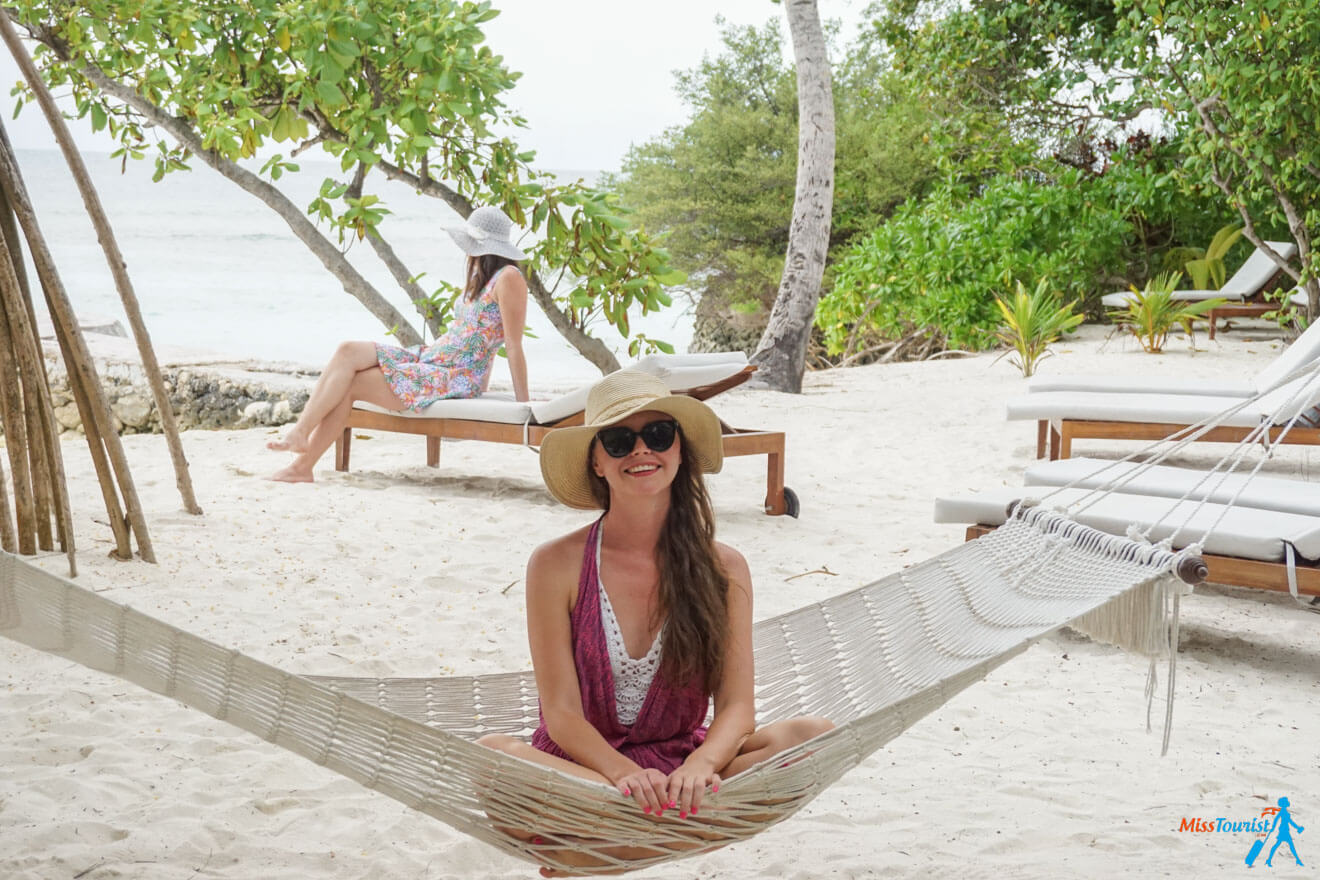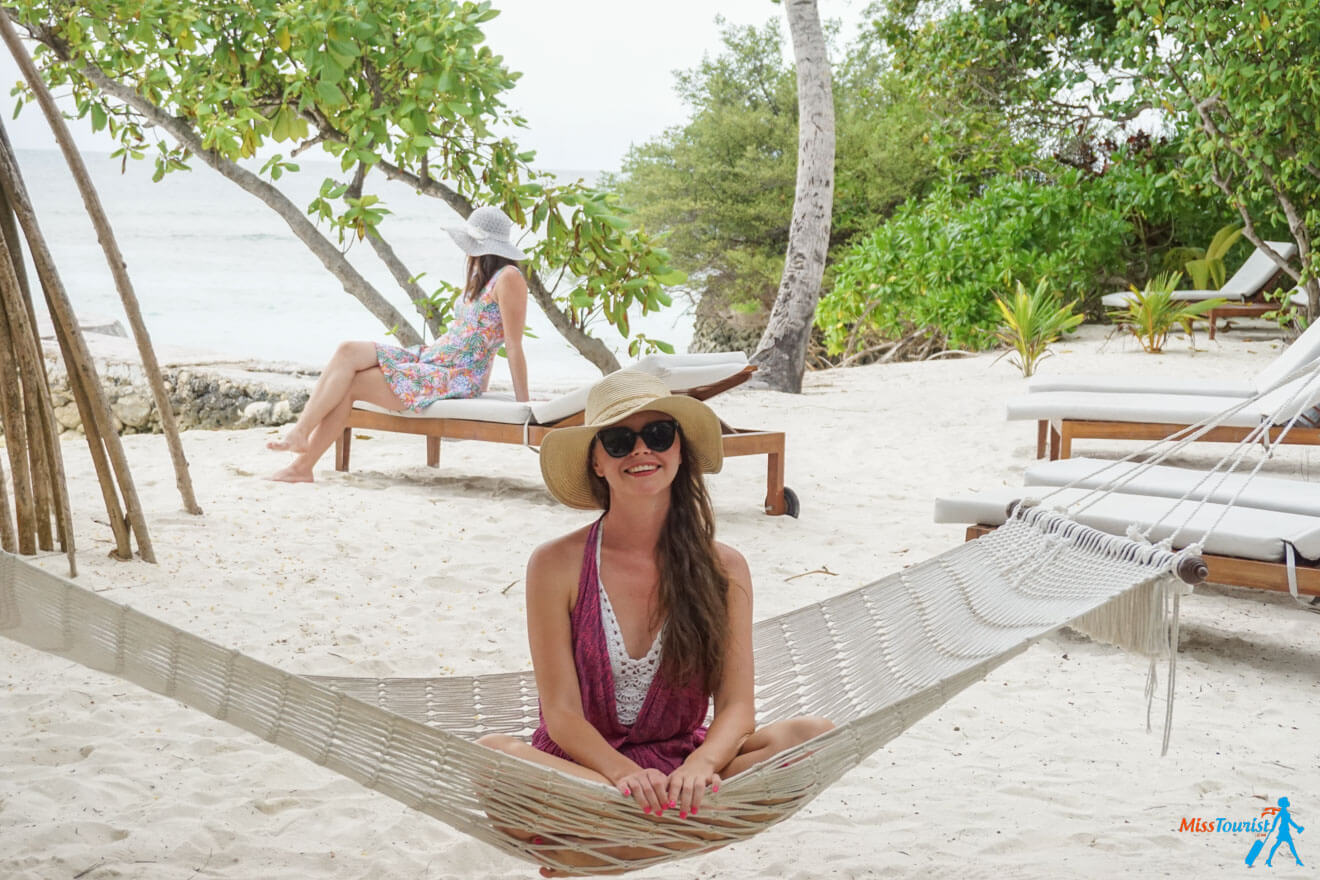 The resort is great for divers and snorkelers and even if you are not into this, you can still see whale sharks right from one of the restaurants. Bandos is also very affordable considering that we're talking about a luxury resort in the Maldives! As I said, the hotel is located only 15 minutes away by speedboat from Male Airport, so once you land you will almost immediately arrive at the resort. No need to invest extra $500 US on the seaplane!
The resort has a great value for its price range (see price section below for details).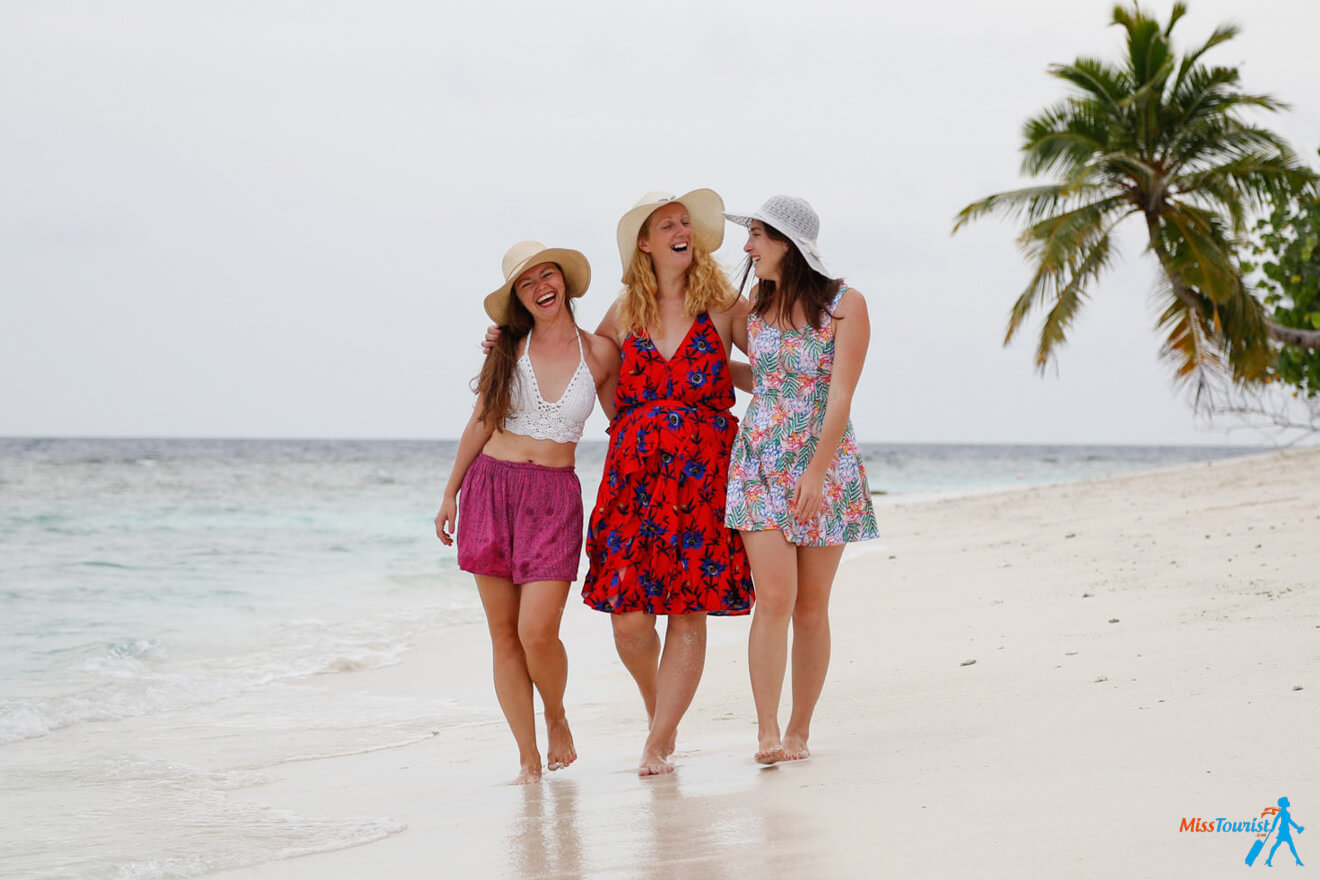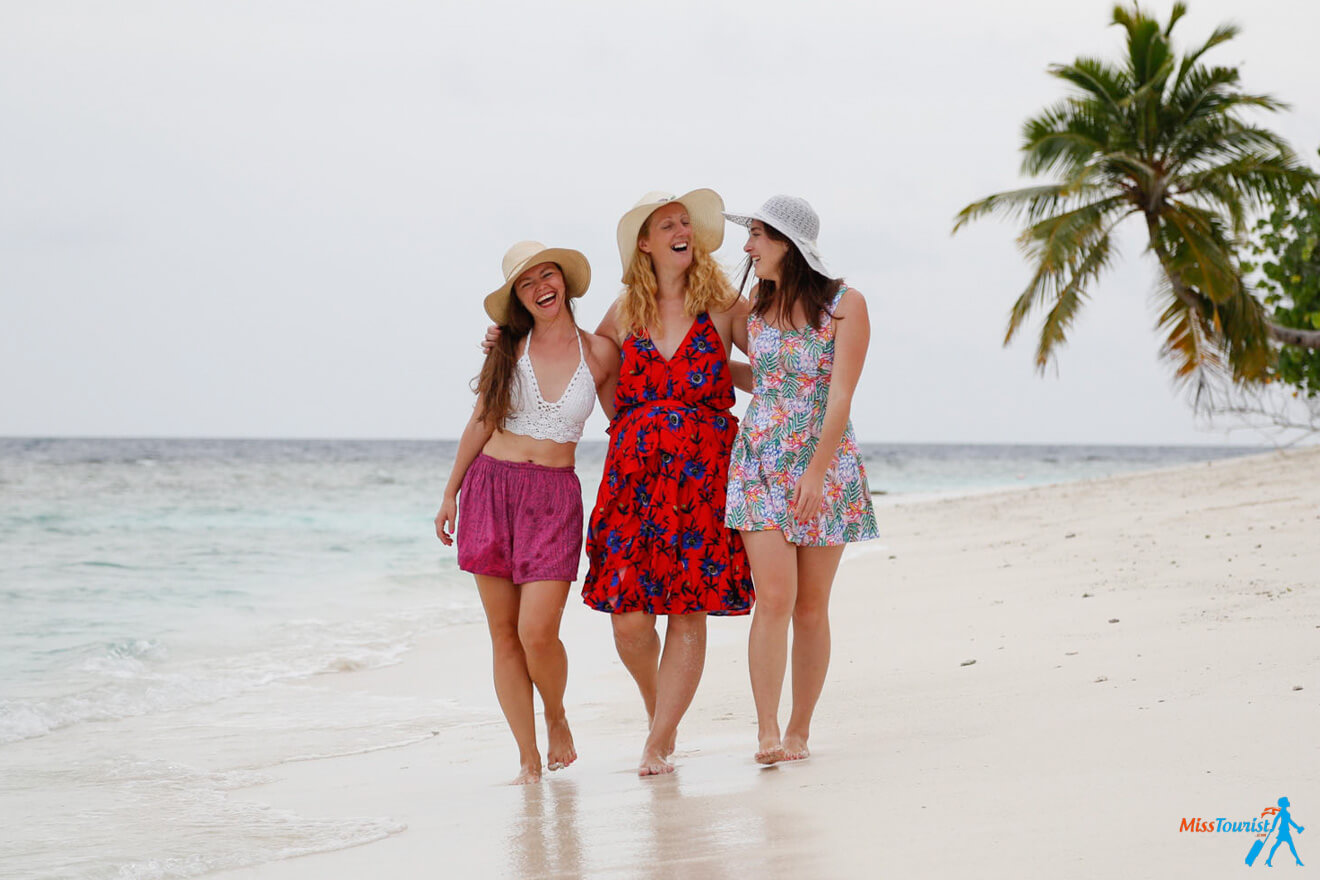 Bandos takes care of the environment, by being a sustainable resort. They have a bottling plant on the island! They pressure-wash and sanitize used bottles and fill them with purified, clean water. This initiative allows them to save over 230 000 plastic bottles per year.
They also have gardens fed by recycled water, how cool is that?
Plus, they take care of their coral reef which is remarkable given the proximity to Male.
8. Prices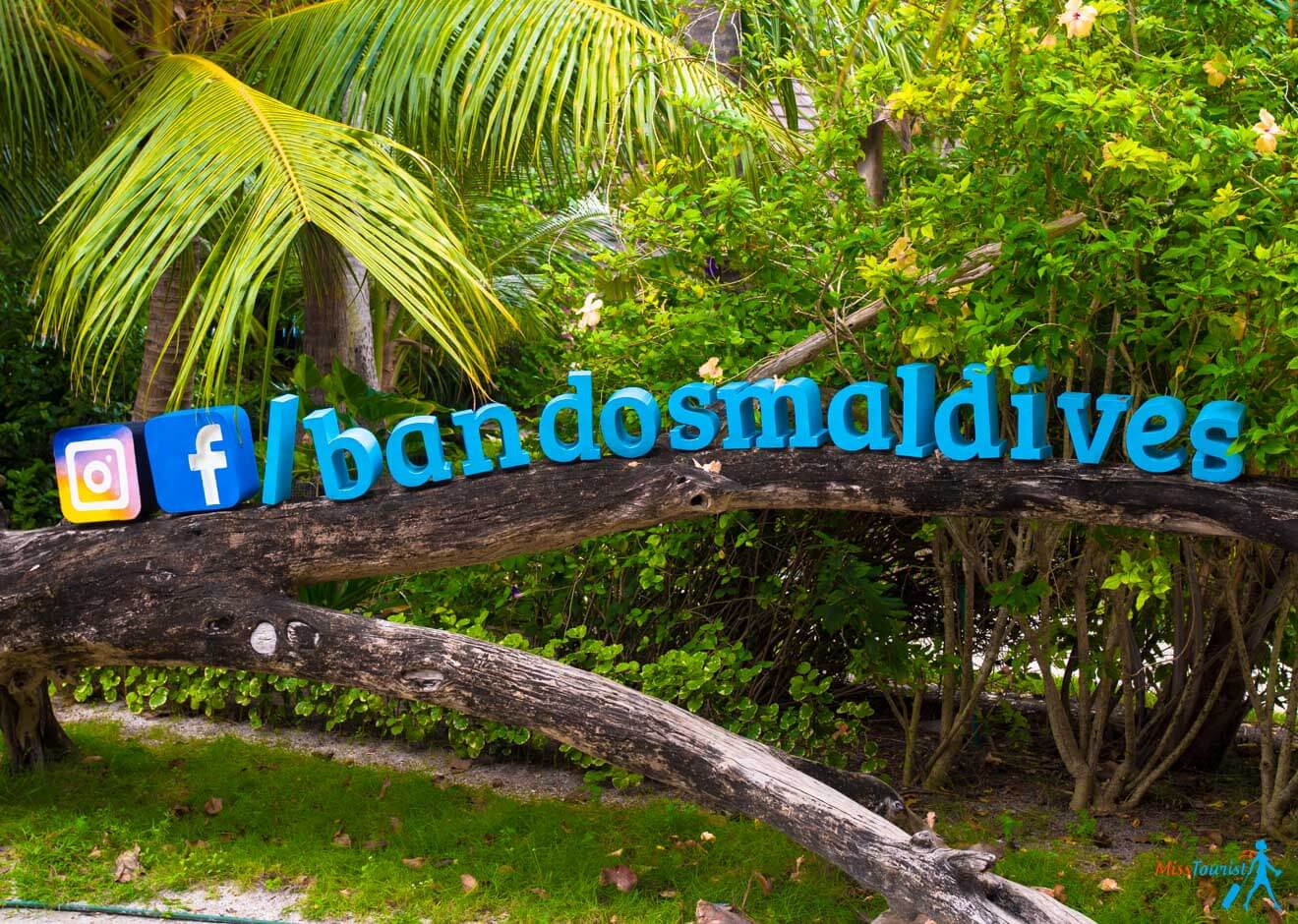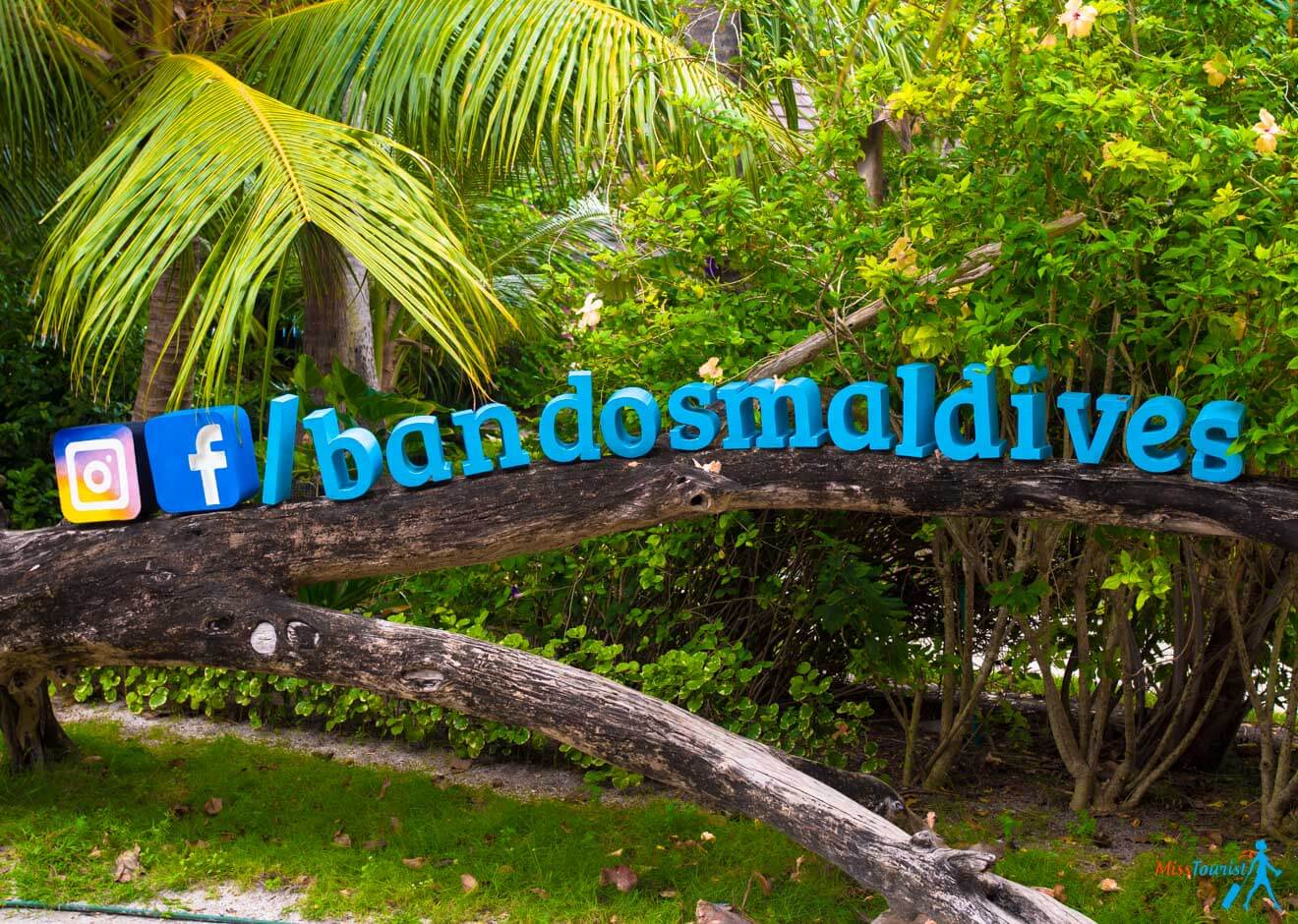 This 4* resort can be as cheap as $170 US per night with breakfast included for a standard room (44 m2) if you book in advance and you arrive in off-season (June-July). A full board for 2 people starts from around $300 US per day.
There are two water bungalows available on the island and the price is $500 US per night.
These prices are definitely bigger than the prices in Bali or Thailand, but if you go to Dallas in USA for instance, the price will probably be the same. Which is unjustified in my opinion.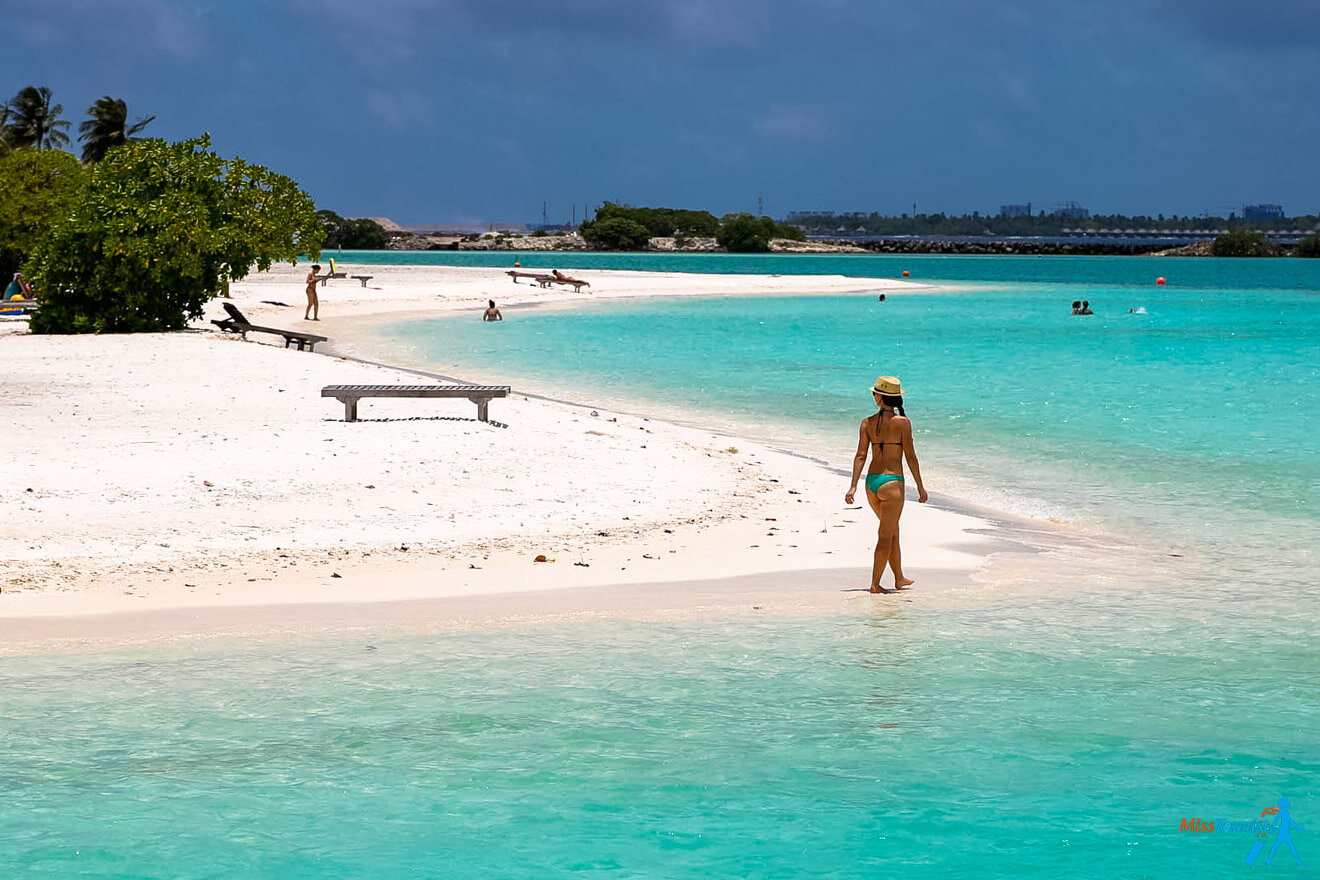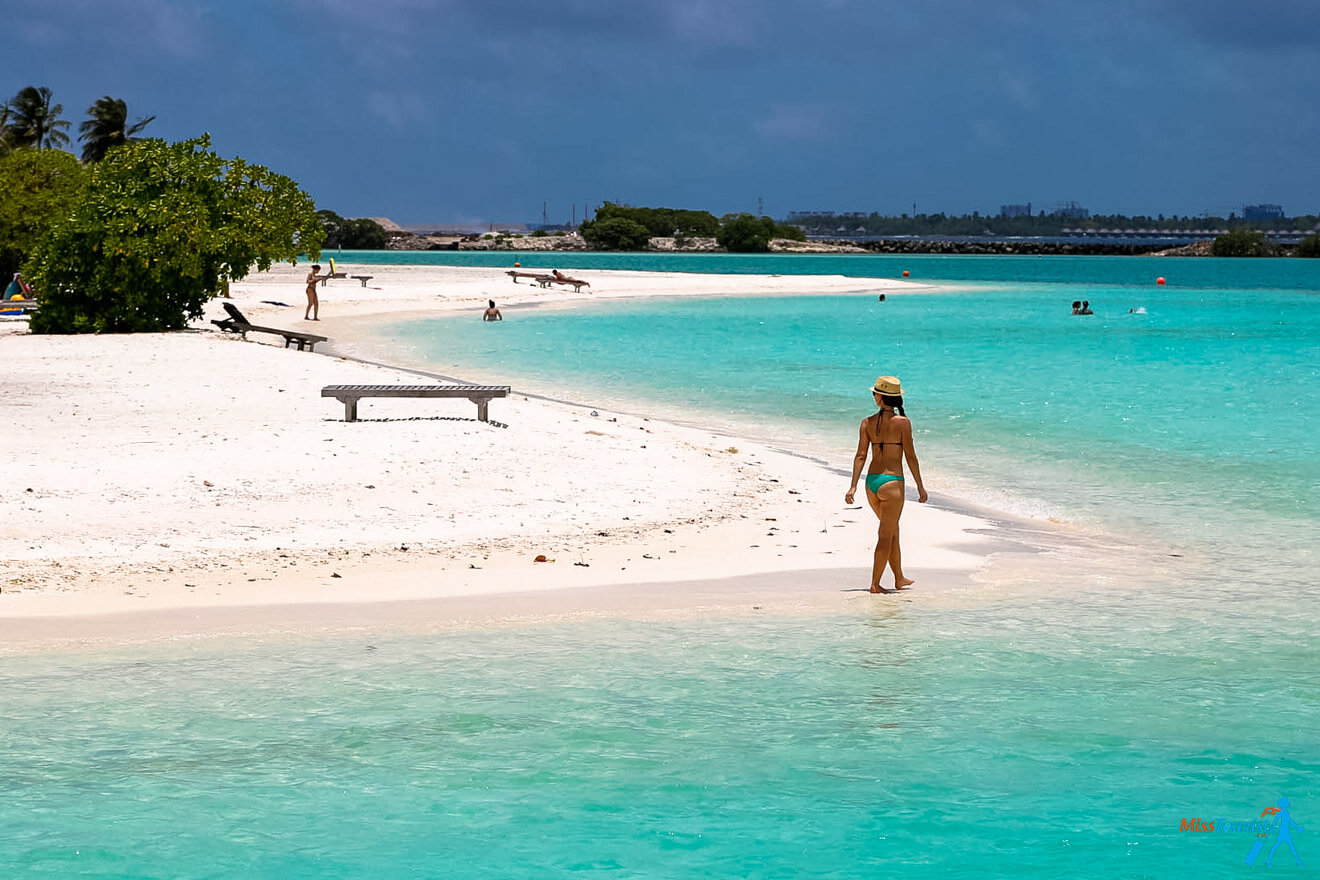 Where would you rather stay – in the Maldives or in Dallas? I know my answer. 😉
Given the fact that you will probably spend most of your time enjoying the views and simply relaxing, a week in the Maldives might cost you less than a week in NYC or Paris.
Do not forget the fact that you save about $500 US per person on transportation because you would need to get by seaplane to most of the places, and this is how much it would cost.
Note: prices vary depending on day and how far in advance you book it.
Famous for: its diving spots
How to get there: 15 minutes by boat, the price is $80 US for a round trip.
Kandima
1. Arriving at the resort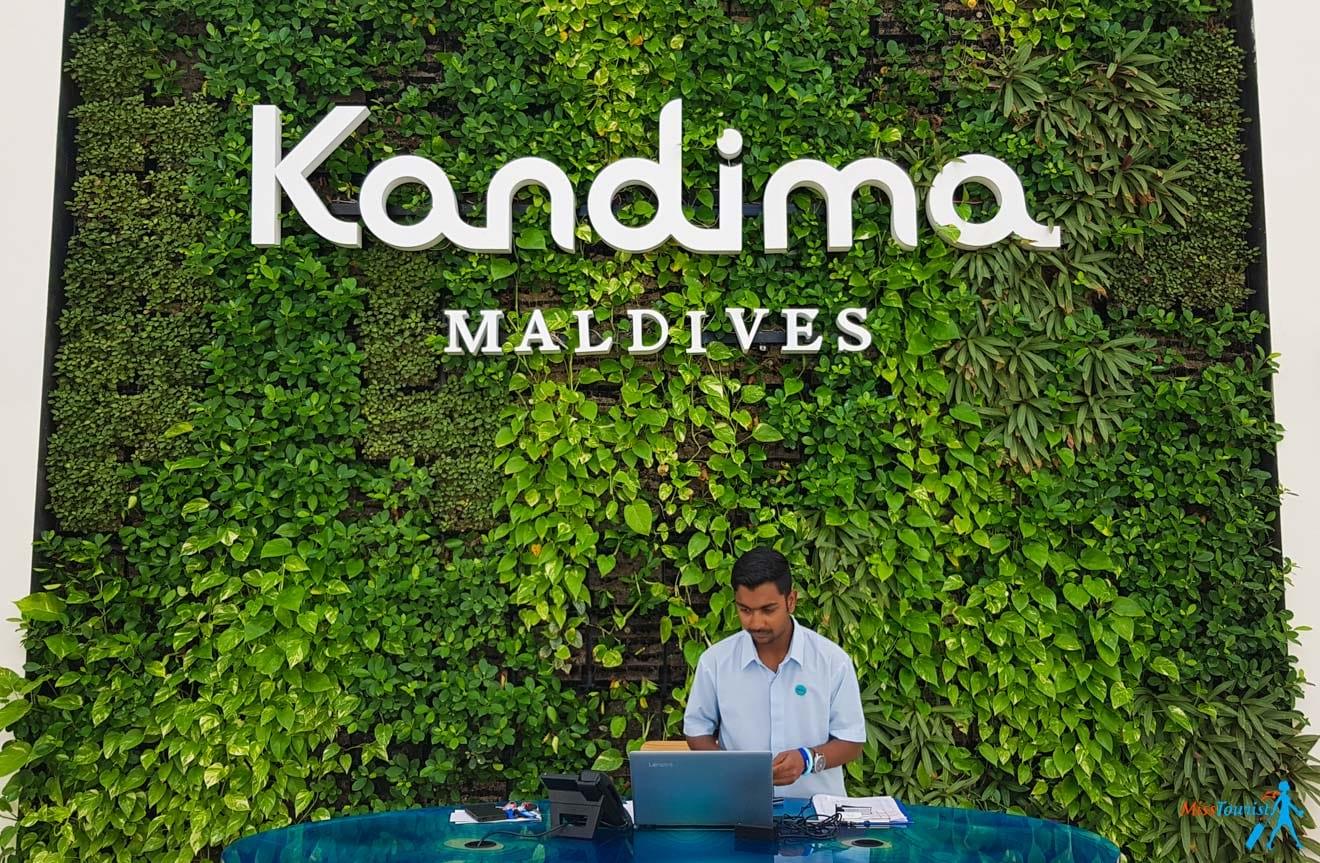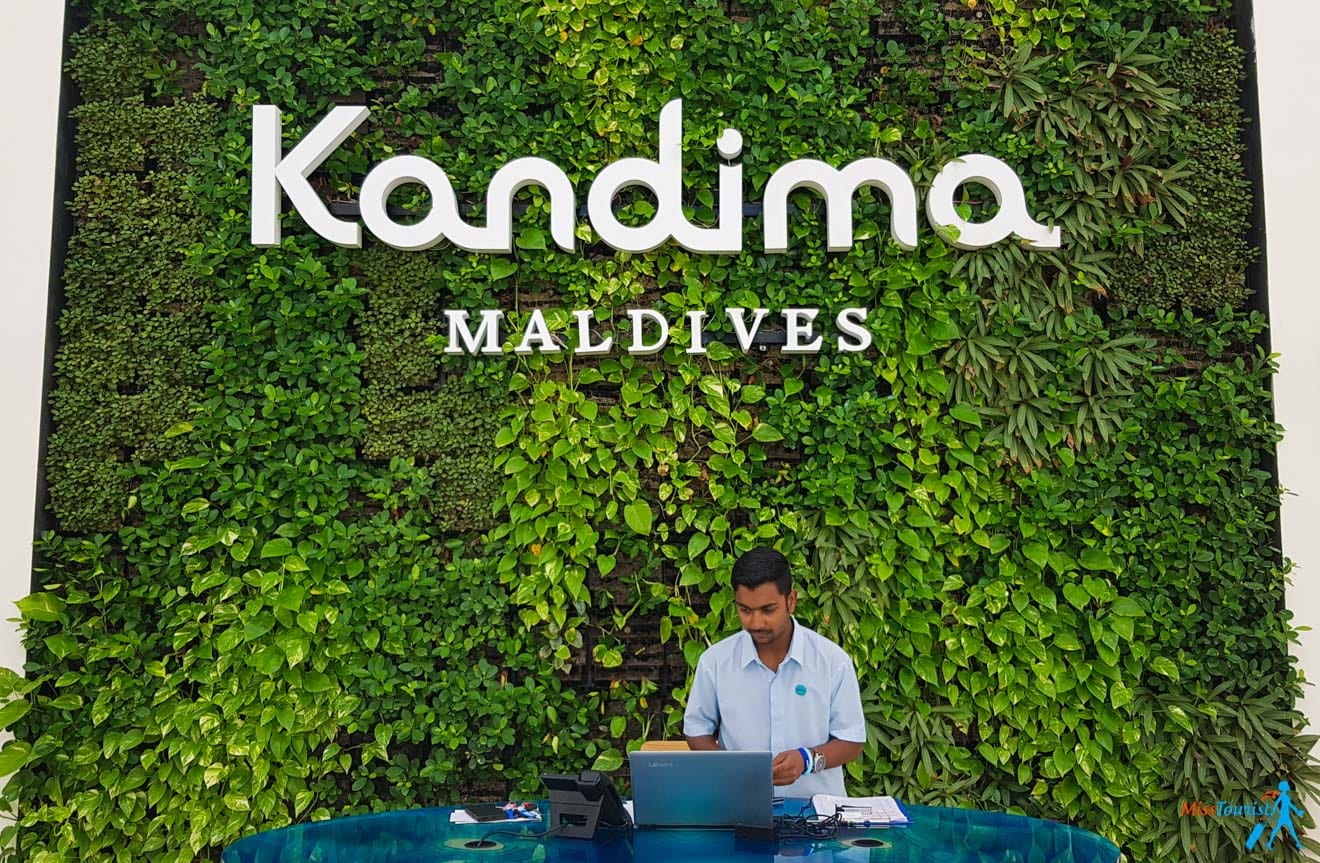 Founded by a family of pioneers in building hotels in the Maldives, Kandima is a gorgeous resort that offers two different routes for arriving there.
Firstly, you can arrive by plane at the Male Airport followed by a seaplane directly to Kandima (170 km away), and secondly, from Male you can take a domestic flight to Dhaalu atoll and then a 20-minutes boat ride to the resort. In terms of money, the first alternative will cost you about $500 US round trip, while the domestic flight will be around $330 US.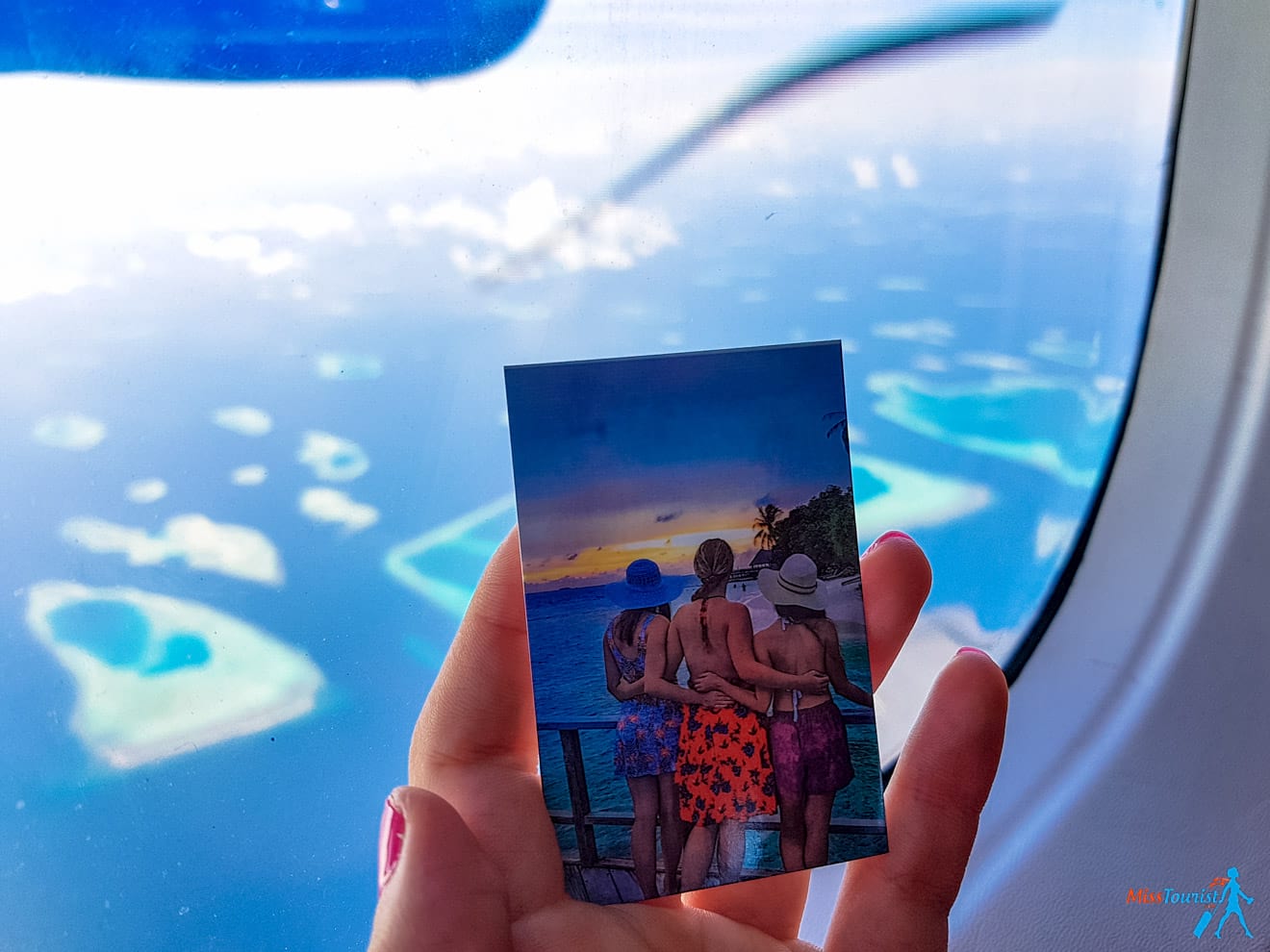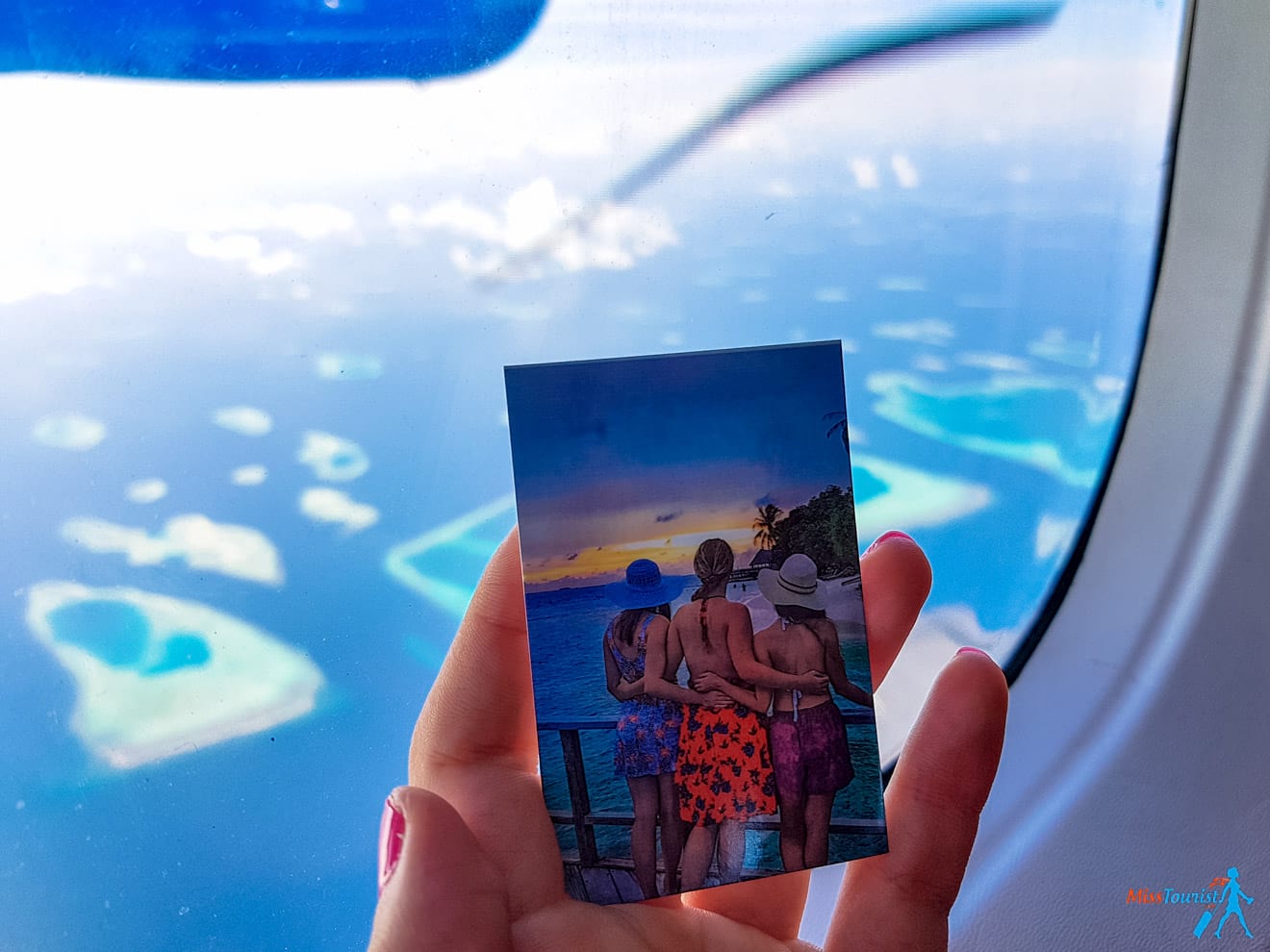 My choice was to take the seaplane and I must say, it was an unforgettable experience!
Remember all those incredible bird-eye view postcards of Maldives that can be seen everywhere on the internet? Well, taking the seaplane means you will get to see exactly that!
Because an image can say a thousand words and a video even more than that, here is a footage from my Facebook page that I recorded when I checked-in to my water villa!
2. Key Features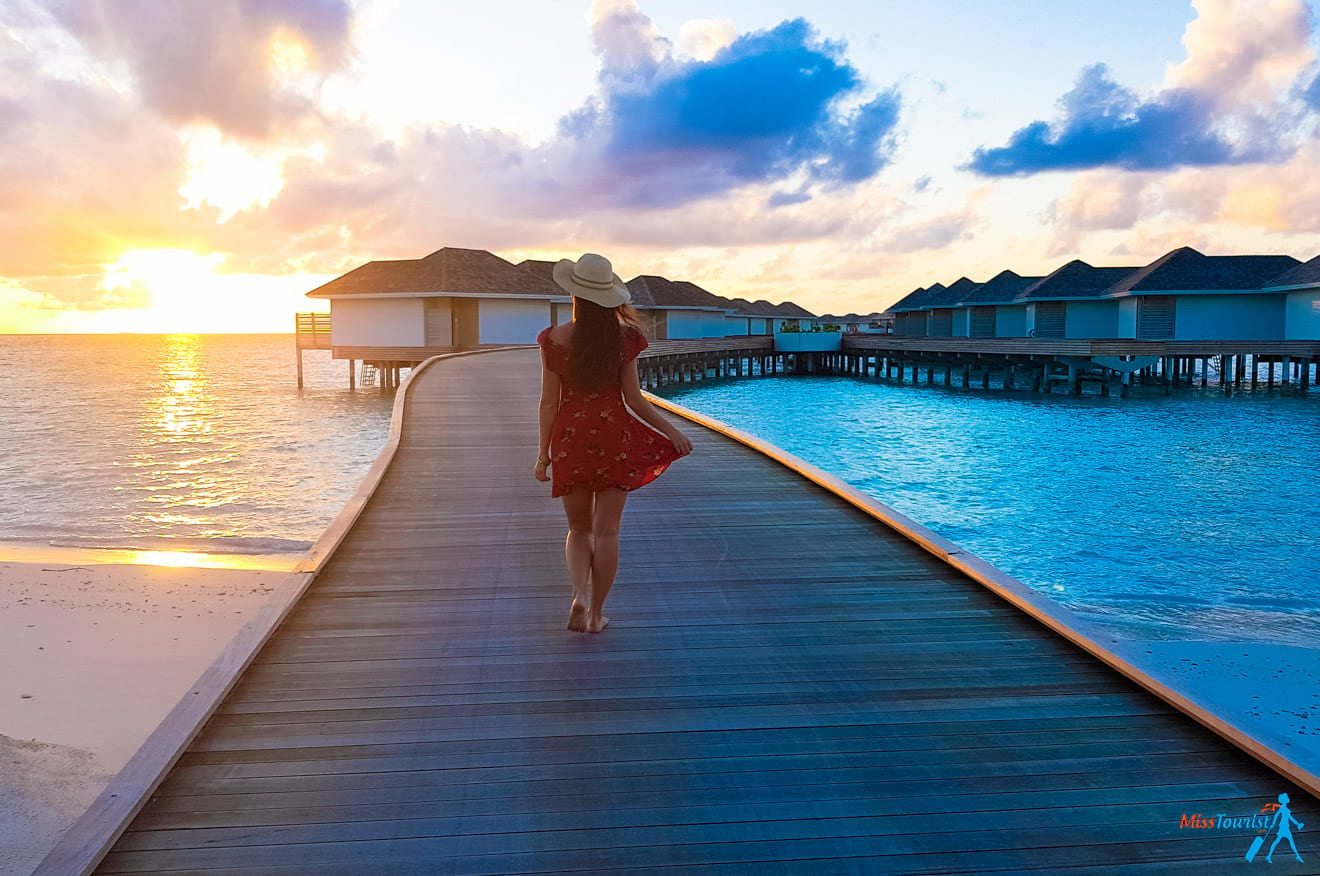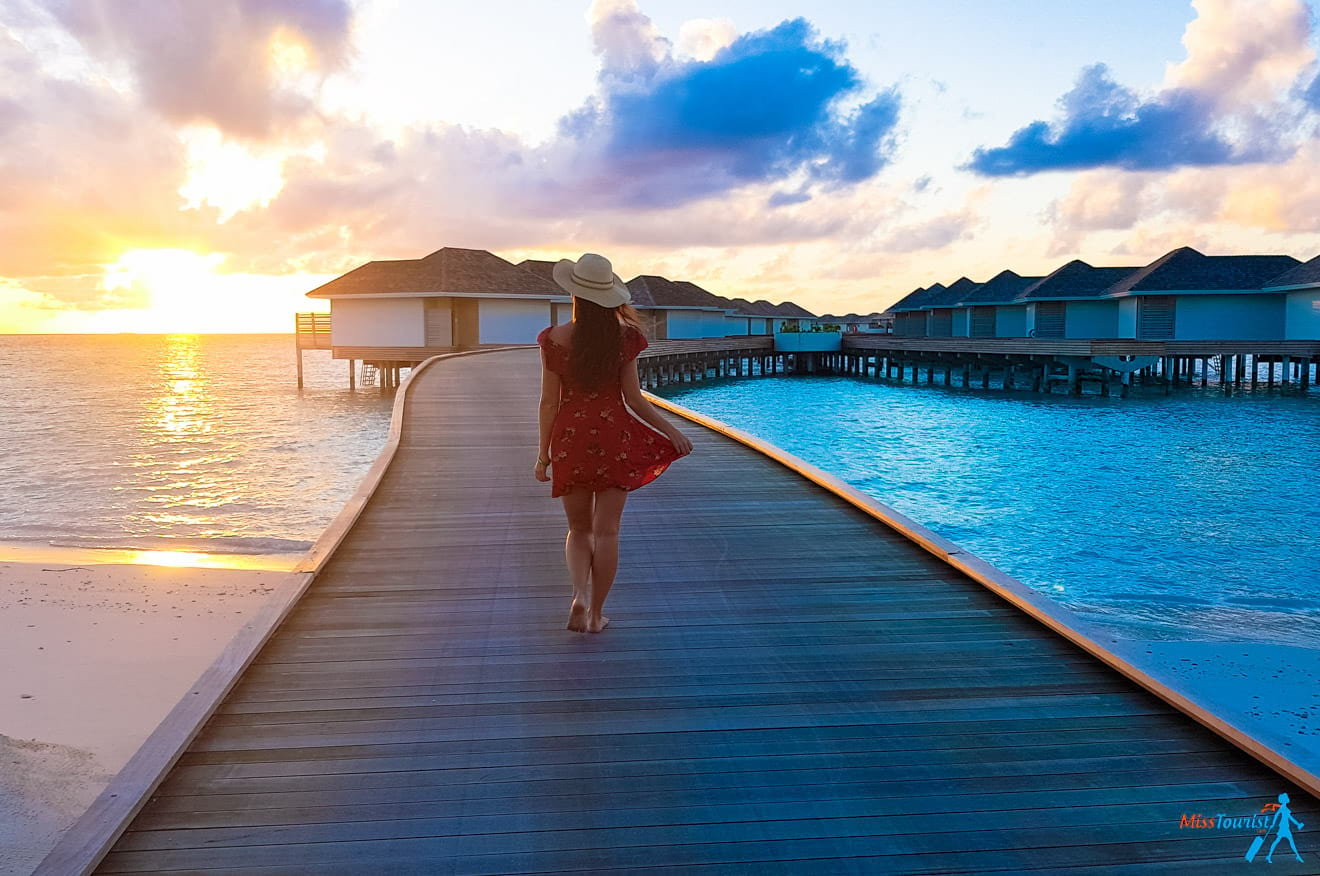 Kandima is the first lifestyle resort in the country. Once arrived at the Kandima resort, you won't get a classic key or a card to your room, but instead you will be given a wristband which will serve that exact purpose.
What I loved most about Kandima is the fact that their staff always treats you as a dear friend! They are even called 'Buddies' instead of personnel. How cool is that? The 'Buddies' are super nice and chatty and I personally always prefer this attitude instead of people bowing down to me! That will just make me feel awkward instead of important.
Another great thing about this resort is the décor – very stylish with a pleasant white and blue color palette.
3. My accommodation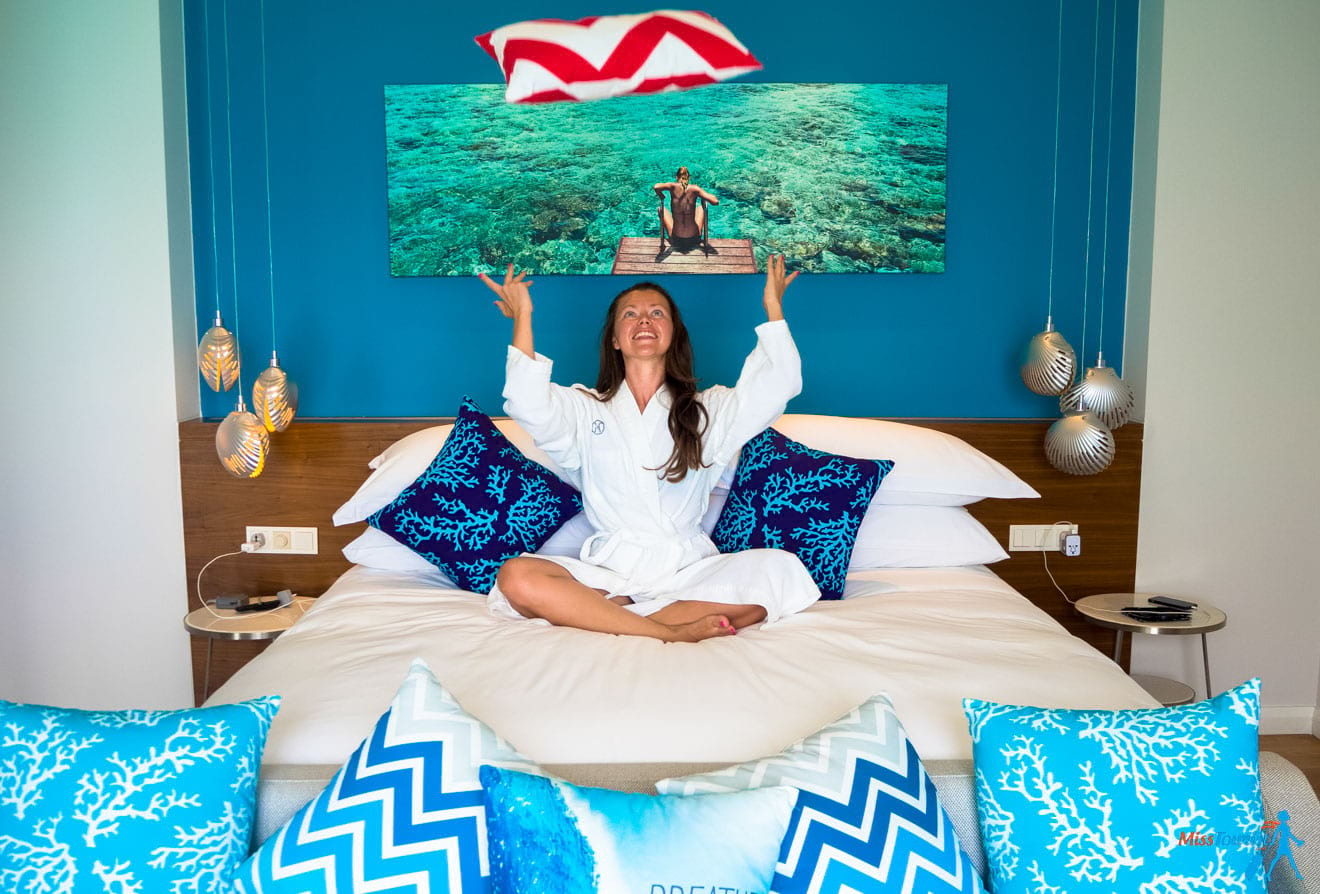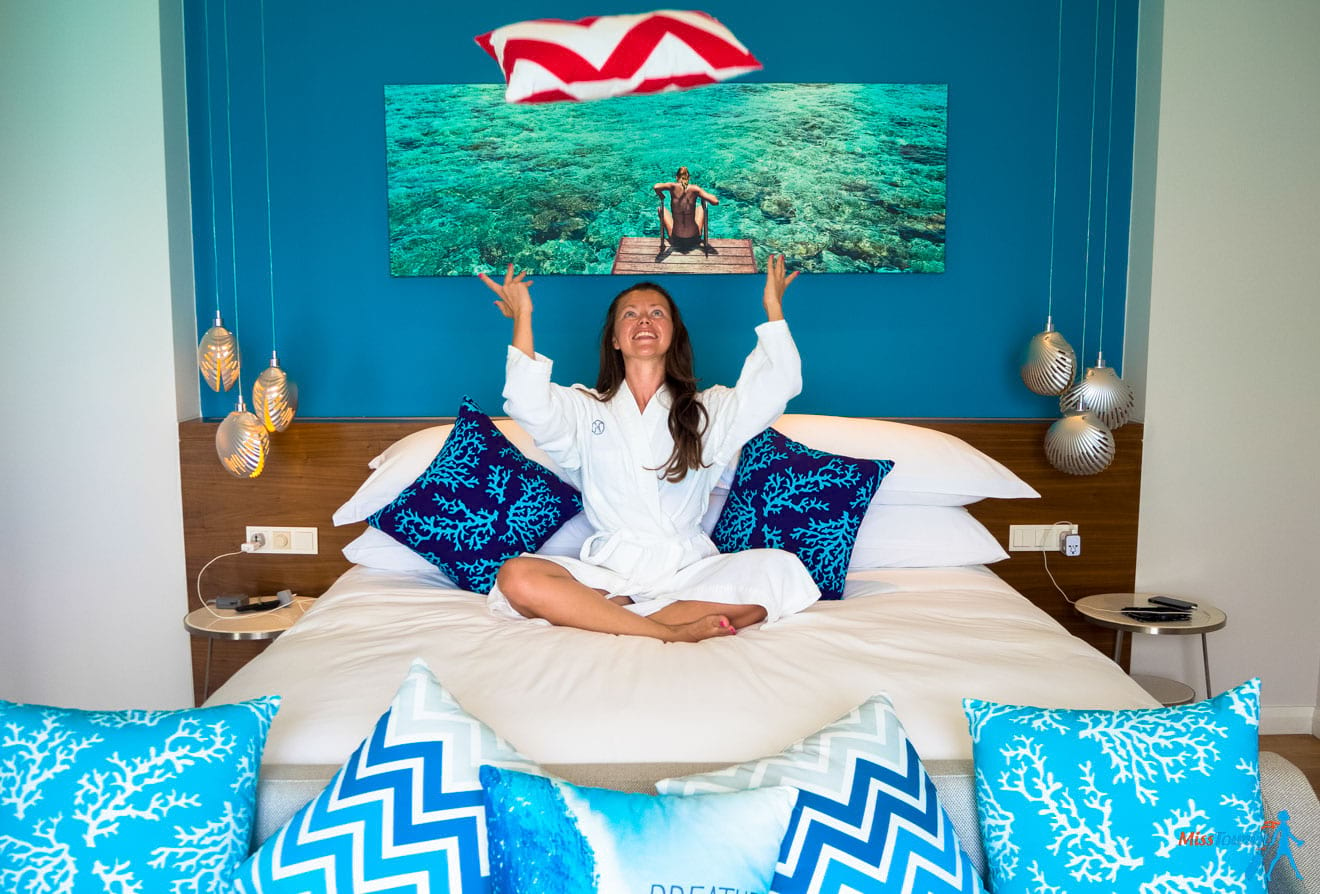 The resort offers different options for different needs, as follows: beach villas with Jacuzzi, comfy studios (each coming with private beach access), aqua villas with Jacuzzi and some other extravagant choices such as the Honeymoon Aquapool Villa and the Ocean Pool villas.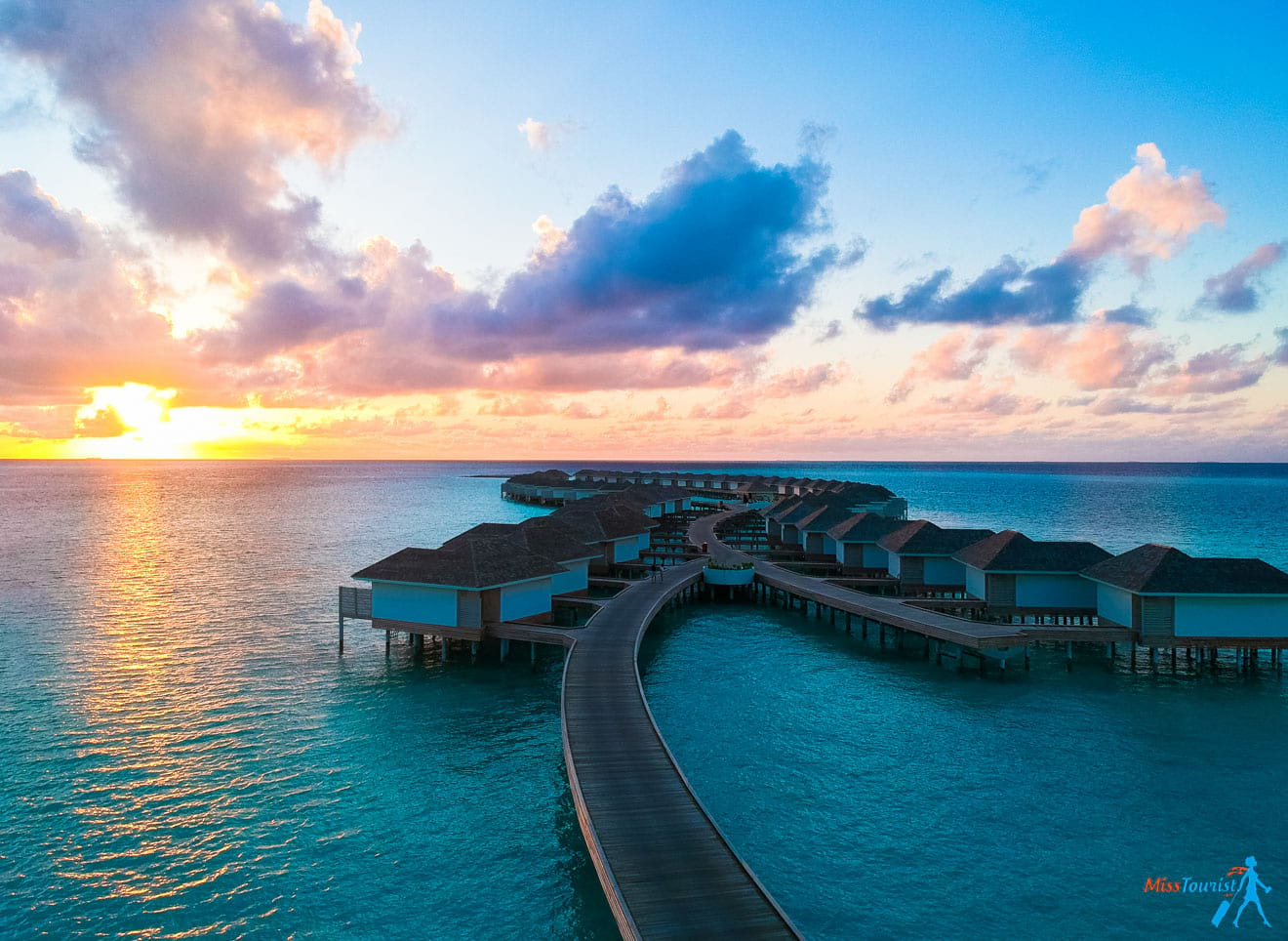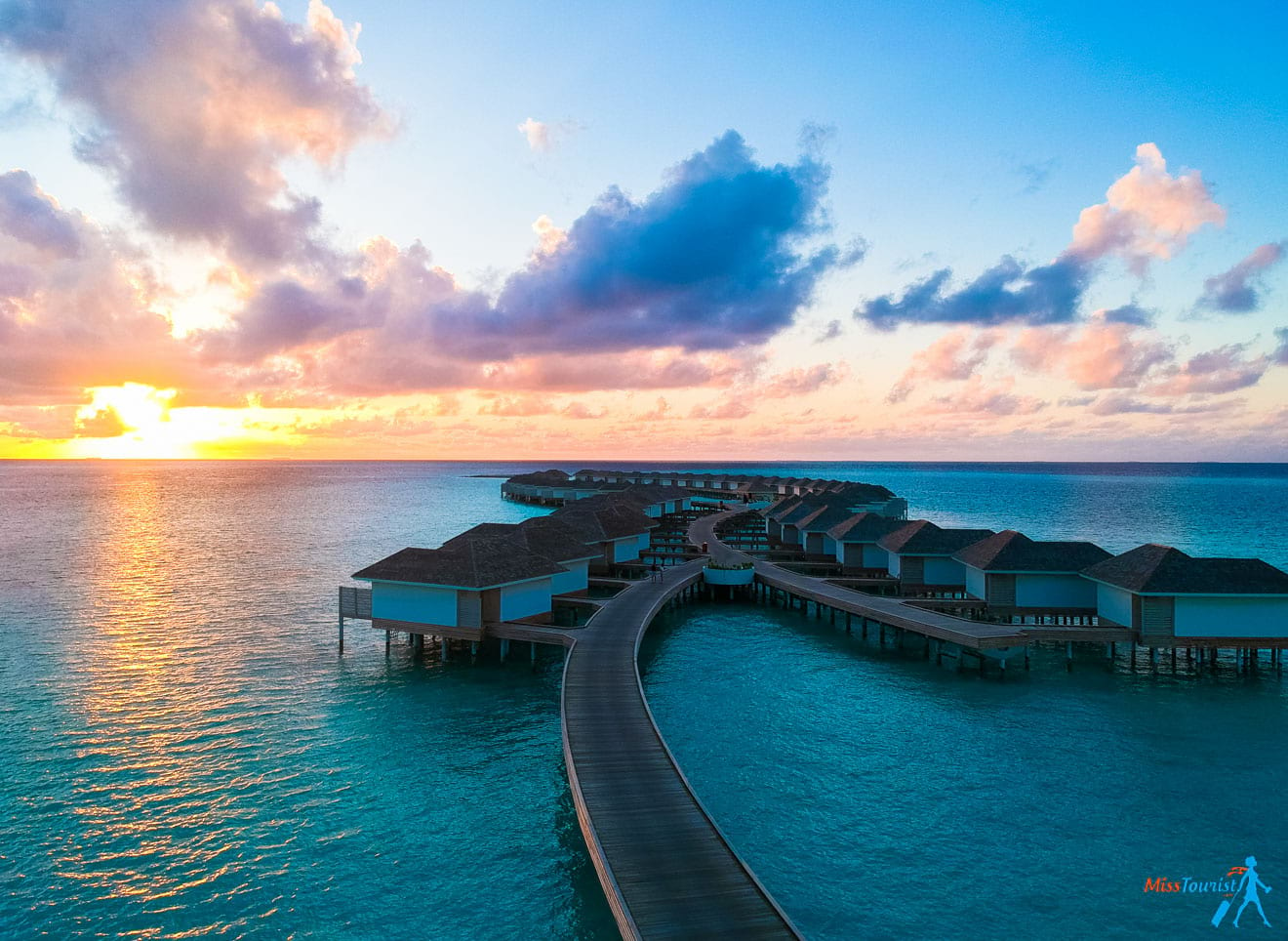 After a bit of thinking, I chose an Aqua Villa with Jacuzzi and I don't regret it at all! You may be familiar with these, as they are also known as overwater bungalows and images of them are spread all around the internet. Waking up each morning was pure joy because I was always greeted with an awesome view and, as I mentioned before, this type of villa also comes with an outdoor Jacuzzi, an exclusive sundeck and comfy chaise lounges!
Once I "rocked-in" (checked-in in Kandima slang), I instantly fell in love with my villa!
'My little private heaven', as I used to call it, was so perfect that I hardly ever wanted to get out and discover the rest of the private island!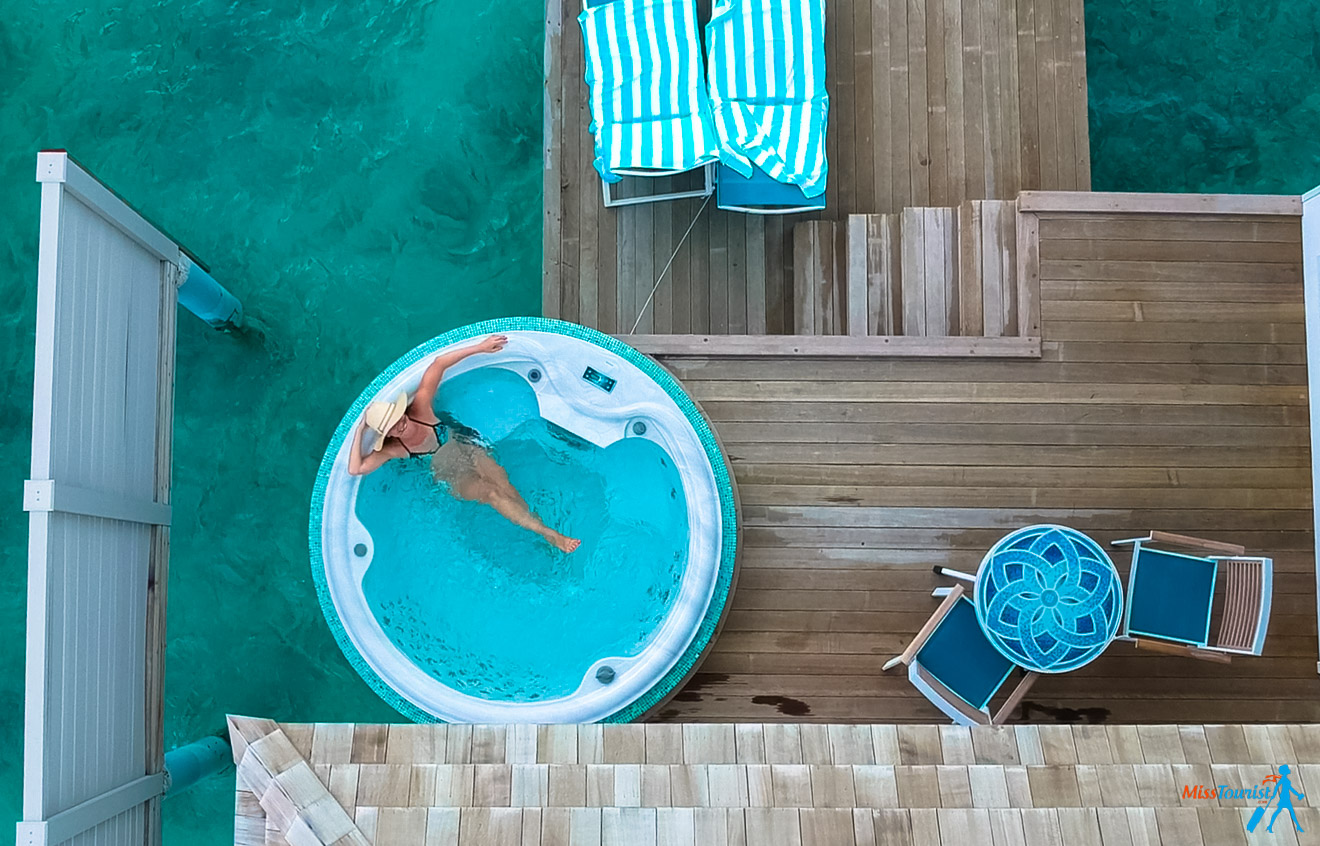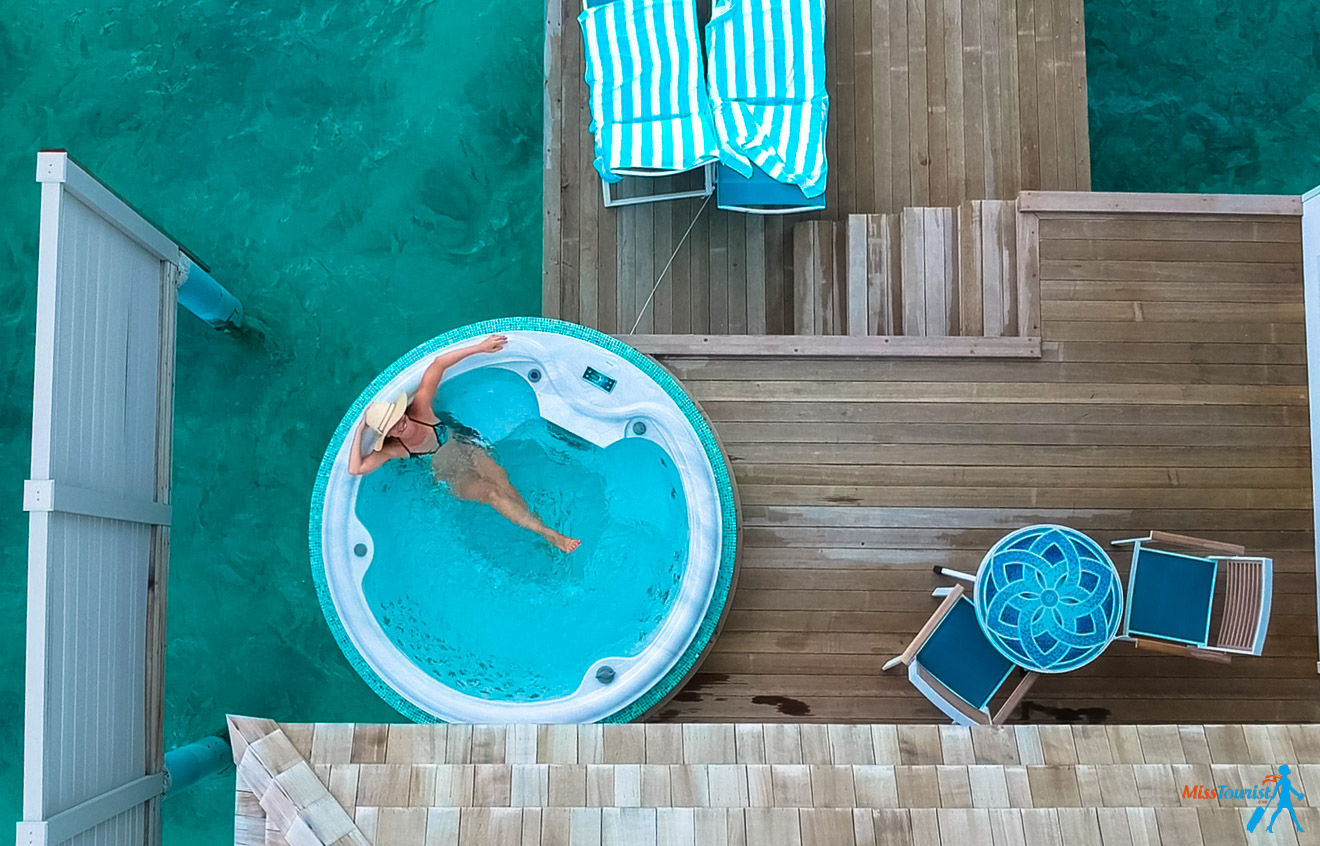 A large room with air conditioning and ah-mazing contemporary design elements, a king-size bed and a comfy sofa, a table (very useful for bloggers!), flat screen TV, Nespresso coffee machine – what more could I wish for?!
My favorite thing in the entire Maldives? Without a doubt, this E-P-I-C bathroom!
4. Facilities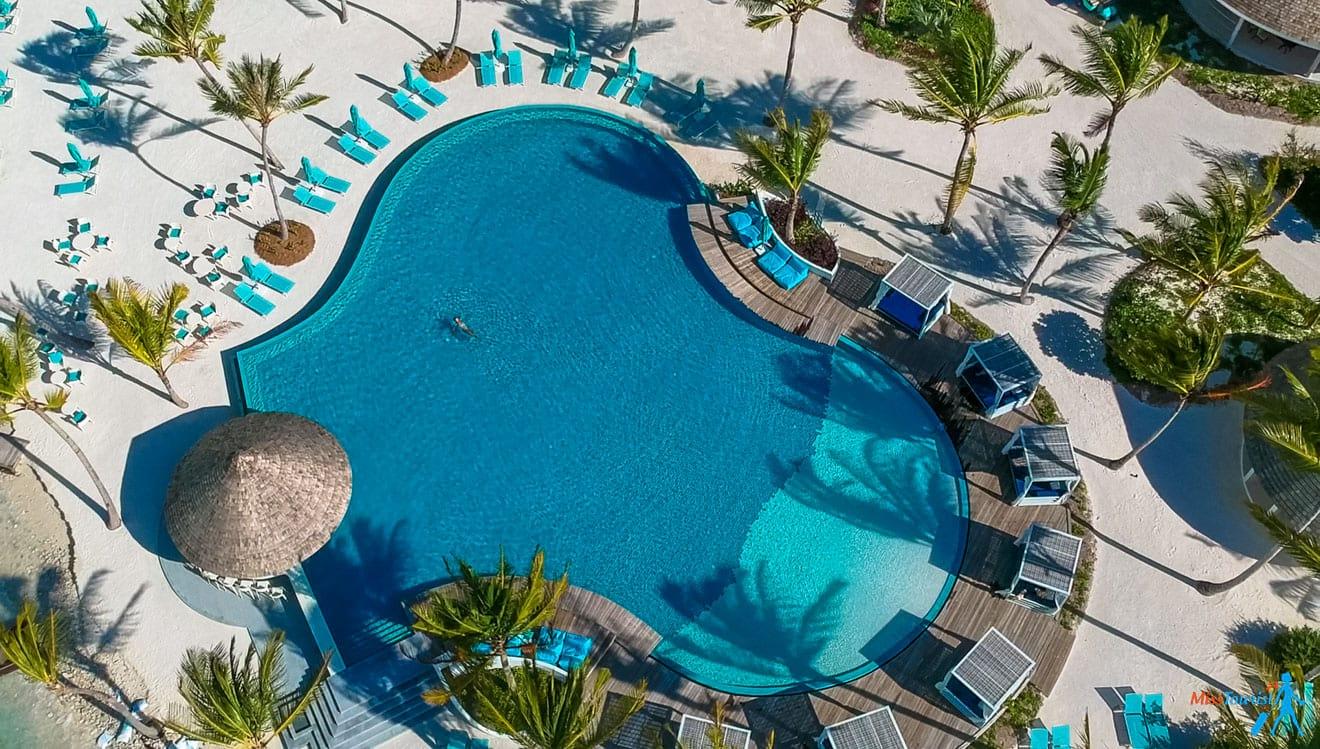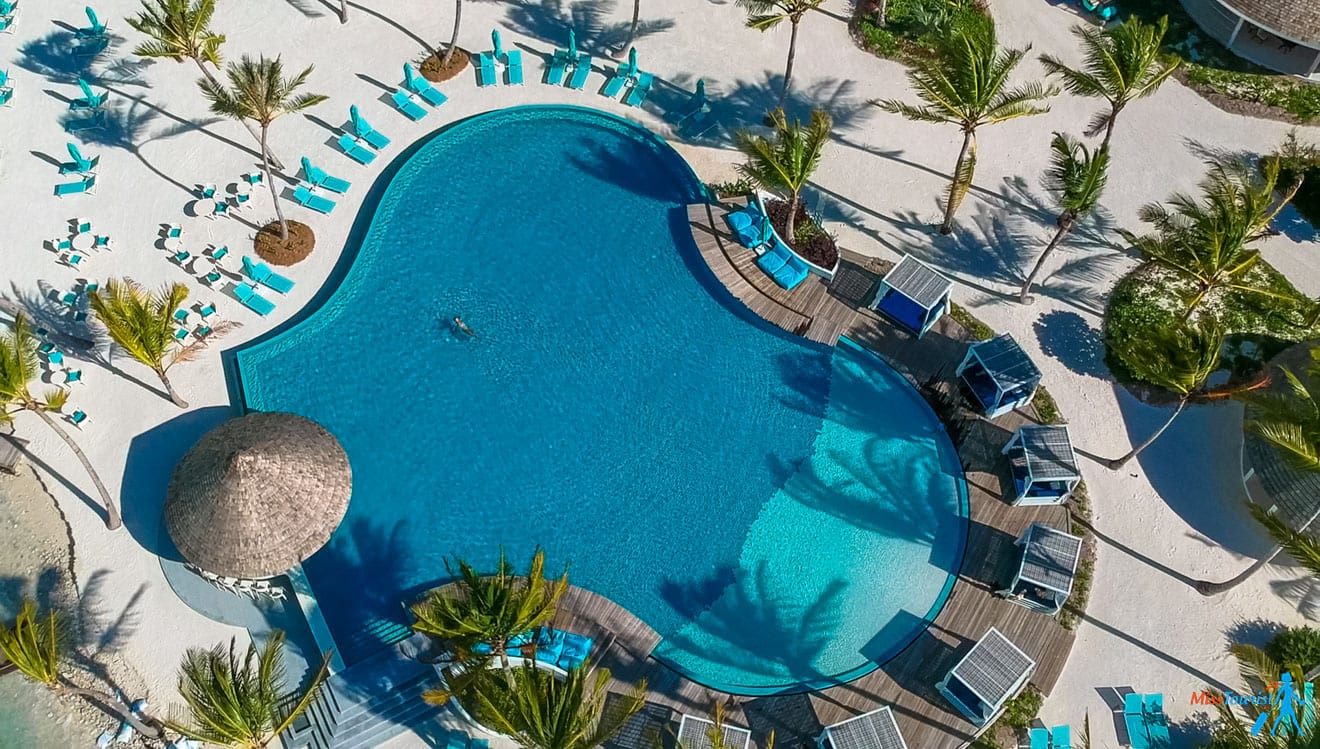 Kandima has the longest swimming pool in the entire Maldives (100 m)!
You can also find there, of course, a mega-awesome-super equipped gym that in all honesty I have never managed to visit. All because of the restaurants, they were SO good!
There is a Spa with yoga classes, beauty salon with nail bar and a hairdresser, library, games room and many other things in this resort.
Even though I recommend you have a digital detox there, in case you want to post some fabulous Instagram pictures, you should know that they have a very strong Wi-Fi all over the island.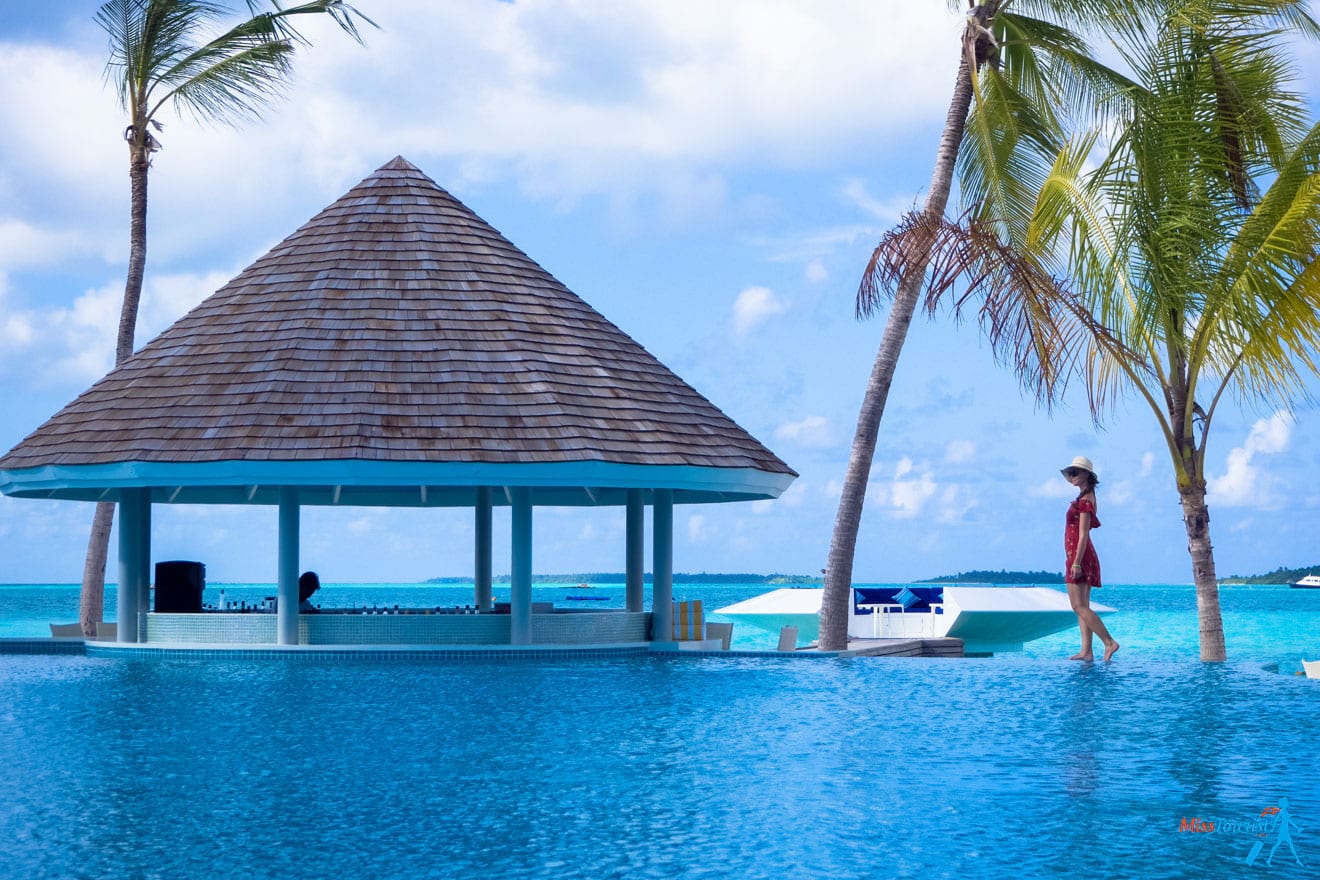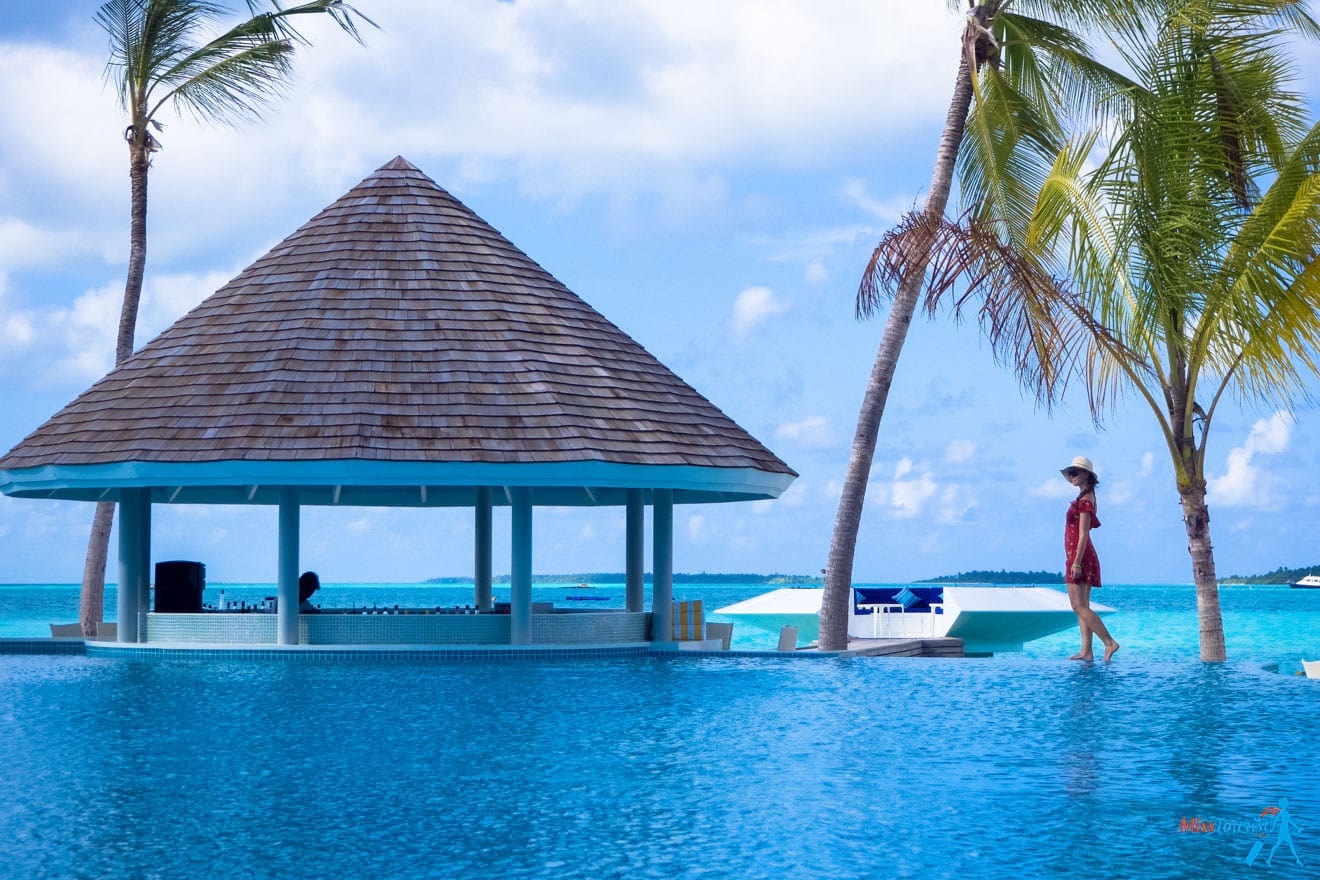 Kandima also has many tours for its guests, but this time I decided to just fully relax and enjoy this paradise.
Another great highlight is the Water Activity Center where you can also get snorkeling equipment for free or take diving lessons. Bicycles are $5 US per day extra, but you should know that there is also a buggy car that circles non-stop around the island and it can pick you up.
Everything in Kandima is child-friendly, including the Kandiland, run by a certified multilingual team of dedicated child carers. Your kids will love it as the program is jam-packed with fun activities! Oh and by the way – the access is free of charge for all the guests!
Kandima takes care of their little guests, but this resort is great for everyone, really!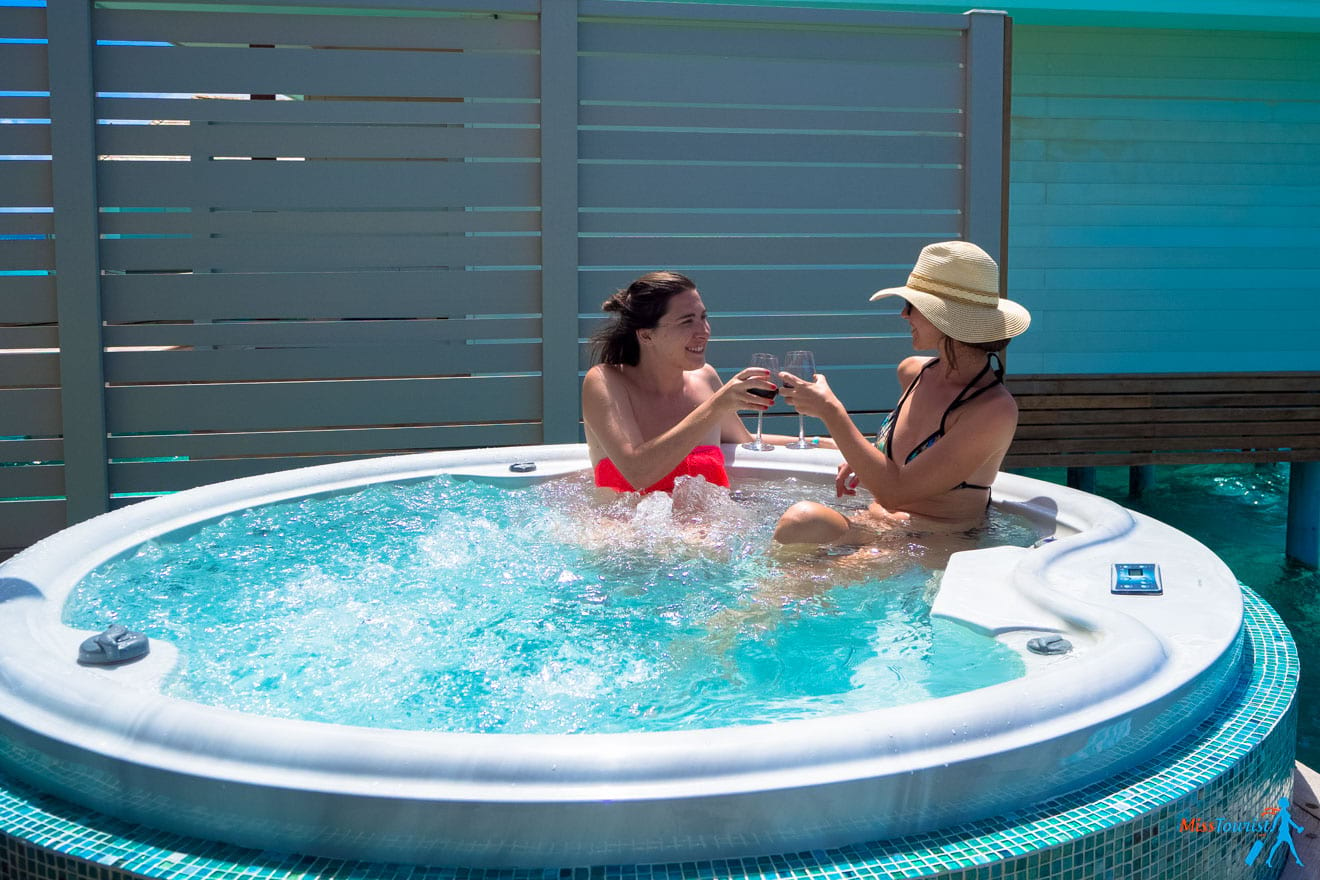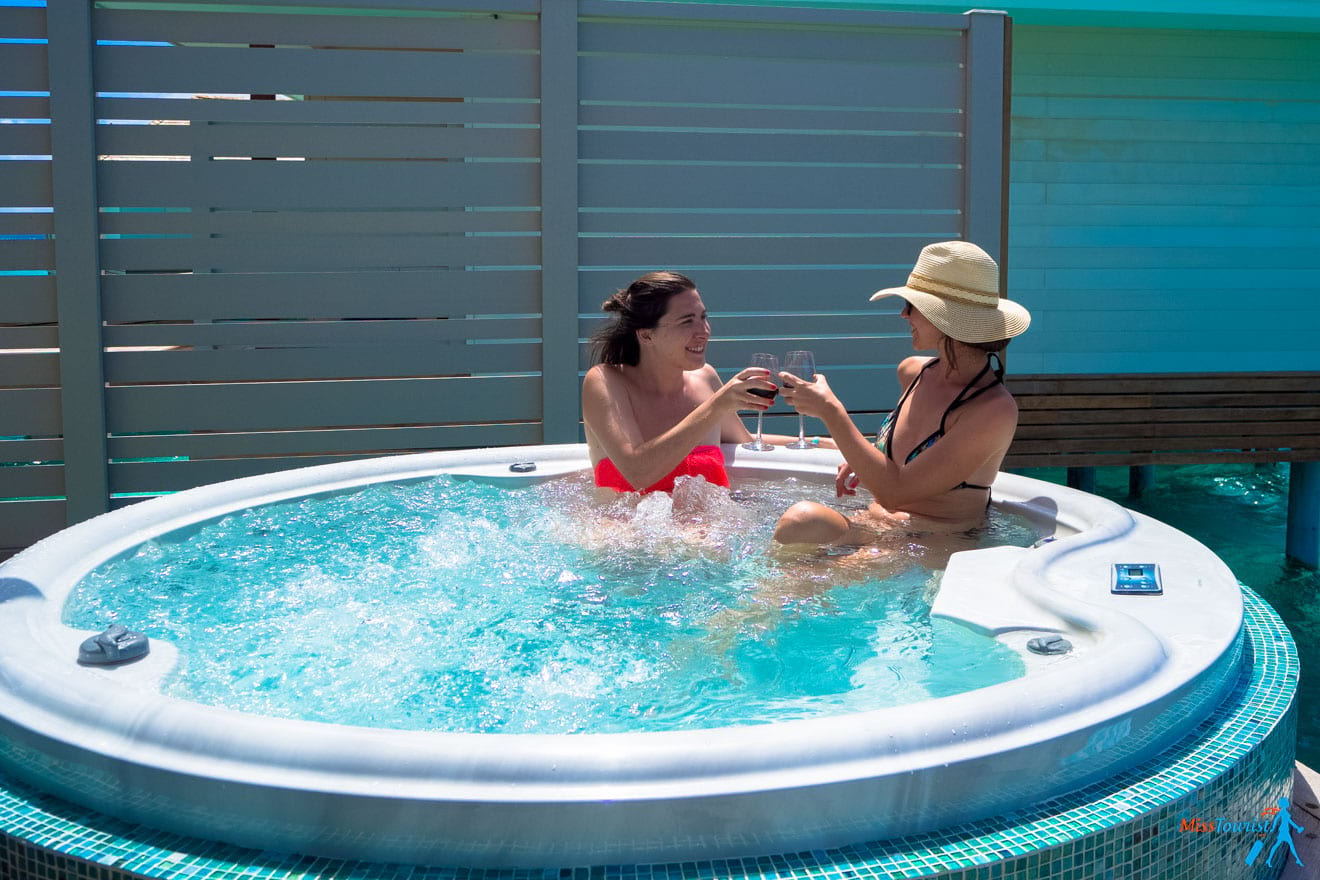 I was traveling there with my friend Allison, a travel blogger from Eternal Arrival, and we both felt a young party vibe there so we went out to try some famous Kandima cocktails.
As a parent, I am sure you would also find it perfect for a family vacation, as well as honeymooners would find it romantic and secluded.
I do not know how to explain it, but there is a place for everyone and everything blends together perfectly there!
I will just show you some photos, because it is so hard to describe it!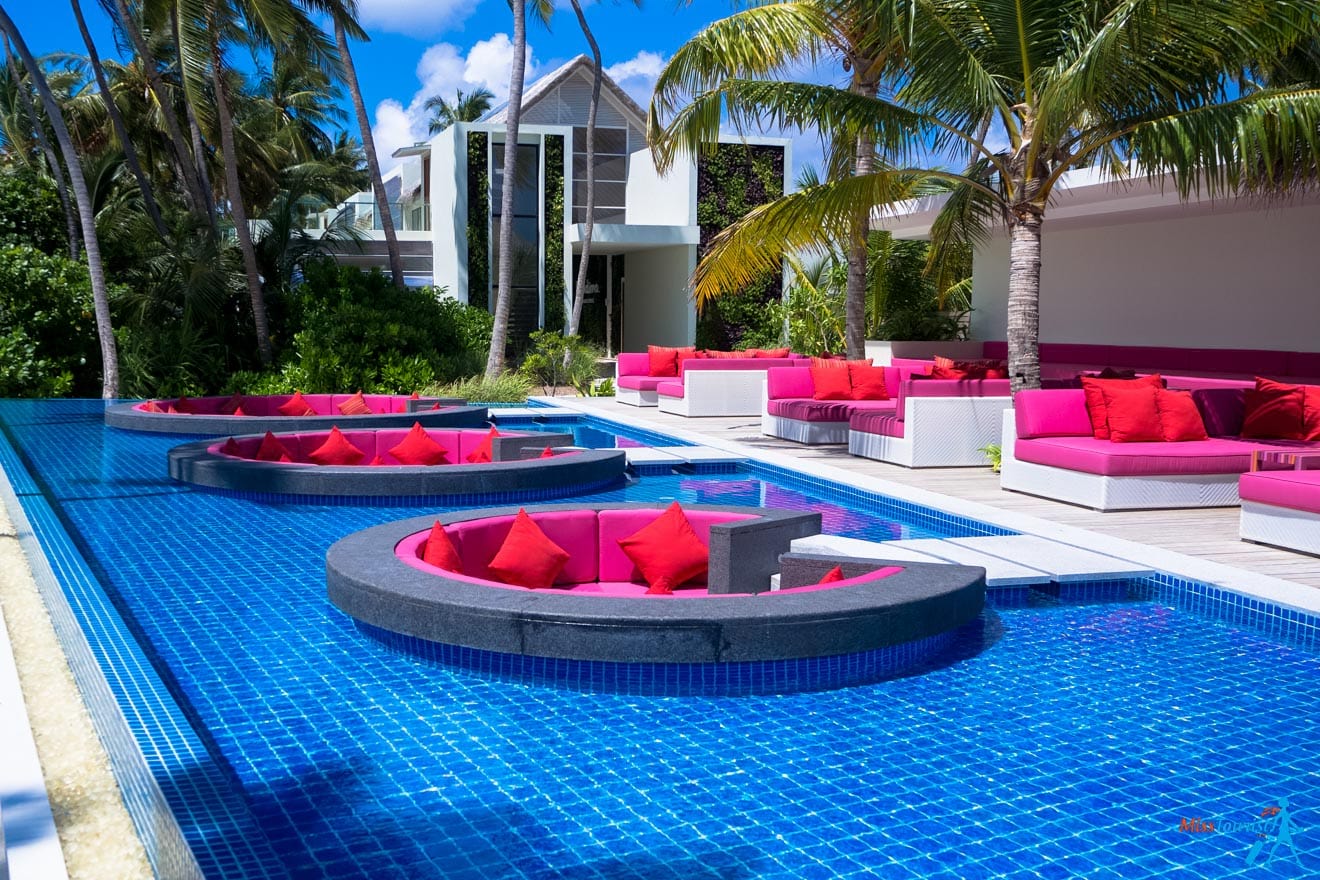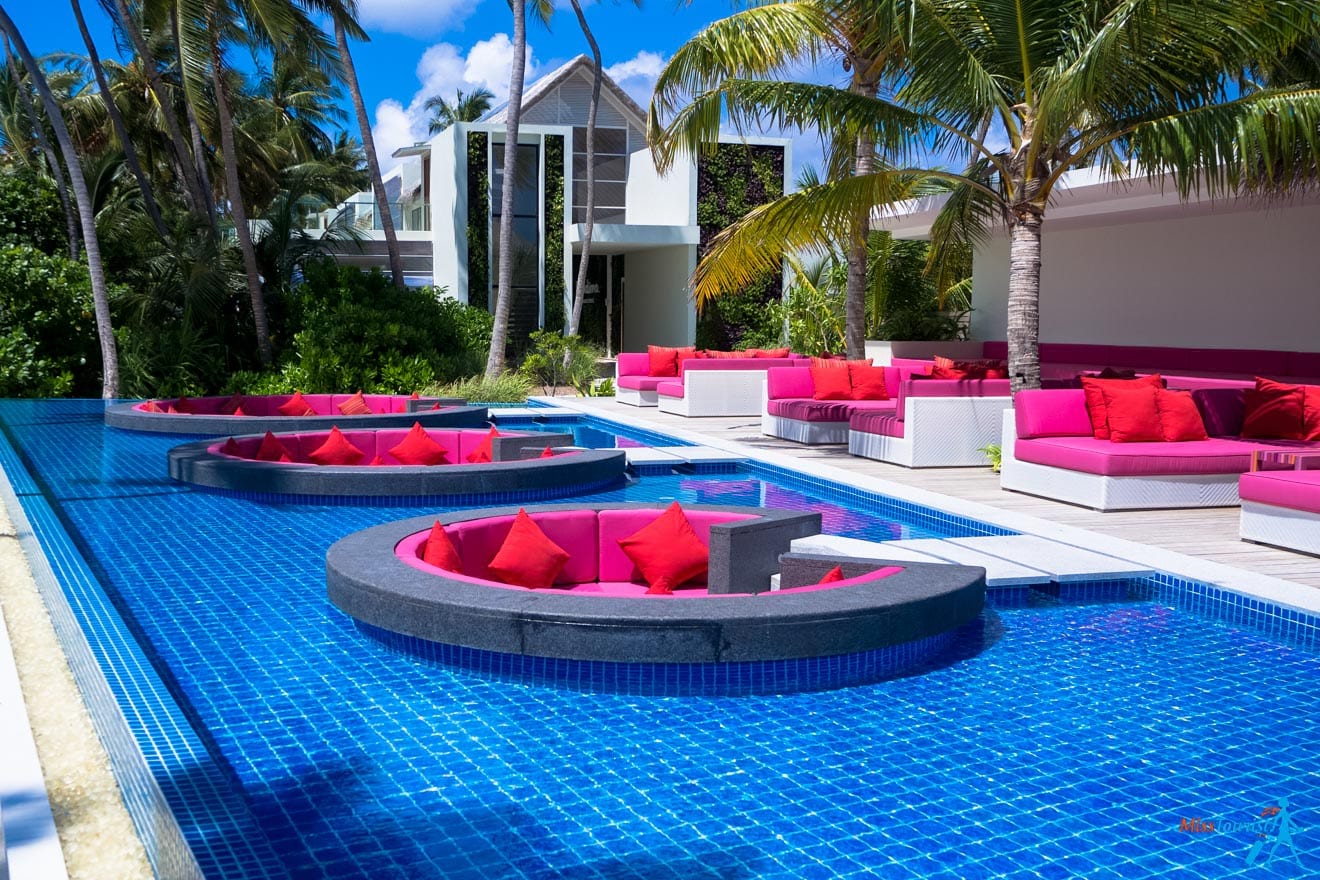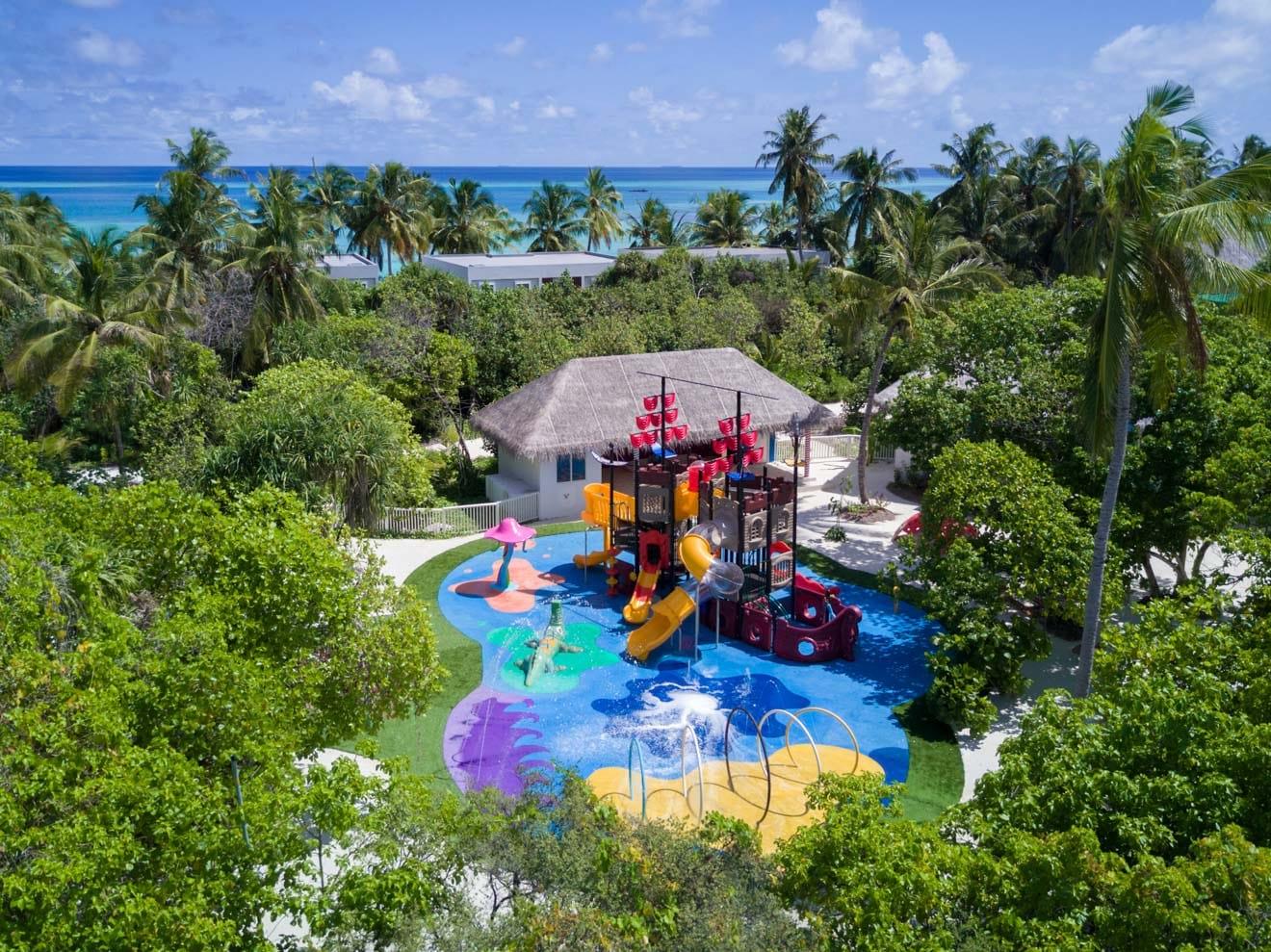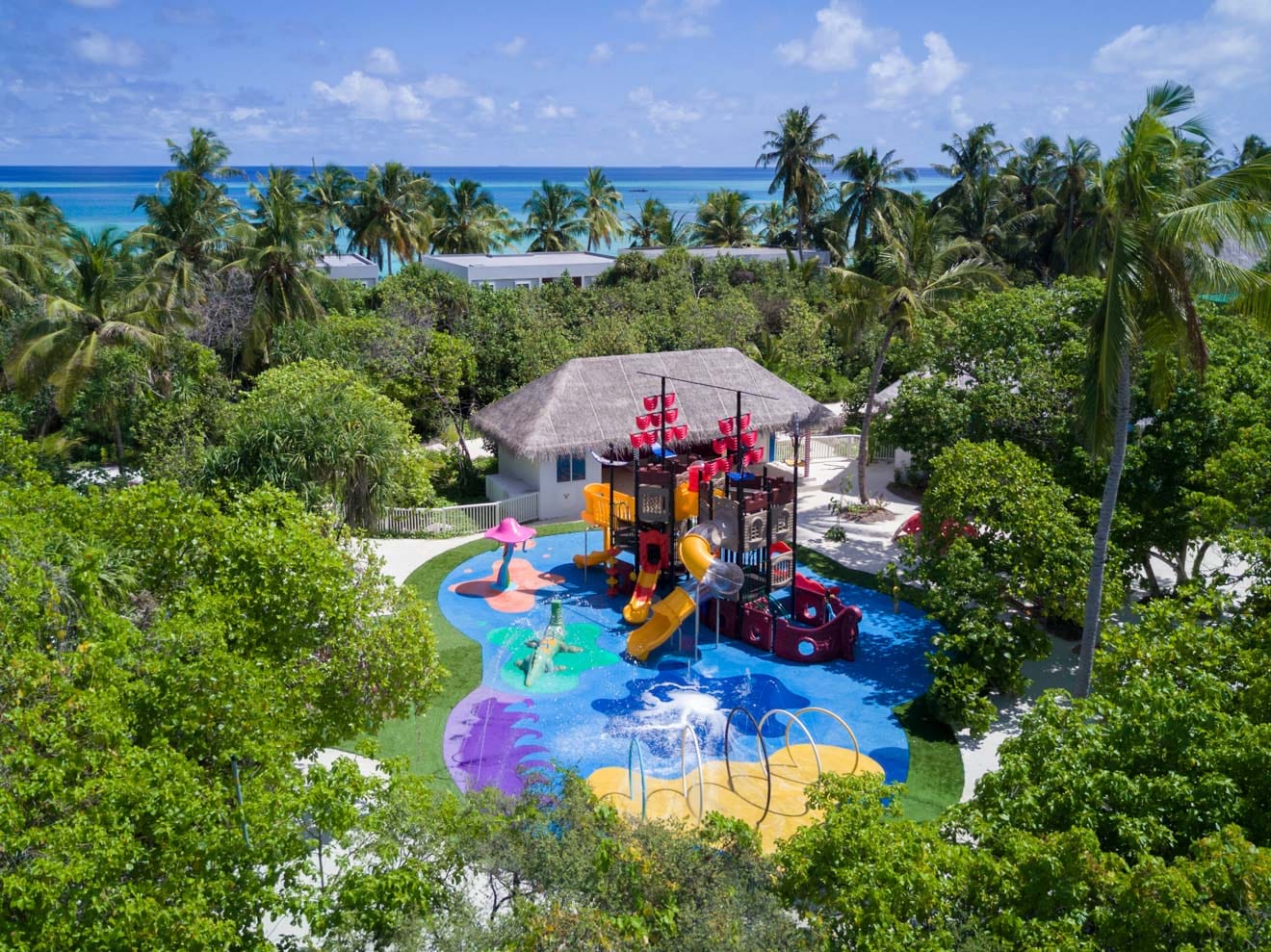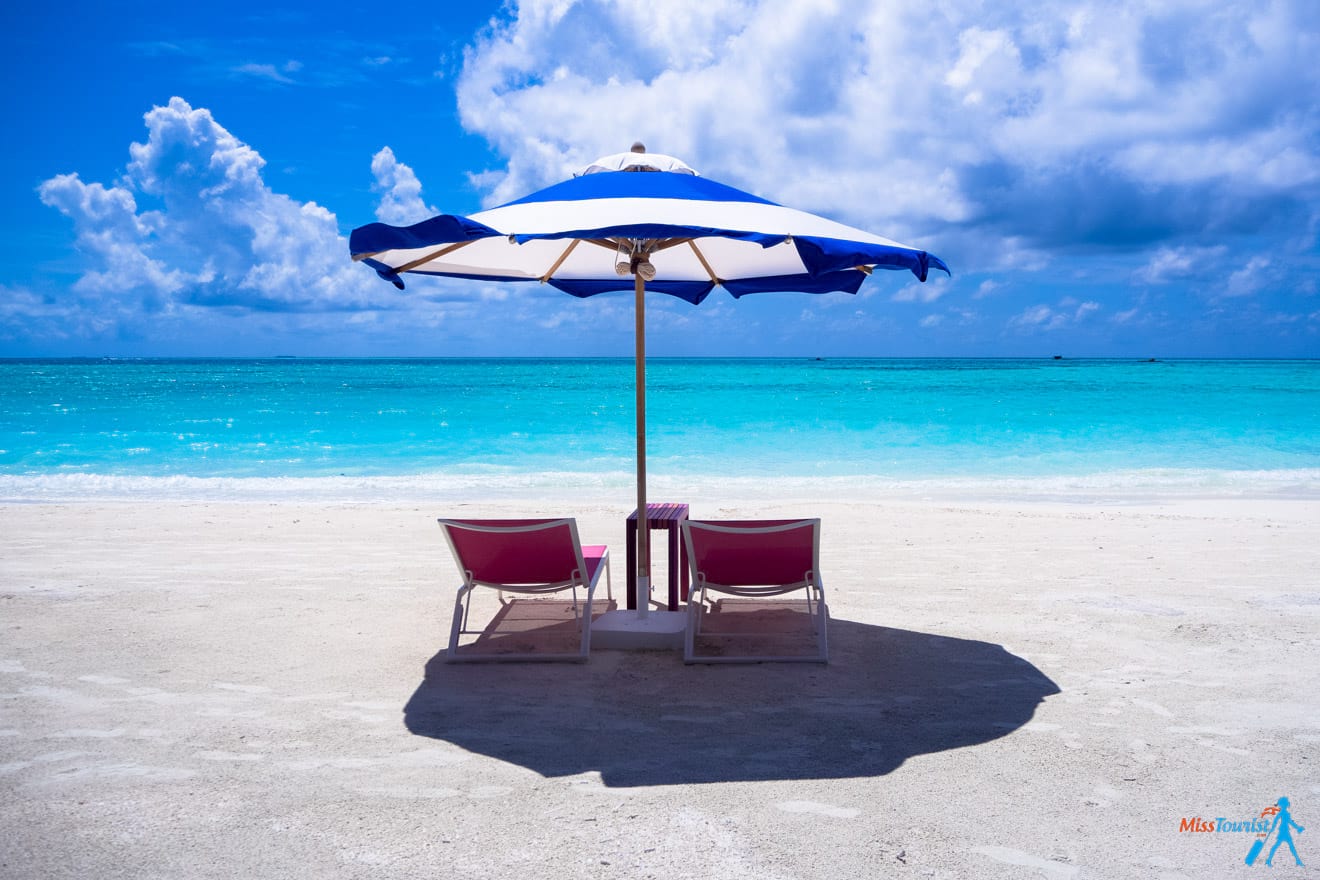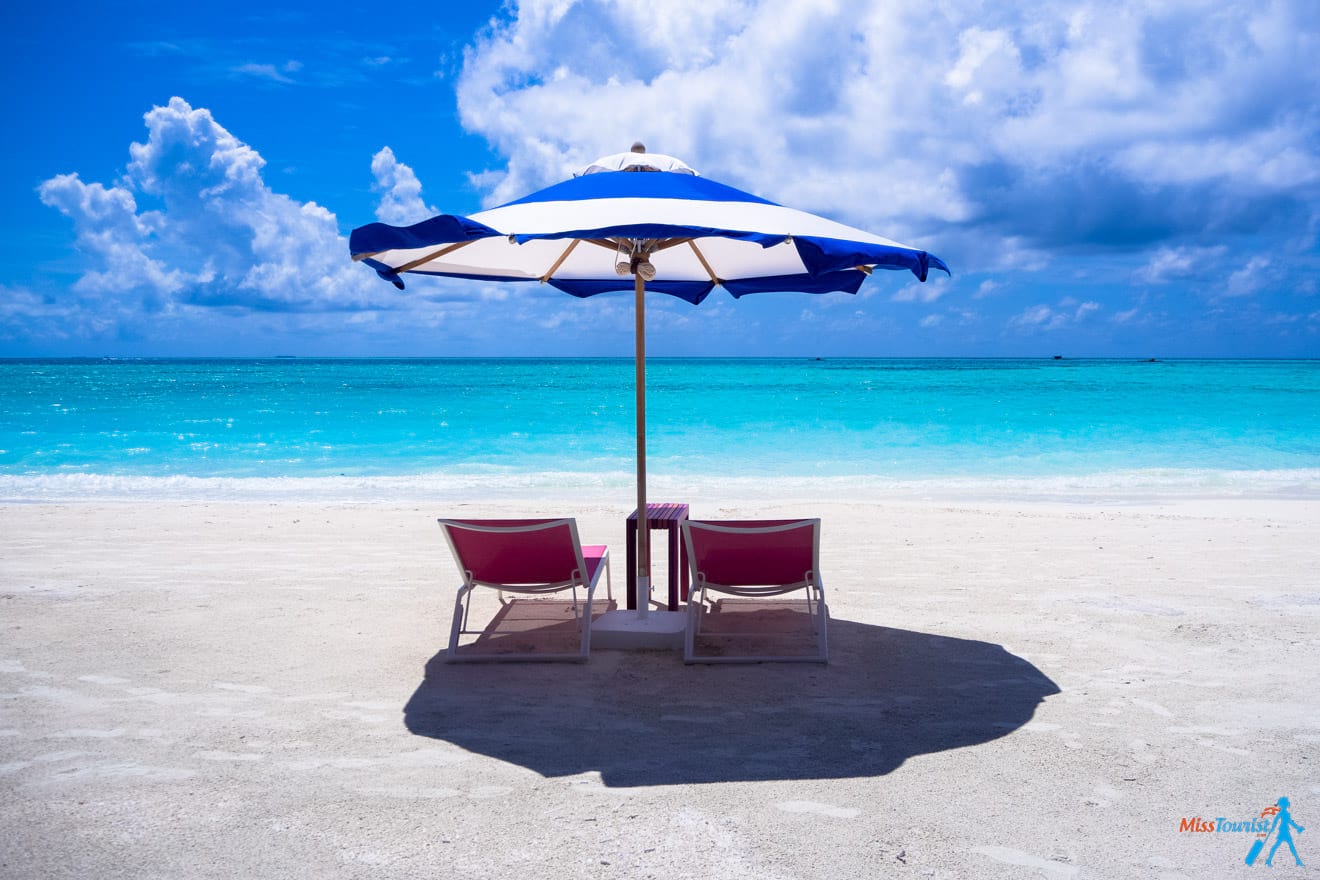 5. Food at Kandima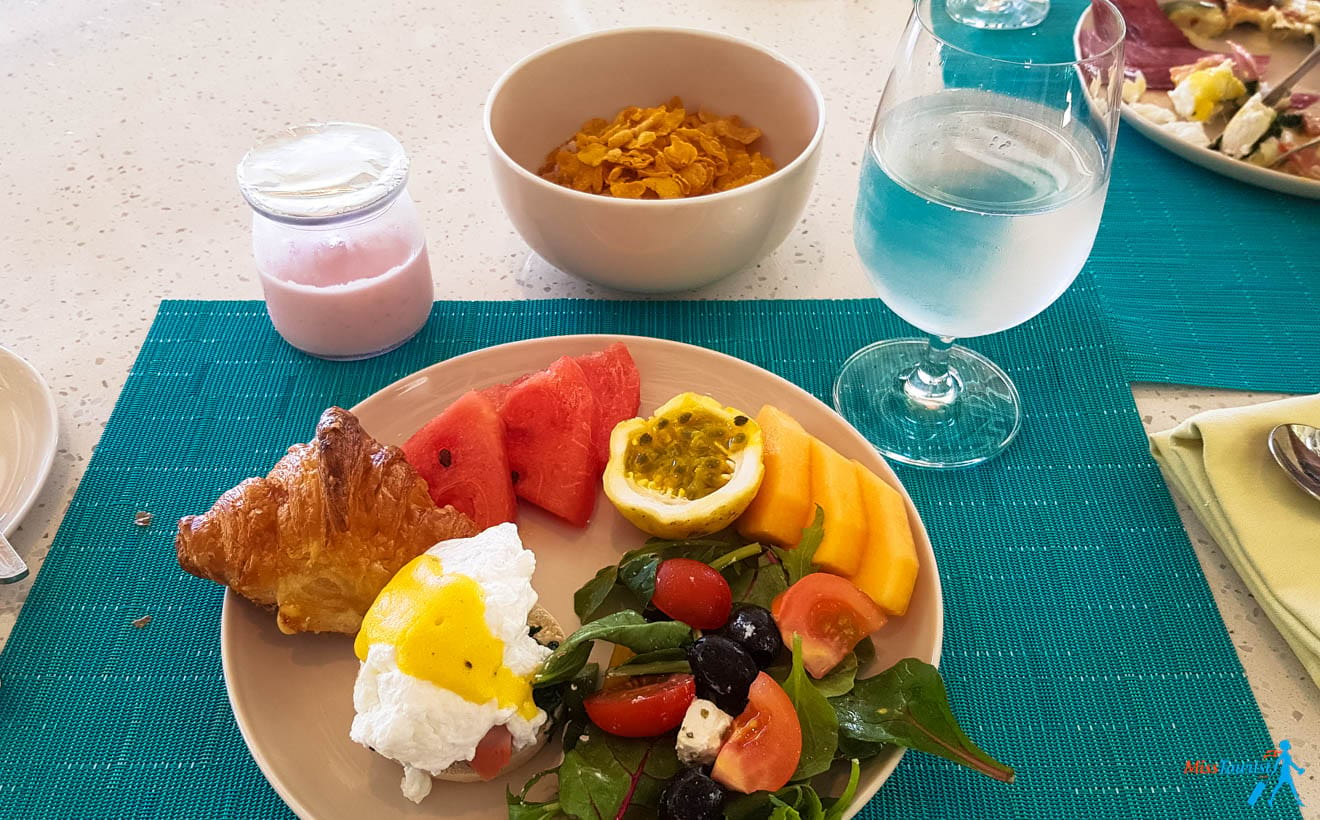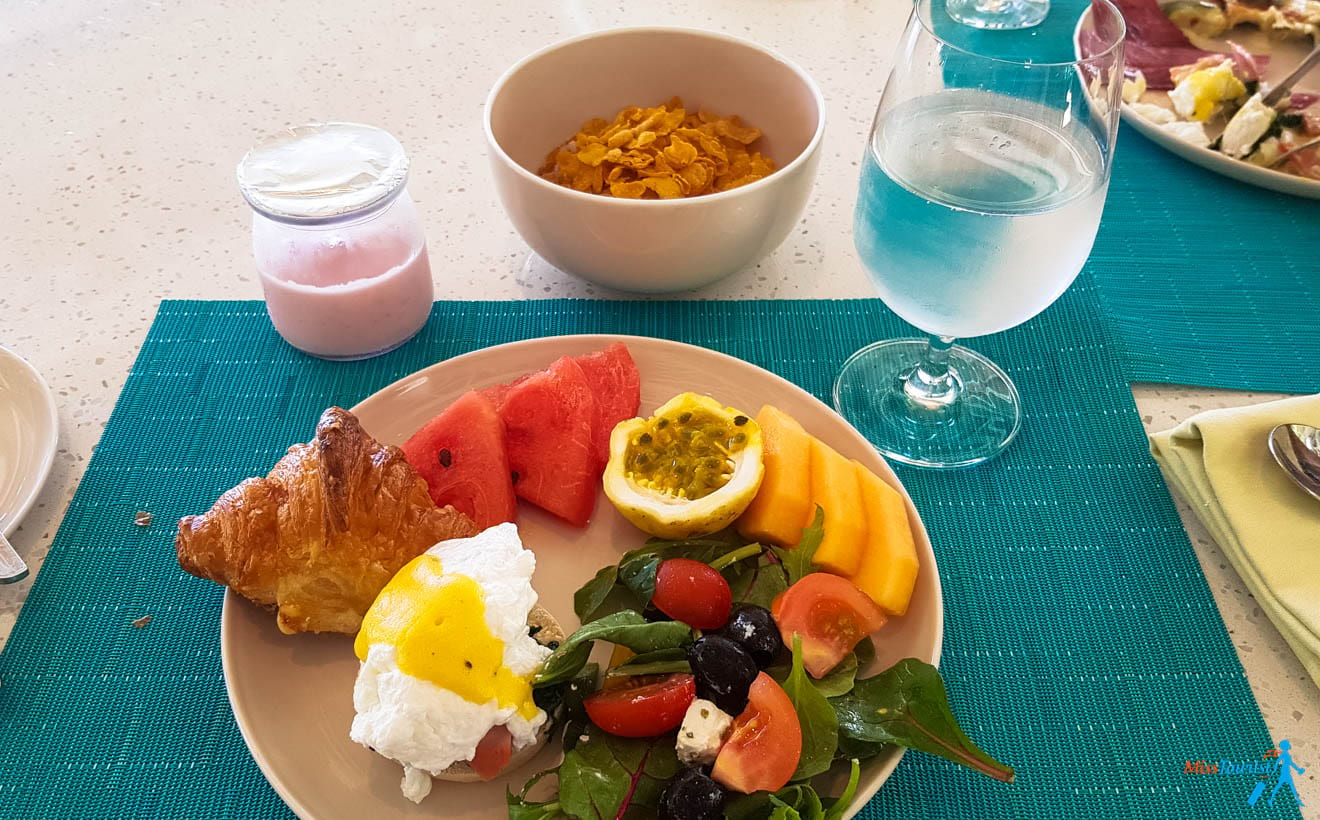 Kandima treats food seriously and they have 8 various restaurants and bars on the island. You can choose the one that's ideal for you or maybe just try them all!
For breakfast and lunch people mostly go to Zest. This is a buffet-style food place with a HUGE variety and some of the dishes can also be prepared in front of you according to your preference.
Sushi for breakfast, I mean – is this the real world?
I did not manage to visit all restaurants, but I can highly recommend Sea Dragon for some amazing fresh sea food that you can choose by yourself and it will be prepared right away!
6. Prices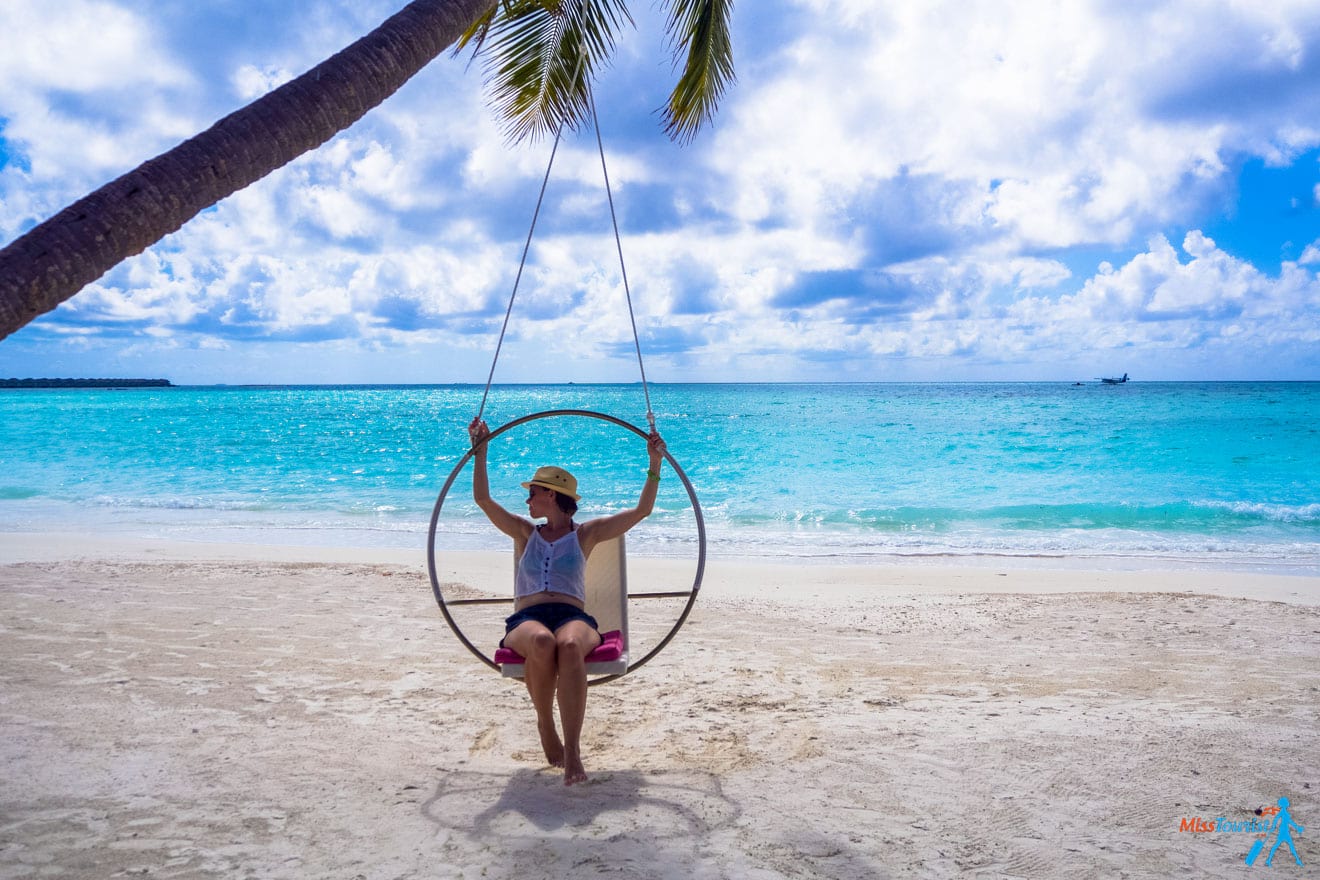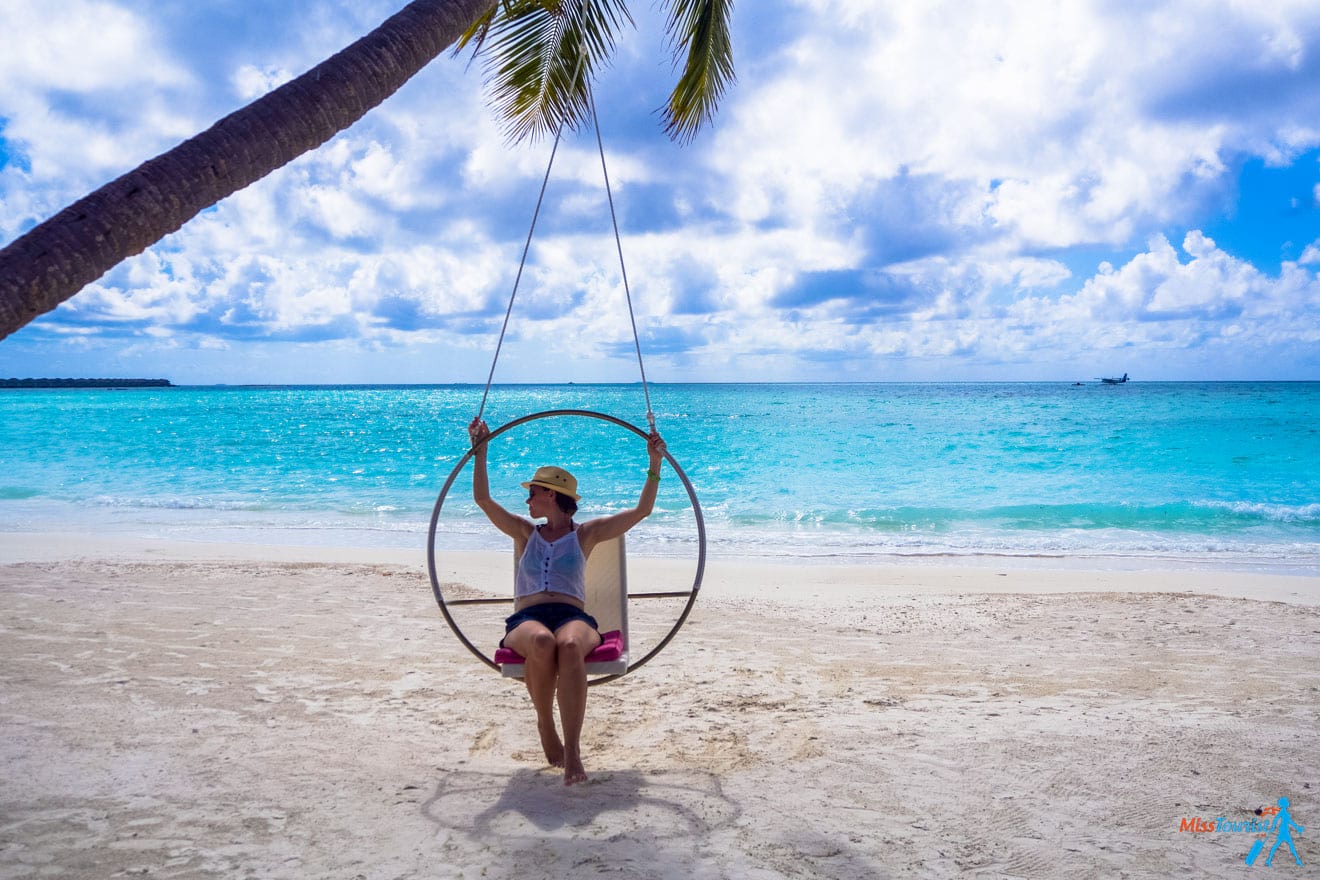 Prices for Sky and Beach Studio start from $400 US, Water Villas start from $700 US for 2 people with breakfast and dinner included (you will get so much food that you will hardly need lunch, I skipped mine a couple of times!)
Famous for: the amazing service and chic décor of the resort without breaking the bank
How to get there: about 40 minutes ride with a sea plane or 50 mins with a domestic flight plus a boat transfer
Kanuhura
1. Arriving to the resort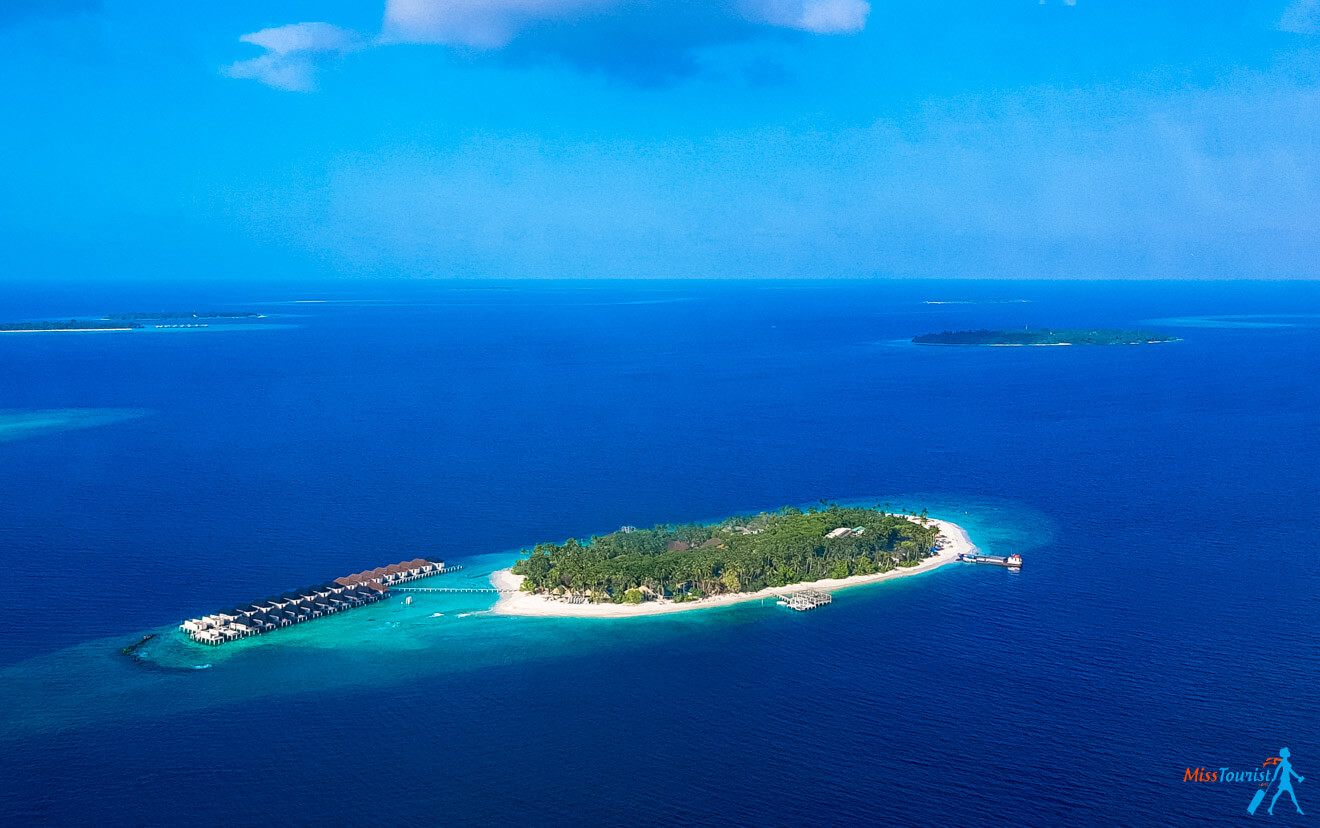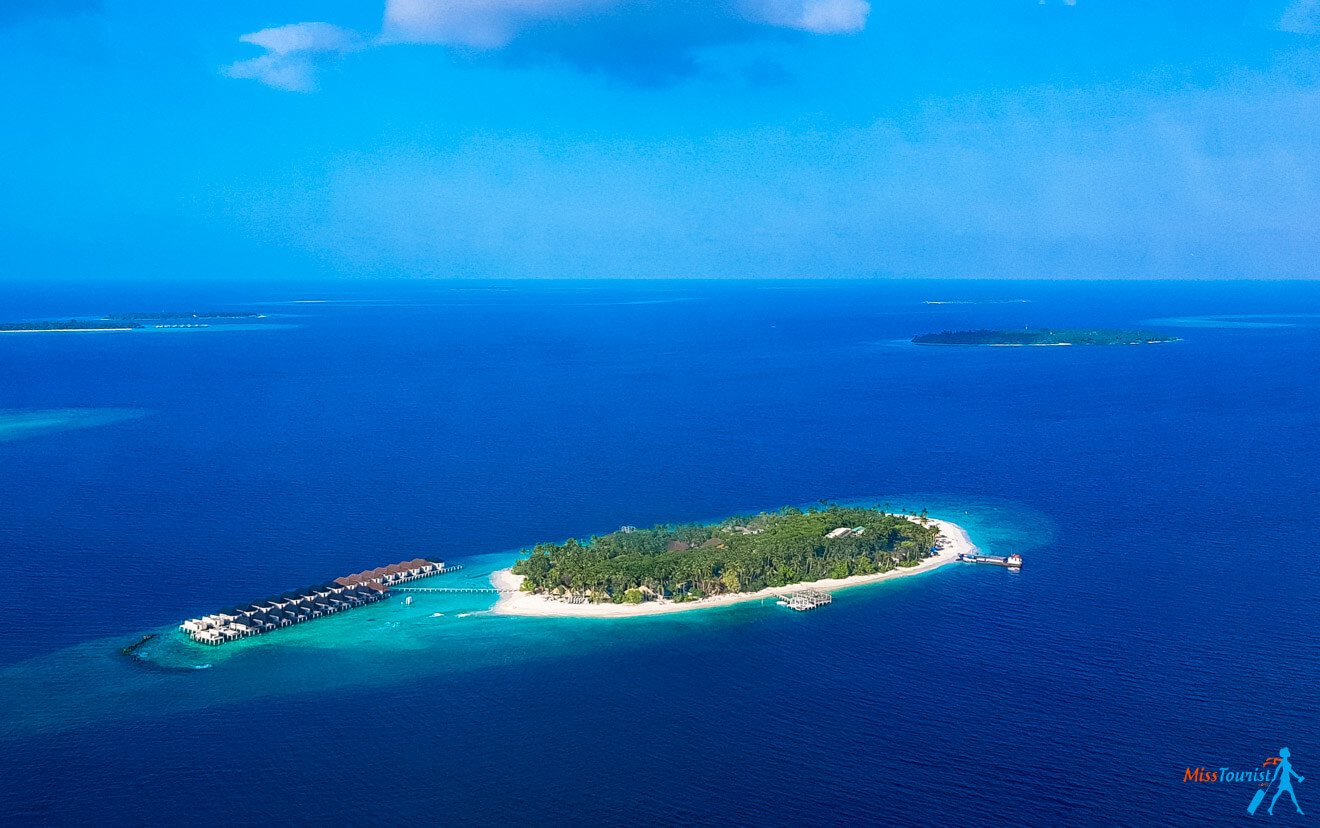 Kanuhura is located on Lhaviyani atoll which is a beautiful 35 minutes flight North of Male Airport.
The incredible service will start right from the beginning – once you land at Male airport, a person from Kanuhura staff will greet you and escort you to the private Kanuhura lounge where you can get some snacks, fresh juice or coffee and take a shower, which will be really appreciated after a long flight!
I saw that there are various massage options too, but our seaplane was already waiting for us, so we only had time for a quick cup of coffee.
Flying in the seaplane is a really extraordinary experience by itself – the plane fits a maximum of 15 people and the view will be incredible!
2. Key Features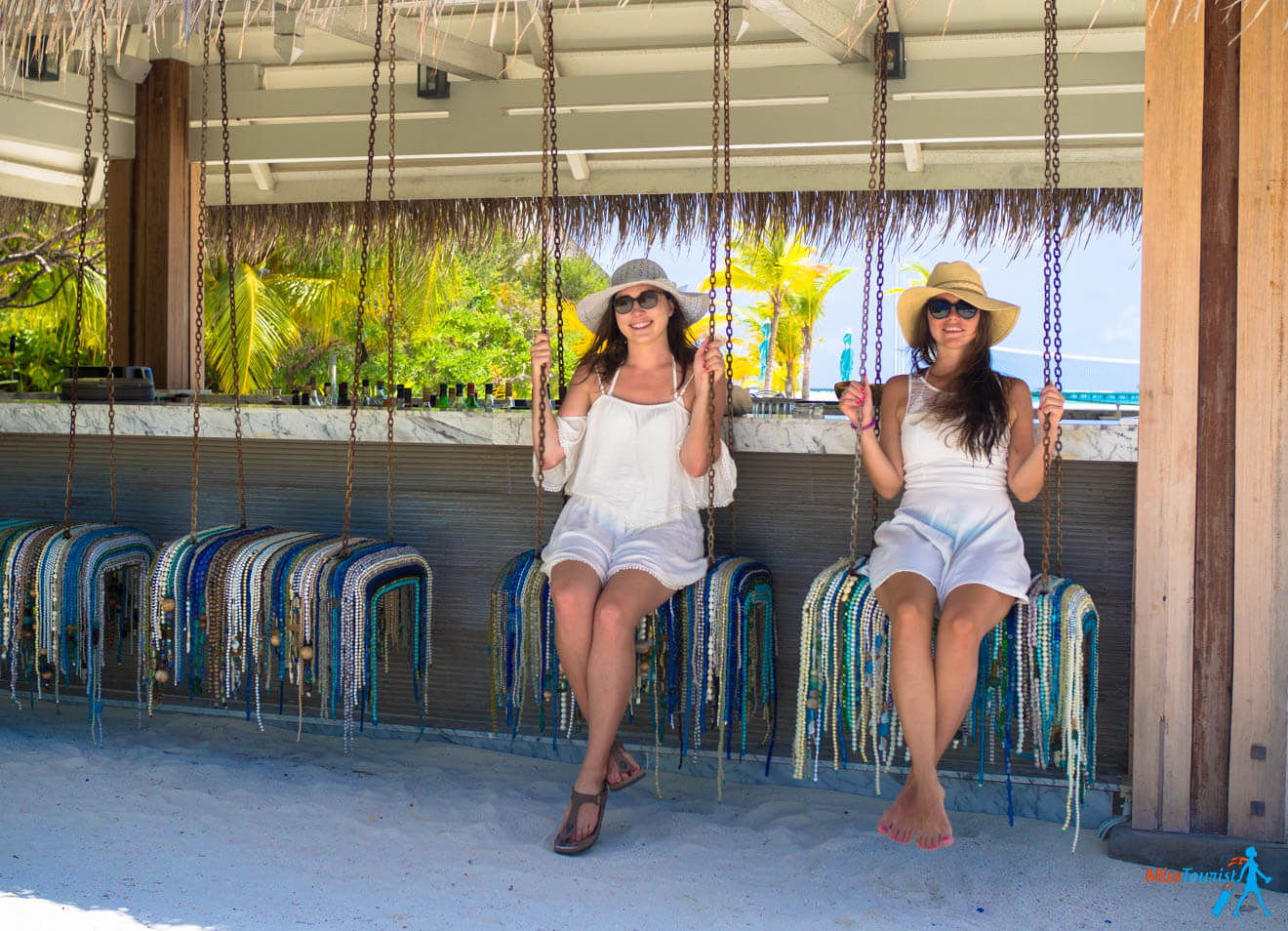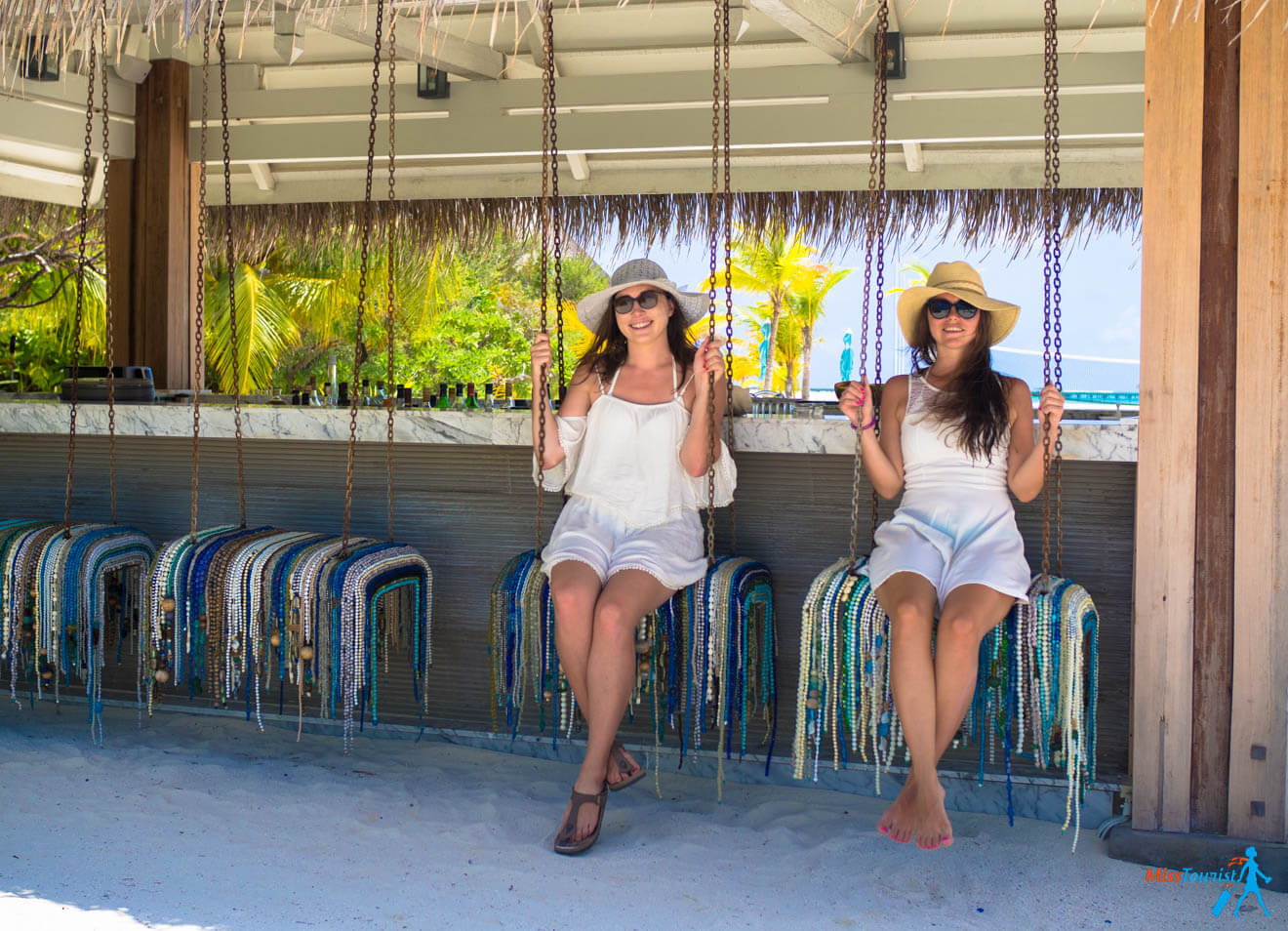 Due to its remote location, Kanuhura has one of the best diving spots around – something that other resorts close to Male do not have.
Another awesome thing about this place is the 'No shoes no news' concept. Kanuhura resort, in fact, encourages its guests to walk barefoot!
I was walking barefoot everywhere (the sand is incredibly soft and clean everywhere) and it definitely added a lot to the authentic feel of the island.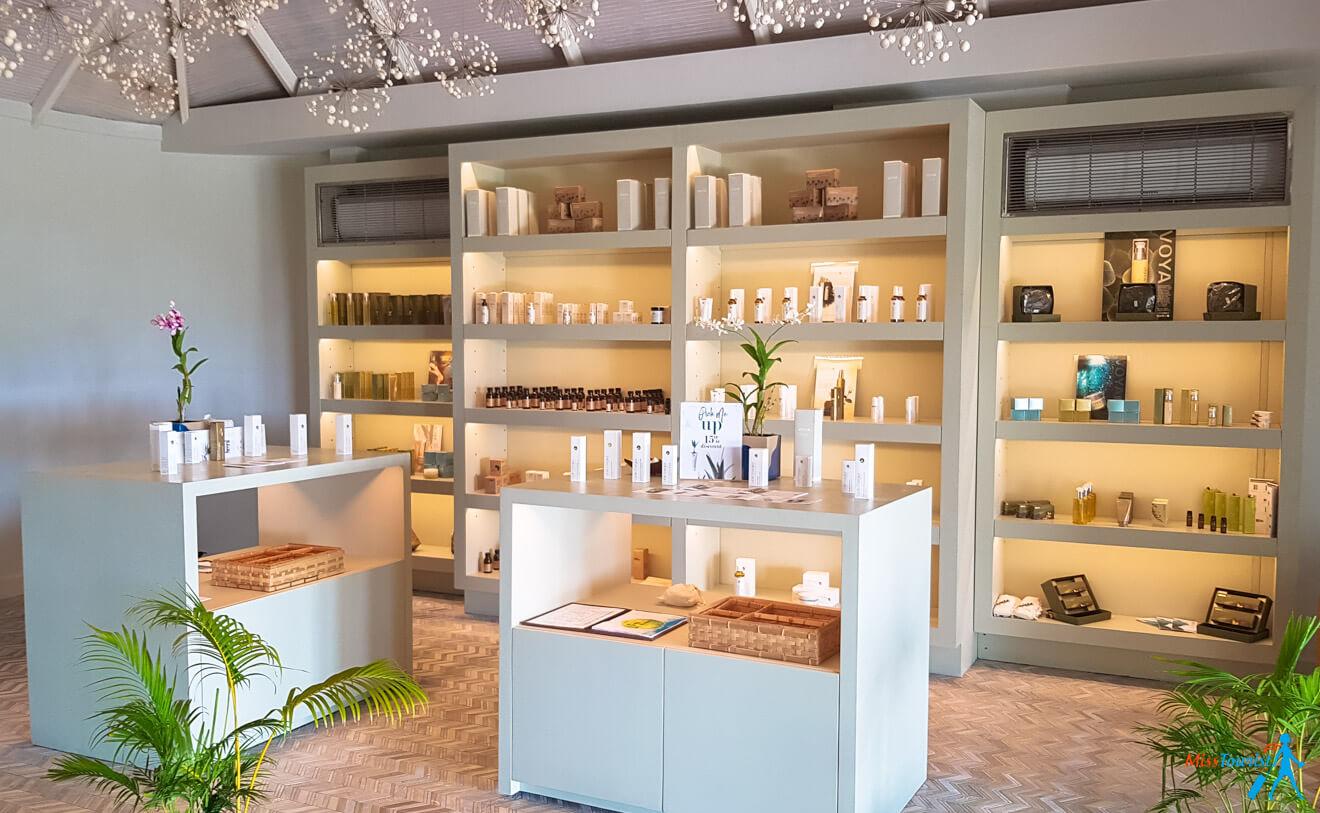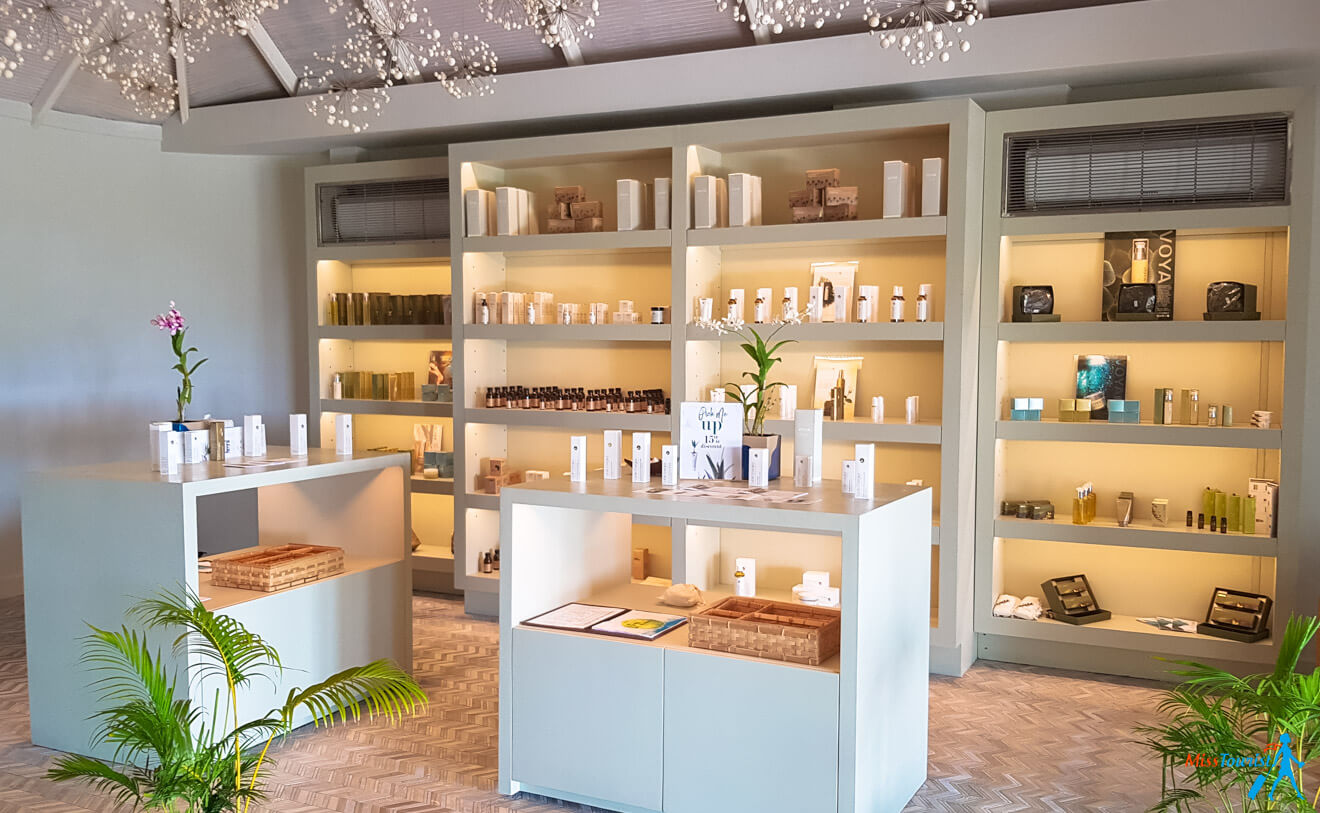 The spa options are also incredible! There are over 60 exotic treatments to choose from in Kanuhura's Spa Menu. You can choose anything from heated stones from Bali to ancient massages with compressed spices!
If you're looking for some more exciting things to do, then you should know that you can choose from an outdoor swimming pool, 2 tennis courts, an air-conditioned squash court, a mini soccer field, fully equipped fitness center, PADI center and daily yoga lessons!
3. My accommodation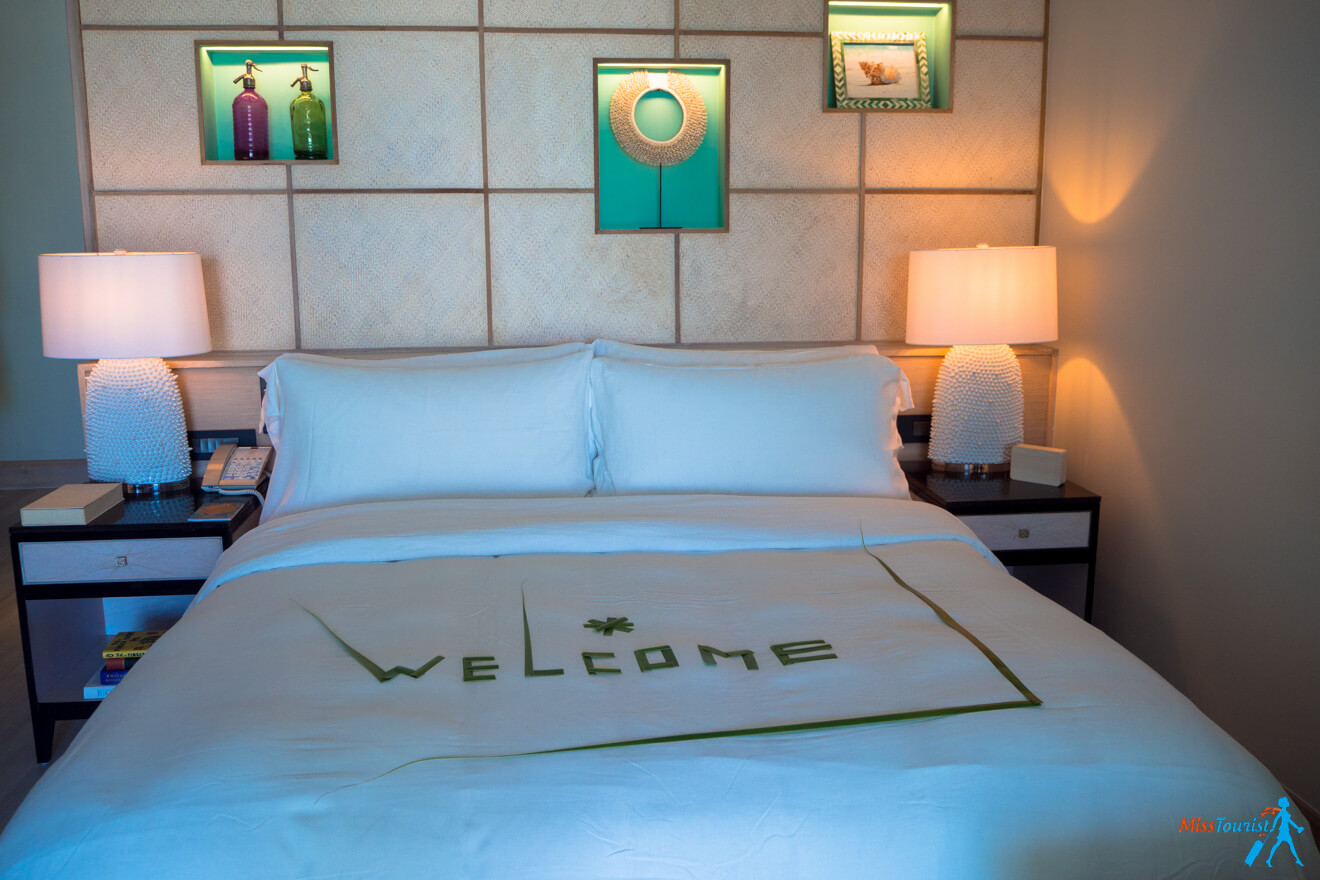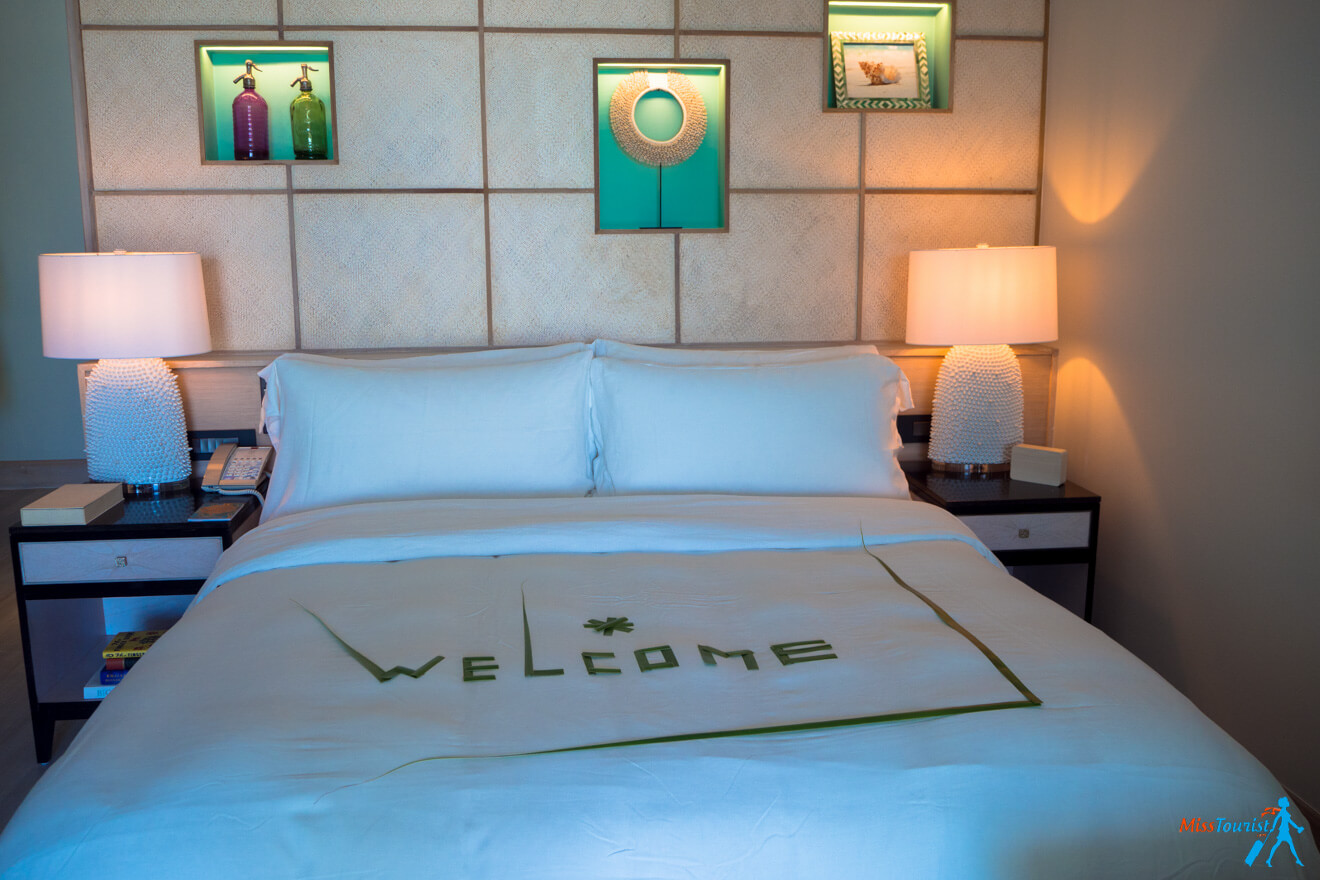 Kanuhura offers you a great range of options: you can choose from Beach Villas with or without the pool, Water Villas with or without the pool and a couple of more splurge-y options.
See all the options here.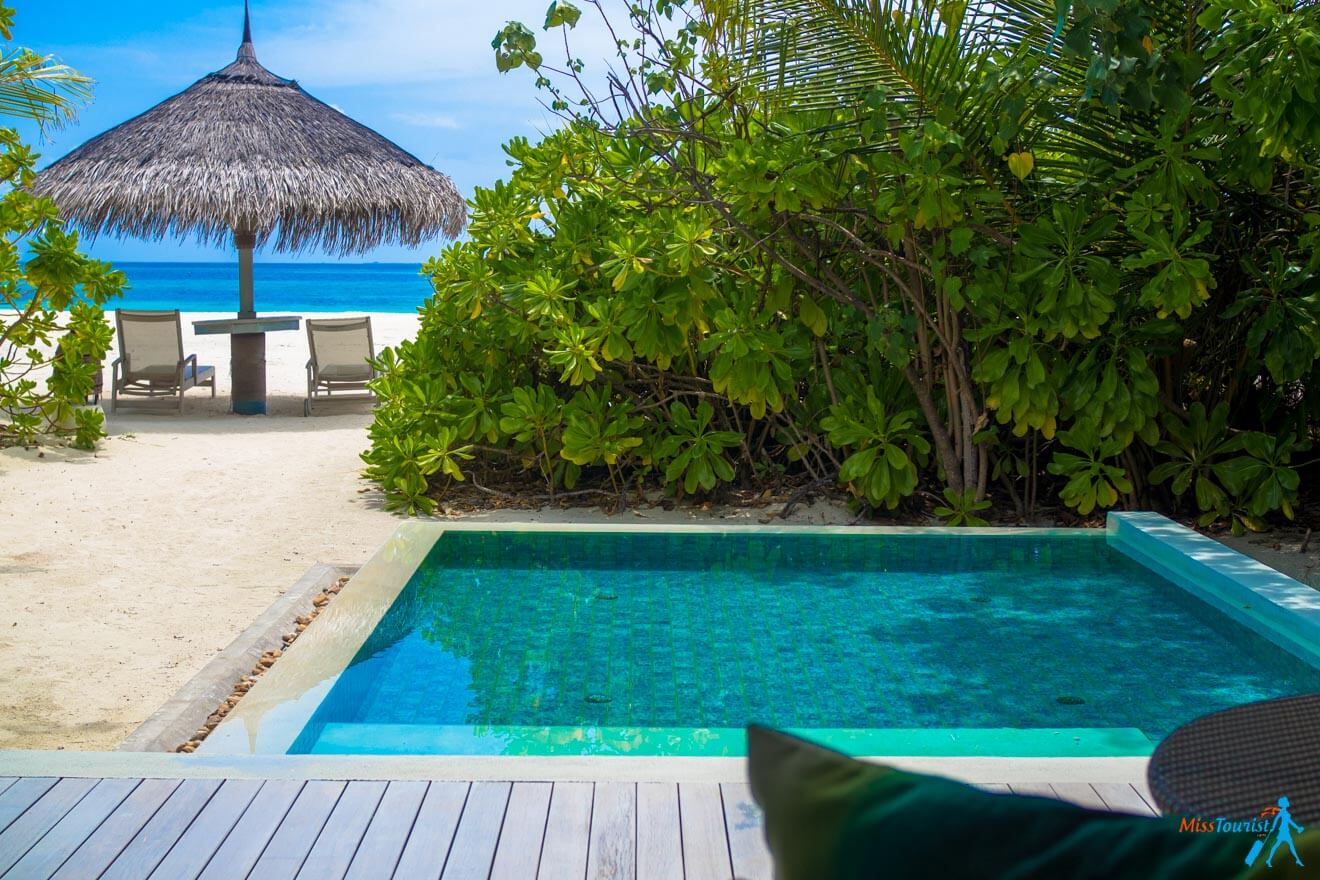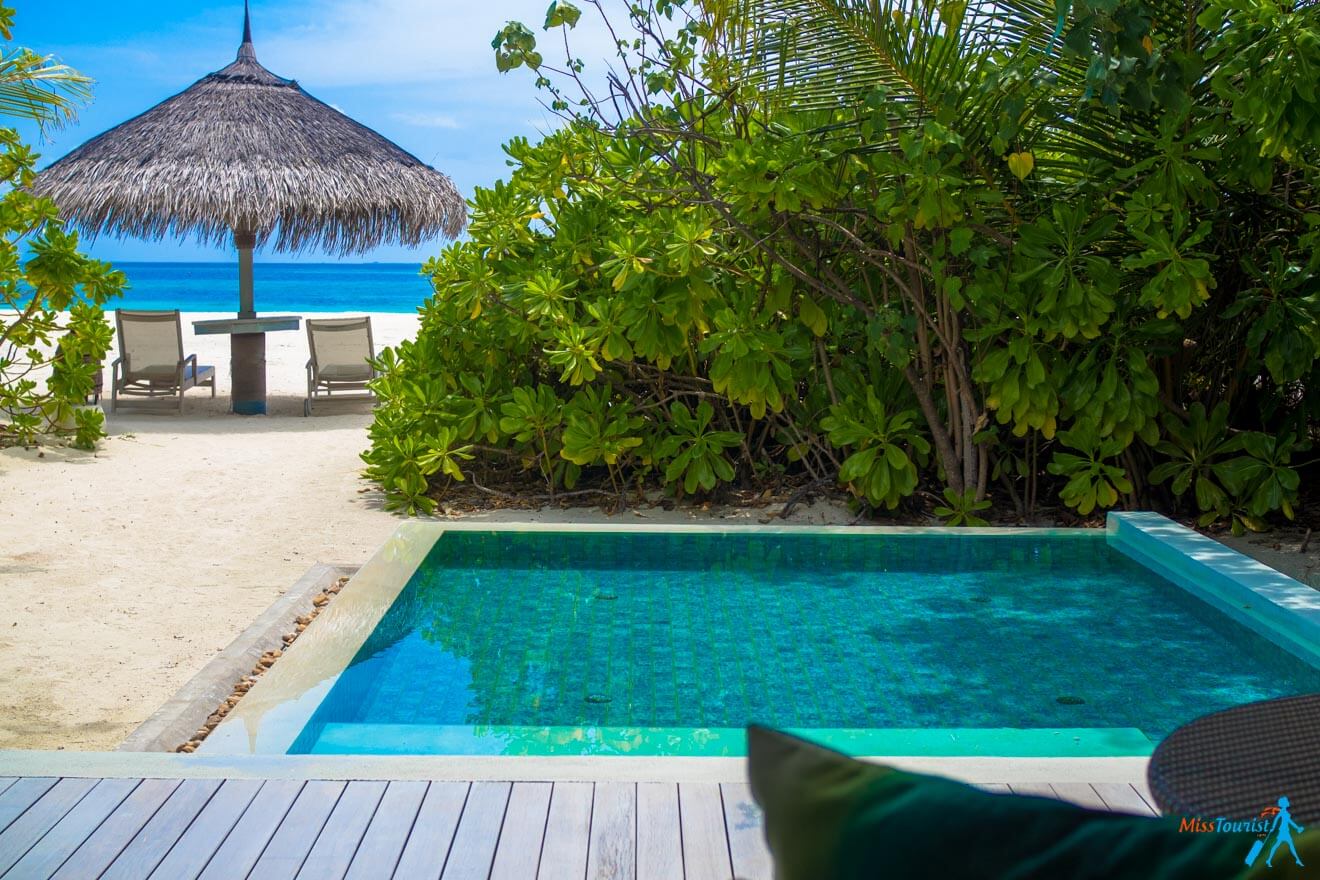 My villa had a private swimming pool with a shaded area for relaxation, and chaise longs facing directly to the beach. To top it all off, I had an amazing partially open-air bathroom with a rain shower and little awesome features like my own espresso machine.
I have written about my experience in more details here
4. Food at Kanuhura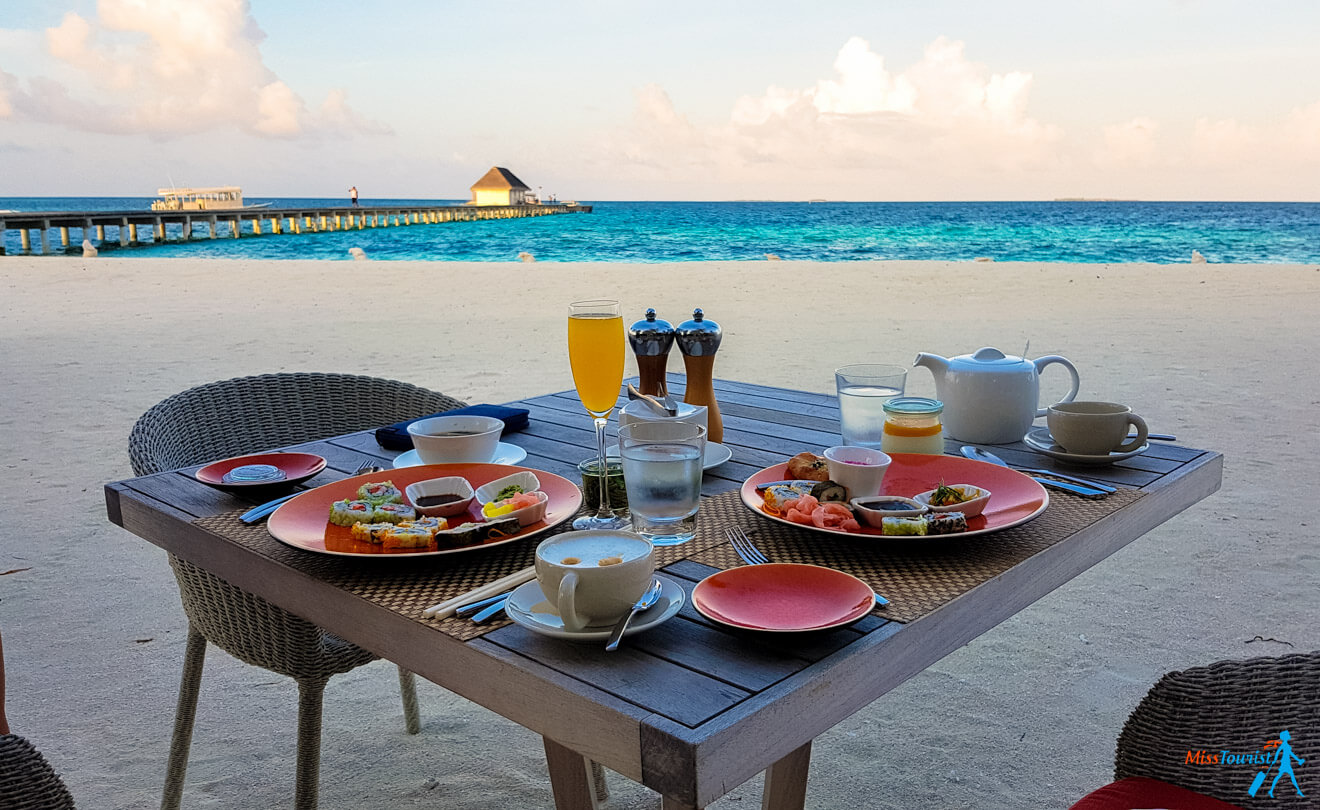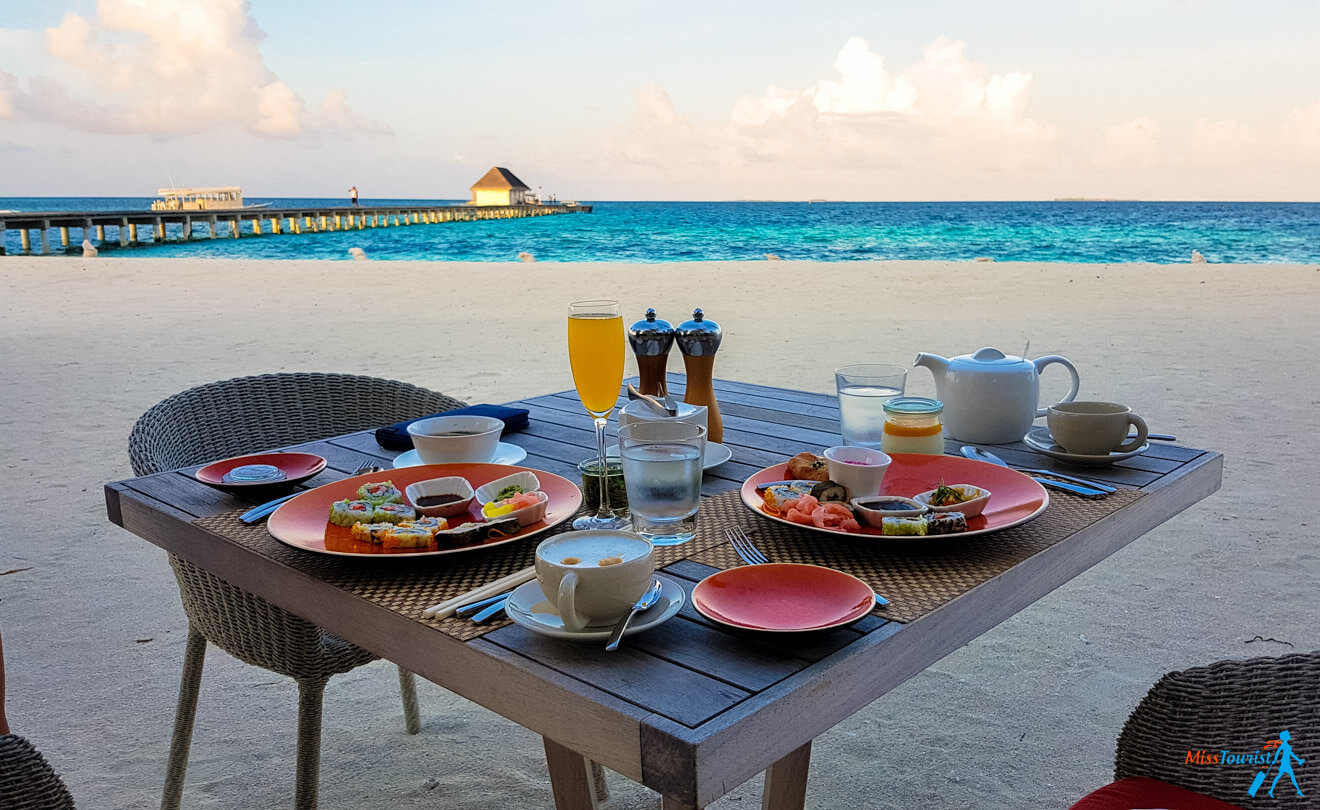 Kanuhura has an all-you-can-eat buffet with one of the largest food selections I have ever seen! And if you ever get bored with the buffet, then you can go to one of the other 7 restaurants and numerous bars where you can enjoy a colorful cocktail!
5. Prices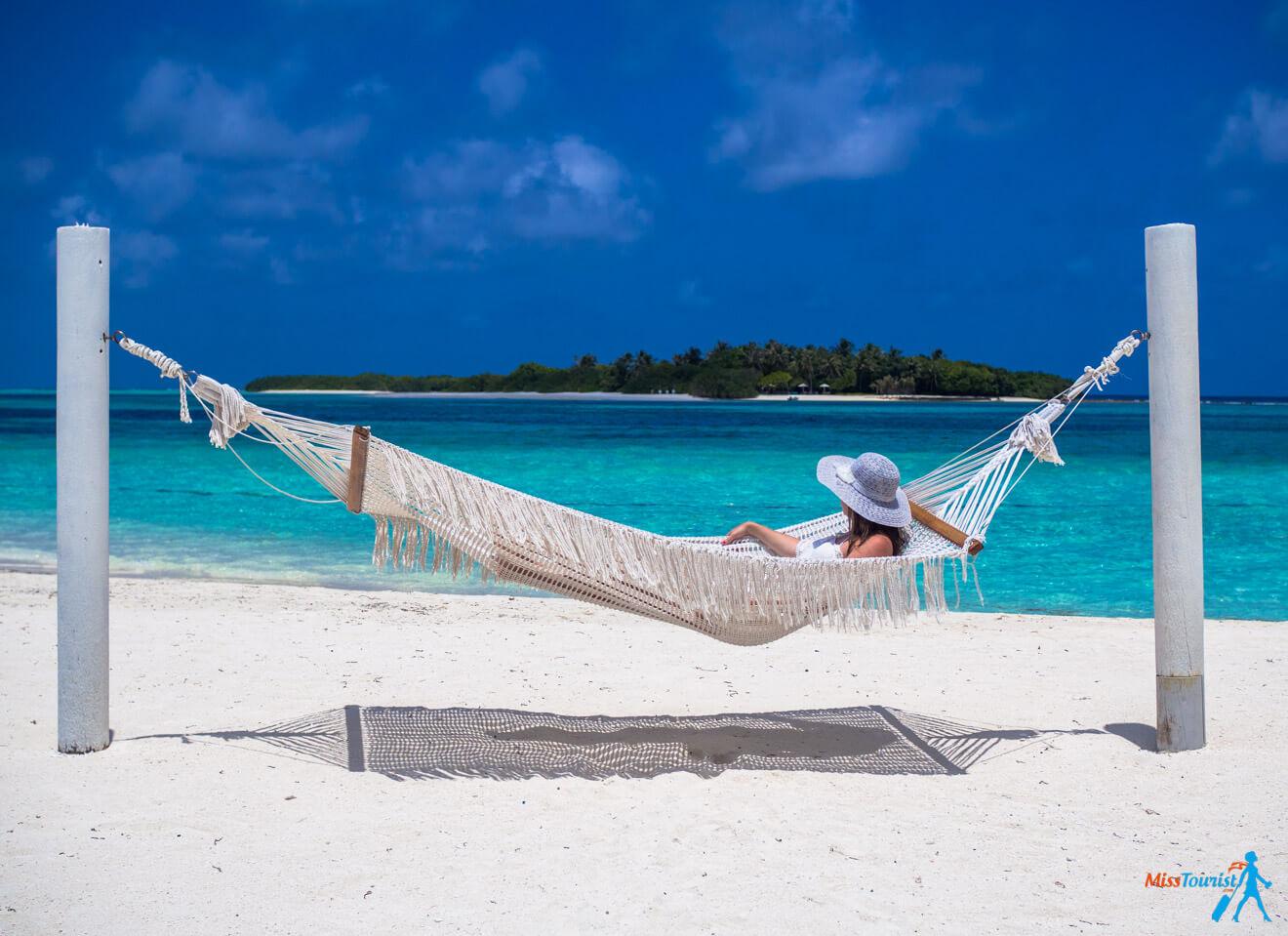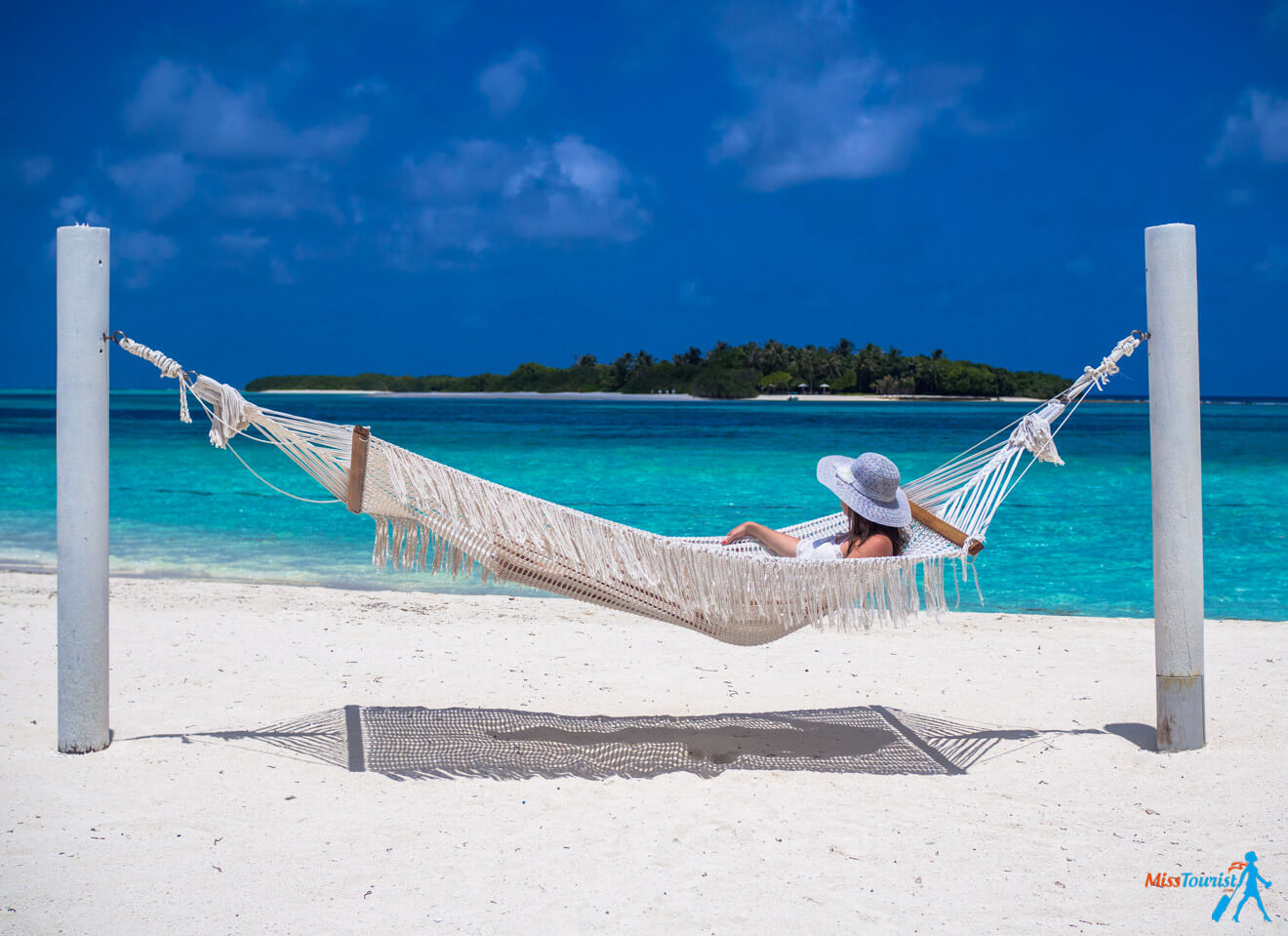 We all associate the Maldives with unaffordable luxury that has over-the-top prices. You will be surprised, but the prices here can be quite reasonable, especially if you go in low or mid-season.
The prices for Beach Bungalows start from $760 US per night for 2 people with breakfast included and the price for my villa (Beach Pool Villa) starts at $1 200 US.
---
| | |
| --- | --- |
| 📷 Best for pictures: | Kandima |
| 🦐 Best for foodies: | Bandos |
| 🏖️ Best for relaxation: | Kanuhura |
| ☀️ Best time of year: | December and April |
---
A little bit of practical info on visiting the Maldives
Best time of the year for Maldives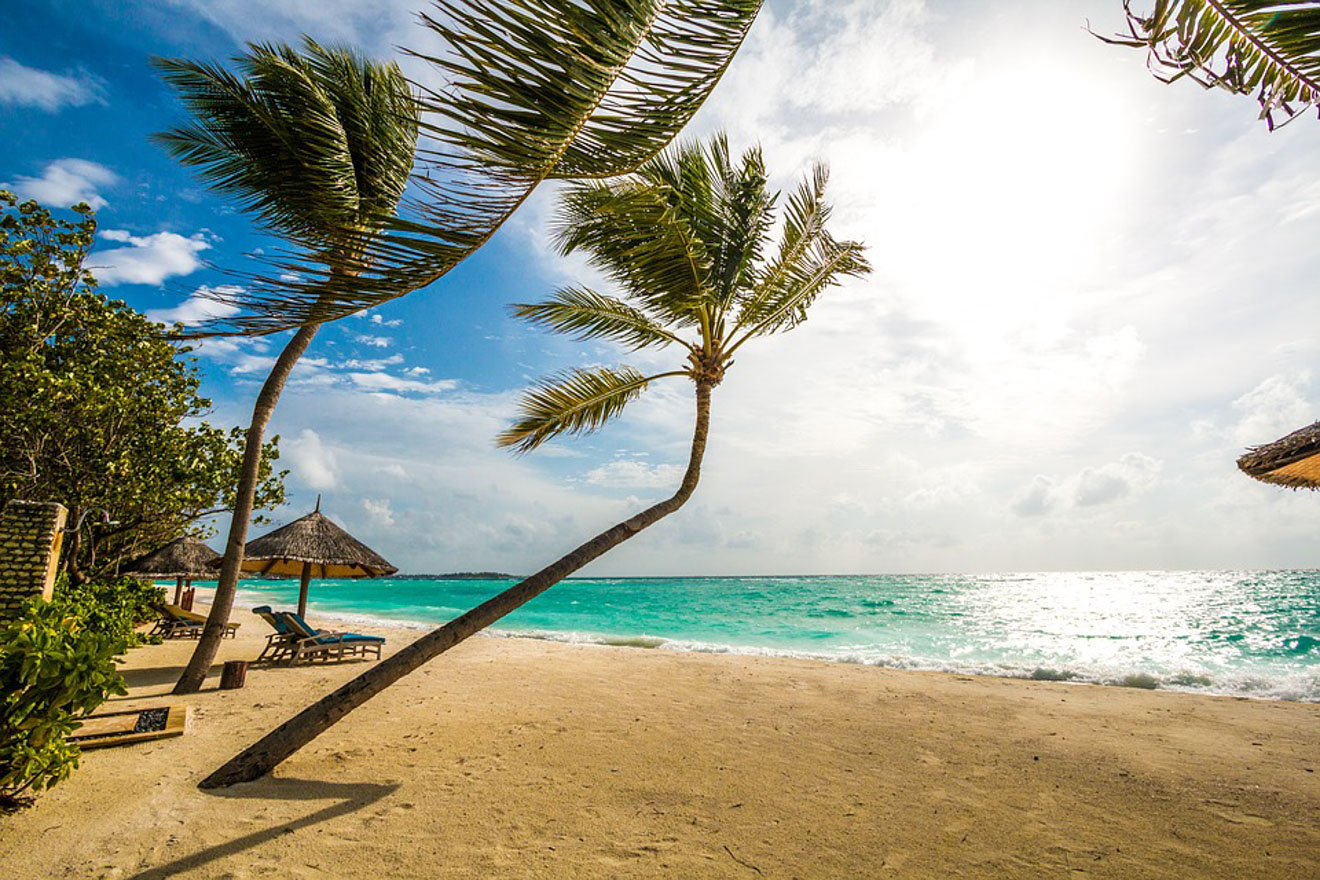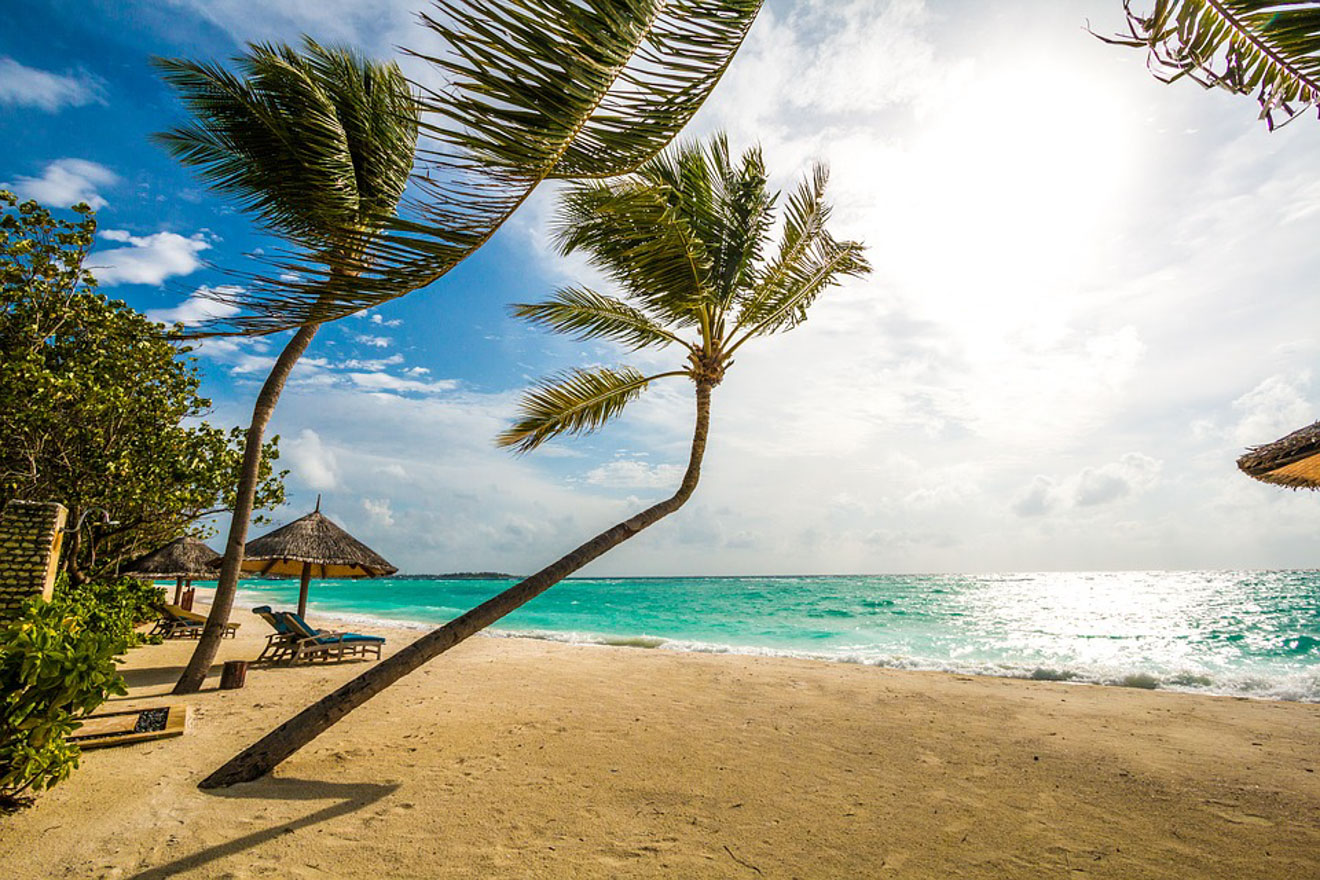 December and January are considered the best months to go to the Maldives, but also the most expensive. The season goes from December to April – the weather is very warm and you won't get any rain. May (esp. from July on) to November – storms and rains are likely to happen, as it is monsoon season.
I have visited it in the second half of September, and even if they said it was supposed to be a monsoon season, it only rained once for 20 minutes; for the rest the time the weather was shiny and perfect. You never know, everything is unpredictable because of our current environmental situation.
The temperature doesn't ever really drop below 23 C.
Transportation inside the Maldives
The domestic flight operators are FlyMe and Maldivian Air. Speed boats and sea planes are to be booked by your hotel for you.
What to pack for Maldives
Here is a detailed post about 10 Things You Should Take To Your Maldives Trip (And 5 You Should Not), but let name the most important things here:
Internet in the Maldives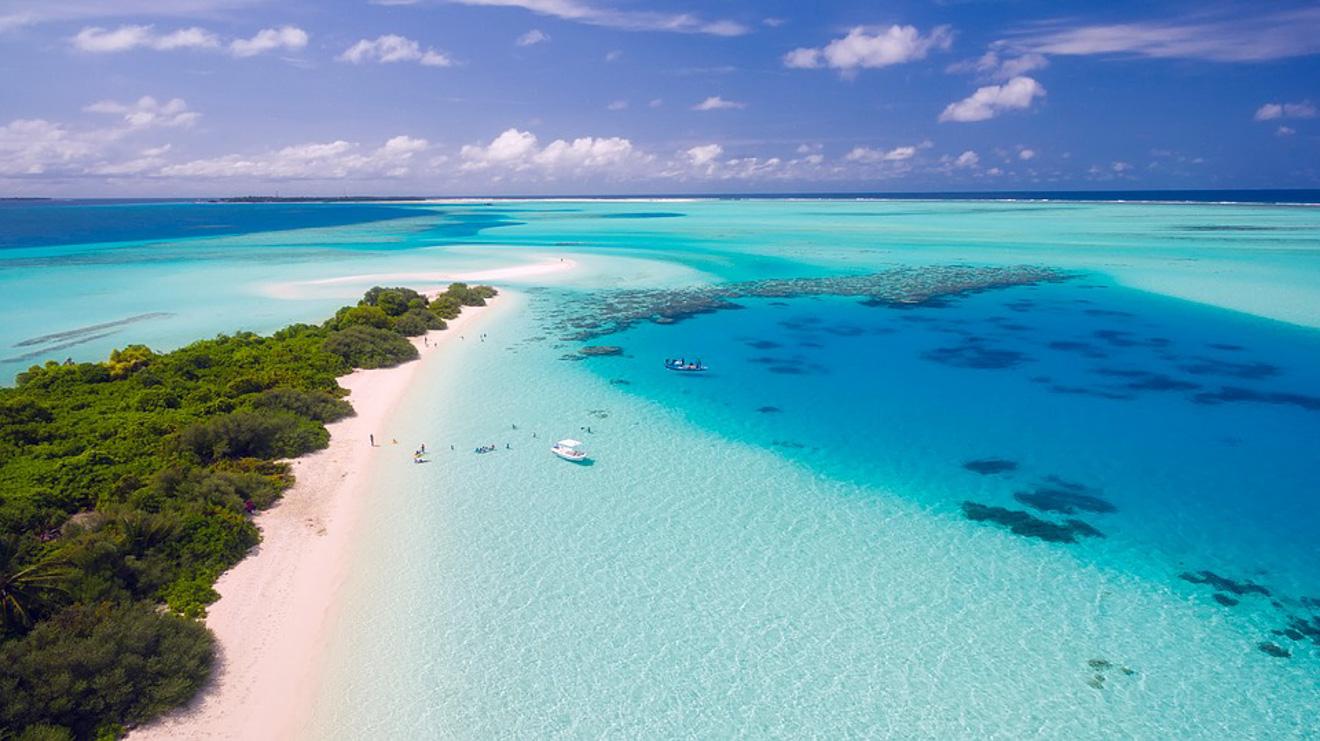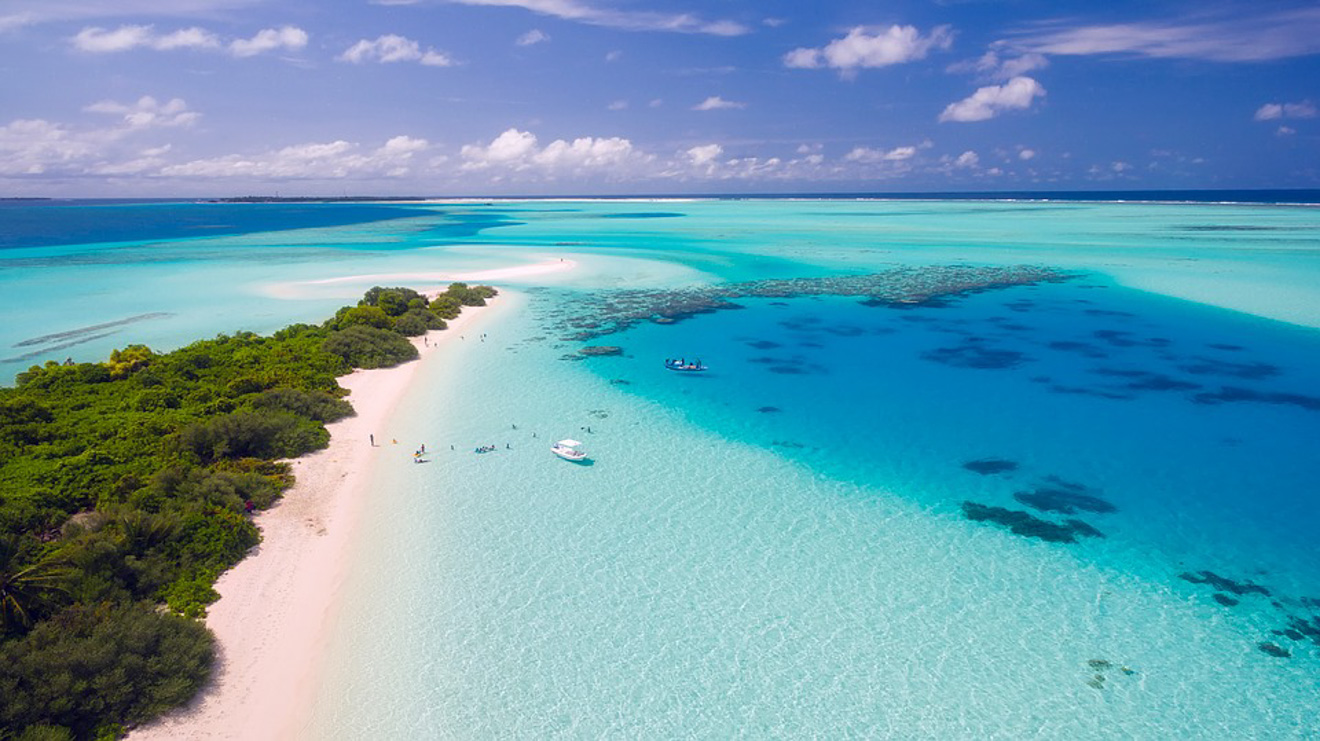 I am not sure if having a stable Internet connection is important to you, but for me, as I am a travel blogger, it was. The internet was working fine in all the resorts, though it was not very fast.
I had a 4G Sim card that had fantastic coverage and fast internet everywhere I went. It is called Dhiraagu and the price was $15 US for 15 GB.
Watch out for extra charges
There is a 10% Government Island Tax and a 12% Local island Tax. Sometimes these taxes are not indicated in the price, so take a careful look at all the stars and indications so that this does not come as a surprise.
Future of tourism in the Maldives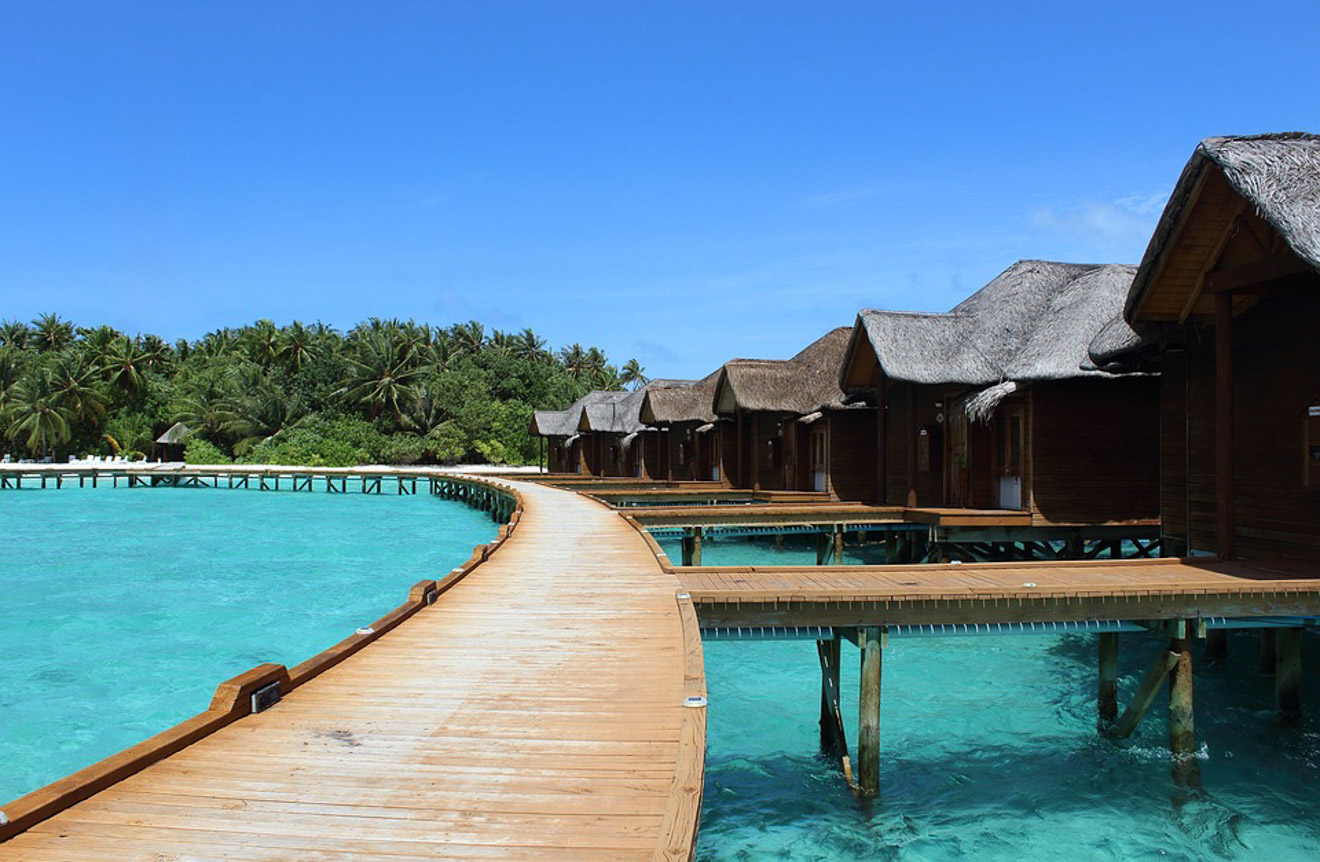 I have had a chance to speak with some representatives of the tourism board of Maldives and they are very much interested in enlarging the image of the Maldives as a destination where you can also stay in affordable guesthouses too, besides the well-known luxury resorts.
Until 2009, it was illegal for locals to open guesthouses, but now the government has opened the doors of independent tourism and there are already over 200 guesthouses, Airbnbs and holiday apartments that you can choose from! This is just the beginning; we can expect some big changes in the country's tourism industry in the following couple of years already.
Disclaimer: Thanks to Maldives TV for inviting me to the World Travel Writers Conference, and to Bandos, Kandima, and Kanuhura resorts for hosting me. My opinion expressed here is, as always, honest.
---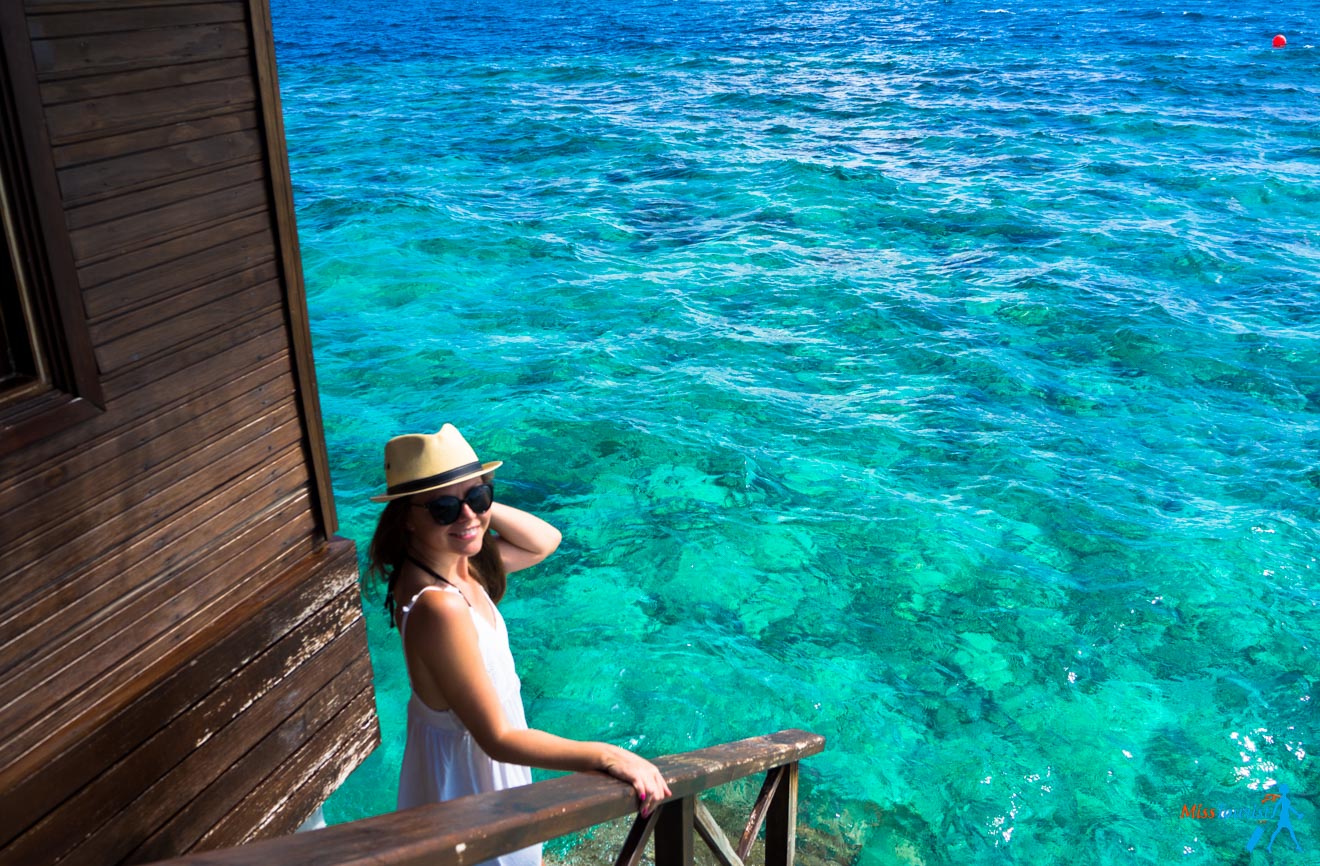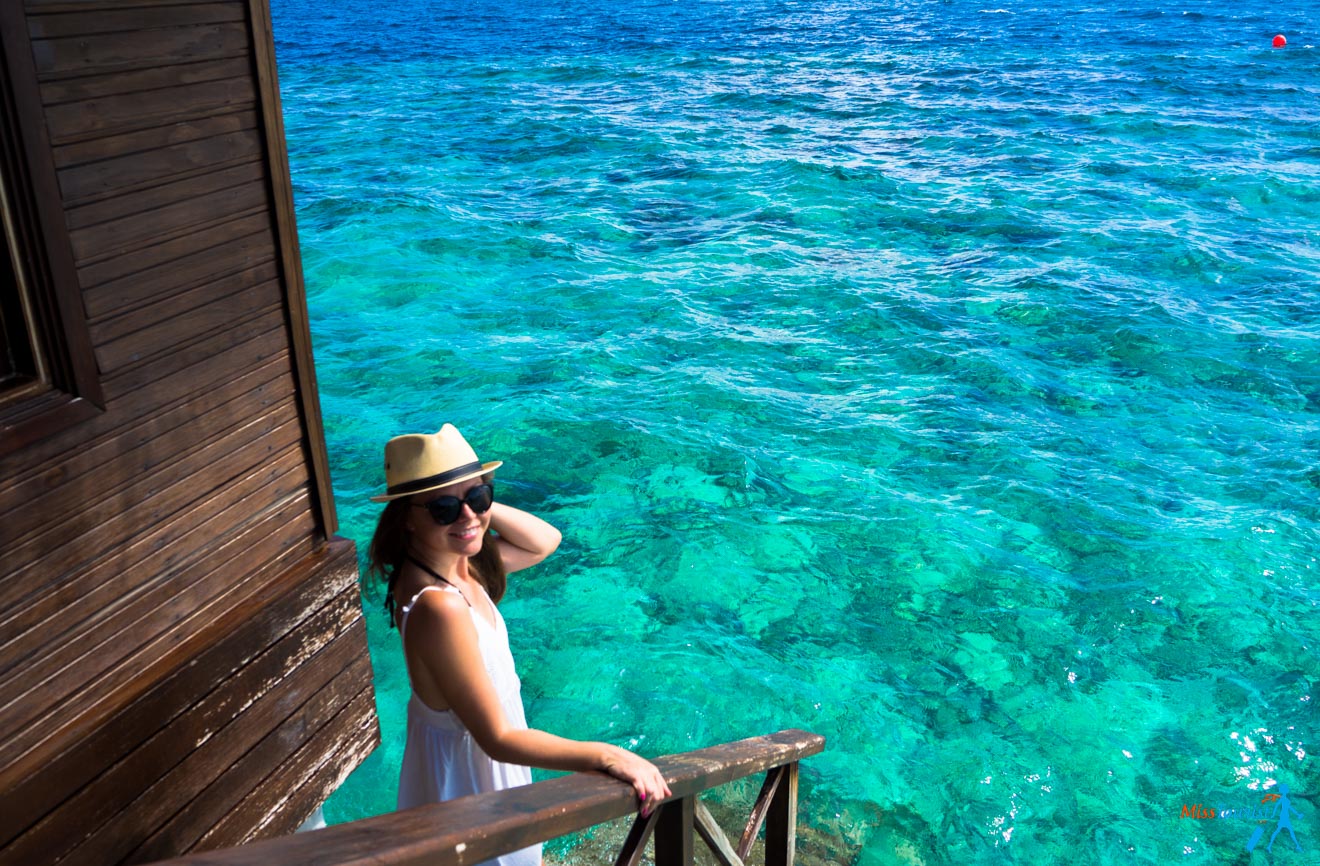 Conclusion:
That being said, you could also try to mix it up a little bit by staying in a couple of different resorts, why not?
Would I like to return to the Maldives? Oh, of course! I loved the laid-back island life so much, I literally cried a little on my last day when the sea plane was picking me up from the last resort.
But I was heading to another exciting adventure – New Zealand – otherwise I would probably hide somewhere behind a bush and never leave Maldives!
Yulia
---
Pin it for later!


Pin it for later!