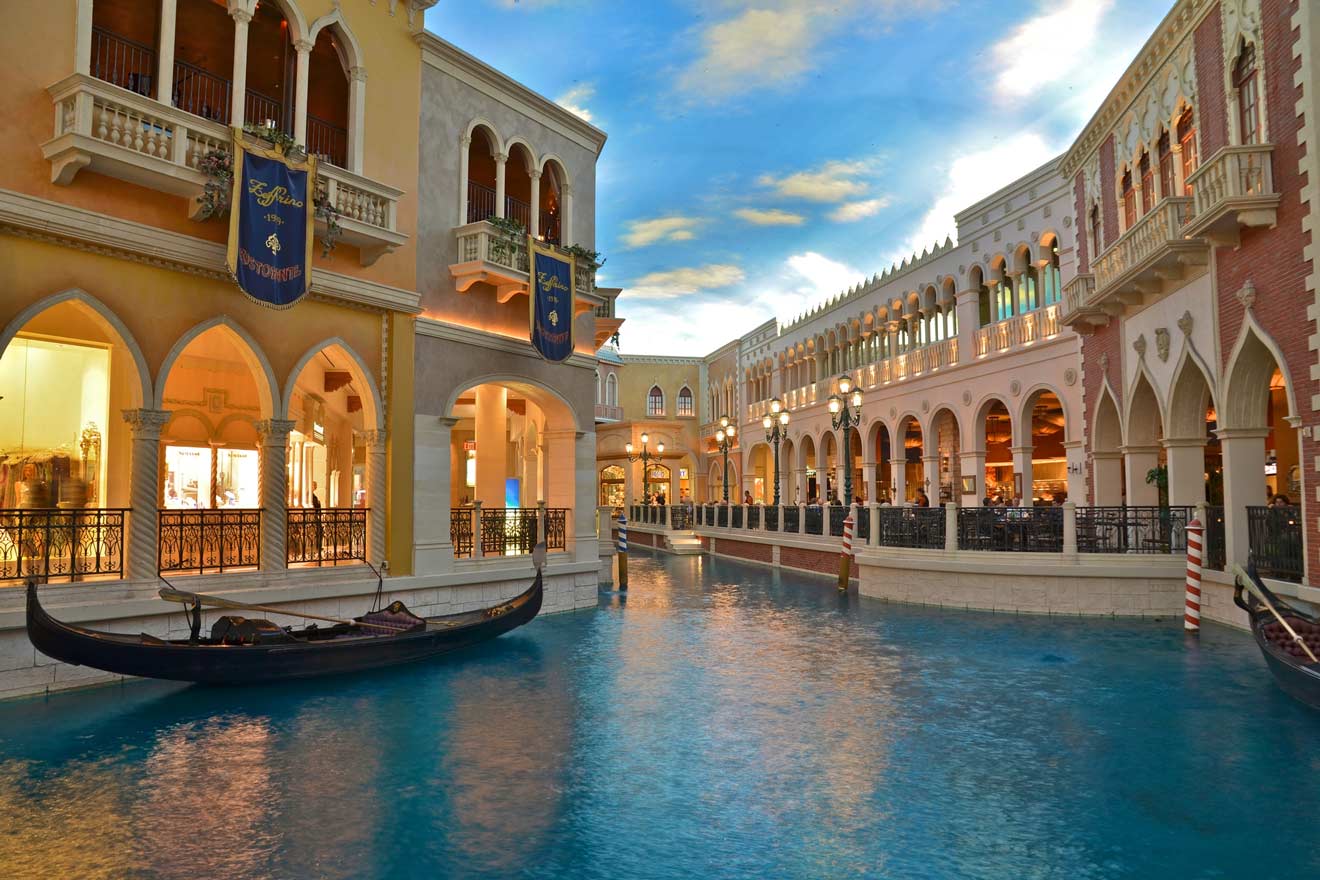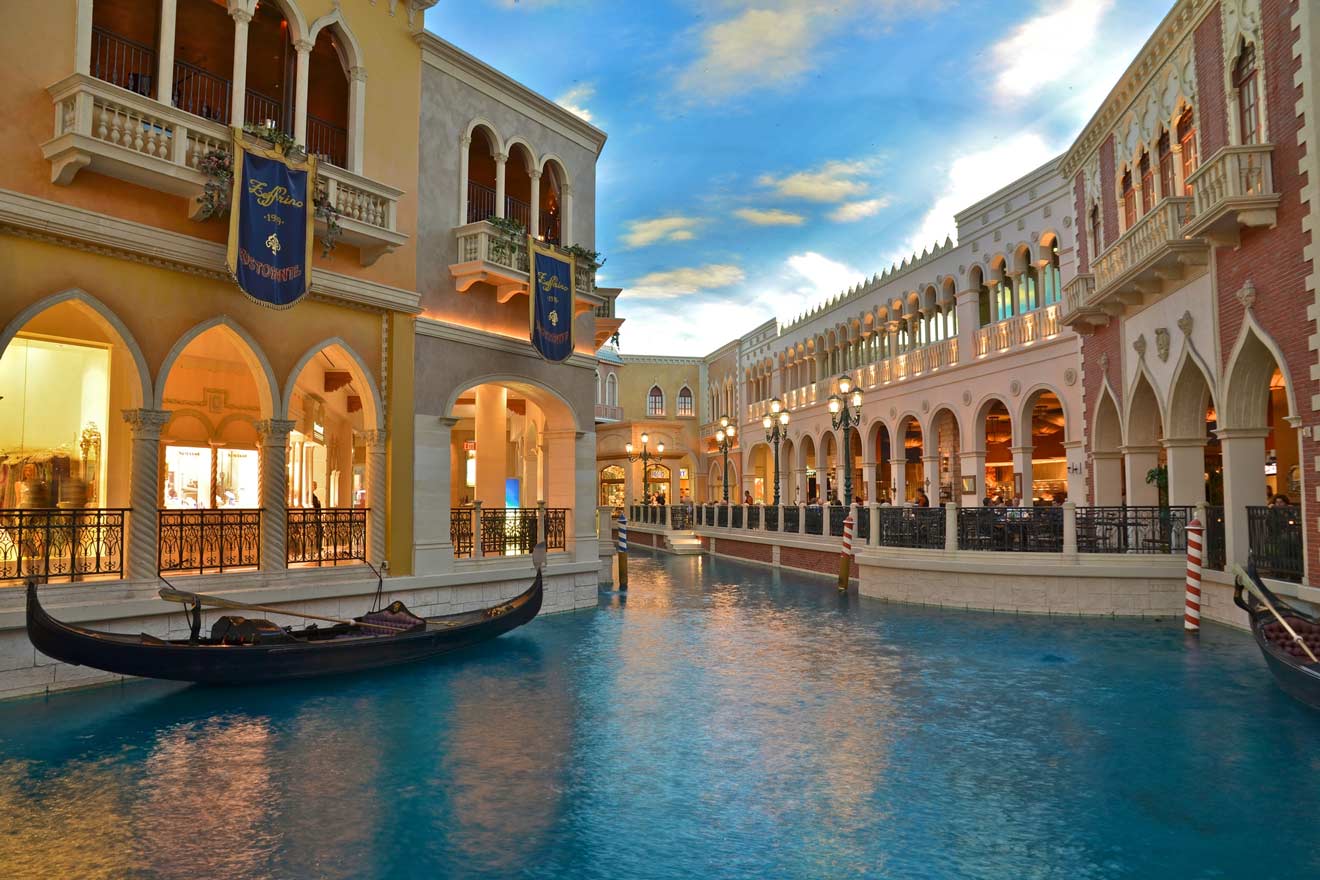 Who said Las Vegas is only for bachelor parties and groups of friends? If you want to have a romantic getaway in full luxury while having access to all the fun of Sin City at the same time, there are many amazing accommodation options for you!
To save you some precious time researching, I grouped here the most romantic hotels in Las Vegas, offering deluxe suites, upscale amenities, world-class restaurants, stylish bars, outdoor pools, etc… Everything you need to spend some quality time with your special one!
Among all the top Vegas Resorts you'll find in this guide, there is for sure the right one for you. But when you find it, make sure you reserve your room at least some months in advance, because they get booked super fast!
NOTE: Prices for hotels in Las Vegas change dramatically daily, depending on what events and shows are on at the time. Most of the hotels in this post are in the luxury category, but if you are flexible with your dates, you could find some great deals because of the variable pricing!
Are you ready to explore them all with me? Let's start!
If you are in a hurry
If you just want to quickly book your accommodation, here's a short list with the BEST Vegas hotels:
Check out this map to see where all the most romantic Vegas hotels are located:
1. The Cosmopolitan Of Las Vegas – the most trendy hotel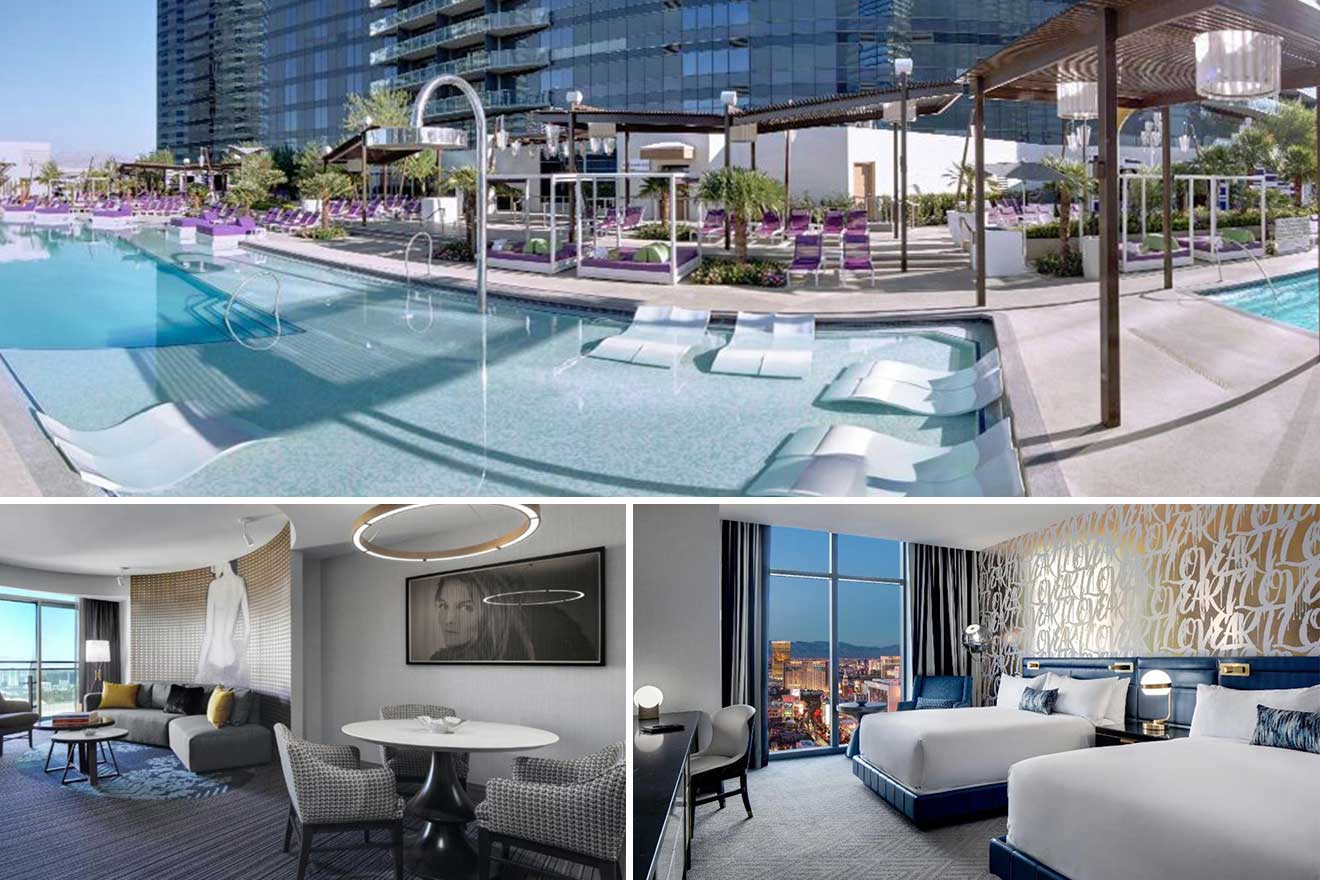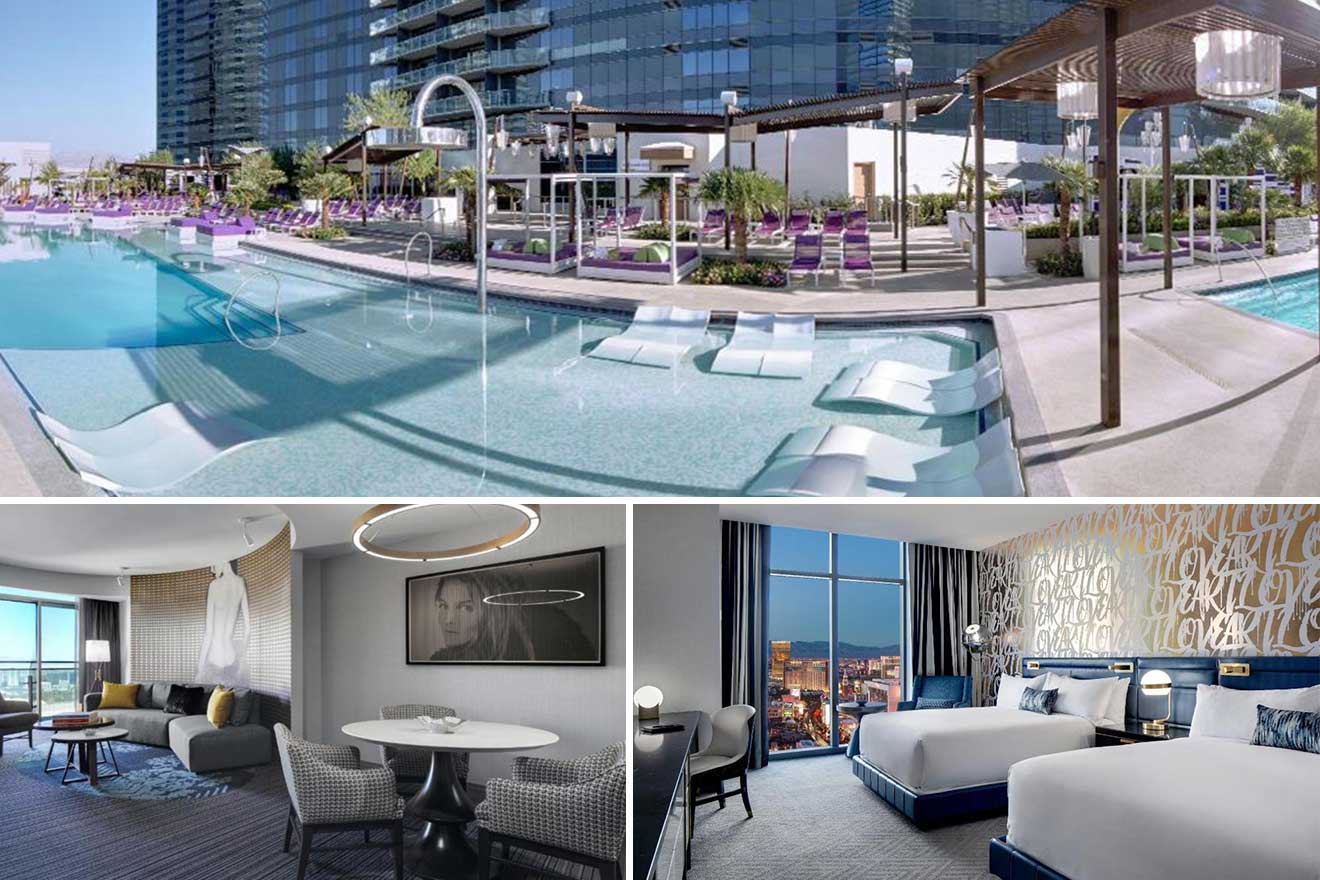 This Romantic hotel is one of the trendiest places on the Las Vegas Strip, located in one of the best areas where to stay in Las Vegas. The property features a modern design, futuristic details, and large guest rooms decorated with designer furnishings and peaceful palette colors creating a sexy and chic vibe.
But apart from amazing suites, here you will have access to many amenities including a luxurious spa where you can get couples' massages, fine dining restaurants for intimate dinners, and many opportunities to have some crazy fun, like a swimming pool hosting seasonal parties, a casino, a night club, a tour desk and much more… check it out!
2. Four Seasons Hotel Las Vegas – for a tranquil getaway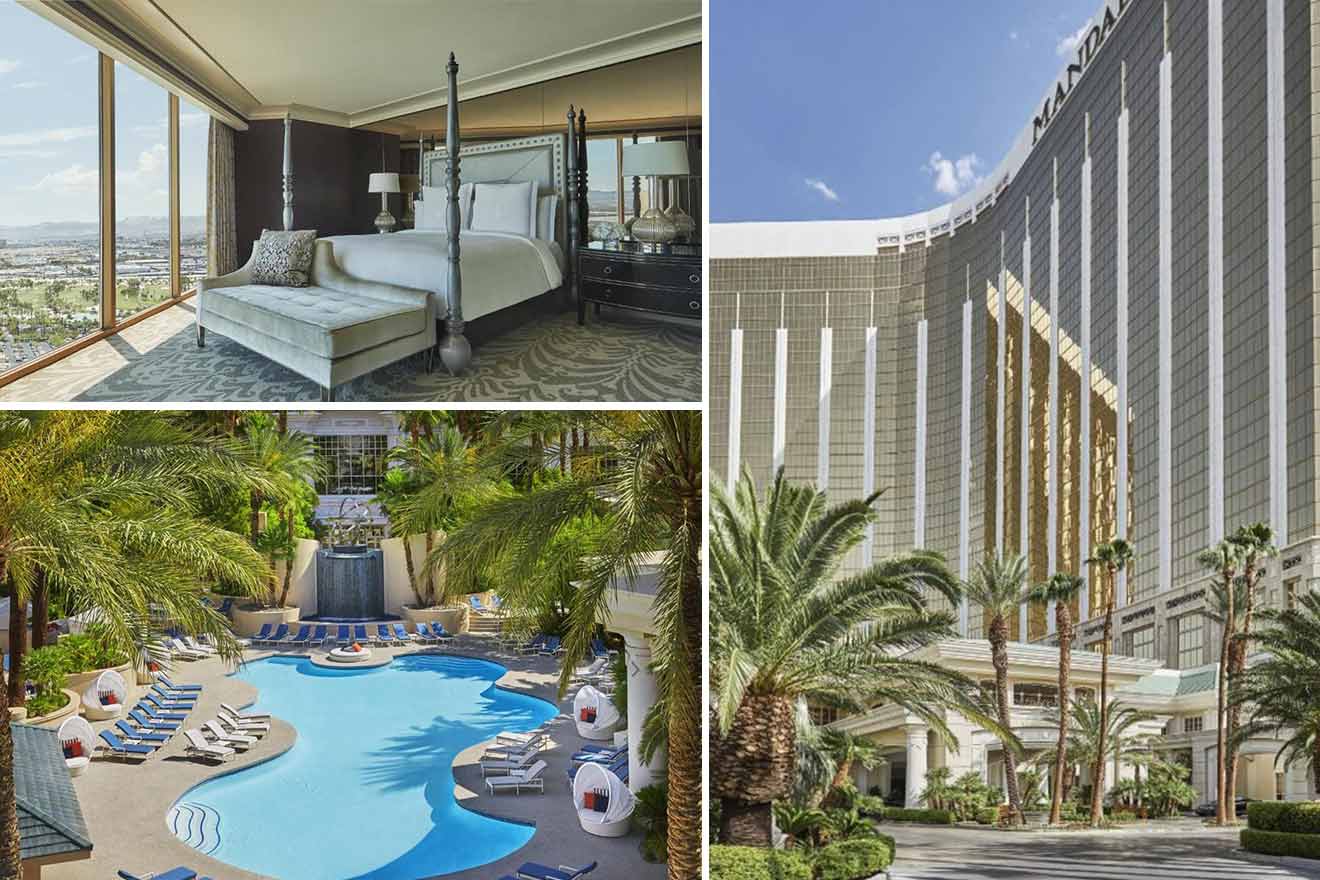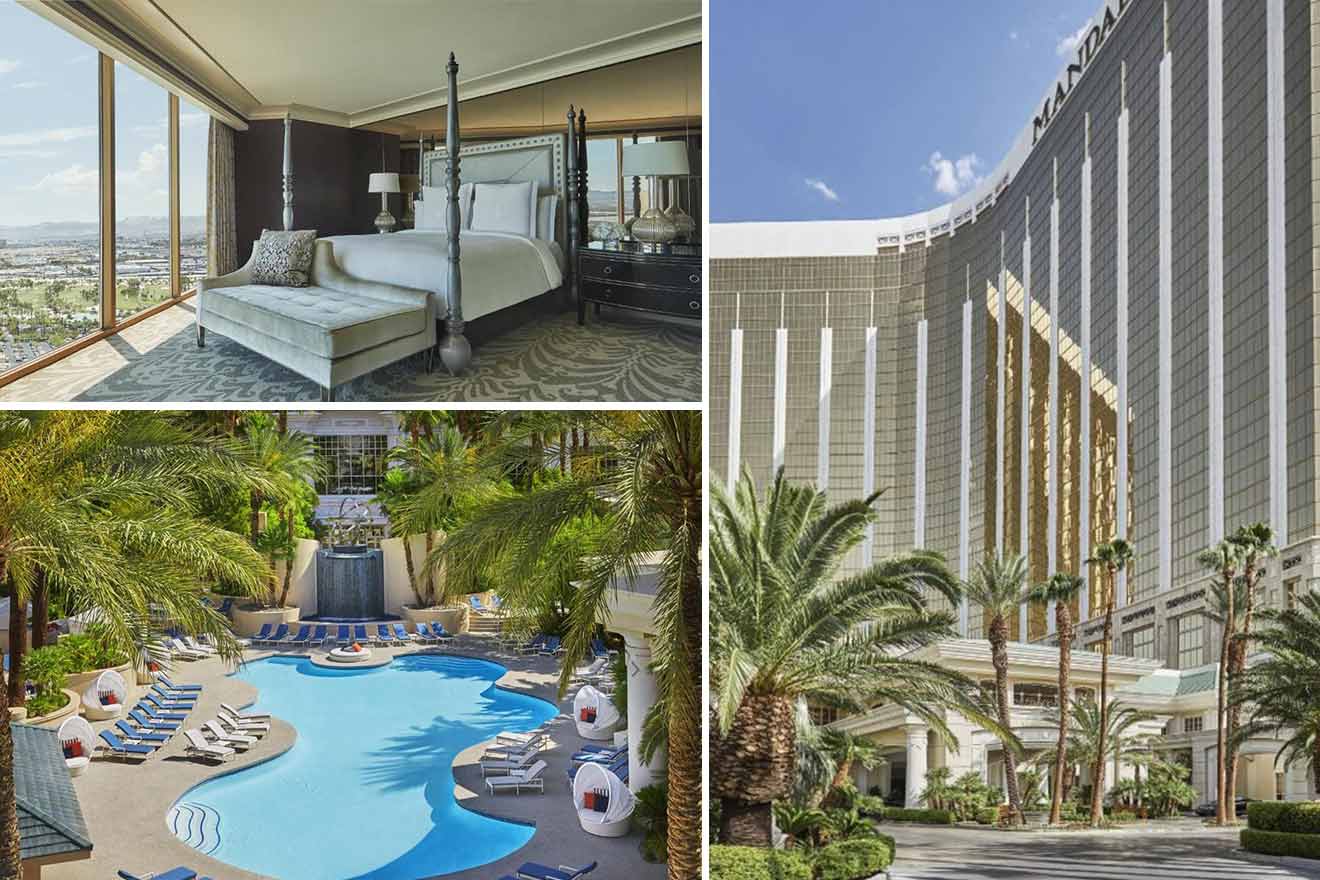 If you just want to spend a quiet and relaxing time with your couple, the Four Seasons Hotel is THE place for your ultimate romantic holiday. This is one of the few Vegas hotels that is non-gaming and doesn't have a casino.
Here you will sleep in elegant and spacious guest rooms featuring signature marble bathrooms, floor-to-ceiling windows, and views of the outdoor pool, relax at the full-service spa and have delicious dinners at the two restaurants on site. And if one night you want to party and/or gamble, you can head to the adjoining Mandalay Bay hotel for all the fun!
3. Wynn Las Vegas – the most upscale hotel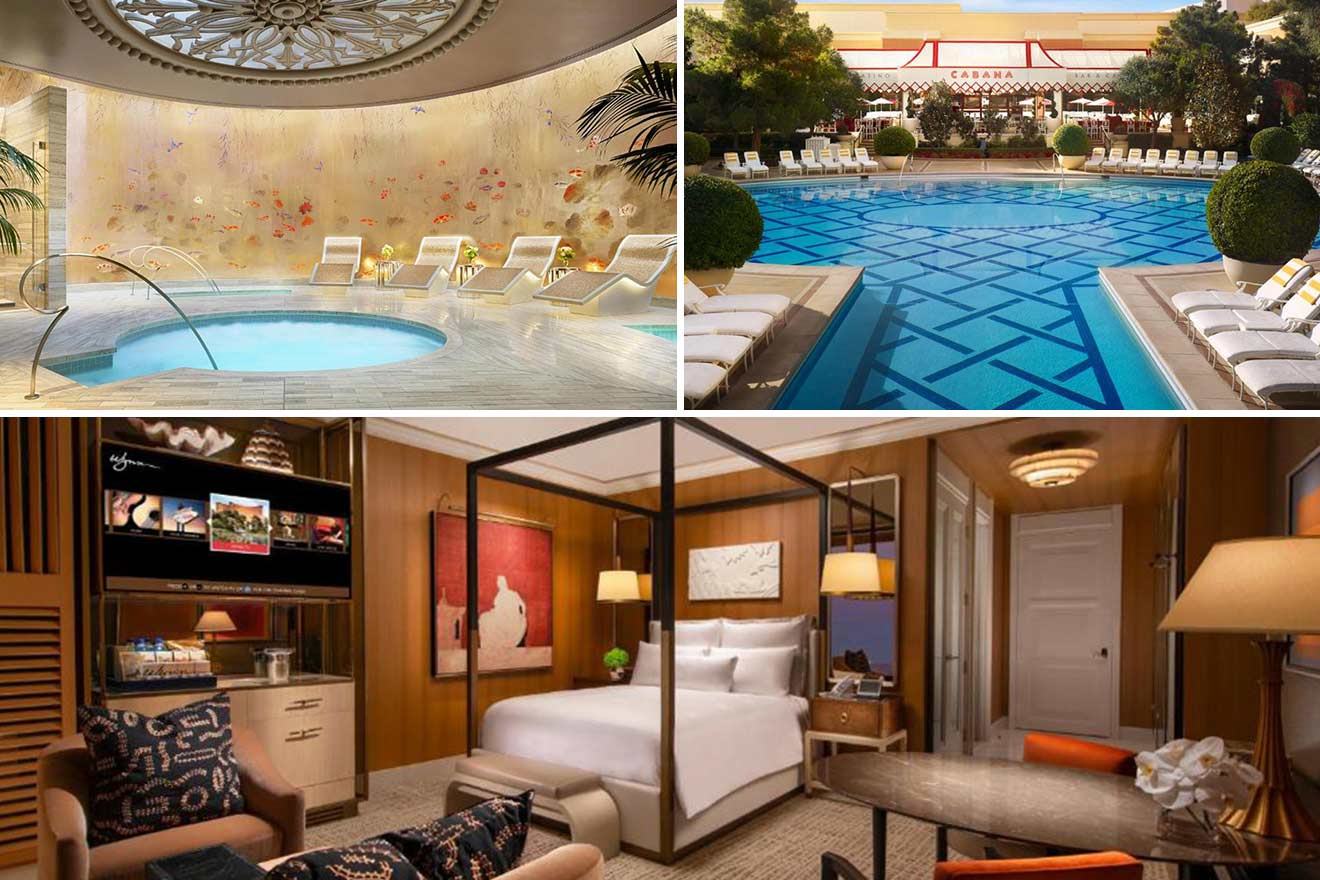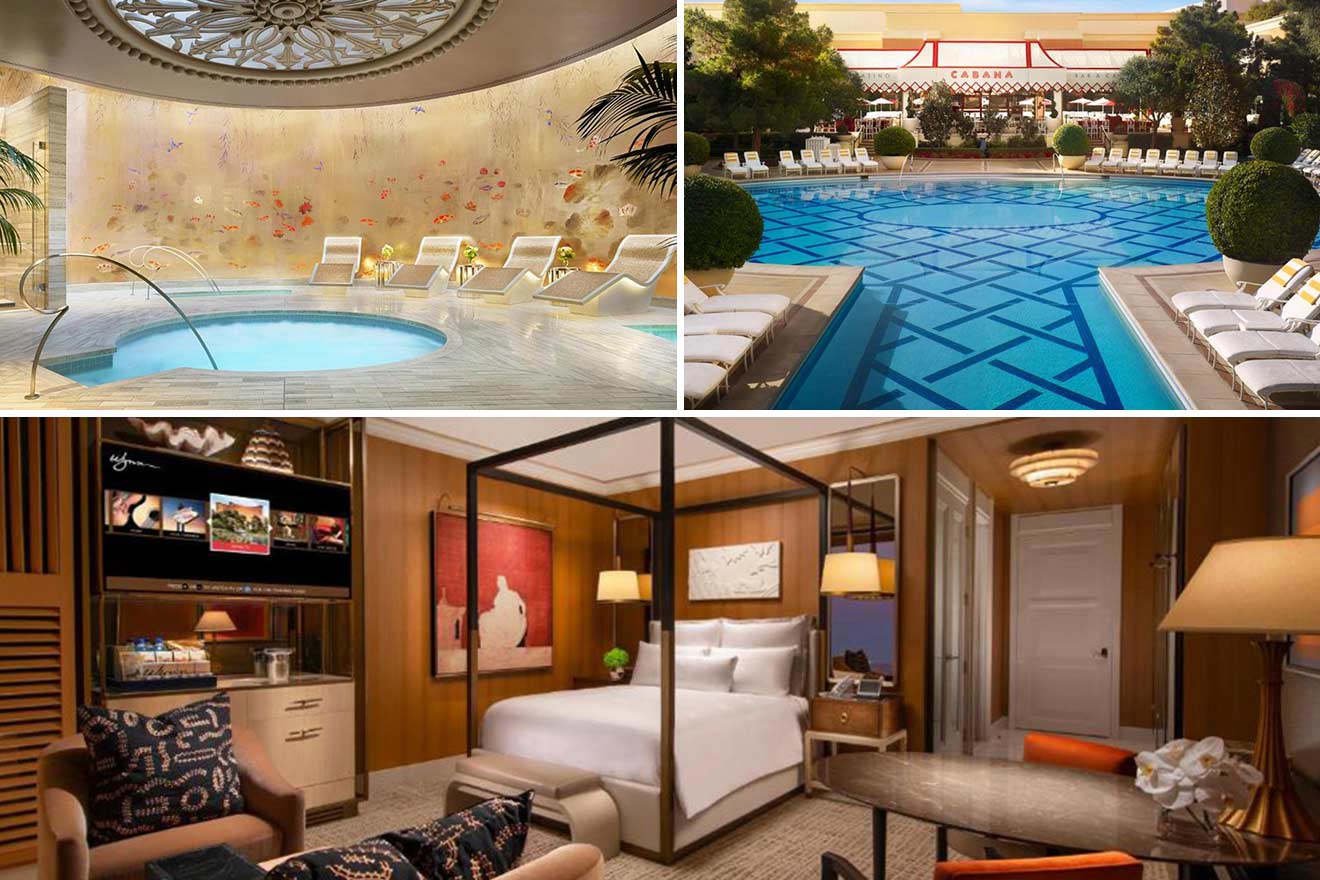 This Las Vegas hotel is perfect if you want to have an exclusive holiday with your special one, offering all the comforts you need for a luxury stay. Here the rooms are just stunning, you'll stay in panoramic tower suites and wake up with some of the best views in the city!
During your day, you'll have plenty of options to enjoy romantic moments: 3 beautiful pools, fine dining options for intimate dinners, and a spa offering a broad range of treatments. And if you want to enjoy some fun activities, there is also a bustling casino, bars and nightclubs, and live music/performances every night… you won't get bored for sure!
4. Encore at Wynn Las Vegas – the most fun resort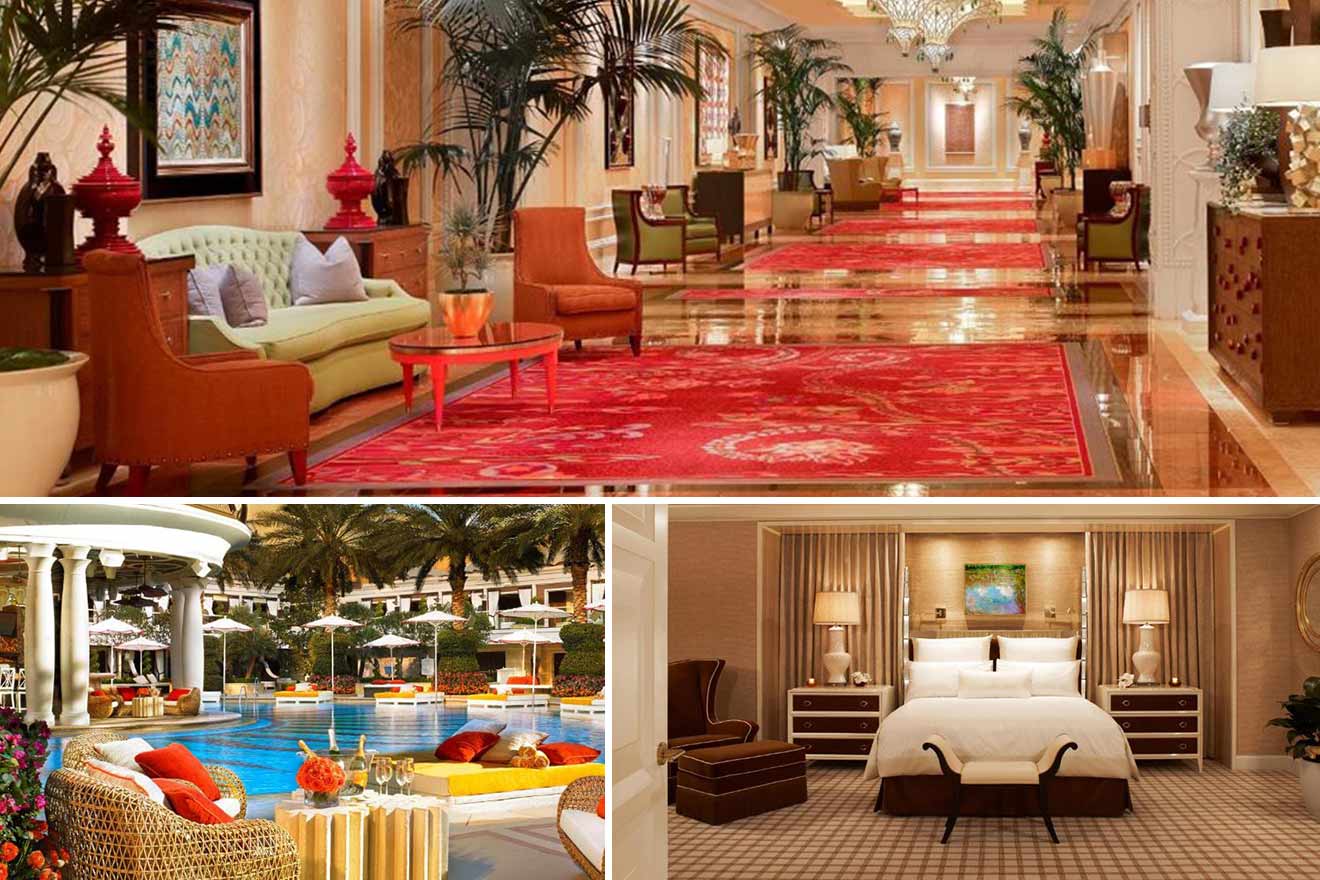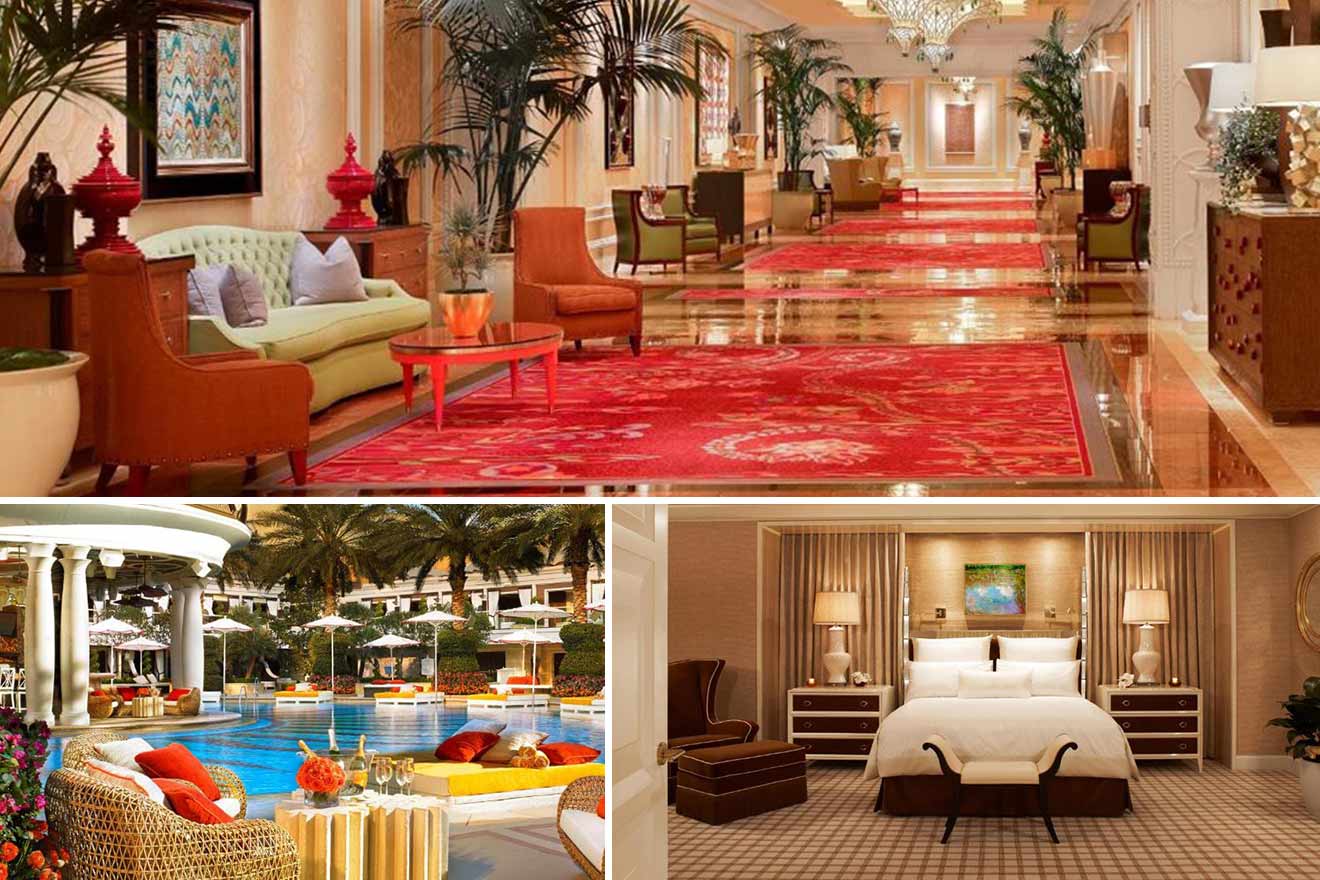 This huge 5-star resort and casino, located on the Las Vegas Strip, is the right option for couples who want to have the right balance of romance and crazy fun! Here you'll sleep in luxury accommodation with marble bathrooms and room service available, have a romantic meal in one of the fine dining options, and relax at the spa.
And when the sun goes down, you can dance the night away at the 2 on-site nightclubs (located by the outdoor pools and cabanas), offering a full bar, live music, events, and entertainment every night of the week!
5. Waldorf Astoria Las Vegas – for full relaxation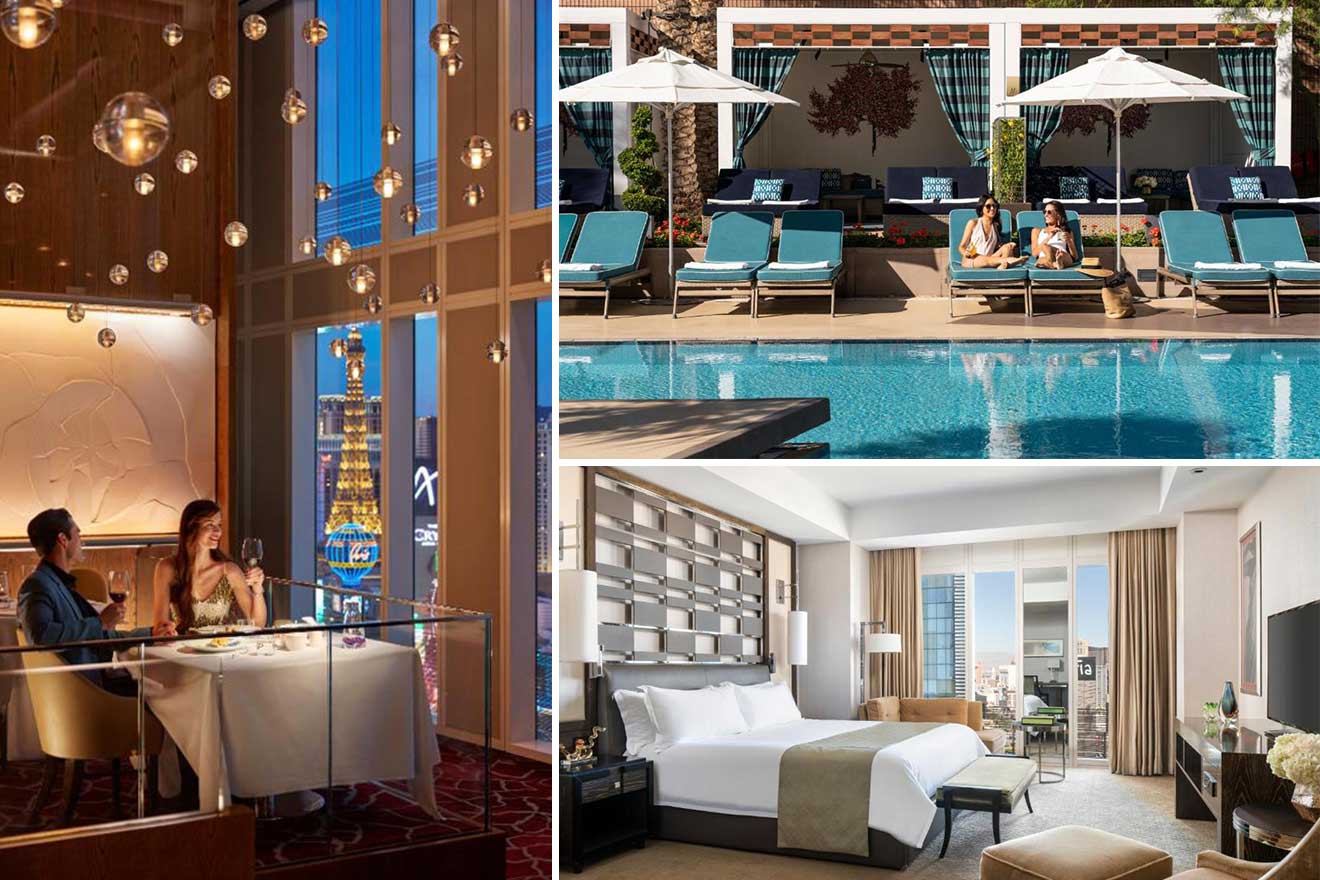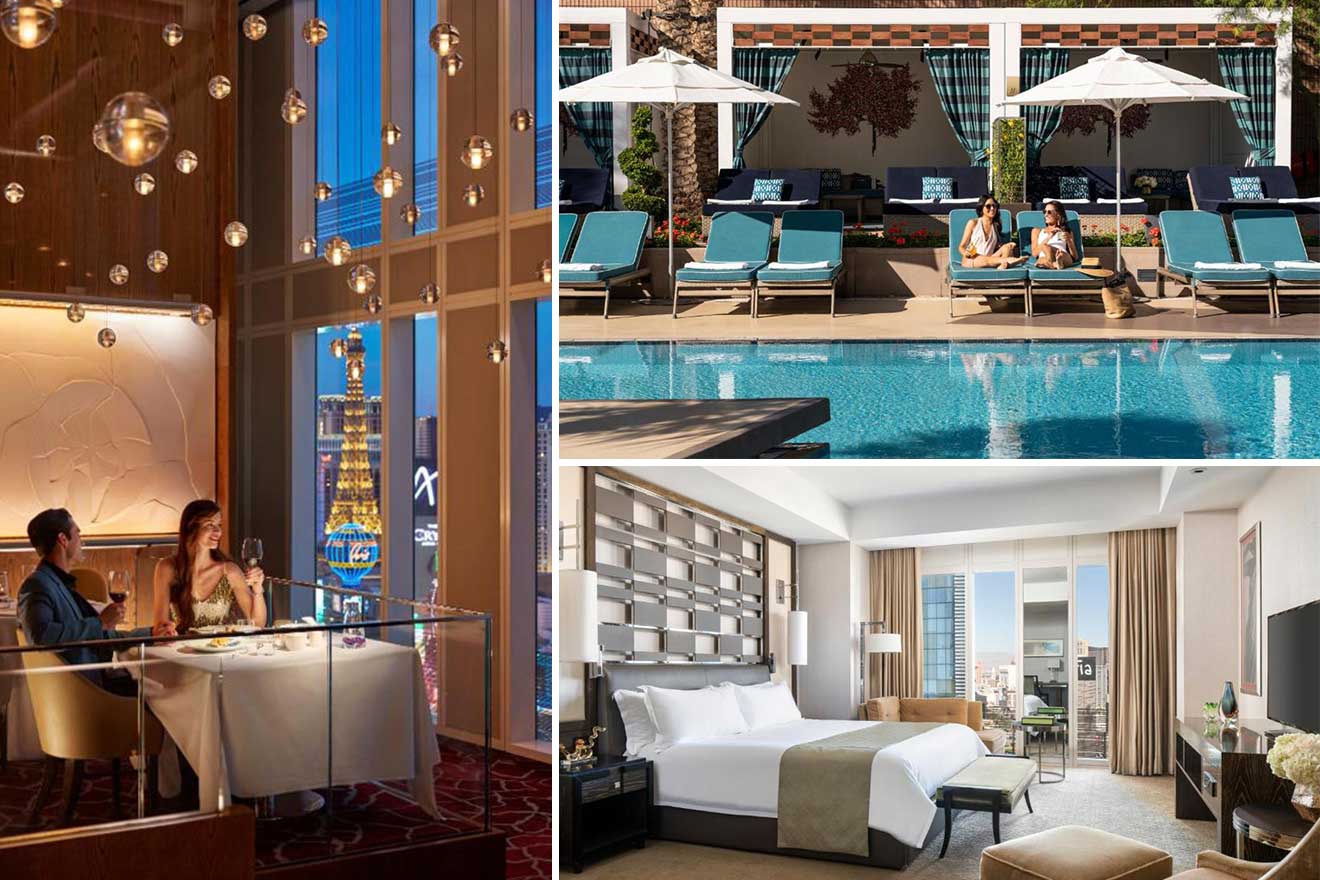 This 5-star romantic hotel has a quiet and laid-back atmosphere, offering everything you need to enjoy some deserved relaxation during your special getaway. Some examples?
Here you will have access to an extensive two-floor spa with 5-star treatments, a yoga room, and various heat and water experiences: 2 lap pools, 2 hot tubs, and 1 plunge pool! The staff is also great and will go over and beyond to make you feel like a king or queen, offering sunglass cleaning or frozen fruit at every hour of the day!
6. The Venetian® Resort Las Vegas – for honeymooners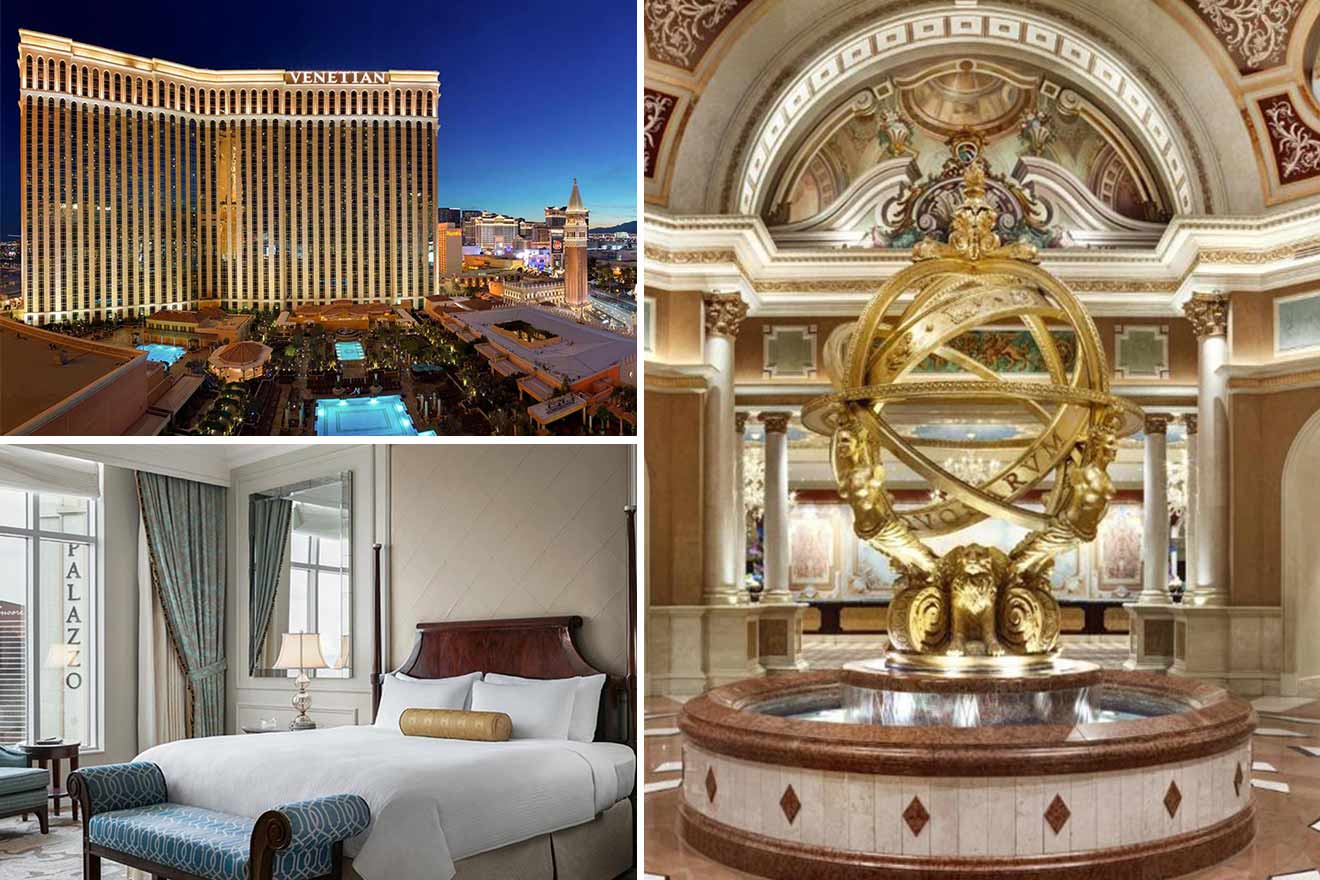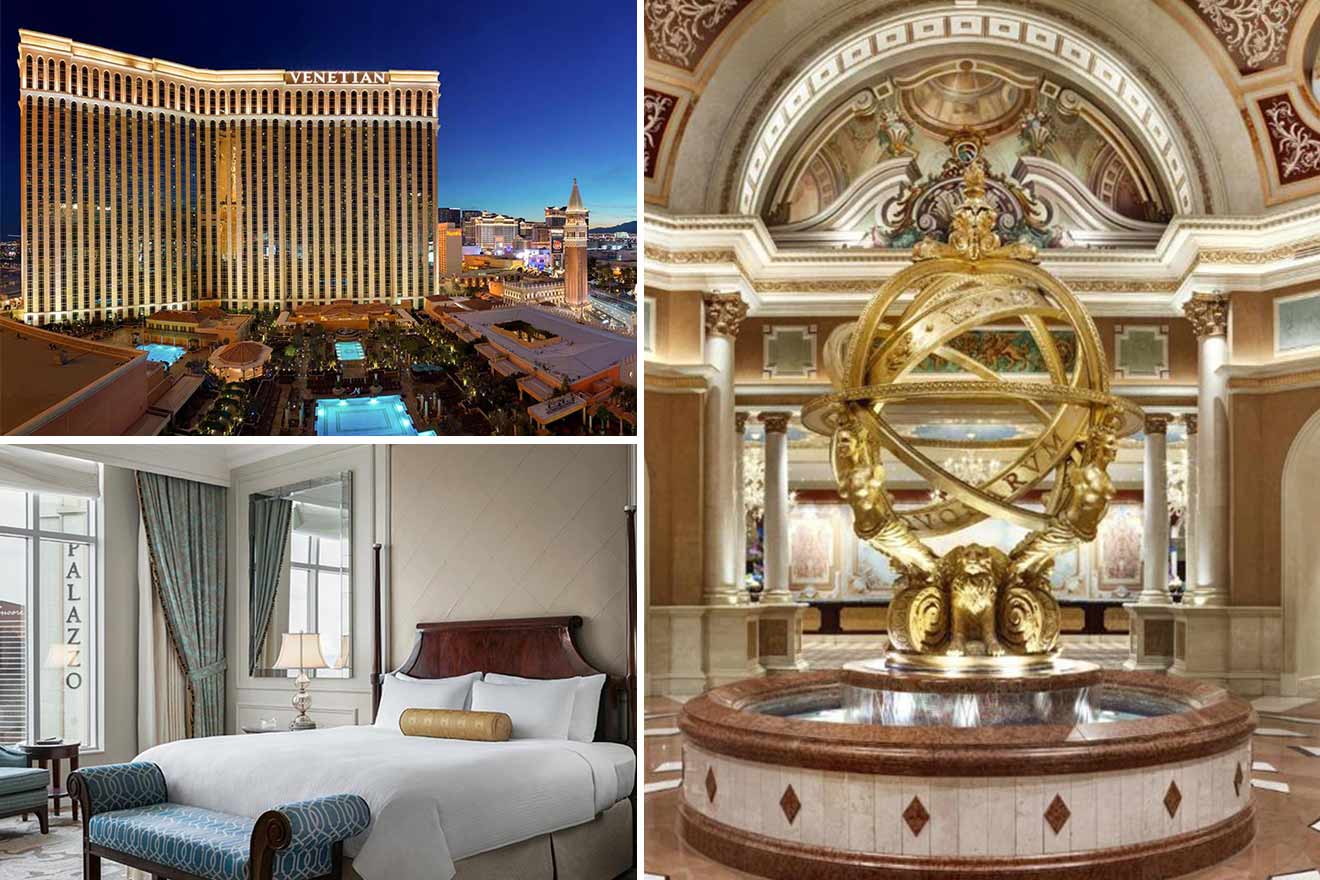 This unique resort is perfect for honeymooners or couples that want to get married in Las Vegas (just like in the movies), hosting weddings upon reservation. Here the luxurious suites are so amazing that you will never want to leave them, with separate living and sleeping areas, and huge bathrooms with hot tubs.
The hotel is based on the world's most romantic cities, so you can take a romantic gondola ride through replicas of the Rialto Bridge, Piazza San Marco etc., or simply enjoy some well deserved relaxation at the Canyon Ranch Spa, offering massages, wellness packages, a steam room and more!
PS: If this hotel is booked out or you want to see other accommodation options for your honeymoon, check out this post about the best honeymoon suites in Las Vegas!
7. The Palazzo at The Venetian Resort – the best rooms in LV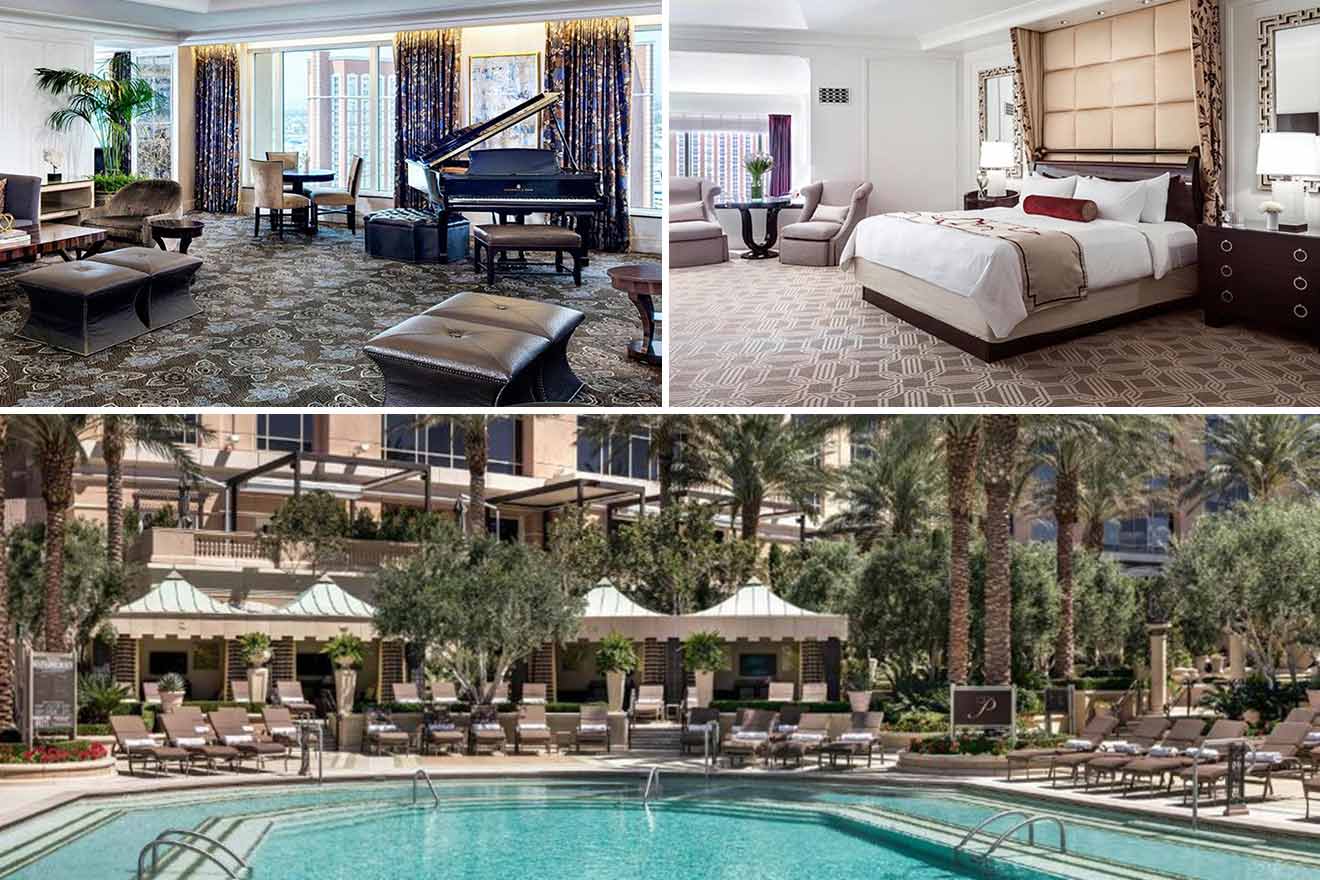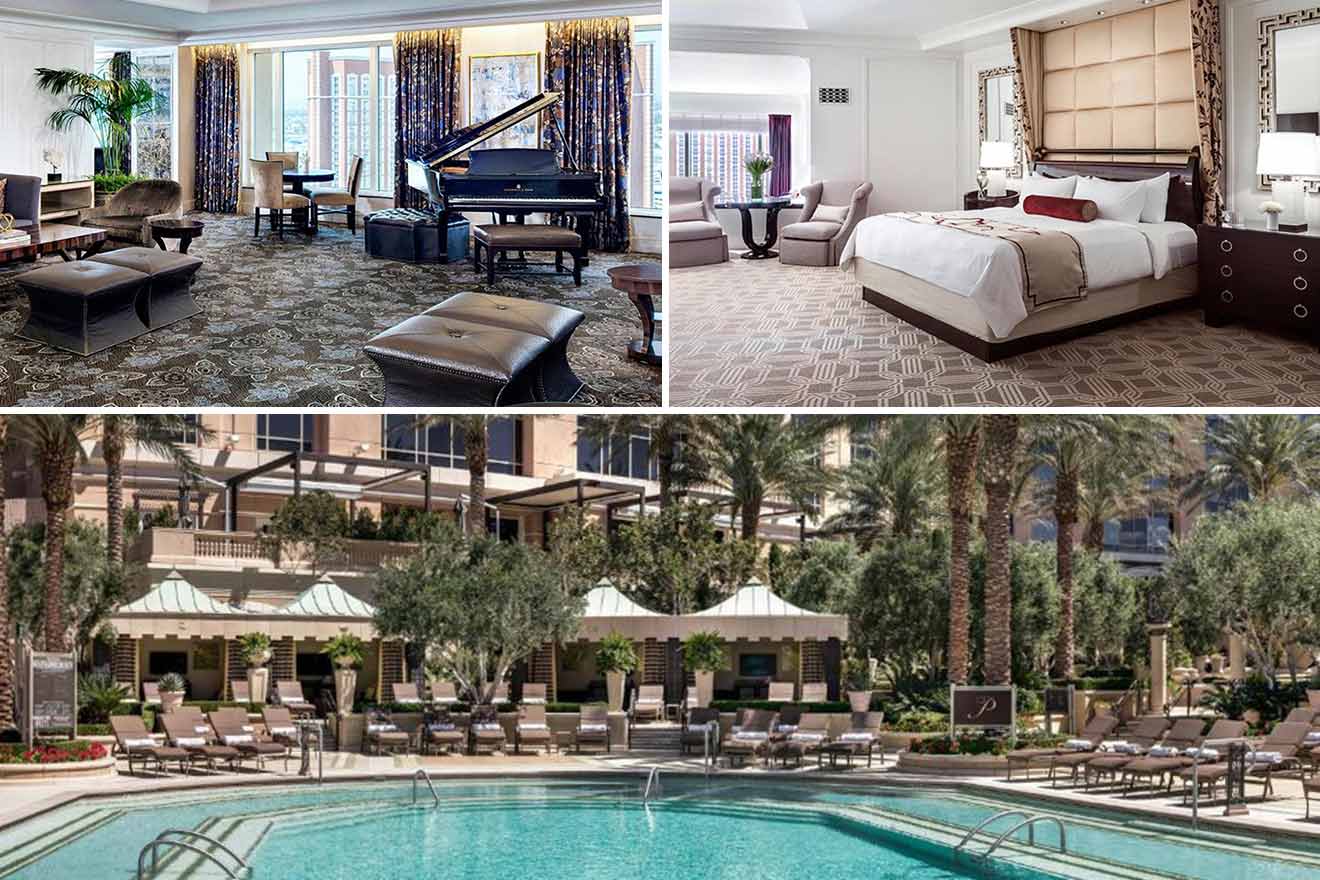 This huge and majestic hotel, the sister of the Venetian Resort, offers the biggest and most stunning guest rooms in all of Las Vegas, featuring huge bathrooms with soaking tubs, sunken living room with velour couches, a dining table and floor-to-ceiling windows… they will leave you speechless!
Staying here means that you'll have access to room service and concierge services, the Palazzo pool deck overlooking the Strip, a state-of-the-art casino, and not one but 15 restaurants serving any kind of cuisine. They are all delicious, so you can have dinner in a different one every night of your stay!
8. Red Rock Casino Resort – closest hotel to Nevada Desert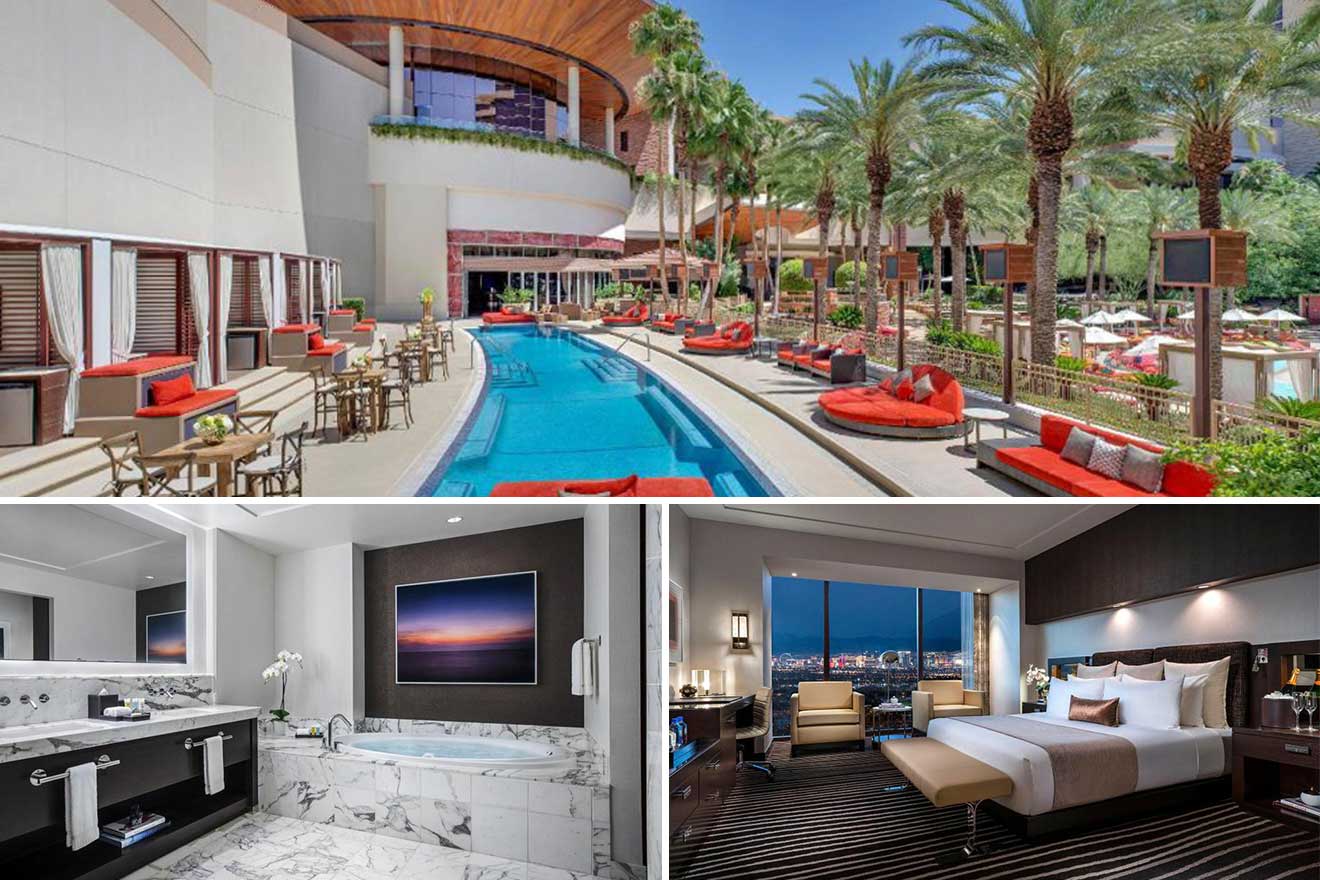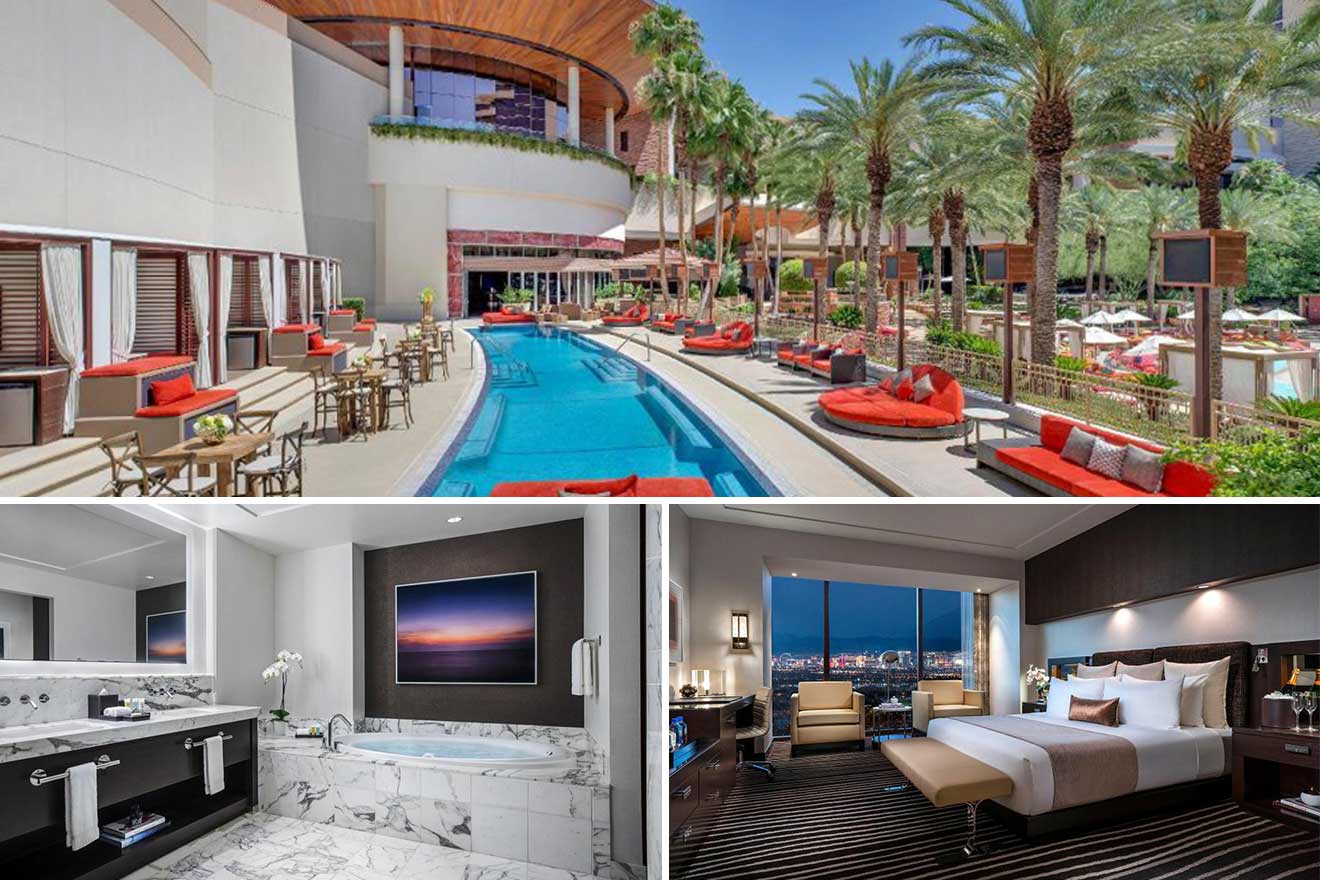 This upscale spa resort is the closest accommodation in Las Vegas to the Red Rock Canyon National Park, perfect if you want to have easy access to the hiking trails, rock climbing, mountain biking, and stunning natural sceneries of this incredible park.
The property combines luxury with desert charm and offers many amenities for a holiday full of comforts, like a relaxing spa, an outdoor pool, and a stylish casino. Rooms are also great, you can choose from regular rooms, suites, or villas, and they all feature contemporary designs, marble bathrooms, room service, and breathtaking views… What else do you need?
9. The Signature at MGM Grand – the best activities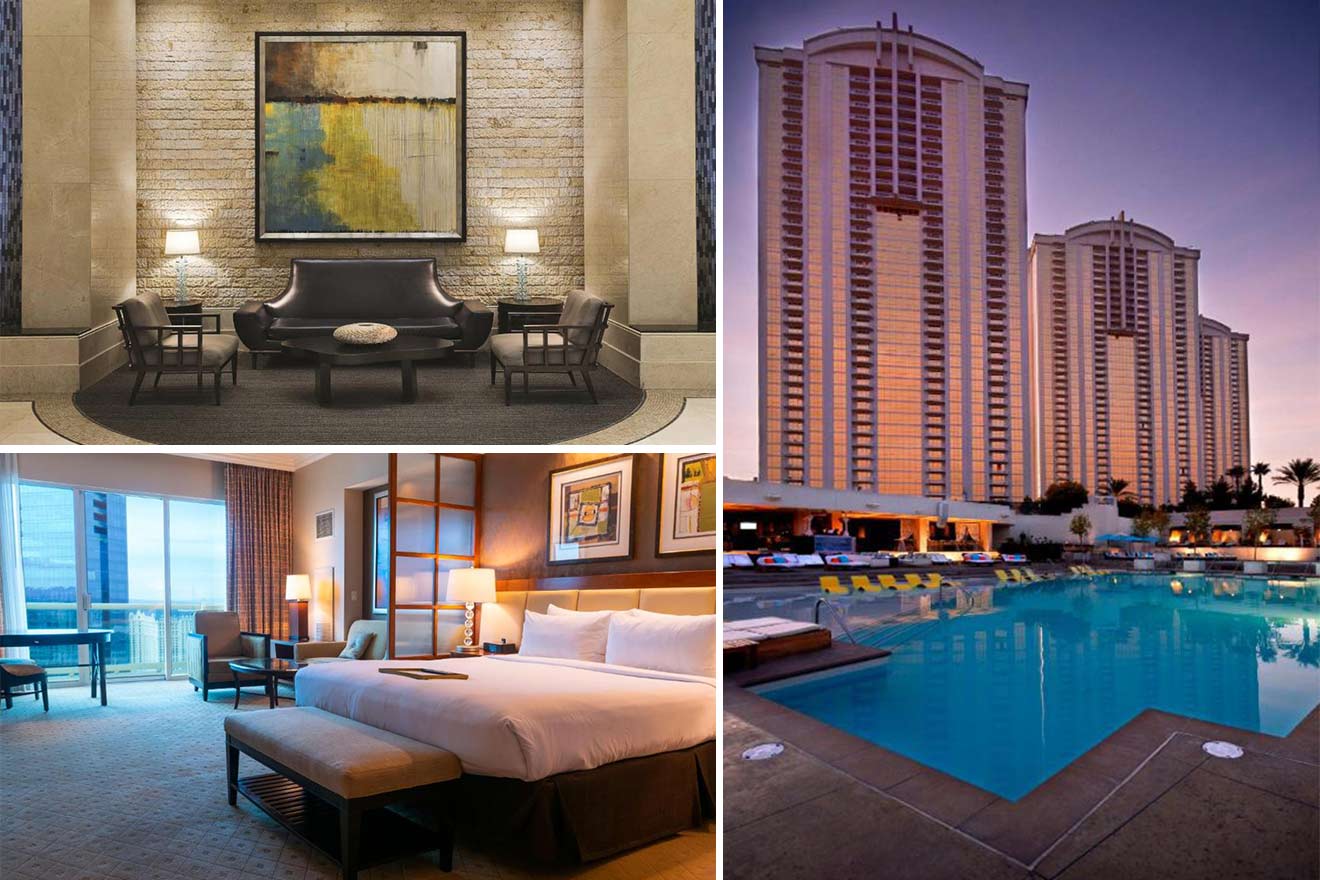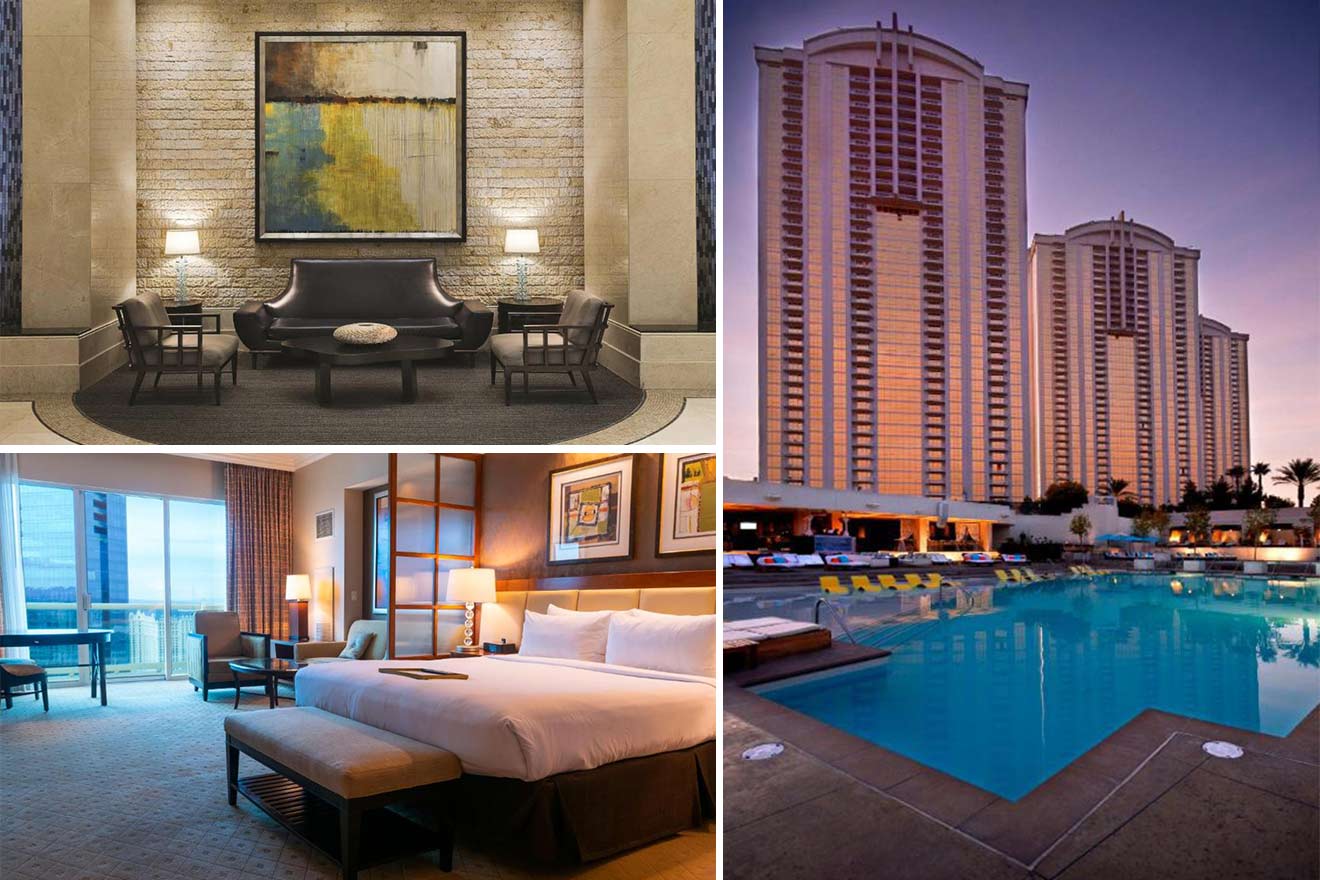 The Signature at MGM Grand is the best hotel in Las Vegas if you want to enjoy many fun activities with your couple, but it still preserves a laid-back atmosphere so it creates a perfect balance between fun and relaxation.
In fact, the hotel is connected to the MGM Grand Tower, so you'll have access to countless cool amenities like world-class restaurants, the Grand Spa (with jetted tubs), a big fitness center, the Hakkasan nightclub to dance the night away, and the Cirque du Soleil's Kà for amazing shows and events!
10. ARIA Resort & Casino – the most elegant property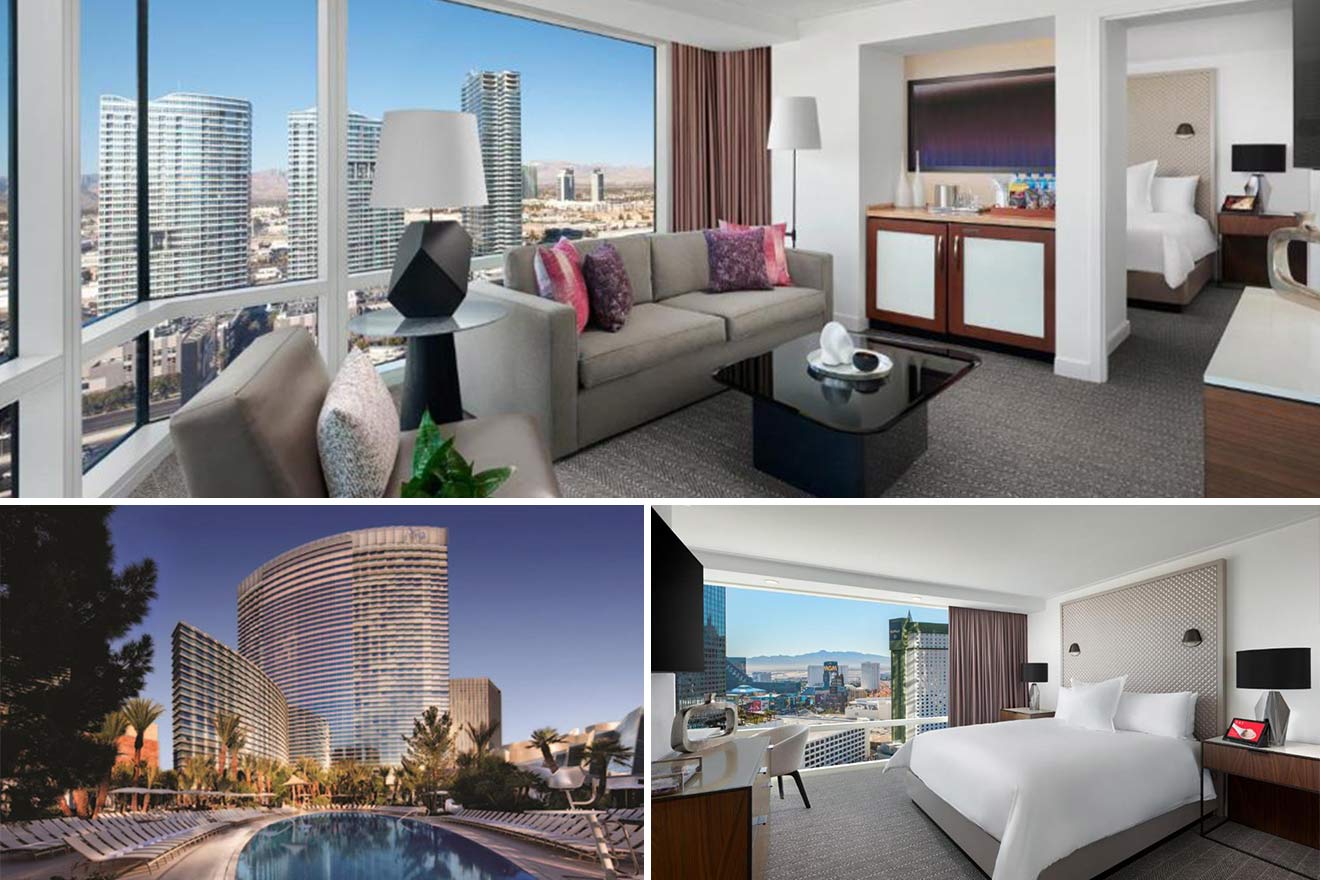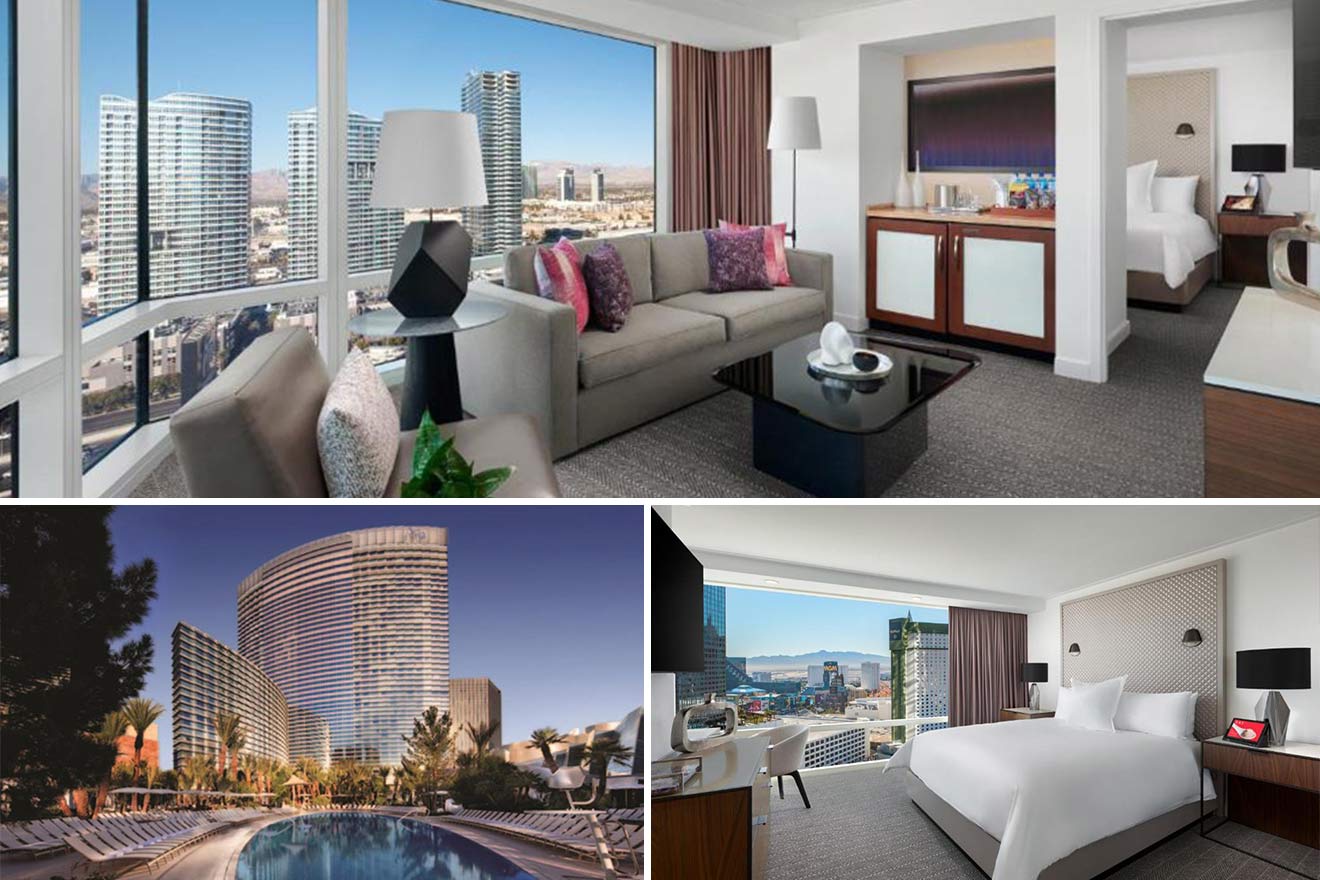 This boutique hotel is one of the most elegant properties in Las Vegas, offering a wide selection of accommodations, and they're all great: deluxe rooms, sky suites with a hot jacuzzi, tower suites, and pet-friendly rooms… you are spoiled of choice here!
But don't get me wrong, the rest of the property is just as good as the rooms, offering access to three beautiful swimming pools, a fitness center, the adults-only LIQUID Pool Lounge, top-notch restaurants serving global cuisines, a 24/7 casino where you can go gambling all night, and incredible spa offering relaxing massage!
11. Palms Casino Resort – the best value for money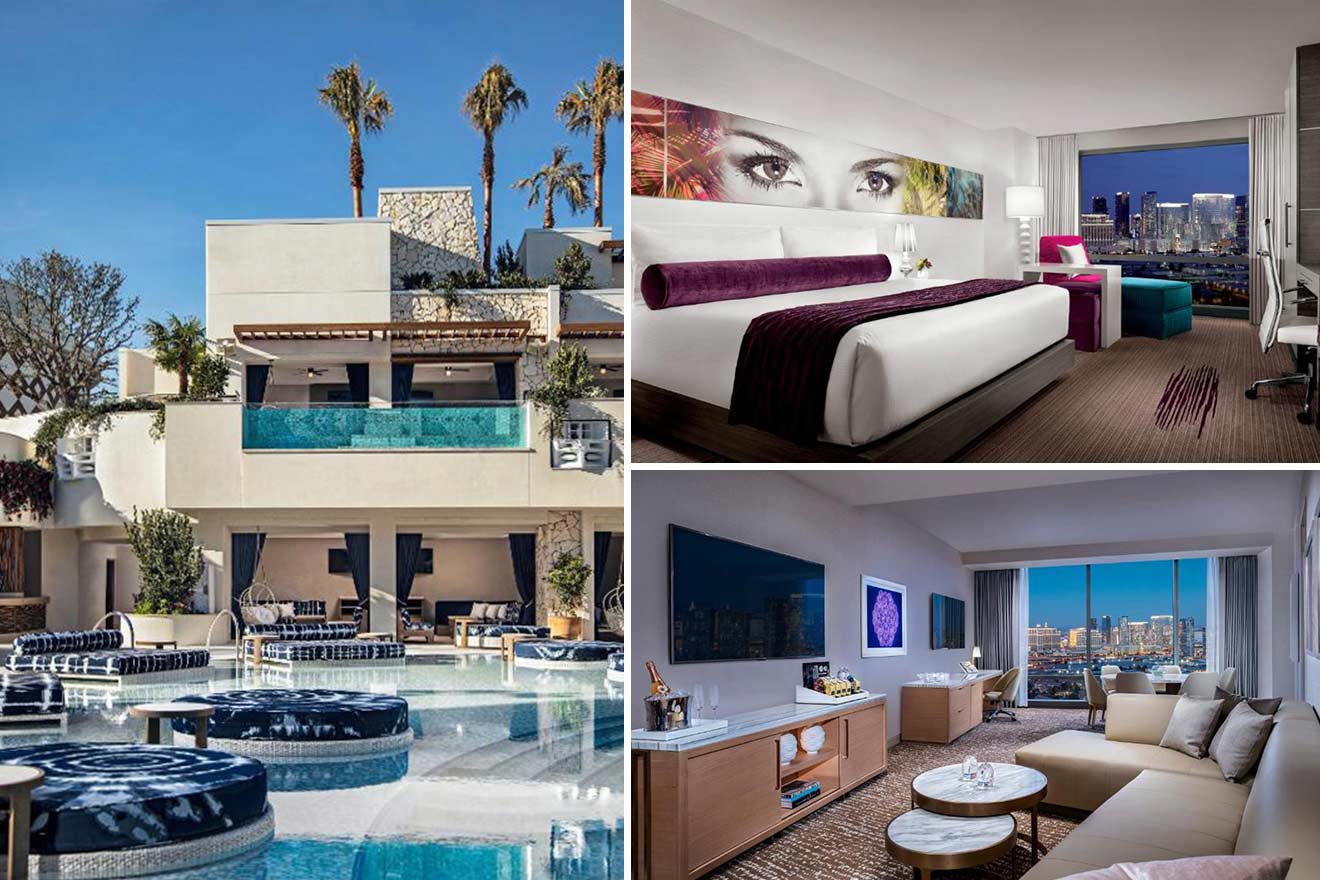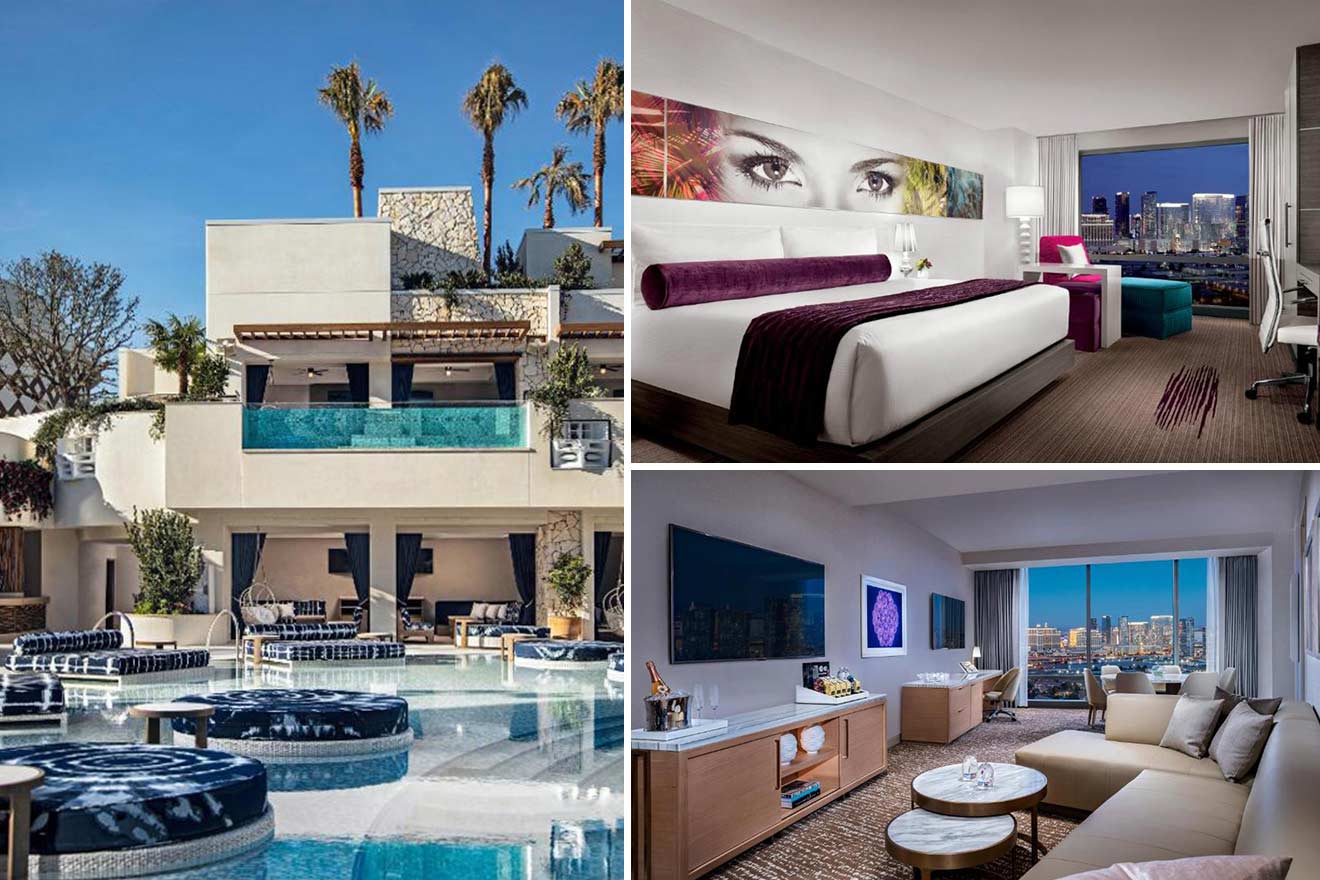 If you want to enjoy modern luxury at a lower price, this boutique hotel is for you. If you are flexible with your dates, you can stay in amazing rooms for just $70 a night… How great is that?
Being located off from the hustle and bustle of the Las Vegas Strip (precisely 1.2 away), this hotel offers quiet vibes but easy access to all the gambling, cool parties, and shopping at the same time, so you can easily pass from tranquility to crazy fun in the blink of an eye! And the hotel itself is very cool, featuring one-of-a-kind artworks made by globally famous artists throughout the whole property!
12. Bellagio – for the ultimate Las Vegas experience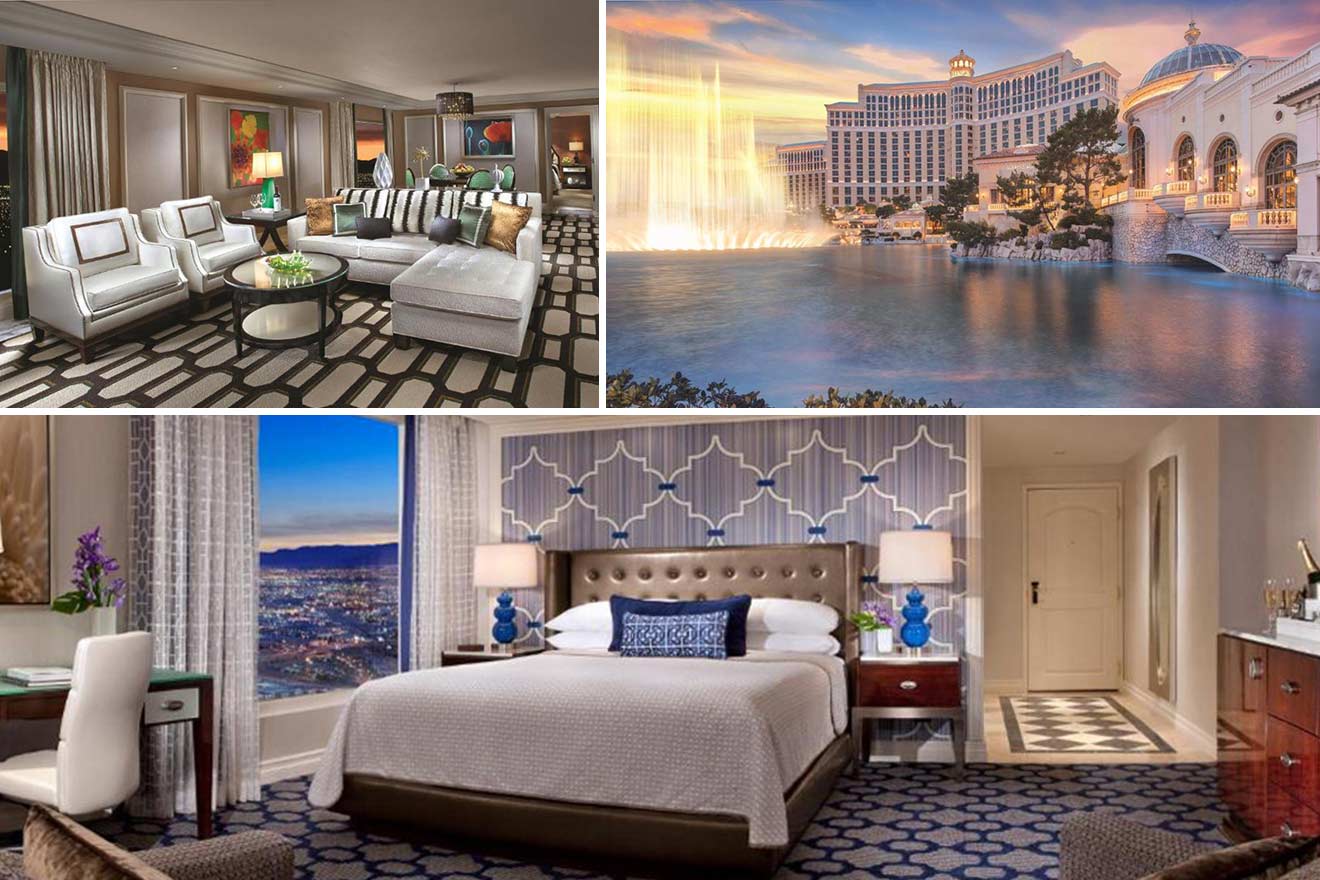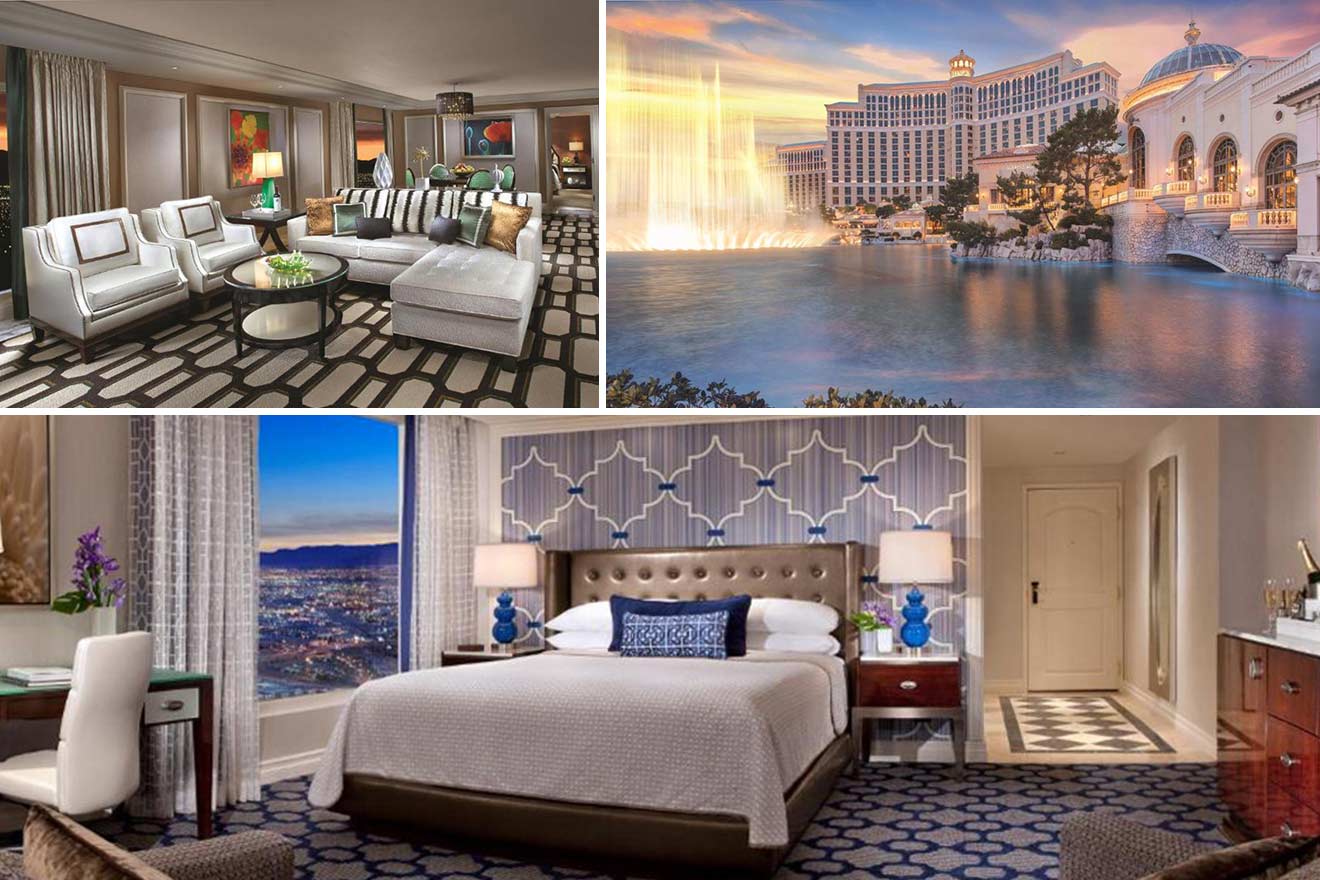 This unique hotel, resembling a luxury Italian "villa", is the embodiment of Las Vegas… I mean, who doesn't think about the Bellagio fountains when thinking about Sin City?
But apart from one of the most famous fountains in the world, this property offers an elaborate Italian-themed courtyard, five swimming pools, elaborate sculptures, and sophisticated rooms. Whether you choose a penthouse suite or fountain view room, you will enjoy marble bathrooms with separate glass showers and soaking tubs, a stocked mini-bar, food delivery, and in-room massages… you won't be disappointed!
FAQs about Romantic hotels in Las Vegas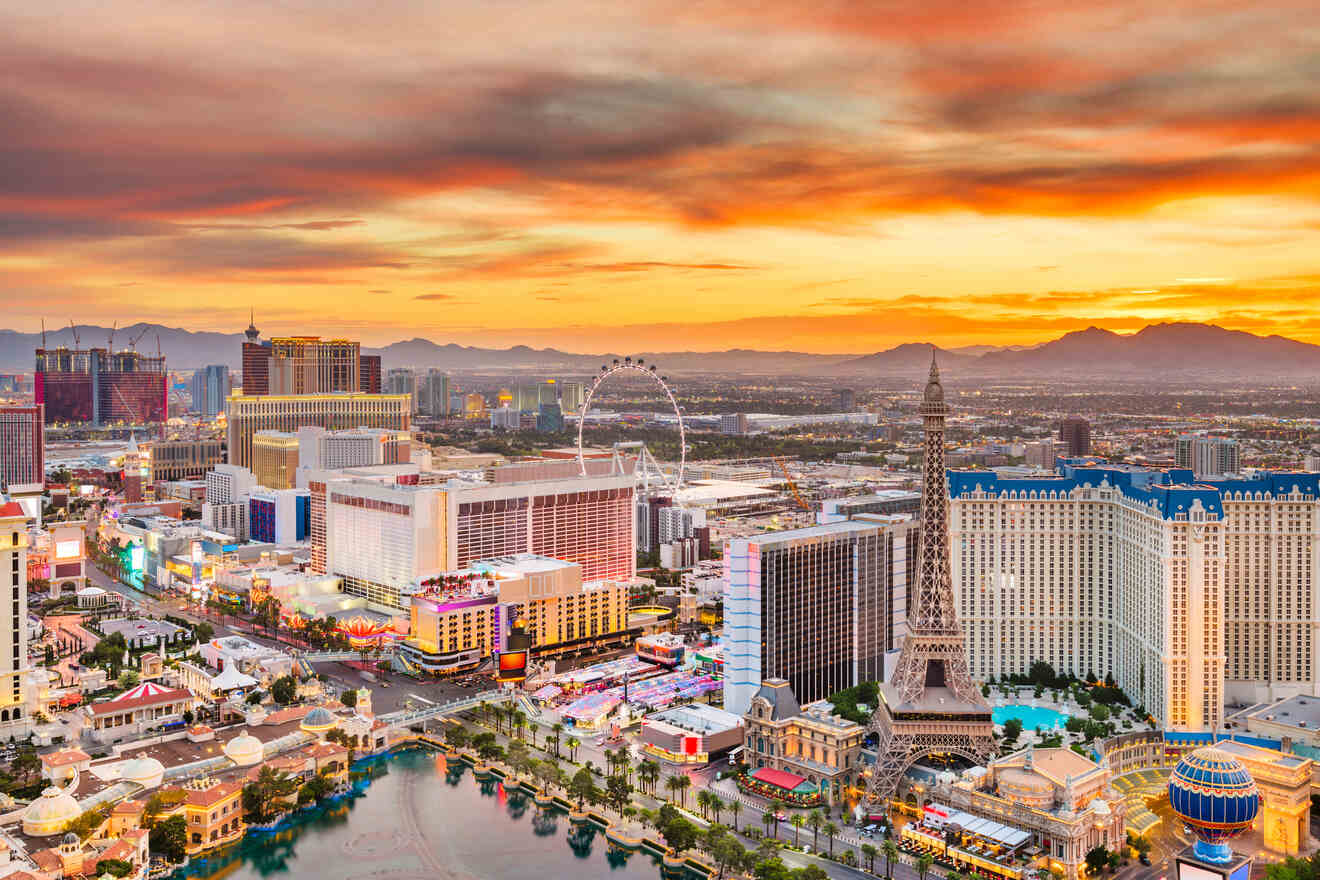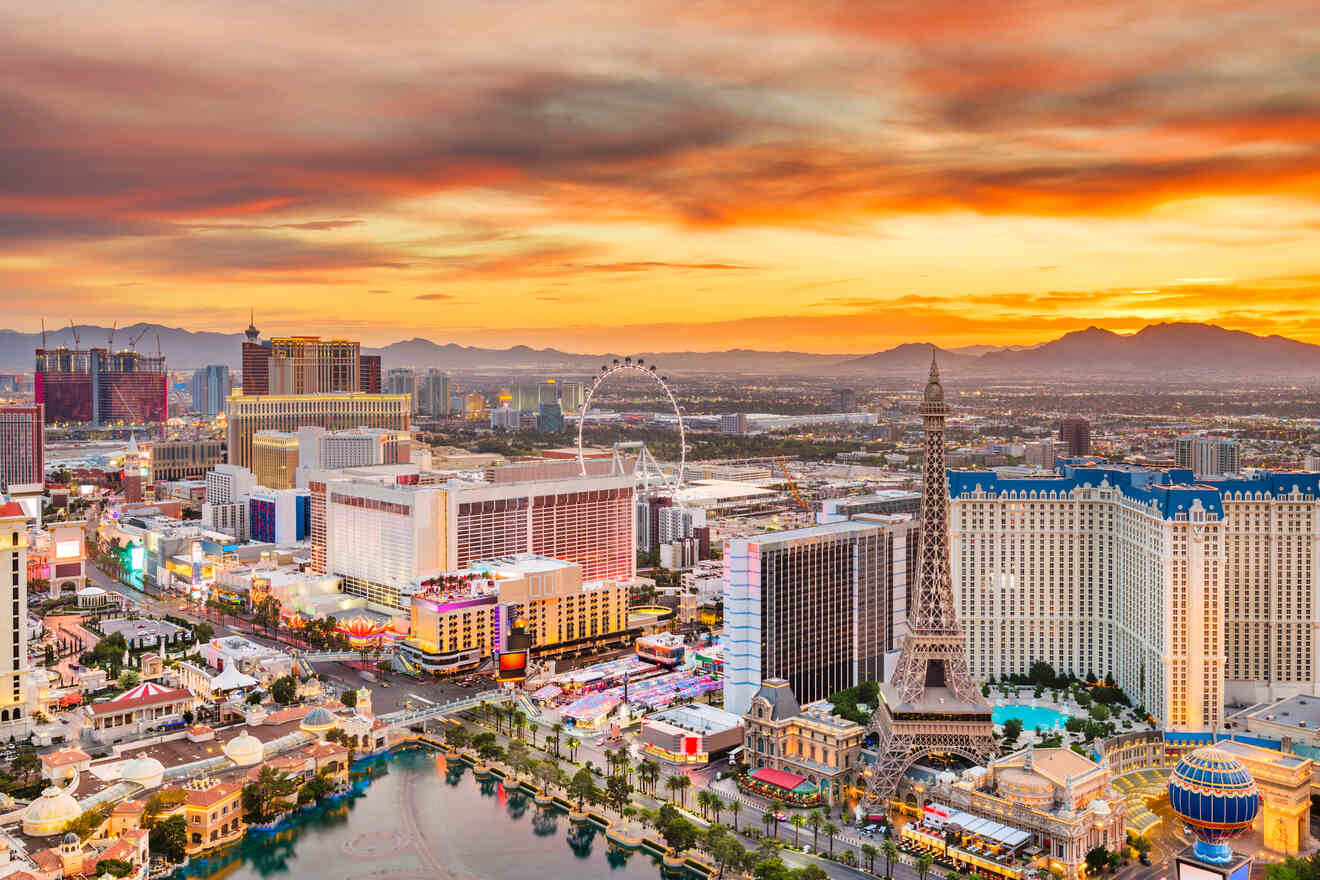 👩‍❤‍👨 Which are the most romantic hotels in Las Vegas?
The most romantic hotels in Las Vegas are The Venetian, offering incredible luxury suites and hosting weddings upon reservation, or the unique Bellagio, featuring five swimming pools, elaborate sculptures, and sophisticated rooms.
👍 Is Vegas a good vacation for couples?
Yes, it is! Even if it is mainly known for its great parties, Las Vegas offers so many resorts with upscale amenities, perfect for a romantic getaway with your couple, like Wynn Las Vegas, The Venetian, or The Cosmopolitan.
👰🏼‍♀️ Do people honeymoon in Las Vegas?
Yes, Las Vegas is perfect for a luxury honeymoon, offering many upscale resorts with access to fun activities like events, shows, live music, casinos, delicious restaurants, and much more. Plus, the hotels are incredible!
🗓️ How many days should I spend in Las Vegas?
3 days in Las Vegas is enough to enjoy all the crazy fun and attractions the city has to offer like shopping venues, casinos, cool nightclubs, fine dining restaurants, cafes etc.
Conclusion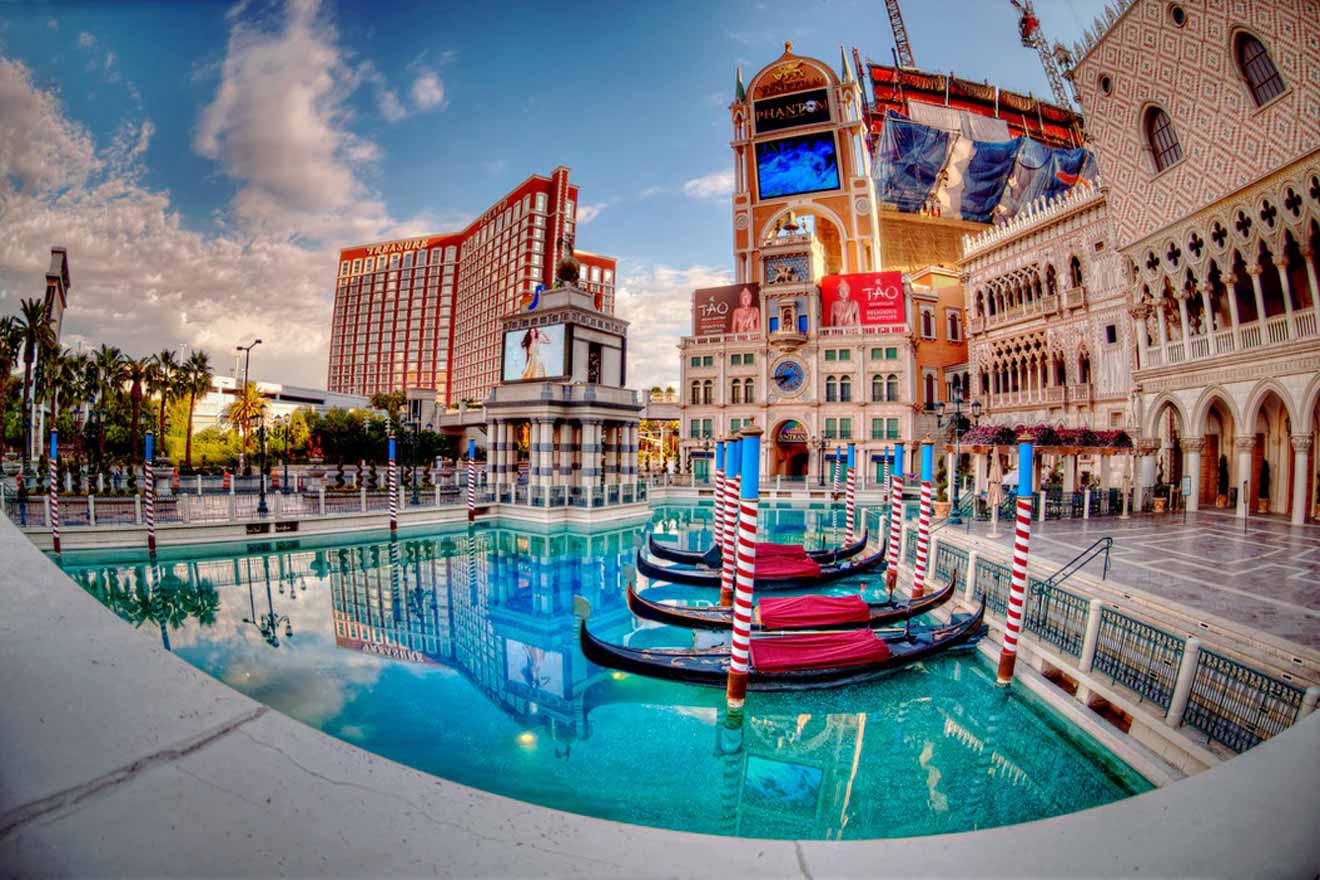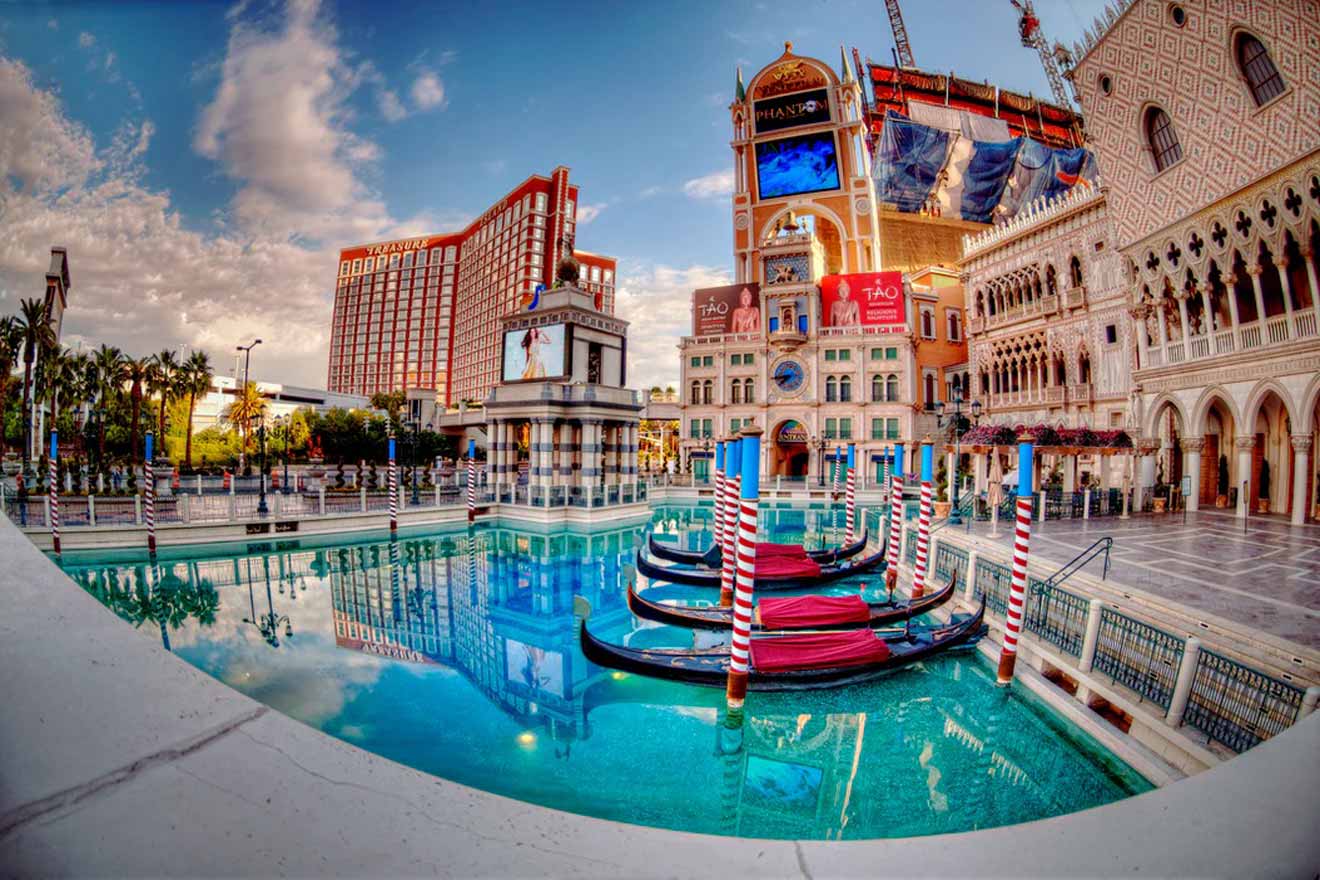 Here we are at the end of this travel guide about all the best romantic hotels in Las Vegas… have you chosen where you will have your romantic getaway?
If you are still undecided, I cannot blame you, we went through so many amazing options that it is hard to make up your mind! So let me tell you my 2 favorite romantic resorts in Las Vegas:
Bellagio – This is definitely one of the most unique vegas hotels, featuring five swimming pools, elaborate sculptures, and stunning, luxury rooms
The Venetian – This hotel offers some of the most spacious and elegant rooms in the city, and it even hosts weddings upon reservation
See something you like? Then book your room immediately, so you can reserve a spot and take advantage of some good offers (remember that prices change dramatically per day, so if you are flexible you can find some great prices!).
If you have any questions for me or you want to share your experience in one of these hotels, please do that in the comments below, I am looking forward to reading them all!
Have a romantic holiday!
Elena
---
Pin it for later!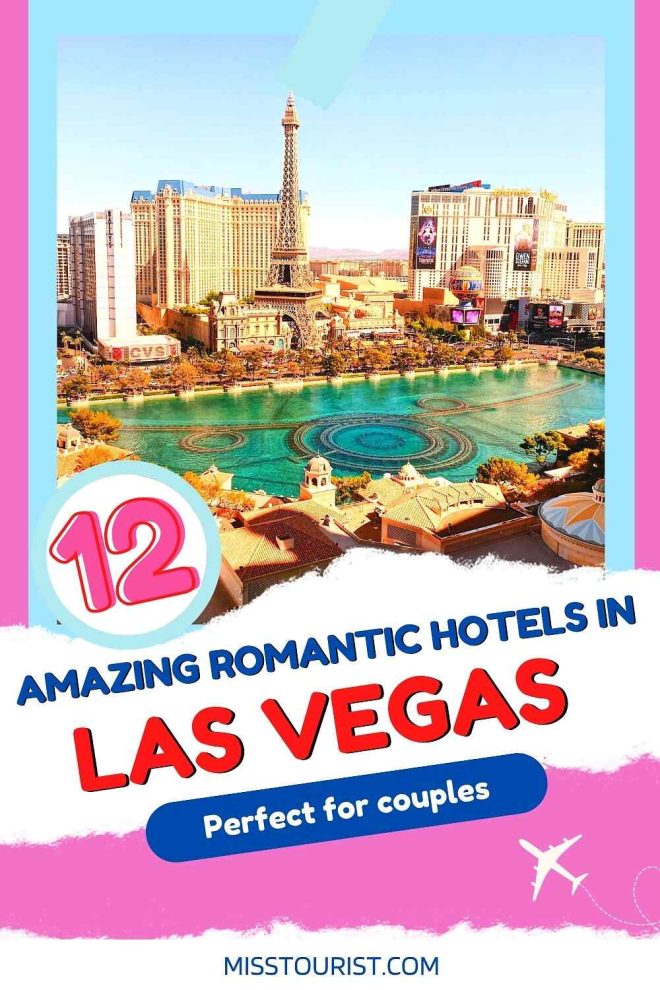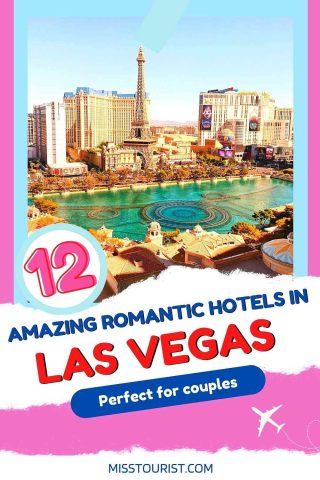 Pin it for later!