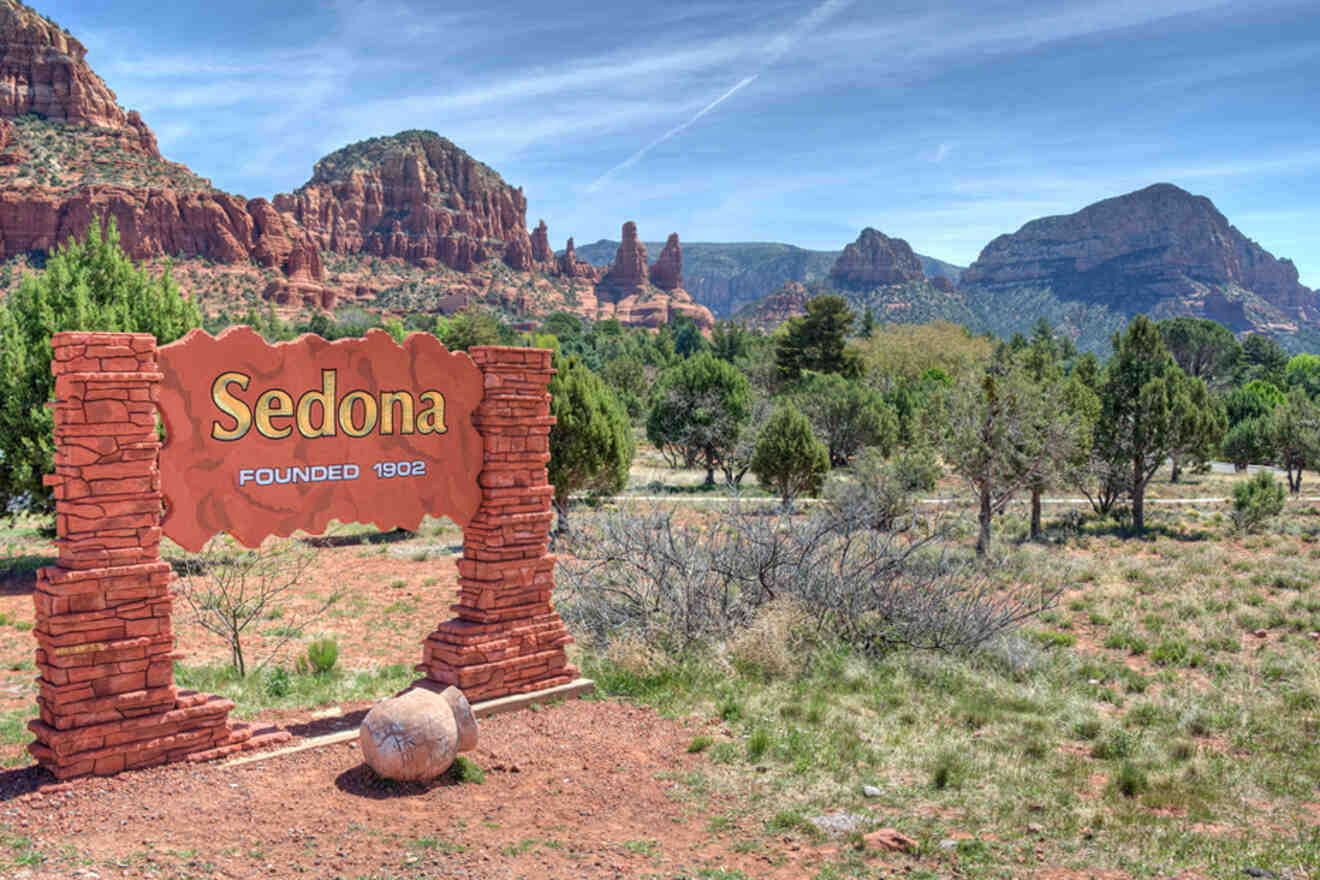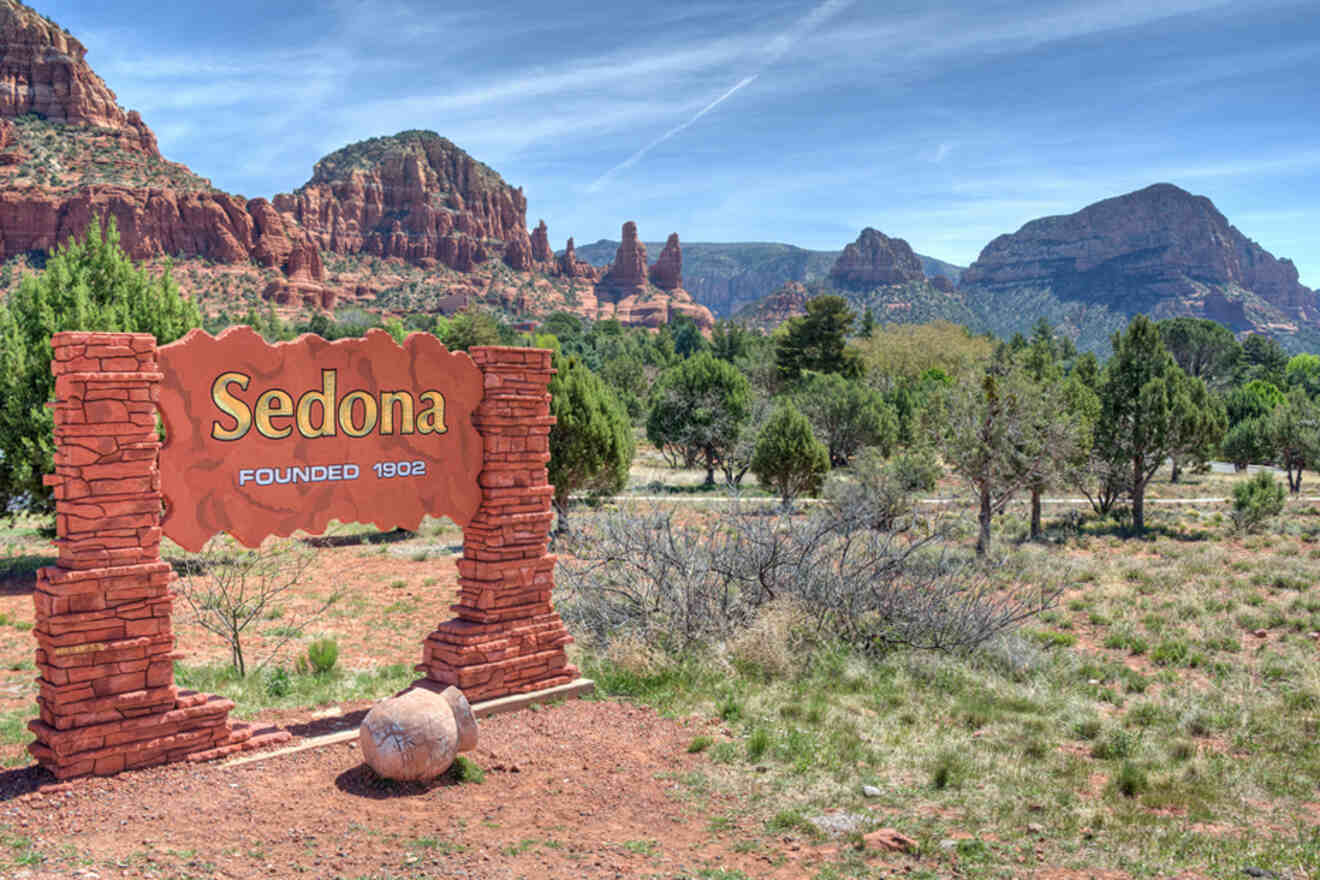 It's not a surprise that Sedona manages to attract so many visitors each year! With its towering red rock formations, peaceful streams, and lush forests, it would be crazy not to want to experience what Sedona, AZ, tours have to offer.
And I'm not just talking about a simple walking tour. Sure, you can tour Sedona that way, but there are so many more exciting and adrenaline-pumped options to explore, and this list is a perfect helping hand to decide on which one.
I researched for the very best and approved tours and brought you this all-encompassing list. From jeep tours to hiking, meditation, and helicopter rides, there is something for everyone!
Of course, my advice to you is not to risk it and book your tours in advance! Many people want to see these breathtaking sights, and you don't want to miss out on the experience!
Let's take a deep dive and explore the best Sedona AZ tours!
If you are in a hurry
If you don't have time to read the whole post, check out the best Sedona tours that you need to book in advance:
1. Join a Sedona Jeep tour of the vortex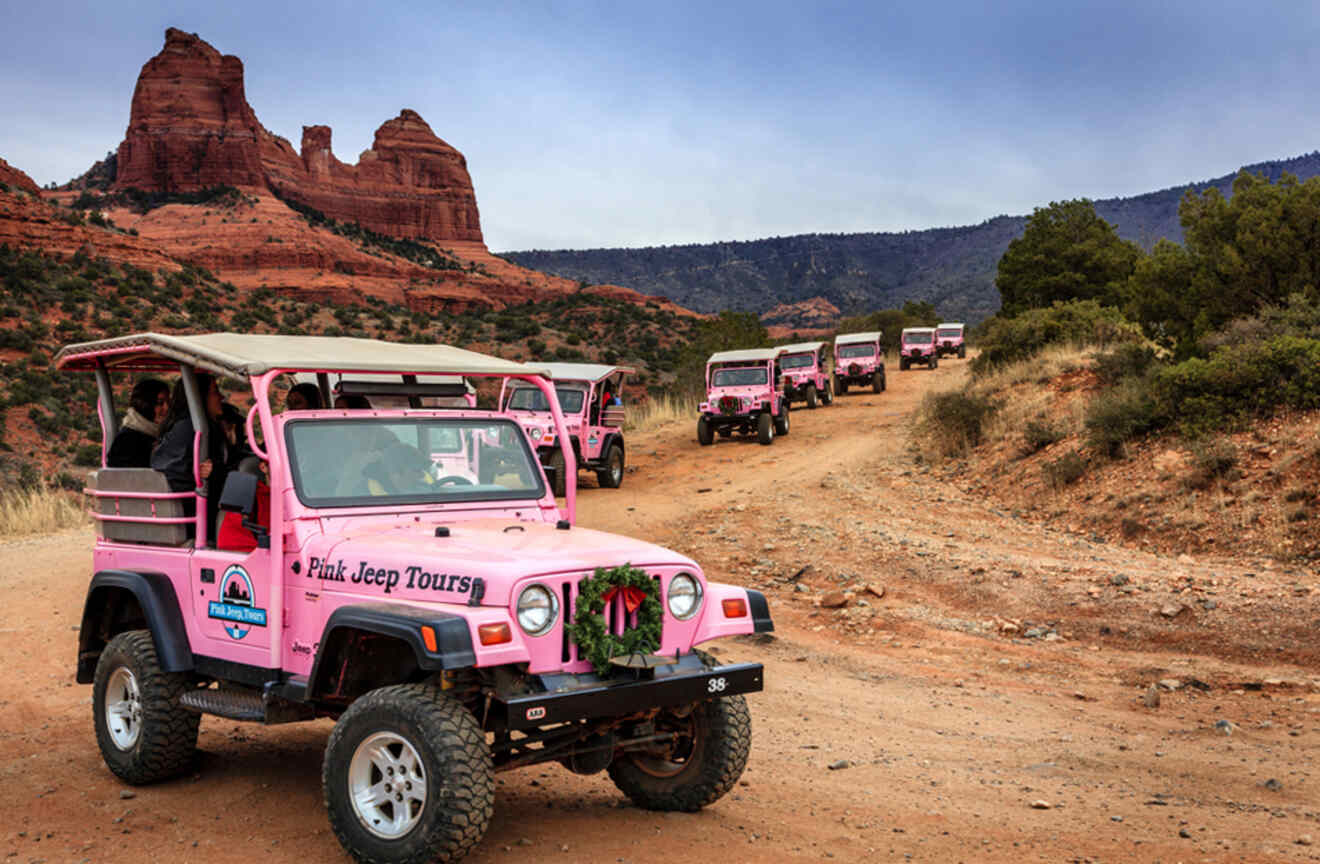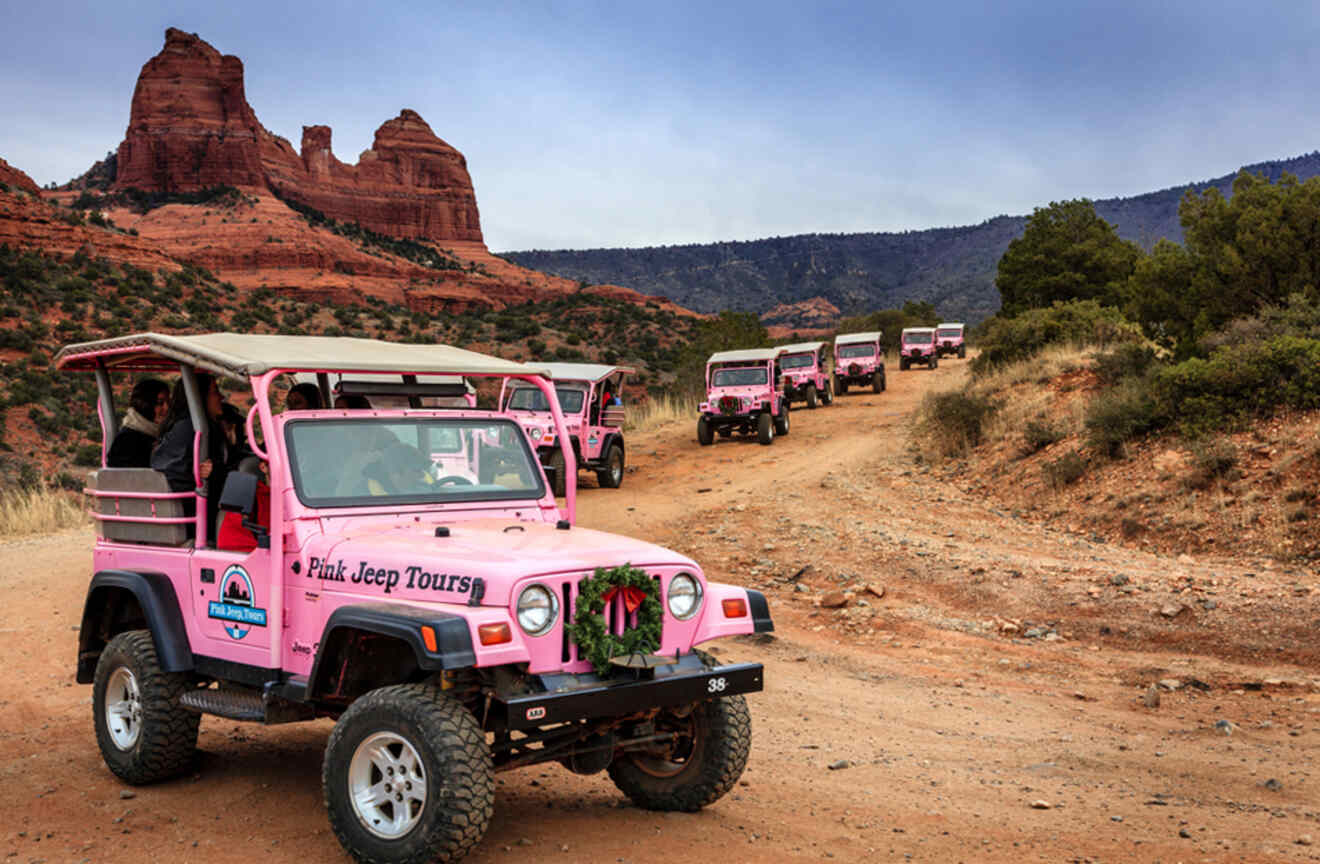 This scenic Sedona tour takes you to see the natural vortexes with a small group, and it departs from Sedona! You'll experience a thrilling Jeep ride through the region's most beautiful vortex sites and witness some spectacular views. Of course, since it's a guided tour, you'll have a knowledgeable tour guide by your side who will tell you all about the local history and beliefs surrounding each vortex. You can also tell your guide if there is something you particularly want to focus on.
The tour from Sedona is for up to 10 people and only 2.5 hours, so you'll get a personalized and intimate experience that will create unforgettable memories. You'll also get to bond with fellow adventure seekers with a light hiking experience involved but make sure to bring comfy shoes, trust me, your shoes will thank you!
2. Embark on a Verde Canyon adventure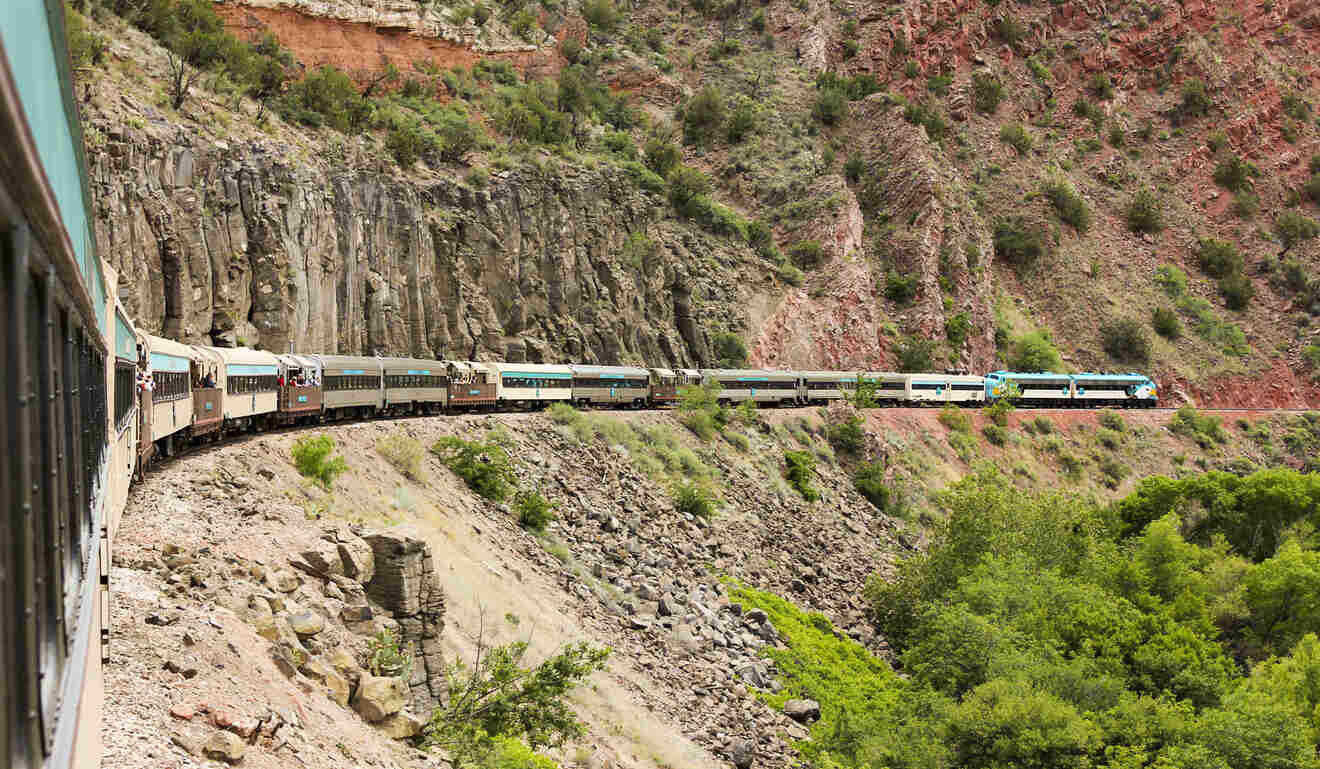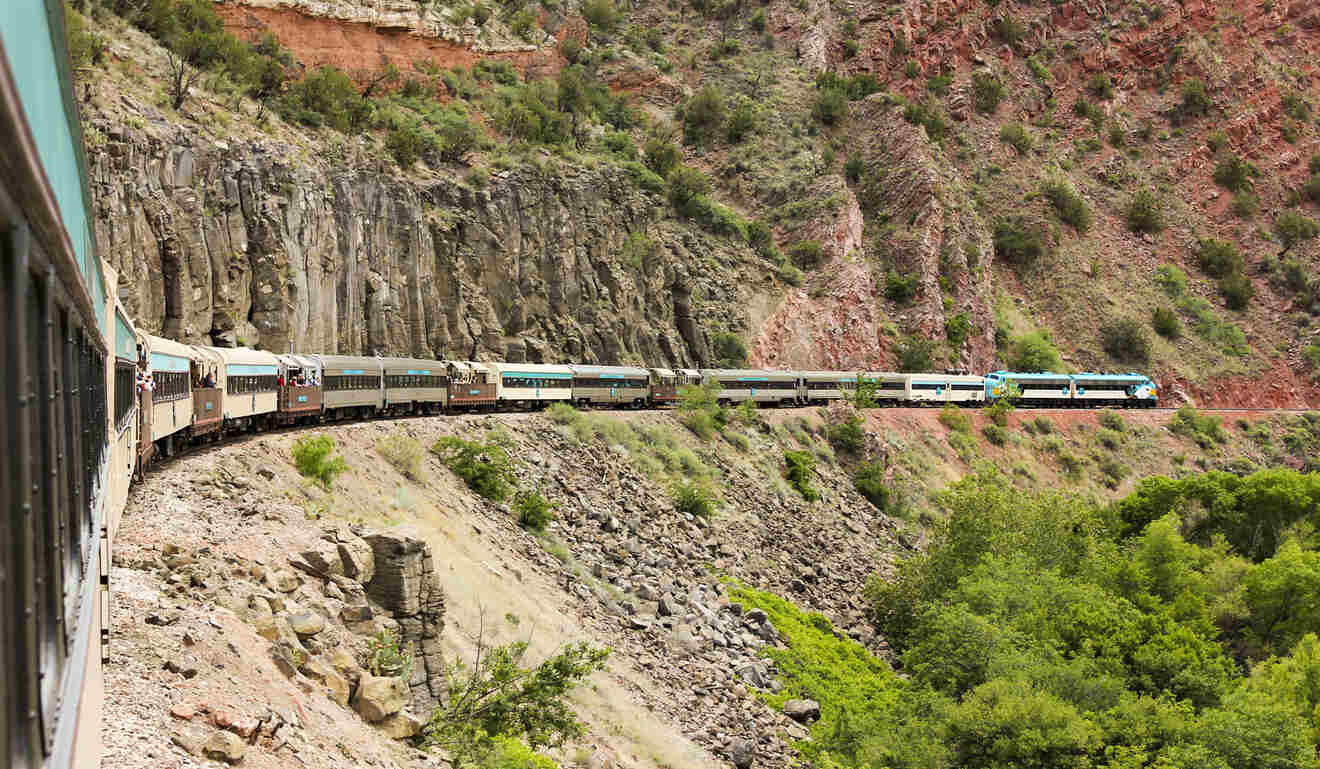 Join in for a wild 4-hour journey through the stunning American Southwest on the legendary Verde Canyon railroad!
You'll get to see unobstructed views of the Arizona desert and Verde River from the comfort of a vintage train car with air-conditioning or you can choose the open-air platform car for an even more immersive experience. Since this tour is appropriate for all ages and there is plenty of space, you can bring your whole family or friend squad to experience these marvelous views together.
You'll also journey through the ancient cliff dwellings built by the Native American Sinagua people. The tour also includes some light refreshments along the way. Unfortunately, some Sedona adventure tours like this one don't offer round-trip transport from Sedona hotels, so keep that in mind when planning your time.
3. Visit Western Sedona on an ATV tour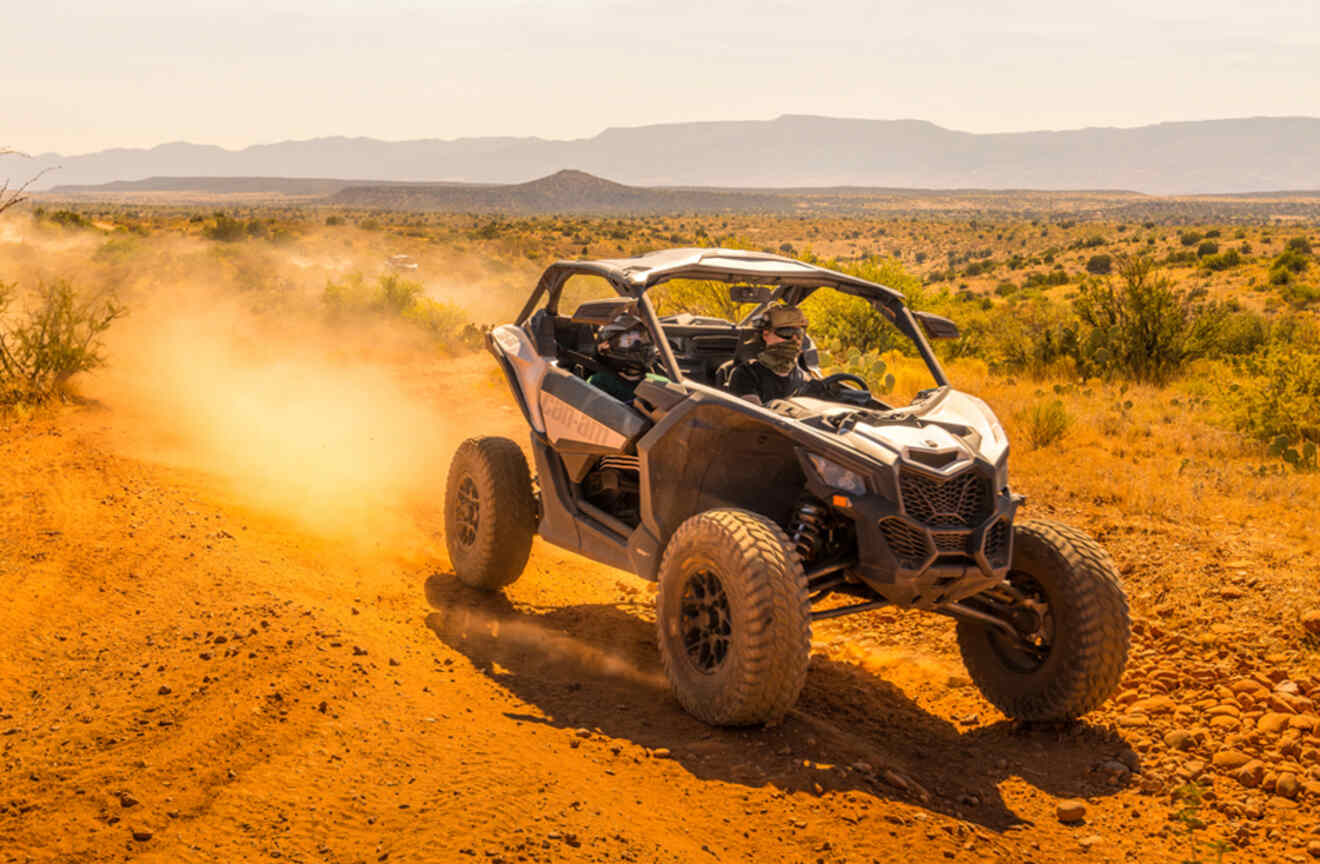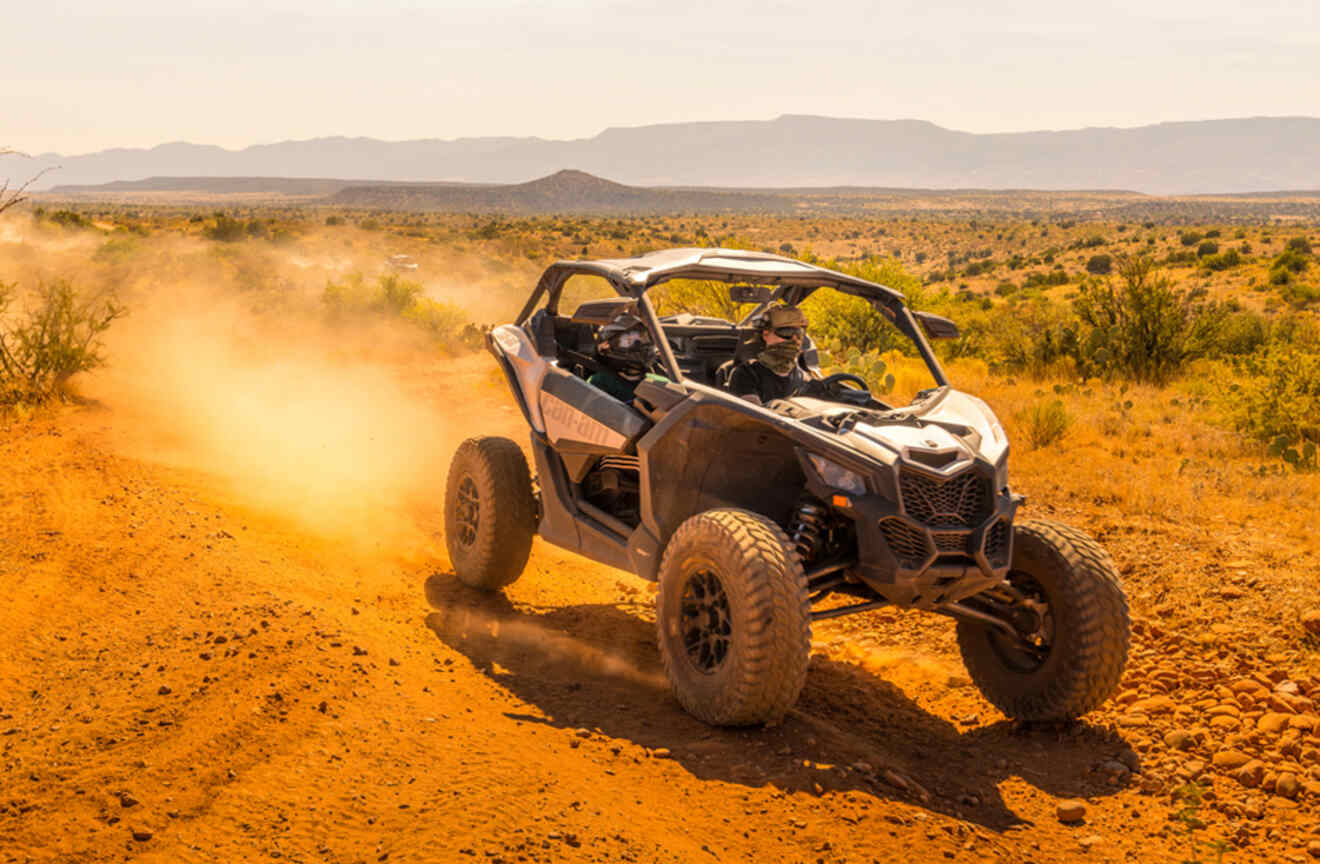 Get ready to ride down West Sedona Canyon and see stunning red rock formations, steep canyon walls, and gorgeous trees.
This 4-hour tour will take you to see some hidden spots that most tourists miss when visiting Sedona's famous red rocks, not to mention that you'll get to witness famous filming sites of over 40 movies and be blown away by Sedona sights and Skeleton Bone Mountain for unbeatable views of the natural wonders of Verde Valley.
The western canyons tour includes snacks and bottled water, and you'll get to choose the departing time to suit your schedule. What's even more awesome is that you get to choose between a single or double-sized ATV and bring along your bestie or significant other for twice the fun! Just remember, you don't want to break any laws, so ensure that all the drivers are at least 15-and-a-half years old with a learner's permit to drive an ATV.
4. Marvel at Antelope Canyon views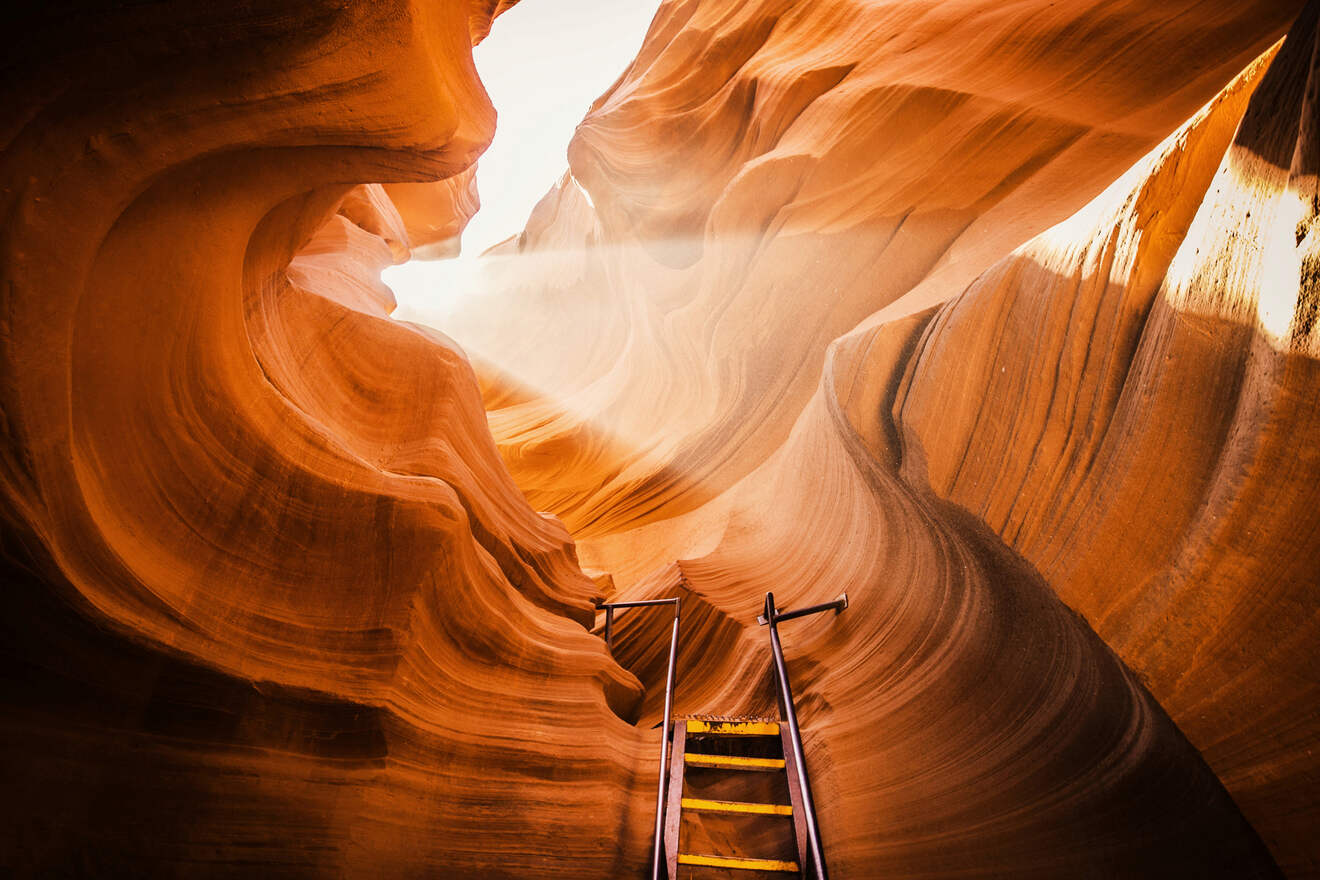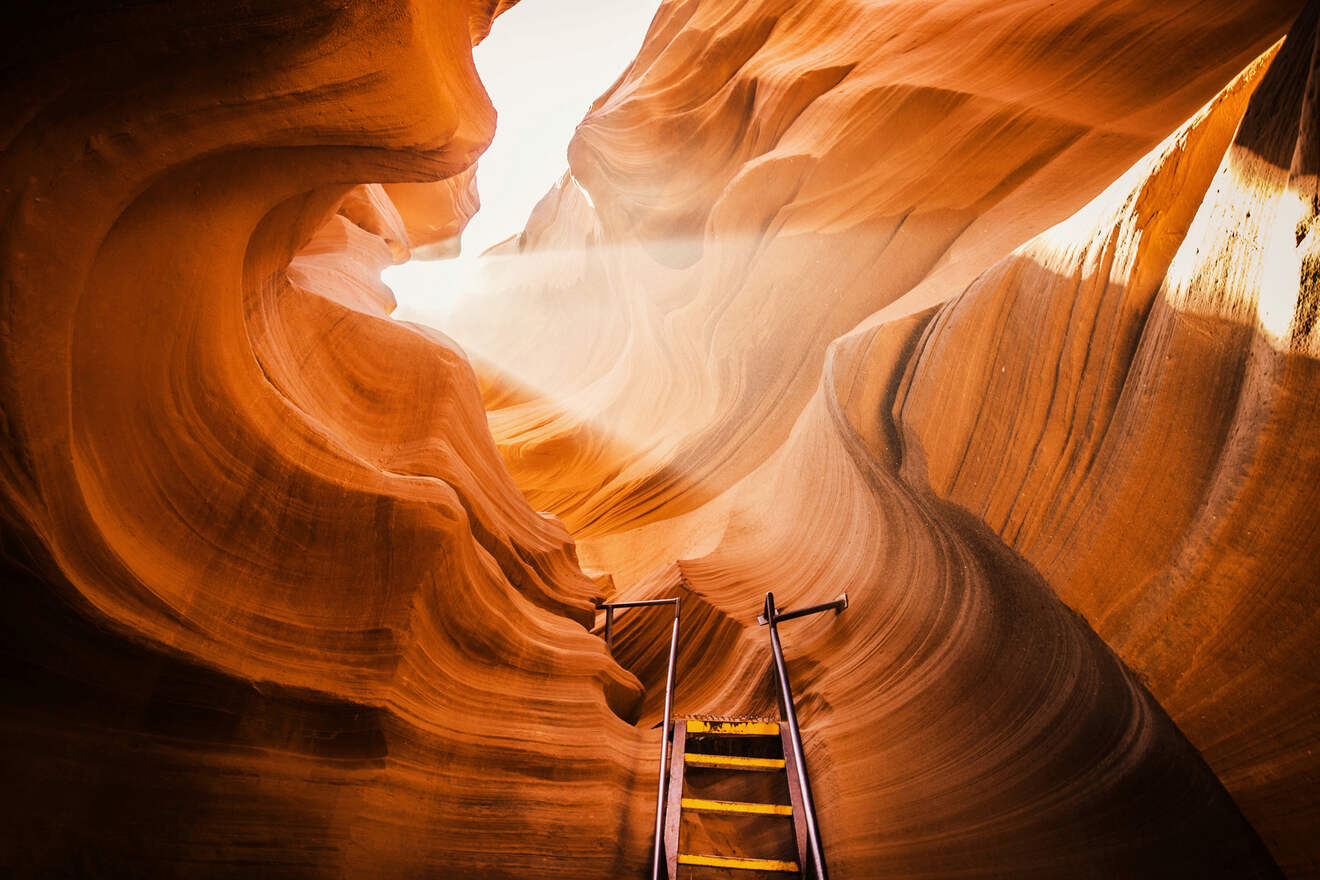 This tour begins with a journey through the stunning Oak Creek Canyon on the Red Rock National Scenic Byway, where you'll see ancient volcanoes and the rock formations of the Painted Desert.
Your next stop is the iconic Antelope Canyon. The tour is led by a Navajo nation guide who will take you into the canyon, where you'll be blown away by the narrow, twisting sandstone cliffs, and before you know it, it will be time for a Horseshoe Bend tour. It's located technically in Glen Canyon, but most people count it in the Grand Canyon experience. From there on, you'll hike a few miles until you reach the Colorado River for beautiful views.
You'll also visit the historic Cameron Trading Post, specializing in Native American crafts, where you can buy some awesome souvenirs for the whole fam! This sightseeing tour lasts for approximately 12 hours.
5. Explore Sedona wineries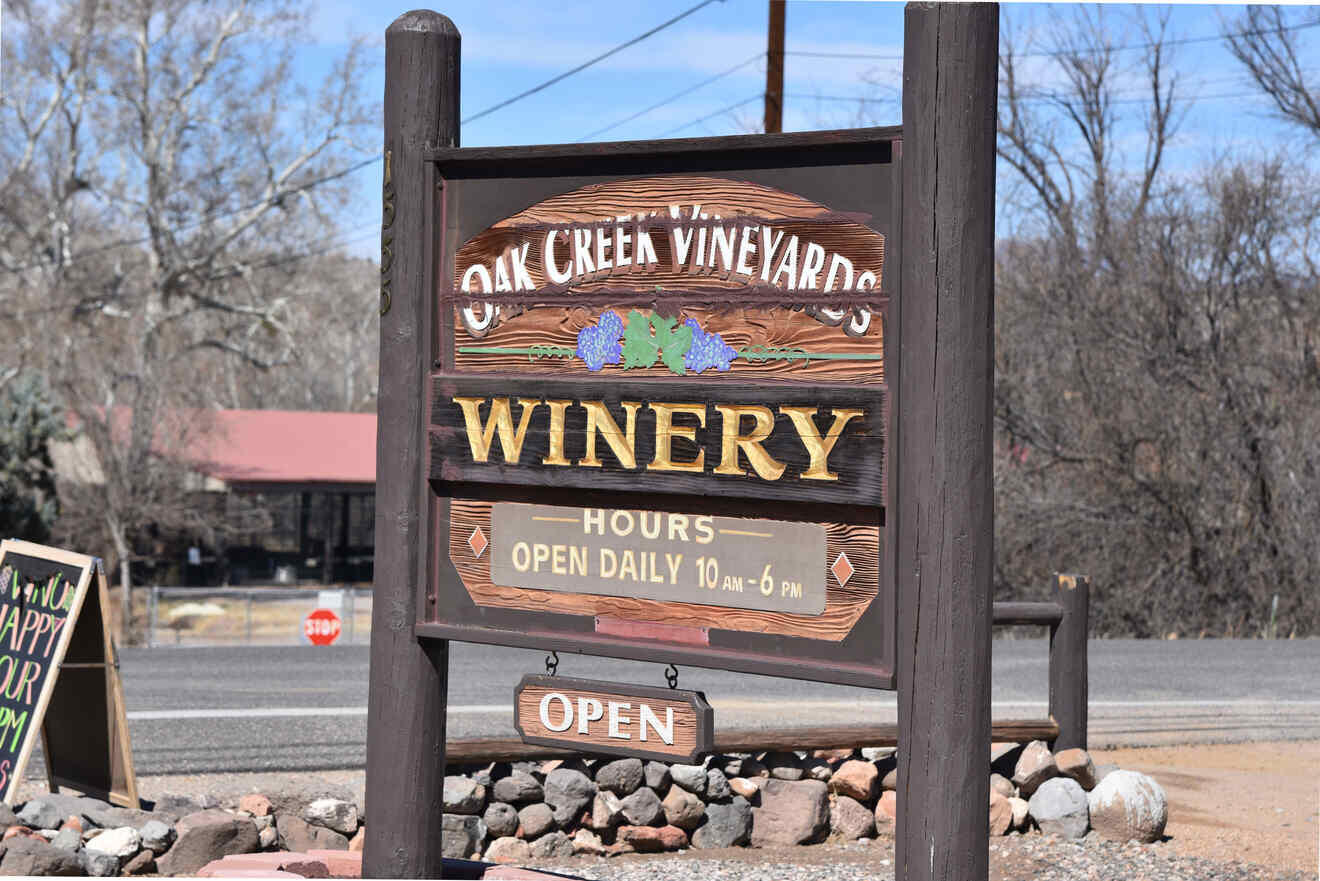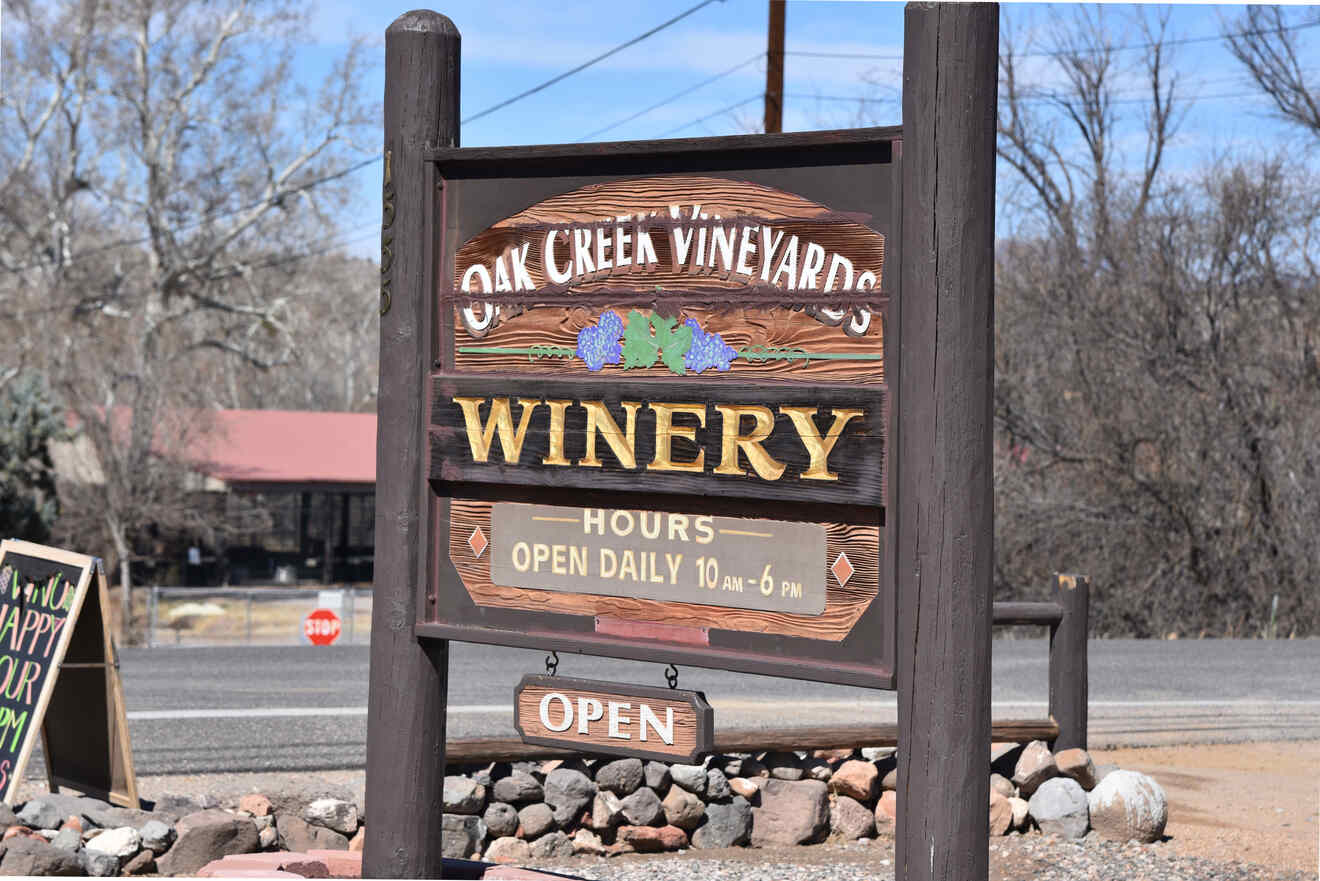 If you are craving some wine-tasting adventure but don't want the hassle of driving between wineries, this is the perfect Sedona tour for you!
You'll get round-trip transportation in an air-conditioned vehicle and visit some of the region's top vineyards, where you can enjoy discounts on tastings and bottles of wine. The tour also offers a picnic lunch that includes a personalized charcuterie board for every guest.
What's awesome about this 5 to 7-hour long tour is that you'll get to use that time to visit up to 4 different wineries all in one day, and you'll also get an educational experience and learn about the wine production and barrel rooms.
6. See Sedona highlights on a bus tour
Hop on the open-air bus tour, where you'll get to see some of the most iconic Sedona landmarks, all while enjoying the relaxing atmosphere.
You'll pass by Thunder Mountain, Cathedral Rock, Bell Rock, Soldier Pass, and more. Don't worry it's not just a quick pass by. The tour will make a few stops and give you an opportunity to catch some photos for your Insta feed.
The highlight of the tour is the 30 min stop at Amitabha Stupa and Peace Park. Your tour guide will provide you with live narration about the spiritual significance of this beautiful location. You can meditate on your new-found knowledge and connect with your inner self! And it's only 2 hours long, so it's great for those short on time.
7. Take a private Grand Canyon Village tour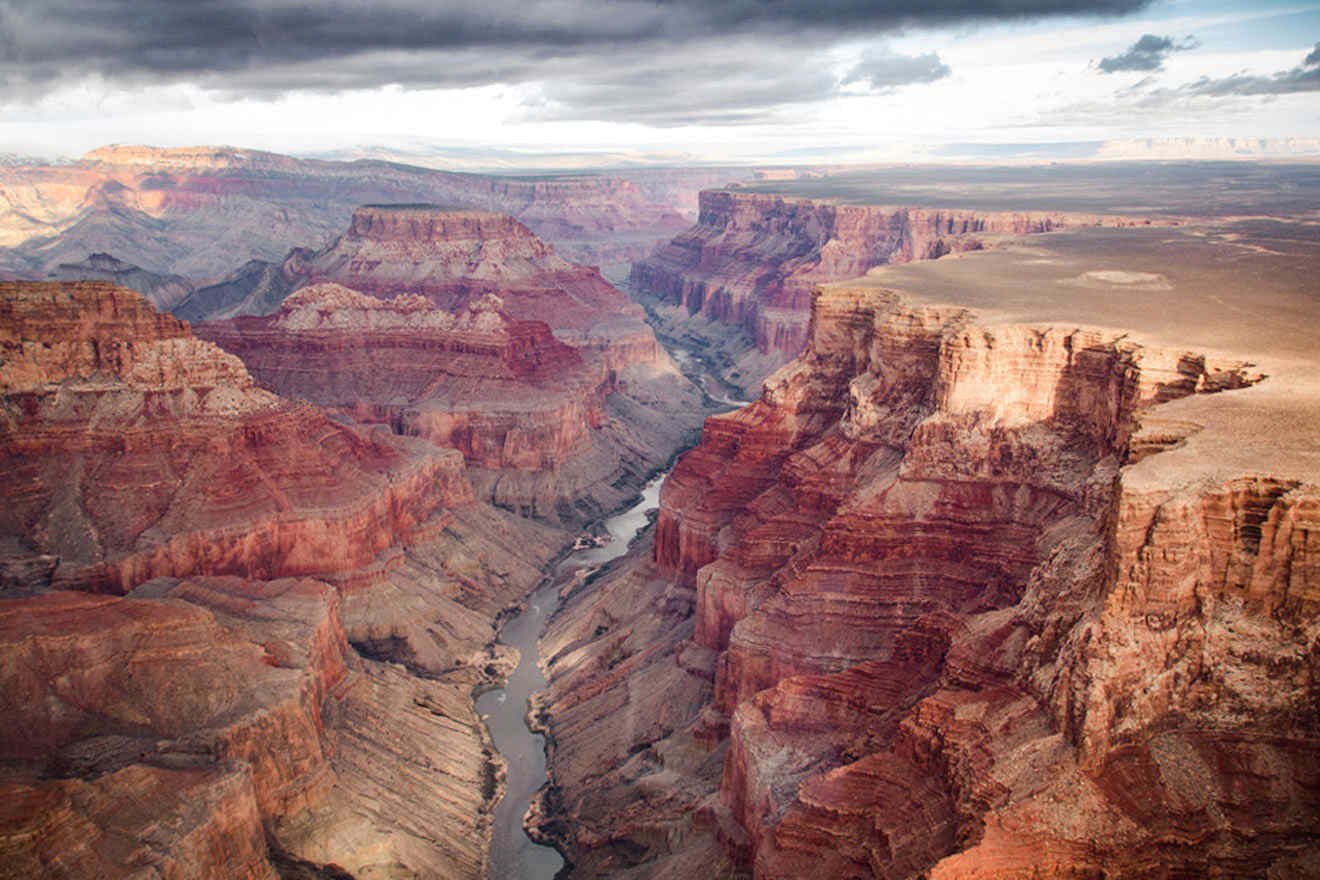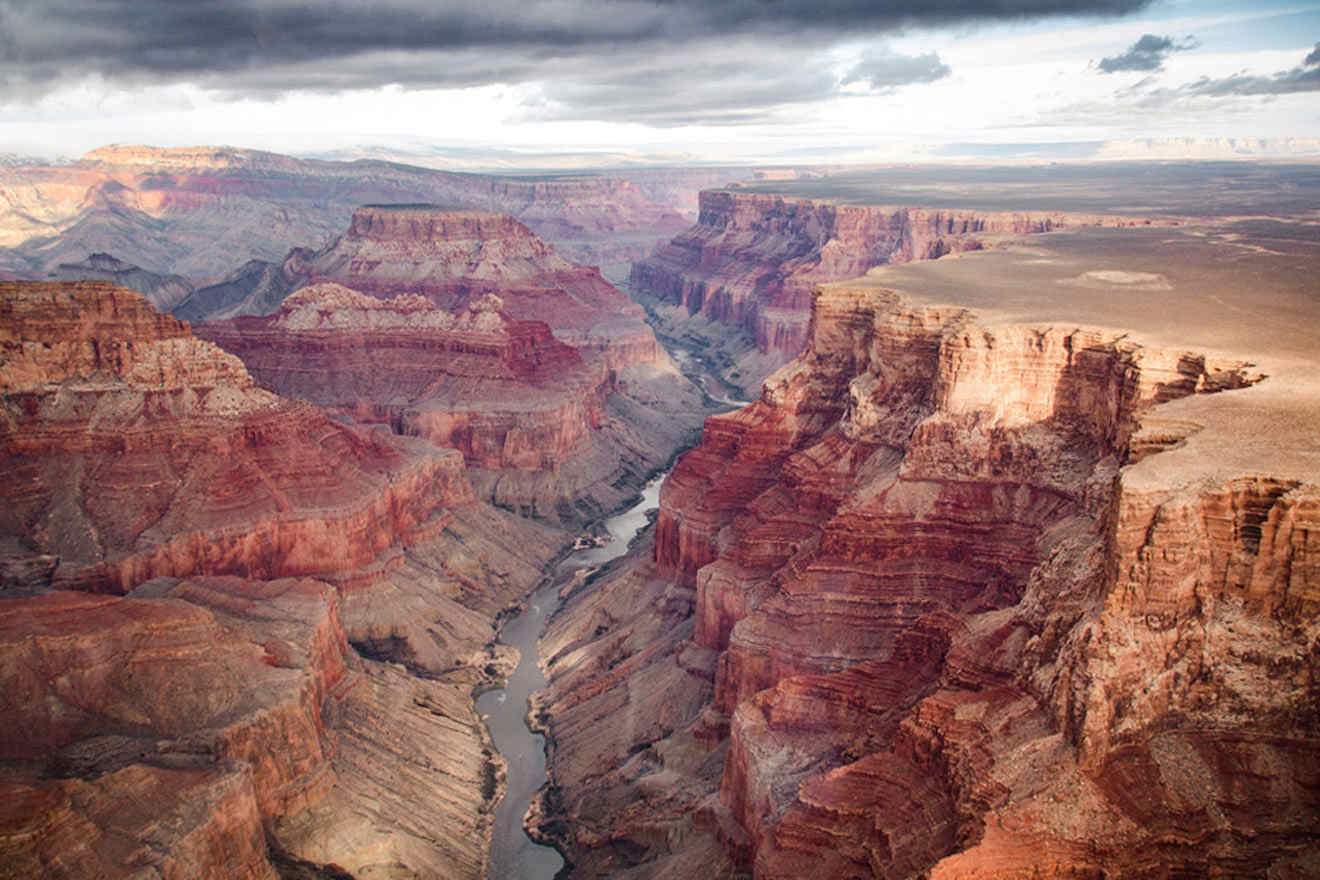 Private tours are great for those who want a customized experience, so I'm bringing you one of the tours in Sedona that will give you just that. You'll enjoy stunning views of the Painted Desert and Little Colorado Gorge from the road. Of course, you'll have your guide by your side, who will enter and explore Grand Canyon National Park with you. The tour lasts for about 9 hours, and you can depart either from Flagstaff or Sedona.
And don't worry, I know just how popular pink Jeep tours in this area are, and I prepared an option for you. This scenic Rim Jeep tour will take you on a 2-hour private trip where you'll get up close and personal with Sedona's iconic sandstone formations and even walk on slick rock.
8. Get creative at a glassblowing workshop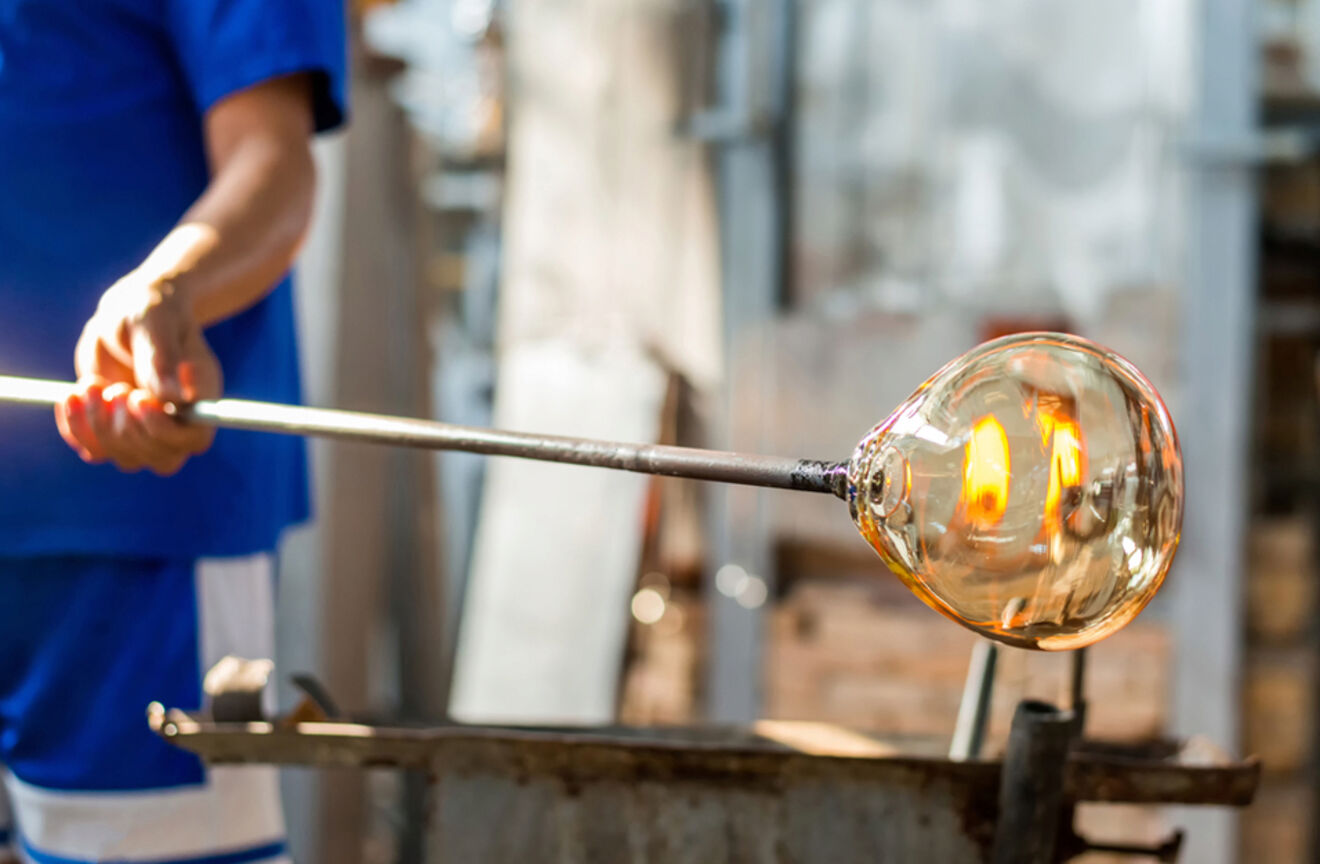 In case you're a creative and adventurous traveler get ready to blow your mind (and some glass!) with this unique workshop option.
The workshop lasts for approximately 2 hours and is led by talented on-site artists that will give their best to teach you all about the craft and show you how to safely and properly blow glass. Of course, all the material is included, you don't have to worry about anything!
It's a great way to let your creativity shine, and your imagination run wild! Since it's a small group option, you'll get personalized attention and tips and tricks to perfect your technique and create masterpieces. You will be able to collect your work the very next day.
9. Challenge yourself with a self-guided e-bike tour
Going on popular Sedona tours is a great experience, but sometimes you might feel suffocated by the schedule or large groups, so you might want to make a longer stop at a specific location. Well, this self-guided e-bike tour is a solution to that problem.
With this tour, you get to explore the Red Rock sights and the Tlaquepaque Arts and Shopping Village, Chapel of the Holy Cross, all with unlimited freedom and an enjoyable e-bike ride.
And if you are a biking beginner, don't worry, the staff member will help you with equipment as well as with choosing the right bike! Bike rental and helmet are included in the price! The duration is somewhere between 2 to 3 hours, but since it's your own personalized experience, you can choose to stay much longer.
10. Fly over Sedona on a helicopter tour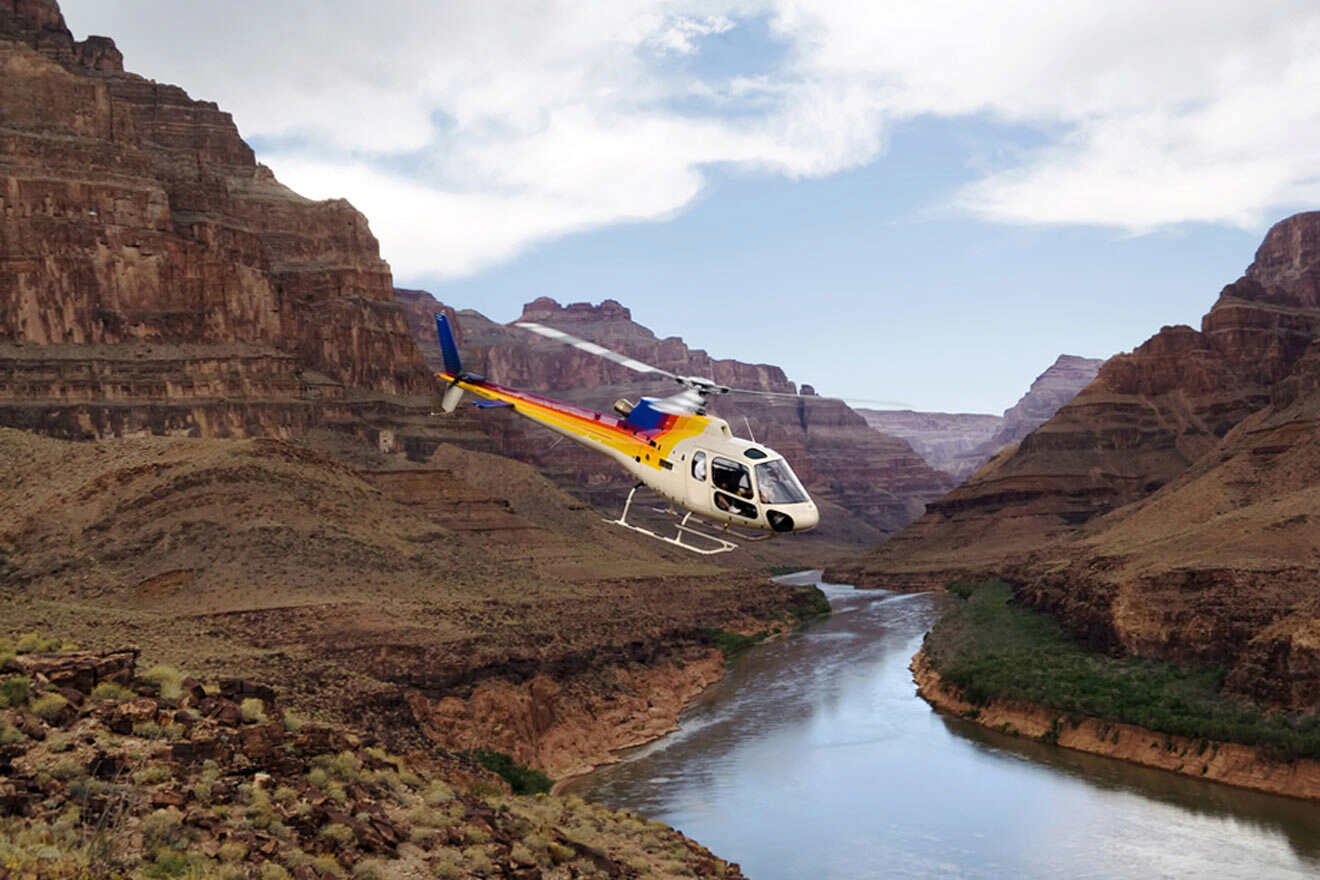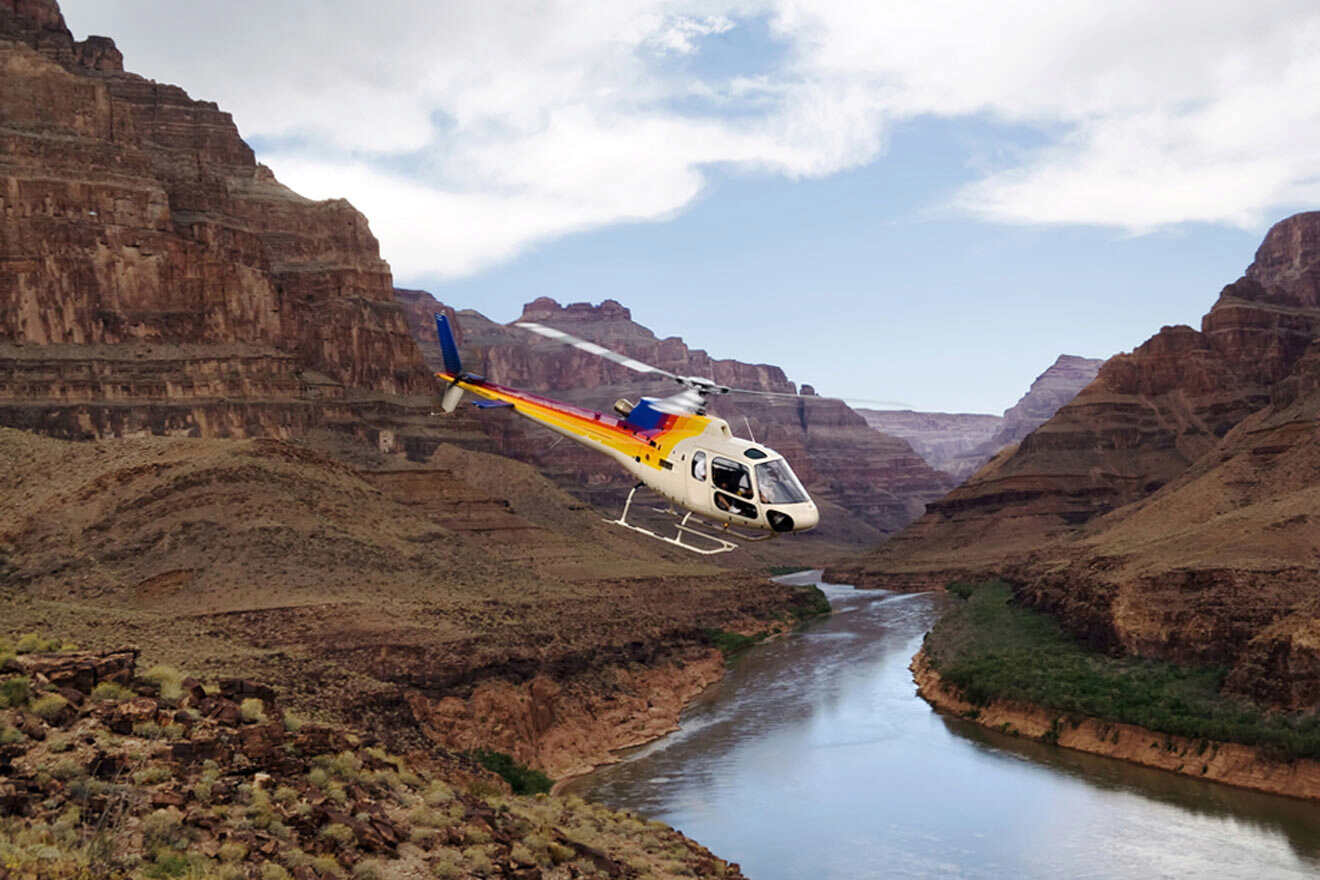 With this tour, you can soar above the Sedona desert for a 30-minute flight while your pilot shares legends and historical tidbits about the land with you. You can learn something new while having an adrenaline-pumped experience!
You'll head to the South Rim, see iconic Cathedral Rock and fly over the Chapel of the Holy Cross, a towering chapel built right into the rock!
Next, you'll swoop over Bell Rock and Courthouse Butte and even spot the famous Snoopy Rock! Cross Oak Creek, Arizona, Glen Canyon Dam, and many more amazing landmarks.
The tour finalizes with an approach to the Boynton Canyon and the Anasazi cliff dwellings for a sight you'll never forget!
And for history buffs out there, hop on board a Dust Devil tour for a 20-minute helicopter ride to uncover the mystery of ancient Anasazi cliff dwellings, untouched for over 700 years.
11. Enjoy a Sedona stargazing tour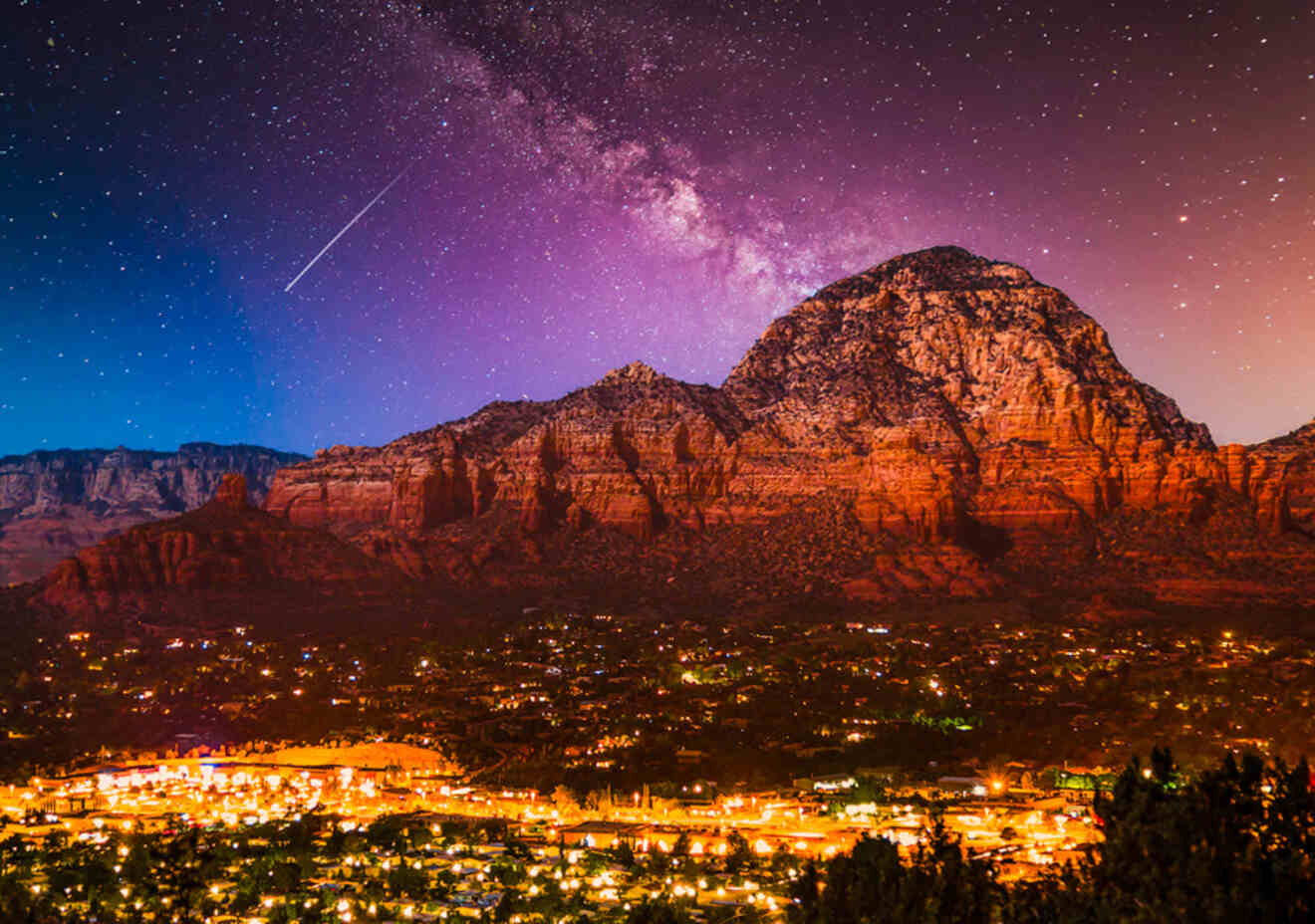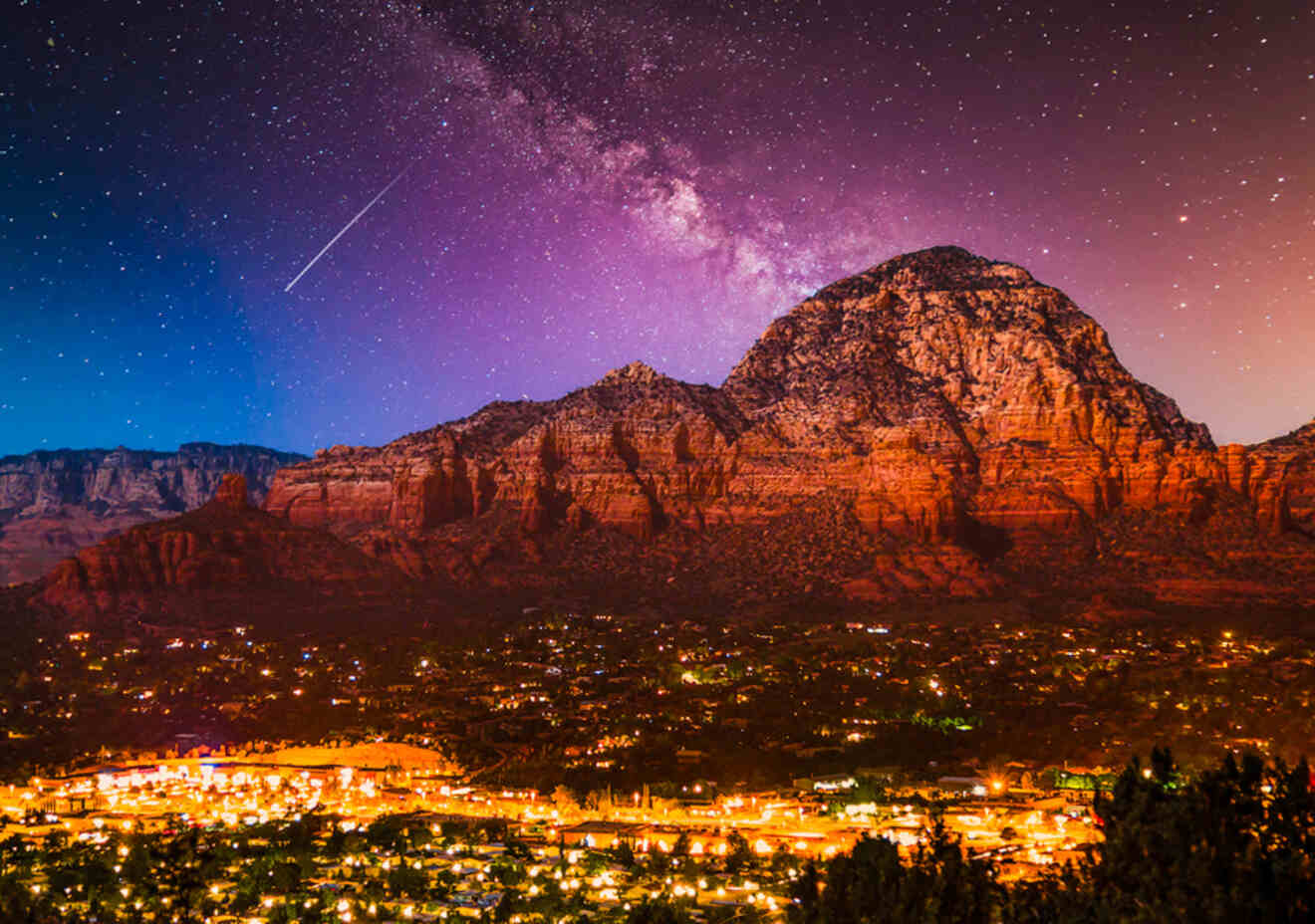 You might think that Sedona is only famous for vortex tours and thrilling rides on ATV tours but also for the best stargazing experiences in the dark night sky.
This tour takes you to not 1, not 2, but 3 awesome viewing locations for the ultimate stargazing experience. You'll get to visit the Fay Canyon area, Cultural Park Place, and Crystal Magic Psychic Center, where you can feast your eyes on millions of stars and constellations in Sedona. To feel like a true star-gazing professional, you'll also get to use a pair of upgraded military night vision goggles for an even closer look.
And in case you're visiting during colder months, fear not because this tour provides heaters to keep you warm and cozy throughout the stargazing.
12. Experience hiking & yoga mix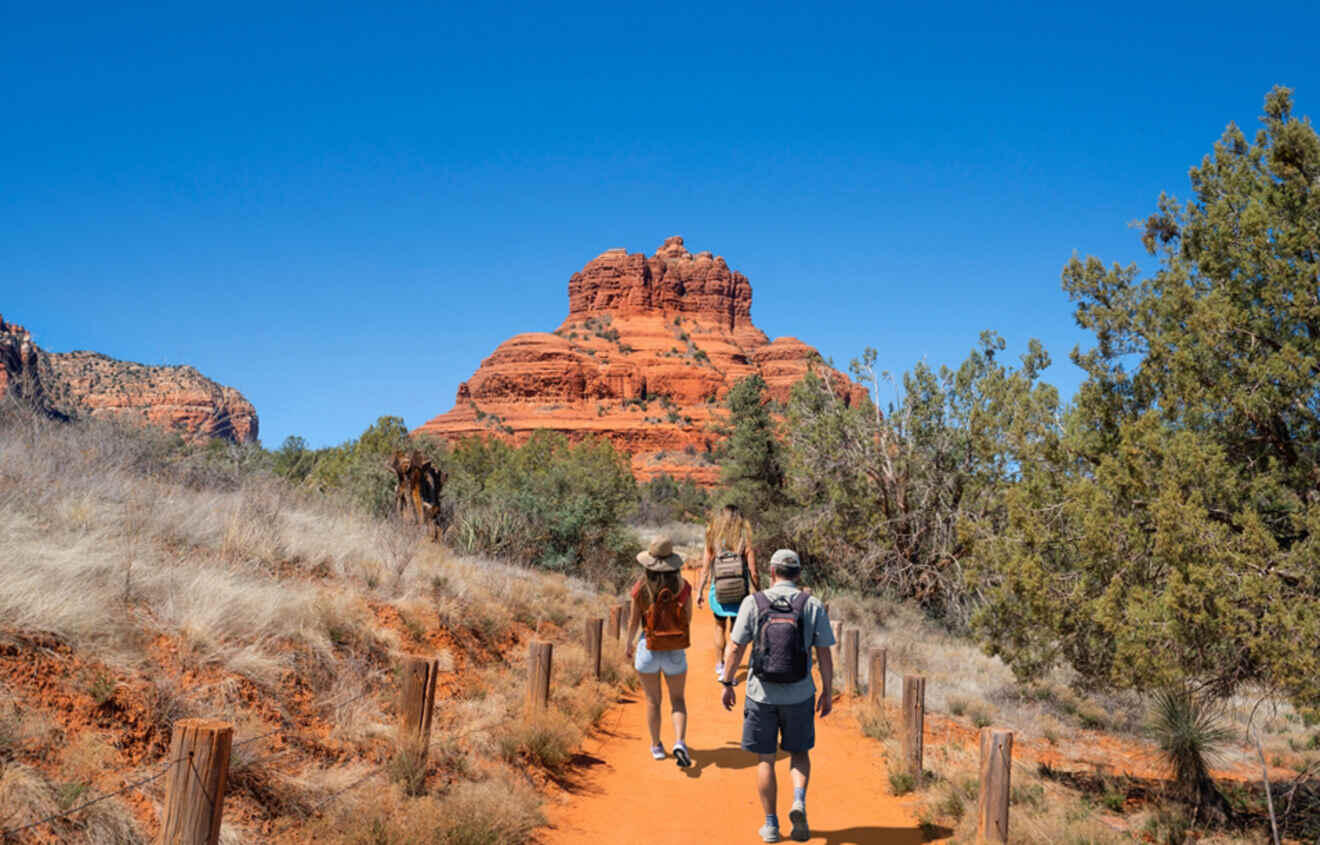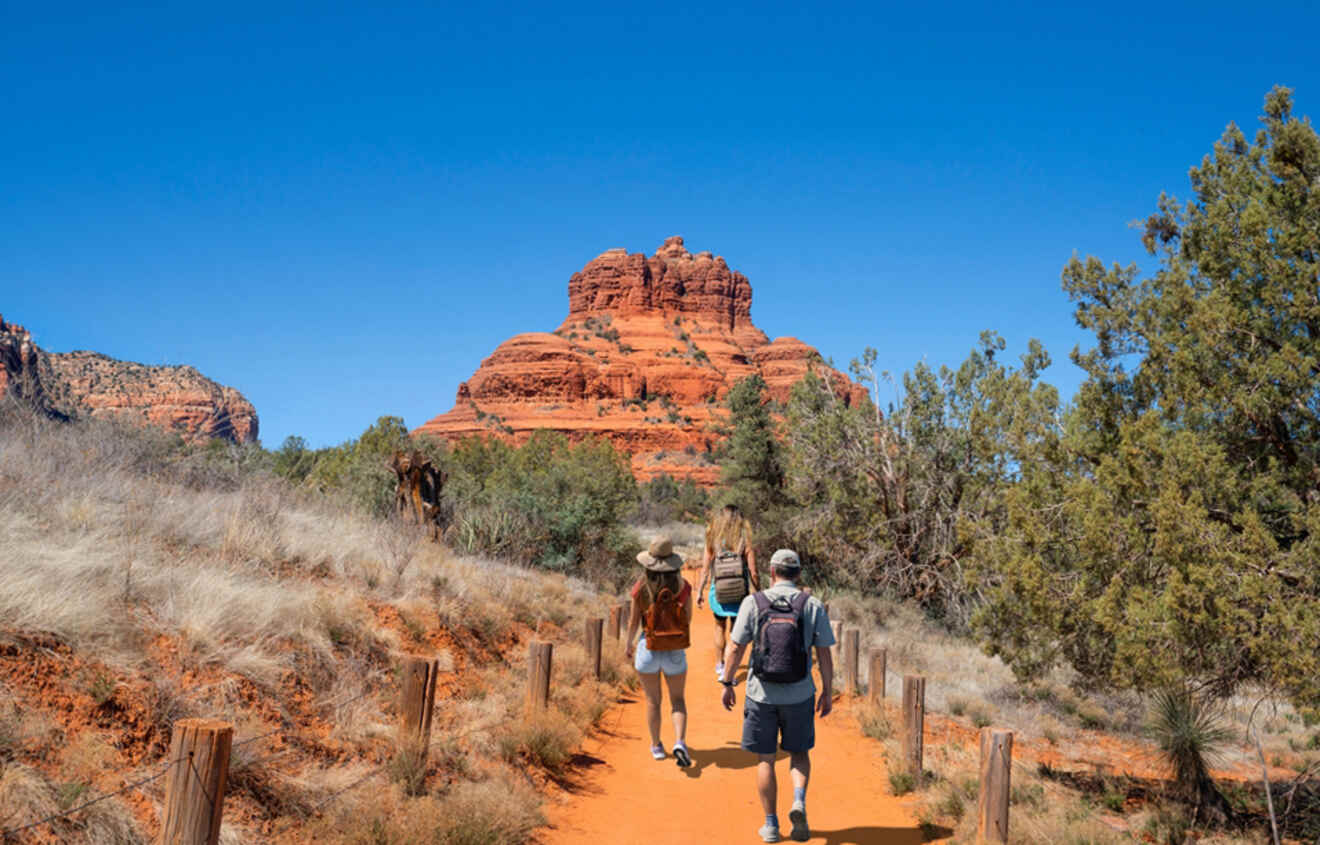 The tour will start with breathing exercises or meditation so you can align yourself with the supportive energies of the Sedona vortex. After this promising start, your guide will lead the way as you hike around the stunning natural surroundings.
You'll have a 1-hour stop for a yoga session amidst the tranquil beauty of Sedona. It will help stretch, bend, and find your inner peace. And to make it even better, your guide will incorporate Qigong into the routine for an extra dose of calm.
And if you're in the mood for a guided spiritual vortex meditation where you can experience a surreal landscape that will take your breath away, this tour will be a blast for you! With a spiritual guide by your side, you'll sit down with your blanket and cushion and let yourself be guided through meditation, with several different techniques offered.
13. Zip your way through Sedona
Dear adrenaline junkies, this one's for you! With this tour, you'll experience the thrill of zip lining and see lions, tigers, and other animals from a bird's eye view. Of course, you'll also catch glimpses of Humphrey's Peak in Flagstaff, the Sedona Red Rocks, and Mingus Mountain.
But before you start, your guide will get you ready with appropriate gear and tips and tricks, after which you can hop on a ride to the start of the zip line course. This mile-long adventure is broken into 5 different zip lines. The first 4 are perfect for spotting some of the park's coolest animals, while the last one is all about speed!
This 1.5-hour tour is a great choice for both first-timers and for more experienced ones.
14. Saddle up for a horseback adventure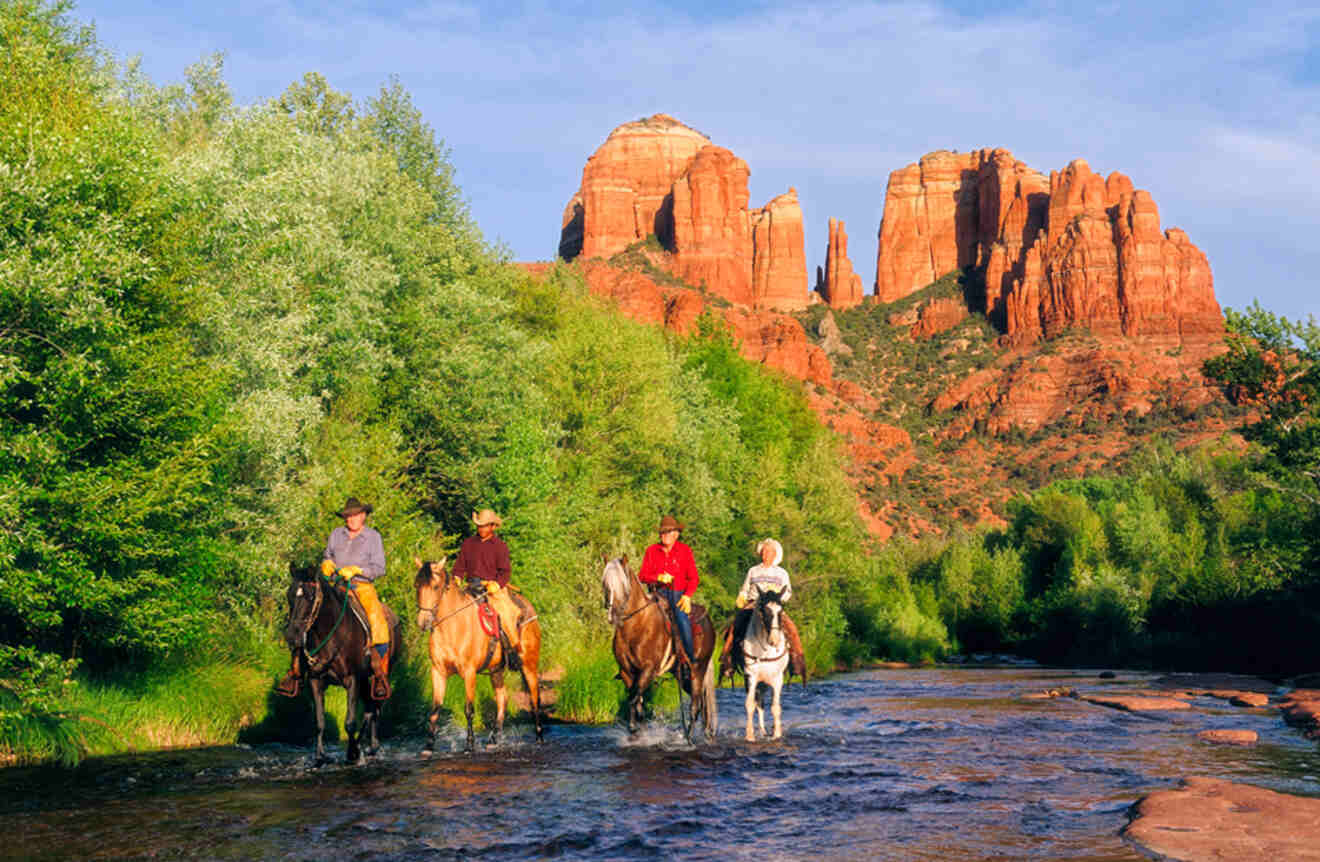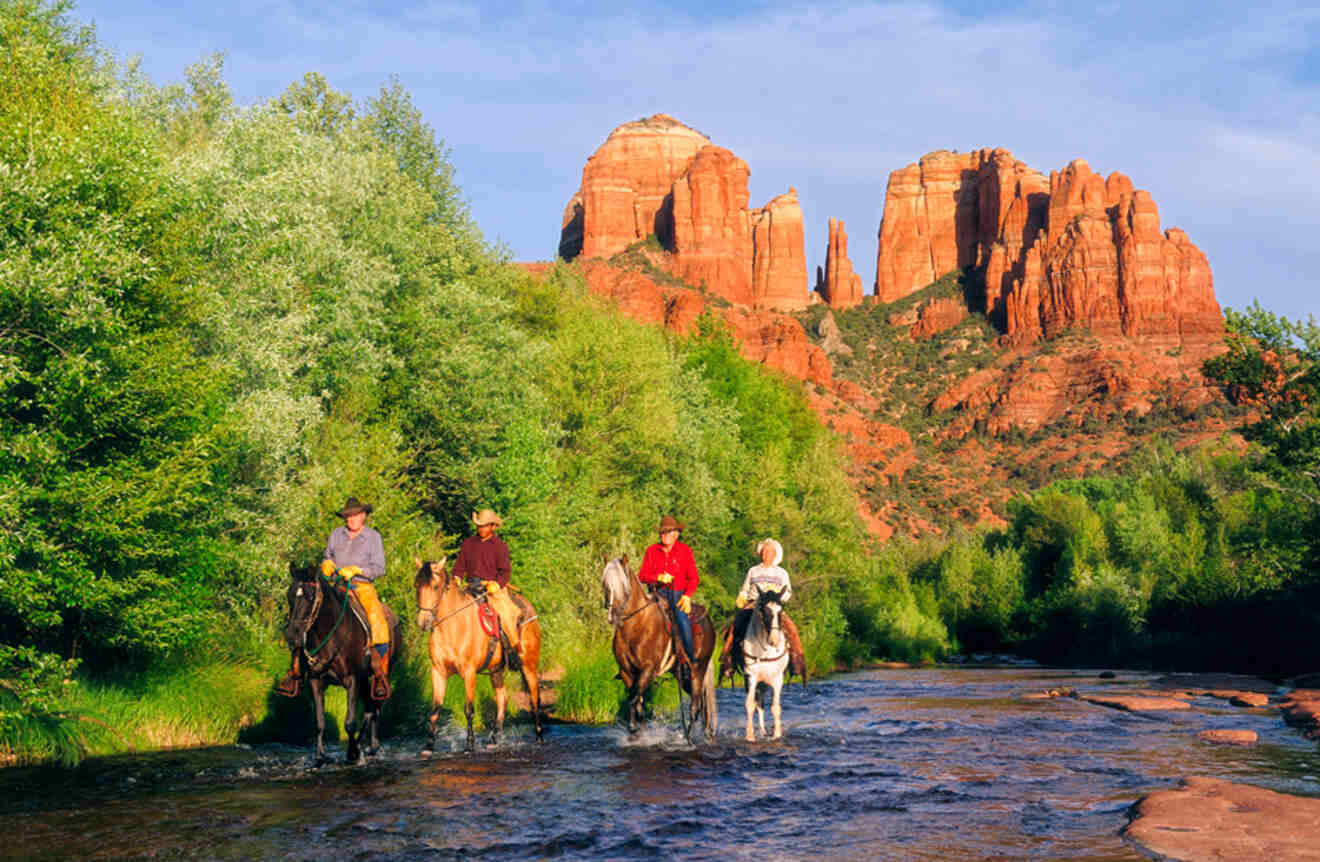 Who doesn't like a good horse ride along with some stunning views?
With this 1-hour horseback tour, you'll get a chance to see the foothills of Dead Horse Ranch State Park on a horse. This ride will be one for the books as you trot through Arizona's picturesque forest and cross the river.
But before you start your tour, be sure to remember a few things. It's a good idea to layer your clothes so that you can easily peel off or put them back on based on the weather. Also, don't forget to bring along your sunglasses, hat, and sunscreen – not only will they keep you cool and be good for your health, but they also make sure that you look like a million bucks throughout.
Rest assured that your tour guides won't let you stay thirsty with gallons of ice-cold bottled water at your disposal throughout the excursion.
FAQs about Sedona, AZ, tours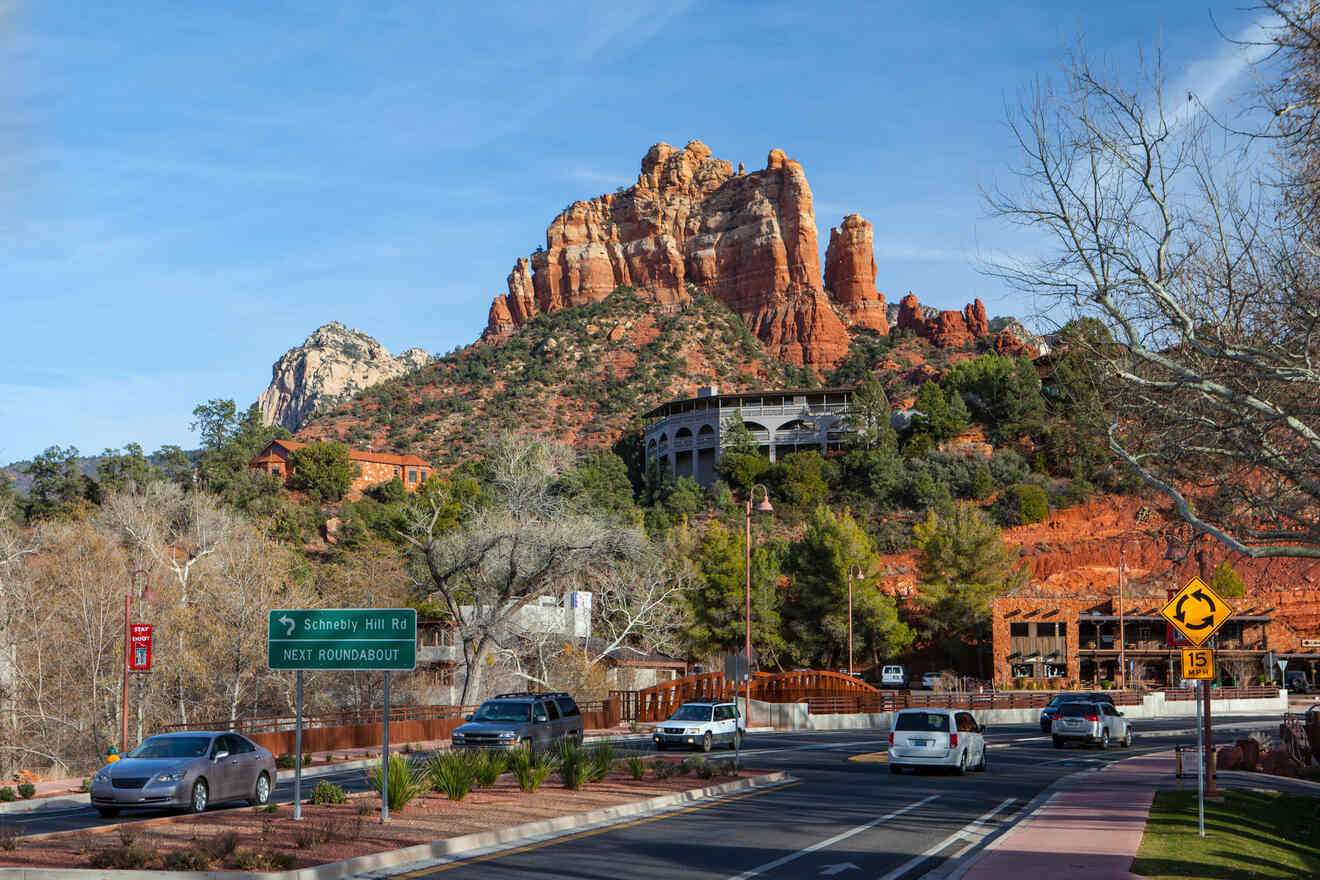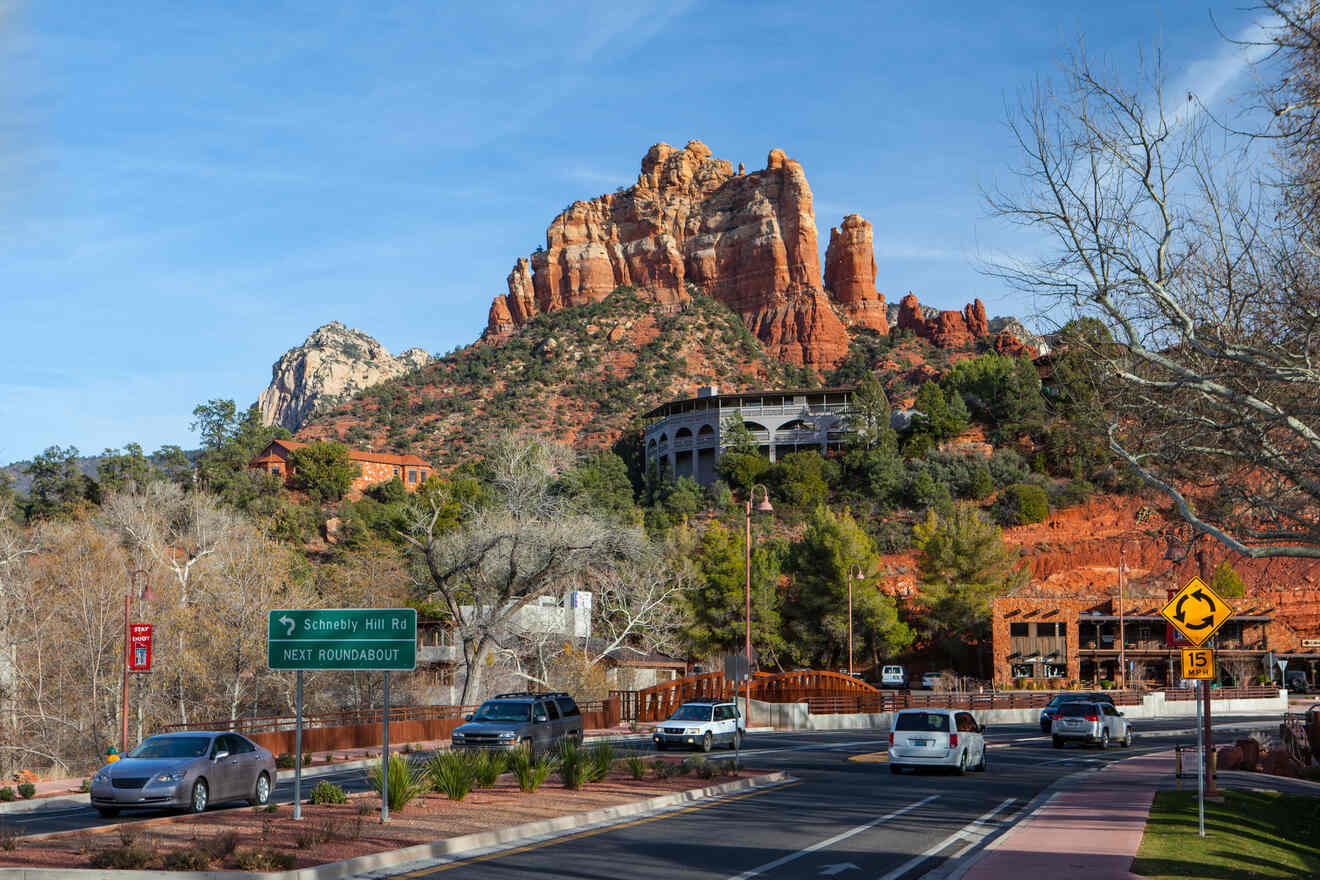 Conclusion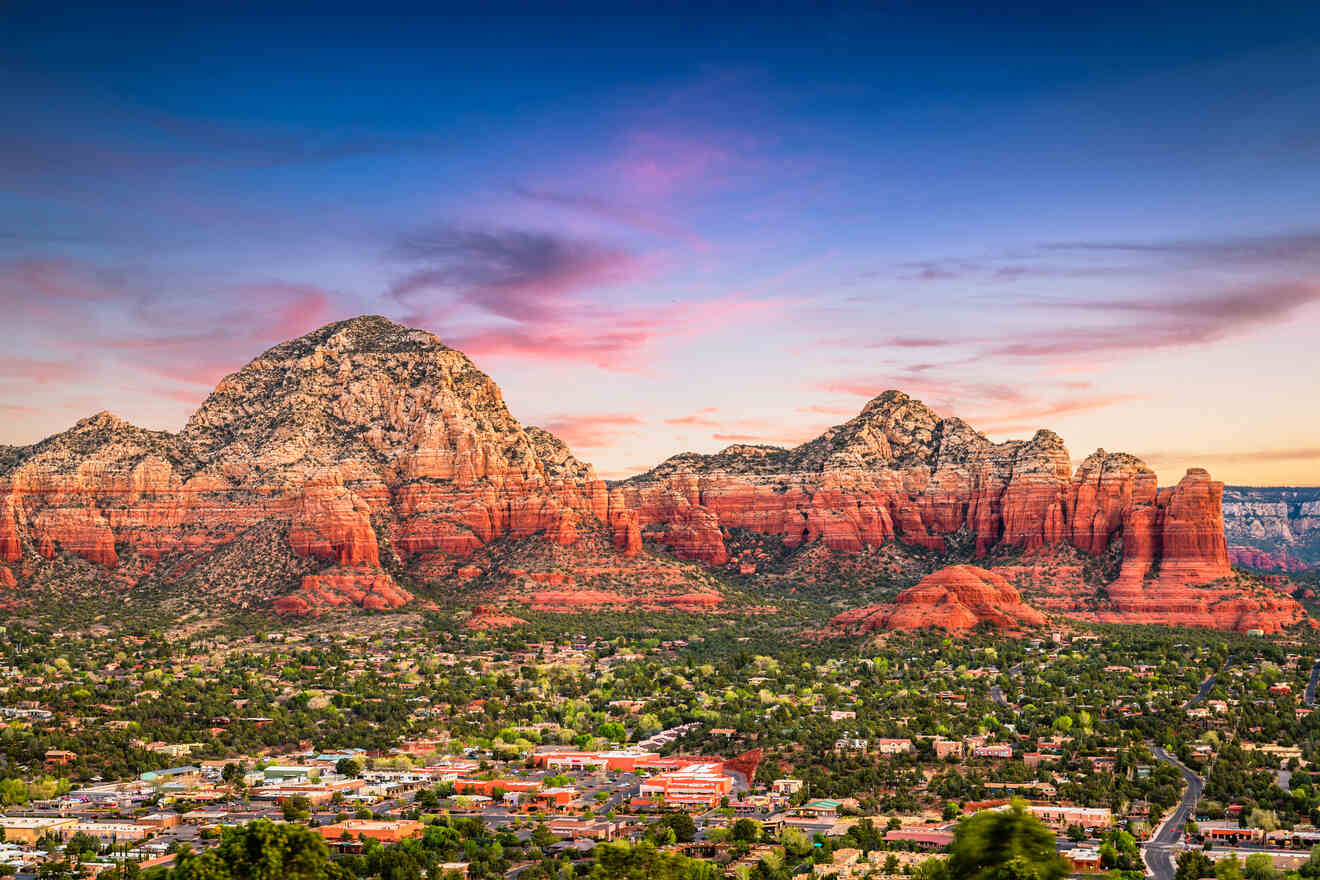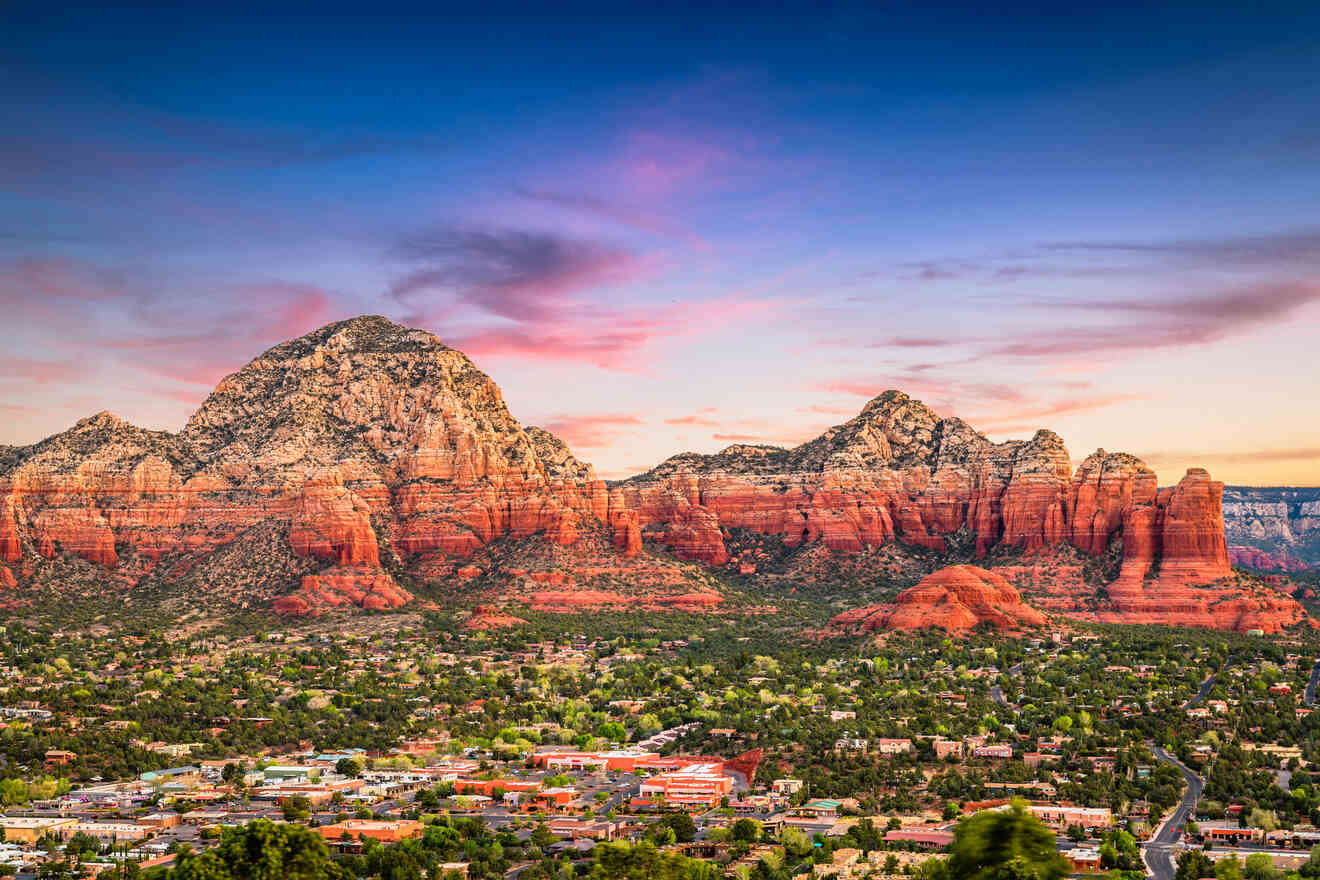 Congratulations, you managed to get through the end of this list! Now, you're equipped with the very best options when it comes to Sedona, AZ, tours!
At first glance, this list might seem overwhelming, but each experience offered is one worth trying! You might seek adventure, relaxation, or a little bit of both, and Sedona can offer it all. From hiking and meditations to Jeep tours, the opportunities to immerse yourself in Sedona's natural beauty are endless!
Now don't get too excited and forget just how popular this destination is! So many people want to visit it each year, and the tours are quite popular. So be smart, and book your tours in advance!
And for my dear travelers who already got to experience this wonderful location, I'd love to hear all about your travel memories! Let me know what you loved the most, what you didn't like, and whether you have something to add to this list in the comments below!
Happy travels and unforgettable adventures,
Angelina
---
Pin it for later!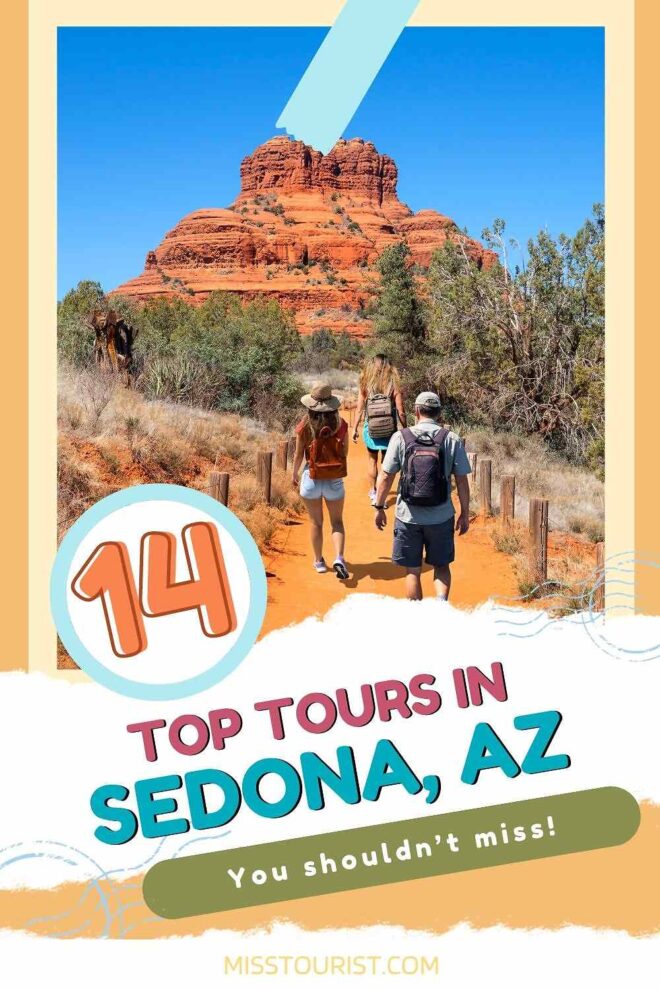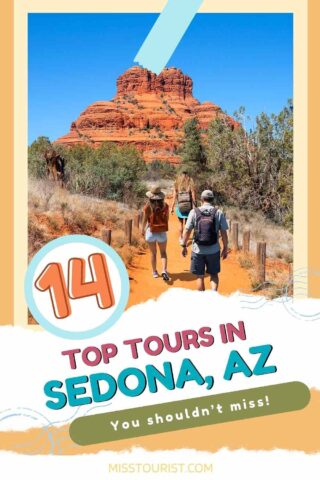 Pin it for later!