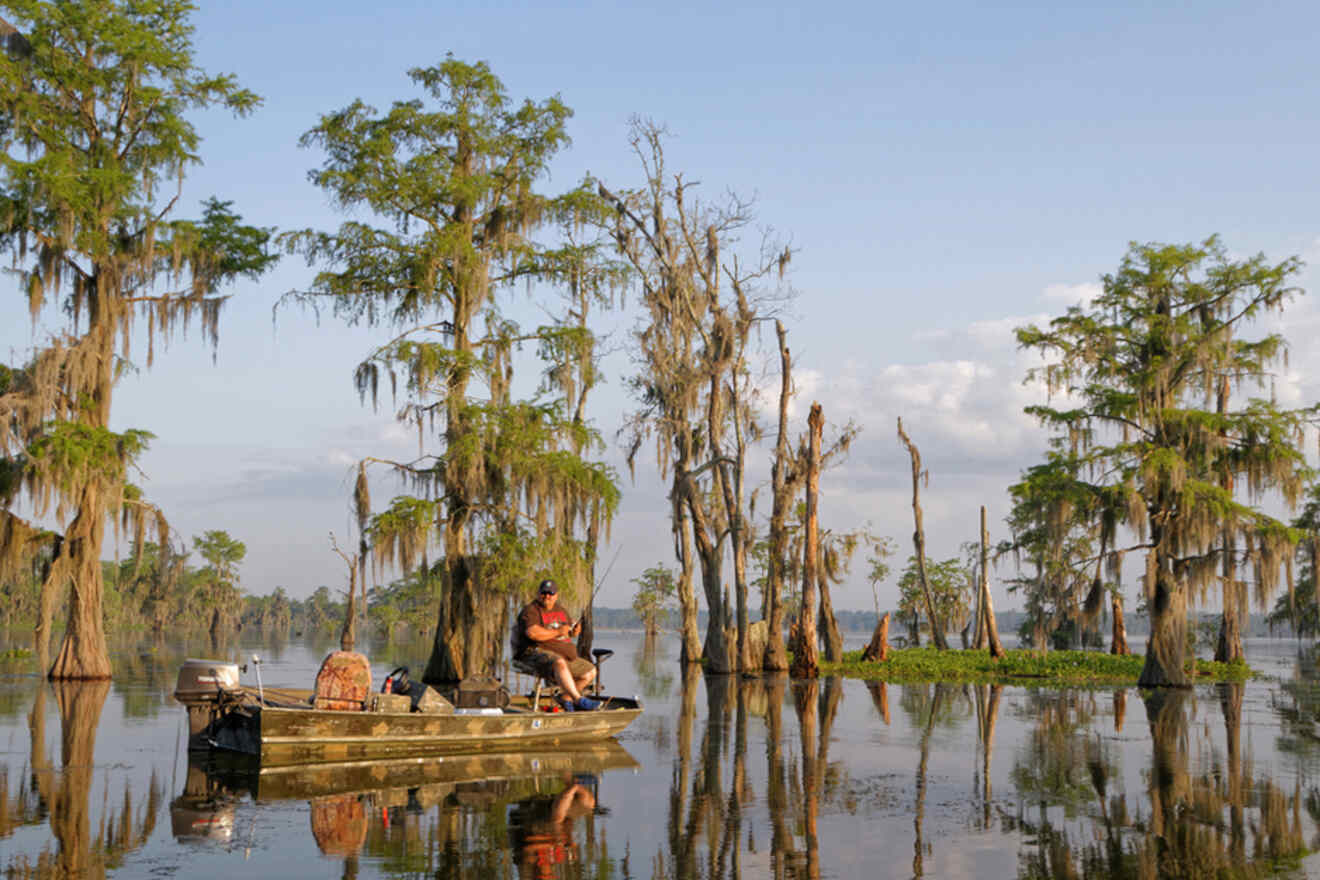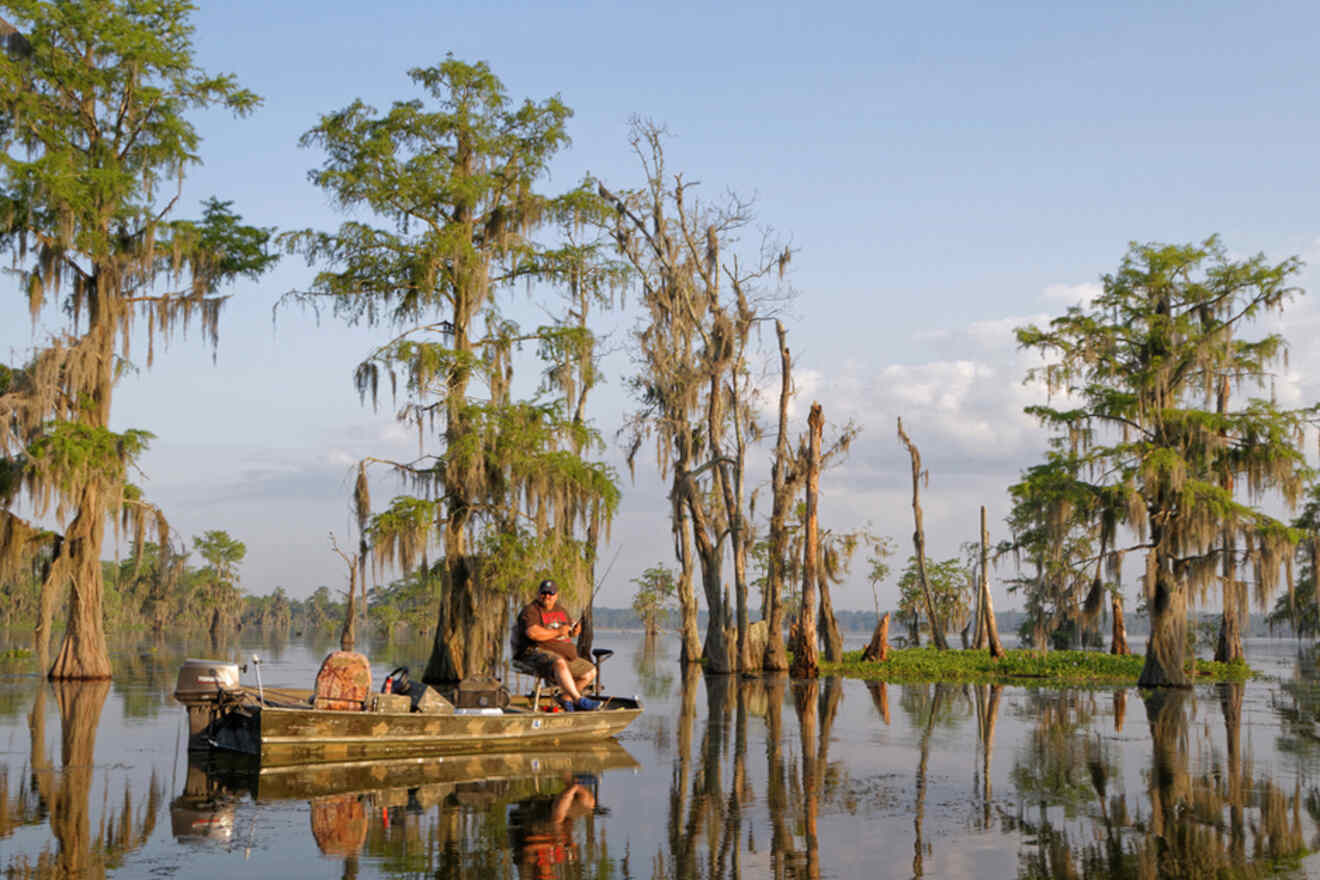 Welcome to the wild and mysterious world of Louisiana's swamps! If you're looking for an adventure that will take you deep into the heart of nature, then you must take the very best Louisiana swamp tour options!
You will find several different swamp tours available, and each of them will offer you a unique experience. Some are focused on history, while others are more focused on wildlife, some are fast-paced and thrilling, while others are more laid-back and relaxing. But one thing is sure: no matter what kind of tour you choose, you'll be in for an adventure you'll never forget.
I made sure to do an extensive deep dive and find you the very best options so you don't have to do any hard work. From airboat adventures to Cajun town and private tours, there is something for each personality type.
Keep in mind one thing, though: you should always book in advance and avoid any potential risks of losing your spot on tour.
Let's take a deep dive and explore the best swamp tours!
If you are in a hurry
Here are the top Louisiana swamp tours that you'd want to book in advance:
1. Take a Honey Island Swamp tour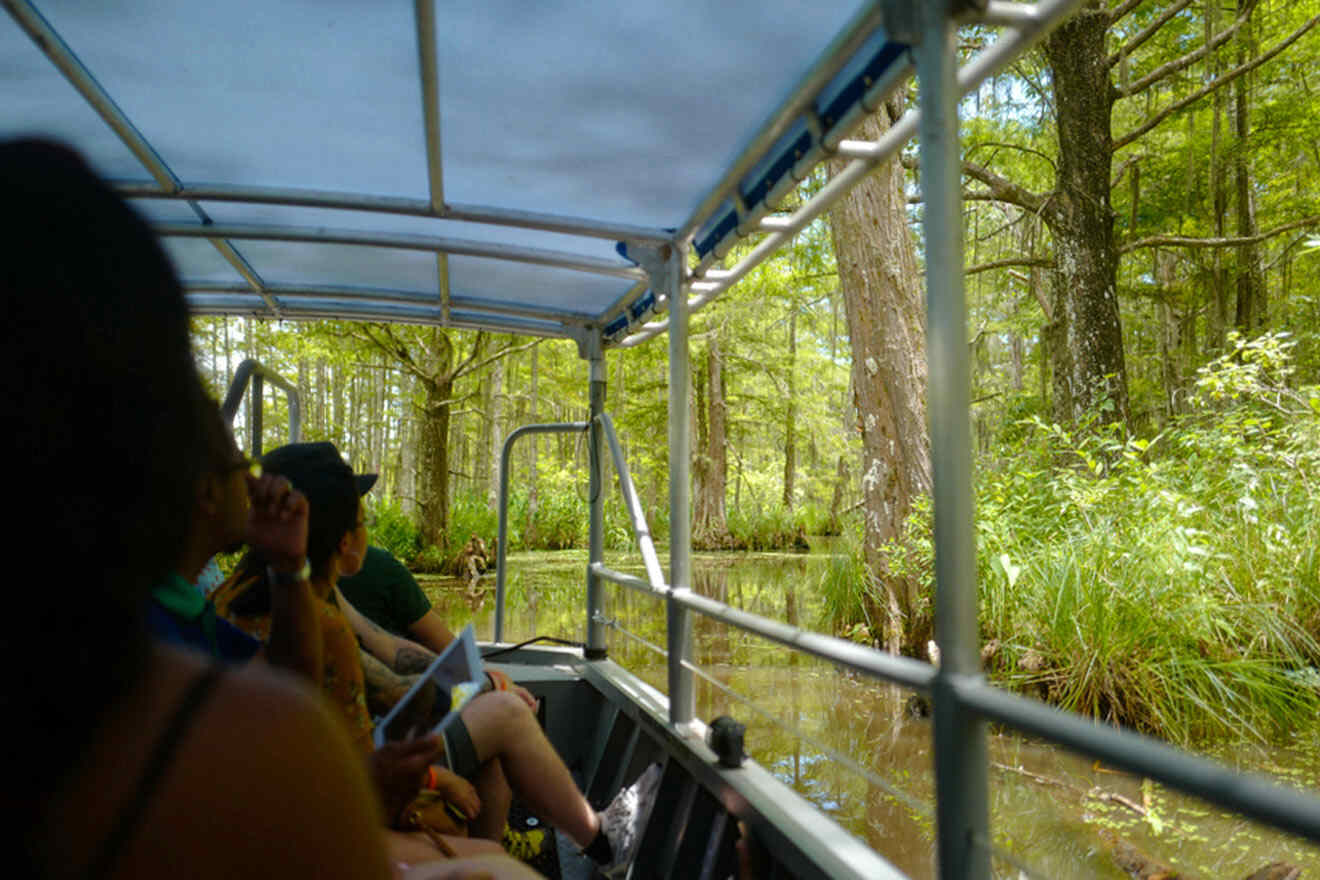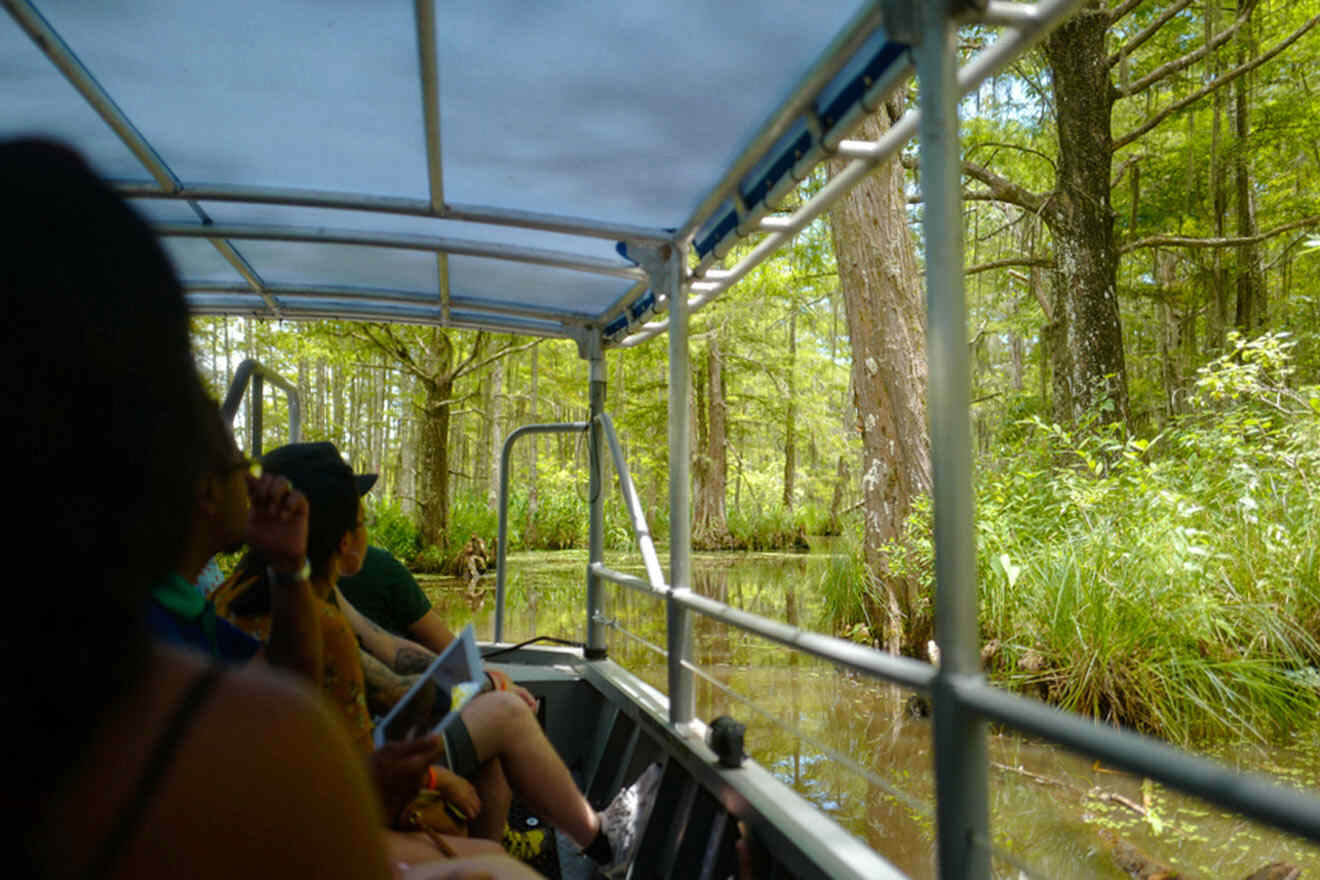 Duration: 2 hours
Price: from US$65
Why you should take it: the most popular tour
If you are a wildlife lover, it's easy to get cozy in a hotel room and watch countless Animal Planet shows, but since you're here, why not embark on a challenging adventure? This 2-hour boat swamp tour to Honey Island Swamp, one of Louisiana's last protected wetlands, will give you a chance to get close to alligators, wild boar, snakes, and birds! It includes transportation from downtown New Orleans and takes you on a ride through the lush foliage of the swamp, where you can soak up the beauty of this unique ecosystem.
With a knowledgeable local guide, you'll visit Cajun fishing village, where you can learn about the culture and inhabitants and hear stories about the history and folklore of the region to get a real sense of what life is like in Cajun country. This adventure is very popular amongst travelers, you definitely shouldn't miss this ultimate swamp boat tour.
2. Explore the Cajun Pride & Oak Alley Plantation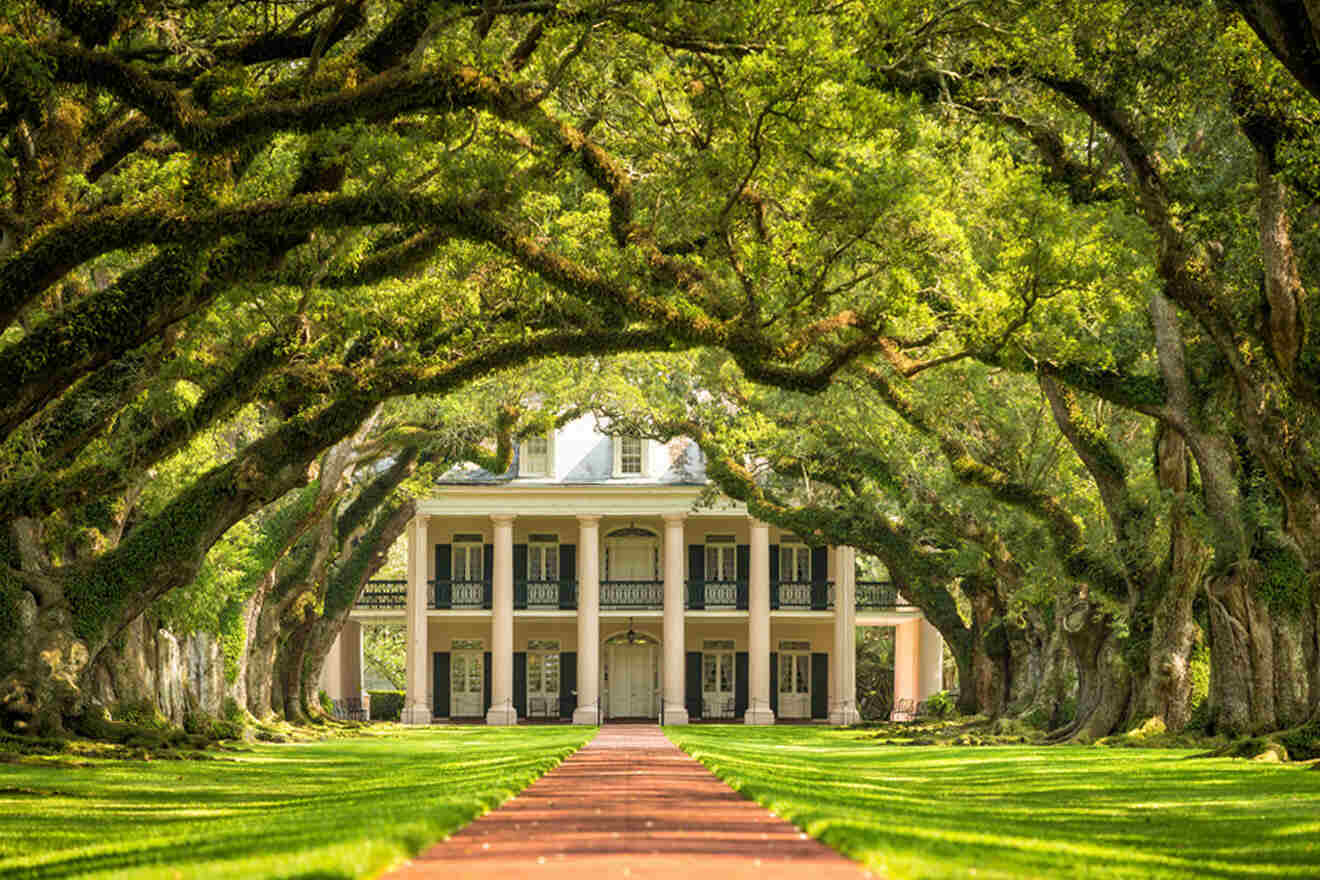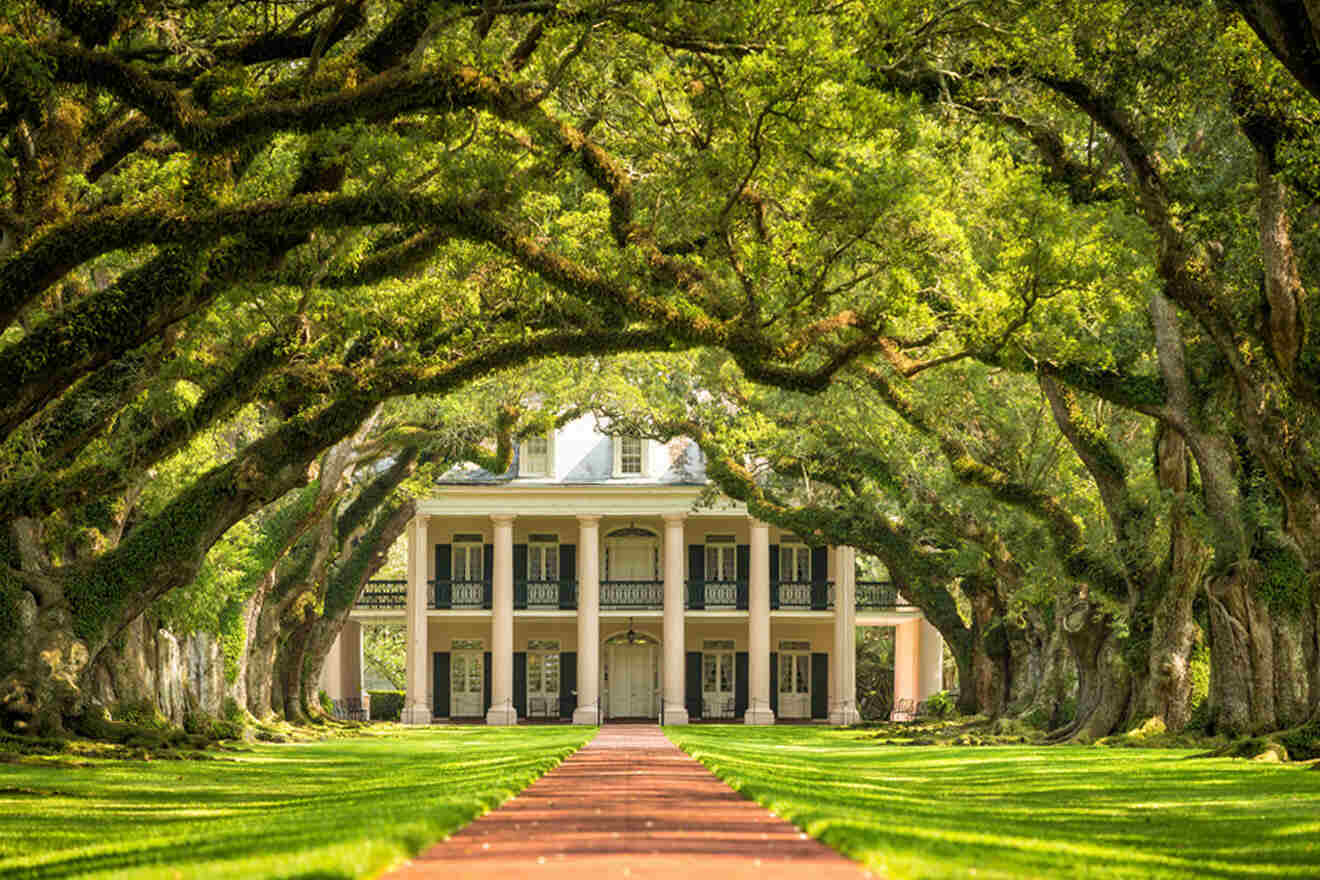 Duration: 7.5 hours
Price: from US$120
Why you should take it: includes a visit to Oak Alley Plantation
This combination tour will offer you history, nature, and culture all at once! You'll start your day with air-conditioned coach transportation from the French Quarter along Lake Pontchartrain, after which you'll visit Oak Alley Plantation – in the Mississippi Valley. It's an incredible alley of 28 oak trees while your guide shares stories about the home and its history. You'll get to experience a docent-guided tour of the plantation home and take a self-guided tour of the stunning grounds.
Next up is the Cajun Pride swamp boat tour – a privately owned wildlife refuge that ensures you won't encounter any other boats during your peaceful journey into the swamp where you'll hear personal tales from local Cajun captains and learn all about the plants and wildlife that call this place home. Get ready to capture some amazing shots of the moss-draped cypress trees and abundant wildlife in this primitive paradise.
3. Join a small-group airboat swamp tour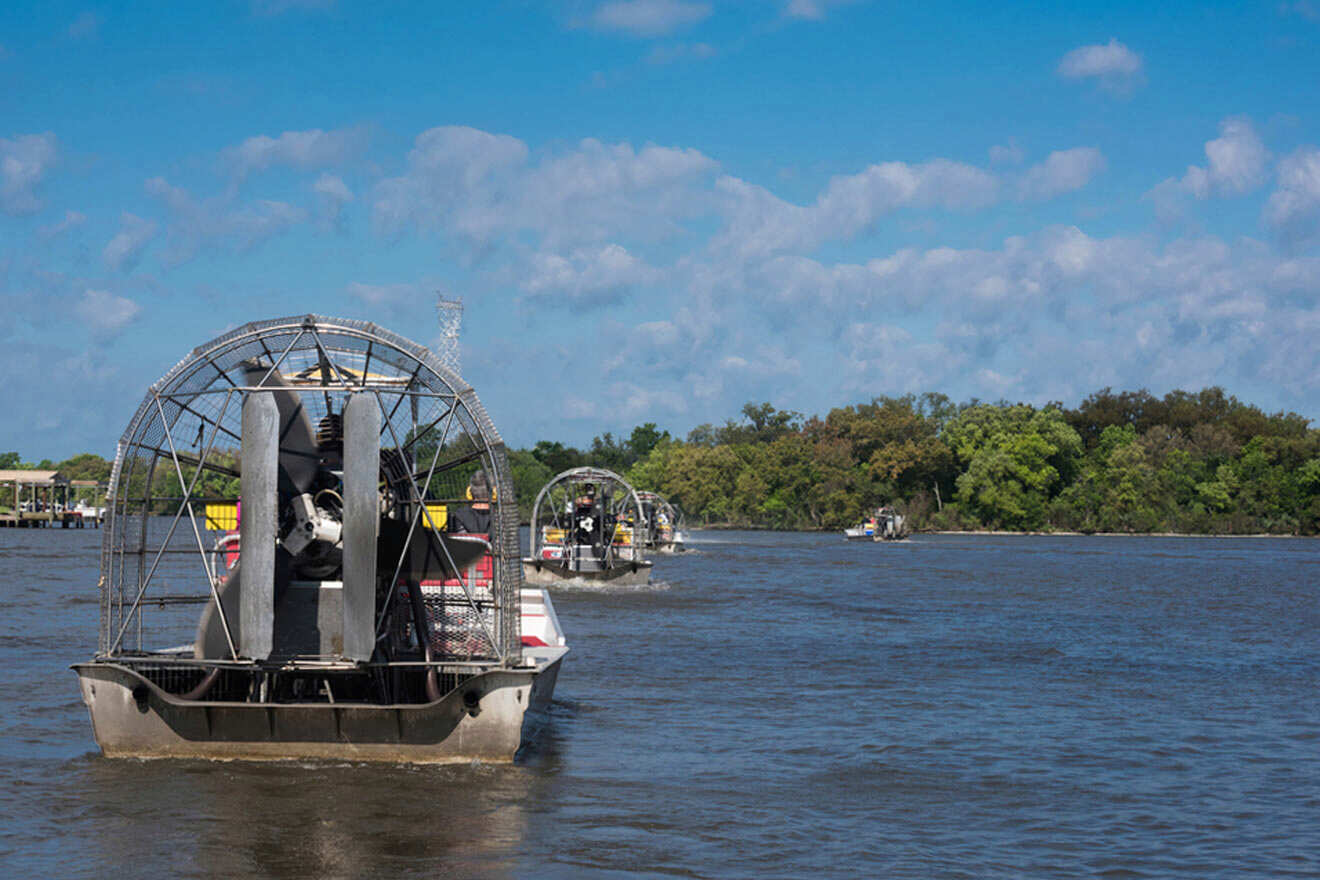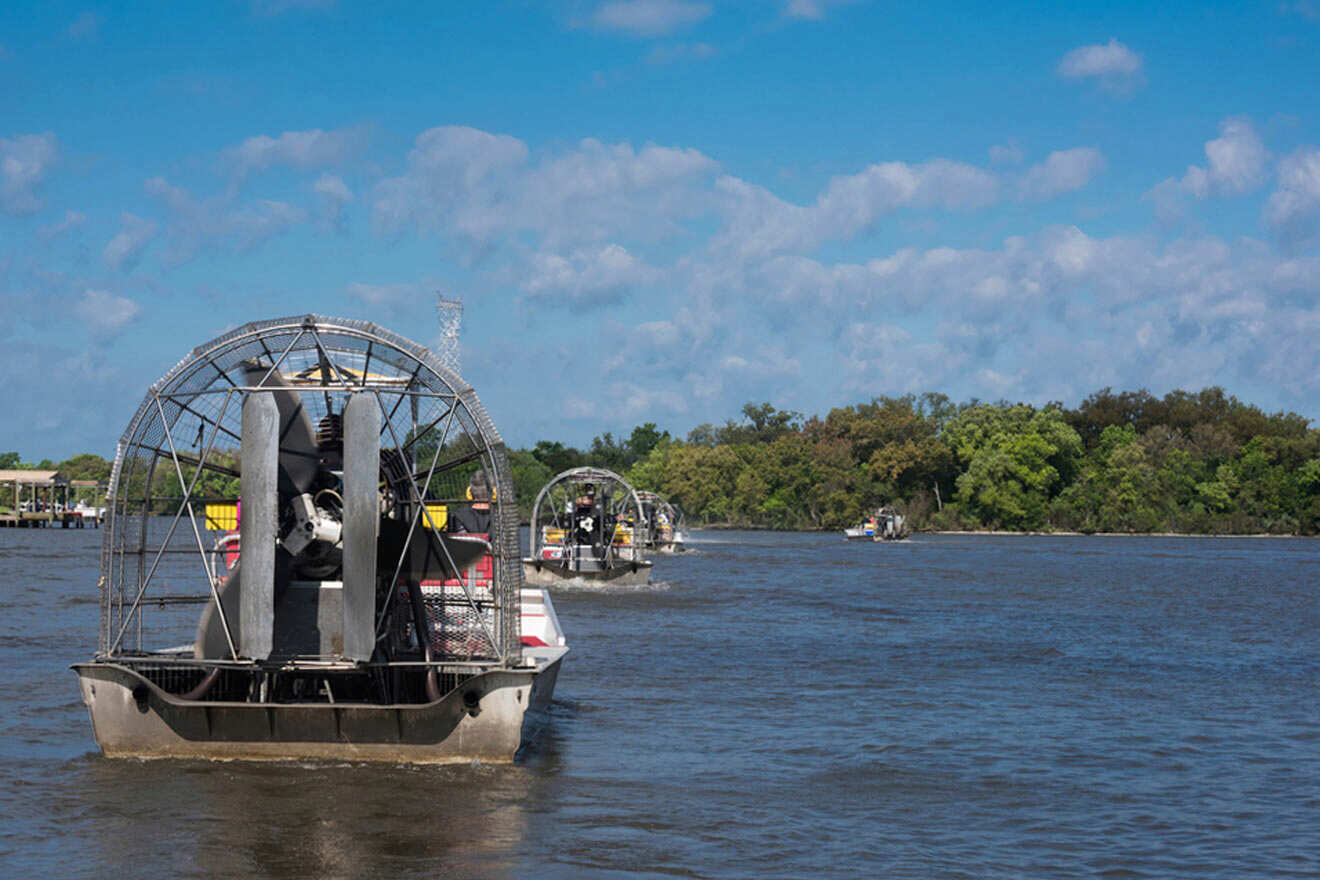 Duration: 2 hours
Price: from US$110
Why you should take it: airboat tour of the hidden parts of the Mississippi River
You'll get to enjoy the Mississippi River as you embark on a thrilling journey through the swamps! Airboat tours are crazy popular, so you won't want to miss this one.
Hop aboard one of the high-speed airboats and zoom through the water at breakneck speeds before slowing down to snap some incredible pictures of the breathtaking scenery, and your personal tour guide will be a seasoned captain with plenty of local knowledge. During the summer months, you're guaranteed to see alligators. When it comes to winter, that is the time they are hibernating, but since the experienced captain is by your side, he'll know some secret places where it's possible to find them, so you have a 50/50 chance of seeing them.
Airboats are designed to take you to areas of the swamp that are inaccessible by foot or car, so get ready to explore untouched parts of the Mississippi River.
4. See exotic wildlife on a kayak tour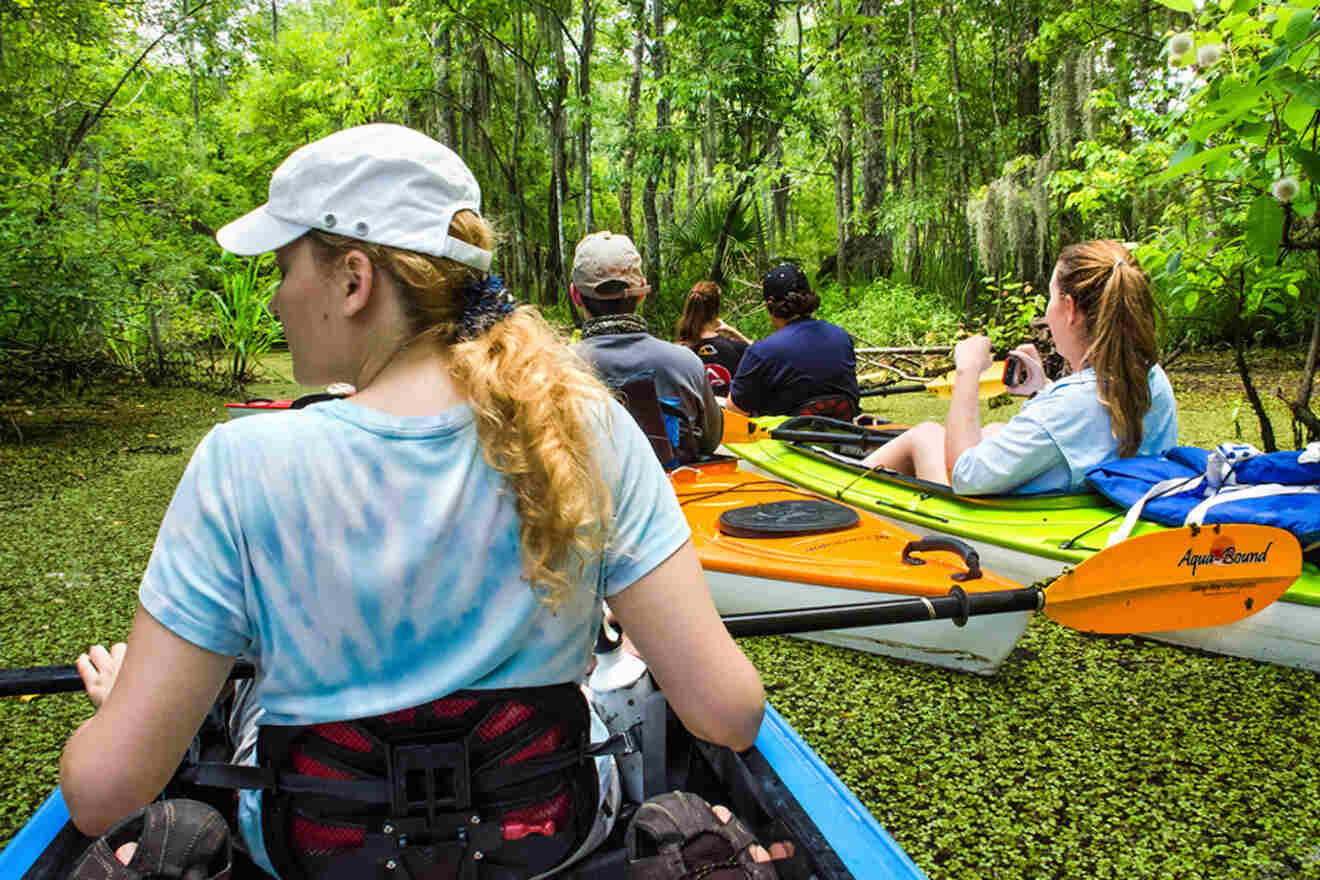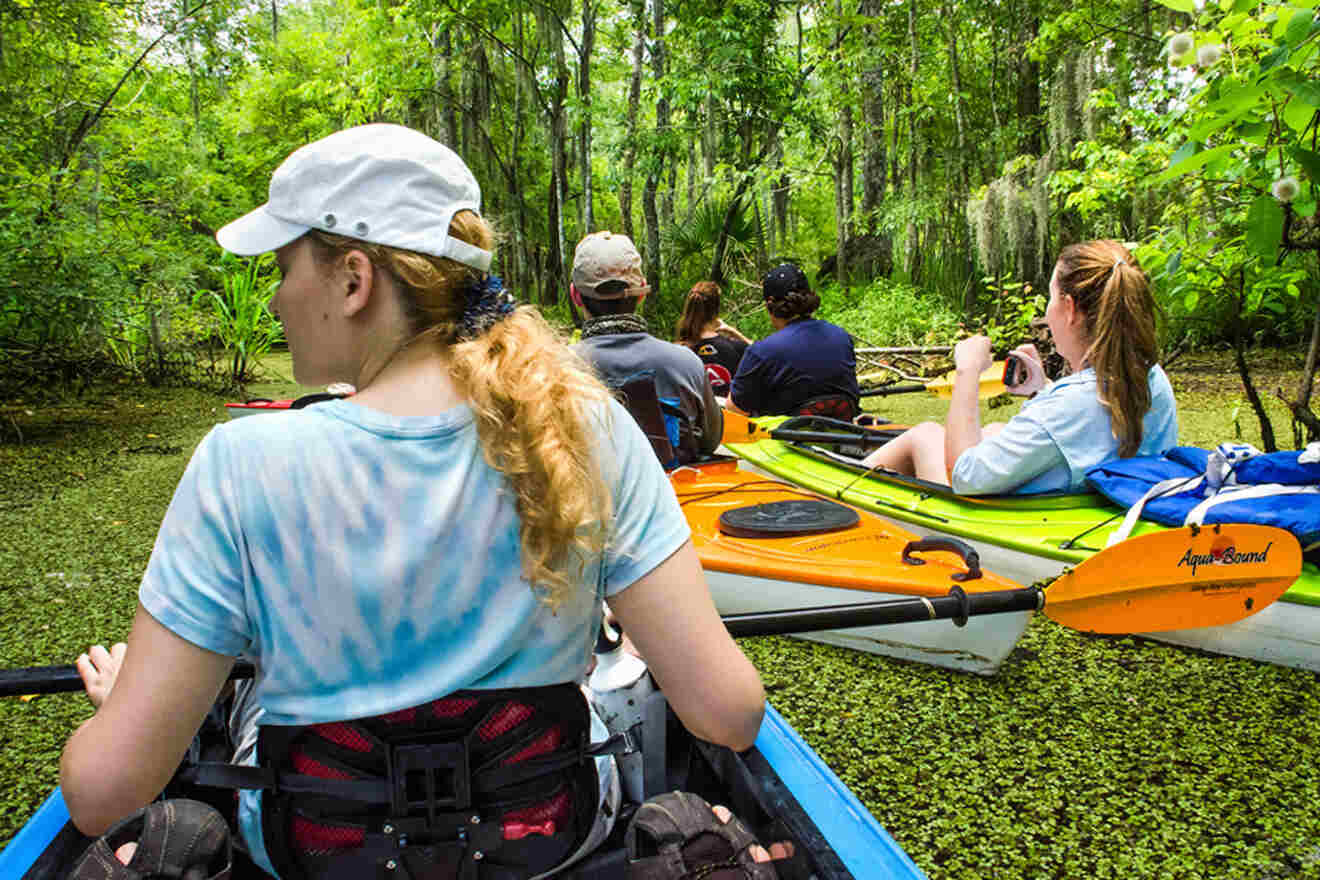 Duration: 2 hours
Price: from US$95
Why you should take it: small group and kayak ride
This is one of those ultimate swamp adventures that both beginners and seasoned pros can take. Climb aboard a tandem kayak and paddle your way through the Manchac swamp and Maurepas.
On this small-group New Orleans swamp tour, you'll venture deep into the heart of the Louisiana Bayous, where cypress forests and wetlands teeming with wildlife. The expert guides will teach you everything you need to know to paddle like a pro and enjoy a Southern-style adventure like no other.
As you make your way through the swamp, you'll get to see alligators and other creatures of the wild, and with small group sizes, you can count on personalized service and plenty of attention from your guide.
5. Zip through Maurepas Swamp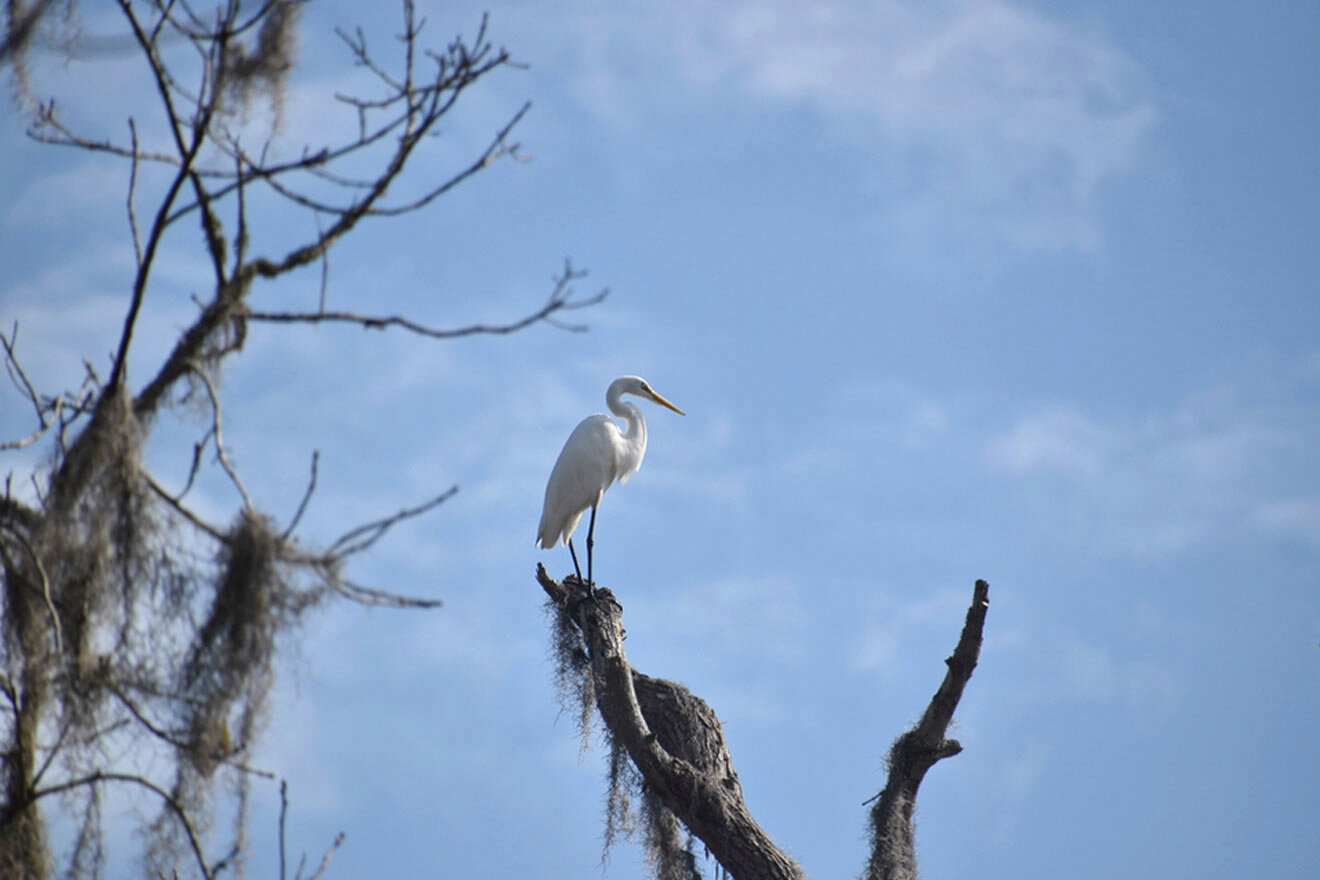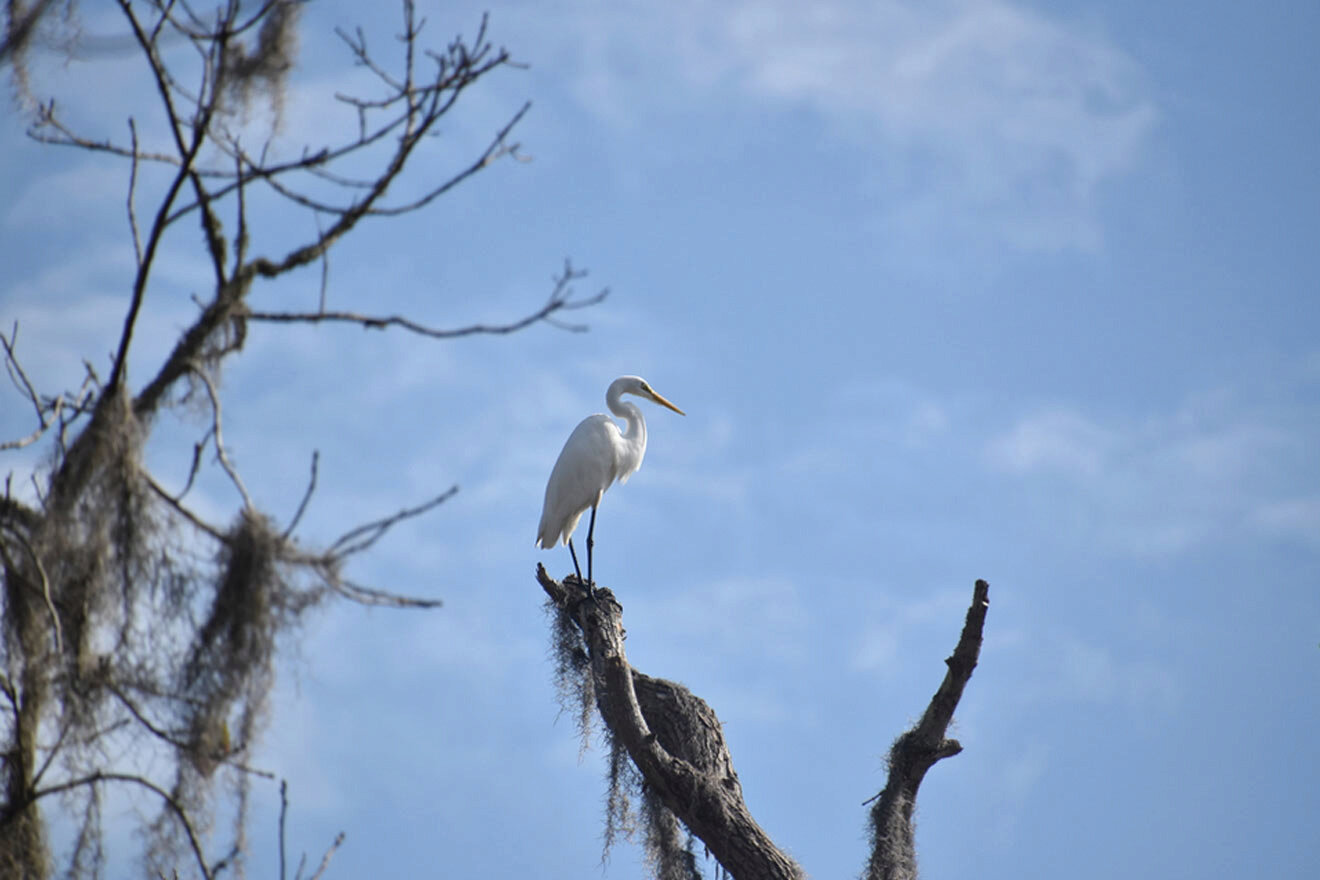 Duration: 1.5 hours
Price: from US$90
Why you should take it: challenging zipline experience for adventurers
If you want to take it a step further from New Orleans kayak swamp tours, you can try this fun and thrilling zipline experience! You can choose between multiple start times to fit your schedule and head to the Maurepas Swamp near Lake Ponchartrain. You even have the hotel pickup option available for ultimate convenience.
Once you're suited up in your gear, get ready to soar through the cypress treetops on 5 different ziplines and a suspension bridge and get an incredible new perspective on the Maurepas Swamp and the surrounding scenery that you won't find anywhere else.
But it's not just about the adrenaline rush – you'll also see gnarled cypress trees dripping with lush Spanish moss, alligators, wild boars, bald eagles, turtles, and even armadillos as you glide through the air. And don't worry if you're a beginner, safety gear and guidance are provided.
6. Discover NOLA's tombs, swamps & Cajuns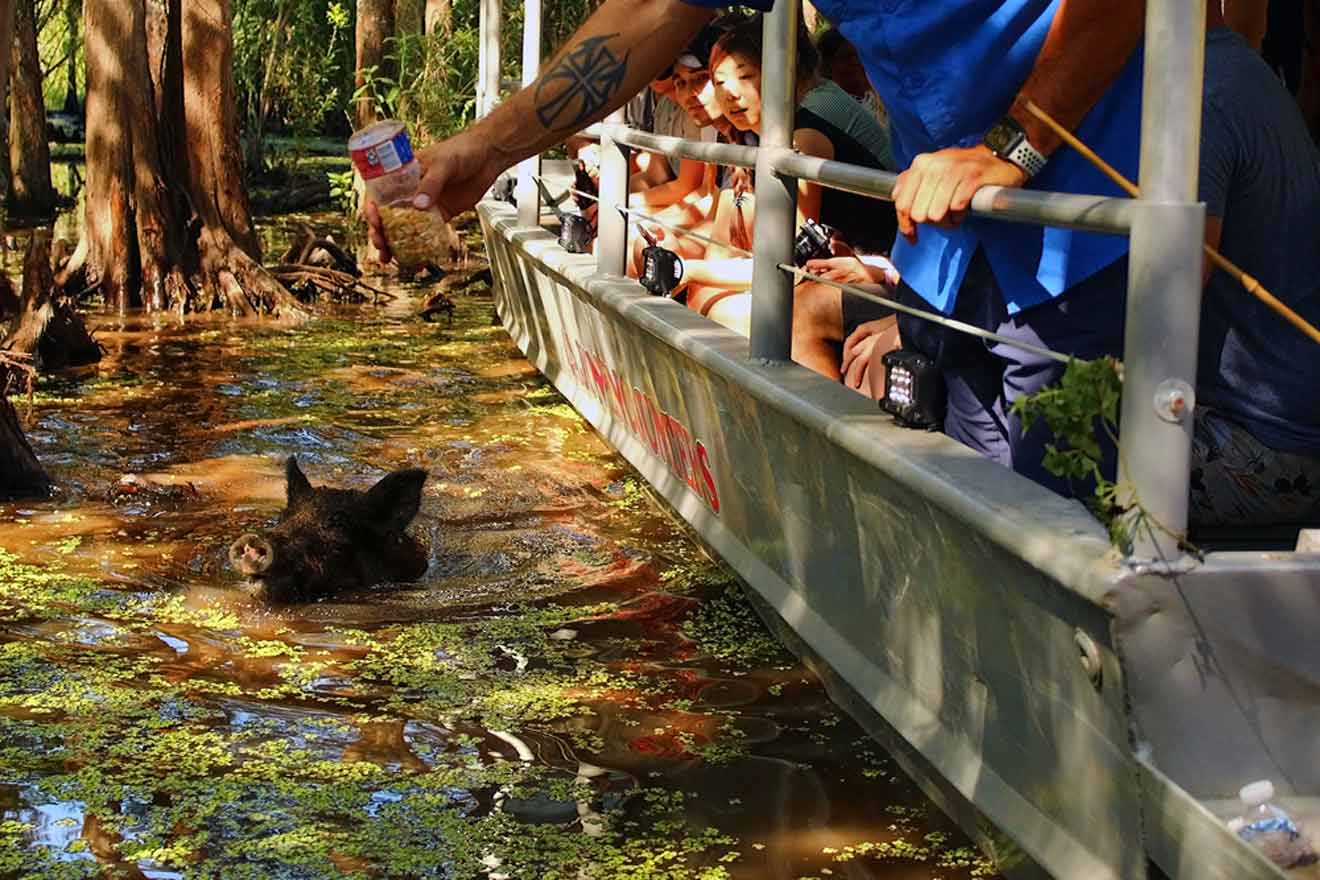 Duration: 7.5 hours
Price: from US$105
Why you should take it: great combination tour for families
If you're worried you'll be too busy with Louisiana Bayou Swamp tours and won't get to join any tours in New Orleans, I've got a perfect combo tour that can solve that problem. It's also a cool choice for families.
This tour starts with an exploration of the French Quarter with a guided bus tour, where you'll soak up the rich history and culture of this iconic neighborhood and get a walking tour of St. Louis Cemetery No. 3 – a must-see spot on NOLA ghost tours.
Then, you'll cruise along the mighty Mississippi River Delta to the Barataria Swamps with the Louisiana Tour Company. You'll witness the Cajun culture in harmony with its natural surroundings, using the narrow waterways as their highways. If you choose the airboat option, you'll experience the best of both worlds: a thrilling high-speed ride and a leisurely stop for pictures.
7. Visit the plantation & see Louisiana swamps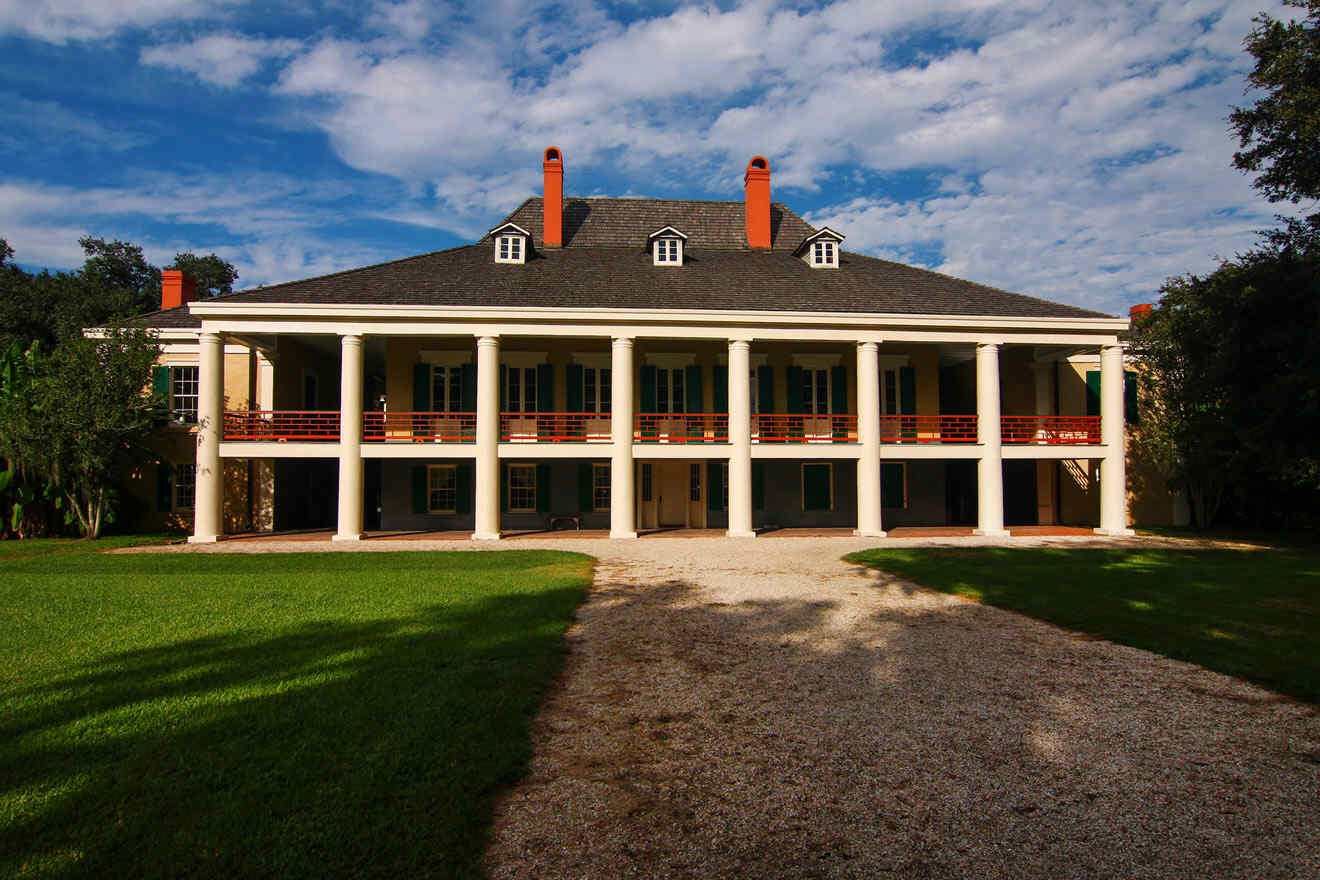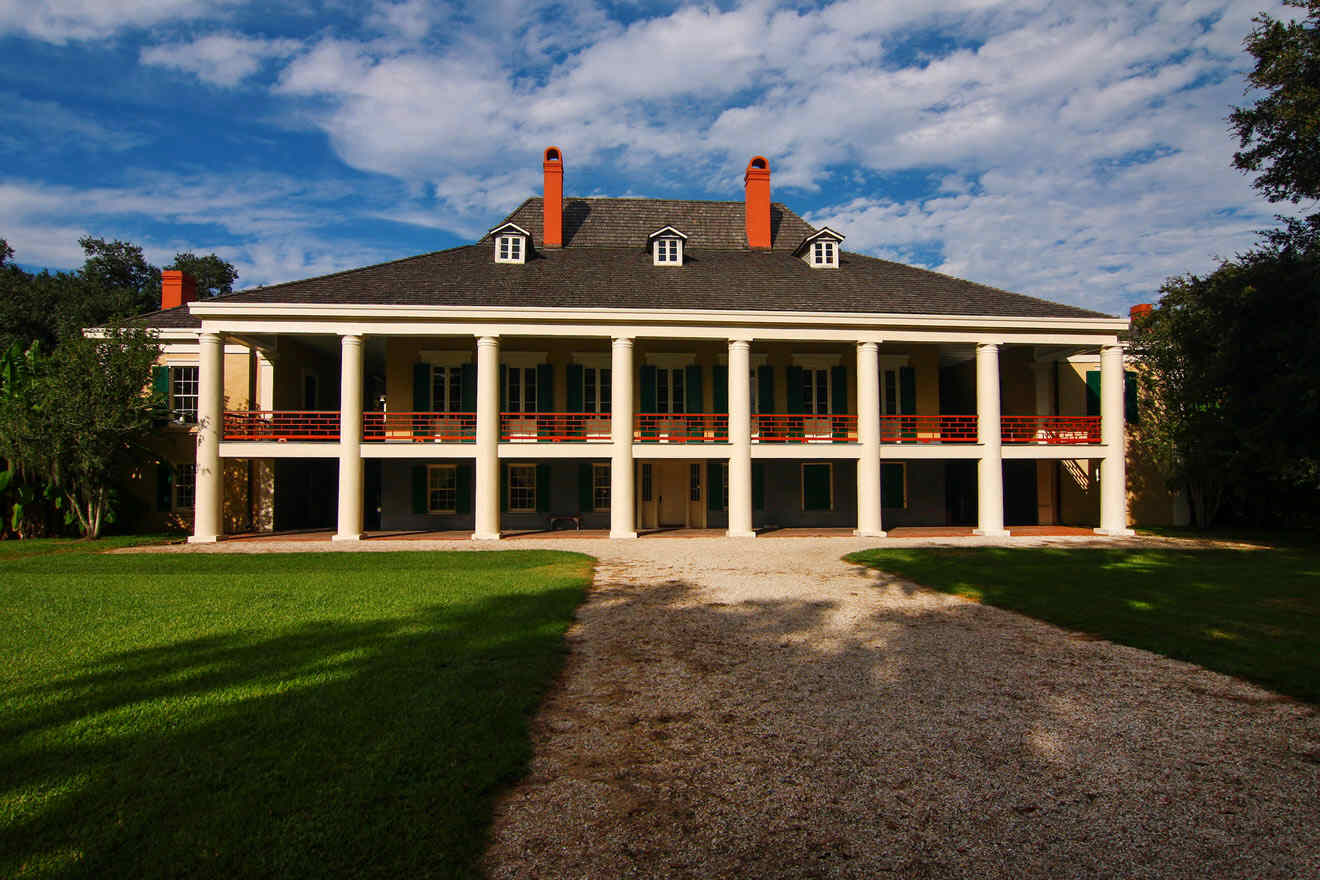 Duration: 6.5 hours
Price: from US$170
Why you should take it: includes a visit to Destrehan Plantation
If you think that seeing Louisiana swamps on airboat swamp tours is a monotonous experience, I have to offer you a thrilling 6-hour combination swamp and plantation tour by 6 or 9-passenger airboats.
It offers transportation from New Orleans hotels to Destrehan Plantation, the oldest documented plantation home in the lower Mississippi Valley. Listed on the National Register of Historic Places, you'll be transported back in time to a bygone era with a chance to explore the French and Spanish Colonial periods, marvel at the Antebellum grandeur of the sugar barons, and learn about the ravages of the Civil War and the rebirth of reconstruction.
Hop on a smaller airboat for a swamp tour and zoom along at high speeds, slowing down only to snap some photos or catch a glimpse of the wildlife. And trust me, you'll get up close and personal with some real Louisiana gators.
8. Come on a self-guided bayou swamp tour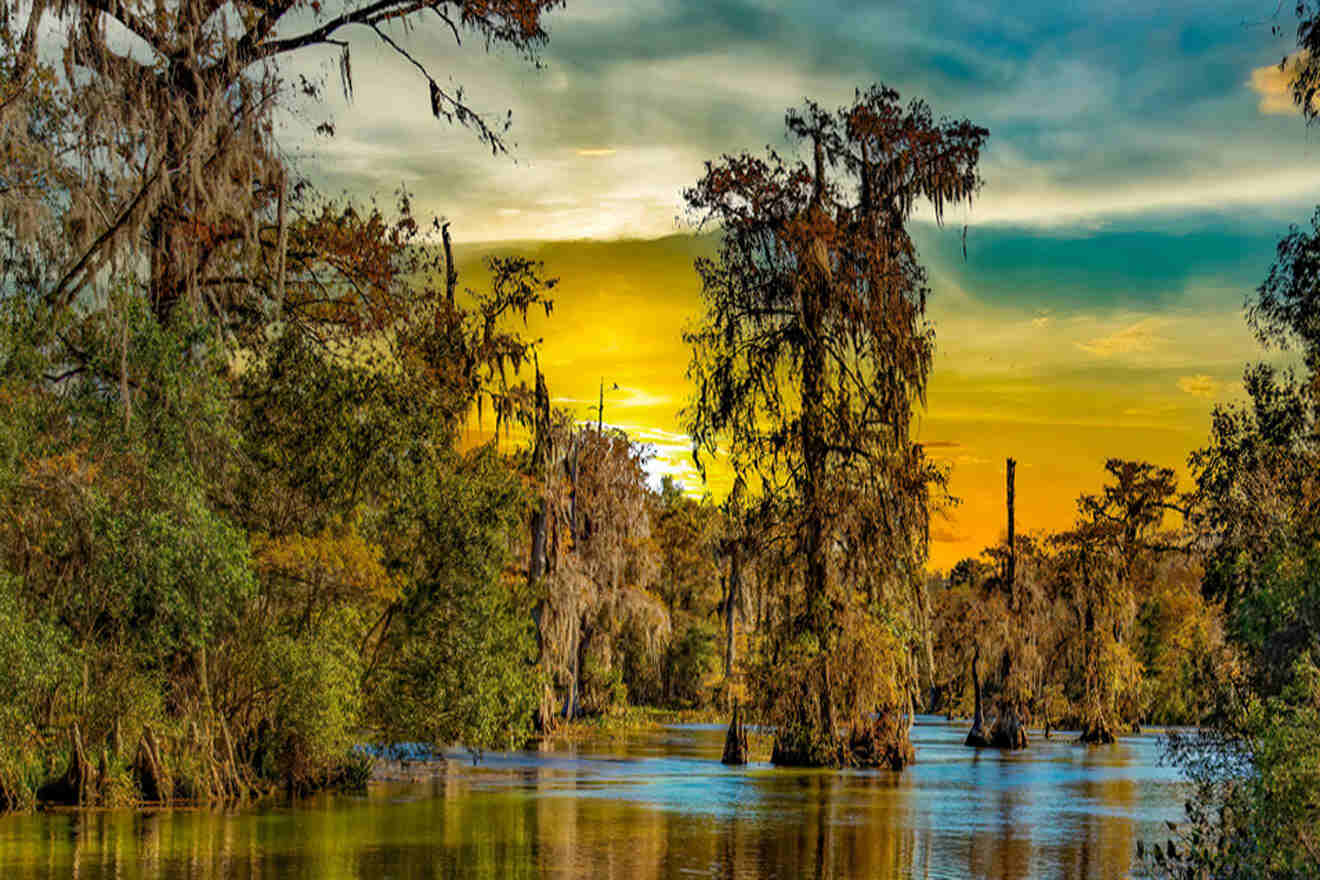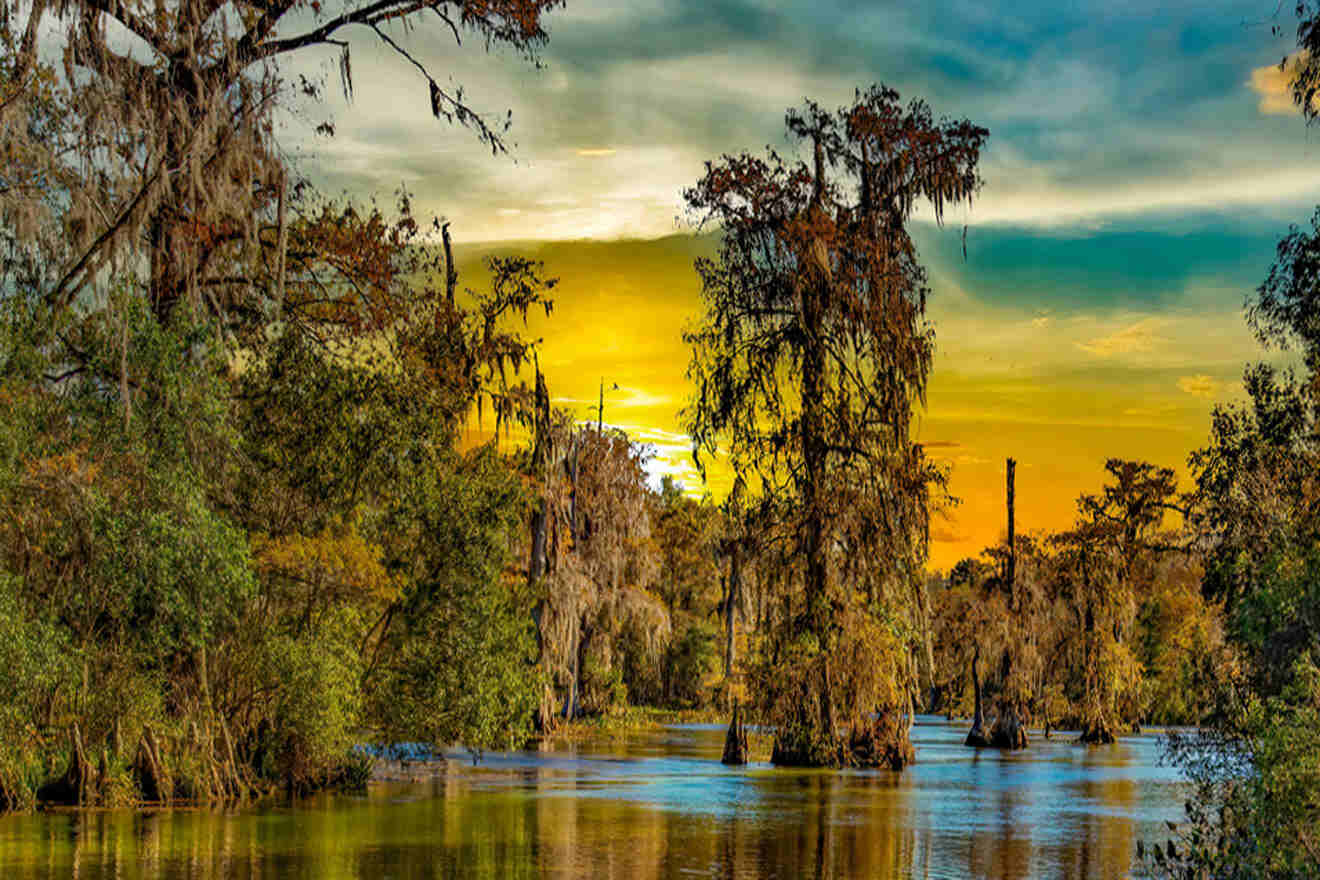 Duration: 1 to 2 hours
Price: from US$40
Why you should take it: get to know Louisiana's swamps at your own pace
If group swamp boat tours aren't your thing, you can always challenge yourself with a self-guided adventure and explore Bayou Bienvenue, a thriving ecosystem brimming with birds soaring above, majestic herons wading through the water, and friendly alligators and turtles basking in the sun.
And that's not all! You can also visit Bayou Sauvage National Wildlife Refuge, where you can catch a stunning view of the city skyline while surrounded by breathtaking natural beauty. Grab a sit-on-top kayak and take your time paddling through the bayou, soaking up the sights and sounds of this incredible habitat. And for those Instagram-savvy explorers out there, don't forget to seek out the Swamp Swing and snap a pic that's sure to make all your followers jealous!
Forget about large swamp boats and go on a self-guided swamp tour to see swamp creatures and winding waterways at your own pace.
9. Get to know Louisiana's wetlands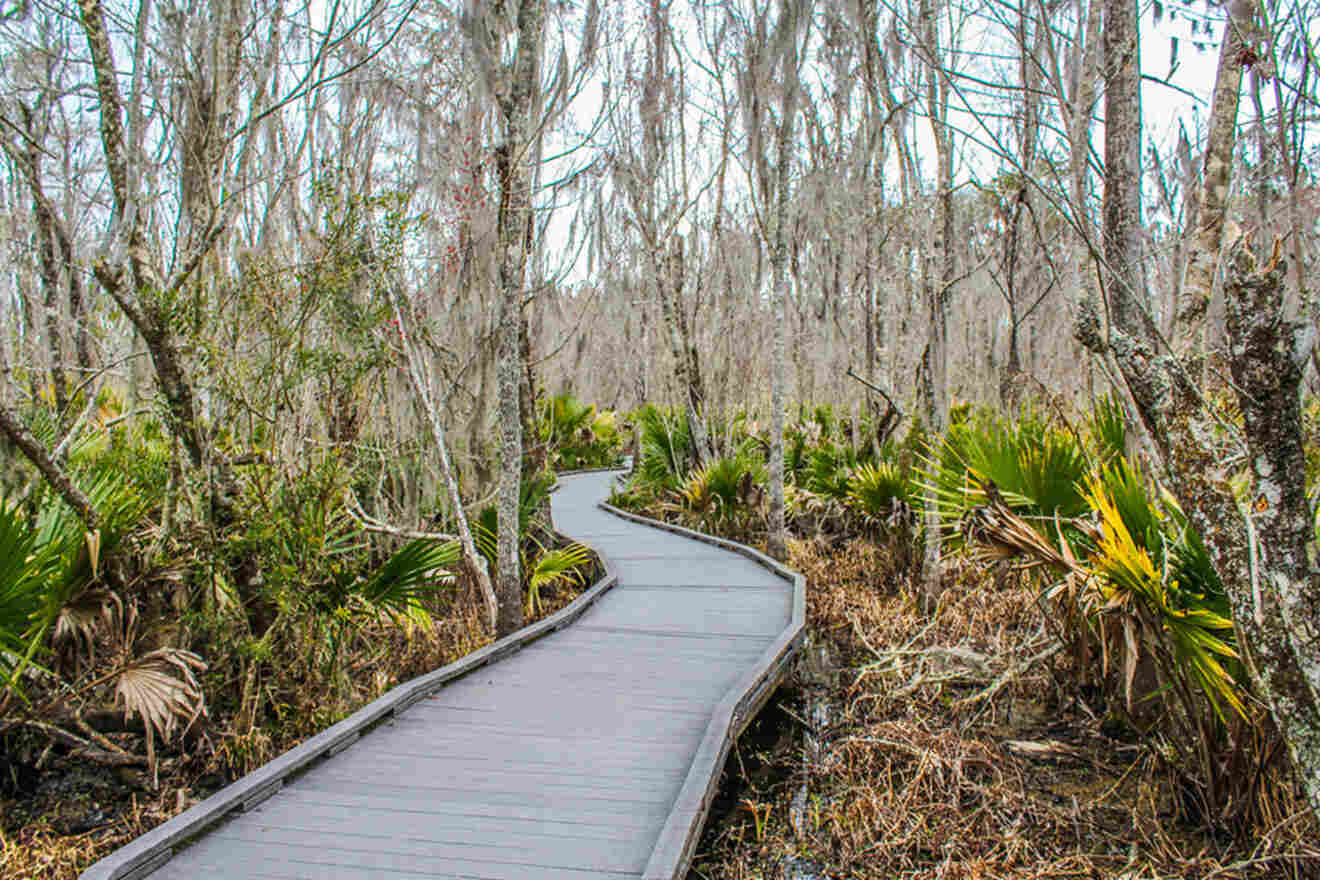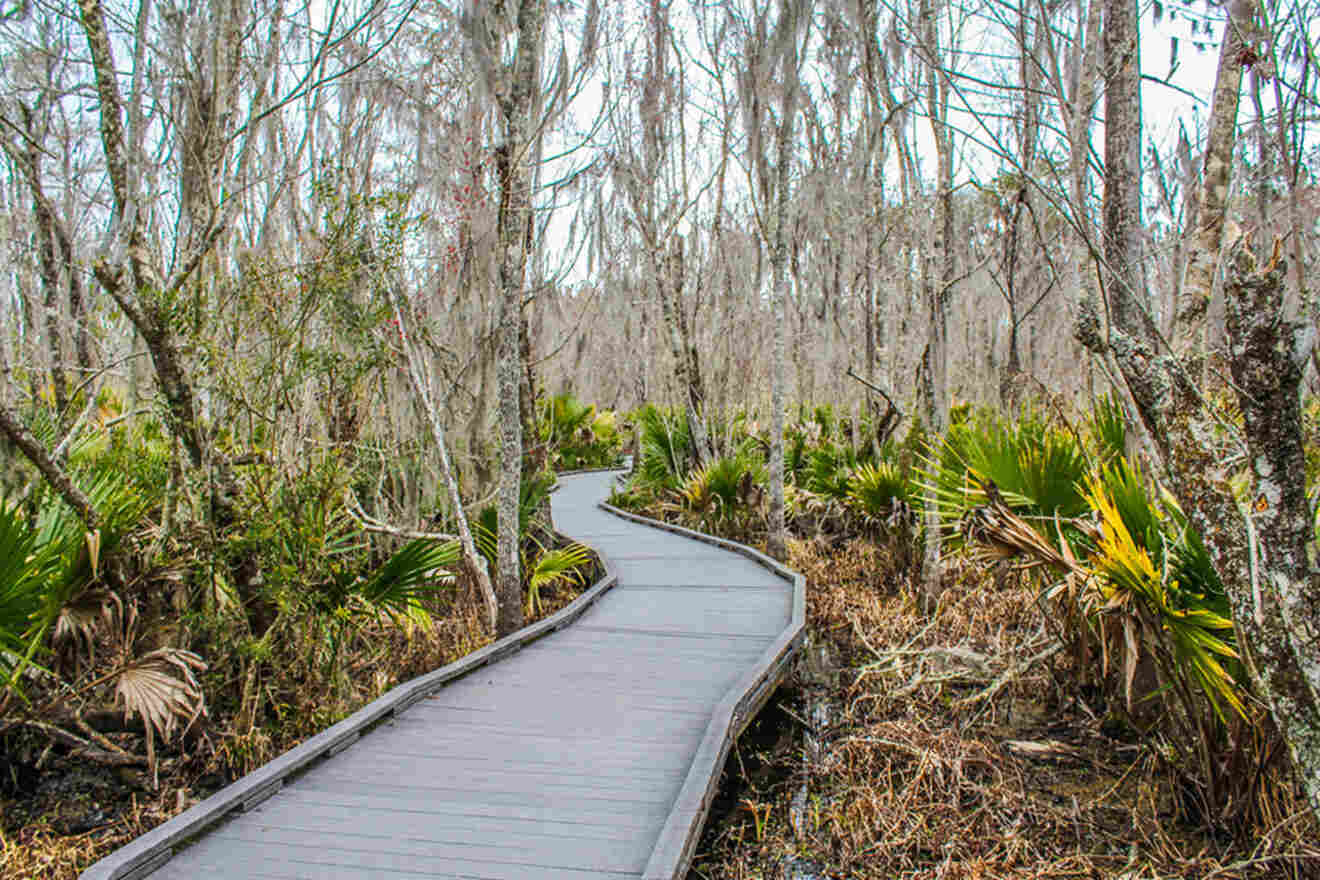 Duration: 1.5 hours
Price: from US$95
Why you should take it: includes Jean Lafitte National Park
When visiting Louisiana wetlands, Jean Lafitte swamp tours are a must. Hop aboard a shady and spacious pontoon boat in the protected Jean Lafitte National Park and Preserve, and glide down the Bayou through the swamp waters, where you'll see native plants and exotic wildlife.
You will have knowledgeable native tour guides by your side who will reveal the mysteries of this unique ecosystem and share exclusive facts about its fascinating history and culture. You'll learn all about the swamp's delicate balance and the legends that have defined Louisiana's vibrant heritage. And make sure to bring your camera along to capture all the glory of Louisiana's wetlands!
10. Take a private swamp tour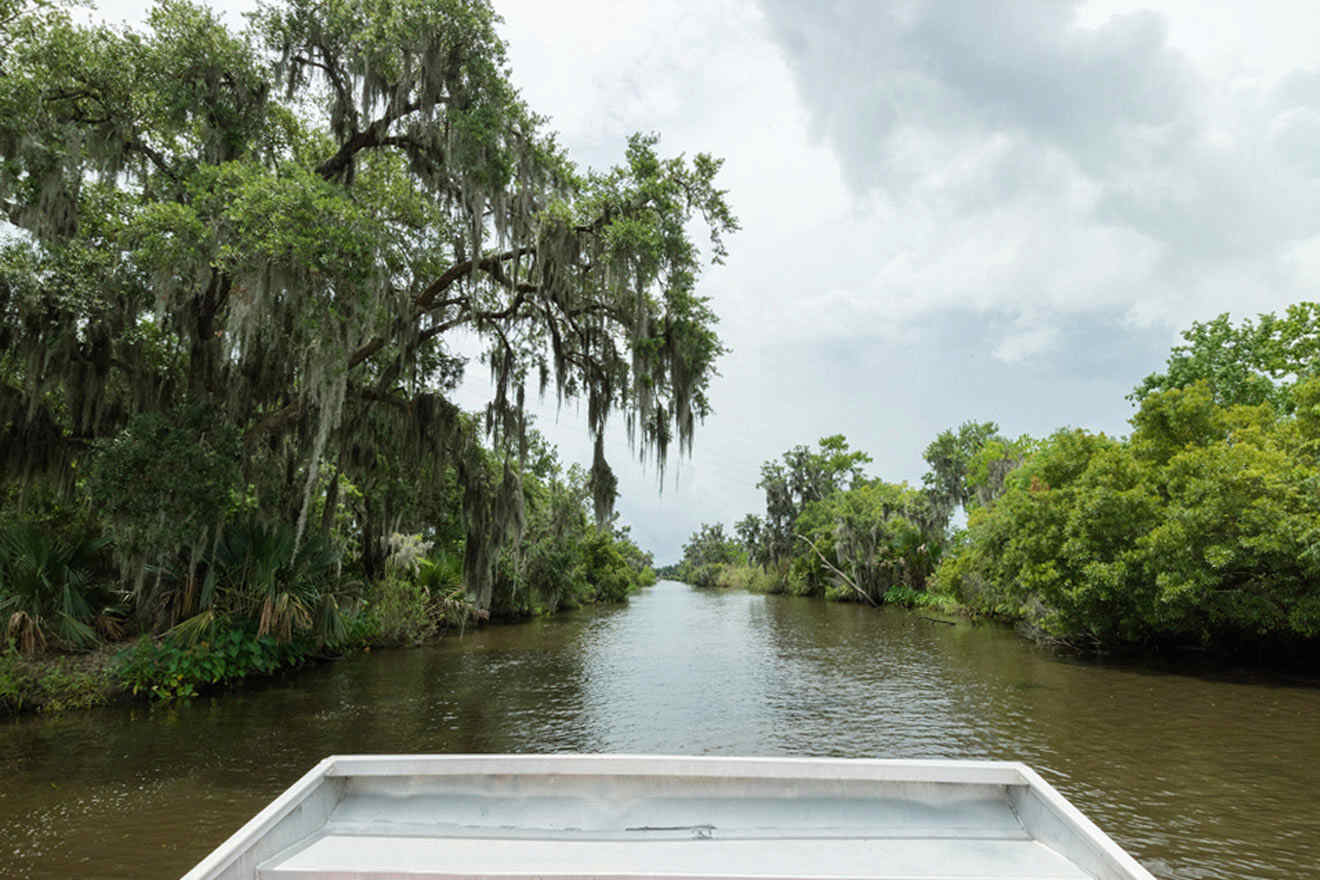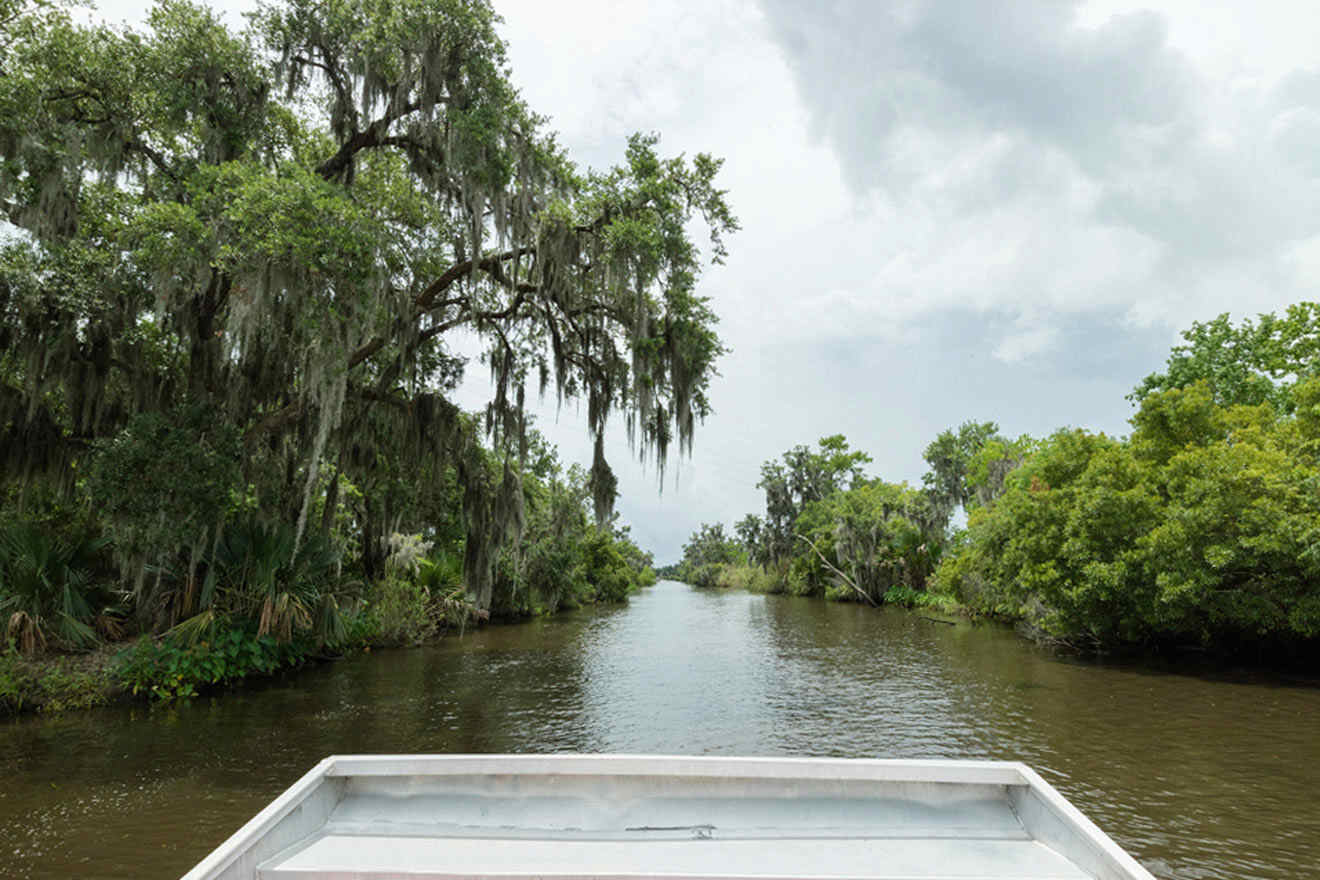 Duration: 2 hours
Price: from US$1,900
Why you should take it: a good choice for celebrations
When choosing wild Louisiana tours, private tours are a trendy choice. Join a private swamp airboat tour and zip through the mysterious swamps of Louisiana! Bring your squad of 16 or fewer for a party you won't forget – bachelor or bachelorette, or just a good old get-together with some drinks, tour operators have got you covered.
You'll see the best of the swamp action – gators, river otters, swamp grass, and who knows what else might make an appearance! This two-hour tour has multiple departure times, so you can pick the time you prefer to start your adventure. Of course, hotel pickup is included, so it's quite a convenient tour. And last but not least, you will have a guide by your side to help you with whatever you need.
11. Listen to Cajun music & see wildlife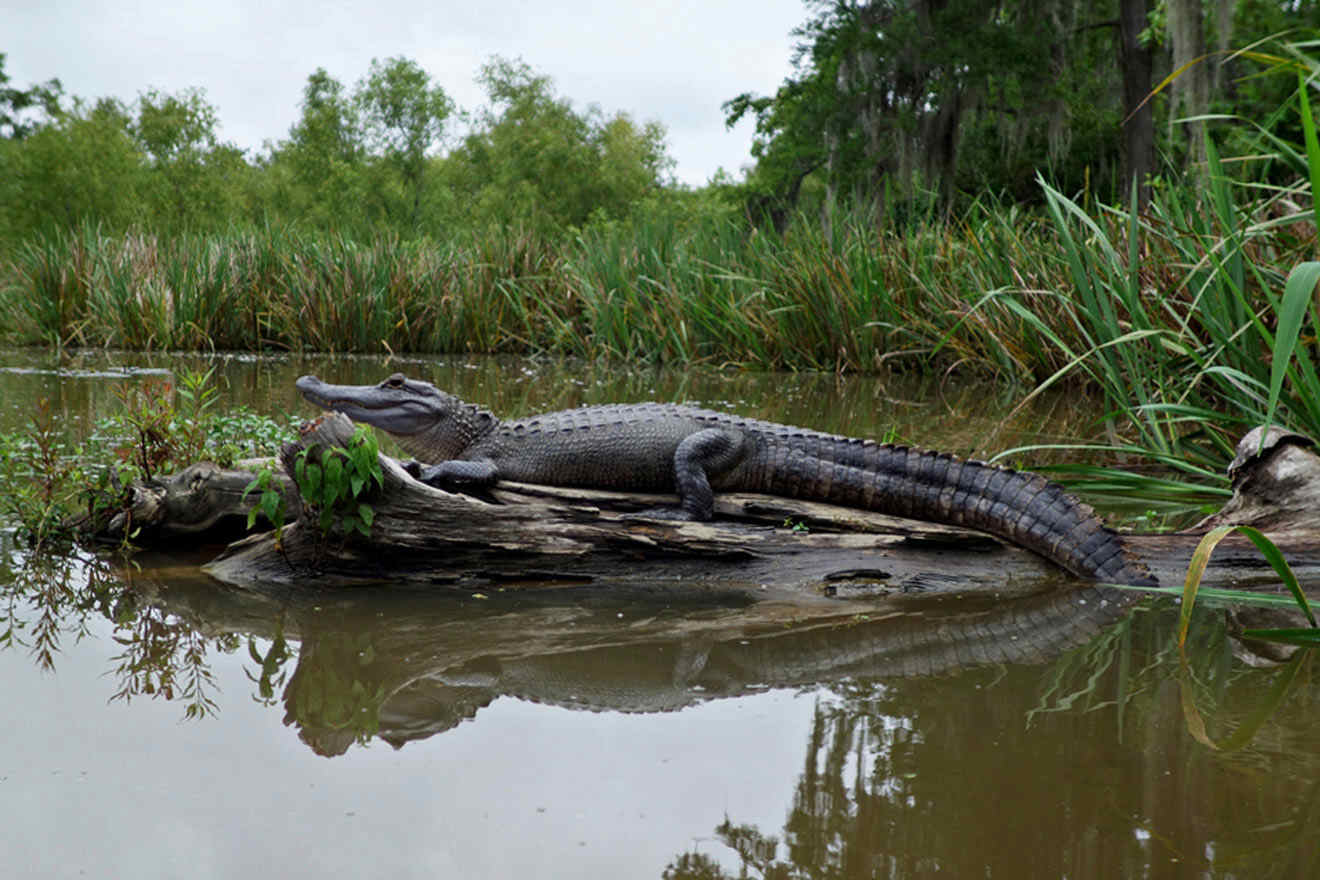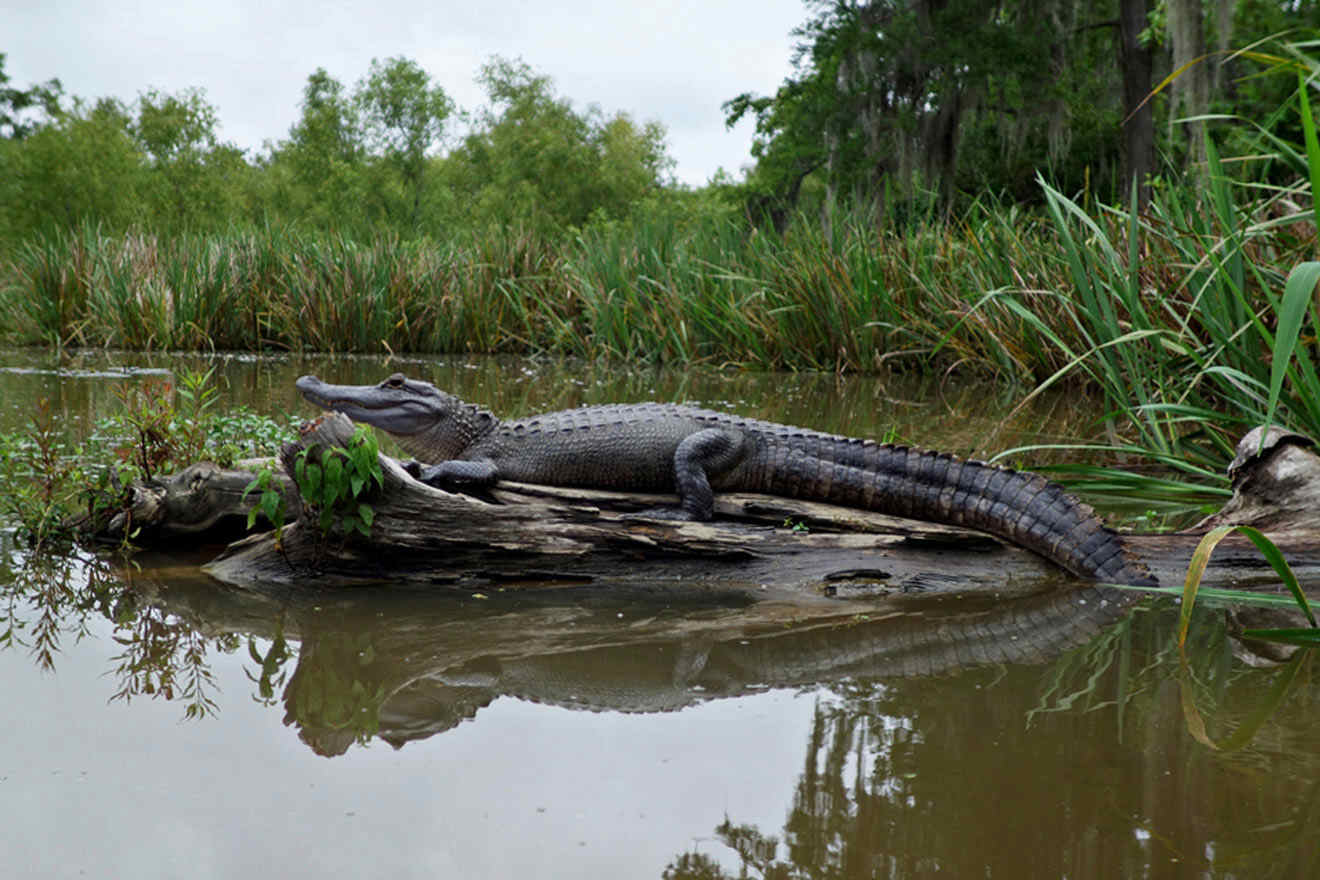 Duration: 2 hours
Price: from US$25
Why you should take it: led by an alligator hunter
Get ready for one of the best New Orleans swamp tours led by a professional alligator hunter. And if that doesn't sound adventurous enough, you'll also be able to hear the sweet sounds of authentic Cajun music to set the mood. You'll ride in the comfortable 49-passenger vessel, equipped with a covered roof to shield you from the hot Louisiana sun or a sudden rain shower.
Your expert guide will lead the way and tell you about the fascinating wildlife and unique culture that call the swamps and Bayous home. And you'll have a cell phone and toilet facilities on board, plus special attention for senior citizens and handicapped guests.
12. Educate yourself on an eco-friendly tour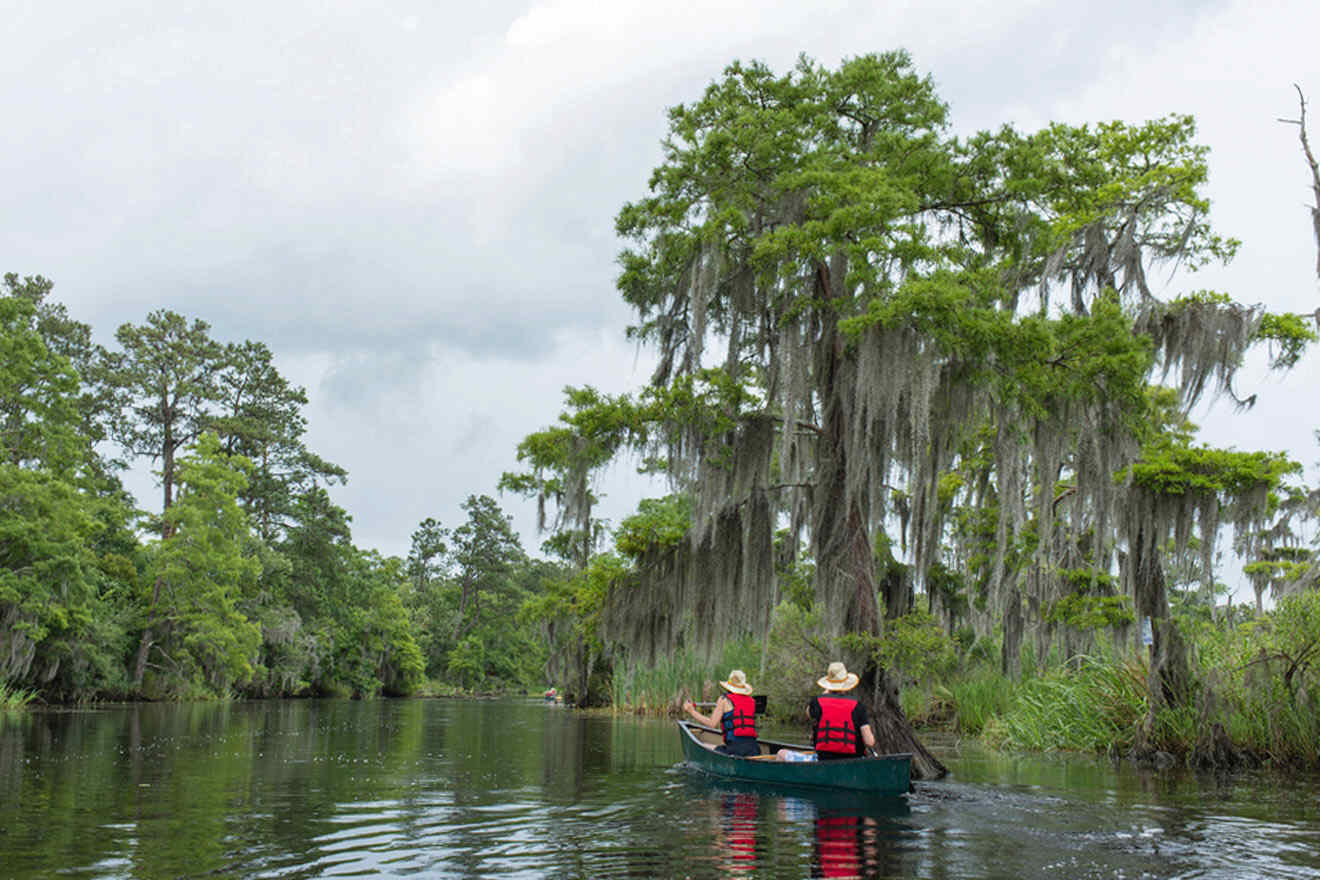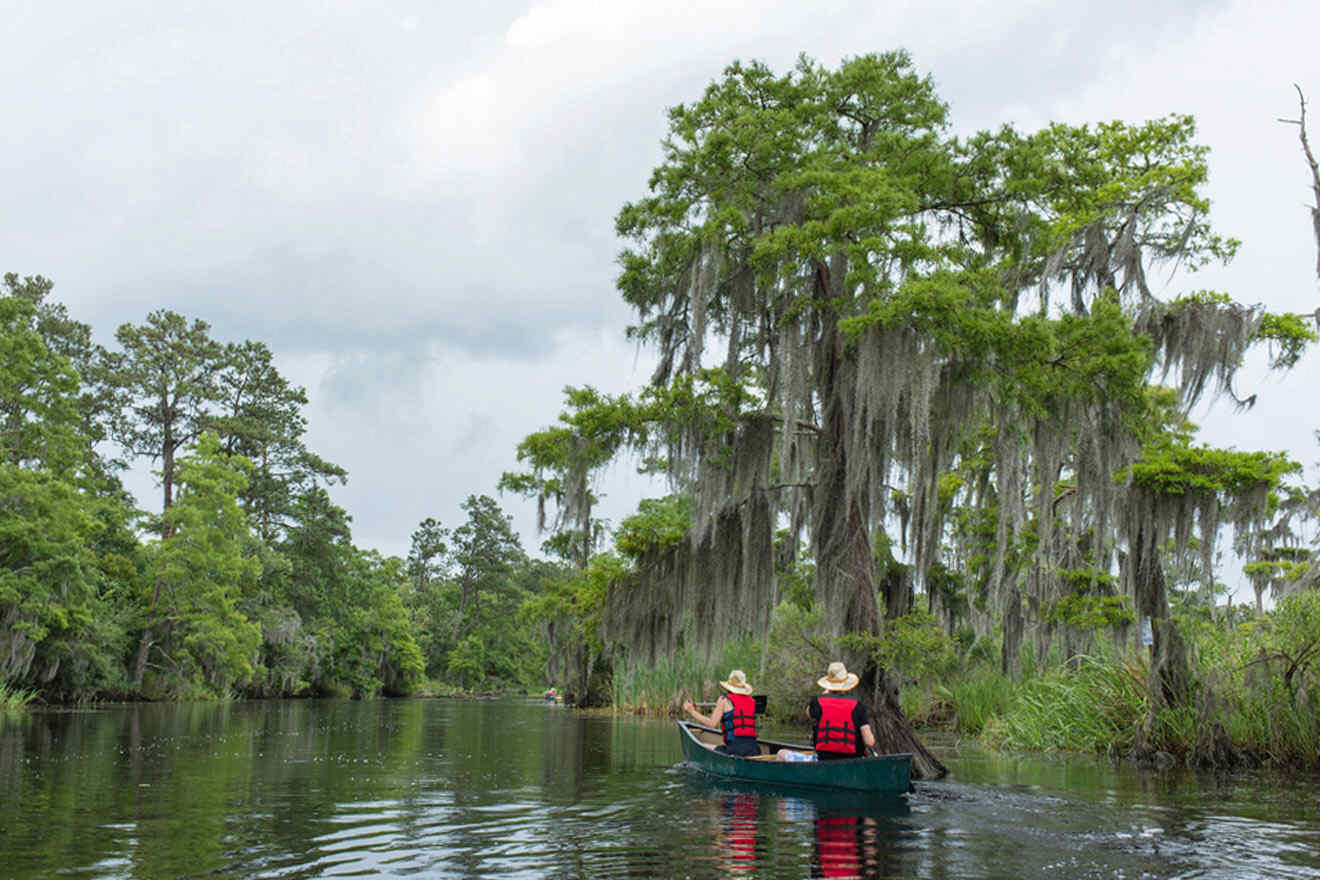 Duration: 6 – 7 hours
Price: from US$100
Why you should take it: includes environmental lesson
This swamp tour will take you back in time and show you the beauty and importance of Louisiana's natural landscape, and it begins with an eye-opening educational session about the environmental issues affecting coastal Louisiana, followed by a kayaking journey through the cypress-tupelo swamps just 45 minutes west of New Orleans. And if you're feeling more adventurous, hop on a motorboat tour in the marshlands southwest of the city!
It's no secret that Louisiana's cypress and tupelo forests are rapidly disappearing, but you can experience their haunting and mesmerizing beauty firsthand. Imagine paddling through the sprawling wetlands and meandering bayous, surrounded by towering trees and the peaceful sounds of nature. You'll also learn about the history of these forests and why their preservation is crucial for the safety and well-being of communities in South Louisiana.
FAQs about the best Louisiana swamp tour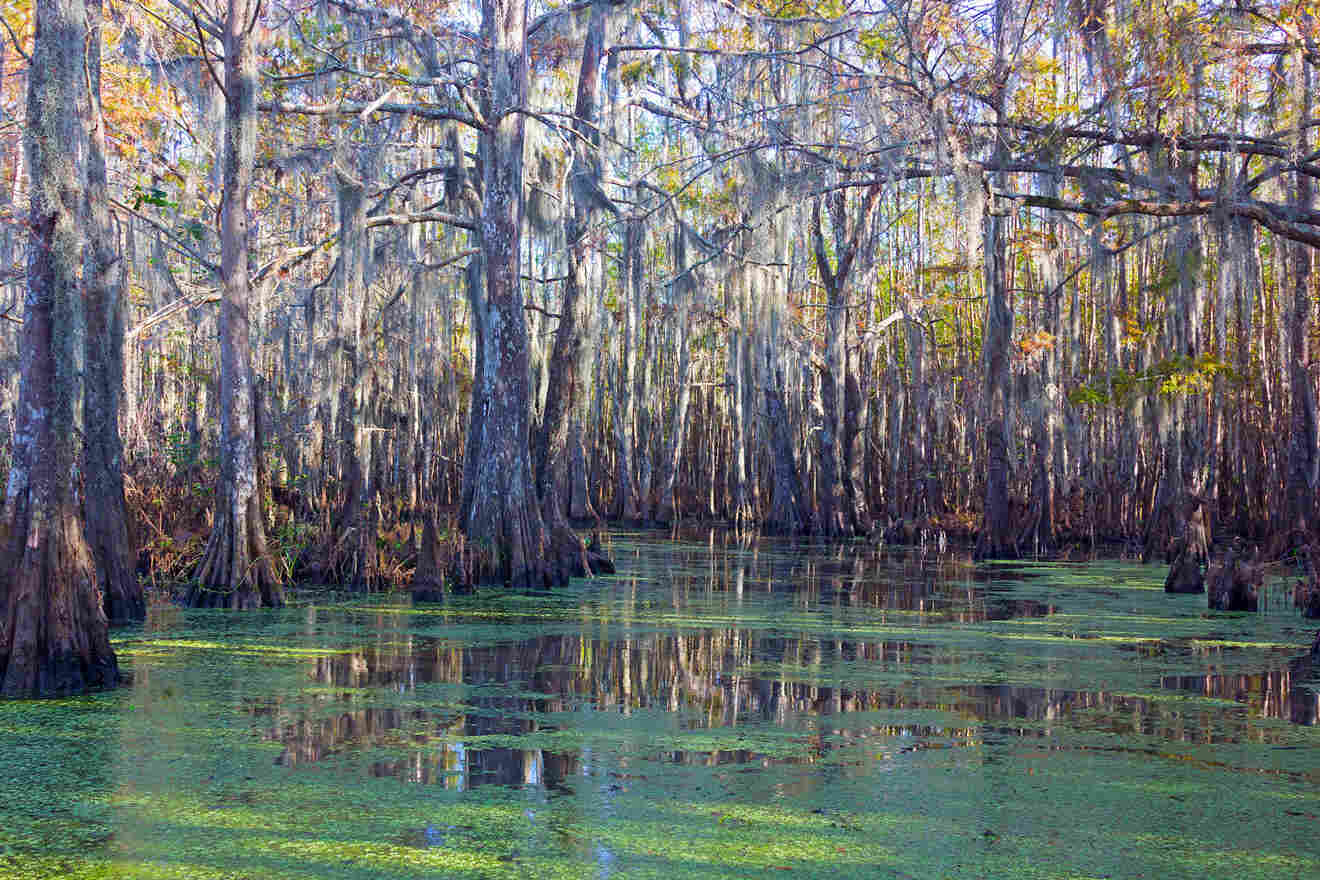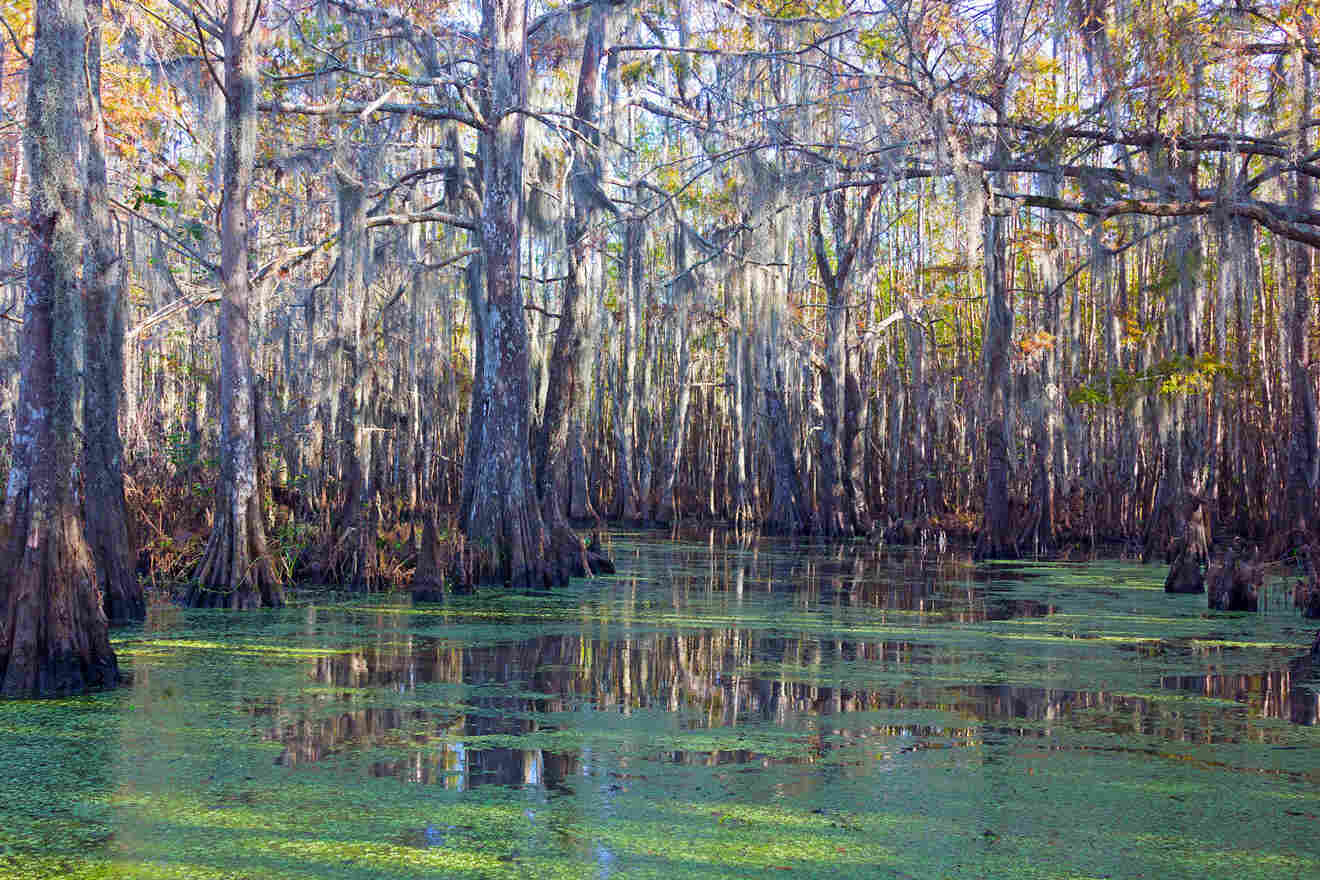 🛥️ Is a New Orleans swamp tour worth it?
Absolutely! A New Orleans swamp tour can be a unique and exciting way to explore the local ecosystem and wildlife. I recommend taking an airboat swamp tour for a fun and thrilling experience.
📅 What time of year is best for swamp tours?
Generally, the fall (September-November) and spring (March-May) seasons can be a good time to go on swamp tours as the weather is cooler and there is less humidity. During these seasons, you can also observe a variety of bird species and other wildlife.
📍 What is the most beautiful swamp in Louisiana?
Honey Island Swamp. It's located on the eastern side of Louisiana. You can take the Honey Island swamp tour to see it.
🌊 Will I see alligators on the swamp tour in New Orleans?
You will likely see alligators on a swamp tour in New Orleans. Alligators are a common sight in the swamps. You can also take a Cajun & Oak ride tour to enrich your experience.
Conclusion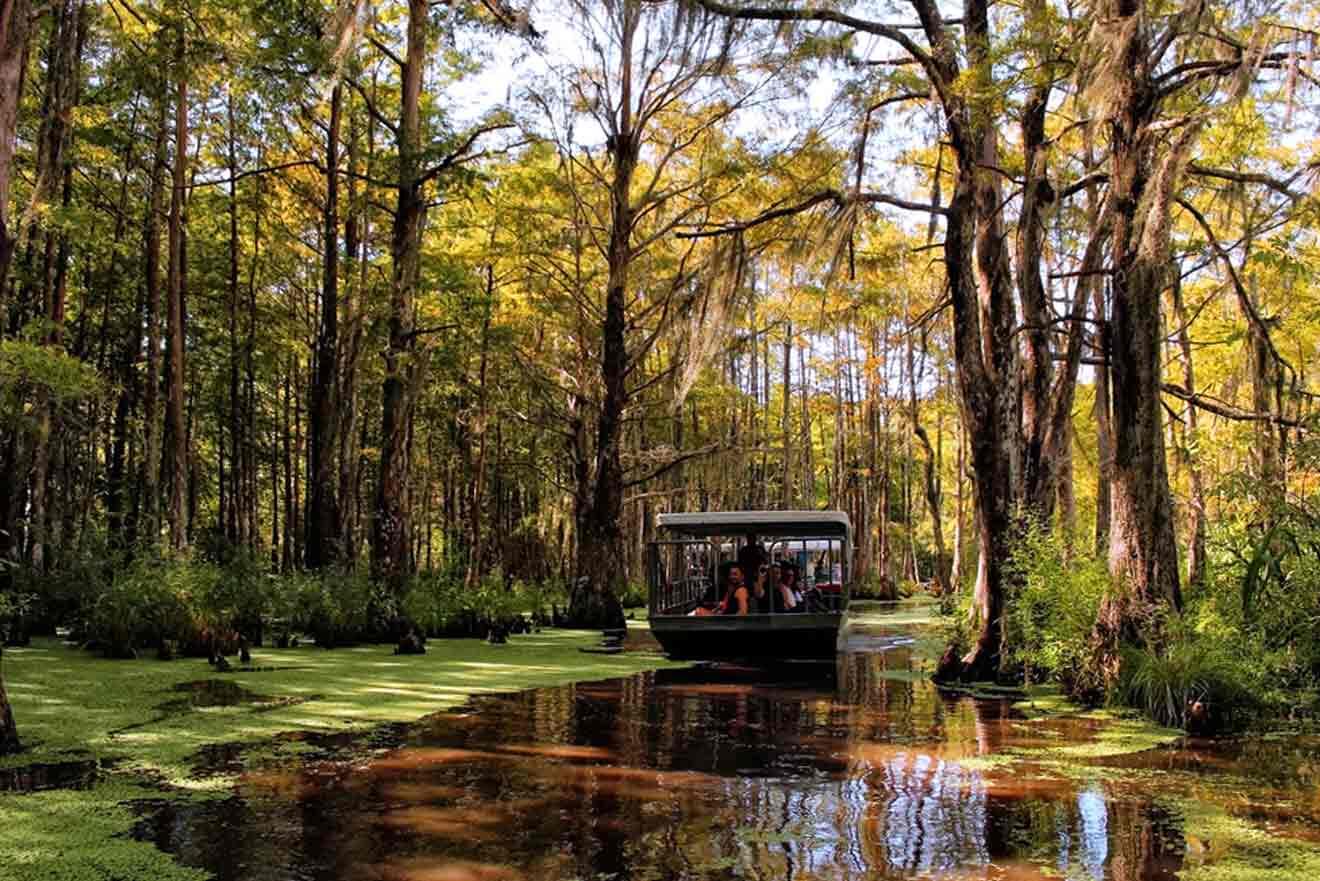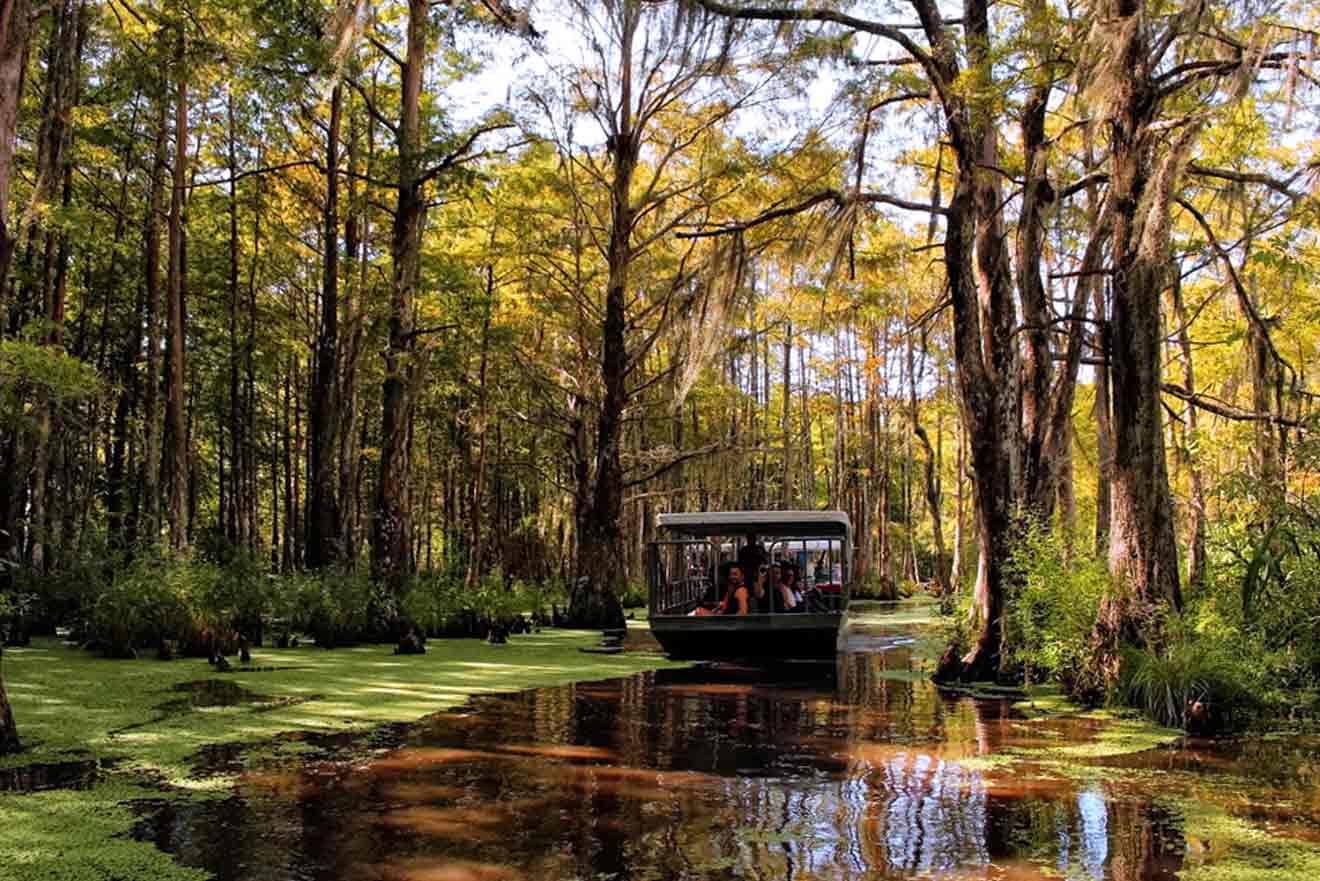 If you're looking for a thrilling adventure through the mysterious and awe-inspiring Louisiana swamps, then make sure to choose the best Louisiana swamp tour you can find! Luckily, now that you have this list, you're on the right path to experiencing this amazing swamp full of different wildlife.
But the tours are more than just a sightseeing adventure. They offer an opportunity to learn about the culture and traditions of the Cajun people who have lived in this region for generations. The knowledgeable guides will take you on a journey through time, sharing stories of the land and its inhabitants that are as entertaining as they are informative.
Whether you're looking for relaxing sightseeing or an adrenaline-fueled airboat ride, the best Louisiana swamp tours are sure to exceed your expectations.
Just always remember to book your tour in advance!
And don't be shy, tell me your opinions and experiences in the comments below, I'd love to hear them!
Happy exploring,
Angelina
---
Pin it for later!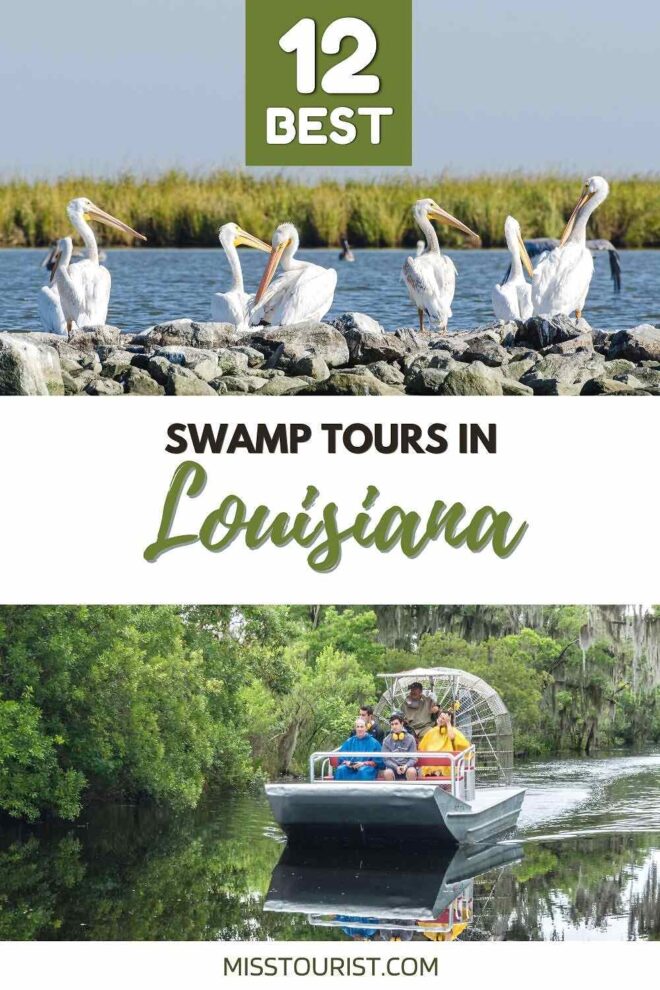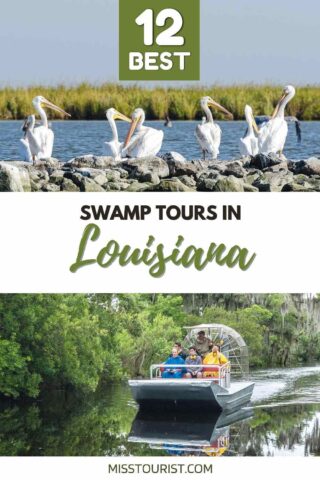 Pin it for later!