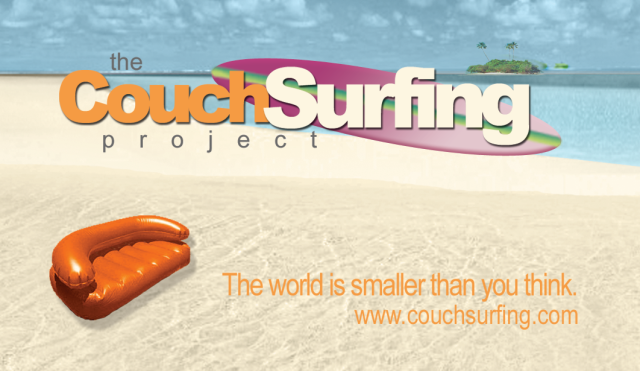 What would you prefer – to go visit a new city in where you have a relative/friend/someone you know, or to go to the same city but with an organized tour/by yourself and to see only the most classical and popular places are written about in tourist guides?
If you choose the 1st variant, welcome to the team! This a topic is for you.
If you choose the 2nd, great! We'll meet in one of the cities when you will be looking confused in your map, and I will be getting the most out of my visit by discovering the most fun places, eating delicious and not over-priced food with some good company.
You simply cannot know such places yourself, unless you step out from the route accidentally. But a local person can show/recommend you all of them, because he, or she, KNOWS what is good, because he lives there.
You ask me – But how do I find somebody local everywhere, I don't have friends all over the world? No worries, there is always a solution. In this case q good one is couchsurfing.org
You say say, "Yes, yes I heard something about that, but it is too weird, it's for hippies. I value my safety and I'd prefer to pay more money for it."
Or you say, "Is it a place where surfers hang-out?"
Any-way, let me tell you a bit more, and who knows, maybe you'll change your opinion.
Couchsurfing (CS) is a site, where you can find a local host in almost any city in the world, be a host yourself or just find local friends in your city, it has 3.6 million (!) registered profiles.
Each of the CS members has a profile, somehow similar to Facebook's. You can see the interests of a person, pictures, accommodation description, and, what is more important, references, that other CSers left for him/her. In this way,the system makes it the most safe possible for you to verify that the person is real and what impressions does he or she leaves on other people.
As for me, I am an active user of CSing since 2009, and I traveled with its help quite a lot – NYC, Chicago, all of Japan, a bit of Brazil, some of Italy and other counties in Europe. I think it is just a fantastic way of travel! It will not only help you to save money (although, most of my trips would be hardly possible without CS), more important is to discover the culture and to see the city from the locals' point of view. This, I would never get by sitting in my hotel room.
How exactly do you use Couchsurfing?
I will tell you now.
Where do I start?
If you want to see filled profiles, first make one yourself! Upload a picture(s), showing that you are a smiley, open-minded person, fill in your interest and accommodation information. Ask your friends, who are already on CS, to write a reference for you. Usually hosts are understanding if they see your profile is new: obviously there are no references yet. But it is still better to have some.
How do I find a perfect host?
I usually search for someone +/- 5 years of my age, last logged-in not later than 1 week ago, matching my need of the amount travelers with me (usually not more than 2), and maybe similar interests. Read references and use your intuition, – it is quite easy to tell, if you will get along with that person or not. Pay attention to where the apartment is located (section on the left). Sometimes it can be in suburbs and hard to reach.
Important – if you're lone female traveler and you found a profile of a male, whose "Gender preference" is Female, be aware. I would not take a risk and write him, unless the reason of that is explained.
How do I write a perfect request?
Go through the profile of each person you are writing your request to. In your message specify  why you have chosen that particular person from the list. It could have been a funny picture or a book that you both like etc. Address a person with his name. If he has a nickname, look down under references how people call him. Make your message look personal, addressed exactly to that person. I hate copy-paste requests, I never reply to them. Why do I bother if they don't bother, too?
If it is two or more of you traveling, each of you have to register on CS – Be sure to include links to their profiles in your request.
What if I am in deep sh*t and I don't have anywhere to stay right now?
Couchsurfing will help you with that too! There are groups called "SOS" or Last minute couch in each big city, where you can write if you need a host urgently- tonight or tomorrow. For example, the boyfriend of one of my friends broke up with her just 1 day before she was supposed to visit him in Copenhagen. What to do in this not nice situation? She wrote on Last minute couch Copenhagen group and hosts were found in less than one day. If it is too many days, let's say 5-6, you can say that you are ready to split it- if they can host you just for 3 days, it's still fine with you.
What do I do when I am already there?
Be open, ask questions about the person, culture, tell about your country,- it's all about diversity. It might be a good idea to bring some small present like a magnet with your city or a bottle of wine. In the end, your CSer hosts you absolutely for free, it's nice if you do something for him. Respect his rules if he have them (like not smoking in the house). Keep your place and bathroom clean. Go out together or, if he (she) is busy, definitely ask for recommendations of what to do.
What are the other advantages of CSing?
Surprisingly, but you can discover your own city, while showing it to foreigners. They see something that you never notice anymore, they ask questions you would never ask yourself before. Come on, lots of my Roman friends have never been to Colosseo, cause "they have heard it's boring". It is also a great way to find new friends who are  open-minded as you – there are regular meeting of your local CS community.
Do I also have to host someone after I was hosted?
No, it is completely your choice. You can politely refuse at any time. If you don't have a place for CSers, but you would still like to hang-out with them sometimes, you can put your status on Coffee-or-drink.
That's how it is – as easy as it sounds. Don't be scared and just try it, next time you're bored – visit a place you never thought of visiting before. Good luck! 🙂
If you are not registered, give this awesome platform a try!
---
I hope you enjoyed reading this article!
Be sure to let me know if you have any questions or you want to share your Couchsurfing experience in comments!
Yulia
---
Pin it for later: