Locked at home? Looking for some inspiration or some real help with your meals and everyday planning for food? No worries, I got you – grocery and food delivery services might be a great solution for you!
During this period while we're all at home, cooking and planning meals in advance might seem like a tedious task, especially if you have to prepare meals for the entire family or kids as well. You might run out of inspiration or feel a bit lost when it comes to your grocery shopping. How can you make all these more effective so that you can save money, save time and not visit the supermarket every two days and expose yourself and others as well?
I have plenty of solutions! In this post I will talk about the best home delivery services (for cooked meals, recipe boxes and groceries as well), how to plan meals in advance, how to shop for basic supplies for the lockdown the smart way and I'll even give you some recipe inspiration and cooking courses.
Are you ready? Let's go!
First of all, let me tell you that we're lucky enough to live in a time when everything can be done online. You can literally not leave your house and do all your shopping on your smartphone or tablet and even have already cooked meals delivered to your door for the entire week. And trust me, after you do this a couple of times and find the best online services for you, I'm sure you won't miss wasting time in the supermarket aisles!
In order to make your life easier, it's best to find the ideal home delivery services for your needs. Below you can find my recommended websites and apps to use for food shopping and delivery meals for both the US and the UK:
1. Home delivery services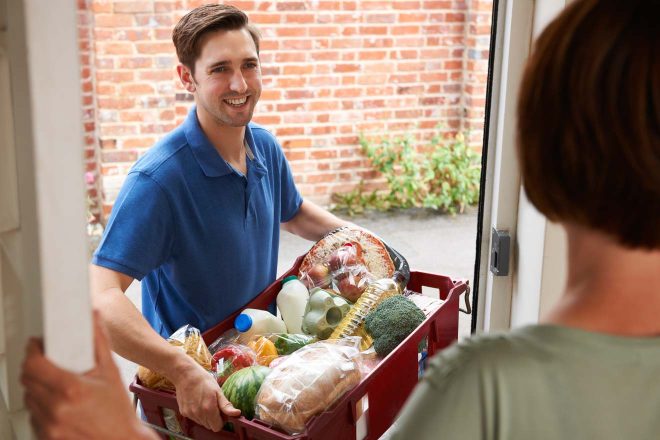 I have combined everything you might need in the categories below – from online services that deliver already cooked meals to your door daily, to cooking subscriptions where you get all the ingredients and recipes and then you cook them yourself and also to online grocery shopping delivered to you. Here we go:
1.1. Grocery delivery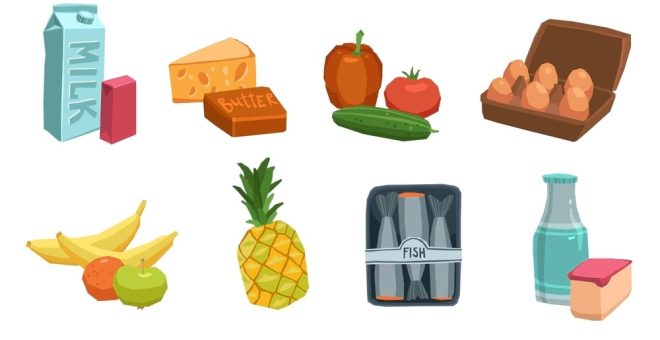 Doing the groceries might be a dreadful and kind of boring activity in your day-to-day life, but now that the coronavirus pandemic is taking place, it has also become a quite dangerous, better-to-be-avoided activity if you can. But no worries, I have a solution for this as well!
There are many online websites or apps that can do the groceries for you, including some well-known supermarket chains. The way it works is the following: you access the app/website, you select all the items you need (let's say 3 kg of potatoes, 1 shampoo, 500g of frozen meat etc.) and then a courier will go and do the buying for you.
You can pick the best place to order groceries online for you from my list below (including toilet paper delivery!):
U.S.
NOTE: Most of them offer same day delivery, but I advise you check for each website individually, as all of them have different policies during the lockdown when there are many orders.
U.K.
The reason I included so many options above is because of the slot unavailability in the UK, which I will talk about below.
NOTE: Most UK online grocery shops work on a slot system – you basically select a good time slot for you (let's say between 2 and 3.PM.) when you'll have your groceries delivered. The tricky thing now is that, because of the pandemic, all slots fill out extremely quickly, so it's best to place your orders as early in the morning as possible or just to check the website often to see if there are any available spots for you.
NOTE 2: If you are an extremely vulnerable person in the UK that needs to stay at home, you can register on this list and receive coronavirus support from the government and special slots so you can make your groceries online.
IMPORTANT: If you're not in the "extremely vulnerable" category, I recommend placing one order per week if you can (and not more), because it's best for the supermarkets to prioritize those in need, such as the elderly.
1.2. Meals delivery and meal plans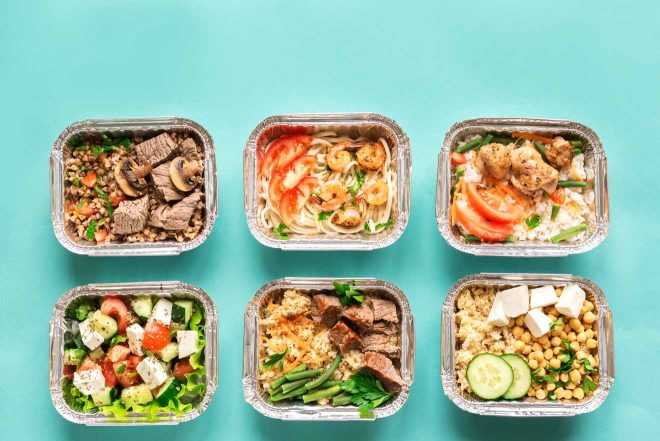 Are you looking to make your life ten times easier and stop worrying about what you are going to eat completely? Then you'll be happy to know that there are many websites out there that offer already prepared meals that they deliver to your door! What you'll have to do is choose from a menu or favorite diet, and you get the already cooked dishes for you. In most cases, the subscriptions are available for 1 or 2 people, but there are some for entire families as well.
The good thing is that you'll get breakfast, lunch and dinner as well if you want to (and even snacks if that's your preferred subscription), so you can stop planning your meals completely. Nothing can be easier!
U.S.
NOTE: Of course, you can also opt for the classic options such as Uber Eats, Seamless or GrubHub but, even though the courier will bring your meals to your door (now with a no-contact policy during the pandemic), keep in mind that you will still have to make a new order every time you want to eat.
The good thing about the subscriptions I am recommending above is that they deliver all your meals for a longer period of time (one entire week, for example). So you basically choose your meals once a week and have everything delivered to you at once. Also, make sure to check if your favorite restaurant has deliveries, such as Pizza Hut or Domino's Pizza.

U.K.
1.3. Cooking subscription boxes / Recipe boxes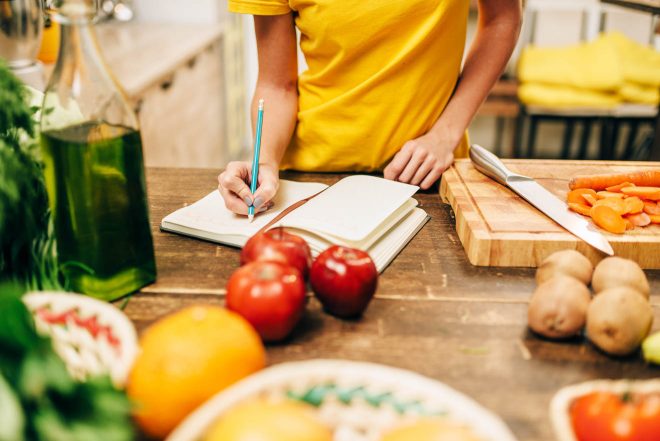 In case you're passionate about cooking or you simply don't want all your meals to be cooked by someone else, there's also the option of ordering the so-called "cooking boxes" or "recipe boxes". What are these? They're basically boxes filled with everything you'll need to make certain recipes or entire meal plans for a whole week, for example.
You select what recipes you want to make, then you will get a delivery with all the ingredients you need and instructions on how to make each recipe at home.
Why is this a good idea? Well, if you like cooking but don't want to spend hours online planning what's for dinner tonight and then go to the farmers market or supermarket to buy things according to your list, these services have all that covered for you! All of them use high-quality, healthy ingredients and recipes as well! Plus, they're good if you want to avoid food waste, as you'll get ingredients that are already portioned exactly for the recipes you'll make.
Sounds like something you'd be interested in? Here are my recommendations below:
U.S.
BONUS: Seligo Experience Kits – I recommend this one if you want to try authentic Italian dishes! You can choose from different pasta recipes such as arrabiata, spaghetti aglio olio, basil pesto fusilli and more and all kits are good for 4 portions. Fun and hassle-free!
By the way, a subscription box can be a great idea to offer as a gift as well! If you're looking for more online gifts for your friends in self-isolation, I recommend checking out my article about the List of Best Online Gifts to Offer to Your Loved Ones.
U.K.

BONUS: Wine subscriptions + candy, coffee, beer and more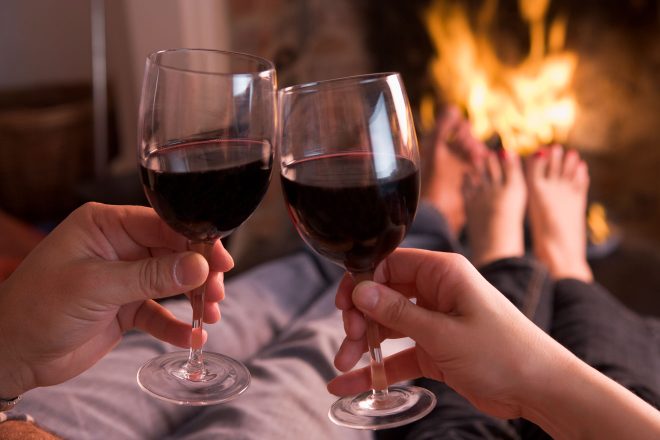 Here are some fun alternatives to your basic grocery shopping – subscription boxes for wine, coffee, beer or candy, all delivered to your door monthly (if you'd like to, ofc):
PRO TIP: These can also be very cool gifts for your loved ones that are in lockdown or in general, why not? One of these subscriptions can be a very nice gesture if you're looking for an efficient gift to offer online. In case you need more inspiration for online gifts, I recommend checking out this article.
2. How to disinfect groceries
The coronavirus pandemic made us all more aware of ourselves, our surrounding and our health. Sanitizing groceries and every other object that gets delivered to your house is an important step of the process which doesn't have to be omitted, although the chances of contracting coronavirus from groceries or other surfaces is relatively low. But we can't know for sure, so it's better to be safe than sorry, right?
Here are some tips and steps to follow:
Right after you come back from grocery shopping, wash your hands for 20 seconds;
Throw out all disposable packaging and wrapping when possible and deposit the items into your own casseroles, bowls etc.
Spray or wipe down groceries covered in plastic with a disinfectant-soaked napkin and don't forget to wear gloves to protect your hands;
Make sure you wash your hands before and after touching every item;
Don't wash produce with soap, as it's not safe for consuming. Wash them with cool water instead;
Wash your hands for 20 seconds at the end of the procedure as well.
If you want to see how to properly disinfect your groceries once they arrive at your place, I recommend checking out the video above; I used the techniques recommended by this doctor for all my groceries and, even though it takes some time, I think it is worth it, at least for my piece of mind!
3. How to plan meals in advance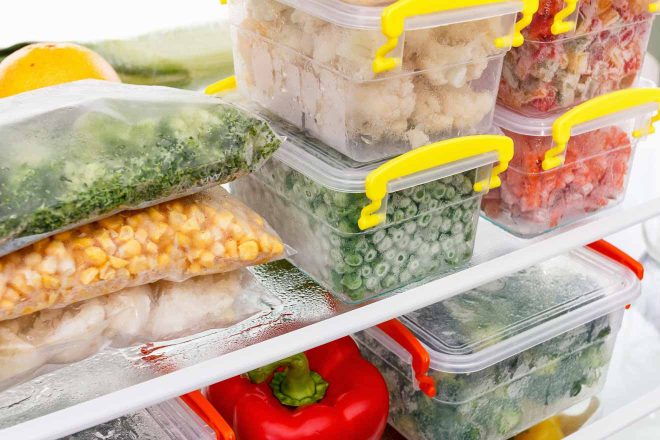 What is meal planning? Meal planning is the actual habit of planning your meals in advance. For example, every Sunday you sit down and make a list of all the dishes you want to prepare for the entire following week (or 5 days, for example). Then you make a list with all the ingredients you need for all these dishes and you get cooking. You'll cook in bigger batches for all meals of the day, so at the end you'll have ALL meals prepared for your chosen period of time.
This is a very good habit for the pandemic as well, because it will give some structure to your life and you'll be more organized with your grocery shopping (read: you'll buy ingredients the smart way and avoid multiple visits to the supermarket per week).
Luckily, there are some online tools that will help you organize your meals, for free or on a subscription basis. How do they work? You basically select your preferred diet and select some preferences as well, then you'll receive a plan of recipes for the whole week or month, together with the grocery list already made.
Here are some of the most interesting (and healthy!) I have found:
4. List of basic supplies to have in your pantry during the lockdown
You might feel lost when it comes to grocery shopping during the pandemic. I get you, I was feeling the same in the beginning! I wasn't sure for how long we were going to be stranded in the house so I didn't know what to buy. The general impulse was to buy as much as you can, something that's also called panic-buying.
But that's, of course, not the right approach. The wisest thing to do is to buy the essentials in a large enough number to last you for, let's say, one month or two. If you don't buy enough, you can always order more stuff online using the websites I recommended above, so no need to panic-buy.
Okay, but what should I stock up on? – you might ask. To which I respond – non-perishable foods. Non-perishable foods are foods that do not go bad after a short period of time, such as canned food or frozen food. Of course, make sure to also have some fresh produce if you can.
Here are some examples of items that you can stock up on and have in the pantry for everyday cooking:
Canned foods (meat, tuna, corn, lentils, beans etc);
Frozen food (meat, fish, veggie mixes etc);
Entire frozen meals (casseroles, lasagna etc);
Whole grains – rice, quinoa, oats etc.;
Dried pasta, noodles;
Sauces;
Dried herbs;
Water and other drinks.
If you're looking for a more complete list of supplies for the coronavirus pandemic, I recommend checking out this one. I have also found this informative video that will teach you how to pick the best products in the supermarket for the pandemic.
PRO TIP: Here's something that I learned from my mother and that I apply very often now: you can buy bread in bulk (for example 4 loaves of bread) and then freeze the ones you know you won't consume in the following days. I was a bit skeptical at first, but the taste won't change, trust me! When you're ready to eat it, just take it out of the freezer and leave it for a couple of hours; no need to heat it up in order to defrost it. You can also do this with pastry items.
5. Recipe inspiration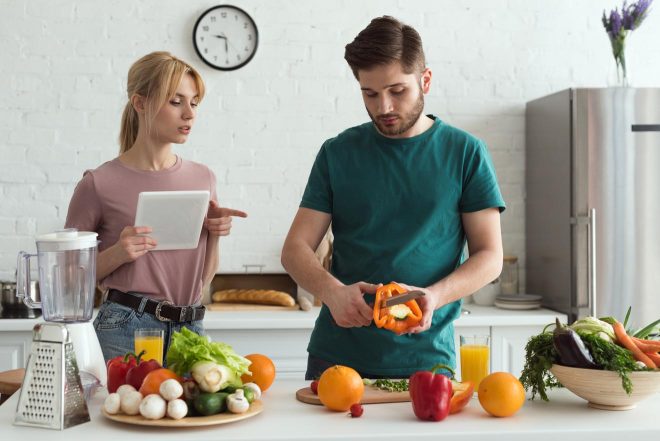 In case you need some recipe inspiration, I got you! You can find tons of awesome websites out there, but here is my list of favorite free websites and blogs from where I get my cooking inspiration:
PRO TIP: If you're bored with your day-to-day meals and don't know what else to eat, I recommend having some international cuisine-themed days. Let's say that you're going to cook Mexican food on Mondays or Italian on Thursdays! This is a very good way to bring some novelty into your meal planning, to learn some new and exciting recipes and it can also be a nice family activity as well.
6. Cooking courses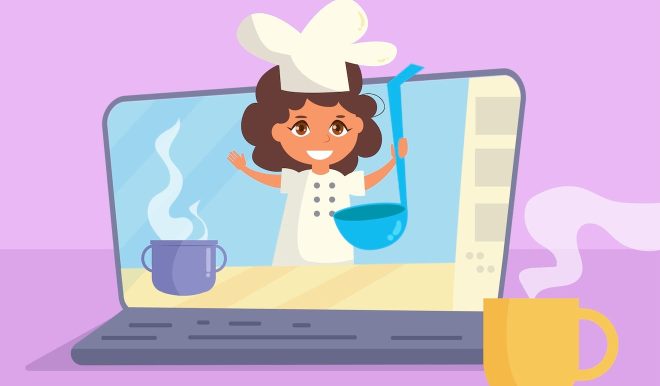 Now is probably the best time ever to start working on your cooking skills! I have talked more about this subject in my article about 20 Awesome Skills You Can Learn Online During the Lockdown, but I will recommend some very good online resources to help you out with cooking below:
Smart Kitchen – a very good online cooking school for all types of levels (beginner, intermediate and advanced) for US$10 per month. They offer 600 cooking exercises that will improve different skills. You can test the service with a free 14-days trial to see if it fits your needs.
NonnaLive – an online stream/course during which you will learn how to cook with nonna Giuseppina, a real Italian grandma! You just need to select your desired date in the calendar, make sure you have all the ingredients and you're good to go!
The Chef & The Dish – a great website for private cooking classes from renowned chefs.
You can also find some cooking classes and tutorials on Udemy, on Skillshare or you can try this masterclass by Gordon Ramsay on Masterclass.com. And, as always, Youtube is an endless source of inspiration if you're looking for interesting recipes!
| | |
| --- | --- |
| 🇺🇸 1 Stop shop USA: | Boxed |
| 🇬🇧 1 Stop shop UK | Tesco |
| 🍴 Premade for kids USA: | Yumble Kids |
| 🍽️ Premade for kids UK: | Ratatouie |
| 🥕 Vegan/Vegitierian reciep Box USA: | Purple Carrot |
| 👨‍🌾 Vegan/Vegitierian reciep Box UK: | Riverford |
BONUS: Eating and cooking online with friends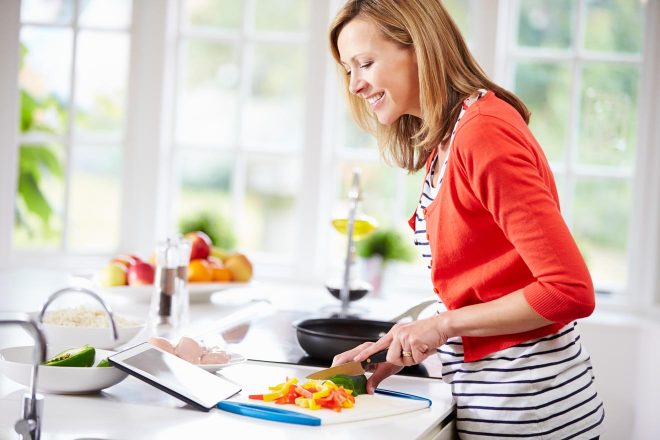 If you really miss going out with your friends for dinner or drinks, I might have a solution for you as well! Why not organize some online group calls during which you eat "together", chat, drink a glass of wine and just hang around? Or, even better, gather your cooking aficionado friends to have an online cooking session during which you'll cook the same thing!
I think this is a super nice idea to make the time pass in a pleasant way and to also reconnect with your loved ones. After all, nothing brings people together like food, am I right?
If this sounds like an exciting thing to you, you can always do this via Skype, Zoom, HouseParty or any other video conferencing app you might prefer.
I have also found a virtual wine tasting that you can join for free! You will get to connect with strangers around the world, chat and enjoy some wine. You can join in together with 2 or 3 friends, but if you're a bigger group, you can contact the host and organize a private session.
BONUS 2: Useful tips to keep in mind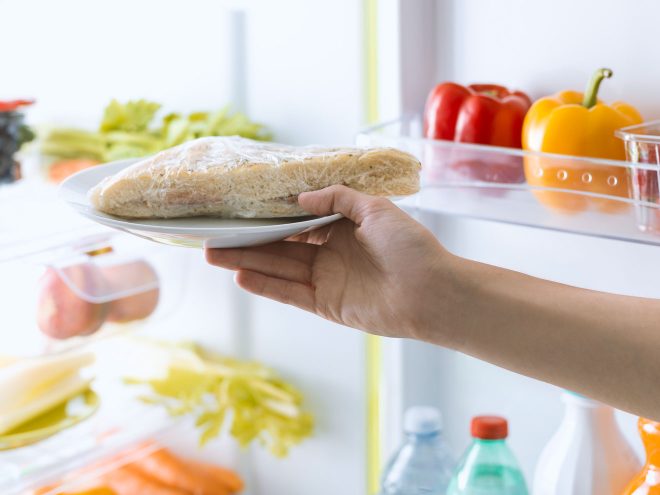 Being a cooking passionate myself, I just couldn't let you go without some very useful cooking-related tips and tricks that can be applied anytime, not just during the lockdown:
Don't leave the house without a grocery list – I have made the mistake of not making a complete list before my first big grocery errand after the pandemic hit and let me tell you – I was so anxious the whole time I was in the supermarket, afraid that I won't buy all the essentials I need, that I ended up hating every minute I was there. Don't rely on buying whatever stuff you see in the supermarket, but make a complete list beforehand, as you might end up overbuying or missing some important items.
Shop in bulk – It's best to go grocery shopping and buy things that will last you for 2 to 3 weeks ideally;
Don't forget about fresh produce – Try to eat as healthy as possible and don't forget to buy fresh produce as well, not just canned beans. Your body will thank you for that occasional salad, trust me!
Freeze your leftovers – I always recommend to avoid wasting food as much as you can and, although it might seem easier to just throw away the extra food that you don't feel like eating anymore, I strongly advise you to freeze it instead. This way, you'll preserve it for a long time, let's say for the next time you're craving an already-prepared meal!
Make a fixed eating schedule and stick to it – This will be very good for your health and it will also help you create a routine and avoid the chaos.
Stock up on healthy snacks – Make sure you have some healthy snacks around for when you feel snacky. Some good examples are nuts, cheese, dried fruit, raisins, apples, bananas, carrot sticks etc.
You can indulge from time to time – It's not recommended to be too harsh on yourself and on your healthy choices during this time; after all, all of us are craving some chocolate or potato chips from time to time, right? It's okay to occasionally indulge and treat yourself, as long as you don't exaggerate!
---
Conclusion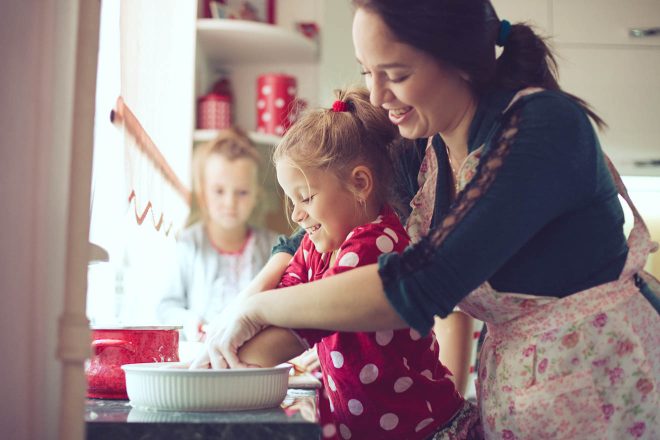 Phew, that's it! You have reached the end of my ultimate guide on grocery delivery services as well as food delivery that will make your life ten times easier! In this post I have talked about anything from cooking subscription boxes to meal delivery and grocery delivery, as well as some important tips for disinfecting your groceries, a list of basic supplies for the pandemic and some cooking courses and recipe inspiration as well.
In short, you'll find everything you need here and more! I really hope you found this post useful, as I did my best to combine all the best resources and tips I have gathered in the last month! 🙂
What other apps and resources would you add to this list? I'm curious to hear your opinions and experiences!
Happy cooking & online shopping,
Romina
---
Pin it for later!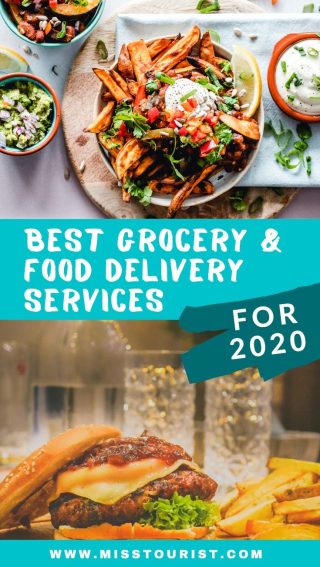 Pin it for later!